Looking for a simple, nutritious, and delicious side dish to throw together quickly? These Roasted Broccoli and Carrots are roasted to perfection in just 20 minutes!
In this recipe, you will learn how to store carrots and broccoli before use, the best way to prepare them for the oven, and the time and temperature to roast them at to get the best texture!
Plus, this recipe includes tons of flavor-boosting add-in options to help make these easy roasted vegetables your own.

As an environmental scientist, I always try to stick to seasonal eating when I can! It's one of the easiest (and most delicious!) ways to support local farmers and improve your carbon footprint.
Green tip: Seasonal and local foods have less associated transportation costs and fuel emissions. Check when broccoli and carrots are in season in your area with this Seasonal Food Guide.
Roasted Broccoli and Carrots Ingredients
---
Here's everything you need:
Broccoli. One head of broccoli is also usually about one pound. You can also buy fresh or frozen (thawed) pre-cut broccoli.
Carrots. Three to four large carrots usually weigh about 1 pound.
Olive oil. To roast your broccoli and carrots in.
Salt & pepper. To lightly season your roasted vegetables and bring out their natural delicious flavors.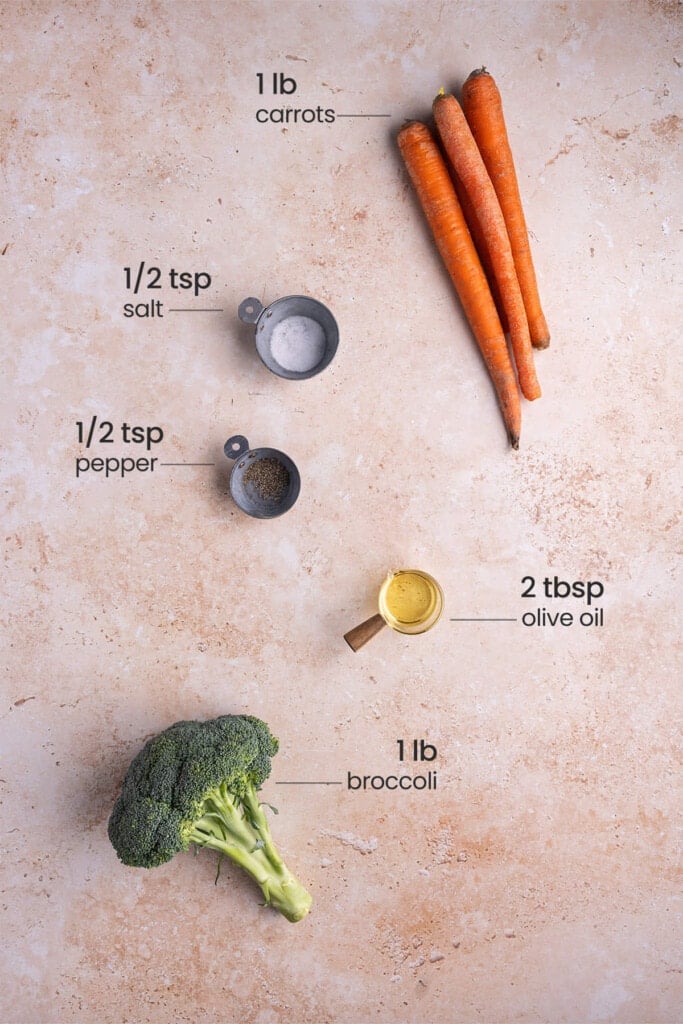 Optional flavor boosting add-in ideas:
Garlic. For the garlic fans out there, who want a quick and easy garlic fix.
Lemon juice or zest. A little citrus goes a long way.
Crushed red pepper. If you want a little bit of spice.
Butter. Salted or unsalted, dairy or plant based. For extra moisture and a rich, buttery finish.
Garlic or onion powder. For extra savory and umami flavor.
Grated or shaved Parmesan cheese (or Nutritional Yeast). For cheesiness and a little extra salt.
Roasted Carrots and Broccoli Tips and Tricks
---
How to Keep Carrots and Broccoli Fresh Before Use
Whole, raw carrots will last up to 1 month when stored properly. After they're peeled, sliced, or chopped, they usually last about half the amount of time.
Store carrots whole in an airtight container or sealed bag in the coldest part of the fridge until you're ready to roast them.
Similarly, broccoli keeps longest when it's still on the stem and in the coldest part of the fridge. To keep broccoli fresh longest, make sure it has "room to breathe", meaning loosely cover it, place it in a perforated bag, or simply store it uncovered.
Green tip: Did you know that 50% of food waste happens at home? Reduce your contribution to food waste by properly storing your vegetables until ready for use.
How to Prep Broccoli for Roasting
Since broccoli has plenty of nooks and crannies, soaking broccoli is a more effective way to clean it rather than rinsing. If your broccoli is not pre-washed, fill a large bowl with cool water and allow the broccoli to soak for 2 minutes.
Then, remove the broccoli and set it aside on a clean kitchen towel to dry. For the crispiest broccoli, it's best to add it to the oven when it's dry. If you don't have time to wait for it to air-dry, you can pat dry the broccoli with clean kitchen towels.
Once clean, cut the broccoli florets off the stem, leaving only about 1/2-inch to an inch long stem and remove any leaves. Chop any larger florets as needed. You want each piece of broccoli to be similar in size to keep their roasting time consistent.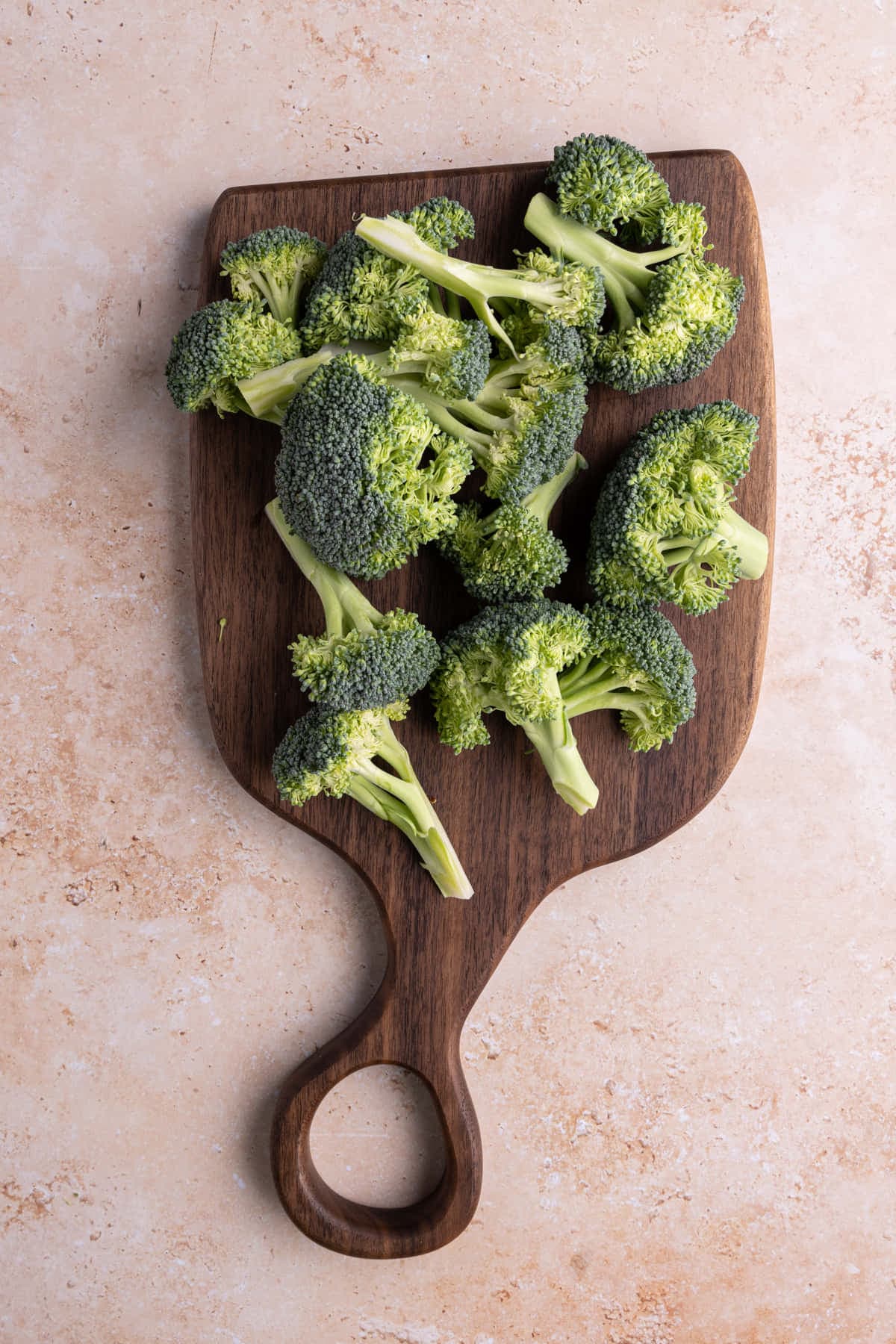 How to Prep Carrots for Roasting
The skins of carrots take a long time to cook and can sometimes get gritty and even bitter when you roast them. In order to get deliciously tender carrots, it's best to peel the skin off of them completely.
Simply use a vegetable peeler to peel off the outermost layer of the carrots. Once you peel off the outer layer, it will reveal a shinier and more brightly colored carrot.
You can compost the carrot peels, save them to make your own vegetable broth or even make these delicious carrot skin "chips".
Once your carrots are peeled, slice them into long thin pieces, about 1/2 inch wide. This will ensure they cook in the same amount of time as the broccoli.
Start by slicing your carrots in half lengthwise. Once they're sliced in half, you can set the flat side of the carrot down on the cutting board, making them much easier to work with.
Cut any super-long carrots in half so that carrots are all roughly the same length and width, keeping their roasting size consistent.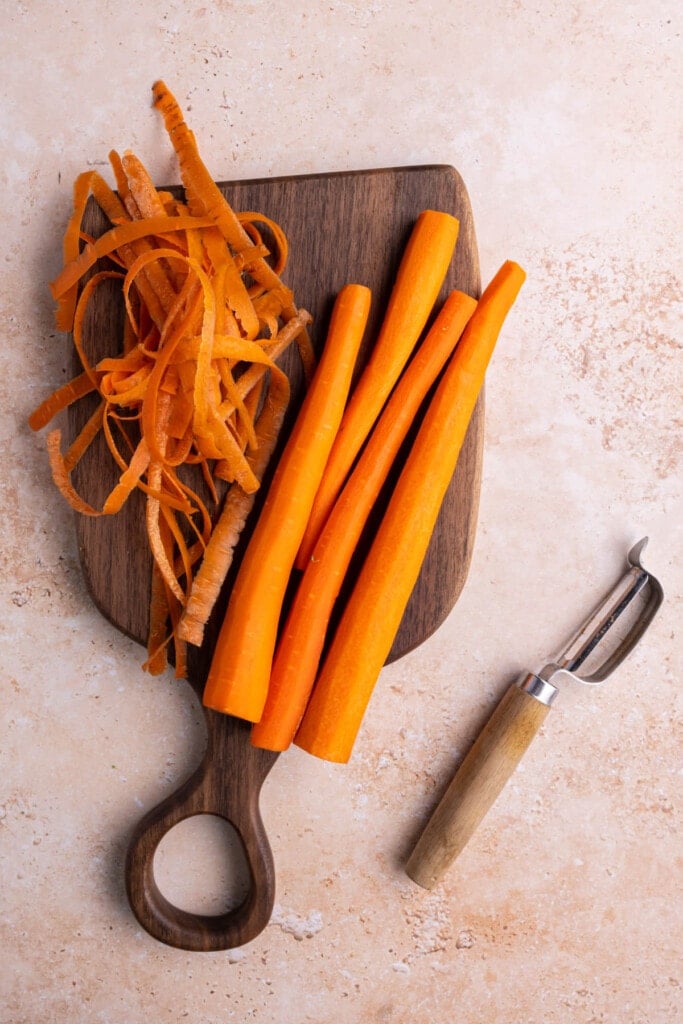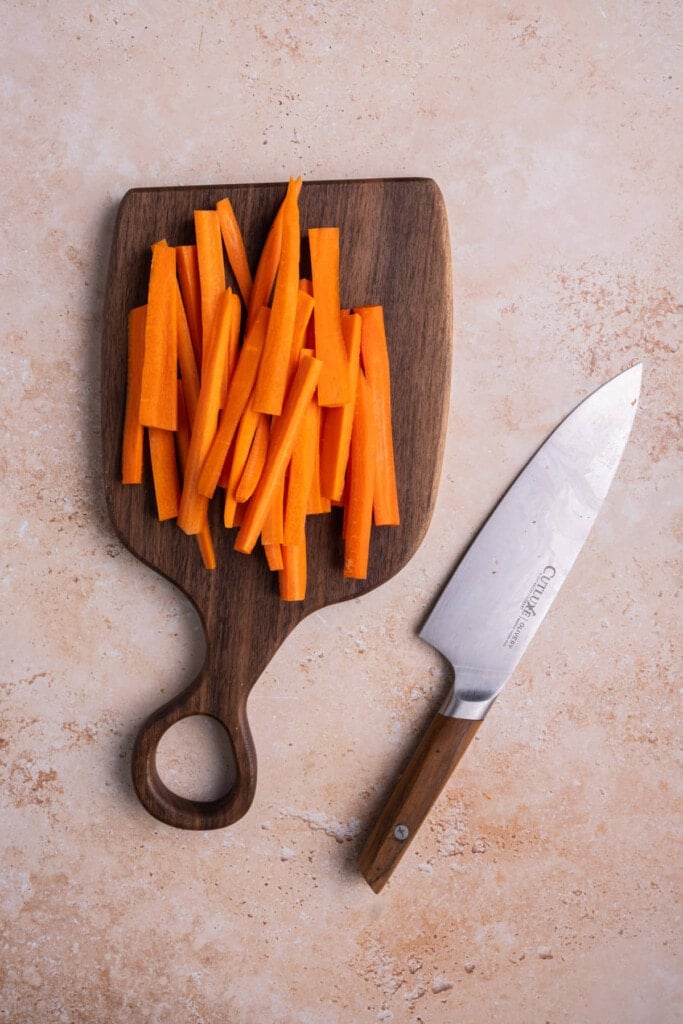 Coat the Broccoli and Carrots in Olive Oil and Seasonings
Add the prepped broccoli and carrots to a large 18 x 26-inch baking sheet and spread them out in a single layer.
For less clean up, you can line your baking tray with aluminum foil. Then, drizzle the extra virgin olive oil on top and sprinkle on the salt and pepper.
If you are including any optional add-ins, add those now, too.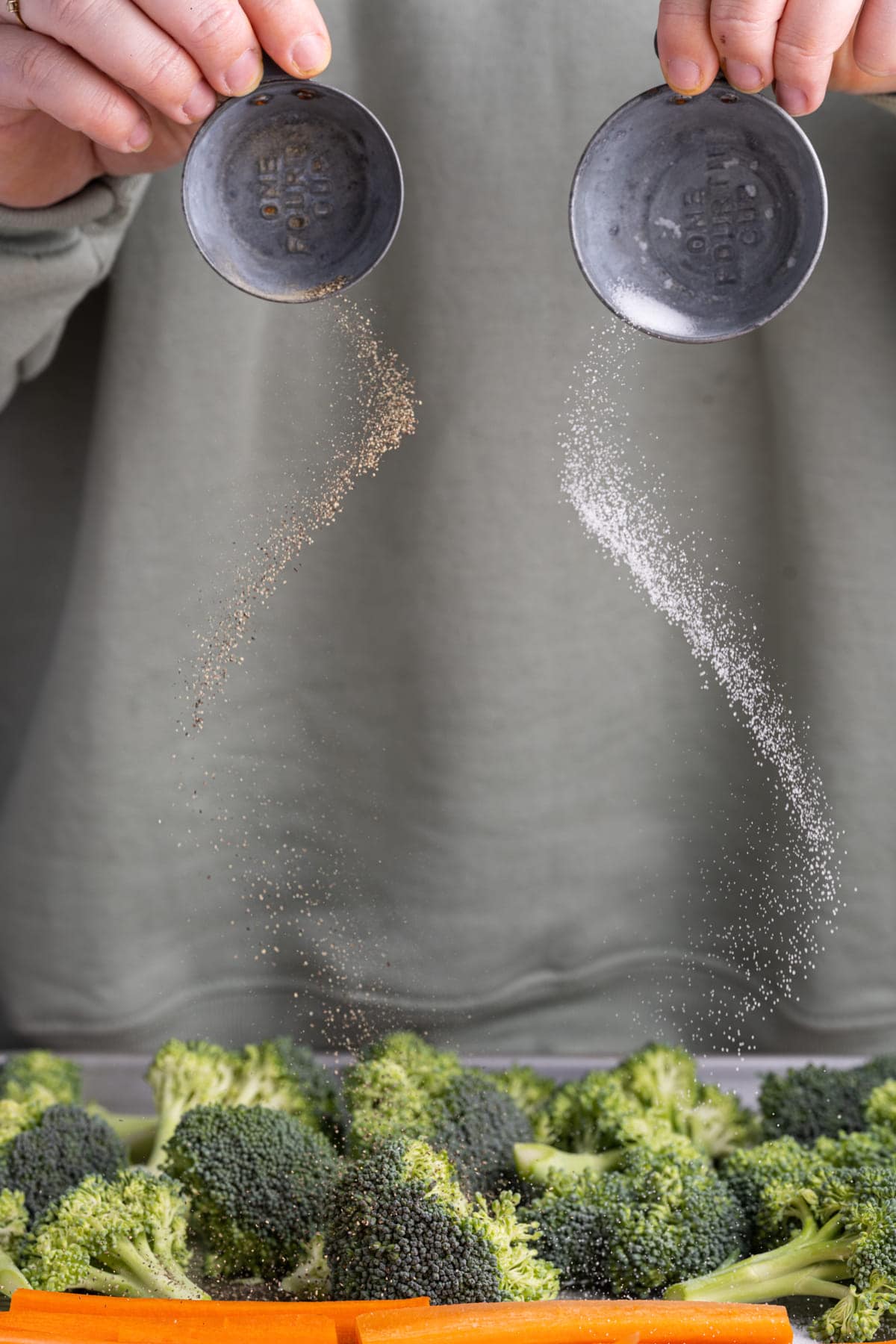 Toss to Coat Evenly
Use clean hands to toss the broccoli and carrots in the oil, salt, pepper, and any add-ins. I find using my hands is the easiest way to ensure that everything is evenly coated.
Alternatively, you can use kitchen tongs or two large forks to toss everything together instead of your hands.
Then, once again, spread the vegetables out in a single layer, so that no two are stacked on top of one another.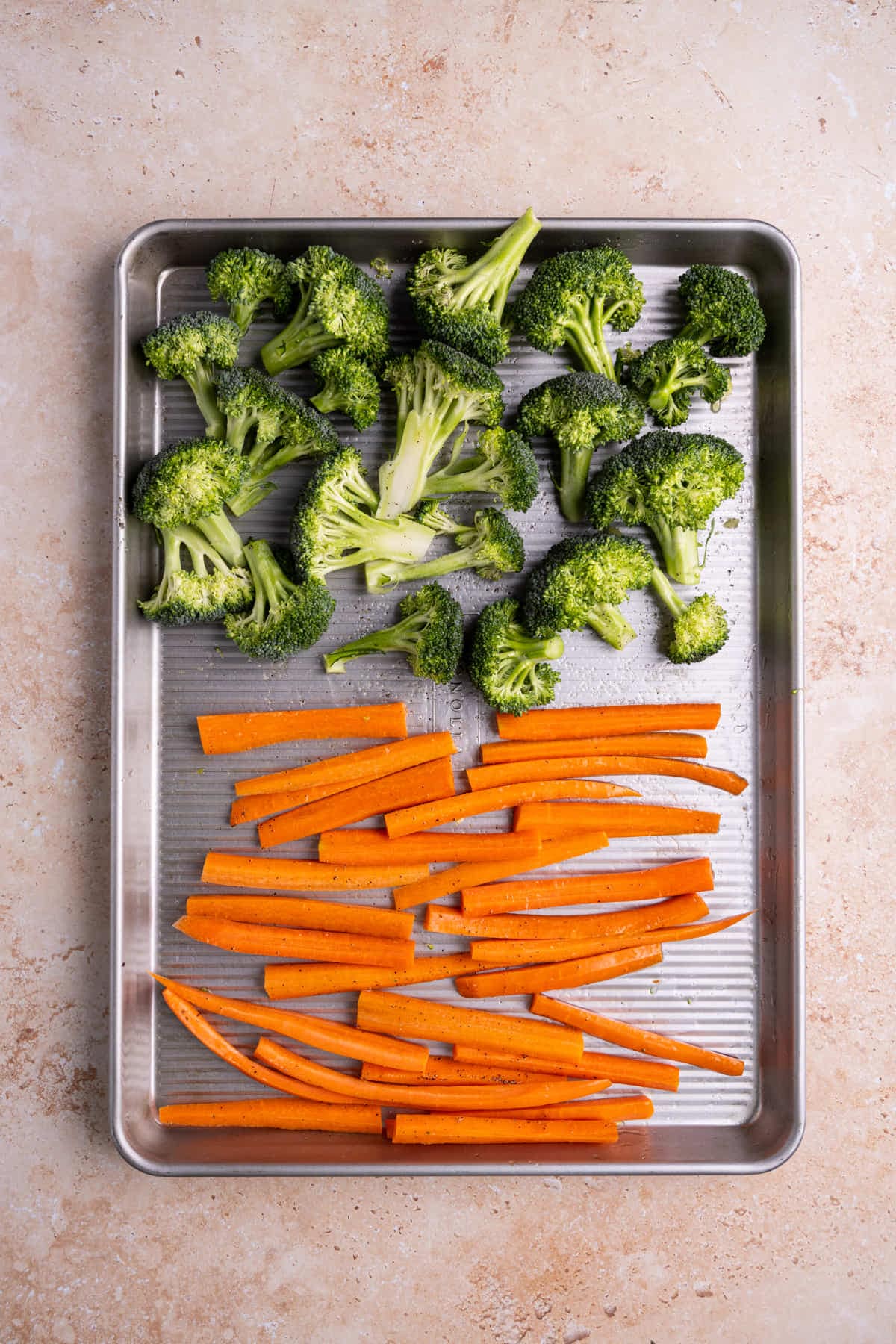 Toss the Carrots and Broccoli Again Halfway Through
Once your oven is preheated to 425°F, place your baking sheet with your prepped veggies on the top rack and roast for 10 minutes.
After 10 minutes, remove the baking sheet from the oven and use kitchen tongs or two wooden spoons to toss again them again. Be careful—it's super hot!
By tossing your veggies halfway through the roasting process, you will help them to cook more evenly. Plus, it helps to avoid the broccoli and carrots from sticking to the baking sheet.
Green tip: Get to know your oven! Get an idea of how long it takes your oven to preheat. By not pre-heating the oven too early, you can save energy.
Serving Your Roasted Vegetables
These roasted carrots and broccoli are already delicious enough on their own, especially with one of the many flavor-boosting options! Still, if you want to add extra moisture and flavor, consider topping these roasted vegetables with a dressing or sauce.
Here are a few of my favorites:
Roasted Carrots and Broccoli also make for an awesome and diverse side dish. Here are some of my favorite mains to serve them up with: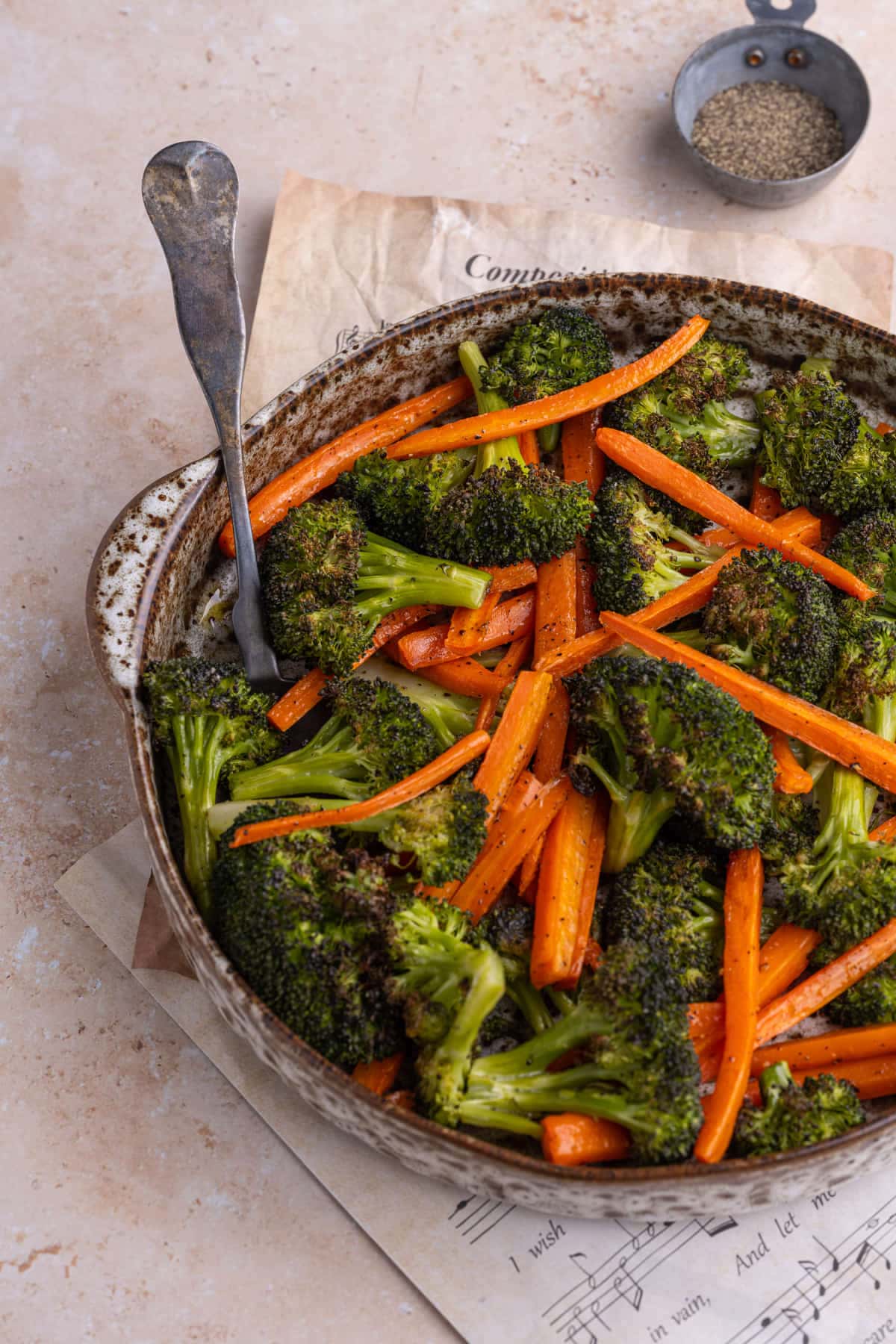 Storing Leftover Roasted Carrots and Broccoli
These Roasted Broccoli and Carrots will last in an airtight container in the refrigerator for up to 5 days. They can also be frozen for up to a year.
To thaw them, transfer them from the freezer to the refrigerator and let them rest there overnight.
To reheat these roasted vegetables, bring your oven up to 350°F and roast them fora second time just as they are (no need to add any extra oil or seasonings) for about 8-10 minutes until heated thoroughly.
Green tip: Another great way to reduce food waste is to properly store and reheat your leftovers so you can consume them.
Roasted Broccoli and Carrots Frequently Asked Questions
---
What cooks faster carrots or broccoli?
Broccoli florets typically roast faster than carrots do. That's why it's important to slice your carrots thin if you want to roast the two vegetables together, reducing the roasting time of the carrots to match the roasting time of the broccoli.
Should broccoli be boiled before roasting?
It is not necessary to boil broccoli before roasting it. However, if you want to speed up the roasting time of the broccoli, you can opt to blanch it by cooking it in boiling water for two minutes before roasting it.
Blanching the broccoli will give you more tender broccoli to start with, cutting the roasting time in half.
Want to sharpen your kitchen skills?
Why You Should Make this Roasted Carrots and Broccoli Tips and Tricks
---
They're simple. The simplest roasting technique with plenty of add-in options to make them your own!
They're quick. Only 20 minutes of roasting time required, and the whole thing comes together in less than 30 minutes!
They're nutritious. Nothing like veggies to nourish you.
If you're loving these Roasted Broccoli and Carrots and want more delicious veggie combos to roast together, check out these Sweet Potatoes and Cauliflower and Asparagus and Brussels Sprouts.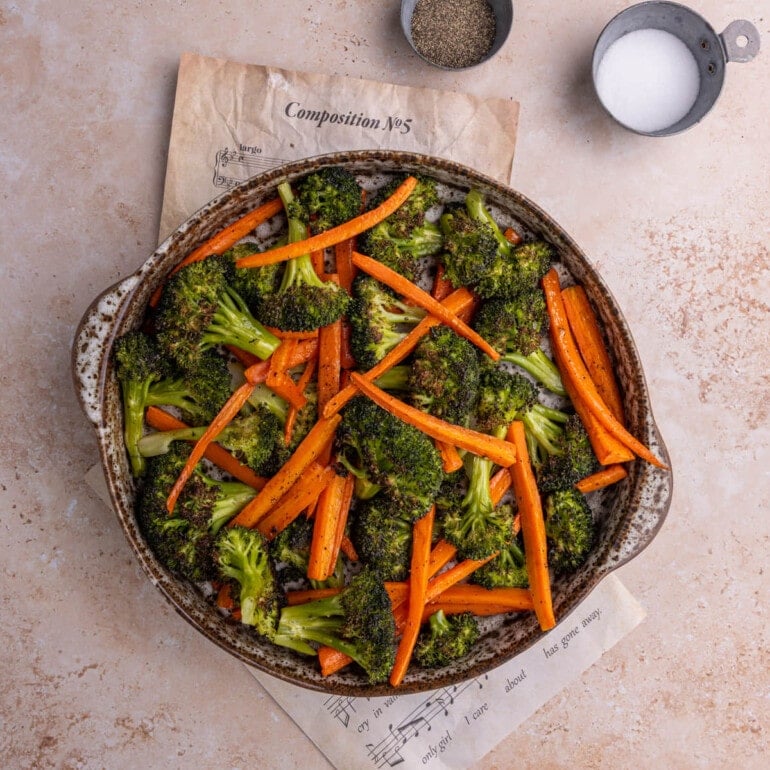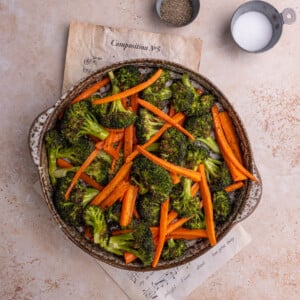 20-Minute Roasted Broccoli and Carrots
PRINT
PIN
RATE
This recipe for simple Roasted Broccoli and Carrots is the easiest way to bring out the natural flavors of the vegetables and get the perfect texture.
Ingredients
1

pound

broccoli

1

pound

carrots

2

tablespoons

extra virgin olive oil

½

teaspoon

salt

½

teaspoon

black pepper
Optional Topping Ideas
1

tablespoon

butter

(dairy or plant-based)

2

cloves

garlic, minced

½

teaspoon

garlic and/or onion powder

½

teaspoon

crushed red pepper

2

teaspoons

lemon juice or zest

2

tablespoons

grated Parmesan cheese or nutritional yeast
Instructions
Preheat your oven to 425°F.

Prep your broccoli by chopping the florets off the stems, removing any leaves, and slicing larger florets as needed to make sure each piece of broccoli is roughly equal in size (or as close as you can get!).

Prep your carrots by trimming the ends off the carrots, peeling them, and slicing them into long thin pieces (roughly ½ inch thick).

To a large 18 x 26-inch baking sheet, add your prepared broccoli and carrots. Add the olive oil, salt, and pepper, and toss to coat. If you're adding any optional toppings, add them now, too. Then, spread the vegetables out in a single layer.

Roast for 20 minutes, tossing halfway in between. Serve hot.
Did you make this recipe?
Let me know by leaving a recipe rating below, or by tagging @marleysmenu on Instagram.