These Roasted Garlic and Feta Mashed Potatoes are creamy and fluffy with the perfect amount of salt and garlic to amp up each bite. And my love for them runs deeper than just the buttery, garlic, creamy feta goodness they provide.
Let me explain.
Did anyone else live for the book "Cloudy With A Chance of Meatballs" as I child? I guess I should have known then that I would be a foodie.
But seriously, I have a vivid memory of the very last page of that book. When the snowfall looked like a pile of mashed potatoes and the sun peering over as it rose looked like a pad of butter?
I still dream of a world where I can sled down a hillside made of fluffy mashed potatoes. And since that dream will probably not come to fruition (never say never), I'll settle for eating fluffy mashed potato mountains with sunny butter instead.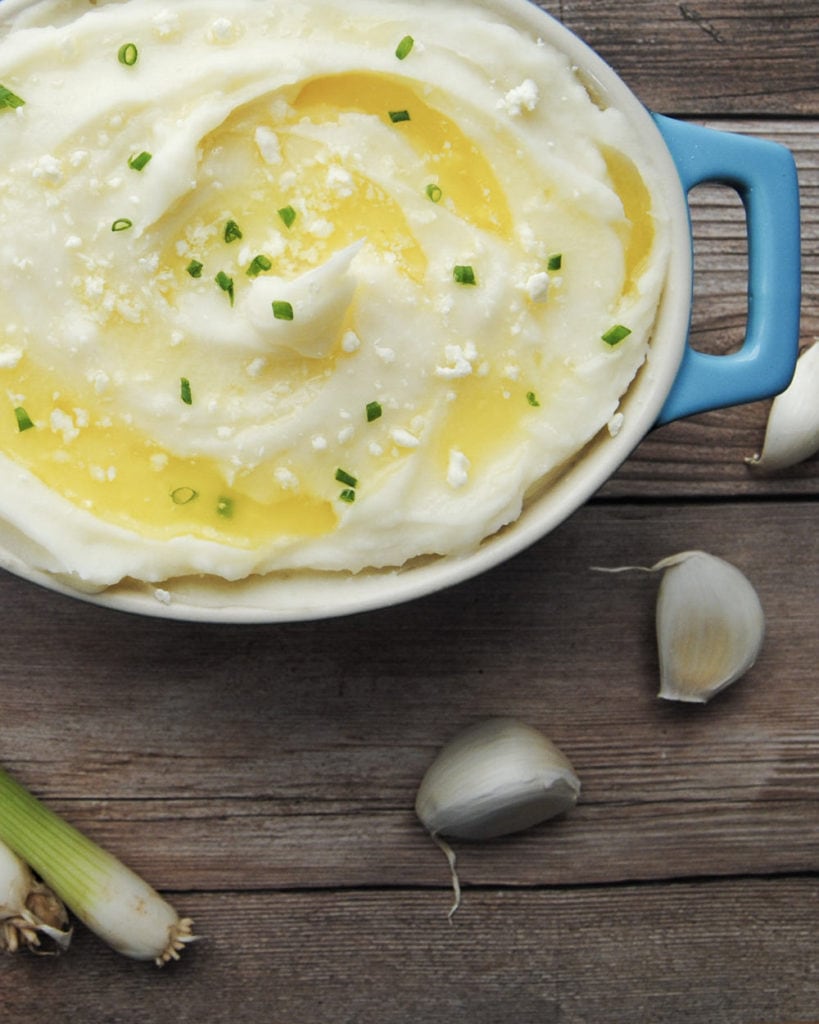 But mashed potatoes were one of those things that I used to only eat on Thanksgiving and then thought, why??? They warm my heart (and tummy) and go with everything! So I started making them more and more as a side to fish or vegetables or even just to have with my Hearty Mushroom Gravy.
And then. The discovery of Roasted Garlic and Feta Mashed Potatoes happened. And it absolutely rocked my world.
The story goes, we had some feta in the fridge that was about to expire and I was determined to use it up. We already planned for mashed potatoes that night (anyone else plan out all their meals in excitement over breakfast?), so I thought, why not chuck some feta in them?
Well, it was a slam dunk! Mash just doesn't taste right without Feta now. You'll see what I mean after your first bite!
Roasted Garlic and Feta Mashed Potatoes Tips and Tricks
---
---
Roasting the Garlic
The most important ingredient in this recipe is, of course, the GARLIC! Roasting garlic makes the inside ooey-gooey and ideal for spreads.
The trick to perfect roasted garlic in a small amount of time (just 30 minutes!) is to NOT peel it. Keeping it inside its papery outer layer will allow the garlic to cook thoroughly without getting crispy.

Since we want to cook it quickly, we have to crank the heat up. Make sure to cover it completely with tin foil. You'll end up with a golfball-sized sphere of tinfoil. After 30 minutes in the oven, you should achieve the perfect consistency.
Allow some time for it to cool so you don't burn your hands, and peel back the outer layer to reveal your beautifully roasted garlic! This is the same technique I use in my Scratch Texas Toast.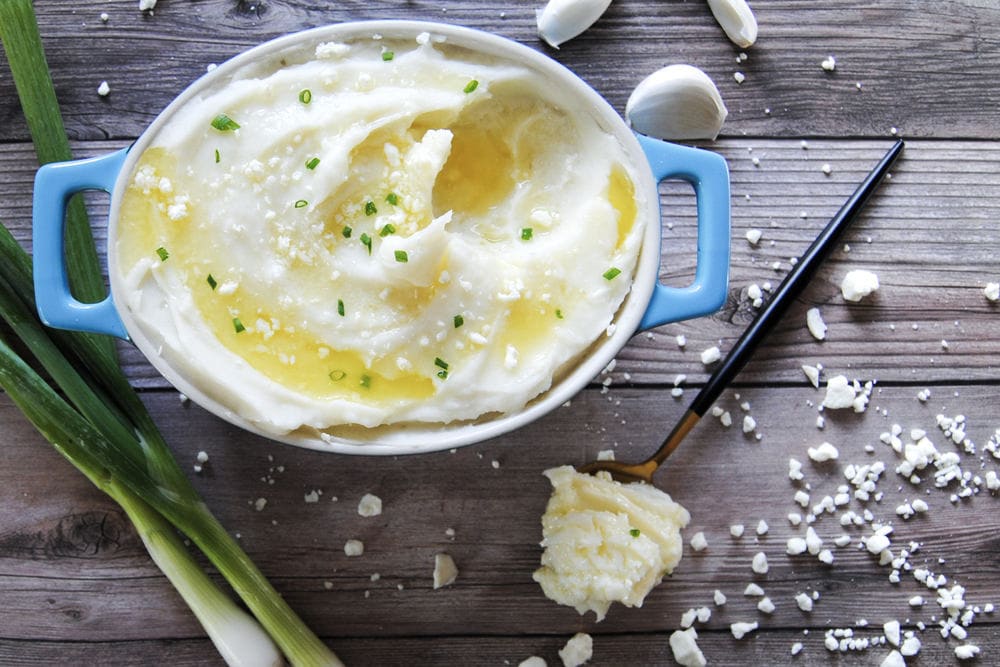 Optimizing the Feta
Feta is a deliciously salty, crumbly cheese used often in Greek cuisine. Emphasis on the salty. So while I generally preach salting potatoes, you've got to resist the urge here.
The recipe actually calls for no salt at all, but of course, add some to taste if necessary. Add your feta last. It's not known best for melting and you won't get that ooey-gooey cheesiness you will from say, a mozzarella. Its main function is the salt element, with a little flavor burst in your bite.
Getting Those Fluffy Peaks
None of these top-notch flavor bombs mean a thing without those cloud-like peaks. The trick is threefold. Always use a hand mixer (affiliate link) or whisk by hand. Never use a food processor or blender.
AND. Always use softened, not melted butter.
AND. Add your milk while you are mixing.
Okay. You are now minutes away from diving headfirst into a pile of snow. I mean mashed potatoes. Enjoy every last bite!
And for a little extra flavor on your potatoes, try these smothered in Delicious Hearty Mushroom Gravy.