Looking for a pescatarian-friendly nugget to pop in your mouth? These Easy Baked Salmon Nuggets are extra crispy and filled with flavor!
Plus, they only require 25 minutes start to finish and less than ten ingredients, making this simple salmon recipe one you'll crave again and again!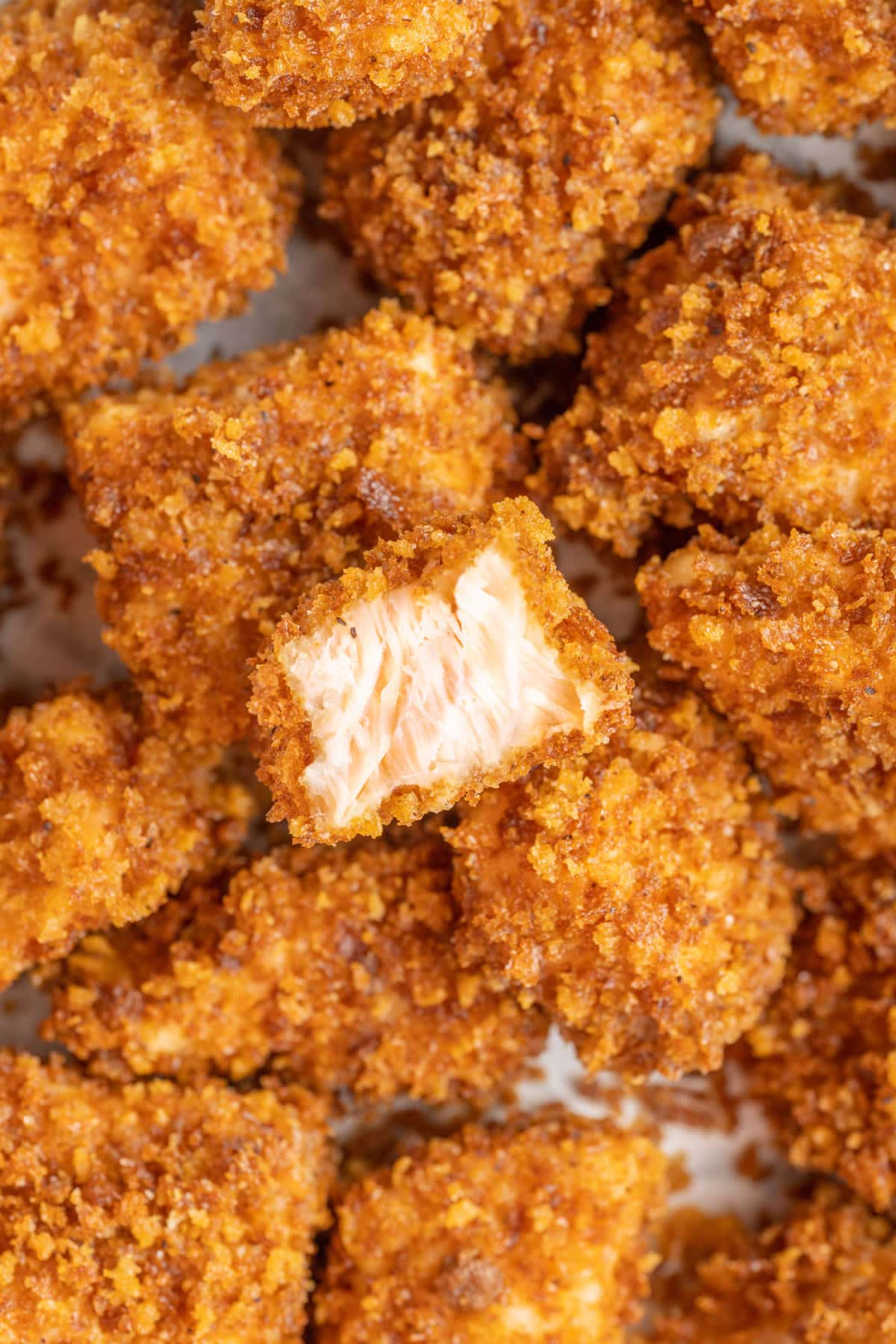 Salmon Nuggets Ingredients
---
Here's everything you need:
Salmon. I used fresh salmon. If you're using frozen salmon, make sure to allow it to thaw overnight in the refrigerator or add it to a bag and submerge the bag in room temperature water for about 45 minutes to defrost before using it for this recipe.
Panko. Panko breadcrumbs will undoubtedly give you the crunchiest exterior, but you can also use Italian breadcrumbs or even crush up pretzels, chips, or crackers in a pinch.
Salt, pepper, and olive oil. To season and toast the Panko with.
All-purpose flour. To dredge the salmon in to make the egg wash stick better.
Egg. The base of your egg wash that holds a generous layer of toasted Panko on the salmon to form the crispy outer breading.
Lemon juice. To season the egg wash and bring out the flavor of the salmon.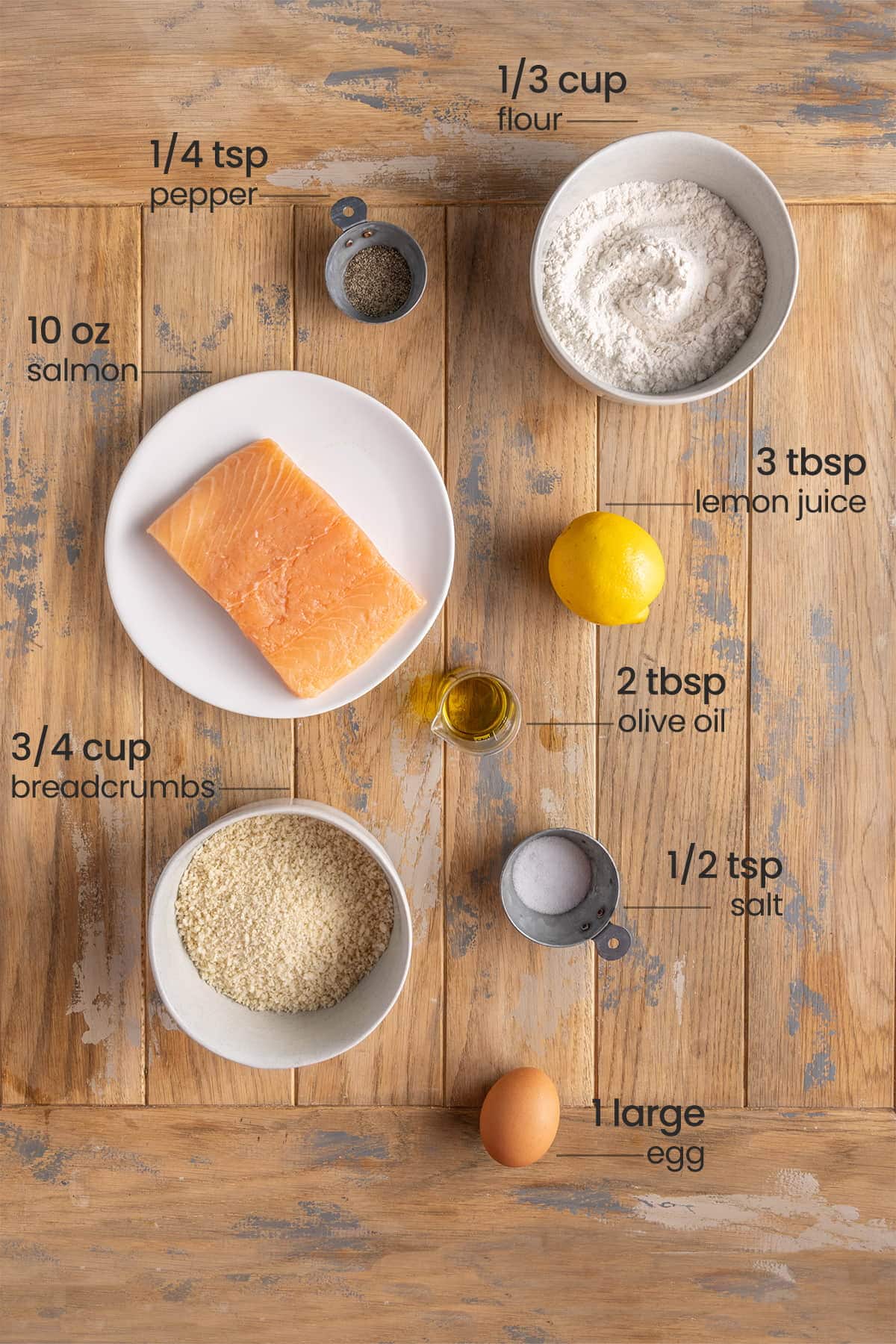 Sustainable Salmon
Salmon farming, which is the most prominent source of salmon sold in markets, can pose several risks to our environment.
These risks include pollution from the antibiotics used in salmon farms that often leach into the surrounding waters, and the depletion of other wild fish populations harvested to feed the salmon.
On the other hand, wild-caught salmon poses different risks, including bycatch and overfishing. Moreover, there are sometimes issues with availability and access to wild caught salmon.
So, how can we source salmon sustainably?
In the U.S., we have two good options: buying sustainably farmed salmon, or wild-caught Alaskan salmon.
Green tip: Look for Marine Stewardship Council and Friend of the Sea labels on your fish to ensure they were harvested sustainably.
Salmon Nuggets Tips and Tricks
---
Toast Your Panko
To get the breading perfectly toasty and golden brown, we have to toast it first! This is because it takes longer for the Panko breadcrumbs to nicely toast than it takes the salmon to cook.
So, add the Panko breadcrumbs to a baking sheet with olive oil, salt, and pepper first. Use clean hands to toss, ensuring the Panko is evenly coated in the oil and the salt and pepper is distributed throughout.
Then, toast the Panko on the top rack of the oven at 400°F for 8-10 minutes, tossing halfway in between until the breadcrumbs are golden brown.
Then, add them to a bowl and set aside to cool while you prep your salmon.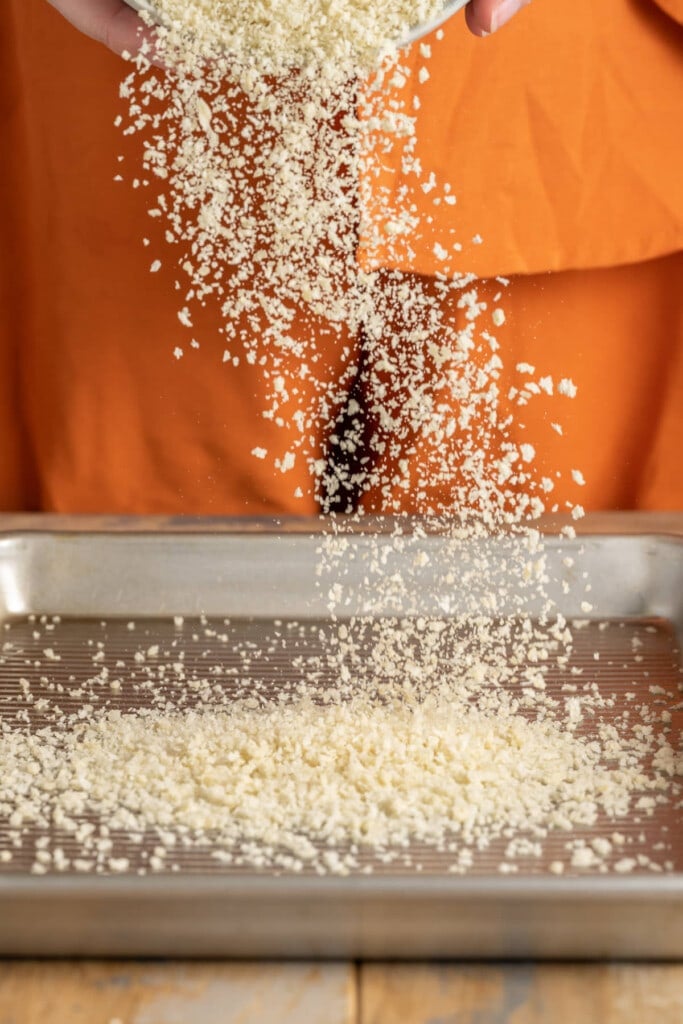 Pat Dry the Salmon First
Before you start the breading process on the salmon, it's best to remove excess moisture to get the best texture once it's baked!
Place your salmon filets skin-side down and use a paper towel to lightly press down from the top to lightly pat them dry. Drying your fish is the easiest way to avoid a mushy texture. I use this same technique to make these Salmon Sliders as well.
Green tip: Paper products contribute to deforestation. Consider these bamboo paper towels! Bamboo naturally regenerates every few months, whereas trees cannot regrow once harvested.
I like to make this recipe with fresh fish, but you can also easily use frozen salmon!
Just allow the salmon to thaw overnight in the refrigerator or, for a quicker thaw, add it to a plastic or reusable storage bag and submerge the bag in cold water for about 45 minutes to defrost.
I typically buy skinless salmon for this recipe, but you can also skin salmon at home! For detailed directions, check out this post on how to remove skin from salmon.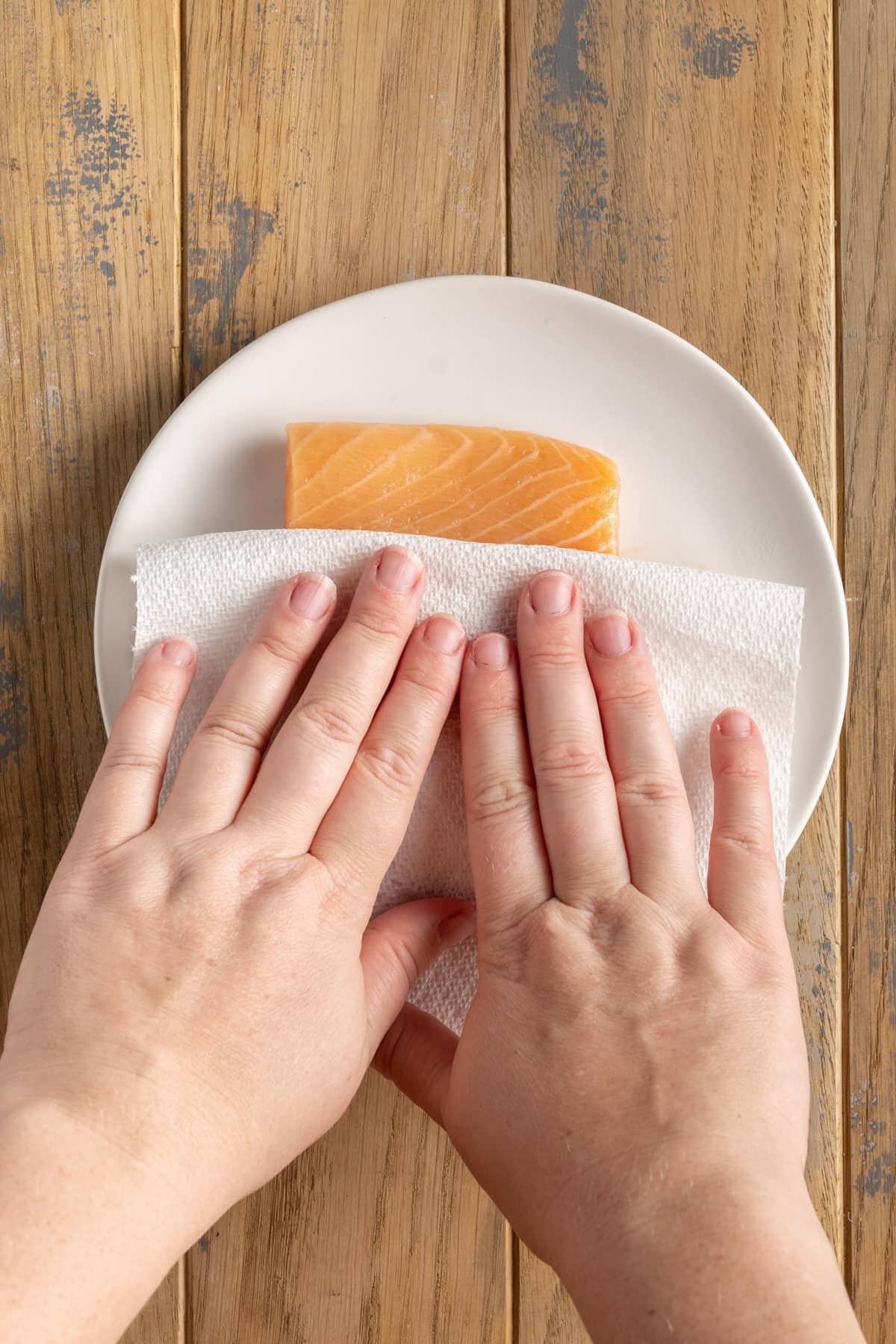 Slice the Salmon into Cubes
Use a sharp knife to slice the salmon into bite-sized cubes, about 1 cubic inch in size.
While the cubes do not have to be perfectly equal in size by any means (depending on the cut of your salmon, it may be hard to get them perfect!), try to get them close.
The size of each piece will vary the baking time, so keeping them all roughly the same size helps them bake evenly. This means, if some spots of the cut of your salmon are thicker than others, you may have to slice them in half.
I use this same salmon cubing technique in these Salmon Tacos with Greek Yogurt and Honey Dijon Salmon Quinoa Bowl, too!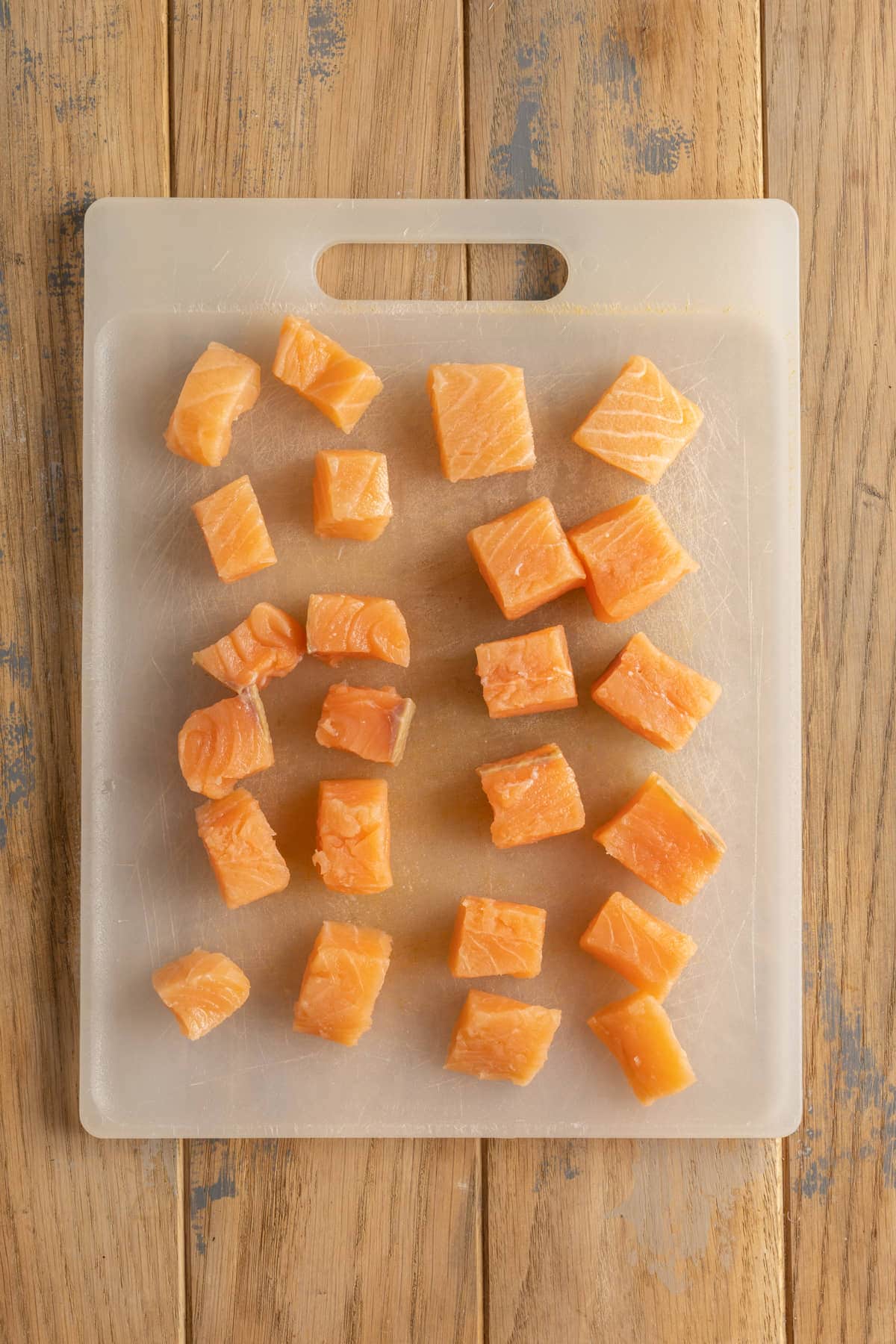 Make Your Egg Wash
Crack your eggs into a shallow bowl first. This will allow you to spot any egg shells that might accidentally fall in and extract them. Plus, if for some reason you have a rotten or bloody egg, you can start over without wasting your lemon juice!
Green tip: Did you know you can compost egg shells? Read all about it in this article; Can You Compost Egg Shells?
Then, you'll add the lemon juice and use a fork to whisk it until it is nice and smooth.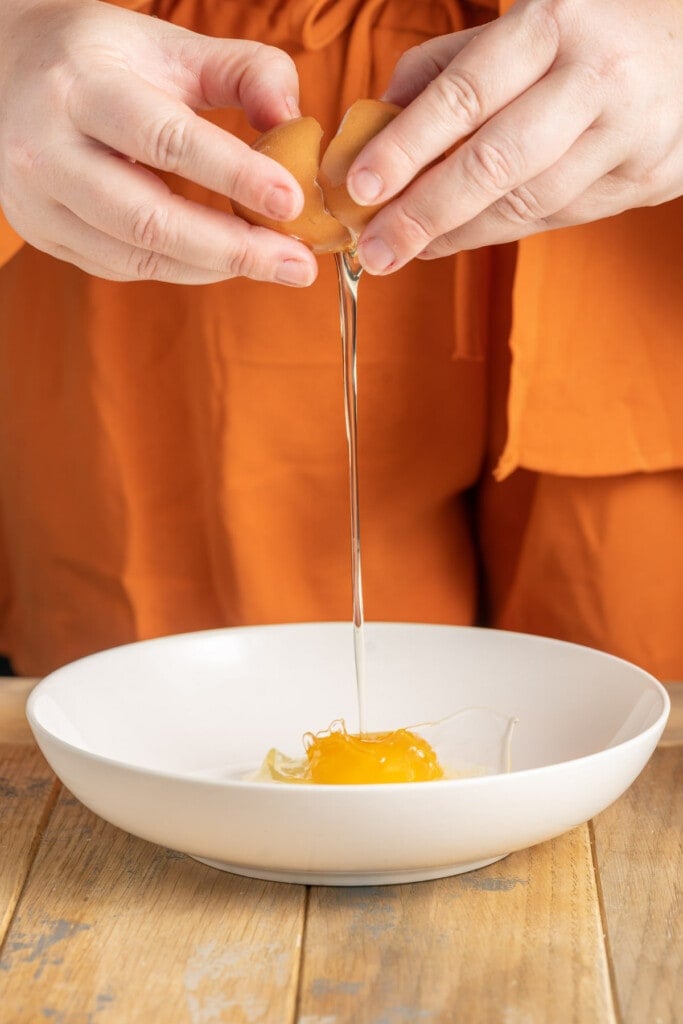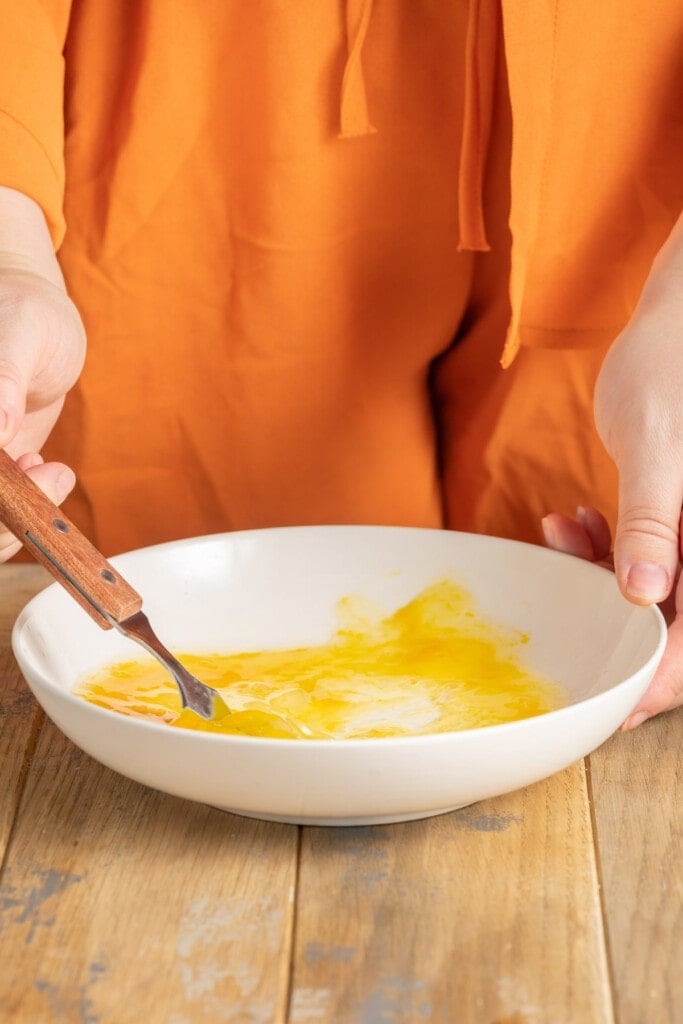 Use Fresh Lemon
Speaking of lemon juice, fresh lemon goes a long way in this recipe! Citrus is a classic combo with salmon, as it combats the naturally brine-y flavor and brings the fresher notes forward.
I recommend using a citrus squeezer to extract your lemon juice. Not only does it get the most juice out of your lemon, but it also catches the seeds!
If you don't have a citrus squeezer, just make sure you fish out any lemon seeds that fall into your egg wash.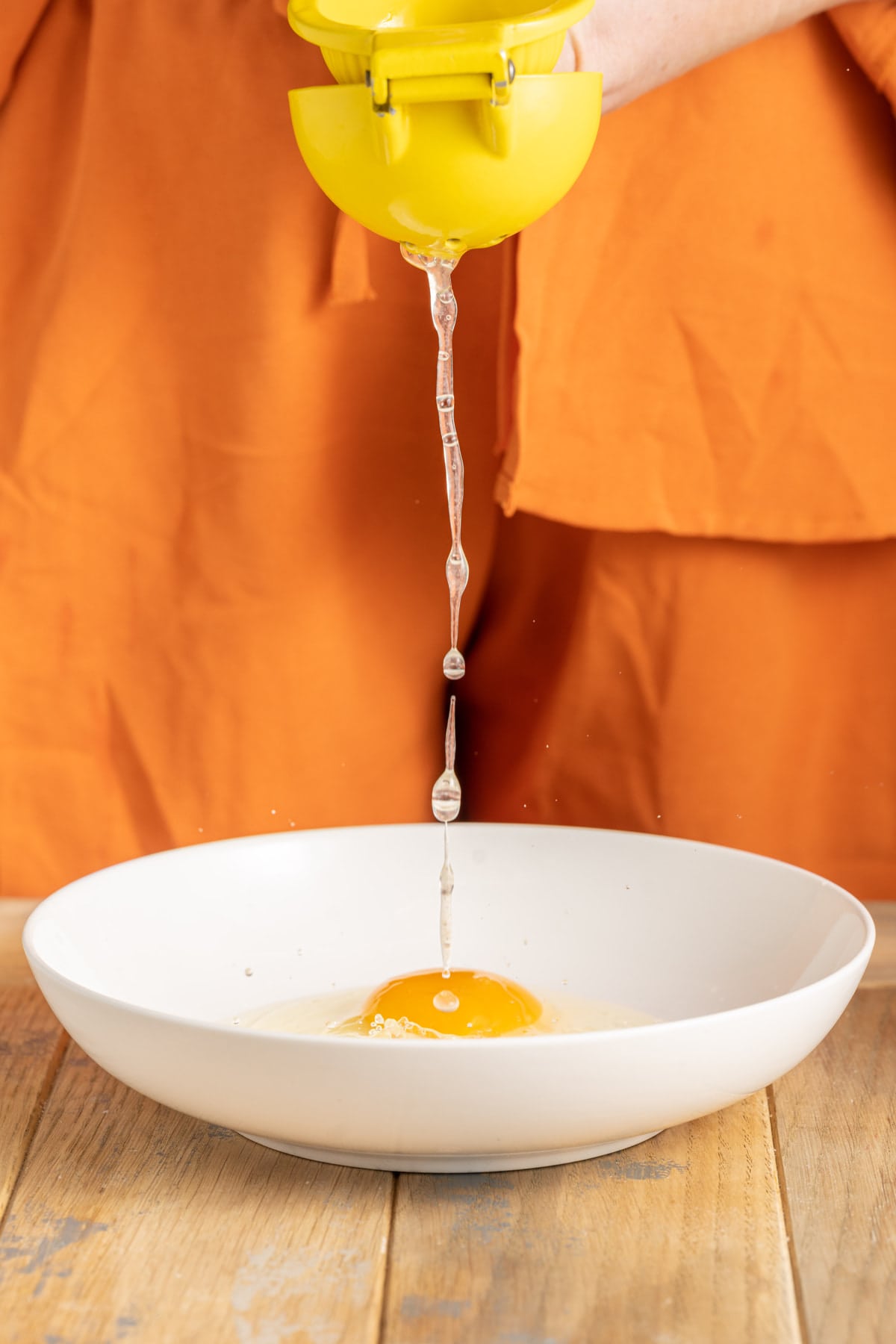 Set Up an Assembly Line
Set yourself up for success! Use three shallow bowls: one for the flour, one for the egg wash, and one for the toasted Panko.
This will act like a little assembly line, making it easy for you to dunk the salmon into each.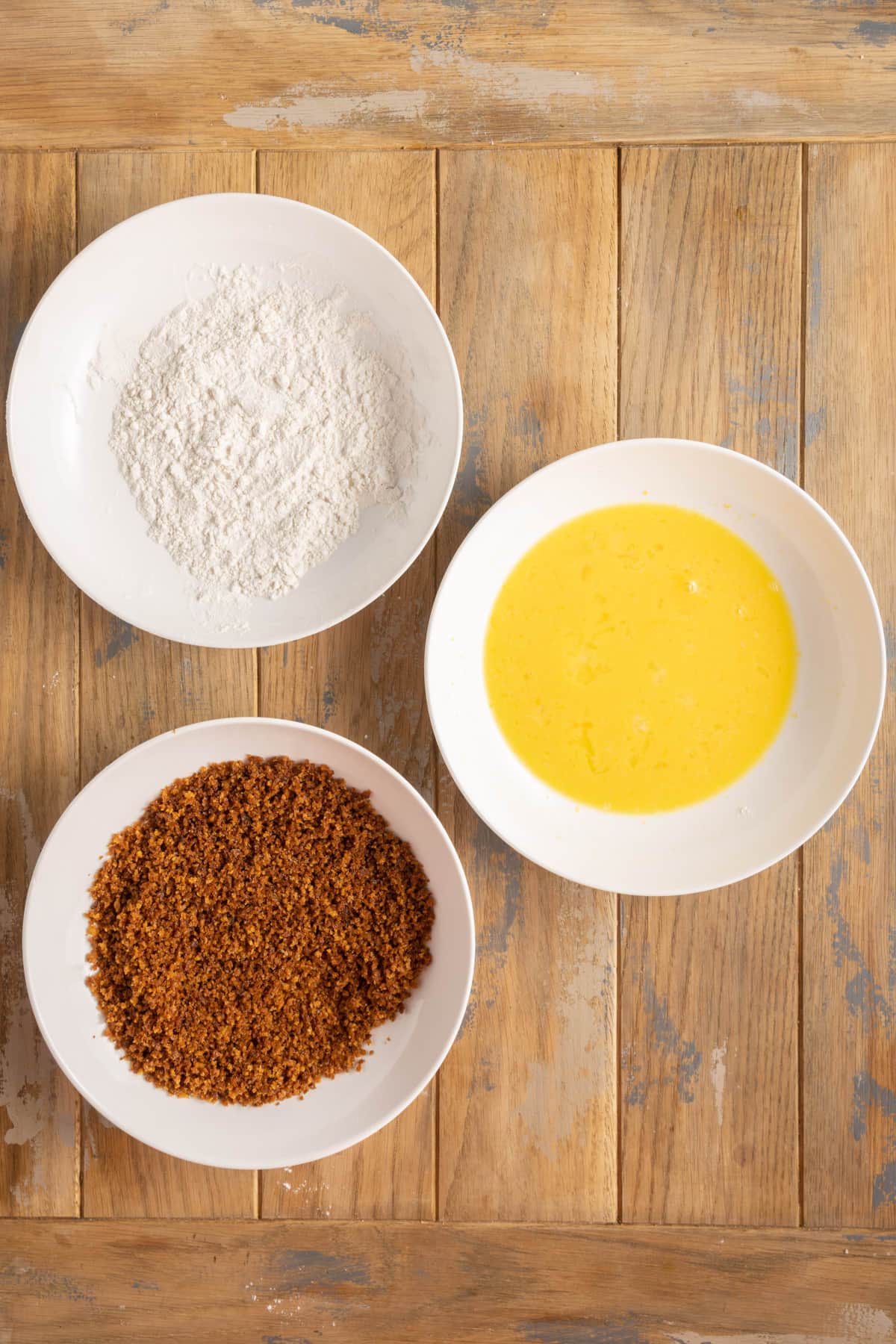 Coat Your Salmon Cubes
Add the salmon cubes to the flour first, tossing to ensure every side is coated. Next, toss the flour-coated salmon nuggets in egg wash.
Finally, place the salmon cubes in the toasted Panko. Toss them to coat, pushing extra breadcrumbs where necessary to ensure there is a generous layer of Panko on the outside.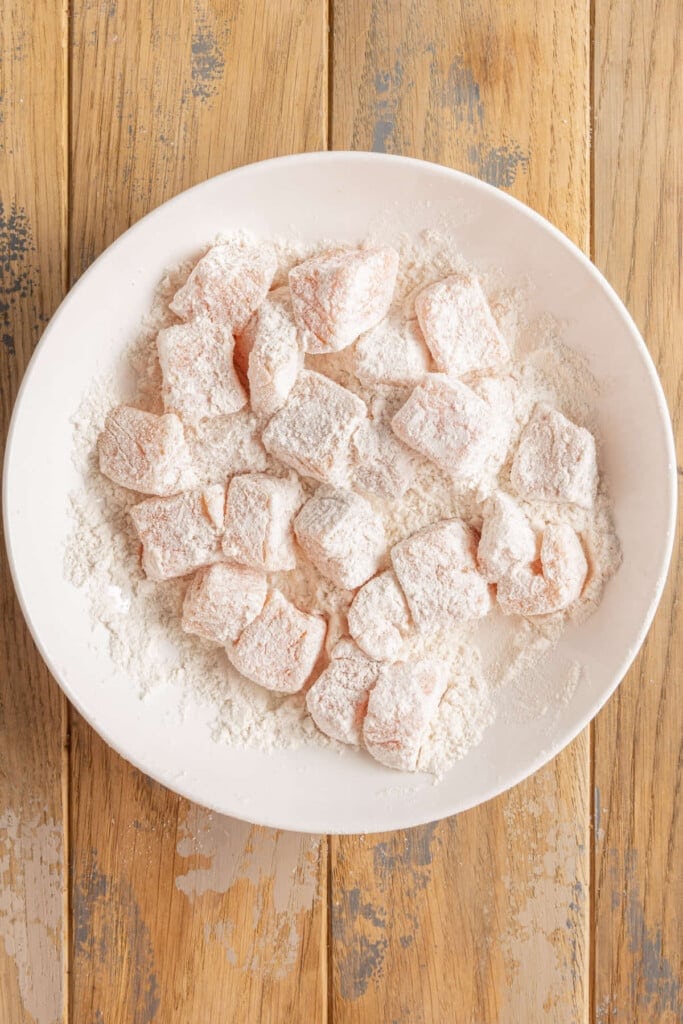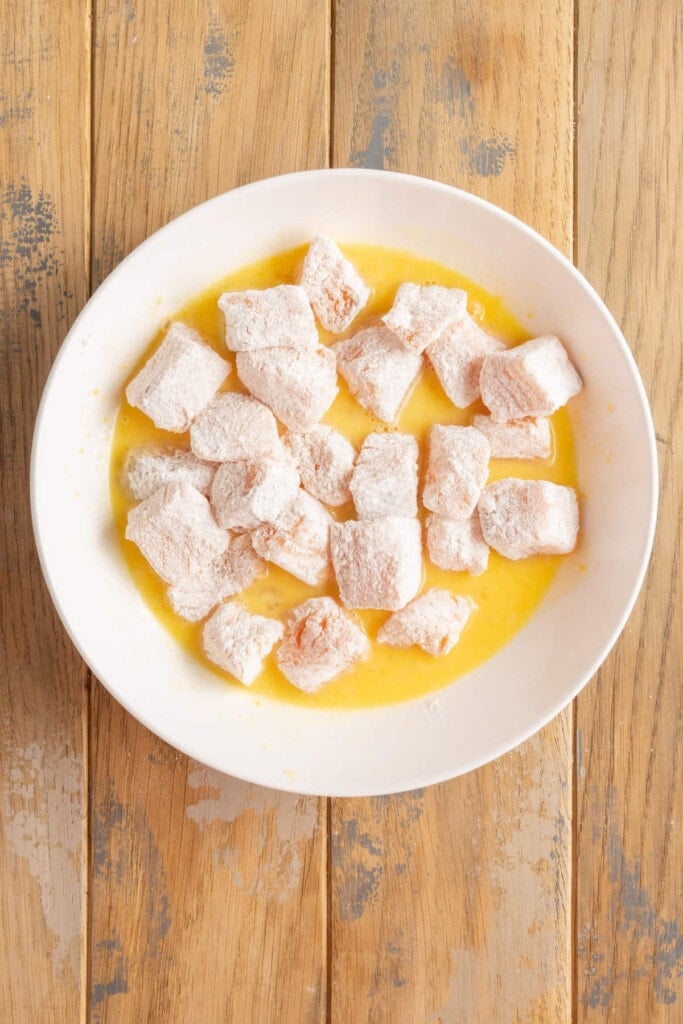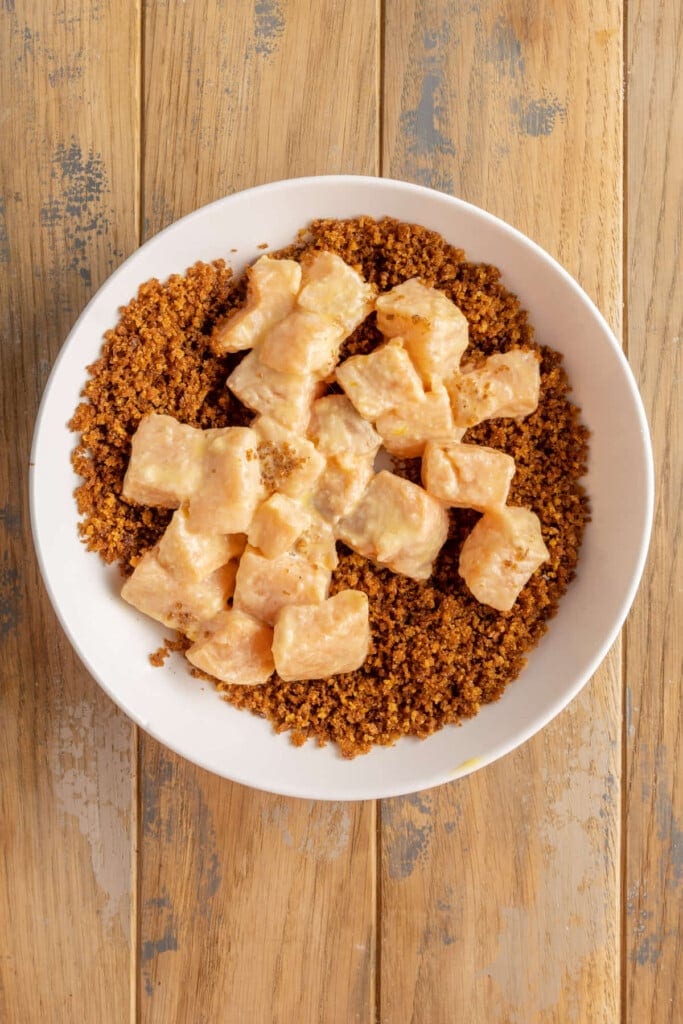 How to Bake Salmon Nuggets
Line your Panko-crusted salmon nuggets up on the baking tray, leaving a little space in between each salmon nugget.
Then, bake the salmon nuggets on the top rack of the oven at 400°F for 5-8 minutes until the internal temperature of the salmon reaches 125°F.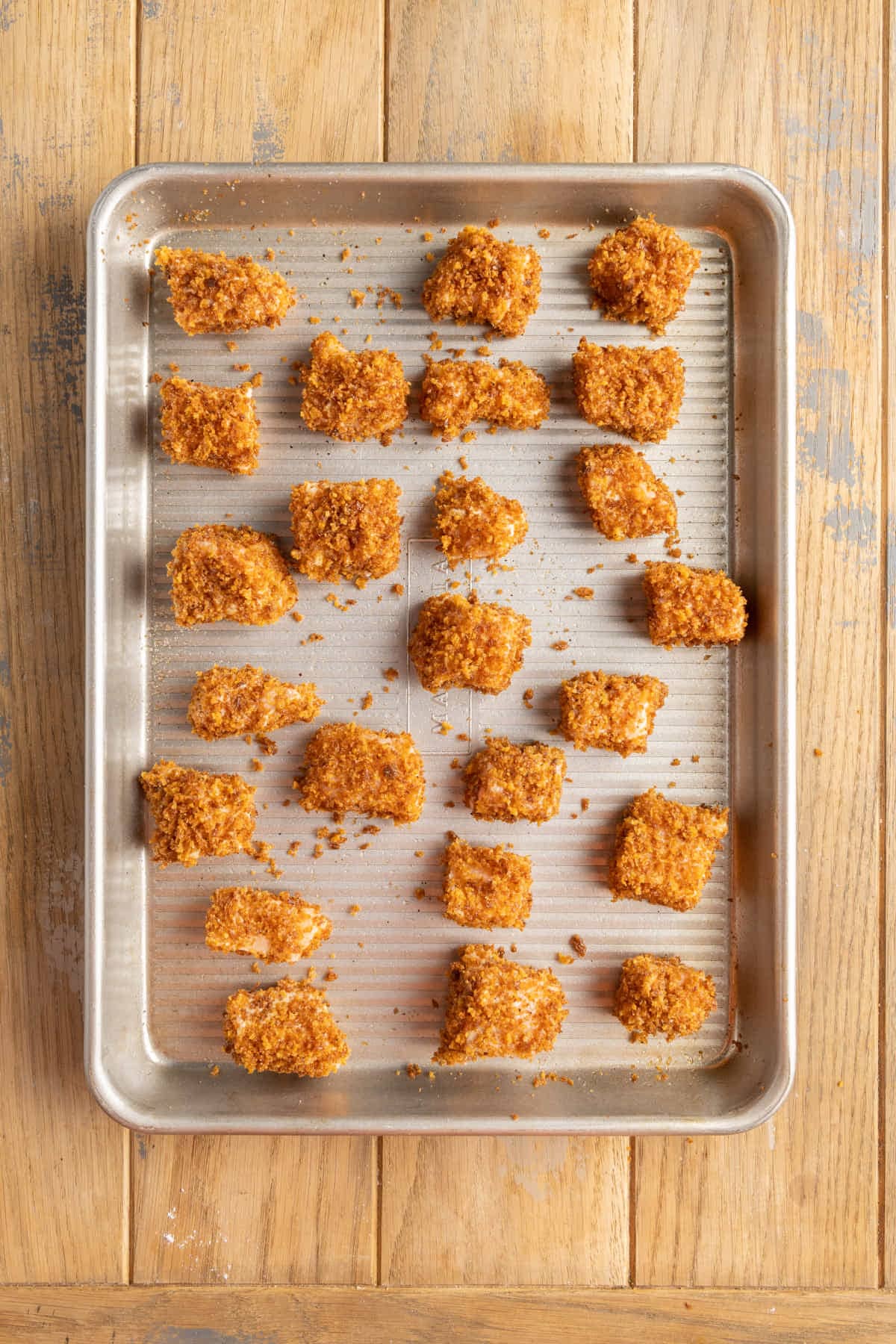 How to Serve Salmon Nuggets
These salmon nuggets are extra crispy and lightly seasoned to allow the natural flavor of the salmon to shine. They make perfect little handheld dunkers for BBQ sauce, honey mustard, ketchup, and ranch dressing.
Here are some of my favorite sides to serve up with these Salmon Nuggets:
How to Properly Store and Reheat Salmon Nuggets
Leftover salmon nuggets will last in the refrigerator for 3-4 days in an airtight container. They can be reheated in the oven, air-fryer, or toaster oven!
Preheat the oven (or air fryer, or toaster oven!) to 450°F and place the leftover salmon nuggets on a baking sheet. If you have a convection setting on your oven, use it here!
Reheat on the top rack for 4-5 minutes until heated all the way through. The internal temperature of the salmon should ideally reach 145°F.
You can also freeze leftover salmon nuggets for up to 3 months. It's best to thaw them completely before reheating them using one of the options above.
Reheating them in the oven directly from the freezer will make them really dry. You can thaw them by allowing them to sit in the refrigerator overnight, or by adding them to a sealed bag and allowing it to sit in tepid water for about 30-45 minutes.
Green tip: Did you know that of the billions of pounds of food wasted annually, it is estimated that 50% of it happens in our homes? Reduce your contribution to food waste by properly storing and enjoying your leftovers!
Salmon Nuggets Frequently Asked Questions
---
Can I make these salmon nuggets in the air fryer?
You sure can! The Panko will toast in the air fryer at 375°F in about 7 minutes. Then, you can air fry the nuggets at 375°F for 4-6 minutes until the internal temperature of the salmon reaches 125°F.
Are there any substitutes for Panko in this salmon nuggets recipe?
I highly recommend Panko breadcrumbs in this recipe for the ultimate crunchy exterior! However, if you don't have any on hand there are several substitutes that will work including Italian breadcrumbs, or even crushed Ritz crackers, pretzels, potato chips, or tortilla chips.
Why do I have to pre-toast Panko?
The reason we are pre-toasting the Panko in this recipe is simply because it takes longer to toast than the salmon takes to cook when it is cut into cubes.
If we don't pre-toast the Panko, we would be settling for not-fully-toasted Panko or underdone salmon!
Want to sharpen your kitchen skills?
Why You Should Make these Easy Baked Salmon Nuggets
---
The texture! Super crispy on the outside, juicy and tender on the inside.
They're fun. Is it just me or is handheld food with sauce options a whole experience?
They come together quickly. Less than 30 minutes from start to finish.
If you're loving these Salmon Nuggets, you'll also love these Crispy Fried Oyster Mushrooms and Baked Cod with Panko.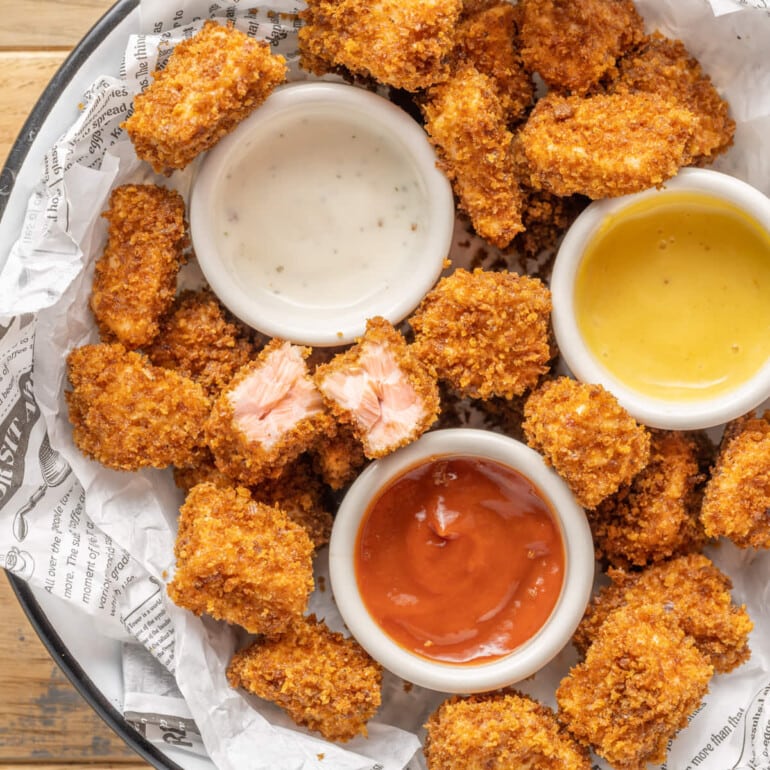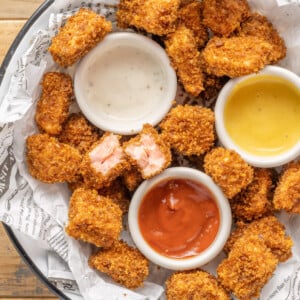 Easy Baked Salmon Nuggets
PRINT
PIN
RATE
These Easy Baked Salmon Nuggets are extra crispy on the outside and tender and juicy on the outside. This recipe uses simple ingredients to allow the natural flavors of your salmon shine, and requires less than 30 minutes!
Ingredients
¾

cup

Panko breadcrumbs

½

teaspoon

salt

¼

teaspoon

black pepper

2

tablespoons

olive oil

10

ounces

skinless salmon

⅓

cup

all-purpose flour

1

large

egg

3

tablepsoons

lemon juice

(1 lemon = approx. 4 tablespoons juice)
Instructions
Preheat your oven to 400°F.

Add the Panko breadcrumbs, olive oil, salt, and pepper to a baking sheet and toss to coat.

Toast on the top rack of the oven for 8-10 minutes, tossing halfway in between until golden brown. Add the toasted Panko to a shallow bowl and set aside to cool. Leave the baking tray out and keep the oven hot for later!

Meanwhile, pat dry your salmon with a paper towel (consider these bamboo paper towels for a more sustainable option!) and slice it into bite-sized cubes, about 1 cubic inch in size.

Then, add your flour to a second shallow bowl and set next to your Panko.

In a third shallow bowl, whisk your eggs and lemon juice together until smooth to form an egg wash.

Working in order, place the cubed salmon into the flour first, tossing to evenly coat the salmon in a layer of flour.

Next, drop the flour-coated salmon into the egg wash, ensuring all sides are coated in the egg and lemon mixture.

Finally, drop the salmon into the toasted breadcrumbs, pressing the Panko into each side to ensure there's a generous outer layer.

Line the Panko-crusted salmon nuggets up on your baking sheet and bake for 8-10 minutes until the internal temperature of the salmon reached 125°F. Enjoy!
Pro Tips
If you want to use a convection oven, set your oven to 375

°F

. 

If you want to use an air fryer, set the air fryer to 375

°F. Toast the Panko for about 7 minutes or until golden brown, and bake the nuggets for 4-6 minutes. 

For more recipe inspiration for salmon, check out this list of Simple Salmon Recipes. 
Did you make this recipe?
Let me know by leaving a recipe rating below, or by tagging @marleysmenu on Instagram.