Looking for a quick and easy meal to whip up in a flash? This 4-Ingredient Salmon Pesto Pasta comes together in just 30 minutes and is packed with flavor.
The fresh and zesty pesto is a natural pairing with delicious salmon, and it comes together beautifully served over a bed of pasta. Plus, this salmon pasta dish only requires one pot which means less clean up!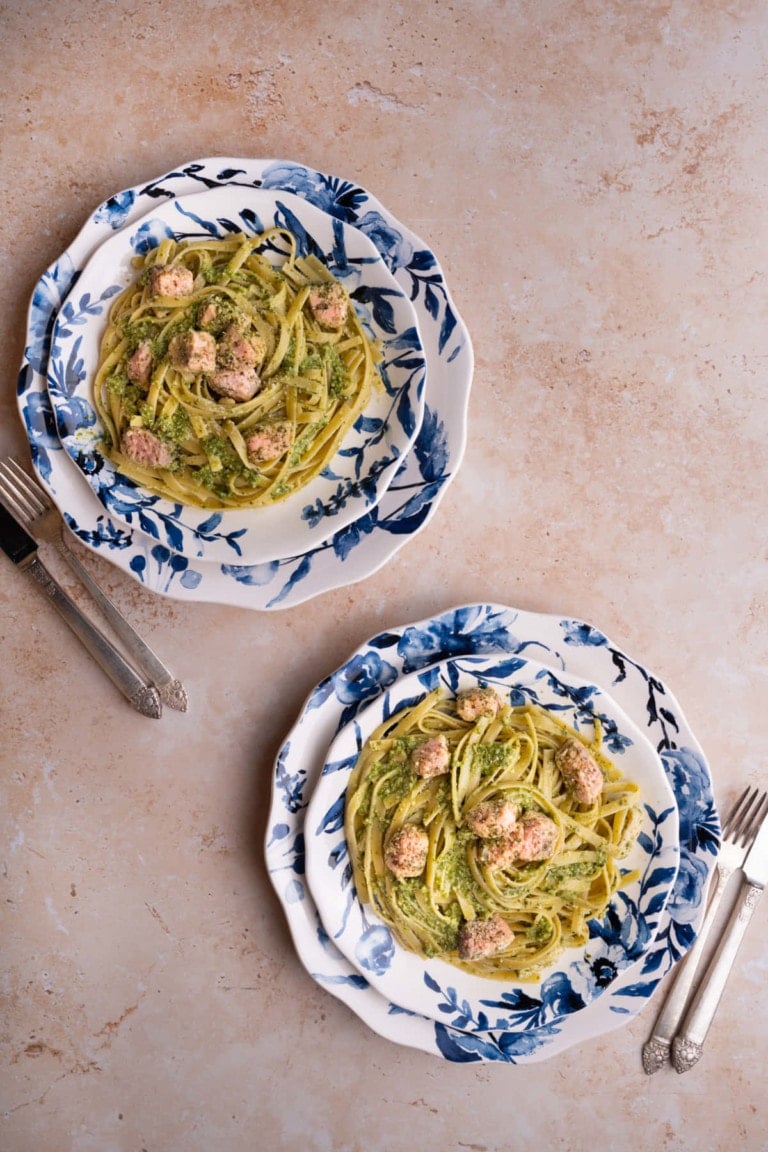 As a busy mom and environmental scientist, One-Pot recipes are my absolute favorite! Less clean-up means saving on both time and water! Win, win.
Green tip: Speaking of cleanup, if you have a dishwasher-use it! Comparing dishwashing to handwashing, using an efficient dishwasher uses 1/6th the amount of water to get your dishes clean!
Salmon Pesto Pasta Ingredients
---
Here's everything you need:
Pasta. Any pasta will do—short like penne or long like Fettuccine and everything in between! Just make sure to reserve some of the water you cook the pasta in.
Olive oil. To cook your salmon in.
Salmon. Such a natural pairing with the pasta and pesto.
Pesto. This provides the fresh flavor in this dish! You can buy it at the store or make your own pesto.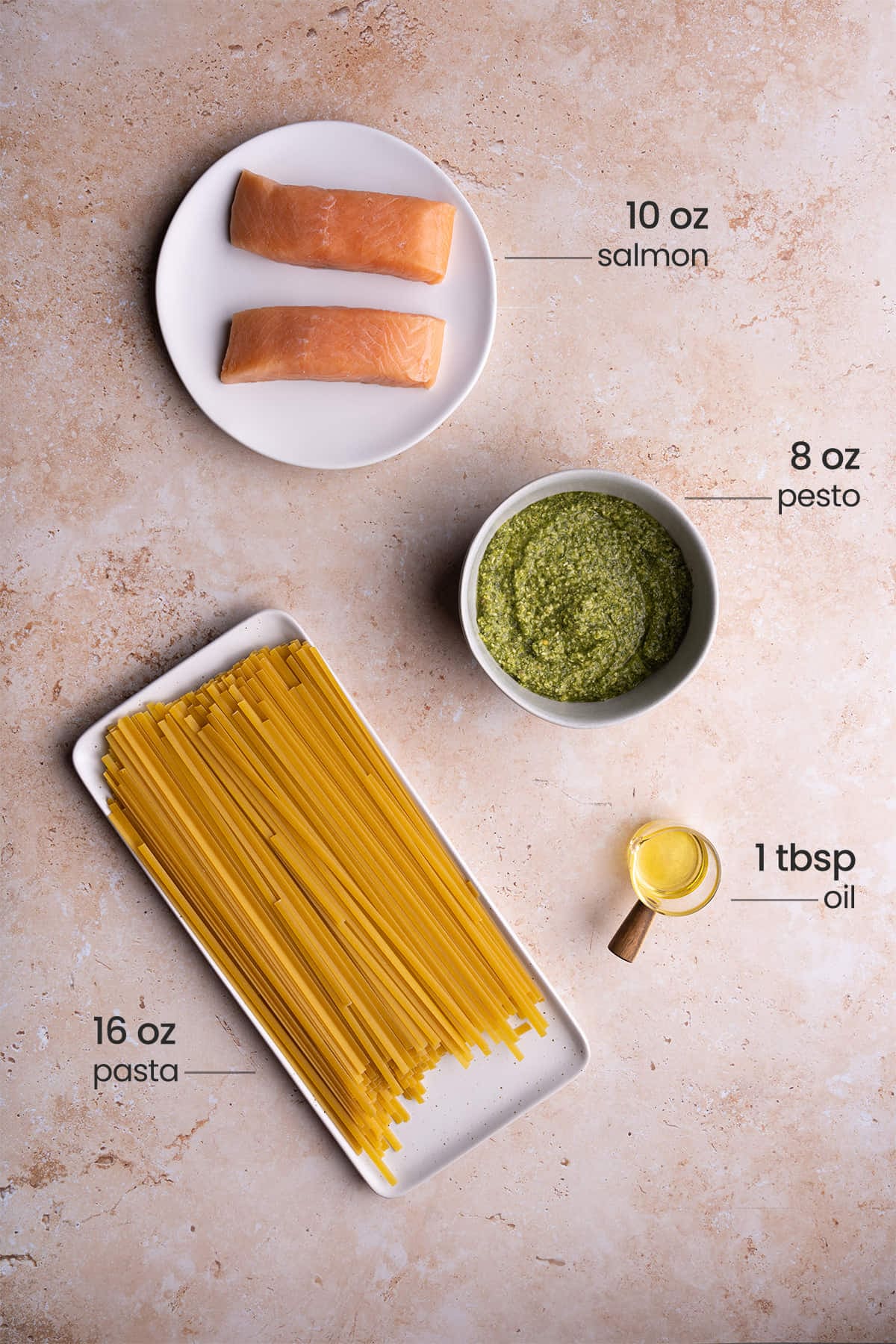 Sustainable Seafood
Without extreme care, salmon farming can pose several risks to the environment, especially because of the antibiotics used by salmon farms that can then leach into the surrounding environment and the depletion of other wild fish harvested to feed the salmon on the farm.
Similarly, wild-caught salmon poses different risks, in the way of overfishing and bycatch. Plus, there are often issues with availability and access to wild-caught salmon.
So how can we source salmon sustainably? We have two great options: sustainably farmed salmon, or wild-caught Alaskan salmon.
Green tip: Look for Marine Stewardship Council and Friend of the Sea labels on your fish to ensure they were harvested sustainably.
Salmon Pesto Pasta Tips and Tricks
---
Pat Dry Your Salmon
Before we get to cooking it, we have to prep our salmon. The way to get the best texture on your salmon is to pat it dry!
Simply place your salmon filets in between two paper towels and press down lightly. This will remove extra moisture from the fish to ensure you avoid a mushy texture. This same technique is used to make this Roasted Garlic Salmon as well.
Green tip: Paper products contribute to deforestation. Consider these bamboo paper towels! Bamboo naturally regenerates every few months, whereas trees cannot regrow once harvested.
I created this recipe with fresh salmon, but you can also easily use frozen salmon! Just make sure to defrost the fish first.
You can do so by thawing it overnight in the refrigerator or by adding it to a reusable storage bag and submerging the bag in cold water for about 45 minutes.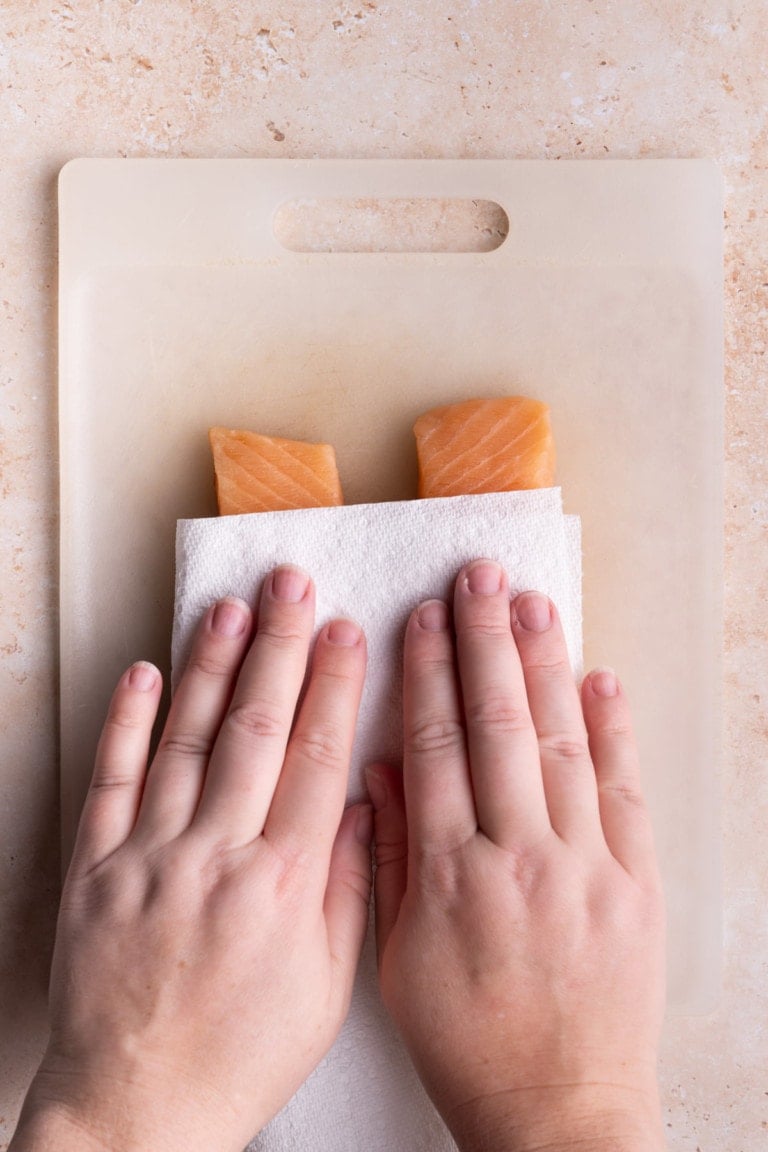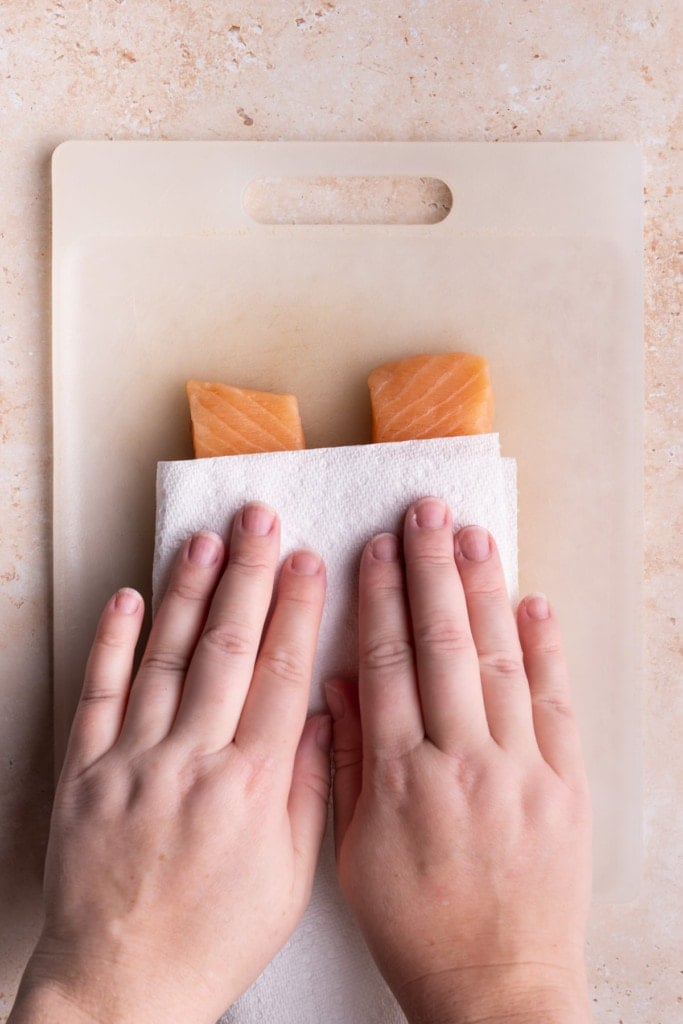 Cube it!
Slicing your salmon into small cubes helps it cook faster and more evenly in the pot.
If there is skin on your salmon, use a sharp knife to remove it. For detailed instructions, check out this video on how to skin salmon.
Then, use a sharp knife to slice your salmon into small cubes, about 1 cubic inch in size. Set the salmon aside until you are ready to cook it.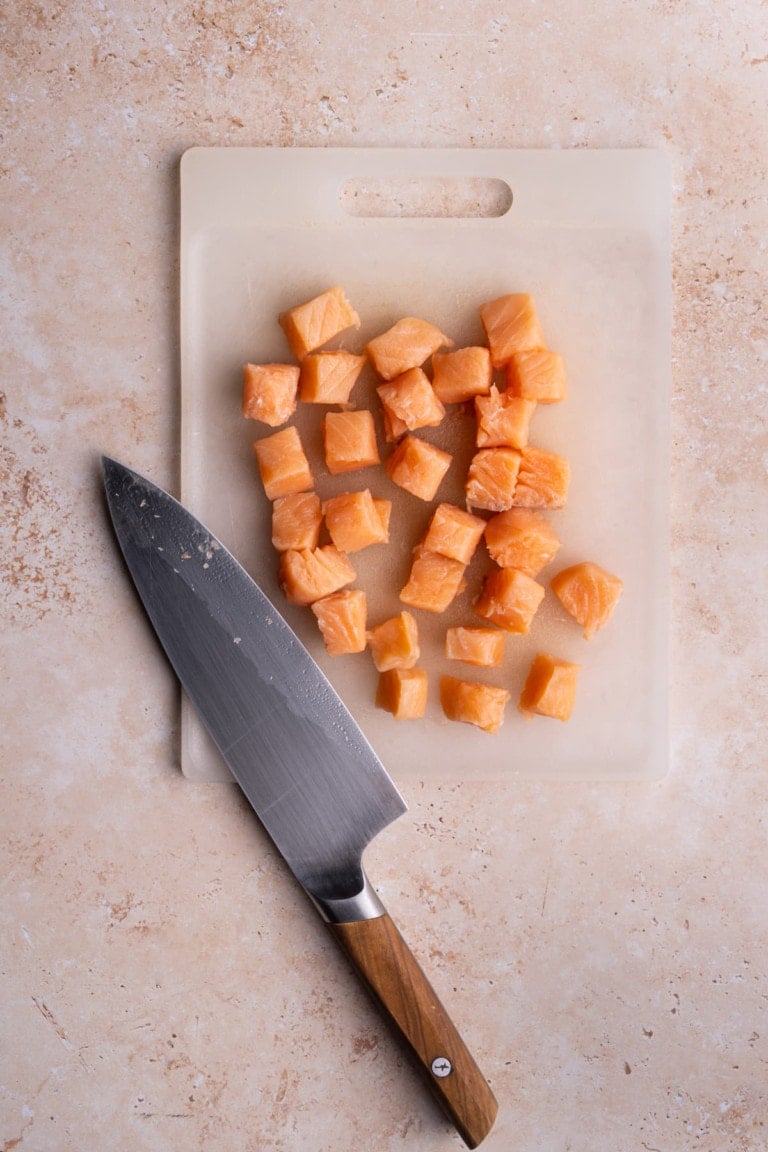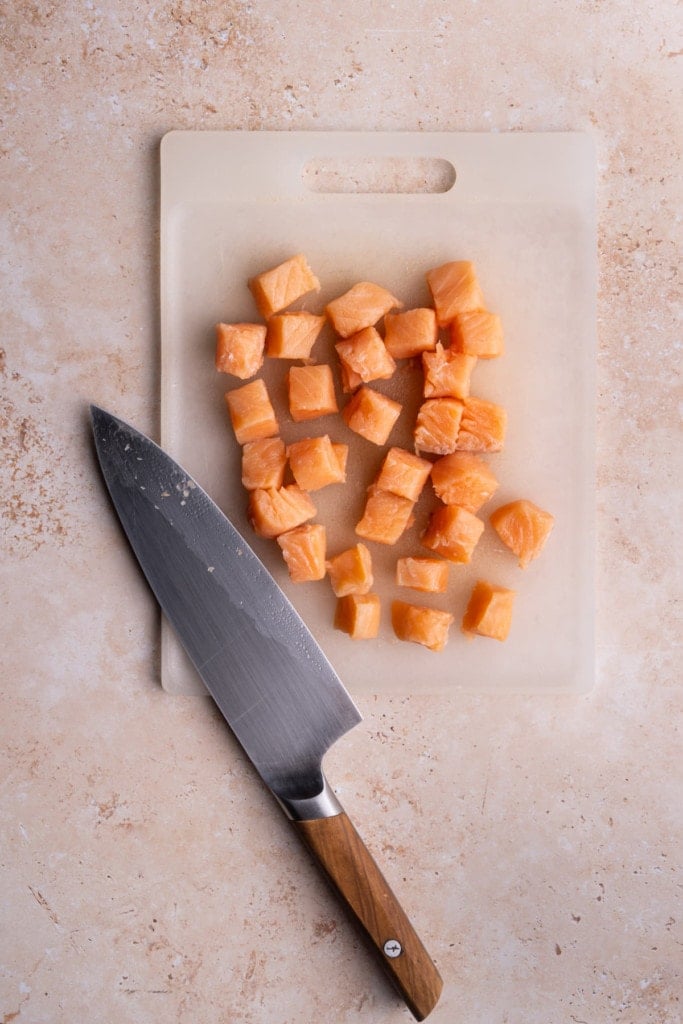 Cook Your Pasta First
Bring ten cups of water to a rolling boil and cook the pasta al dente according to the instructions on the box.
Green tip: Pasta is a great meal option carbon footprint-wise! Manufacturing pasta is a relatively less intensive process, using less energy and other natural resources to produce than most other starches. Plus, its long shelf-life means you're less likely to waste it!
This recipe works with any pasta, short or long. Pictured here, I used Fettuccine, but I've also made this with anything from angel hair pasta to penne.
Whatever you have on hand!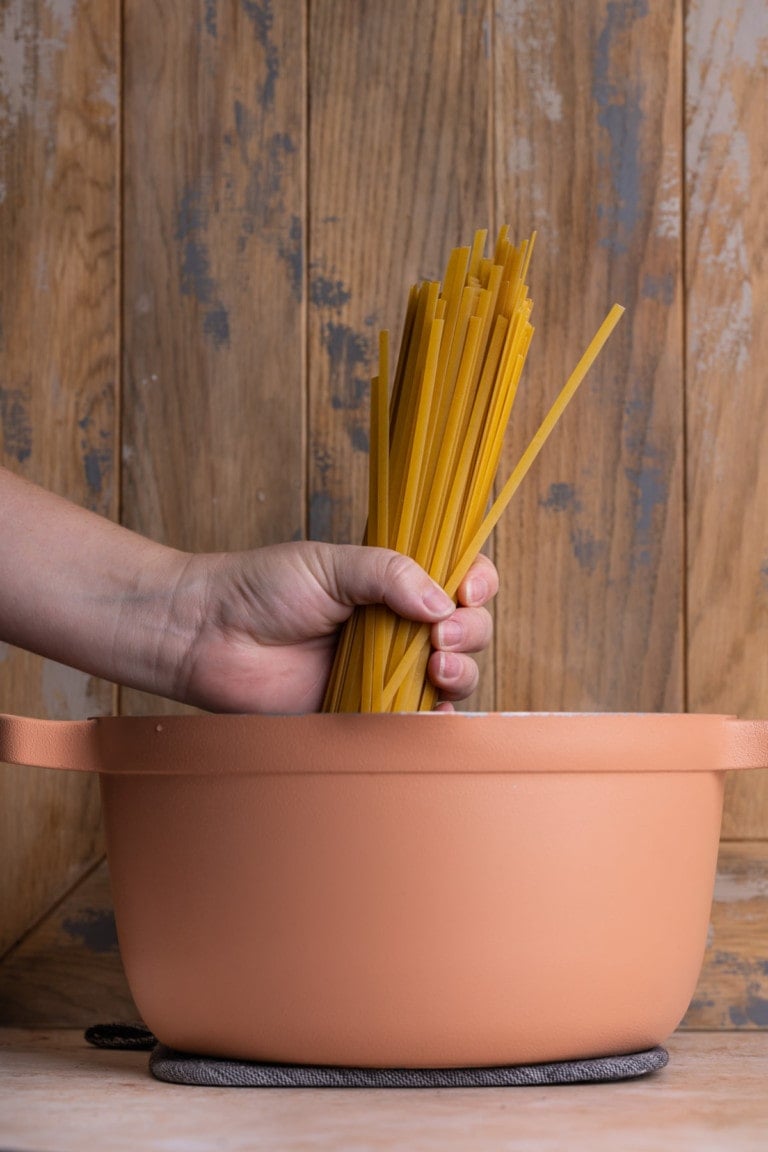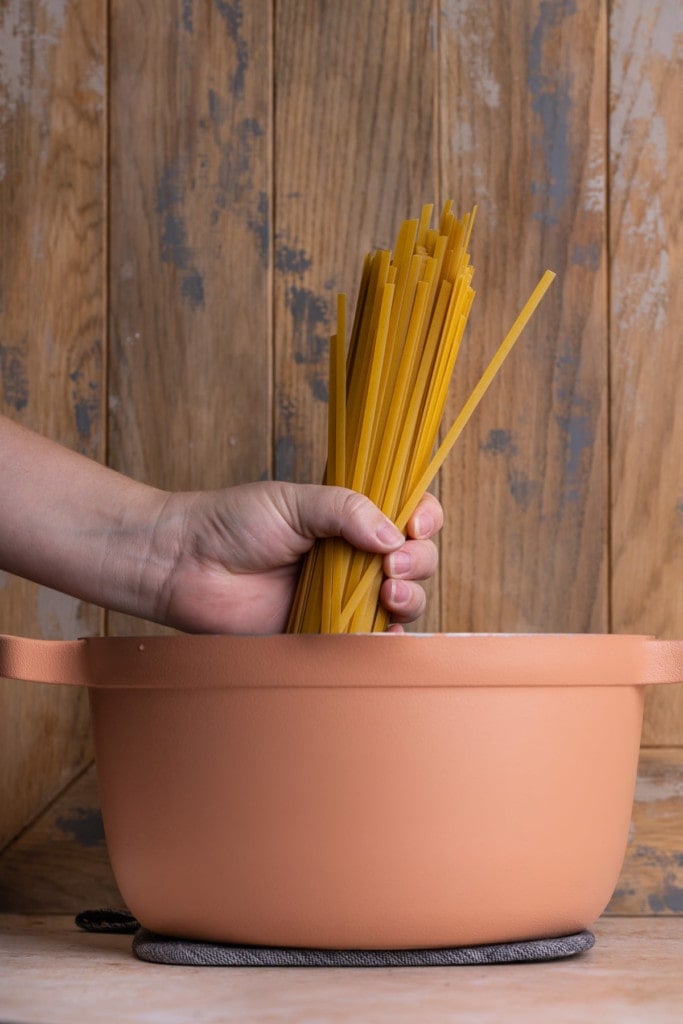 Conserve Some Pasta Water
Before draining your pasta, use a Pyrex measuring cup or other heat-safe cup with a handle to carefully extract at least 1/2 cup of the water the pasta cooked in.
This starchy water will be used to add back to the pesto pasta. It will actually thicken the pesto sauce and help to get the desired consistency.
Green tip: Don't waste your pasta water, use it to water your plants! So long as it's not salty, the starchy water helps fertilize plants and help them grow.
After reserving the pasta water, add the pasta to a colander to drain the water and empty the pot. Set the pasta in the colander aside and put the empty pot back on the stove.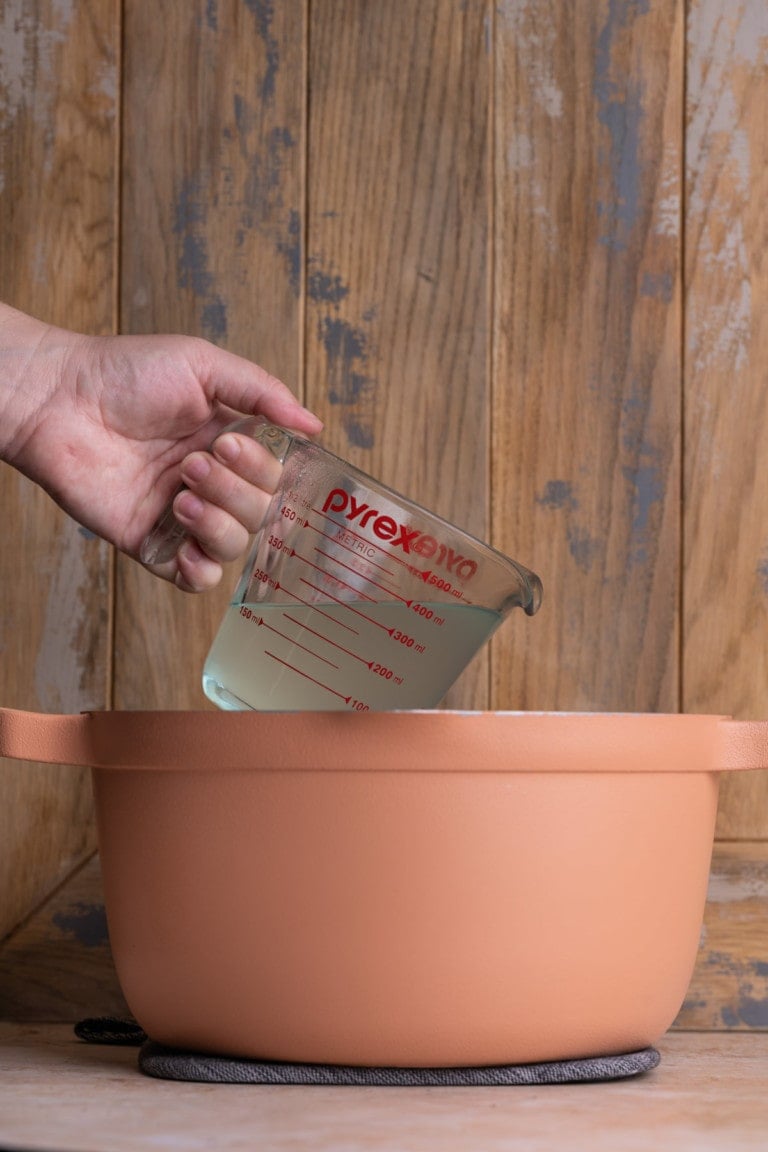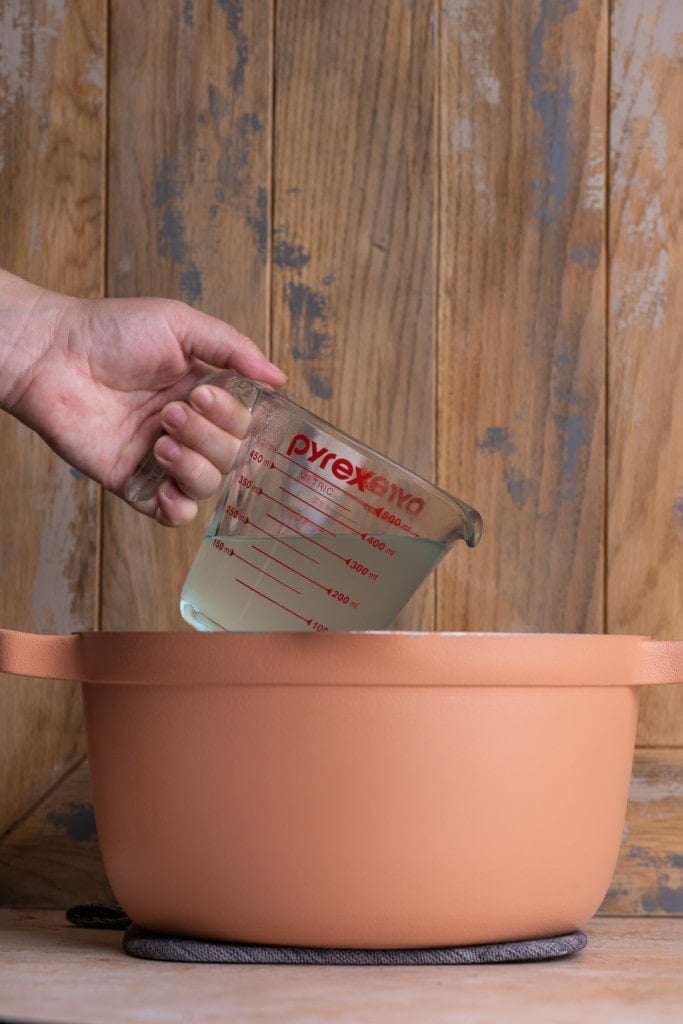 Add the Salmon to the Pot
Add your cubed salmon to the pot with olive oil and about 1 tablespoon of pesto. Cook over medium heat, tossing frequently so that it cooks on both sides.
On medium heat, the salmon should cook thoroughly in 5-7 minutes and reach an internal temperature of 125°F.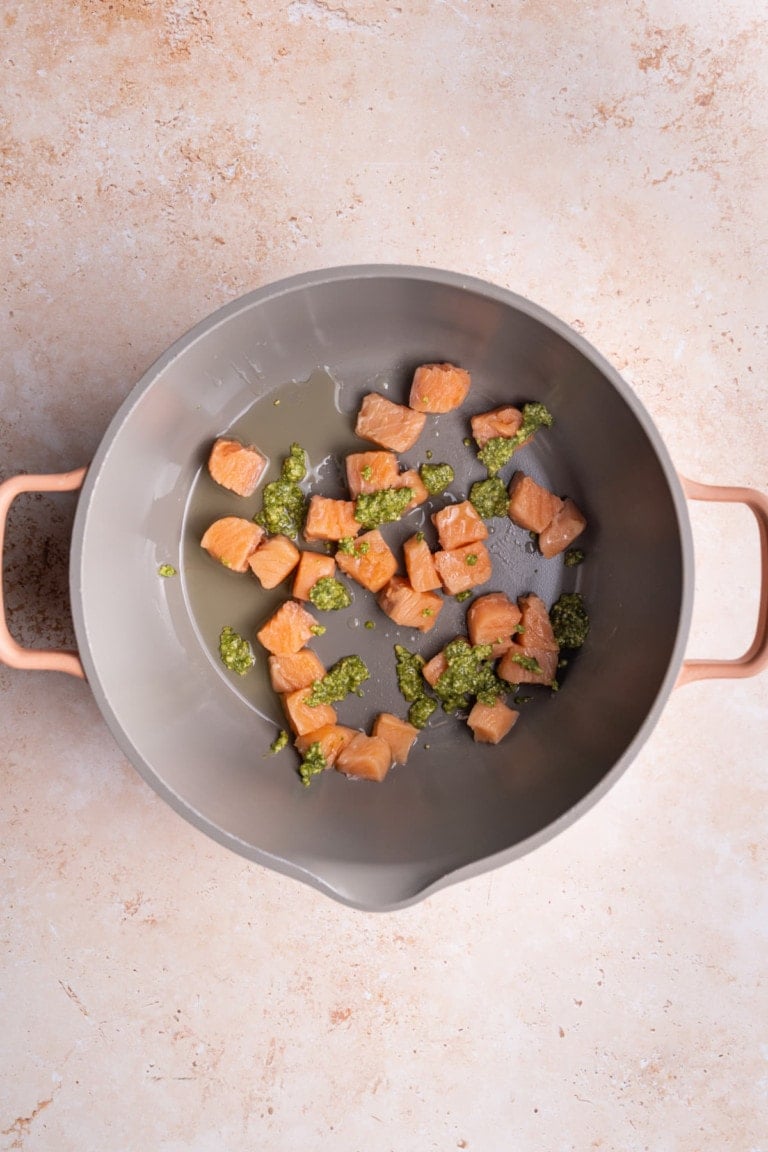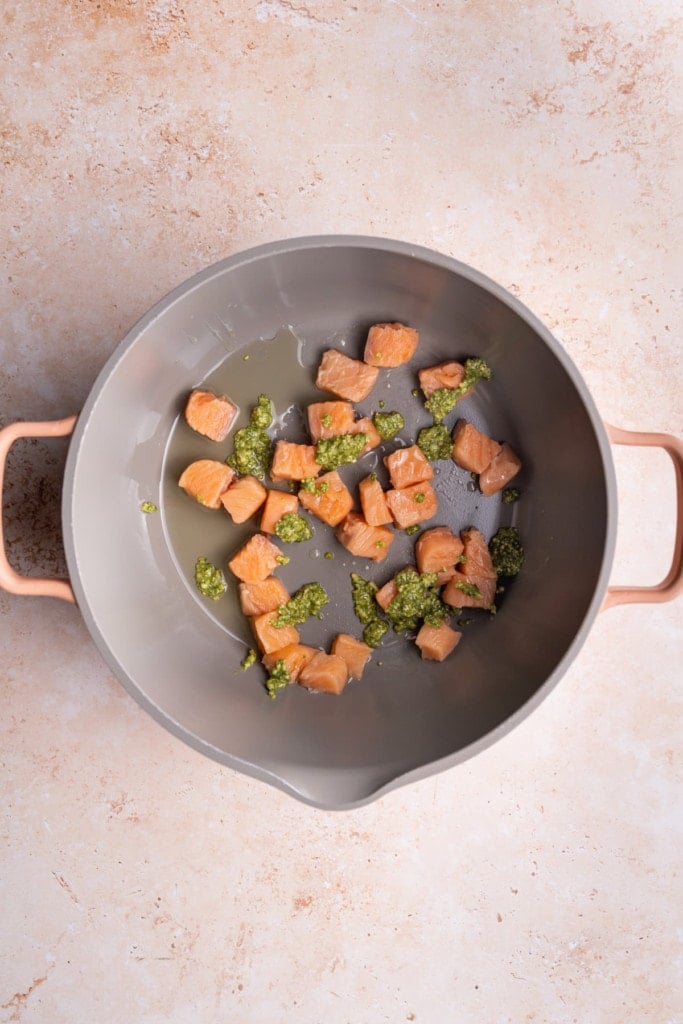 Add the Pasta Back to the Pot
Remove the pot from the heat and add the pasta back to the pot with the salmon. Then, add the rest of the pesto and stir to coat.
As you stir, slowly add the pasta water, about 1 tablespoon at a time. This will help you stir the pesto and coat the pasta with it more easily.
All in all, you will probably only need to add about 3-4 tablespoons of pasta water to get the right consistency.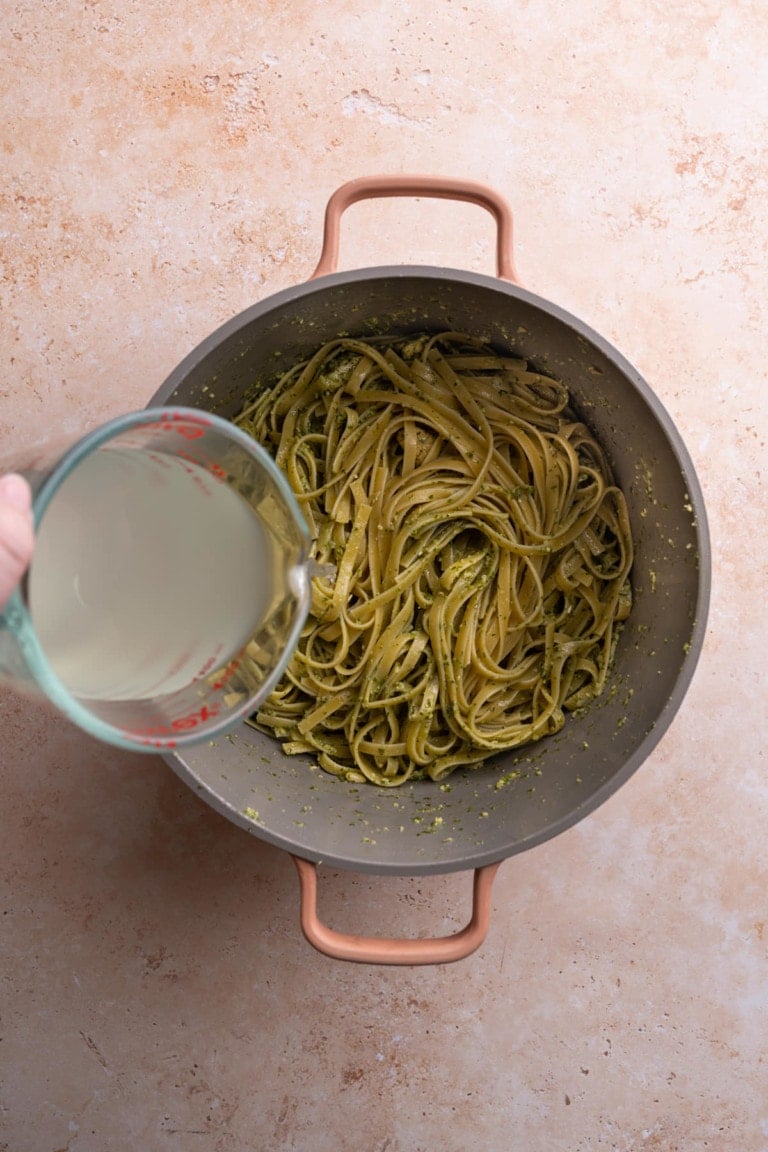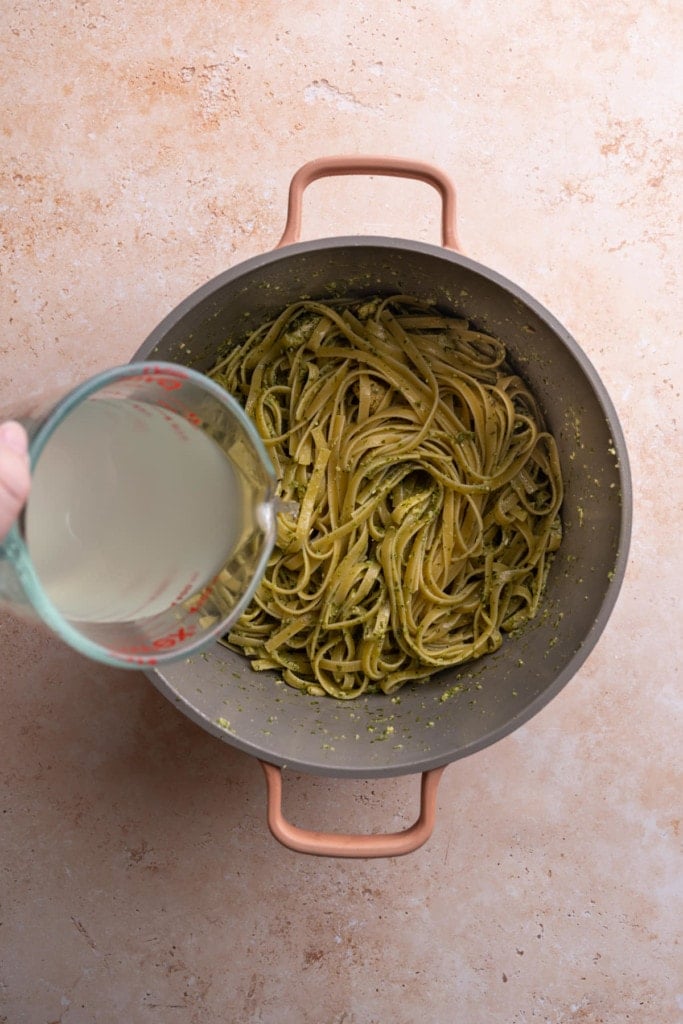 Should You Have Leftovers
One of my favorite things about this one-pot salmon pasta dish aside from its awesome taste and ease to make is its versatility. It's equally delicious both warm and cold!
This Salmon Pesto Pasta will last for up to 4 days sealed in the fridge. Sometimes I like to revamp it by adding a little more pesto and a squeeze of lemon juice before eating the leftovers.
Green tip: Did you know that of the billions of pounds of food wasted annually, it is estimated that 50% of it happens in our homes? It's always best to avoid food waste by properly storing and reheating leftovers.
If you wish to reheat it, it's best to do so in the oven. Preheat your oven to 350°F and add your leftovers to an oven-safe dish.
Cover the dish with aluminum foil and bake for 15-20 minutes until heated through. You can also microwave it in a pinch, but the salmon may get a little rubbery.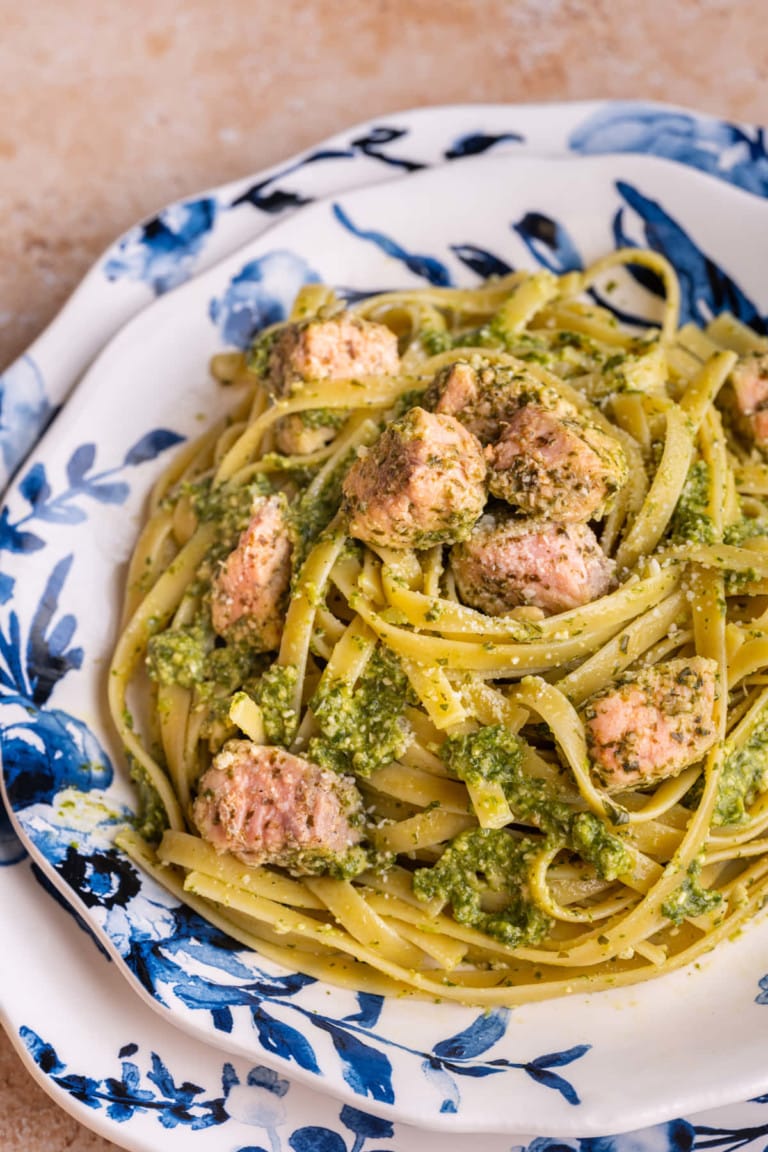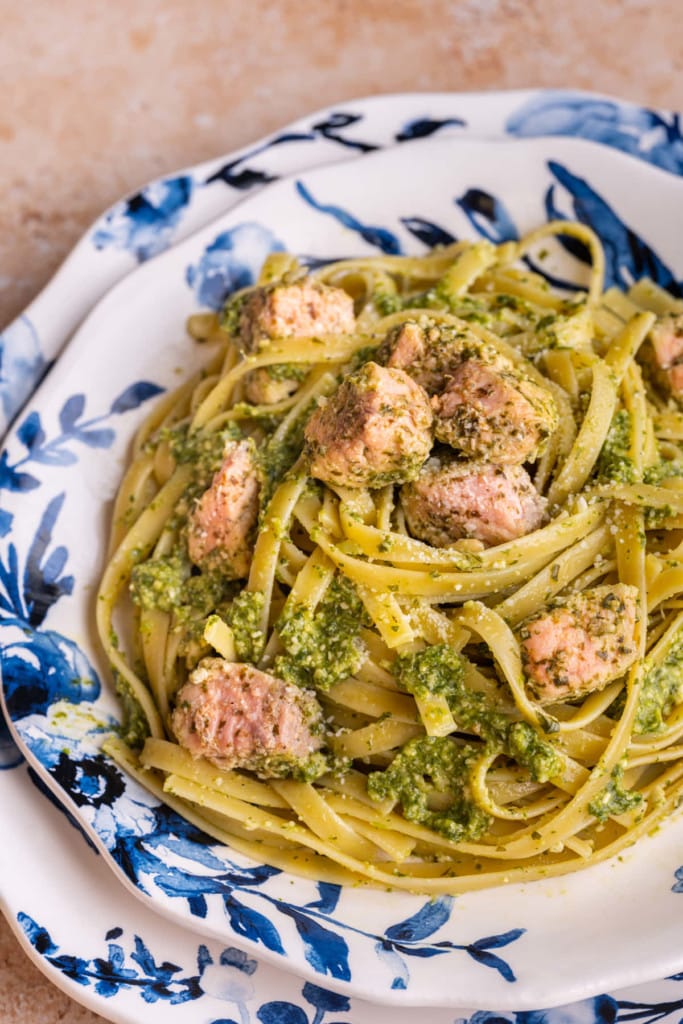 Salmon Pesto Pasta Frequently Asked Questions
---
What meat goes well with pesto pasta?
My favorite meat to add to pesto pasta is salmon! The garlic and zesty lemon in pesto is a natural pairing with salmon. Plus, the fresh herbaceous basil is a great balance to the fatty fish.
Want to sharpen your kitchen skills?
Why You Should Make this 4-Ingredient Salmon Pesto Pasta
---
It's easy! 4 ingredients and just one pot required.
It's flavorful. The pesto and salmon pack powerful flavors!
It's quick! Just 30 minutes and dinner is served.
If you're loving this Salmon Pesto Pasta and want more seafood-forward dishes, check out this list of Salmon Pasta Recipes and 30 Minute or Less Fish Recipes!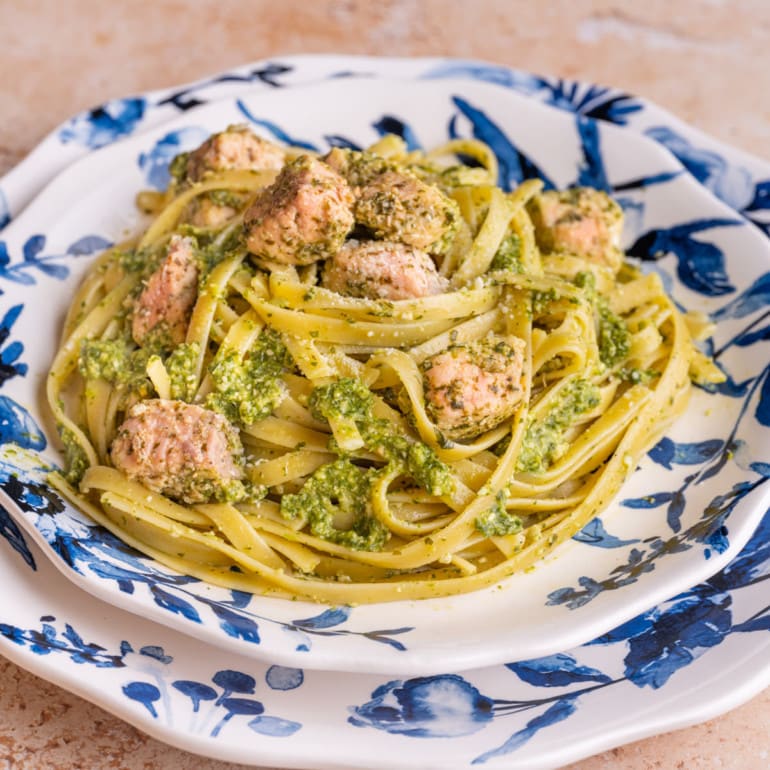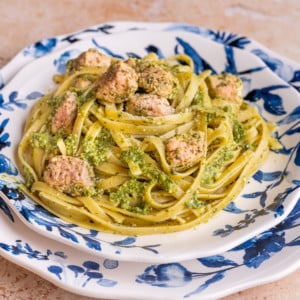 Quick & Easy 4-Ingredient Salmon Pesto Pasta
PRINT
PIN
RATE
With just four ingredients, one pot, and 30 minutes, you can whip up this easy and delicious Salmon Pesto Pasta to feed four.
Ingredients
16

ounces

pasta

(short or long)

1

tablespoon

olive oil

10

ounces

salmon

(1 portion = 3-5 ounces)

8

ounces

pesto

(8 ounces pesto = approx 1 cup)
Instructions
Cook the pasta al dente according to the directions on the box. Before straining, make sure to conserve at least 1/2 cup of the pasta water. Set pasta aside in a colander or large bowl.

Remove the skin from salmon if necessary and pat the salmon dry with paper towels (use these bamboo paper towels for a more sustainable option!). Cut it into small cubes, about 1 cubic inch in size.

Add the salmon to the pot with the olive oil and about 1 tablespoon of pesto. Cook over medium heat for about 5-7 minutes, tossing frequently so the salmon cooks evenly on both sides and reaches an internal temperature of 125°F.

Remove the pot from the heat and add the pasta to the pot with the salmon.

Add the pesto to the pasta and toss to coat. While you are tossing, slowly add the pasta water, about 1 tablespoon at a time, assessing the consistency as you go. You should only need about 2-3 tablespoons of pasta water to successfully coat the pesto in the pasta. Serve hot and enjoy!
Did you make this recipe?
Let me know by leaving a recipe rating below, or by tagging @marleysmenu on Instagram.