Looking for a fun and flavorful handheld appetizer to whip up quickly? These Salmon Sliders with Dill Yogurt Sauce are incredibly flavorful, easy to make, and come together quickly and easily for a delicious and satisfying light bite.
One of my favorite pescatarian appetizer recipes, these fun-sized sandwiches consist of Cajun blackened salmon, a creamy, lemony Dill yogurt sauce, and other fresh toppings sandwiched between a fluffy and doughy Hawaiian Roll.
In this recipe, you'll learn how to whip up a homemade Greek yogurt dill & lemon sauce. You'll also learn how to prep salmon to make sliders and how to blacken salmon.
Plus, this recipe gives you detailed instructions for assembling your Salmon Sliders and plenty of topping options to make this recipe your own!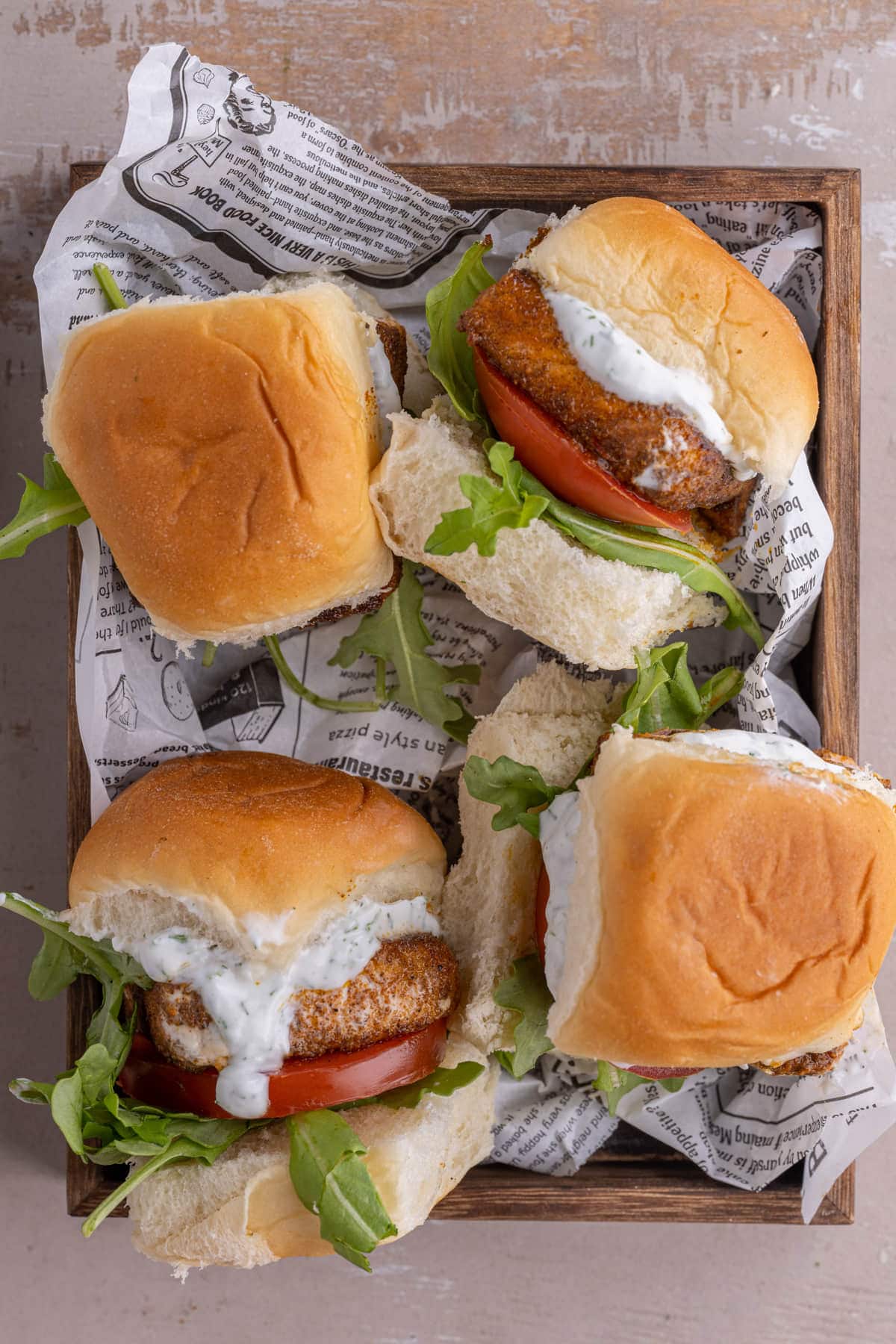 Salmon Sliders with Dill Yogurt Sauce Ingredients
---
Here's everything you need for the sliders:
Salmon. 10 ounces of fresh or frozen (thawed) skinless salmon.
Cajun seasoning. Or Old Bay Seasoning or blackening seasoning.
Tomato & greens. As toppings. You can also add additional toppings like caramelized onions and mushrooms, pickles, and/or cheese.
Hawaiian rolls. Or other mini hamburger buns.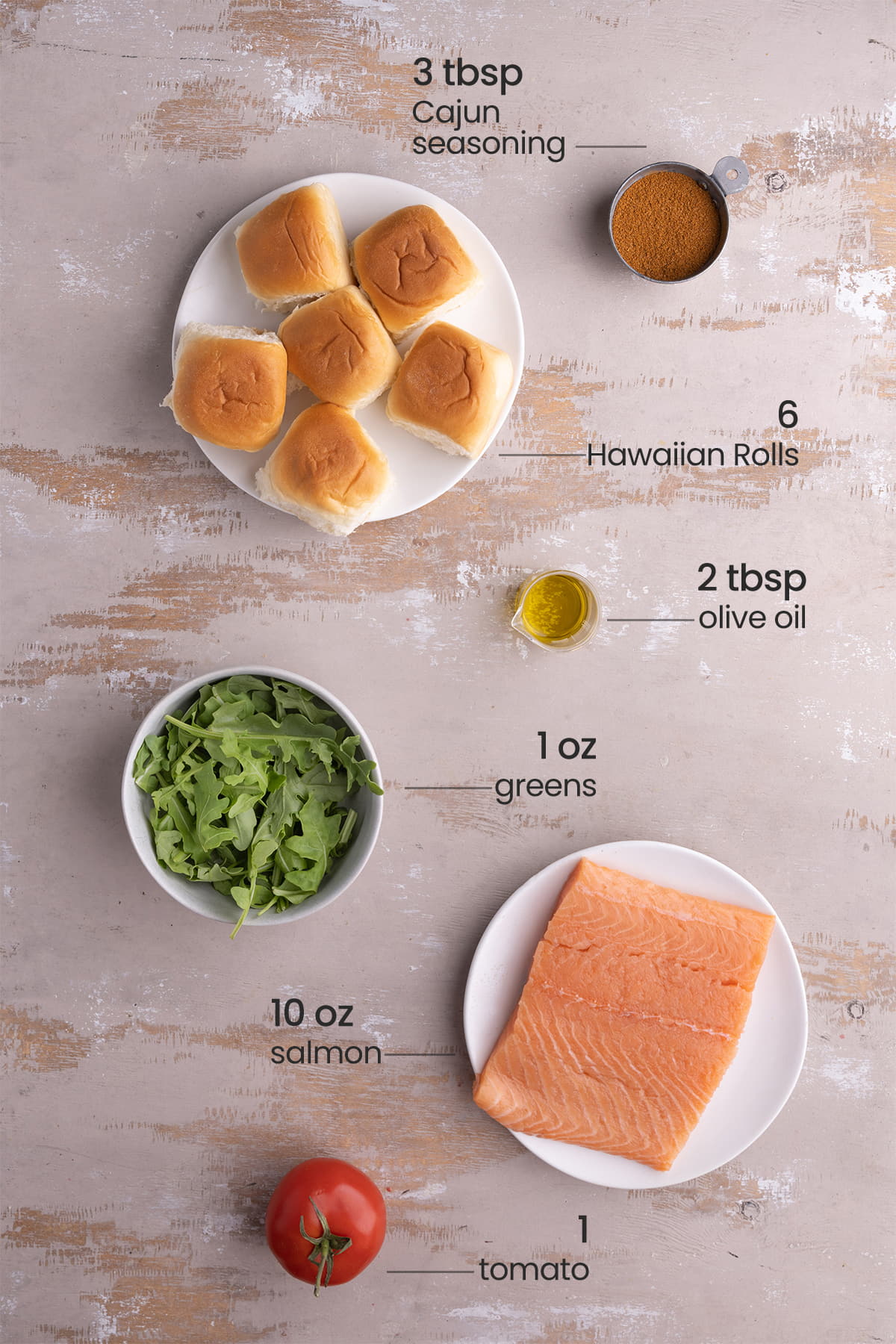 Here's everything you need for the Greek Yogurt Dill Sauce:
Greek yogurt. Plain, unflavored. You can use low or no fat versions.
Lemon juice. This recipe calls for just 1 tablespoon of lemon juice. One lemon typically holds about 4 tablespoons of juice.
Dill. Fresh dill is best in this recipe but you can also use dried.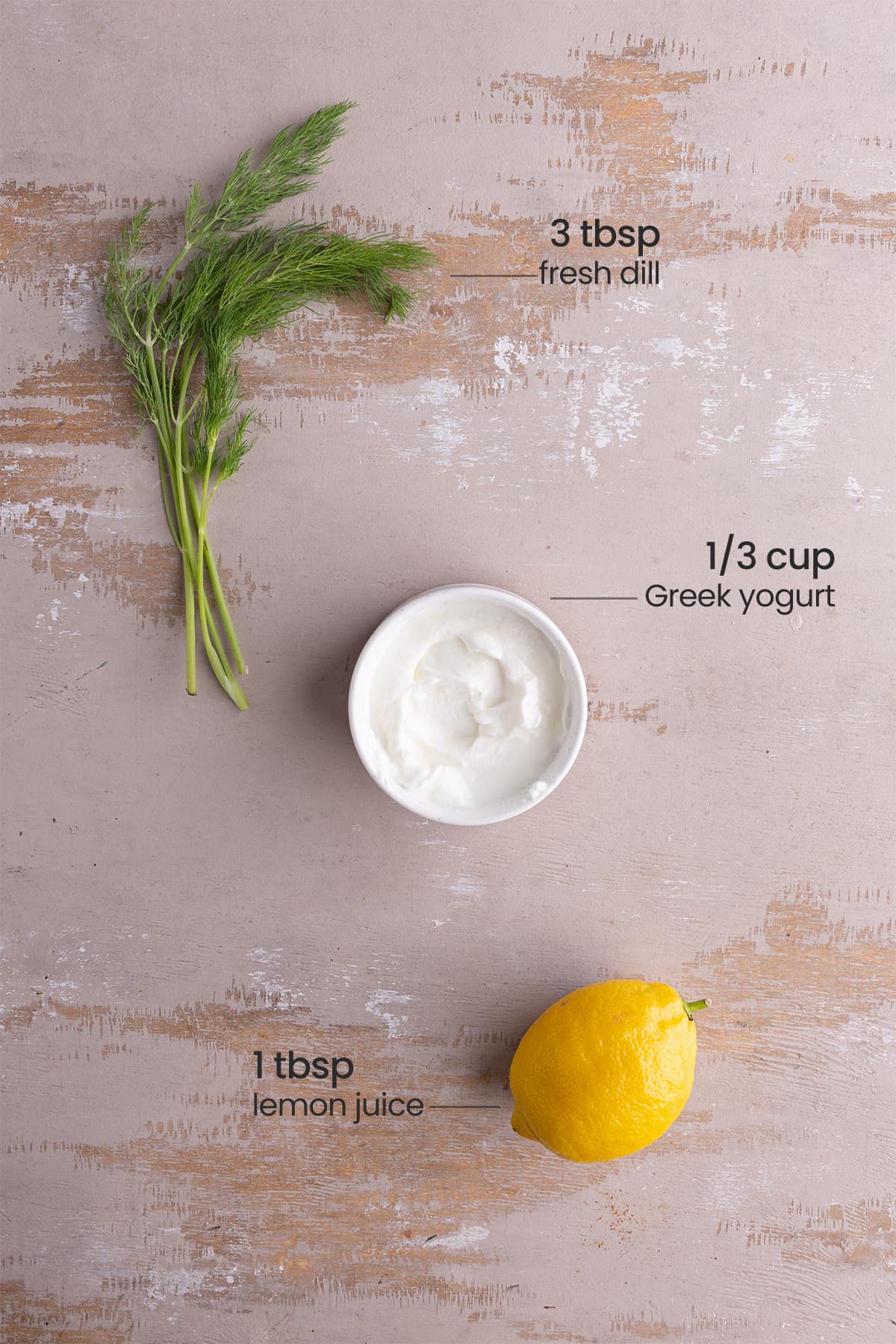 Optional additional toppings or topping swaps:
Gouda, Gruyere, Havarti, or Pepperjack Cheese.
Pickles or capers.
Red onion.
Avocado or Guacamole.
Sustainable Seafood
Salmon farming often poses risks to our environment if not done with extreme care.
Some of these risks include pollution from the antibiotics used in salmon farms that can then leach into the surrounding waters and the depletion of other wild fish harvested to feed the salmon.
However, wild-caught salmon poses alternative risks, like overfishing and bycatch. What's more, there are often issues with availability and access to wild caught salmon.
So, how can we source salmon sustainably?
In the U.S., we have two great options: sustainably farmed salmon, or wild-caught Alaskan salmon.
Green tip: Look for Marine Stewardship Council and Friend of the Sea labels on your fish to ensure they were harvested sustainably.
How to Make Greek Yogurt Dill Sauce
---
How to Finely Chop Fresh Dill
For this lemony yogurt-based dill sauce, you'll want to finely chop your fresh dill.
Slide the dill off of the large stem (keep the smaller stems—they pack tons of flavor!) and use a sharp knife to chop the dill. Continue to chop until you're left with small, fine pieces.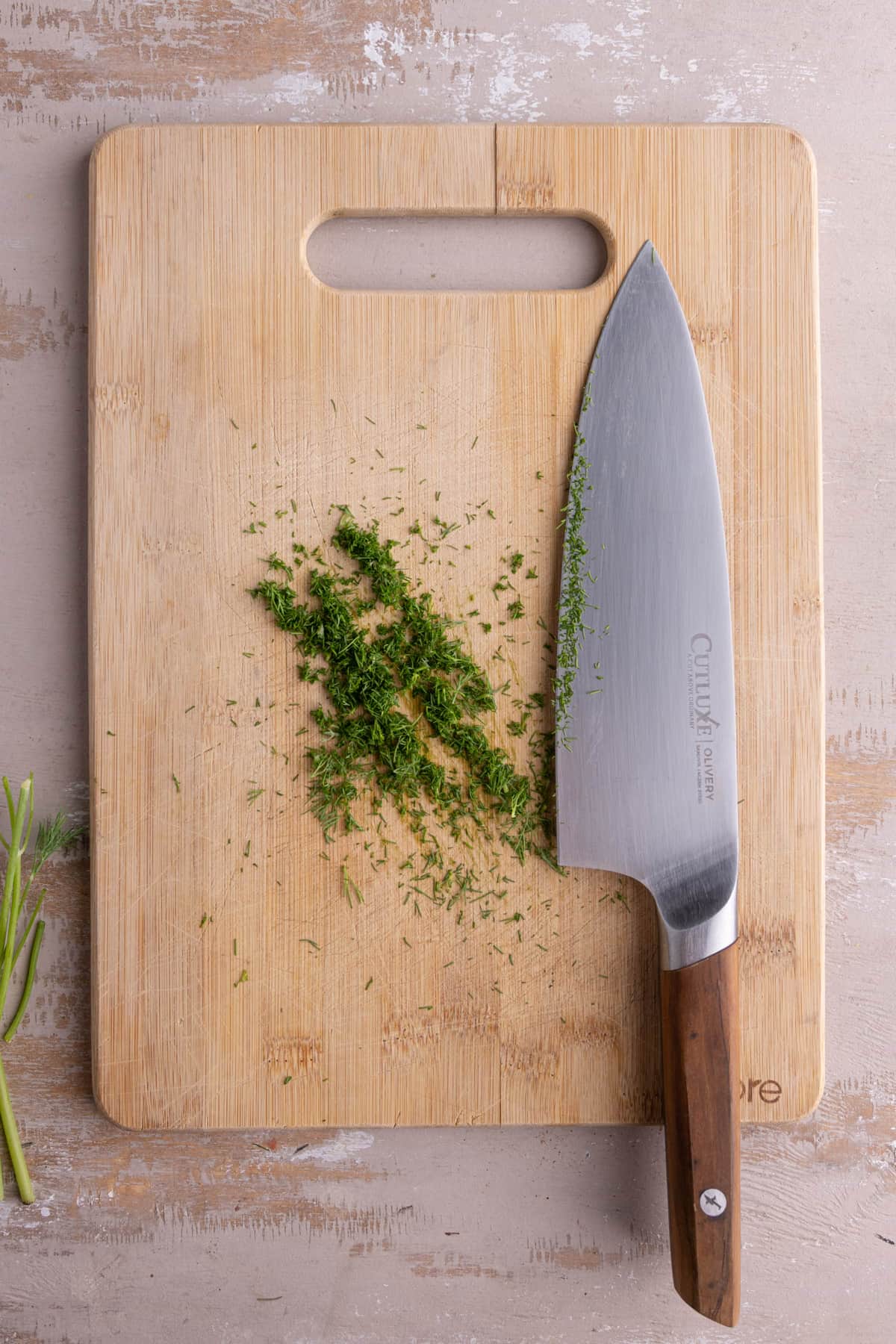 Use Fresh Lemon Juice in your Yogurt Sauce
For the sauce, you only need one tablespoon of lemon juice, which you will typically get from approximately 1/4 of a lemon. I love using fresh lemon juice for the most flavor, but you can also use pre-squeezed lemon juice.
I highly recommend using a citrus squeezer to express the juice from your lemon. This will not only get the most juice out of your lemon, but it also will catch the lemon seeds, so they don't fall into your juice.
If you don't have one, just make sure to add your lemon juice to the bowl first so you have the opportunity to remove any seeds that fall into the bowl before adding the yogurt.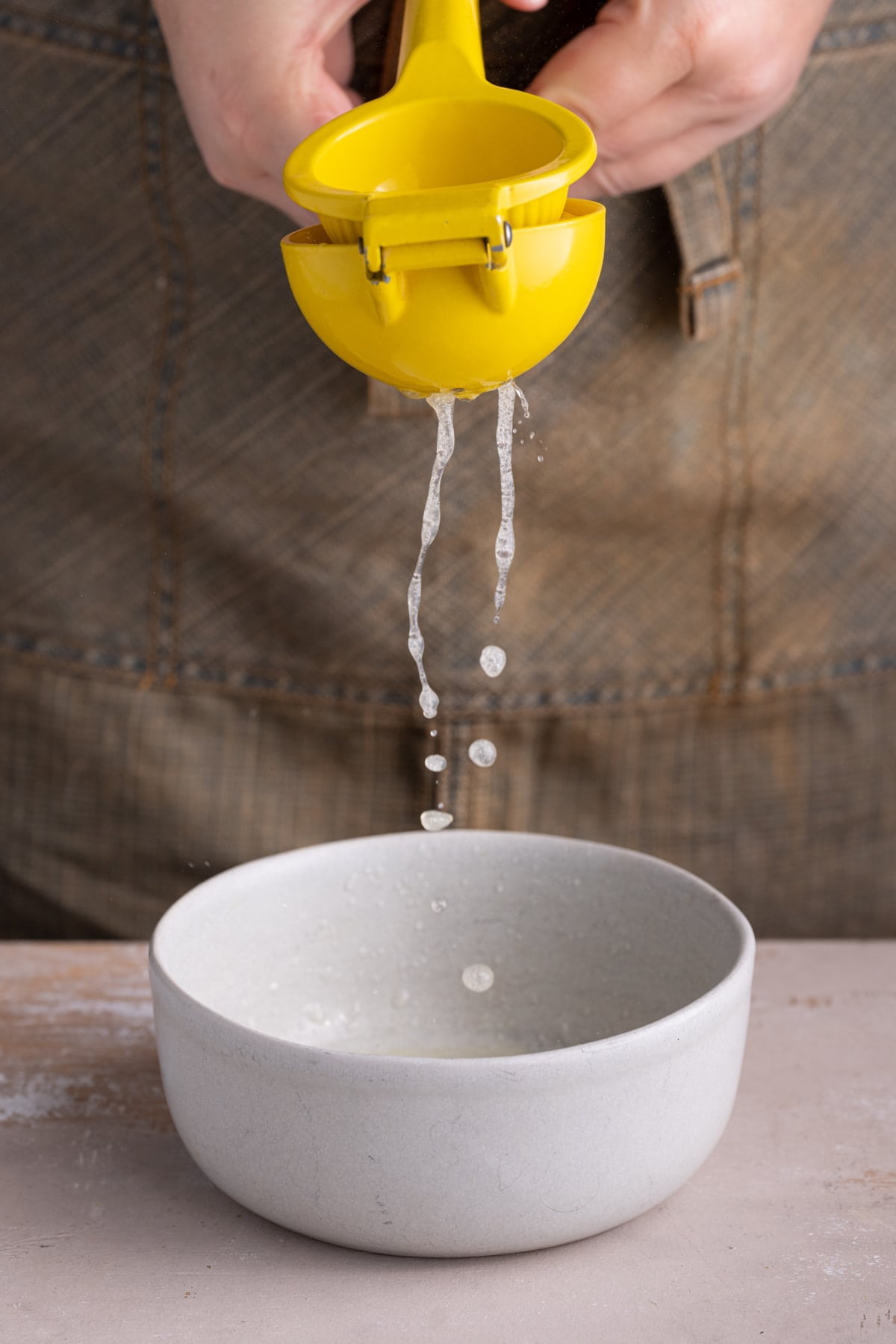 Add All the Dill Sauce Ingredients Together
Add the chopped dill, lemon juice, and Greek Yogurt to a bowl and whisk to combine. Continue to whisk until smooth, and the lemon juice is completely integrated into the yogurt.
You can use low fat or nonfat Greek yogurt, just make sure you get it plain or unflavored.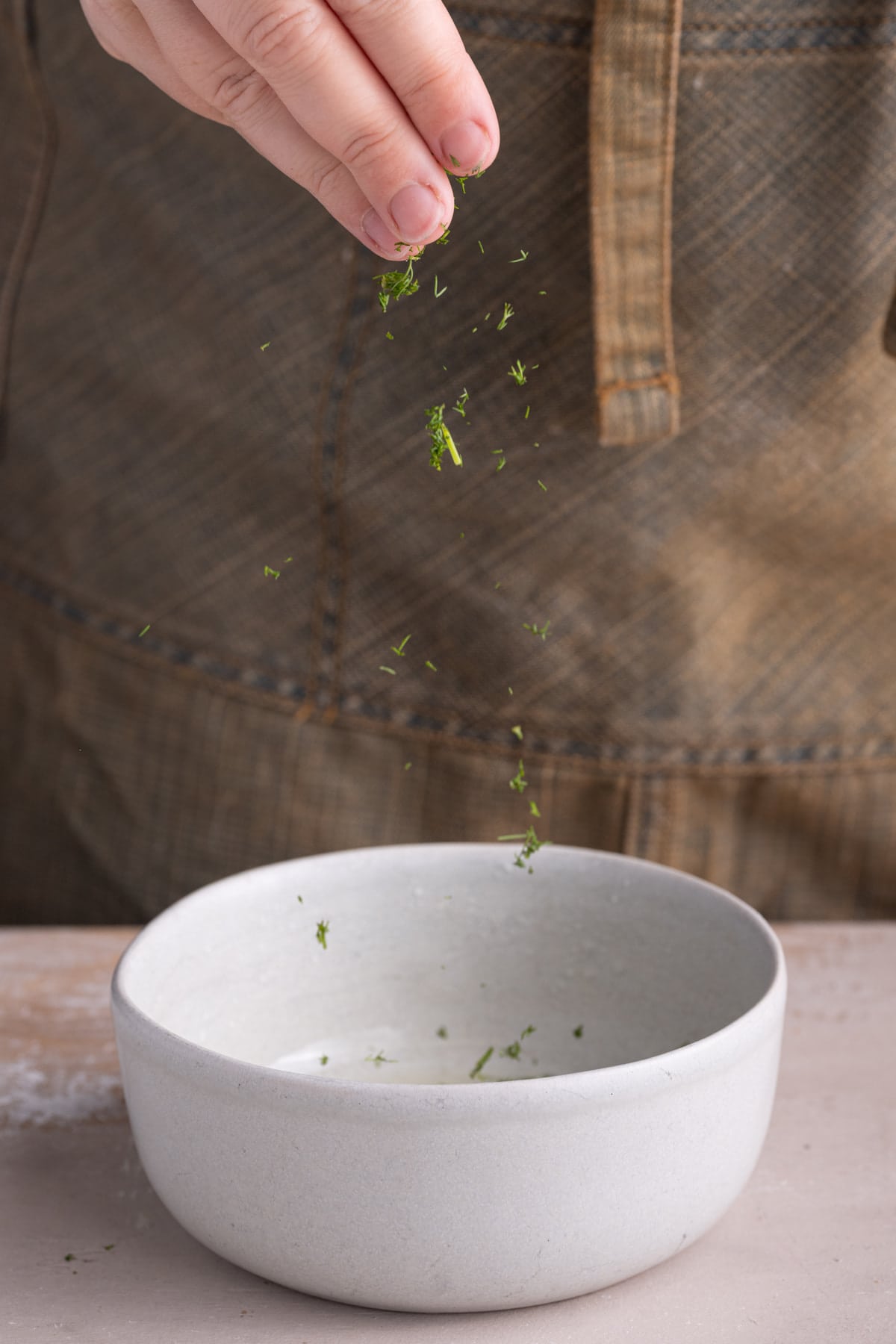 How to Make Blackened Salmon Sliders
---
Pat Dry Your Salmon First
Before seasoning the salmon, remove excess moisture. This will not only help the seasoning adhere to the salmon, but will also give you the best texture on your salmon when it's blackened.
Use a paper towel to press down lightly on both sides of the salmon to pat it dry. Drying the fish will avoid a mushy texture, so I use this same technique while making other salmon recipes, like this Chimichurri Salmon.
Green tip: Paper products contribute to deforestation. Consider these bamboo paper towels! Bamboo naturally regenerates every few months, whereas trees cannot regrow once harvested.
I made this recipe with fresh fish, but you can also very easily use frozen salmon! Just make sure to thaw the salmon overnight in the refrigerator or add it to a plastic or reusable storage bag and submerge the bag in cold water for about 45 minutes to defrost it first.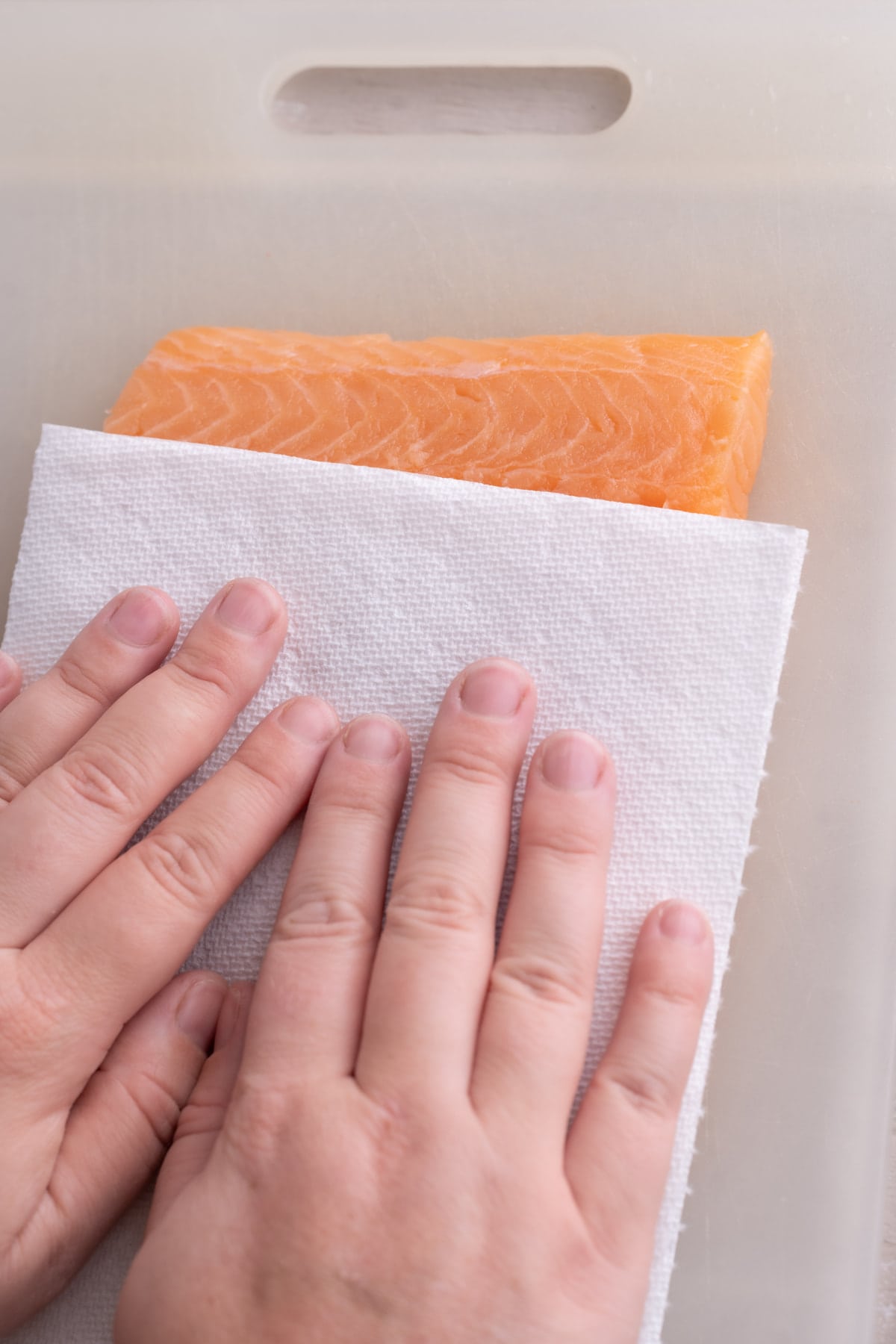 Slice Salmon into Slider-Sized Pieces
Use a sharp knife to slice the salmon into perfect slider-sized portions.
Ten ounces of salmon will be enough to make about 6 sliders. Slice the salmon into 6 roughly equal-sized chunks. Each piece will be about 1-2 inches long on each side.
If you have salmon with the skin on and need to remove it, check out these detailed instructions for how to remove salmon skin before cooking.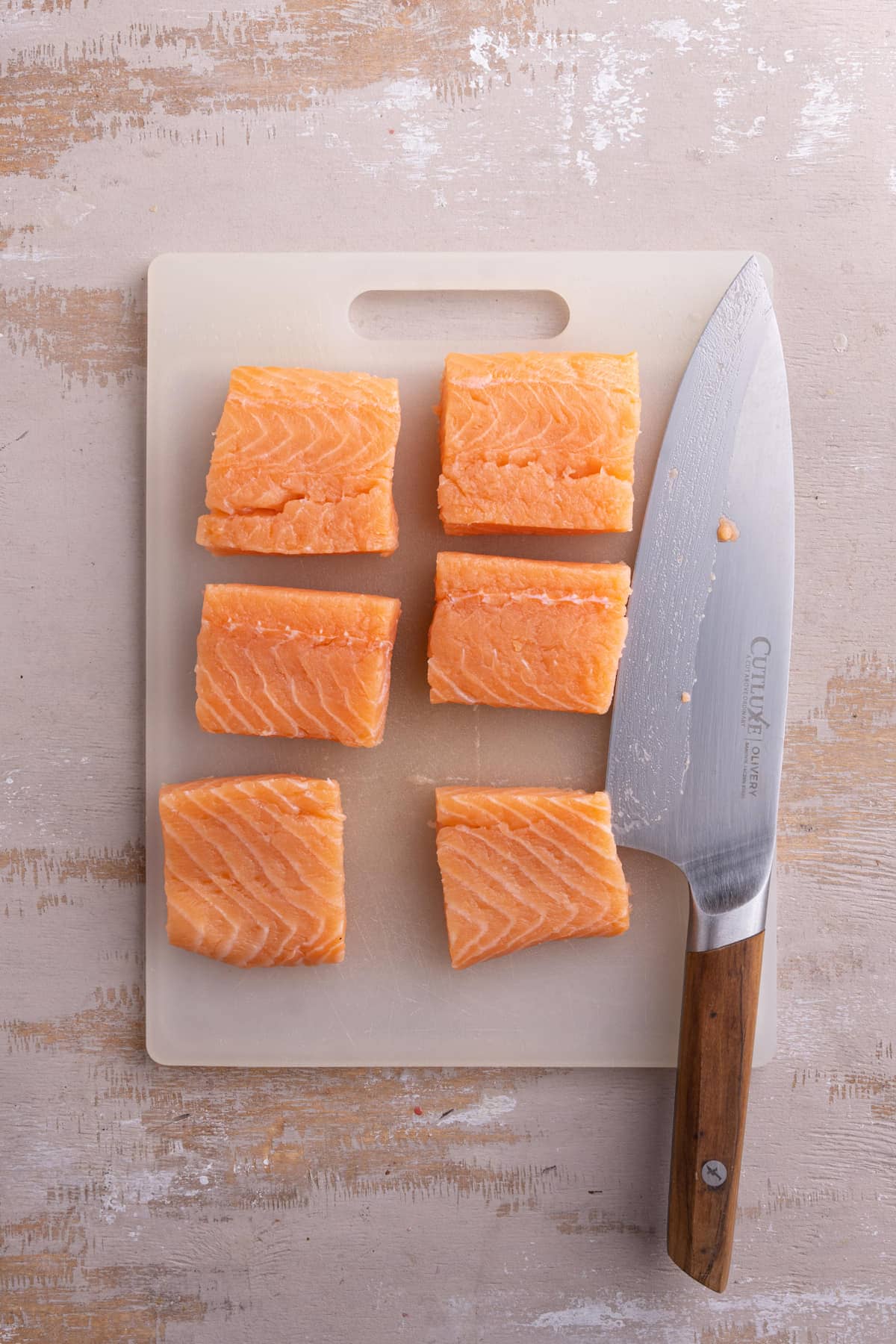 Coat the Salmon Completely in Cajun Seasoning
To blacken the salmon, we want to add an even layer of seasoning to the fish. This will turn into a crispy blackened crust as you cook it.
For this simple salmon recipe, I like to use Cajun seasoning. It brings a little heat to the fish and is bold enough to hold its own against the lemony dill yogurt sauce.
If you don't have Cajun Seasoning, you can easily substitute Old Bay Seasoning, or make your own blackening seasoning as detailed in this recipe for Blackened Mahi-Mahi.
Add the seasoning to a shallow bowl and dip your salmon into the seasoning on either side, coating both sides completely in a thin layer of spices.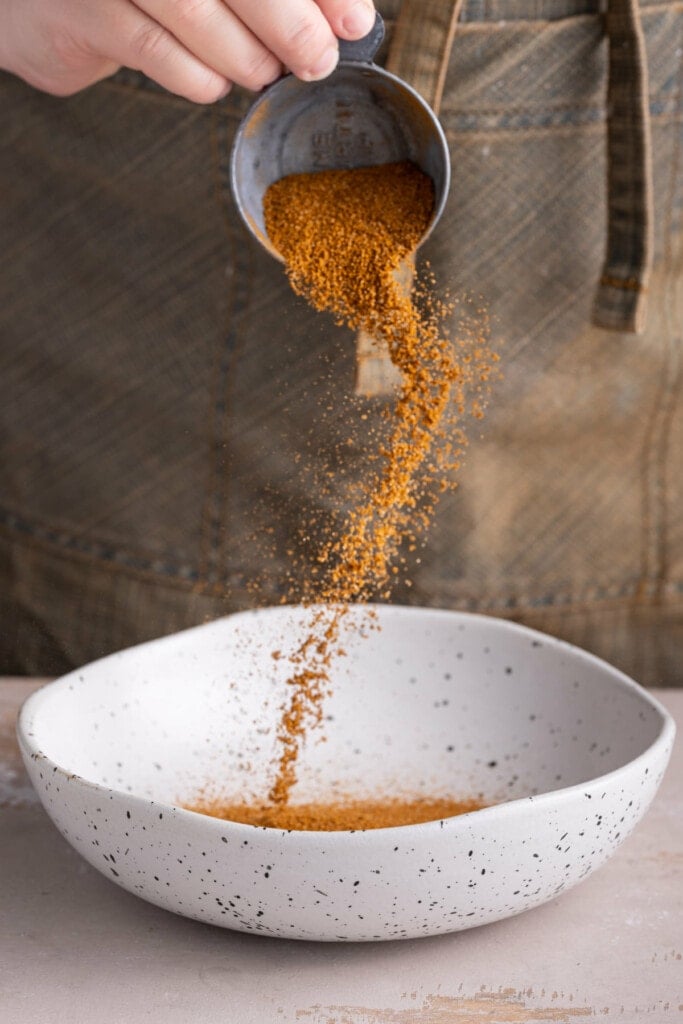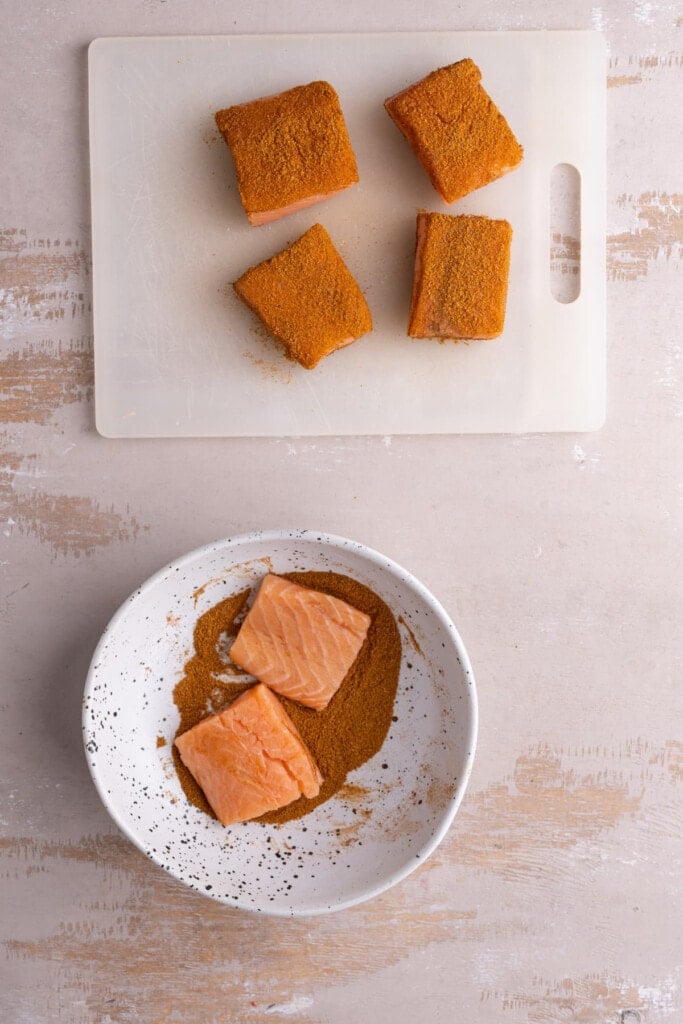 Get the Olive Oil Hot in the Pan
You can either use a cast iron skillet or a nonstick frying pan to blacken your salmon. Whichever you choose, make sure it has a fitted lid.
We will be covering the pan while the fish is frying to trap heat and avoid oil splatter, for a more even and less messy cook.
Coat the bottom of your pan with olive oil and turn your stove up to medium heat, allowing the oil to heat before adding the Cajun seasoning-coated salmon to your pan to blacken.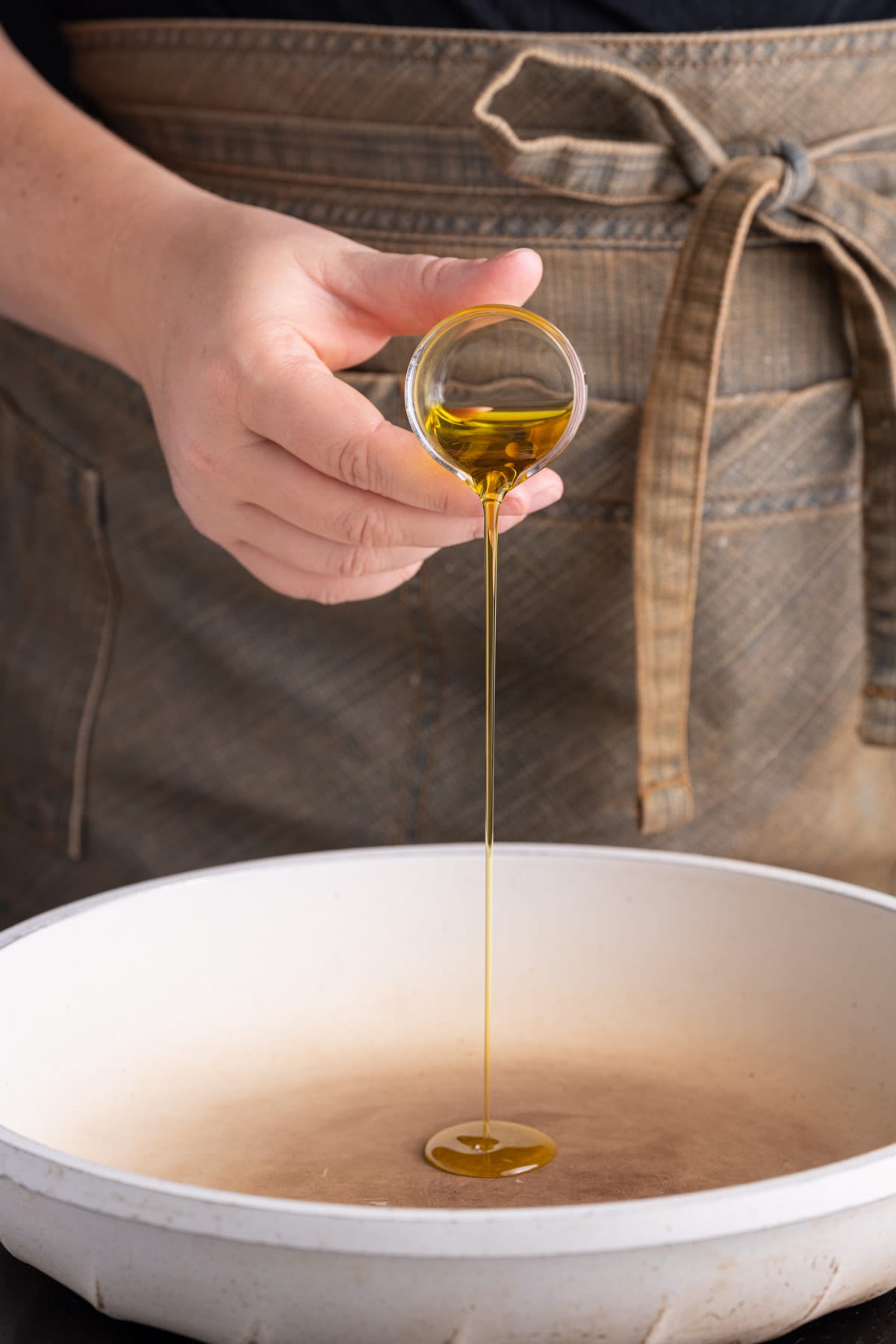 Blacken the Salmon in a Pan
Once your oil is hot, add the salmon to the pan—you should hear a sizzling sound the moment you drop your fish in! Then, immediately cover with a lid to avoid any hot oil splatter.
Cook the salmon for 5 minutes covered over medium heat before flipping. It should be very easy to flip. If the fish is sticking to the pan at all, don't force it!
When it's fully blackened and the seasoning creates an outer crust, it very easily lifts off the pan. If it's stuck, give it another minute or two over medium heat before trying to flip again.
After both sides are blackened, check the internal temperature of the thickest part of the fish. Ideally, the fish will be anywhere from 125-145°F.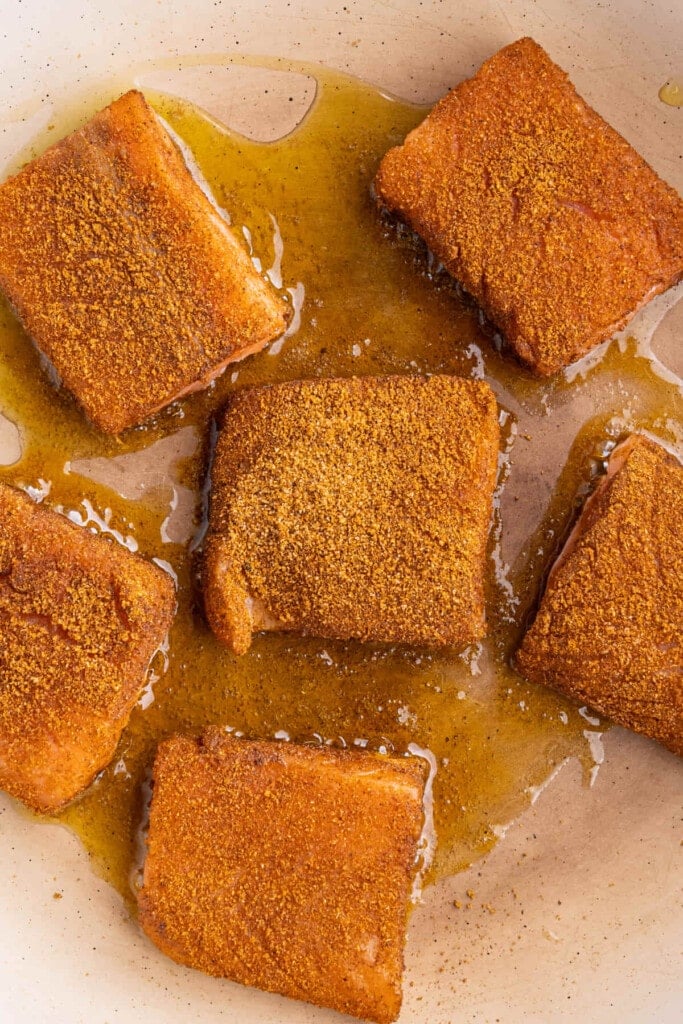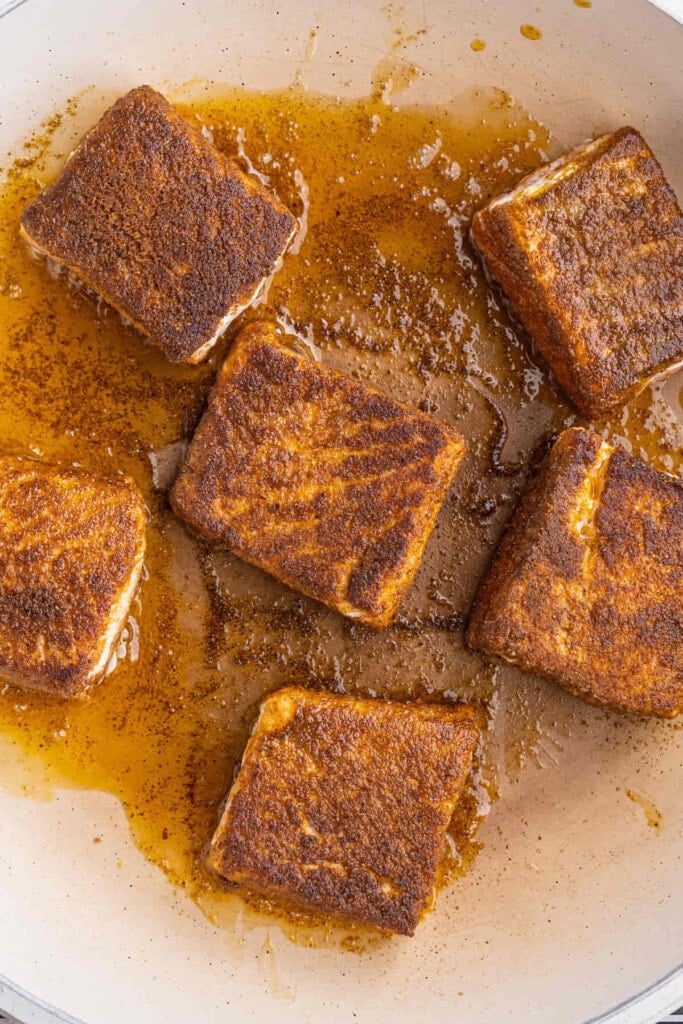 Slice Your Buns and Tomato
Slice your Hawaiian rolls in two, so you are left with a top half and bottom half.
Then, use a super sharp or serrated knife to slice your tomato into 6 thin slices. Then, you can cut out the stem from the center piece.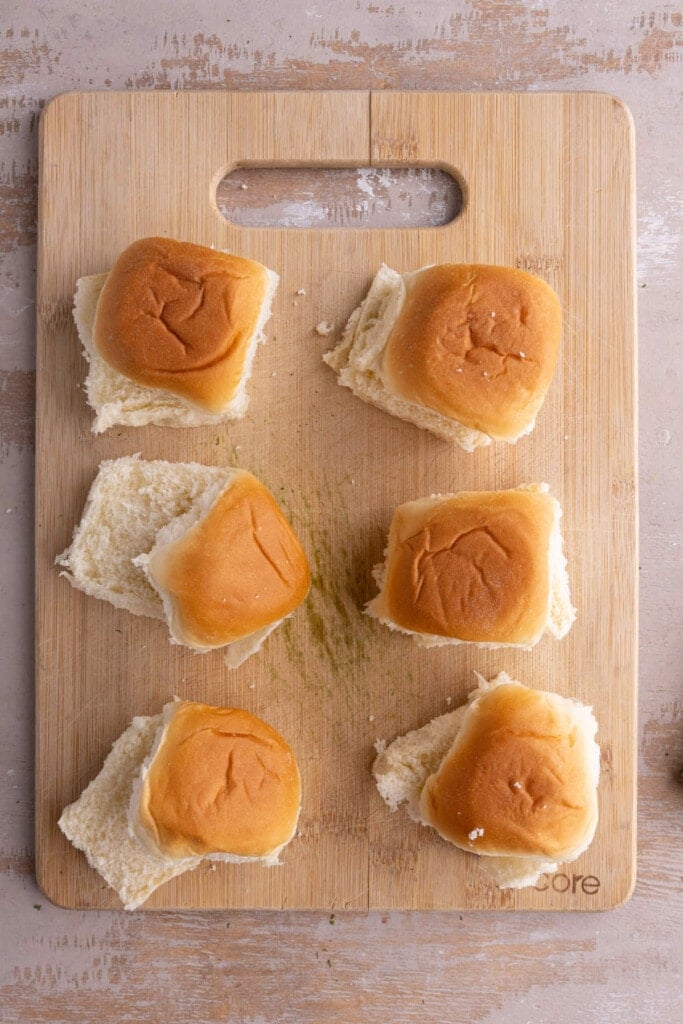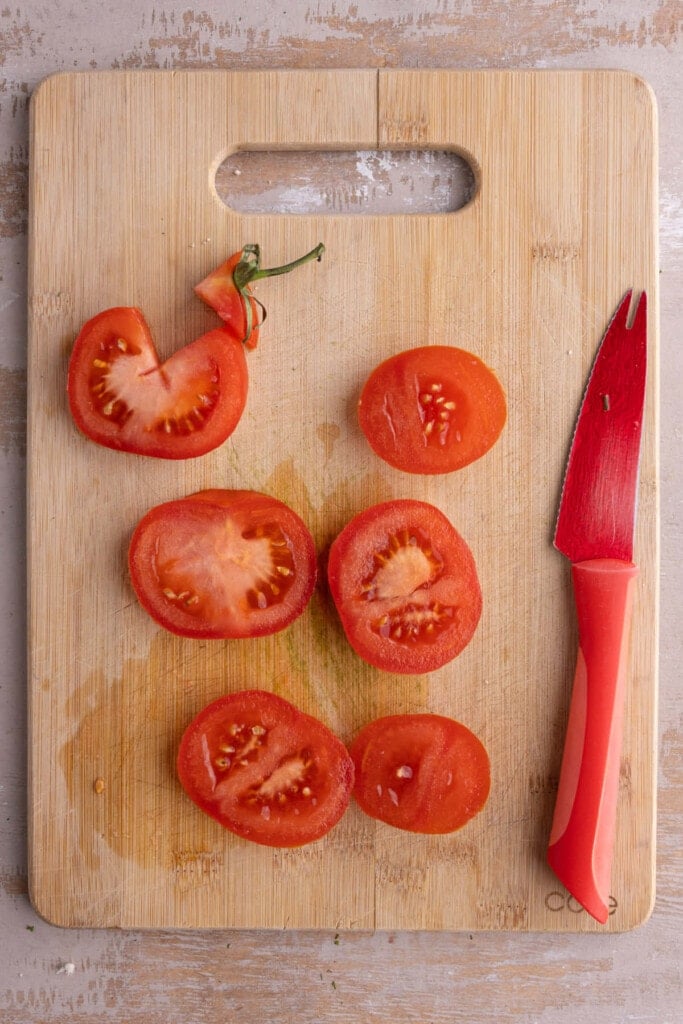 How to Assemble Salmon Sliders
Once your sauce, salmon, buns, and tomatoes are prepped, it's time to assemble your Blackened Salmon Sliders.
I like to add a thin layer of greens to the bottom half of the bun first and stack the tomato slice on top. This will act as a buffer between the bun and the juicy tomato so that the bun doesn't get soggy.
Then, I add the blackened salmon on top of the tomato and smother it in the Greek yogurt dill and lemon sauce. Add the top half of the bun, and there you have it! Delicious salmon sliders.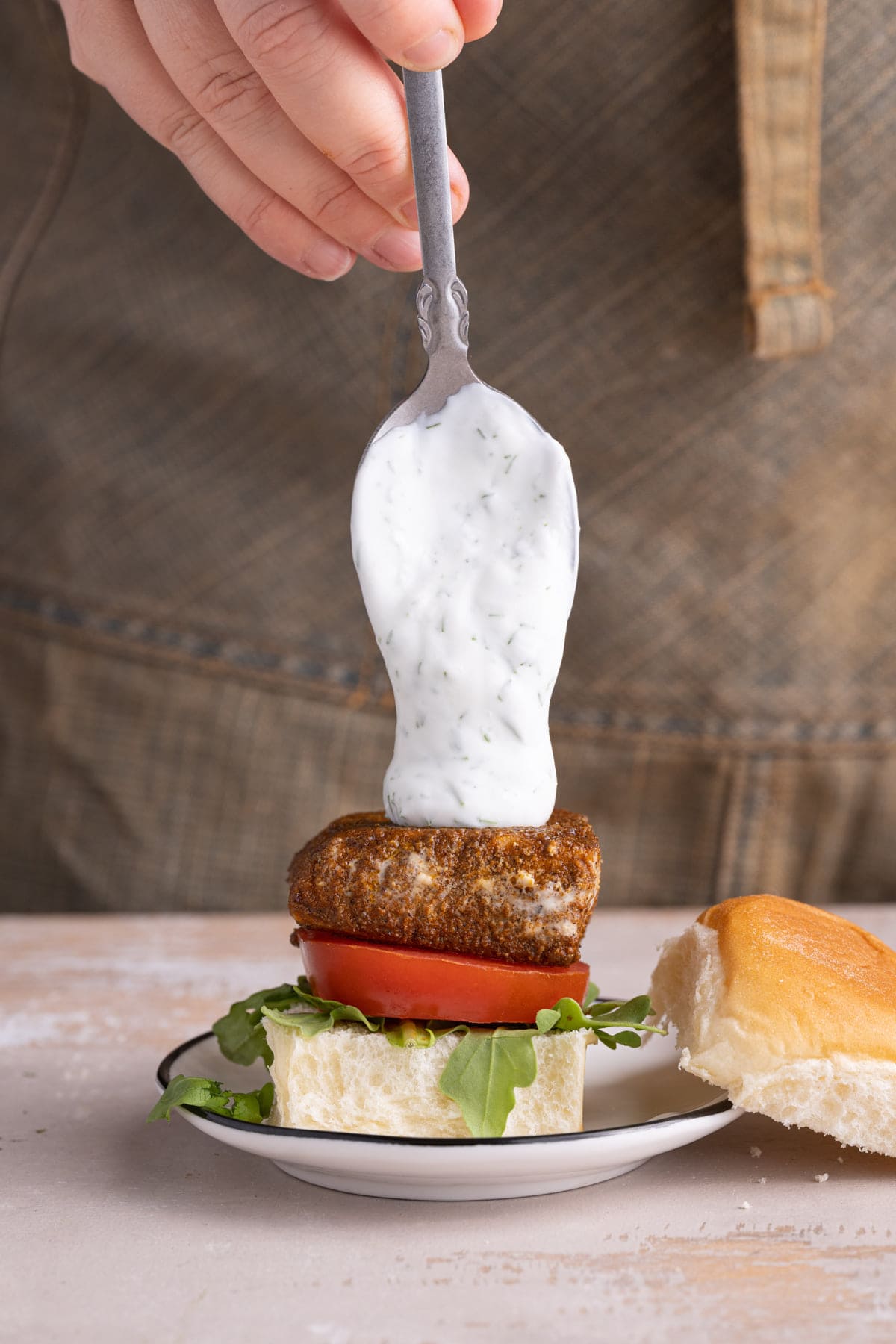 How to Serve Blackened Salmon Sliders
I like to serve my Salmon Sliders with a lemon wedge and extra sauce. If you want to eat these sliders as your main mean, try one of these complimentary sides: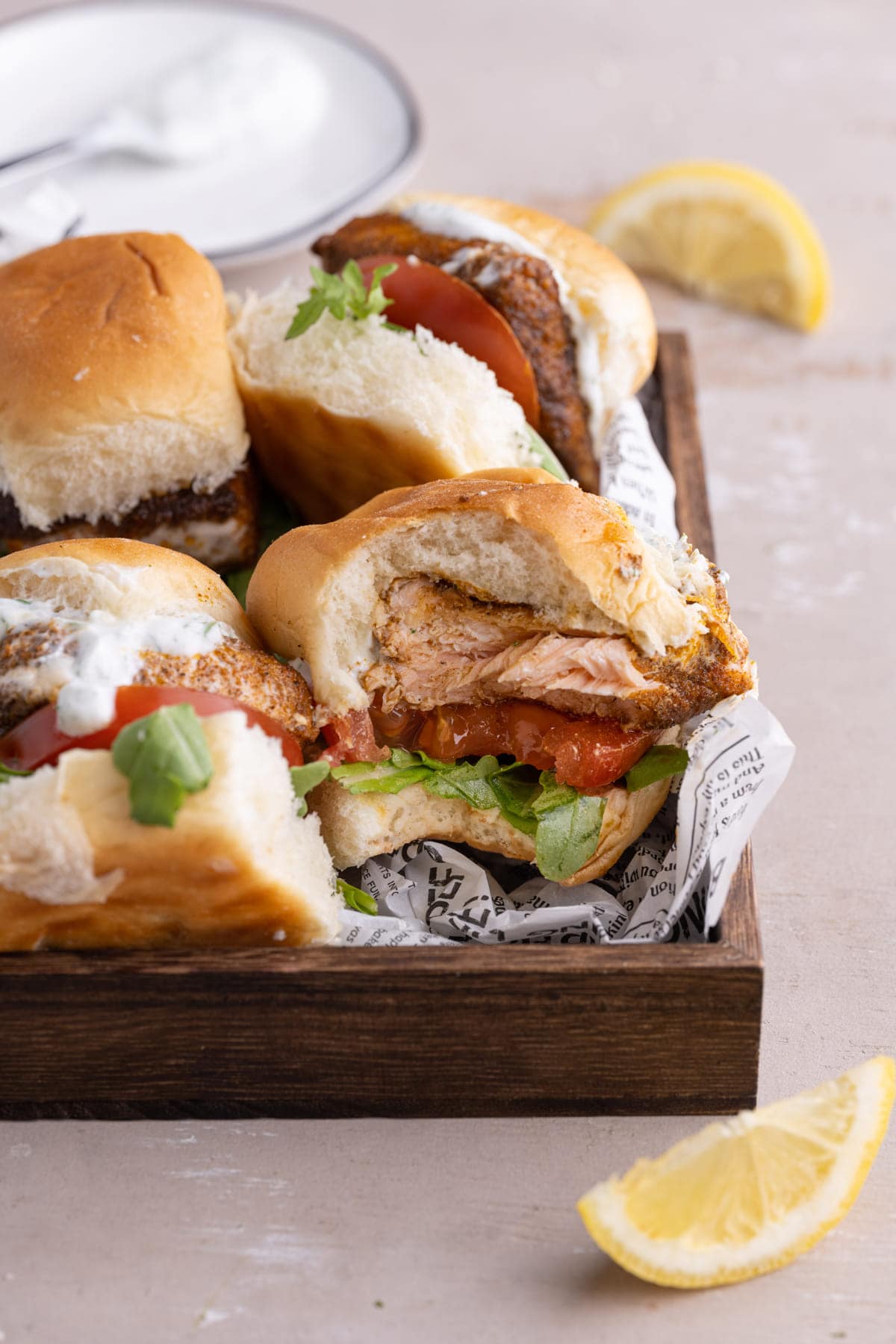 Storing and Reheating Cajun Salmon Sliders
In an airtight container, leftover salmon sliders will last for 3 days in the refrigerator. The sliders can be enjoyed cold right out of the fridge.
If you wish to reheat them, it's best to do so in the oven. Add the sliders to a baking sheet and preheat your oven to 350°F. Rehat for 8-14 minutes, until the leftover salmon reaches an internal temperature of 145°F.
Green tip: Did you know that 50% of food waste happens in our homes? Reduce your contribution to food waste is to properly store and reheat your leftovers so you can consume them.
Salmon Sliders Frequently Asked Questions
---
What kind of cheese is good on a salmon burger?
If you want to add cheese to these salmon sliders, I recommend gouda, gruyere, Havarti, or pepperjack.
Want to sharpen your kitchen skills?
Why You Should Make these Salmon Sliders with Dill Yogurt Sauce
---
The texture! Crispy blackened salmon with a juicy and flaky interior, creamy sauce, doughy buns, and the perfect bite from the tomato and greens.
They're bursting with flavor. Between the Cajun seasoning used to blacken the salmon, the toppings, and the tangy, citrus-y dill sauce, these sliders boast SO MUCH flavor.
They're quick! With only 10 minutes of cooking time and quick prep and assembly, this dish comes together in less than 30 minutes.
If you're loving these Salmon Sliders with Dill Yogurt Sauce, you are sure to also love these Salmon Tacos with Greek Yogurt Sauce!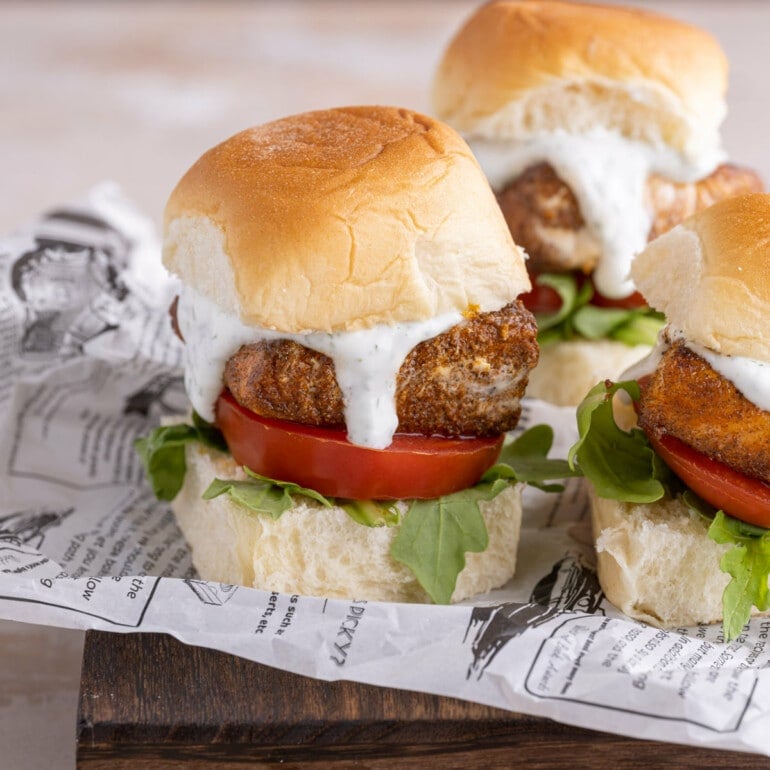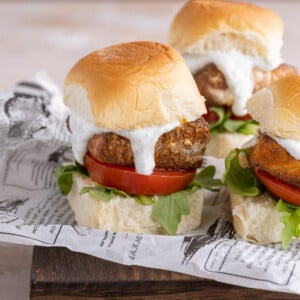 Salmon Sliders with Dill Yogurt Sauce
PRINT
PIN
RATE
These Salmon Sliders are a delicious and fun finger food, consisting of Cajun blackened salmon and a homemade Dill Yogurt Sauce sandwiched between a fluffy and doughy Hawaiian Roll.
Ingredients
Dill Yogurt Sauce
3

tablespoons

chopped fresh dill

(dried dill works in a pinch)

1

tablespoon

lemon juice

(1 lemon = approx. 4 tablespoons juice)

⅓

cup

plain Greek yogurt

(nonfat or fat free is okay!)
Blackened Salmon Sliders
10

ounces

salmon

(skinless preferred)

3

tablespoons

Cajun seasoning

(or Blackening Season or Old Bay Seasoning)

2

tablespoons

olive oil

6

Hawaiian rolls

(or mini hamburger buns)

1

medium

tomato

(plum, globe, or vine-ripe)

1

ounce

greens of choice

(arugula, spinach, chopped lettuce, etc.)
Instructions
Greek Yogurt Dill Sauce
Finely chop the dill and squeeze your lemon juice into a ramekin or small bowl and remove the lemon seeds if necessary.

In a small mixing bowl, add the Greek yogurt, chopped dill, and lemon juice and whisk until smooth. Set aside until you are ready to assemble your sliders.
Salmon Sliders
Prep your salmon by patting it dry with paper towels (try these bamboo paper towels for a more sustainable option!).

Slice the salmon into 6 roughly equal square pieces, each 1-2 inches in length on every side.

Add the Cajun seasoning to a shallow bowl and dunk the dried salmon into the seasoning on both sides, coating each piece of salmon in an even layer of seasoning.

Add the olive oil to a large cast iron skillet or nonstick frying pan over medium-high heat and allow the oil to heat up. If need be, slowly tilt the pan back and forth until you are left with an even layer of oil coating the bottom of the pan.

Then, carefully add the salmon to the hot oil, leaving some space between each piece.

Cover and cook for 5 minutes. Then, remove the cover and use a spatula to flip each piece of salmon. As the seasoning creates a crispy crust, it will release the salmon from the pan. If it's stuck, don't force it. Give it another 1-2 minutes before trying to flip again.

Once flipped, cover and cook again on the second side for another 3-5 minutes, until the internal temperature of the salmon reaches 125°F.

Meanwhile, separate the Hawaiian rolls from one another and slice them in two, so you are left with a top and bottom half.

Rinse and slice your tomato into 6 thin slices. Cut out the stem and discard.

Assemble your salmon sliders by topping the bottom halves of the bun with greens. Stack a tomato slice on top, then the salmon, and then the Greek Yogurt sauce. Finish it with the top half of the bun. Enjoy!
Pro Tips
If you don't have Cajun seasoning, you can use Old Bay Seasoning or blackening seasoning instead. 
Make these sliders your own by adding more or switching out the toppings! For a full list of my favorite optional toppings, scroll up and read the full list under the listed out ingredients in the post. 
For more recipes like this, check out this list of Simple Salmon Recipes. 
Did you make this recipe?
Let me know by leaving a recipe rating below, or by tagging @marleysmenu on Instagram.