Looking for a simple vegetable side that brings flavor and nutrition to any meal? These 15-Minute Sautéed Broccolini and Mushrooms are the perfect earthy, vibrant, and healthful accompaniment to any dish!
With minimal ingredients to enhance the natural flavors of the vegetables, this easy stovetop vegetable recipe will quickly become a regular in your household. Plus, this simple sautéing technique gives you the best texture in every bite!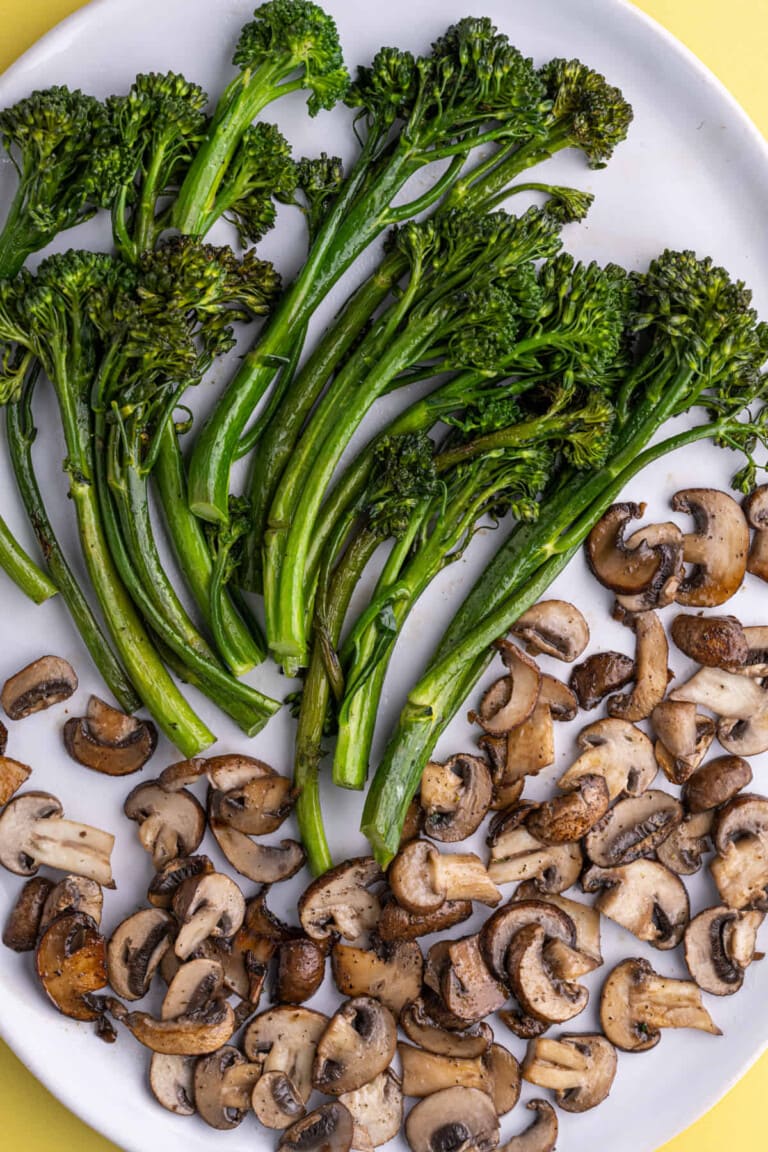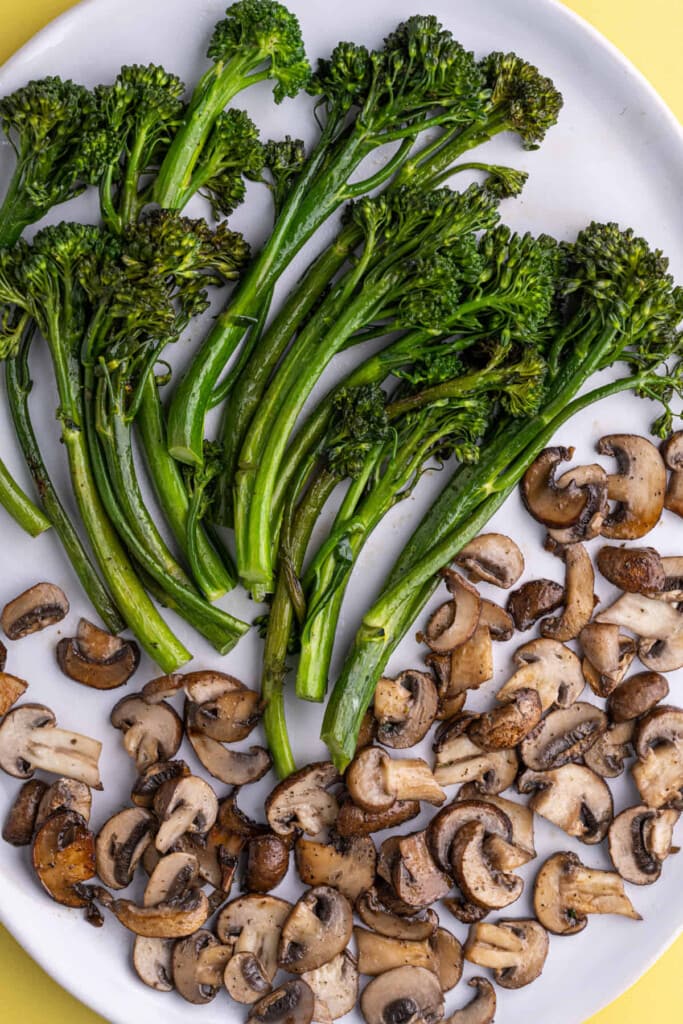 As an environmental scientist, I always try to stick to seasonal eating! It's one of the easiest (and most delicious!) ways to support local farmers and improve your carbon footprint.
Green tip: Seasonal and local foods have less associated transportation costs and fuel emissions. Check when broccolini and mushrooms are in season in your area with this Seasonal Food Guide.
Sautéed Broccolini and Mushrooms Ingredients
---
Here's everything you need:
Mushrooms. Baby bella, cremini, or white button work best in this recipe.
Broccolini. Also known as baby broccoli. One bunch is usually about 8 ounces.
Olive oil. To sauté the vegetables in.
Salt & pepper. To season the vegetables.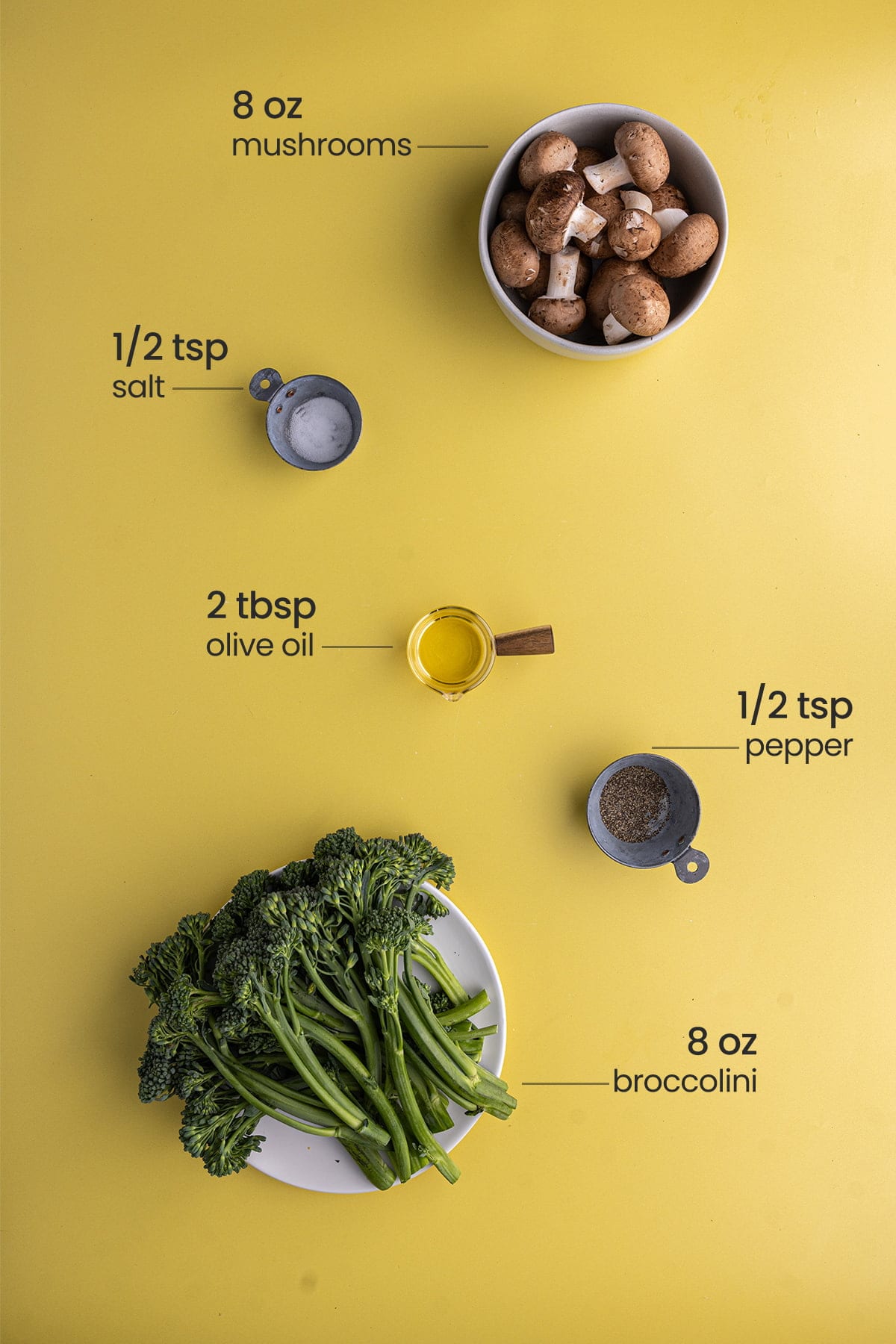 Optional Flavor-Boosters
Mushrooms and broccolini pack tons of flavor on their own, but if you want to kick it up a notch, here are some of my favorite flavor-boosting toppings and add-ons:
Garlic or garlic powder.
Shallots or onion powder.
Lemon or lime juice.
Crushed red pepper flakes.
Shaved or grated Parmesan cheese.
Butter.
Sautéed Mushrooms and Broccolini Tips and Tricks
---
How to Store Broccolini Before Use
Once you find your broccolini and bring it home, you can easily keep it fresh for up to 1 week if you store it correctly.
Place the broccolini in a glass jar with the florets facing up and fill it with about 2-3 inches of water so the stalks are submerged.
You can then place a reusable storage bag on top and store the whole jar in your fridge. This freshness-preserving technique works with asparagus as well!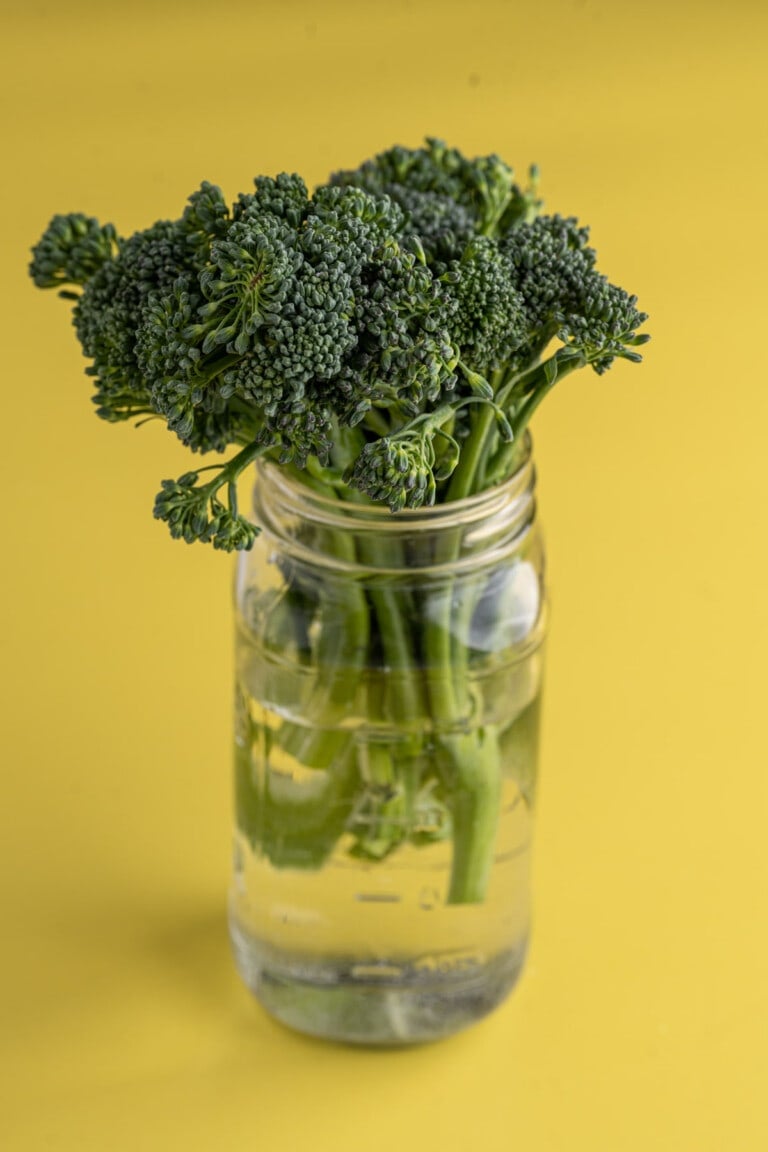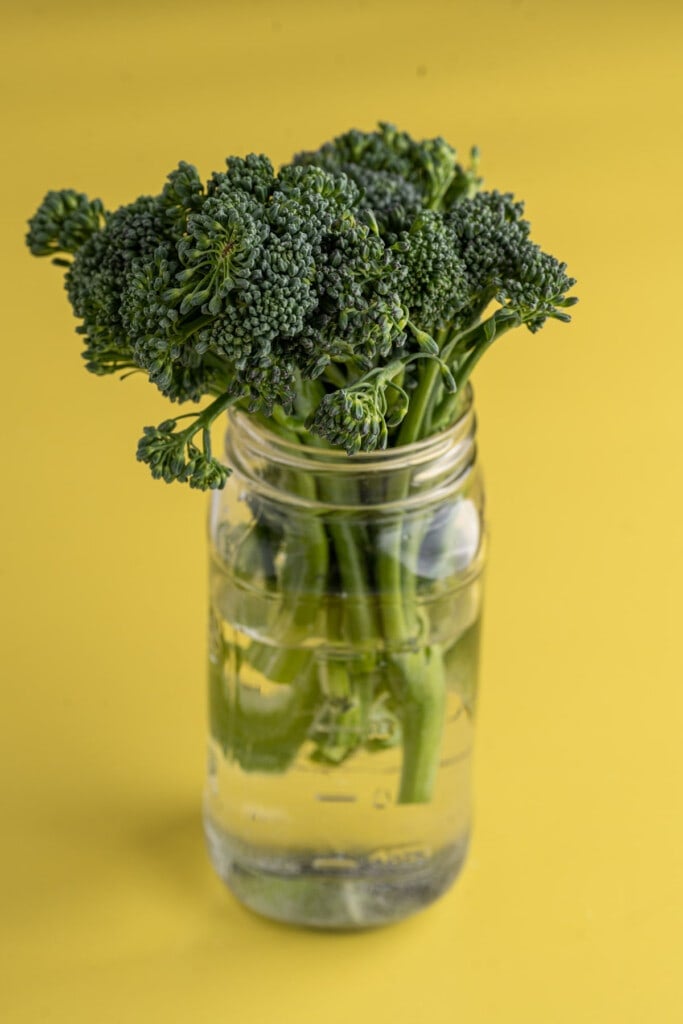 Storing Mushrooms Before Use
Most mushrooms will last 5-7 days when refrigerated.
To keep your mushrooms fresh longest, wet a paper towel (consider these bamboo ones for a more sustainable option!) and then ring it out, so its damp. Then place it over top of your mushrooms.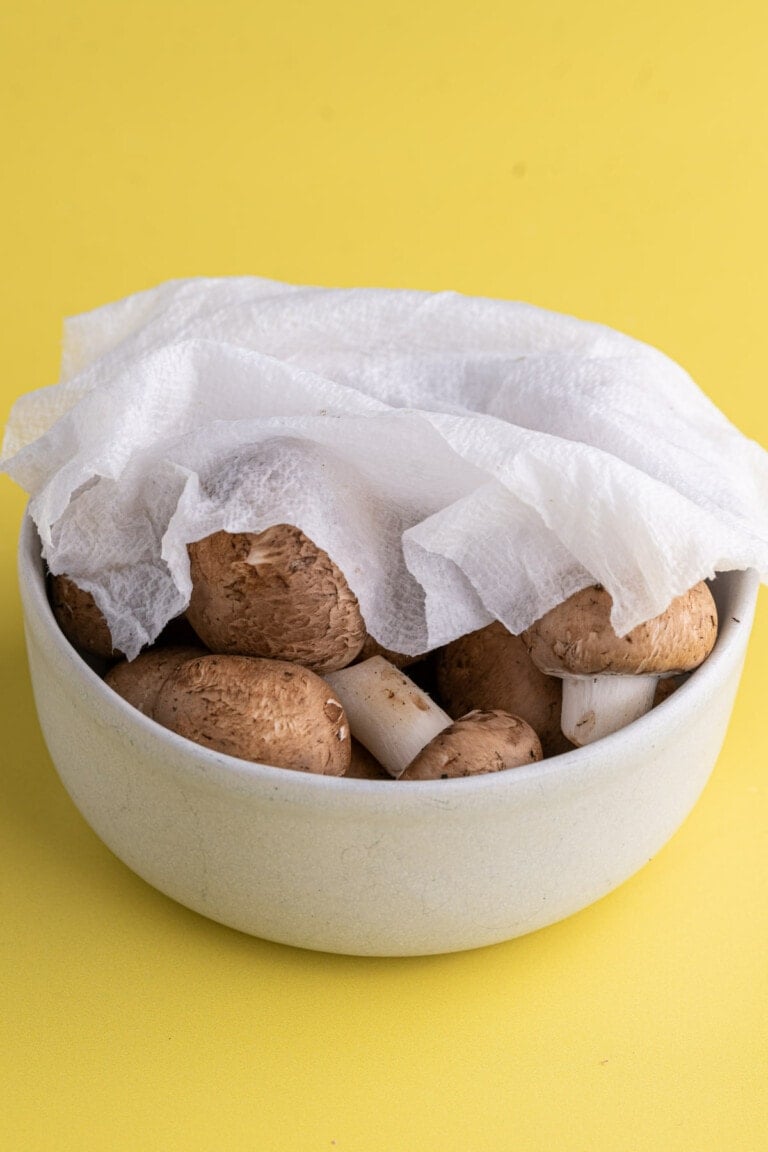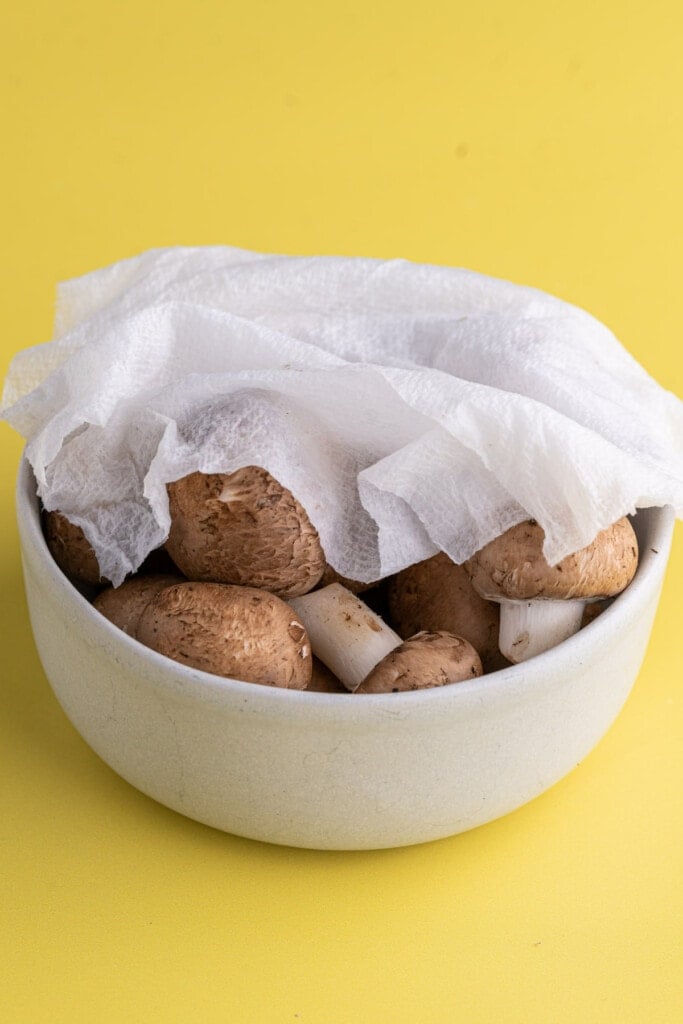 How to Prep Mushrooms and Broccolini
For the broccolini, there's not much prepping to do, as all parts of the broccolini are completely edible! I like to remove the leaves as they tend to get a little wilted and mushy when sautéing them, but that's up to you.
If you do remove the leaves, keep in mind that they can be composted or even used to add to other greens in a delicious salad!
The best way to clean your mushrooms is to use clean hands or a kitchen towel to wipe any dirt off of them. Rinsing them may actually cause them to get a little slimy.
Simply slice the mushrooms longways into thin strips as pictured below. Depending on the size of your mushrooms, each mushroom will likely be sliced into 3-5 pieces.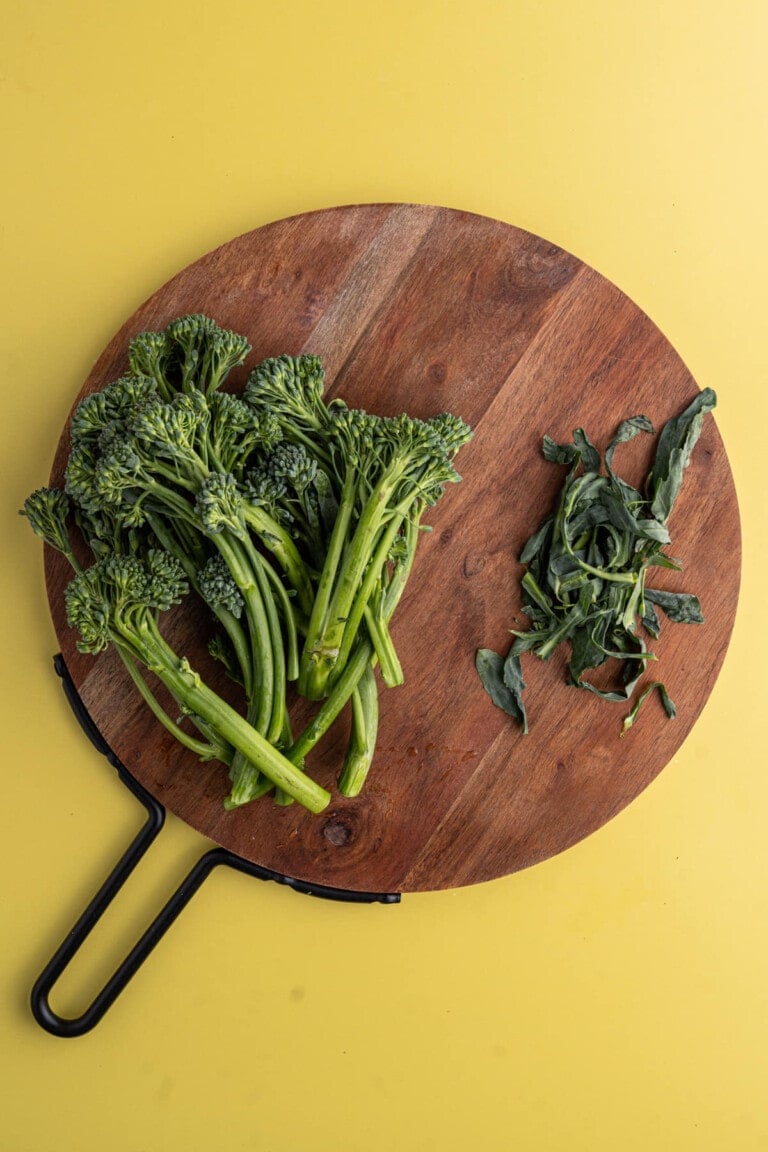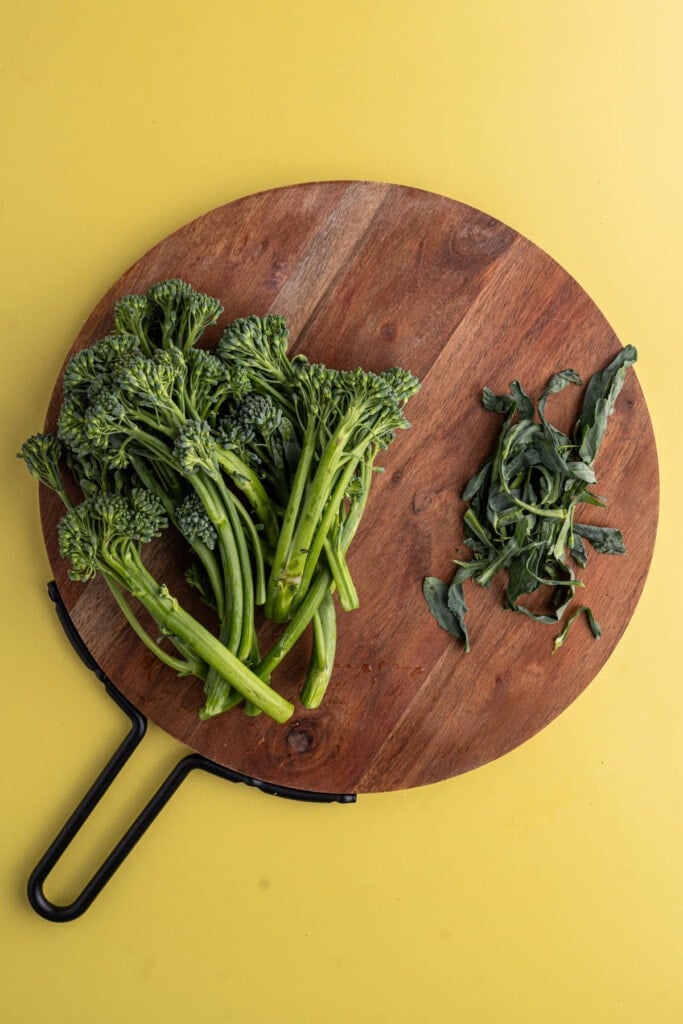 Get the Oil Hot in a Pan First
The first step to getting a great texture on your sautéed mushrooms and broccolini is getting the oil hot in the pan. Add your olive oil to a large saucepan over medium heat and allow it to heat up for about 1 minute before adding your prepped veggies, salt, and pepper.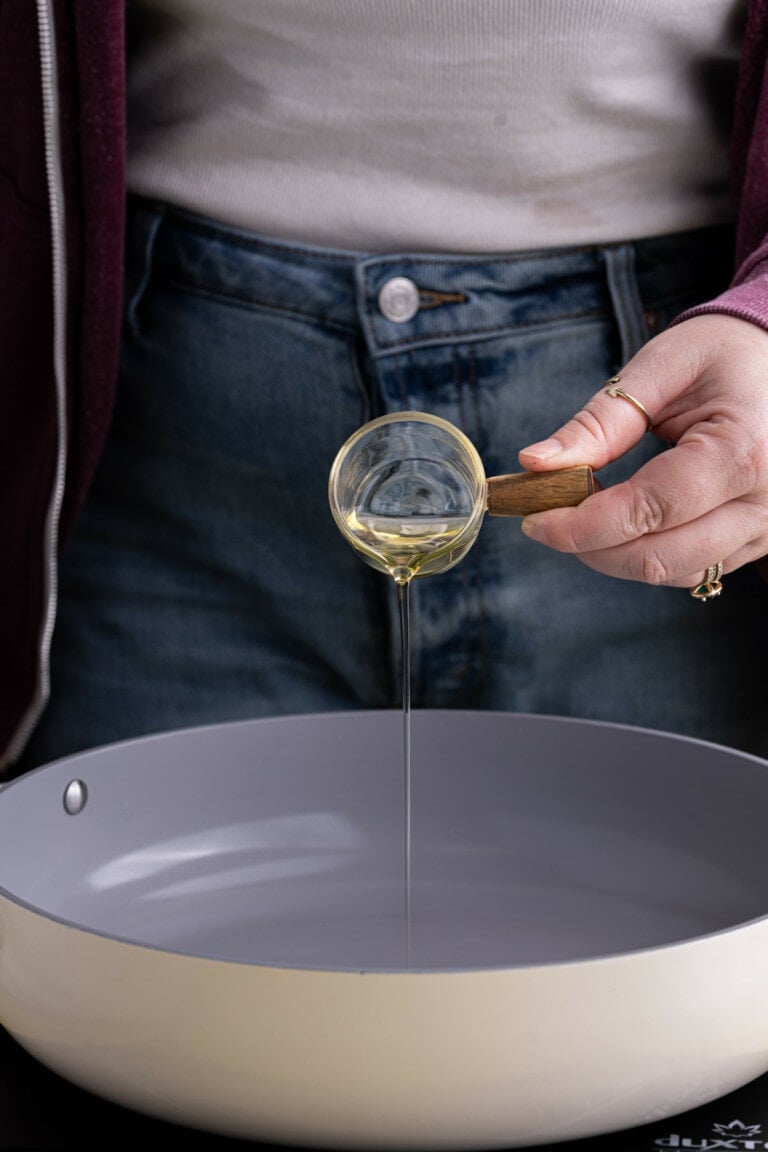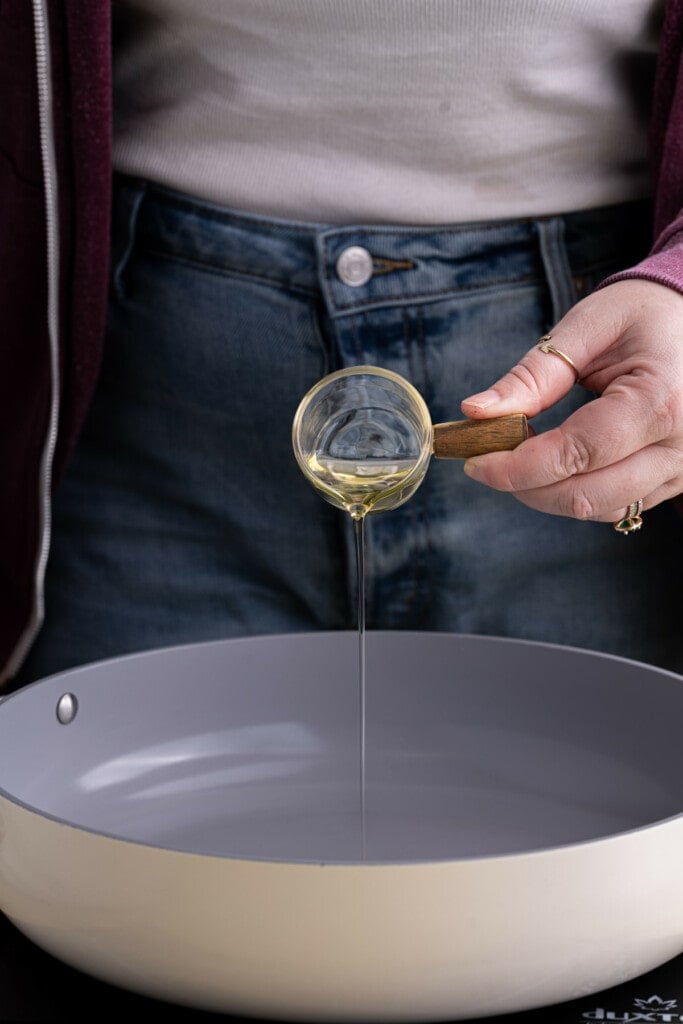 Add the Vegetables to the Hot Oil
Once your oil is hot, and you've added the broccolini, mushrooms, salt and pepper to the pan, toss the vegetables a couple of times to coat them in the oil and seasoning.
Use a spatula, wooden spoons, or kitchen tongs to spread the veggies out, trying your best to not stack them on top of one another.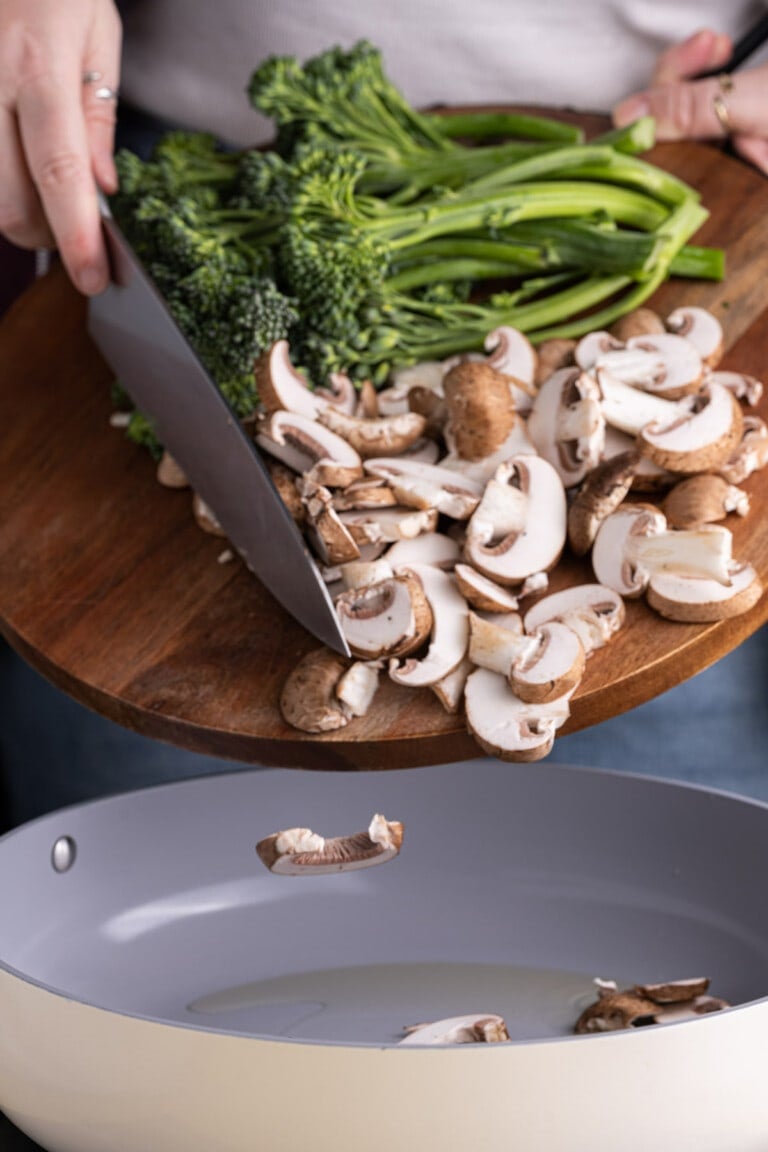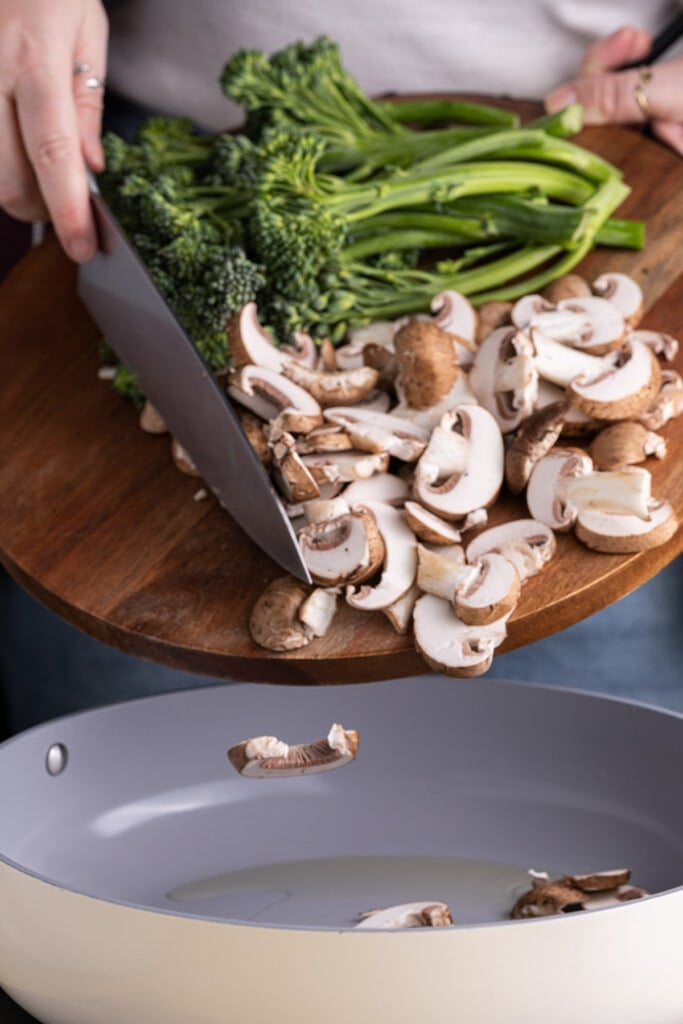 Cover to Steam the Broccolini
Next, cover your pan to trap the steam coming off from the juices released from the mushrooms. This will effectively steam the broccolini, making it tender. Keep the heat on medium, and keep it covered and sauté for 5-7 minutes.
Then, remove the cover and continue to cook, tossing once or twice until all of the liquid has evaporated and the mushrooms and broccolini start to turn slightly golden brown (about 3-5 more minutes).
The key to getting that golden brown is to not move your vegetables around in the pan too much.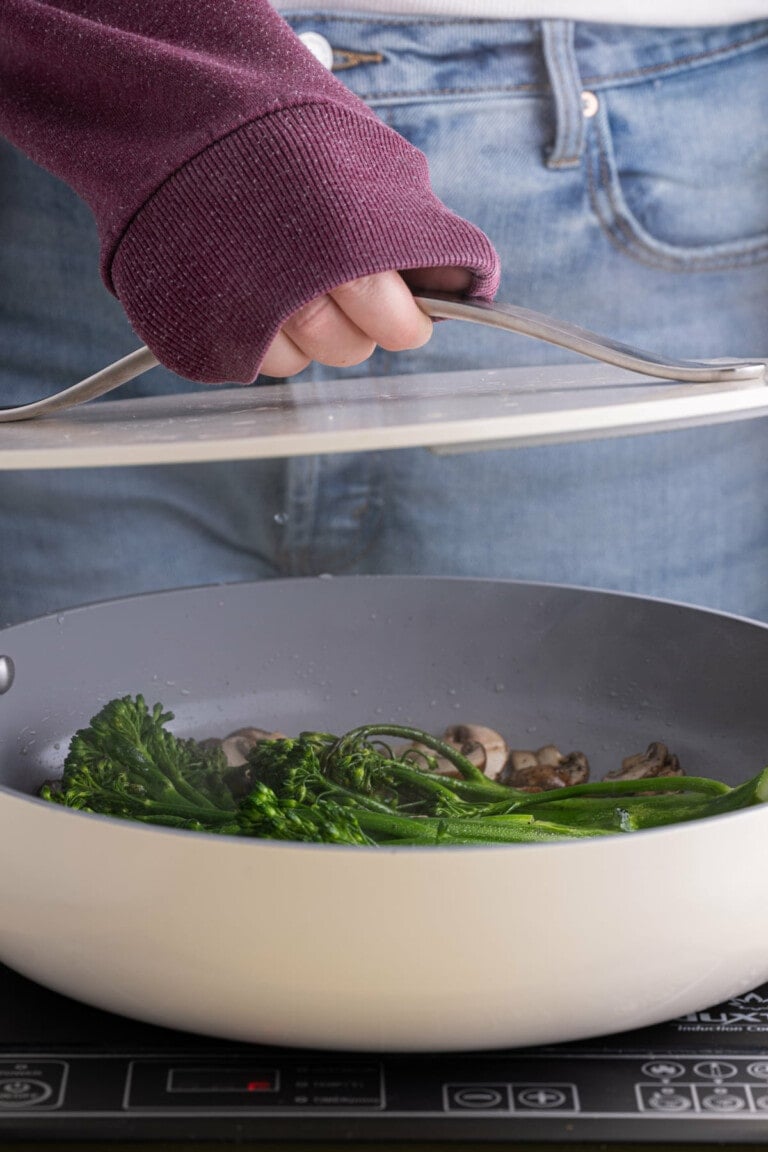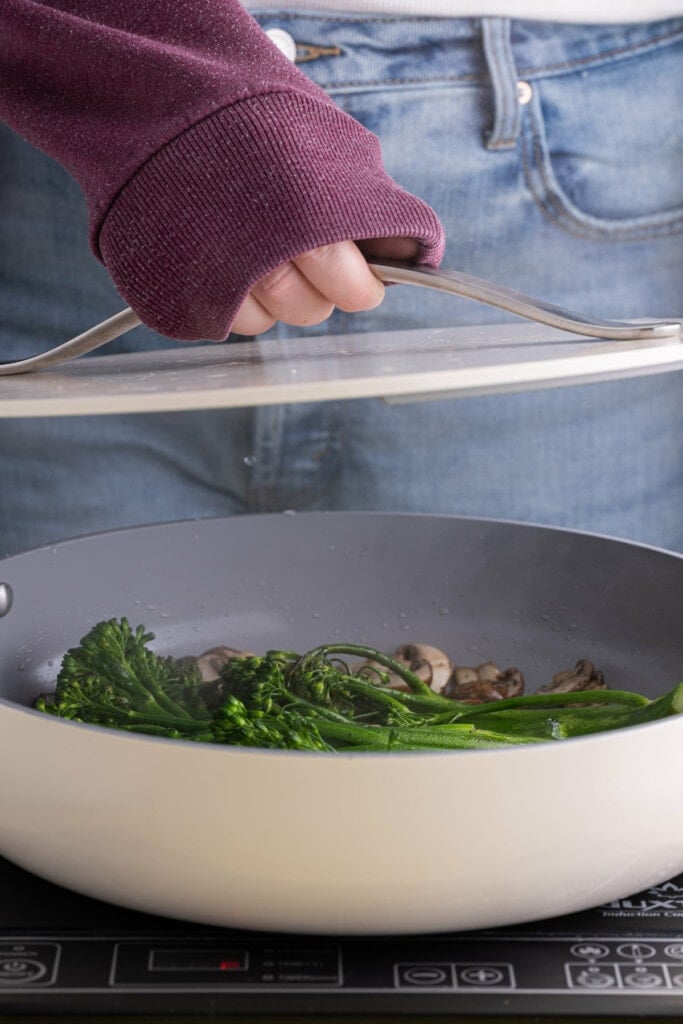 Serving Your Sautéed Broccolini and Mushrooms
The natural flavors of the sautéed broccolini and mushrooms add an earthy taste and tons of texture to any dish. This vegetable side dish can truly be served with almost anything!
My favorite meal to serve these up with is this Yellow Saffron Rice and Blackened Mahi-Mahi.
If you want to add a sauce or gravy to these veggies, check out this Shallot Cream Sauce or this Hearty Mushroom Gravy.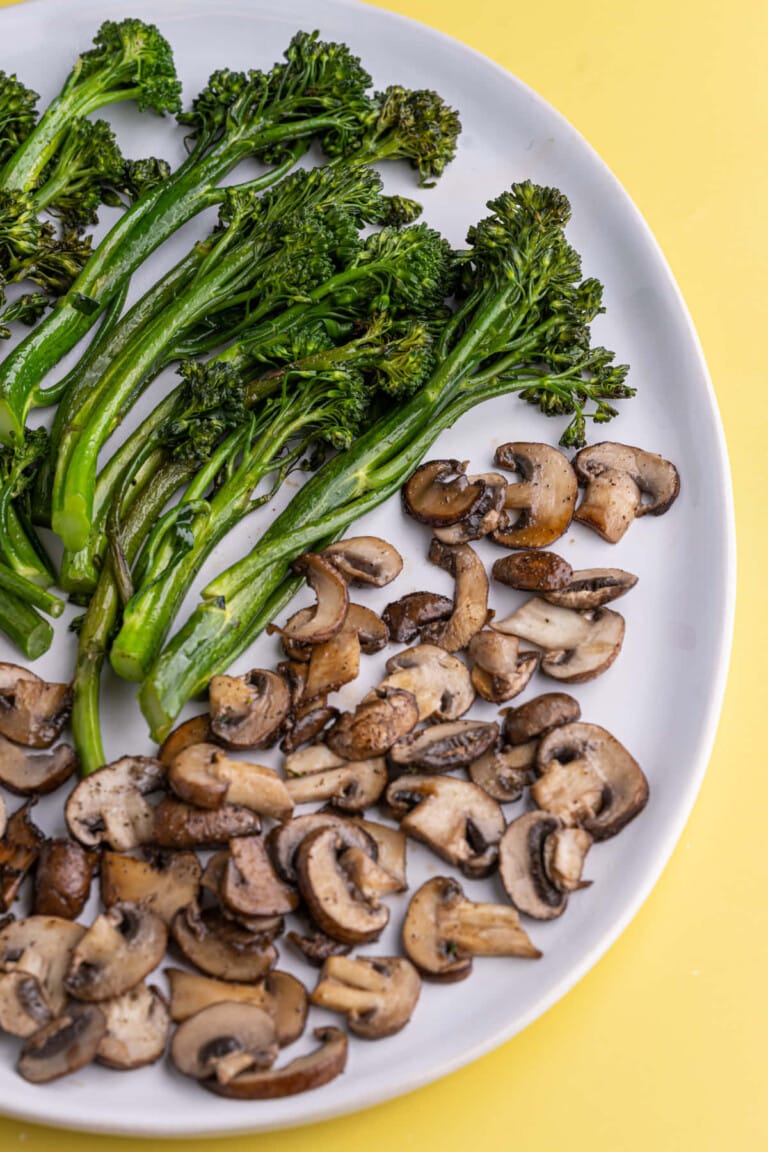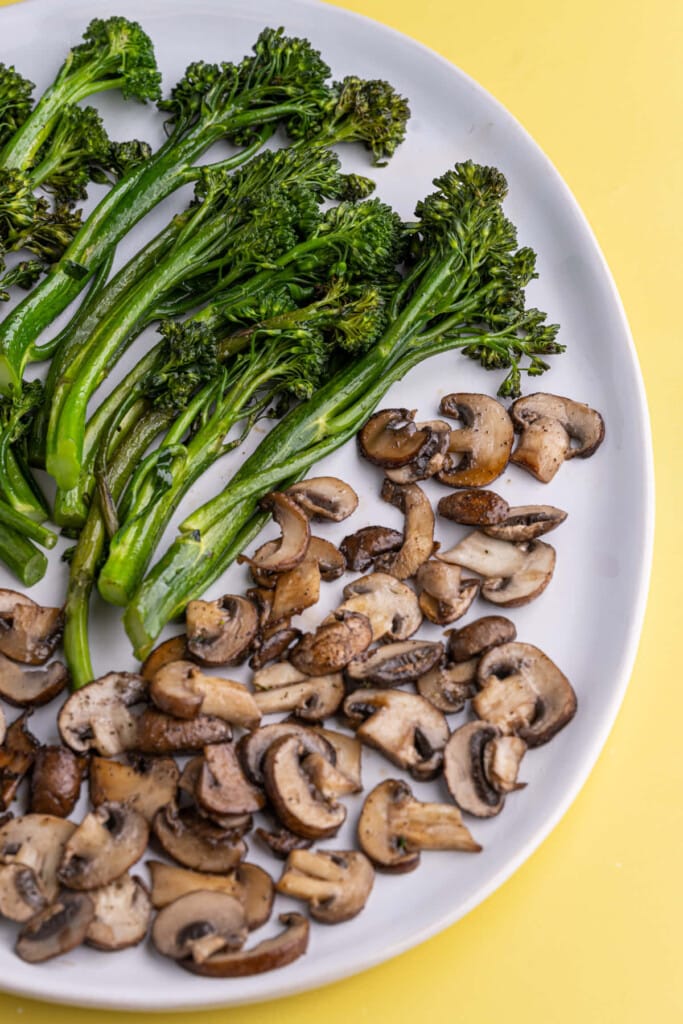 Should You Have Leftovers
Leftover cooked broccolini and mushrooms will last for 3-4 days in an airtight container in the refrigerator. You can also opt to freeze them for up to 3 months.
There are two easy ways to reheat your leftover vegetables. You can either throw them back in your saucepan over medium heat, tossing frequently until thoroughly heated.
Alternatively, you can reheat them by roasting them in the oven. Spread them out in a single layer on a baking sheet and place it on the top rack of your preheated 350°F oven.
Both methods work to reheat the broccolini and mushrooms from the fridge or the freezer. Just add about 5 minutes to the cooking time for either method if you are reheating them from frozen.
Green tip: Did you know that of the billions of pounds of food wasted annually, it is estimated that 50% of it happens in our homes? Decrease your household's contribution to food waste by properly storing, reheating, and enjoying your leftovers!
Sautéed Broccolini and Mushrooms Frequently Asked Questions
---
How do you make crispy sautéed mushrooms?
The key to getting your sautéed mushrooms crispy is to avoid moving them around too much in the pan. Once the juices have released from the mushrooms, spread them out in a single layer on the pan and don't touch them.
Allow to cook for 5-7 minutes without stirring or tossing to allow them to caramelize.
Are you supposed to cook the leaves on broccolini?
The stems, florets, and even the leaves of broccolini are all perfectly edible, delicious, and nutritious. Depending on your cooking method, you may or may not want to remove the leaves.
If you are roasting your broccolini, you can keep the leaves on. They'll get nice and crispy!
If you're sautéing or steaming your broccolini, it's probably best to remove the leaves, as they tend to wilt and get a little bit mushy.
Sign-up for the Meatless Monday Challenge
Get access to the 4-week-long Meatless Monday Challenge, with accompanying meal plans, grocery shopping lists, and more, sent right to your inbox!
Why You Should Make this 15-Minute Sautéed Broccolini and Mushrooms
---
It's quick. Only 10-12 minutes of cooking time and super easy prep.
It's simple. Just one pan and minimal ingredients required to make this dish.
It's nutritious! All the health benefits of your broccolini and mushrooms delivered in a delicious dish!
If you're loving this Sautéed Broccolini and Mushrooms and want more simple, multi-veggie side dishes, check out this Roasted Cauliflower and Sweet Potato and Roasted Carrots and Brussels Sprouts.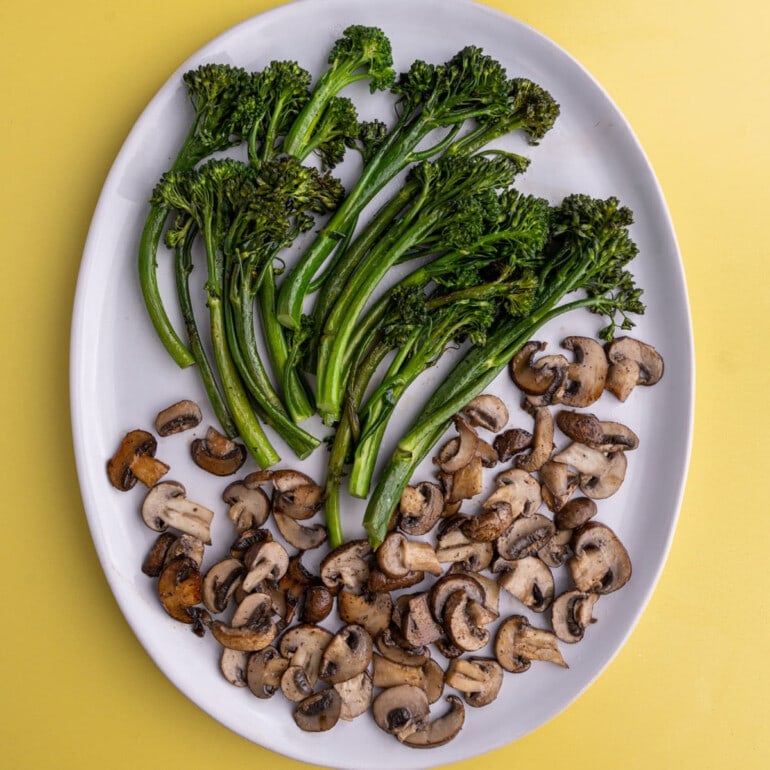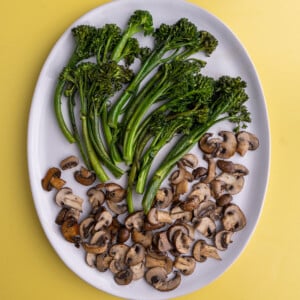 15-Minute Sautéed Broccolini and Mushrooms
PRINT
PIN
RATE
This simple Sautéed Broccolini and Mushrooms dish teaches you how to quickly and easy whip up your veggie side dish in just 15 minutes and in one pan.
Ingredients
Sautéed Broccolini and Mushrooms
8

ounces

broccolini

(1 bunch = approx. 8 ounces)

8

ounces

baby bella mushrooms

2

tablespoons

extra virgin olive oil

½

teaspoon

salt

½

teaspoon

black pepper
Optional Flavor Boosters
2

cloves

garlic, minced

(or ½ teaspoon garlic powder)

1

large

shallot, diced

(or ½ teaspoon onion powder)

2

teaspoons

lemon juice

½

teaspoon

crushed red pepper flakes

2

teaspoons

grated Parmesan cheese

1

tablespoon

unsalted butter
Instructions
Prep the broccolini by rinsing it and pulling off any leaves. Wipe the mushrooms clean and slice them longways into 3-5 thin pieces.

Add olive oil to a large saucepan over medium heat. Allow the oil to get hot first, then add the broccolini, mushrooms, salt, and pepper. Toss to coat the vegetables in the oil, salt, and pepper.

Cover and cook for about 5-7 minutes, until the juices release from the mushrooms and steams the broccolini. Then, remove cover and continue to sauté until the liquid is evaporated and broccolini is slightly charred.
Did you make this recipe?
Let me know by leaving a recipe rating below, or by tagging @marleysmenu on Instagram.