Looking for a healthful, filling and delicious way to start your day? This Savory Quinoa Breakfast Bowl is loaded with fiber, protein, nutrients, and out-of-this-world taste from the sauteed veggies, fried egg, and fresh & creamy avocado.
In this recipe, you will learn how to infuse flavor into your quinoa and make it especially fluffy to act as the perfect base to a nourishing breakfast (this is the same technique I use for this Sweet Potato Quinoa Bowl!).
Plus, you'll use one pan to quickly sauté vibrant vegetables and then fry an egg to place on top. You'll also learn how to easily slice an avocado for the best fresh topping to an overall mouthwatering savory dish!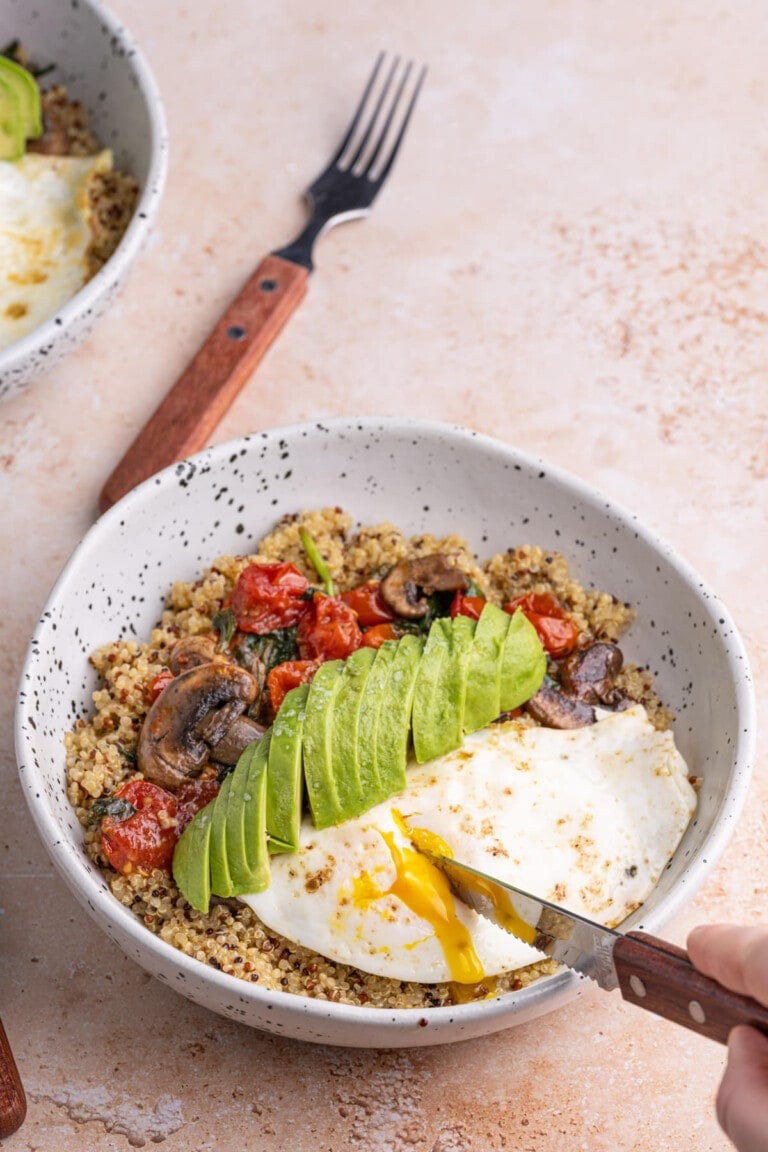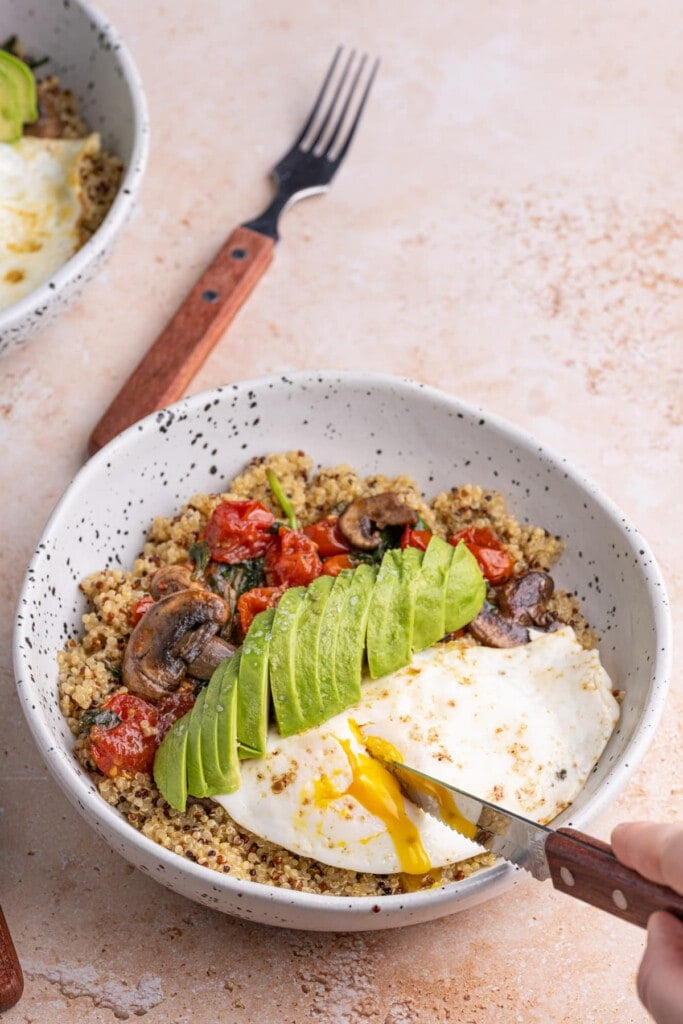 As an environmental scientist, I am always trying to make more eco-conscious food choices. One simple way to improve your ecological footprint is by finding ways to enjoy more meatless meals.
Quinoa, eggs, and mushrooms are a great source of protein, and a wonderful way to start your day without relying on breakfast meats to give you energy.
Green tip: Industrial meat production has a huge impact on the environment, especially because of the amount of land it takes to sustain and its high amount of greenhouse gas emissions.
Savory Quinoa Breakfast Bowl Ingredients
---
Here's everything you need:
Quinoa. You can use white, black, red, or tricolor quinoa.
Vegetable broth. To cook the quinoa in to infuse savory flavor. Alternatively, for a lower sodium option, you can cook your quinoa in water.
Mushrooms. Baby bells, white button, or cremini work best in this recipe.
Grape tomatoes. They are usually sold in pints, which are 16 ounces. For two generously portioned quinoa bowls, you only need about 5 ounces.
Spinach. Or other leafy greens like arugula or spring mix.
Olive oil. To sauté your veggies and fry your eggs in.
Salt & pepper. To season your breakfast bowl.
Eggs. I like to fry them over easy but you can also fry your egg over hard or even scramble them if that's your preference.
Avocado. The perfect creamy finish to add texture and color to your breakfast quinoa bowl.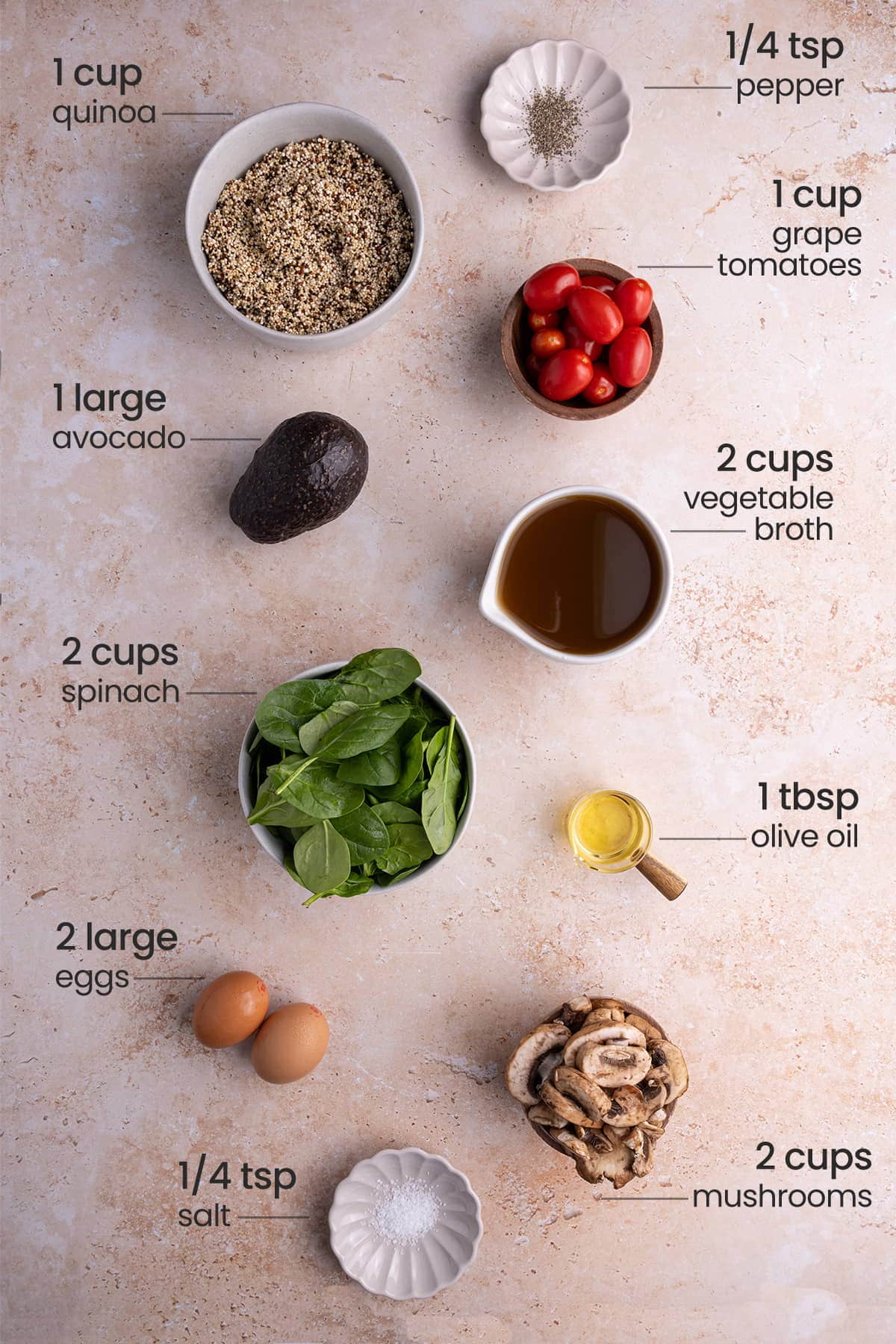 Quinoa Breakfast Bowl Tips and Tricks
---
How to Infuse Flavor into Quinoa
It's always best to rinse your quinoa before cooking it. This will both clean it and wash off a naturally occurring insect repelling chemical called saponin, which can cause your quinoa to have a bitter taste. I just use a sieve to run clean water over the quinoa.
Add your vegetable broth and rinsed quinoa to a medium-sized pot. Alternatively, you can opt to cook it in water (or even use leftover quinoa) but cooking your quinoa in vegetable broth will infuse tons of delicious flavor!
For the fluffiest quinoa, bring the vegetable broth and quinoa to a boil. Next, turn the heat all the way down to low and cover your pot with a fitted lid. Allow the quinoa and broth to simmer covered for 15 minutes.
Then, remove the pot from heat and allow it to sit, covered, for an additional 10 minutes.
Lastly, fluff the quinoa with a fork before serving it. To fluff it, use a fork to gently lift from the bottom of the pot in an upward motion.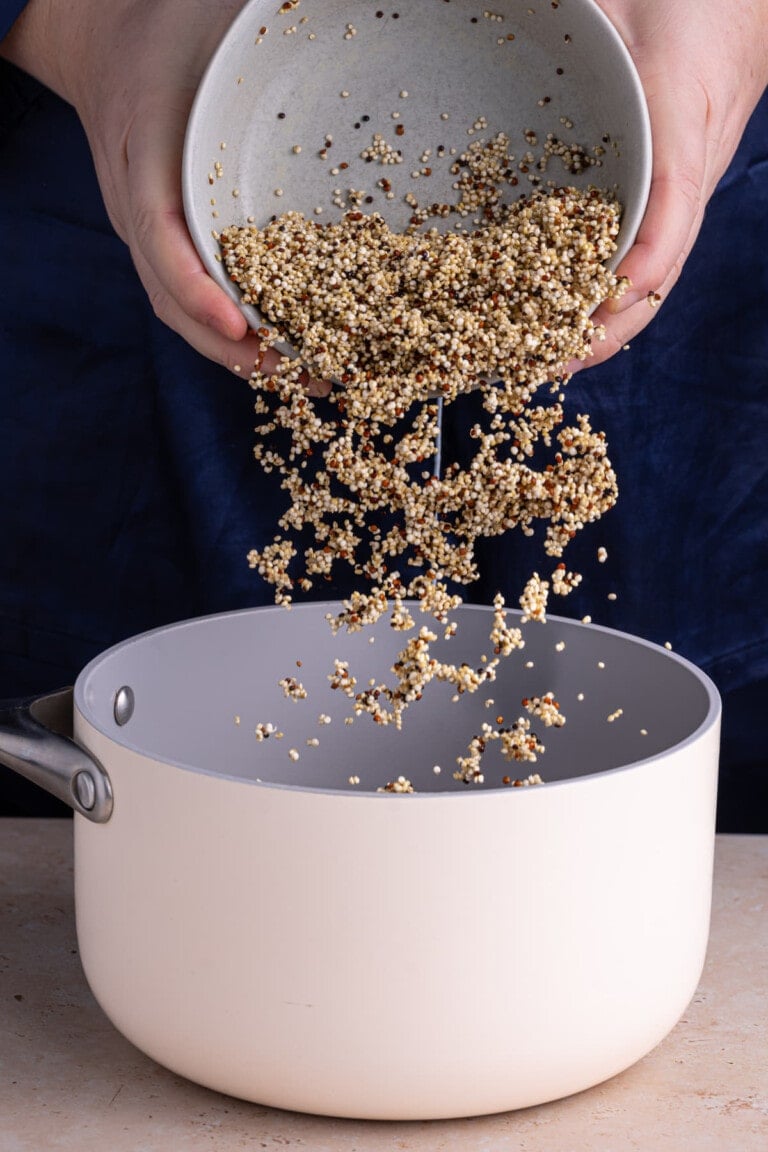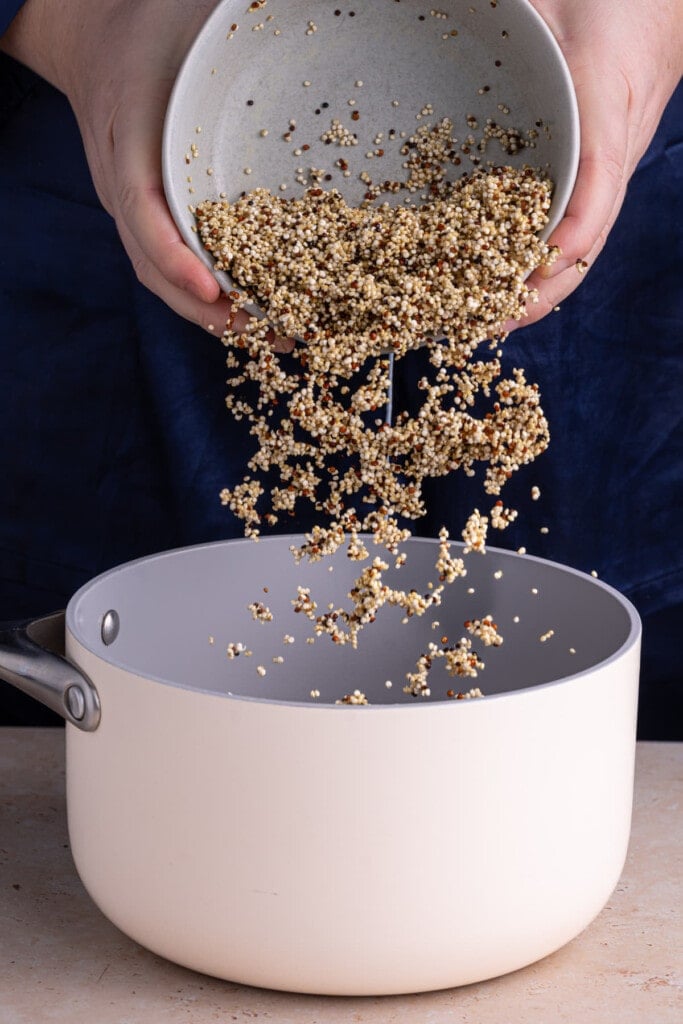 How to Prep Your Mushrooms, Tomatoes, and Spinach
Before use, grape tomatoes should be stored at room temperature. They have a relatively long shelf life and will typically last 10 days on the counter. As for mushrooms, they typically last for up to a week when refrigerated.
To keep your mushrooms fresh longest, wet a paper towel (consider these bamboo ones for a more sustainable option!). Then, ring the paper towel out, so that it's damp and place it over top of your mushrooms.
Green tip: Mushrooms are not only delicious, but considered a sustainable food. They have a relatively small environmental footprint as they take little water and energy to grow and emit little CO2.
When you buy pre-washed spinach in a bag, it will typically last about 5 days. To make it last longer, remove any soggy leaves from the bag.
To prep your vegetables, rinse your grape tomatoes and slice them in half longways. If there are any large cherry tomatoes in the batch, you can cut them into four instead of just halving them.
As for the mushrooms, the best way to clean them is to use your hands or a kitchen towel to wipe dirt off of them. Note that rinsing them in water may actually cause them to get a little slimy or soggy, even when cooked.
Simply slice the mushrooms longways into thin strips. Depending on the size of your mushrooms, each mushroom will likely be sliced into 3-5 thin pieces.
Spinach can be roughly chopped or left whole. I like to chop the leaves into smaller pieces to speed up the cooking time.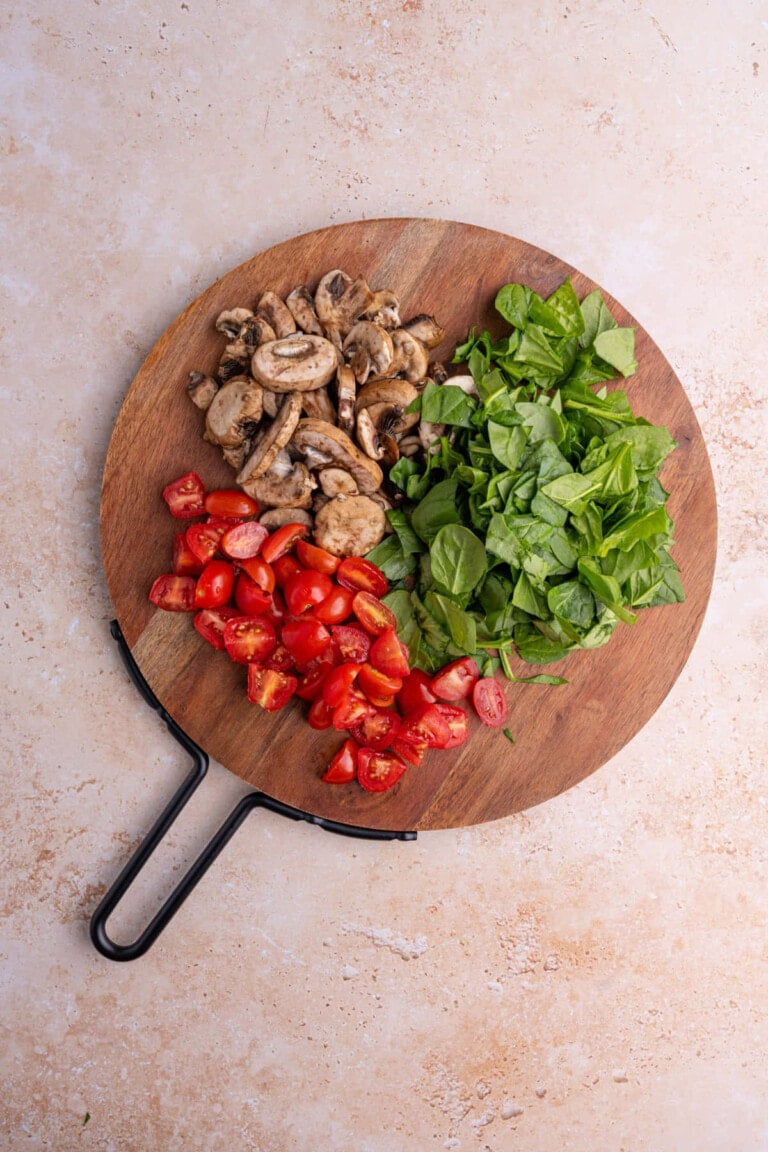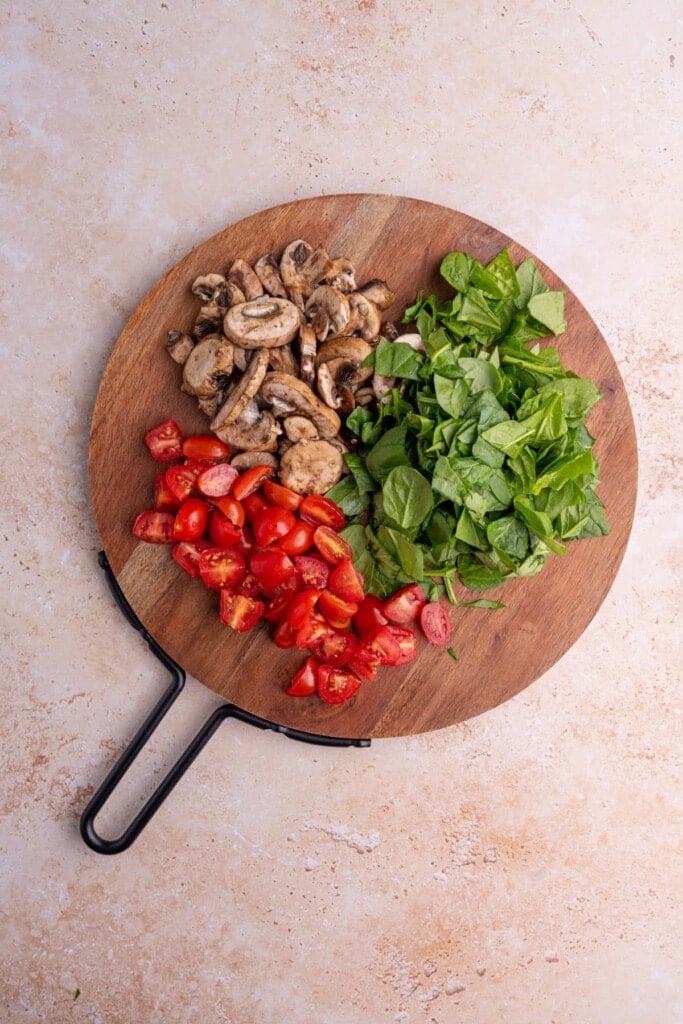 Get Oil Hot in Your Pan First
Before adding your veggies to the pan, get the oil hot. Add the olive oil to a large frying pan over medium heat.
Allow the oil to sit for a minute or two, then lift and tilt your pan to spread the hot oil across the bottom, until the pan is completely coated in oil.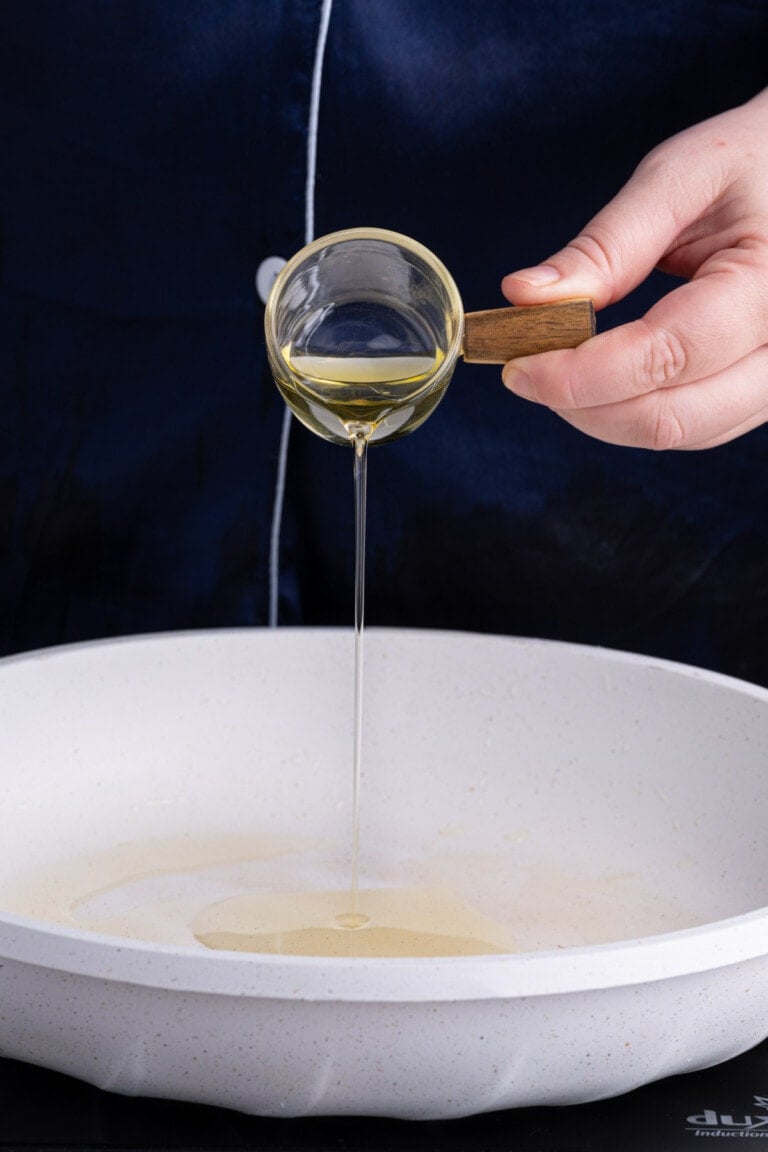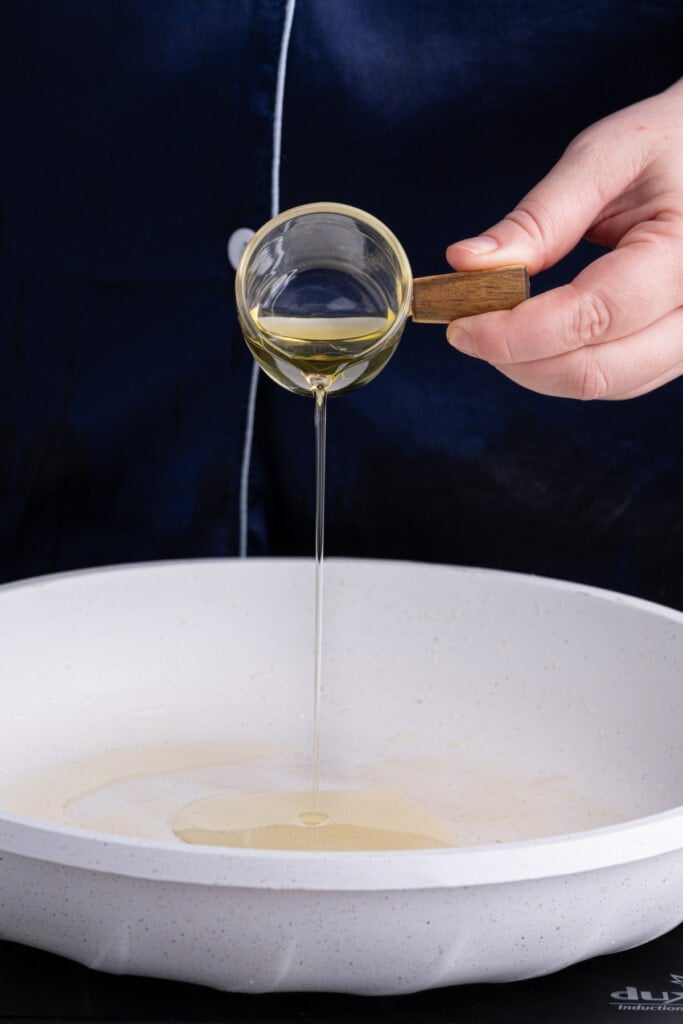 Cooking Your Breakfast Quinoa Bowl Veggies
Next, add your halved grape tomatoes, chopped spinach, and sliced mushrooms to the hot oil. Season it with a pinch of salt and pepper.
Sauté over medium until most of the liquid has released from the veggies and is evaporated. Make sure to stir with a wooden spoon or spatula occasionally, so that nothing sticks to the bottom.
Once your mushrooms, spinach, and grape tomatoes are fully cooked, remove them from the pan.
If your quinoa is ready, you can slide the veggies directly on top. Otherwise, just set them aside on a plate until you are ready to assemble your quinoa bowl.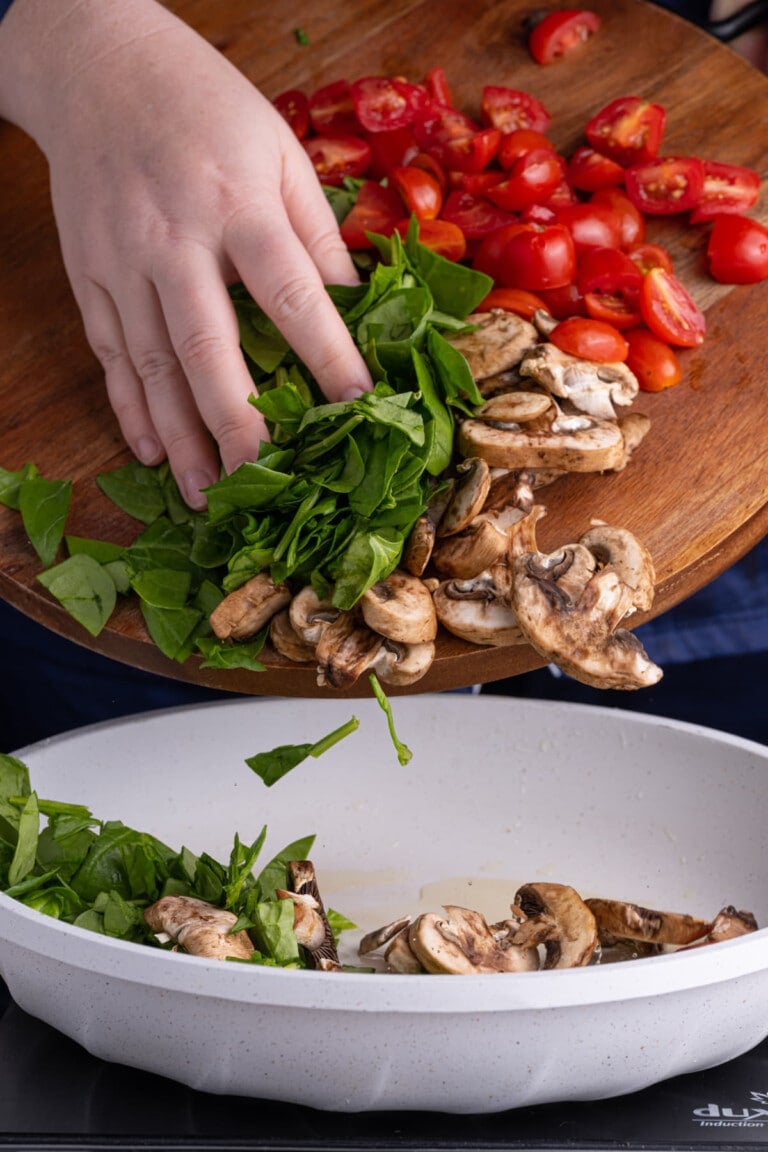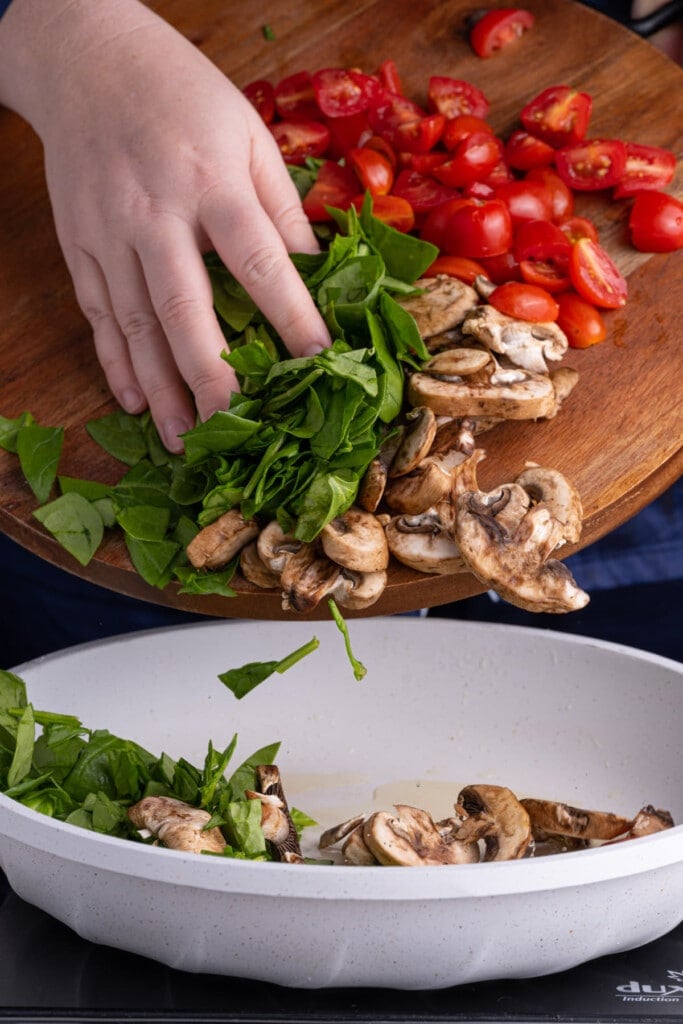 How to Fry Eggs for Your Breakfast Bowl
Once you've removed your cooked veggies from the pan, you can now use the hot pan to fry your eggs. There should be some residual oil in the pan, but if it looks too dry, you can add a little bit of extra oil to fry your eggs in.
I like to fry my eggs over easy for this vegetarian breakfast bowl, but that's up to you! To make over easy eggs, allow the eggs to fry in the pan over medium heat until the white is opaque.
Then, remove your pan from the heat, flip the egg, and allow the residual heat on the pan to cook the second side of the egg for 1 minute. Then, it's ready to serve! This will leave you with a very runny yolk.
Over medium eggs use exactly the same technique, but this time, do not remove your pan from the heat. Once you flip the egg, allow the egg to cook on the second side over medium heat for 1 minute.
This will yield a moderately runny yolk, with a slightly golden-brown egg white around the edges.
While the technique for over hard eggs is similar to over easy and over medium eggs, this time you will have a yolk that is completely cooked through, so that it doesn't run at all when you cut into it.
For detailed instructions, check out this recipe for over hard eggs.
Alternatively, you can make scrambled eggs if you prefer.
Green tip: Look for pasture-raised eggs (over free-range or cage-free) to support agriculture that is less reliant on chemicals and fossil fuels.
How to Thinly Slice an Avocado
You can tell if your avocado is perfectly ripe by gently squeezing it. If it yields to gentle pressure, it is ripe and ready! If you lightly squeeze it and its rock hard, it still needs time to ripen.
However, if you gently squeeze your avocado and its super tender or has some spots that cave in more than others when you apply light pressure, odds are your avocado is overripe.
If somehow you do end up with an overripe avocado, don' t toss it! Check out this DIY Avocado Hair Mask instead.
I find the easiest way to remove the avocado flesh is by slicing the avocado in half. Open it up and remove the pit by gently squeezing the sides of the avocado until the pit pops out. Then, use a spoon to scoop the avocado flesh out of the skin.
Discard the pit and remove any brown bits of flesh. You can compost any of the discarded brown flesh and the skin of the avocado.
Once you've removed the flesh, use a sharp knife to thinly slice the avocado on a chopping board. You can then add a little salt and pepper to your avocado. It's best to do this right before serving your vegetarian quinoa breakfast bowl so it's nice and fresh.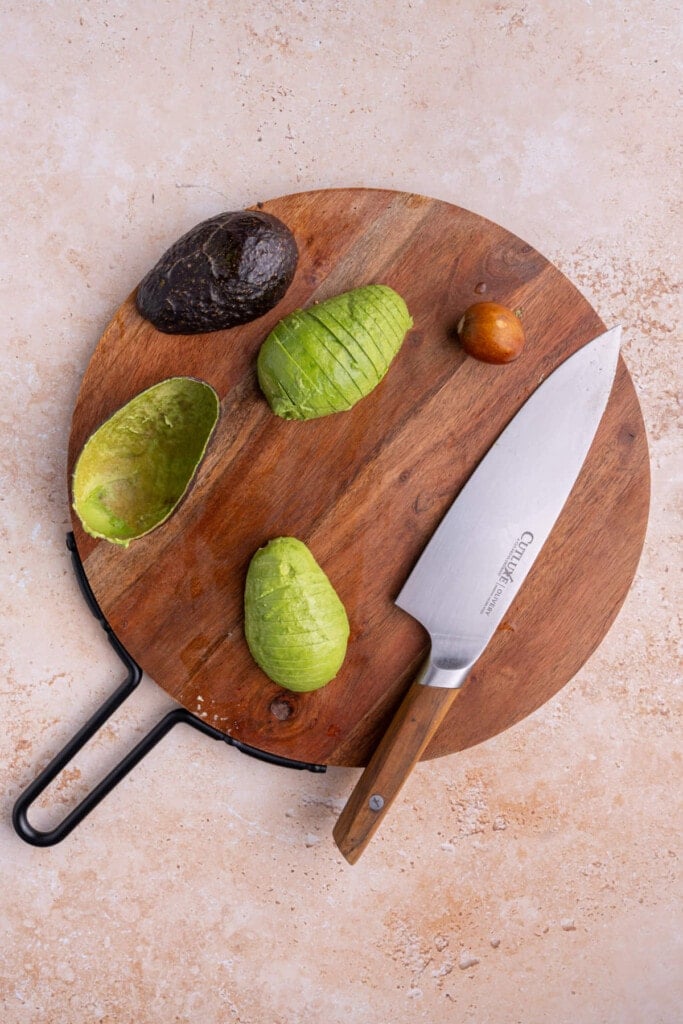 How to Assemble Your Savory Breakfast Bowl
This recipe as written will yield two generously portioned bowls. It can easily be halved to make a single serving.
To assemble your quinoa bowls, start with your quinoa. Then, layer on your cooked vegetables and your egg.
To easily transfer the avocado from the chopping board to the top of my breakfast bowl, I just slide the flat end of my knife under the avocado and use it to lift the sliced avocado,
Then, I just use my fingers to push the avocado off the flat end of the knife and onto the quinoa bowl. It should slide right off.
Add salt and pepper to taste and enjoy!
Should You Have Leftovers
Leftover quinoa will last in an airtight container in the refrigerator for 5 days. It can also be frozen for up to 6 months. To reheat quinoa, add it to a microwave-safe bowl and cover it. Microwave on high for 3-5 minutes until heated through.
Leftover fried or scrambled eggs can also be saved in an airtight container in the fridge for up to week. Its best to reheat them in a nonstick frying pan. Cover with a lid and heat over medium for about 5 minutes, flipping or tossing halfway through.
The veggies can also be saved and stored for up to 5 days in an airtight container in the fridge and are best reheated in a pan using the same technique as the egg but can also be reheated in the microwave in a pinch.
Avocado does not save well. However, if you only used half of an avocado, you could save one half while it's still in the skin with the pit. Place it in a bowl and cover the whole thing with water. Store it in the fridge for up to 3 days.
Green tip: Did you know that of the billions of pounds of food wasted annually, it is estimated that 50% of it happens in our homes? Reduce your contribution to food waste by properly storing and later consuming your leftovers.
Quinoa Breakfast Bowl Frequently Asked Questions
---
Is it good to eat quinoa for breakfast?
Quinoa is great for breakfast! It's tasty, versatile, and packed with protein and fiber to give you plenty of energy and keep you full. In this Savory Quinoa Breakfast Bowl with Veggies and Egg, you'll find it's the perfect base for a nourishing breakfast bowl.
How do you make quinoa taste good?
My favorite hack for making quinoa taste good is cooking it in broth instead of water. Additionally, make sure you rinse your quinoa before cooking it. It has a naturally occurring chemical on it that can sometimes cause it to taste bitter.
Want to sharpen your kitchen skills?
Why You Should Make this Savory Quinoa Breakfast Bowl with Veggies & Eggs
---
It's filling. Packed with fiber to keep you full and satisfied.
It's packed with protein. Great way to get plenty of energy for the day ahead.
It's delicious. Tons of flavor from the veggie broth, vegetables, egg, and avocado.
If you're loving this Quinoa Breakfast bowl and want more healthy breakfast ideas, check out these Strawberry Banana Whole Wheat Pancakes and this Easy Banana Porridge.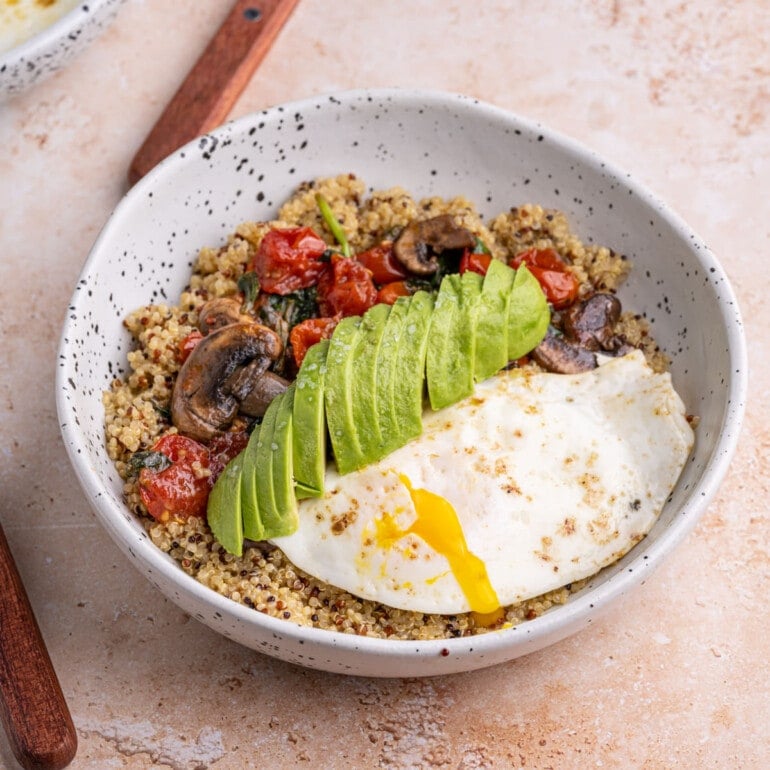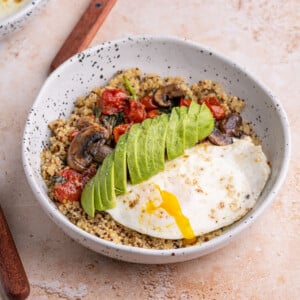 Savory Quinoa Breakfast Bowl with Veggies
PRINT
PIN
RATE
This Savory Quinoa Breakfast Bowl is the best way to start your day, loaded with protein, fiber, and flavor from the eggs, sautéed veggies, and avocado.
Ingredients
1

cup

quinoa

2

cups

vegetable broth

2

cups

sliced baby bella or white button mushrooms

(2 cups mushrooms = approx. 4 ounces)

2

cups

spinach

1

cup

grape tomatoes

(1 cup grape tomatoes = approx. 5 ounces)

1

tablespoon

olive oil

¼

teaspoon

salt

¼

teaspoon

black pepper

2

large

eggs

1

large

avocado
Instructions
Rinse quinoa with clean water in a sieve and add it to a medium pot with the vegetable broth. Bring to a boil, then reduce heat to low and cover. Cook for 15 minutes, then remove from heat and let sit, covered, for an additional 10 minutes.

Meanwhile, prep your vegetables. Chop the spinach, slice the mushrooms, and cut the grape tomatoes in half longways.

Add olive oil to a large frying pan over medium heat. Allow it to get hot for about 1-2 minutes before adding your prepped vegetables and a pinch of salt and pepper. Cook the vegetables over medium heat until the liquid has released and evaporated, stirring occasionally (about ten minutes).

Remove the vegetables from the pan and set aside. There should be some olive oil left in the pan from sauteing the vegetables, but if that pan looks too dry add a dash more. With the pan still over medium heat, fry the eggs to desired temperature (over easy, over medium, or over hard*).

Cut your avocado in half, discard the pit, and remove the flesh from both halves. Slice thin and season with salt and pepper.

Assemble your quinoa breakfast bowls by starting with quinoa and layering on sauteed vegetables and egg. Top with avocado, add extra salt and pepper to taste, and enjoy hot.
Pro Tips
*For over easy eggs, allow the egg to fry until the white is opaque.

Then, remove your pan from the heat, flip the egg, and allow the residual heat on the pan to cook the second side of the egg for about 1 minute. 

*For over medium eggs, use the same technique, but this time, do not remove your pan from the heat. Once you flip the egg, allow the egg to cook on the second side over medium-low heat for about 1 minute.
*For over hard eggs, cook until the yolk is completely solid. More details in this over hard eggs recipe.  
For another delicious breakfast with an egg, check out this Smoked Salmon Eggs Benedict.
Did you make this recipe?
Let me know by leaving a recipe rating below, or by tagging @marleysmenu on Instagram.