Why eat the frozen stuff when you can have Texas Toast Garlic Bread from scratch in under an hour and with just 6 ingredients?
Fluffy bread is coated in salty, garlicky butter with real chunks of roasted garlic and topped with fresh parsley. Then, it's toasted to get a perfectly crispy exterior to make a delicious shareable bread appetizer!
As an environmental scientist, I'm always looking for ways to avoid added artificial preservatives and enzymes. Natural is best for our bodies and our planet!
But, even with its additives and unnatural ingredients, frozen Texas Toast Garlic Bread has been a guilty pleasure of mine for since I can remember. It's just so salty and buttery and garlicky and YUM.
Well, good news, folks. You can make Texas Toast Garlic Bread from scratch at home with none of those unnecessary add-ins! It will quickly become one of your go-to bread appetizers.
Green tip: Food preservatives, like pesticides, are harmful to the environment. They contain toxins that are harmful to plants, animals, and soil. Homemade food with all-natural ingredients that allows you to avoid preservatives lowers your ecological footprint.
Texas Toast Garlic Bread Ingredients
---
Sandwich bread. This recipe makes enough garlic butter to spread on both side of 6 slices of extra thick cut bread. White sandwich bread is the perfect vessel for your spread because it's porous, so it sops it up in the oven for a burst of flavor with each bite.
Unsalted butter. Using unsalted butter allows us to have more control over the overall saltiness of the garlic butter. It's also important that your butter is softened.
Garlic. The real chunks of roasted garlic in this recipe make it next-level delicious.
Garlic salt. To more evenly distribute the garlicky flavor in the butter and to add just the right amount of salt.
Olive oil. To roast your garlic in.
Parsley. For freshness and color.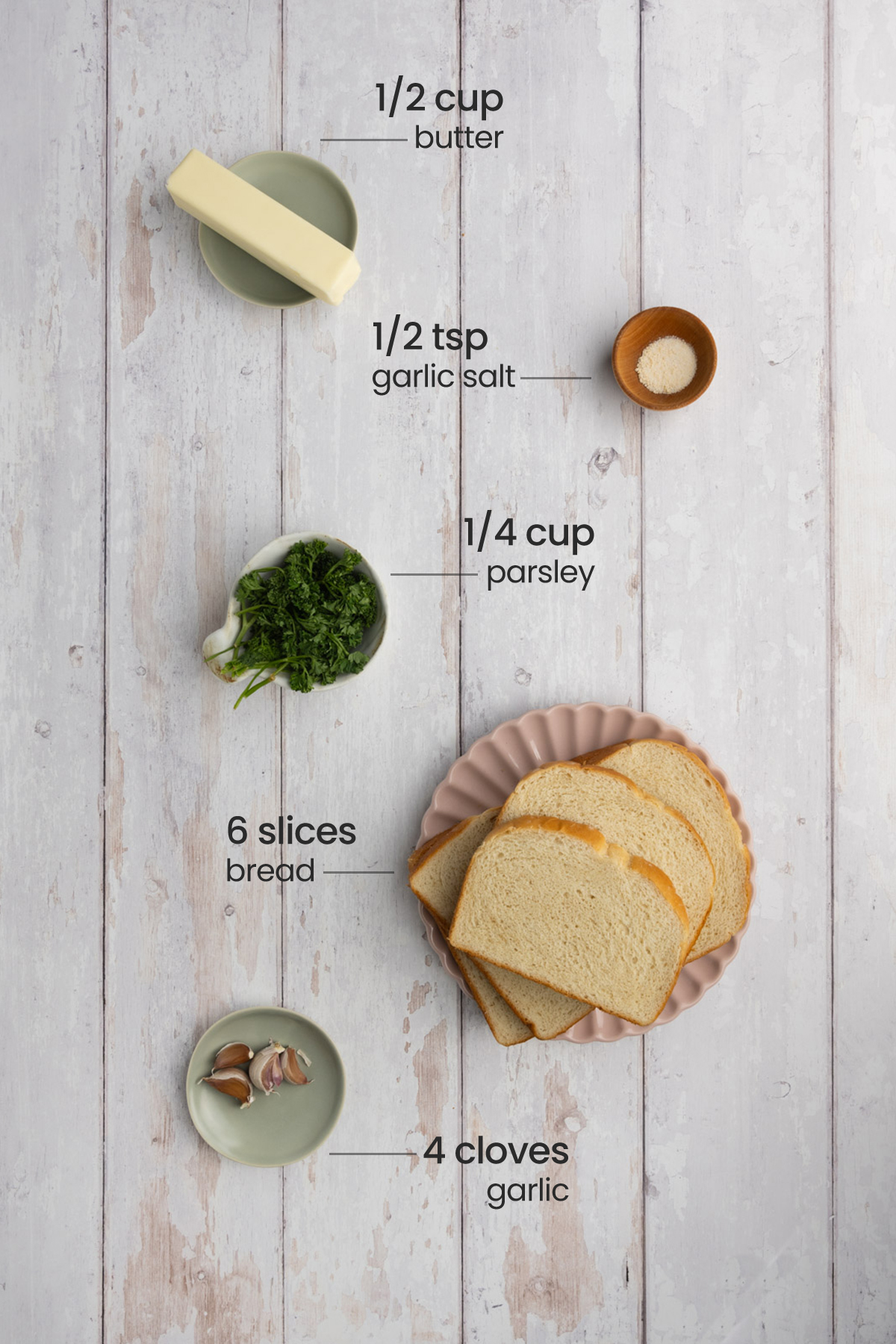 Texas Toast Garlic Bread Tips and Tricks
---
Start With Your Garlic
The most important ingredient in this recipe is, of course, the GARLIC! Roasting a head of garlic with olive oil makes the inside ooey-gooey and ideal for spreads.
The trick to perfect roasted garlic in a small amount of time (just 30 minutes!) is to NOT peel it. Keeping it inside its papery outer layer will allow the garlic to cook thoroughly without getting crispy.
Simply cut the top of the garlic off, so that each clove is exposed as pictured below.
Roast it
Since we want to roast the garlic quickly, we have to crank the heat up. Make sure to cover it completely with aluminum foil.
You'll end up with a golf ball-sized sphere of tinfoil as pictured below:
After 30 minutes in the oven, you should achieve the perfect consistency.
Allow some time for it to cool so you don't burn your hands, and cut the tip and squeeze to reveal your beautifully roasted garlic! It should squeeze right out into the bowl. This is the same technique I use in my Roasted Garlic and Feta Mashed Potatoes.
Green tip: Try grabbing organic garlic if you can. Organic farms rely on biodiversity to generate rich soil, avoiding the use of pesticides and fertilizers, which means no toxic runoff.
The Secret is in the Softening
The butter you use should be unsalted, so you can control the amount of salt you are adding to your spread. You will also want to make sure your butter is nice and soft.
If you take it out of the fridge before you get started, and set it near your oven, that should be plenty of time for it to soften. If you forget to take it out—don't worry! There are many ways to soften butter quickly.
Arguably, the easiest way is in the microwave. Add the butter to a microwave-safe dish and microwave it on high for ten seconds. Then, continue to heat in 5-second intervals until you get the right consistency. Remember, we are striving for softened, not melted.
You'll know your butter is softened when you poke it, and your finger leaves an imprint.
Green tip: Look for organic and palm oil-free butter if you can. Buying organic means you are supporting farms that do not use damaging pesticides and fertilizers, and palm oil production is a huge driver behind deforestation.
Whip the Butter
Once your butter is softened, add the garlic salt and chopped pesto. Use a hand mixer to whip the butter until it's nice and smooth, and the garlic salt and parsley is evenly distributed throughout the butter.
Set your garlic butter mixture aside until your garlic is roasted and cool enough to handle.
Squeeze the Roasted Garlic
Once the garlic is done roasting, remove it from the oven and as soon as it's cool enough to handle, unwrap the aluminum foil.
Allow the garlic to cool outside of the foil for about 5 minutes, until it's not too hot to hold in your hands. Use clean hands to squeeze the garlic over the bowl with your butter, so that the soft, roasted cloves fall out of the papery skin and into the bowl.
Then, whip again with your hand mixer on high to break down the garlic and integrate it into your butter.
Spread Generously
If need be, slice your bread into thick slices, about one to one and half inches thick. Spread a generous amount of the garlic butter on both sides of your bread.
You should see chunks of roasted garlic in your buttery spread. This recipe makes enough to spread an even layer on either side of six slices of bread.
Get it Golden!
Once you've spread your garlic butter all over the bread on both sides, it's time for the oven! Bake at 350°F for 10 minutes, flipping halfway in between.
After 10 minutes at 350°F, bring your oven up to broil. Watch closely, broiling for 1-2 minutes until the edges start to turn golden brown.
Should You Have Leftovers
Leftover homemade garlic bread will last in an airtight container for up to 5 days in the refrigerator.
You can also pre-prep your garlic bread by spreading the garlic butter on your bread and instead of baking it, freeze it, unbaked.
You can freeze the prepped bread for up to 3 months and heat up a fresh piece when you want one. From frozen, the prepped garlic bread can be heated by placing it directly in the oven. Heat it for 15 minutes at 350°F instead of 10 minutes.
Green tip: Did you know that of the billions of pounds of food wasted annually, it is estimated that 50% of it happens in our homes? Minimize your contribution to food waste by properly storing and then eating your leftovers!
Texas Toast Frequently Asked Questions
---
What is Texas Toast?
Texas toast is a buttery, garlicky thick-cut bread that is toasted and topped with parsley. It may or may not contain cheese.
What's the difference between Texas Toast and Garlic Bread?
While the term can sometimes be used interchangeably, Texas Toast is usually cut thicker than garlic bread.
Why is it called Texas Toast?
The name Texas Toast comes from its origins. A well-known Texan restaurant in the 1940's used to serve sandwiches on super thick-cut buttery, garlicky bread. The delicious bread quickly gained its moniker and it stuck, all these years later.
Want to sharpen your kitchen skills?
Why You Should Make this Texas Toast Garlic Bread
---
It's nostalgic. Just like the frozen boxed one you used to eat, but without all the chemicals!
It's easy. Minimal ingredients and less than ten steps.
It's garlicky and salty. That fresh roasted garlic + garlic salt. YUMMMMMM!
It goes with every meal! From salad to pasta to a burger. This is the one-size-fits-all side!
Loving this Texas Toast Garlic Bread and looking for other handheld snacks? Try this Whipped Ricotta Crostini and Caprese Bruschetta with Balsamic Glaze!
Texas Toast Garlic Bread From Scratch
PRINT
PIN
RATE
This Texas Toast Garlic Bread is buttery, crisp, and nostalgic! And with just 6 ingredients, it's the easiest and most delicious accompaniment to any meal.
Ingredients
1

head

garlic

1

tablespoon

olive oil

½

cup

unsalted butter

(½ cup butter = 1 stick)

1/2

teaspoon

garlic salt

1

handful

fresh parsley for garnish

(chopped)

6

slices

thick cut sandwich bread
Instructions
Cut the top off the garlic head to expose the cloves and place it on a sheet of aluminum foil.

Drizzle the garlic with olive oil and wrap the tin foil around it to form a golf ball sized sphere of foil. Place it on a baking sheet and roast for 30 minutes.

Place your softened butter in a large mixing bowl. Add the chopped parsley and garlic salt and use a hand mixer to mix until smooth.

Remove garlic from the oven and allow it to cool until it's safe to handle. Bring oven temperature down to 350°F. Hold the garlic over the bowl with your butter and squeeze, so the roasted garlic comes out of the outer skin.

Whip again with the hand mixer to break down the garlic into smaller chunks and to integrate it into the buttery spread.

If need be, cut 6 thick slices of bread, about 1-1 ½ inches thick. Spread the garlic butter generously on both sides of the bread and place them flat on a baking sheet.

Bake for 10 minutes at 350°F, flipping halfway between. Then, bring your oven up to broil for 1-2 minutes until the edges start to turn golden-brown.
Pro Tips
You can use this same garlic butter recipe to use on a French baguette or Cuban Bread to make garlic bread, but the thick cut sandwich bread will give it the Texas Toast feel.
Cheesy Texas Toast is delish! You can add shredded cheddar, mozzarella, or even parmesan before step 5.
If you're loving this recipe, check out this Pesto Butter Garlic Bread!
Did you make this recipe?
Let me know by leaving a recipe rating below, or by tagging @marleysmenu on Instagram.