Looking for the perfect creamy finishing sauce for you side dish, main, or even to coat your pasta in? This Shallot Cream Sauce is incredibly versatile, adding rich, creamy texture and vibrant flavor to whatever you choose to pour it over.
With fresh herbs, crushed black peppercorn, and of course, the shallots, this delicious homemade sauce brightens up any meal! Plus, it only requires about 15 minutes and less than 10 ingredients to come together.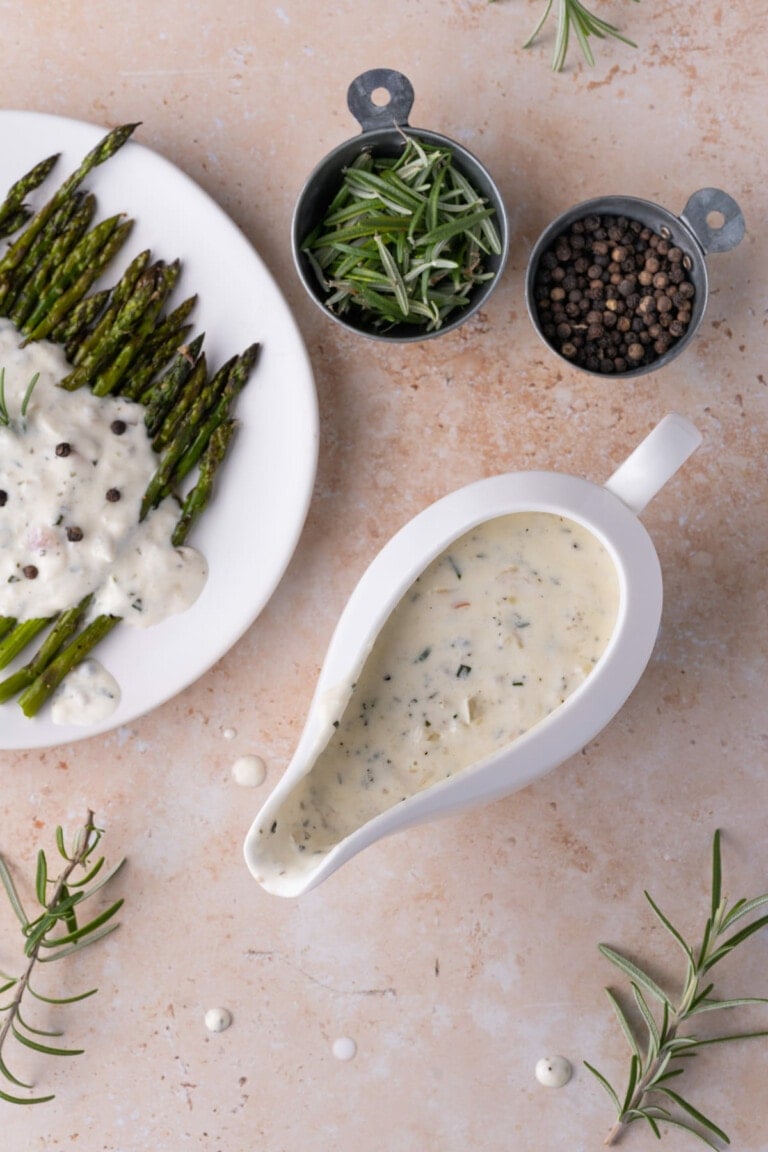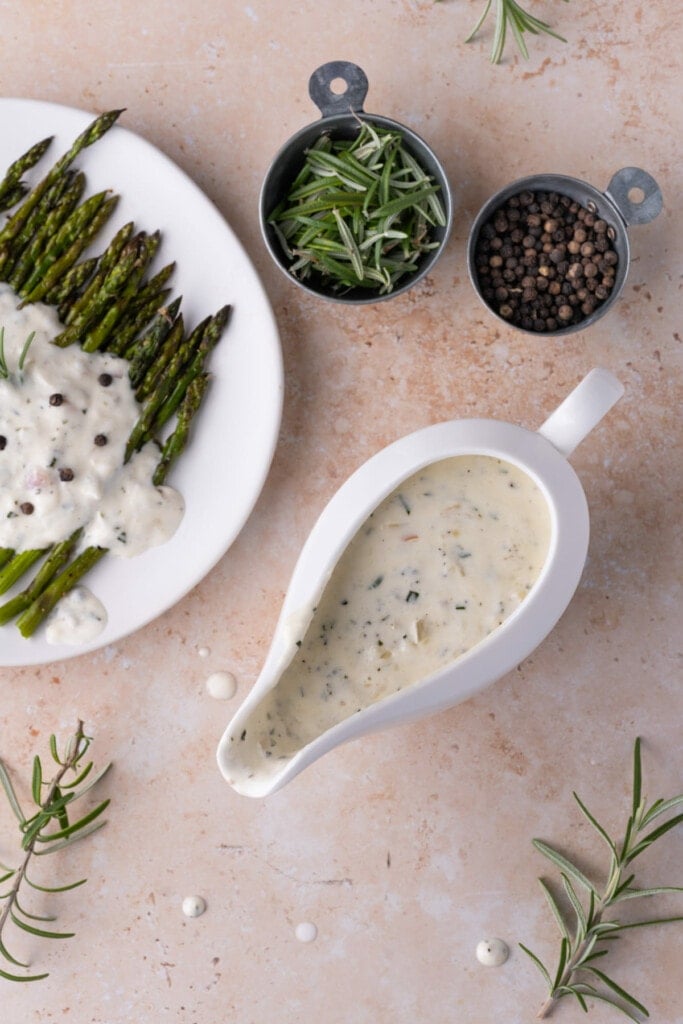 Shallot Cream Sauce Ingredients
---
---
Here's everything you need:
Shallots. The main star of this dish!
Garlic. For extra savory flavor.
Rosemary. To freshen up your sauce.
Whole peppercorns. You can sub in ground black pepper in a pinch.
Unsalted butter. For flavor and consistency.
Flour. To form a roux to thicken your sauce.
Vermouth. For subtle sweetness.
Heavy cream. Or coconut cream for the base of your sauce.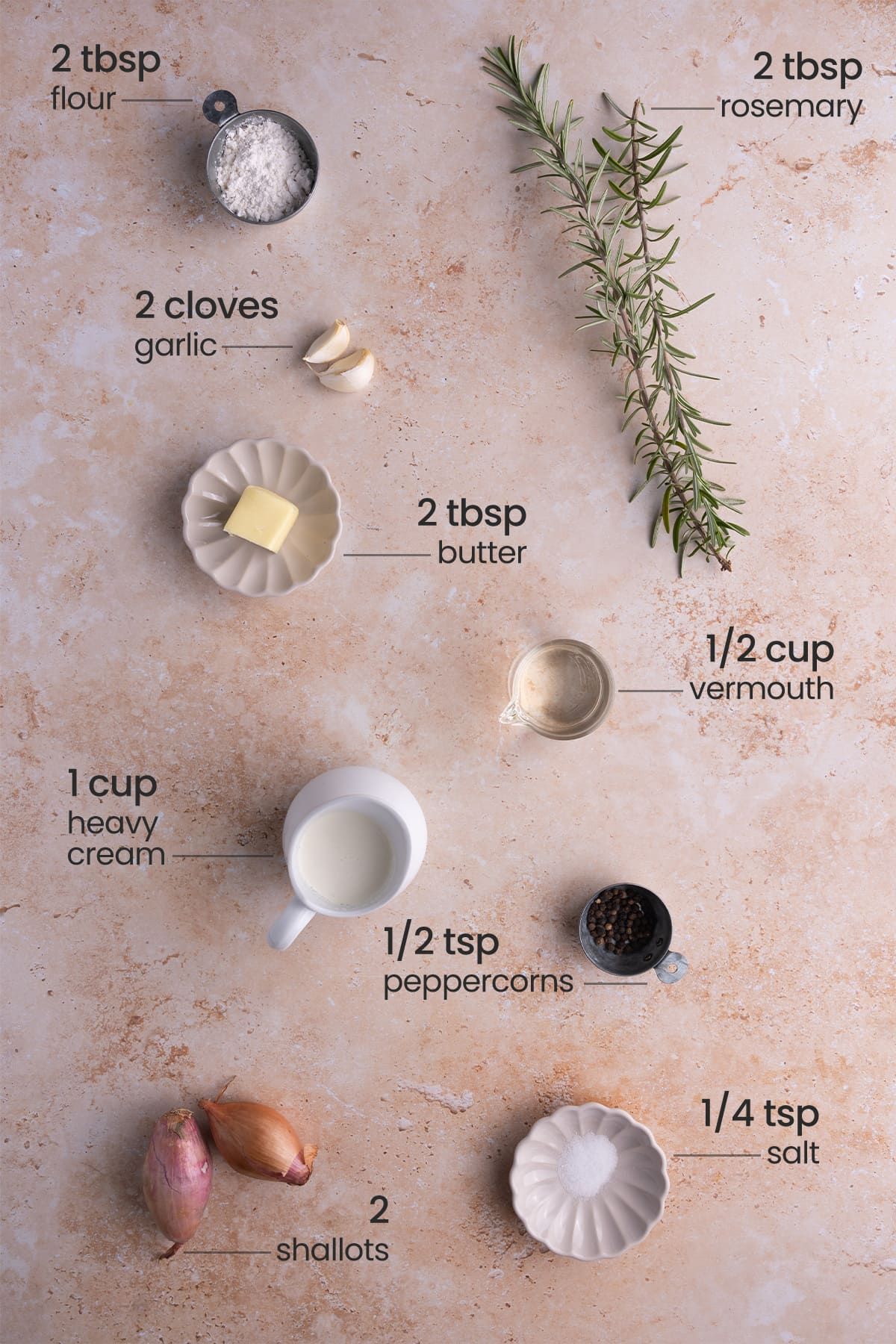 Shallot Cream Sauce Tips and Tricks
---
---
Crush Your Peppercorn
Using fresh peppercorn goes a long way in this recipe to provide tons of flavor and even a little bit of heat.
I like to use my trusty mortar and pestle to thoroughly crush my black peppercorns, but you can also opt to place your peppercorns in a storage bag and use a rolling pin to crush them.
Green tip: Reduce your plastic waste by using these Reusable Storage Bags! For more eco-friendly kitchen item swaps, check this list of Eco Kitchen Essentials.
If you don't have whole peppercorns and want to substitute ground black pepper, that works, too! Start with 1/4 teaspoon, you can always add more later if you want to punch up your cream sauce.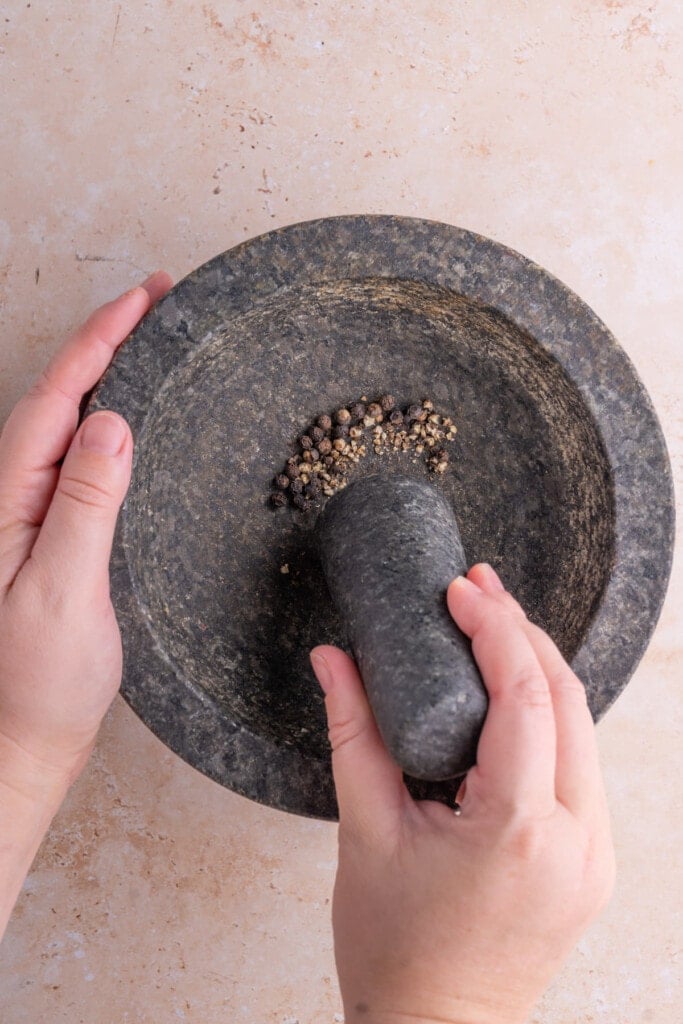 Prep Your Ingredients
Once your peppercorn is crushed, prep the rest of your ingredients.
Peel and dice your shallots, peel and mince your garlic, and remove the rosemary from the stems and finely chop it.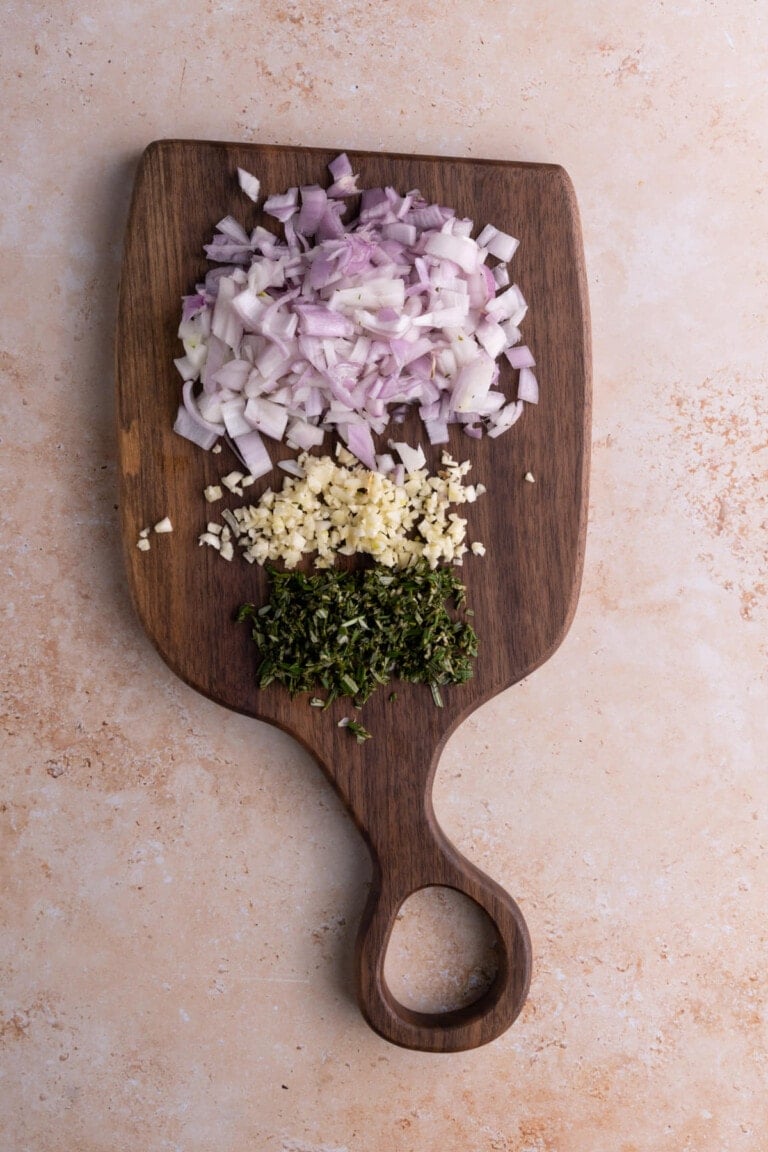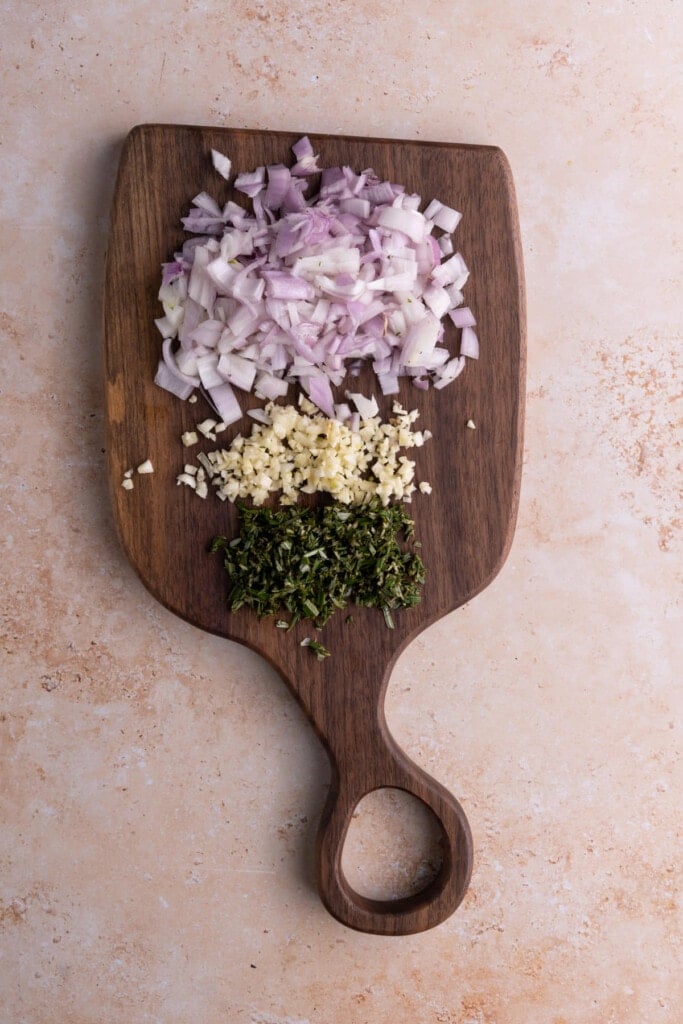 Cook Down the Veggies and Herbs
Add your prepped shallots, garlic, and rosemary to a large saucepan or shallow pot with the butter, crushed peppercorns and salt.
Cook over medium heat for about 3-5 minutes until super fragrant and garlic and shallots are tender.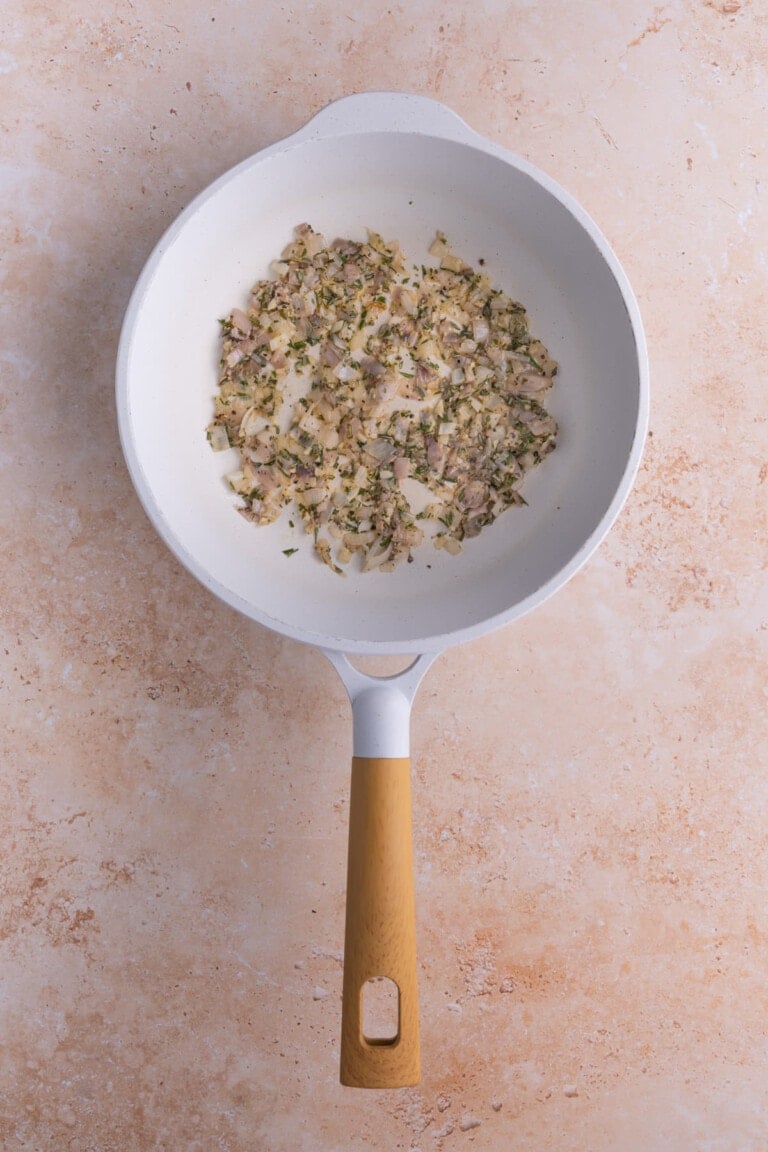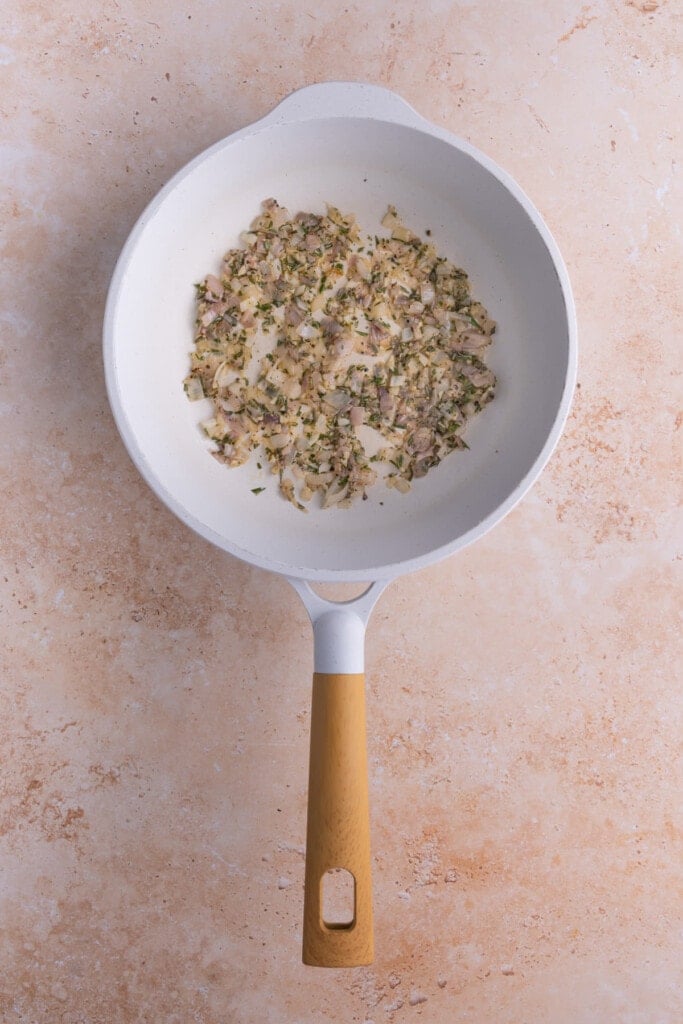 Form a Roux
Now it's time to form your roux by adding the all-purpose flour. Use a rubber whisk (preferred) or wooden spoon to mix, still over medium heat, until there are no visible lumps.
The melted butter will mix with the flour to form a thick paste around the shallots, garlic, and rosemary as pictured below.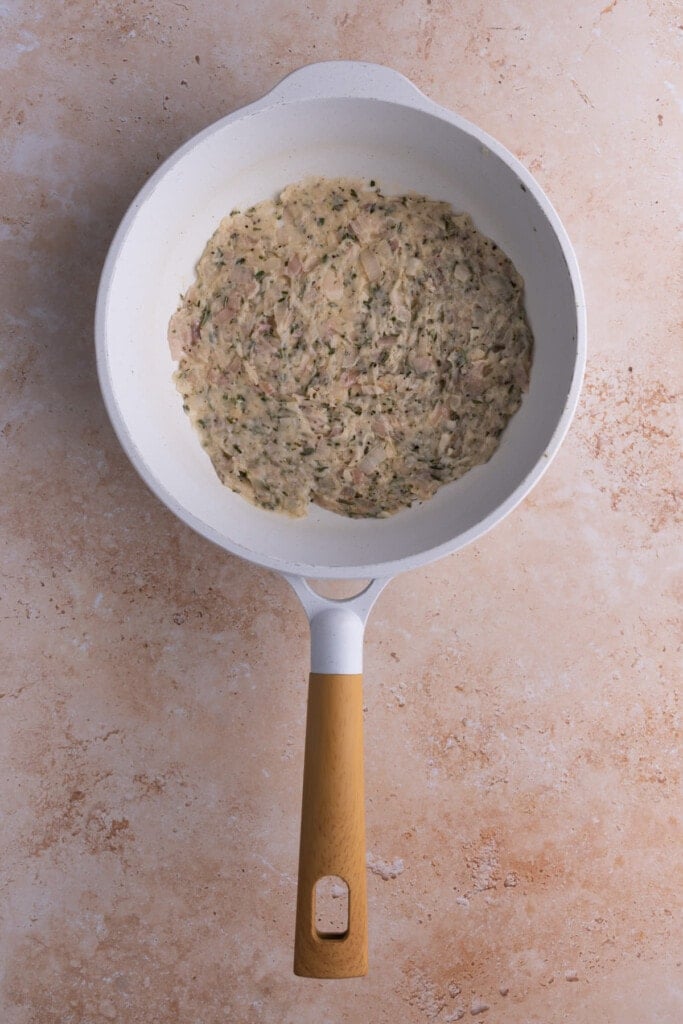 Pour in Your Cream
Next, turn your heat all the way down to low and pour in your cream. Whisk again to combine it into the roux, ensuring you're left with a smooth sauce.
Continue to heat on low, stirring occasionally until you are ready to serve. The longer you heat, the thicker the sauce will get.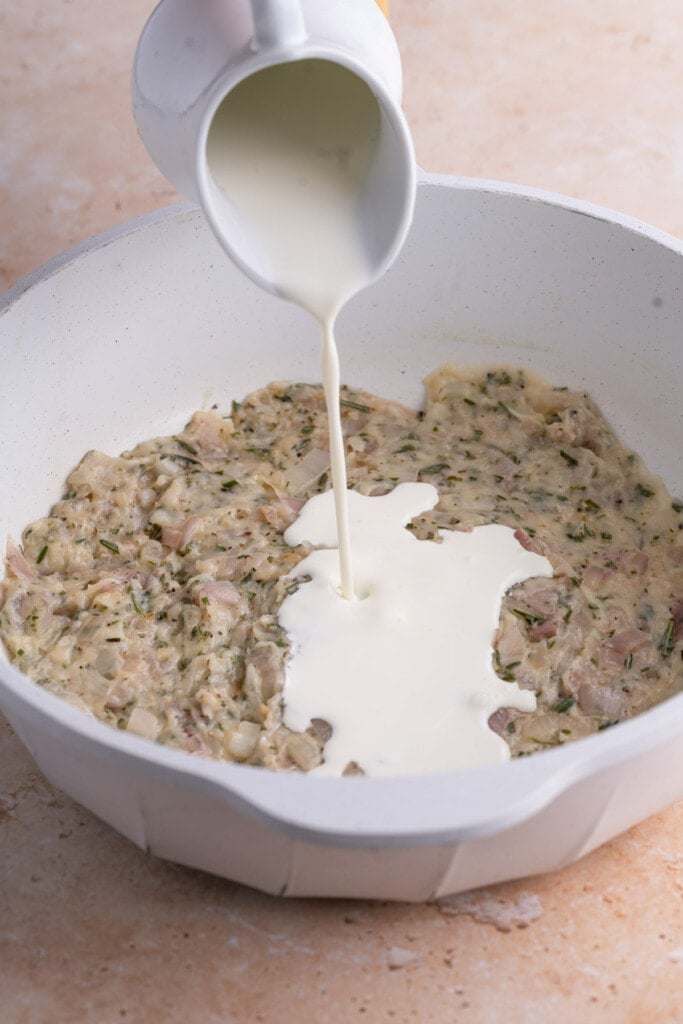 Serving Your Shallot Cream Sauce
This creamy shallot sauce is truly versatile. From veggies to fish to even steak, this sauce can be poured over any and everything!
My favorites for serving are:
Over any cooked pasta of your choice.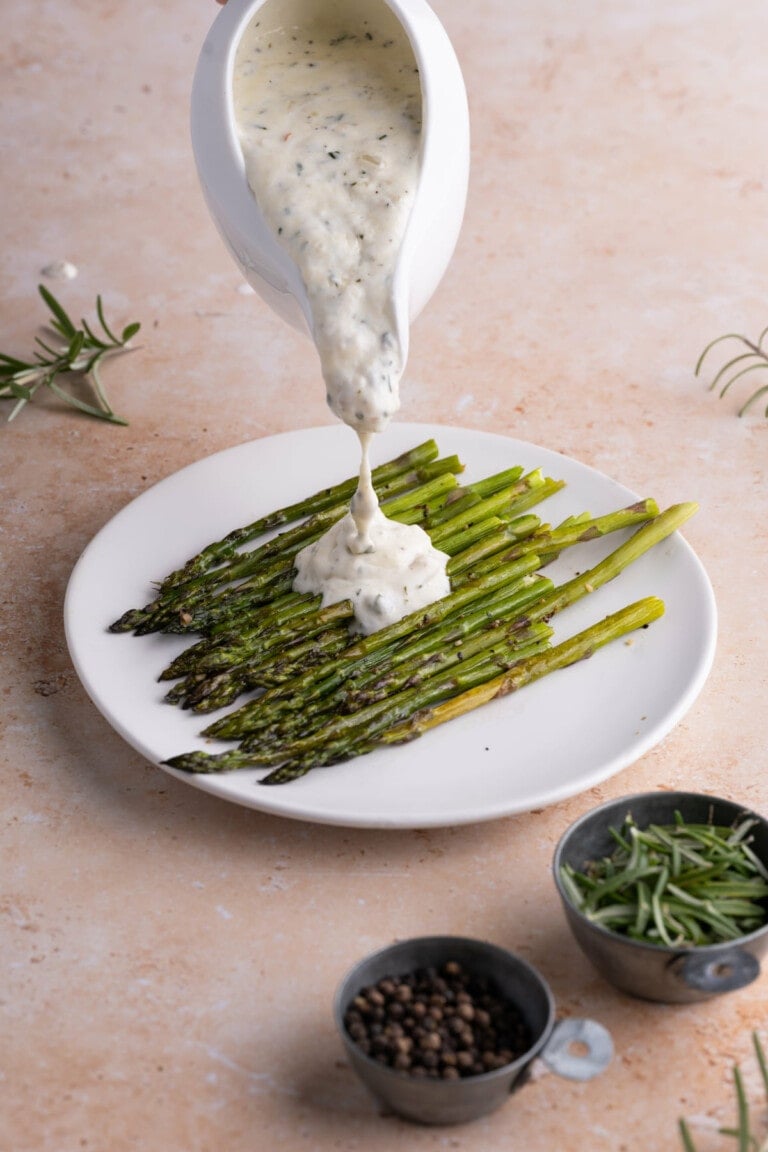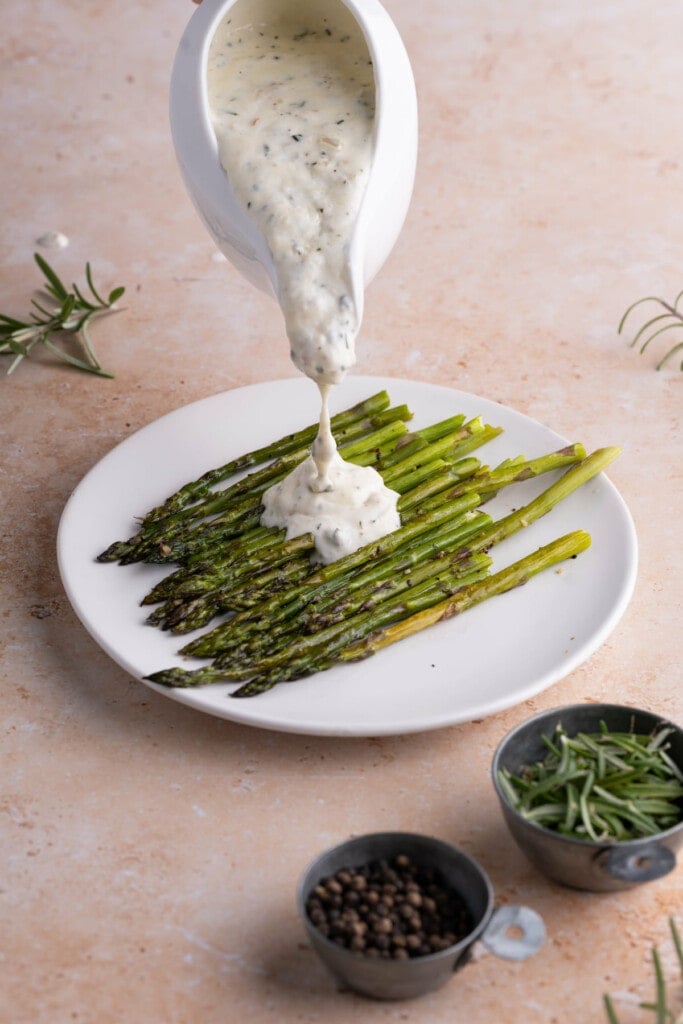 Should You Have Leftovers
This Shallot Cream Sauce will last up to one week in the refrigerator in an airtight container. However, it's best not to freeze any cream sauce for risk of separation.
To reheat the sauce, the name of the game is low and slow. Microwave or heat on the stove over low heat until thoroughly heated.
In the microwave, heat on the lowest setting in 30 second intervals, stirring in between. If it seems too thick, you can add a little extra cream.
Similarly, if you are reheating it on the stove, stir frequently and continue to assess the consistency, adding extra cream when needed.
Green tip: Did you know that of the billions of pounds of food wasted annually, it is estimated that 50% of it happens in our homes? It's always best to avoid food waste by properly storing, reheating, and enjoying your leftovers!
Shallot Cream Sauce Frequently Asked Questions
---
---
What is shallot sauce used for?
Shallot sauce is a versatile sauce that can be used for anything from serving over meat or fish or even over roasted vegetables or carbohydrates like pasta, rice, or couscous.
It can also be used as a dipping sauce for steamed or raw vegetables!
What is cream sauce made of?
Cream sauce is typically made from a roux from fat (butter or oil) and butter. Once the roux is formed, a number of different herbs, vegetables, and seasonings can be used to infuse flavor.
Then, it's typically finished off with cream or milk to thin out the texture.
Want to sharpen your kitchen skills?
Why You Should Make this Shallot Cream Sauce
---
---
It's versatile. Add flavor and creaminess to any dish.
The texture! Super creamy and thick.
It's flavorful. Peppery, herbaceous, and with pungent shallots and garlic.
If you're loving this Shallot Cream Sauce and want more homemade sauces, check out this Easy Vegan BBQ Sauce and Spicy Serrano Pepper Chimichurri.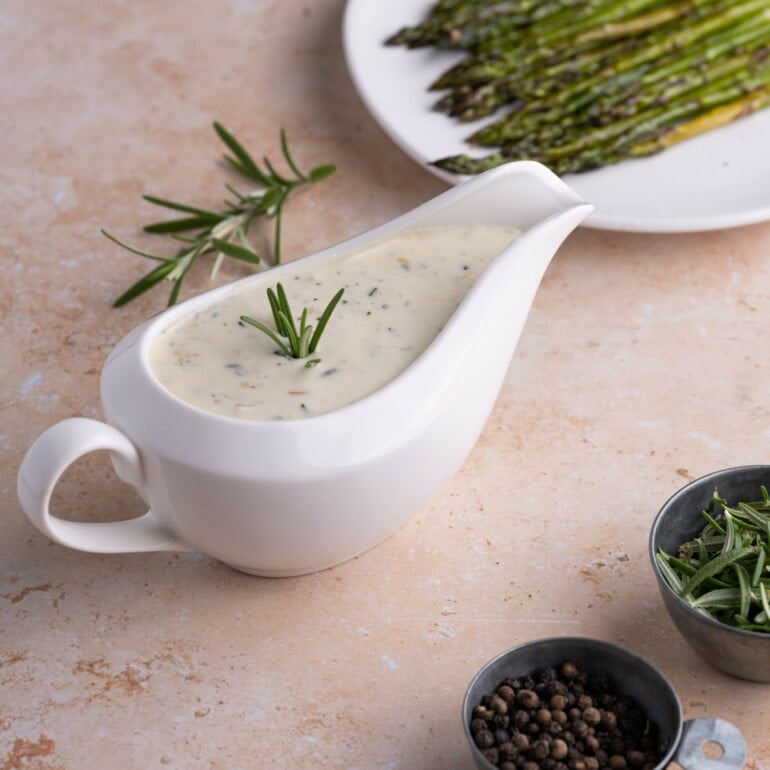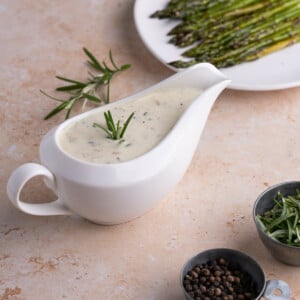 20-Minute Shallot Cream Sauce
PRINT
PIN
RATE
This thick and rich Shallot Cream Sauce is a delicious and easy way to add moisture and flavor to any dish! Great over veggies, fish, meat, and even on pasta or rice!
Ingredients
½

teaspoon

whole peppercorns

2

large

shallots

2

cloves

garlic

2

tablespoons

chopped rosemary

¼

teaspoon

salt

2

tablespoons

unsalted butter

(dairy or plant-based)

2

tablespoons

all-purpose flour

½

cup

Vermouth

1

cup

heavy whipping cream

(or coconut cream)
Instructions
Use a mortar and pestle to crush your peppercorns. If you don't have a mortar and pestle, place the peppercorns in a storage bag and use a rolling pin to crush (use a reusable storage bag for a more sustainable option!). Peel and dice your shallots, peel and mince your garlic, and finely chop your rosemary.

Add the prepped peppercorns, shallots, garlic, and rosemary to a large saucepan or pot with the butter and salt. Sauté for about 5 minutes until shallots and garlic are tender.

Add the flour and use a rubber whisk (preferred) or wooden spoon to mix the flour with the butter, forming a thick roux around the shallots, garlic, and rosemary.

Add the Vermouth and whisk to combine, until the roux is integrated into the Vermouth. Continue to simmer until more of the liquid is absorbed.

Turn the heat off but keep the pan on the stove to use the residual heat. Slowly add the cream, stirring as you pour, and whisk to combine until smooth. If the sauce seems to thin, turn the heat back up to low and simmer, stirring frequently, until you reach desired consistency.
Pro Tips
Using a rubber whisk will allow you to whisk your sauce without damaging the bottom of your pot or saucepan. 
If you don't have whole peppercorns, you can use ground black pepper. Start with 1/4 teaspoon. You can always add more at the end. 
For more delicious sauces to kick the flavor of your dish up a notch, check out these sauces and dressings. 
Did you make this recipe?
Let me know by leaving a recipe rating below, or by tagging @marleysmenu on Instagram.