Have you always wanted to make your own preserves? I'm here to tell you that now's your time! This Simple Same Day Orange Marmalade is accessible to everyone!!
With less than 4 ingredients and no fuss, this recipe takes the intimidation out of the process, even for the most beginner bakers.
Orange marmalade is the best topping to add some extra flavor to toast, biscuits, croissants, muffins, the list goes on! I also like to bake it into bread or serve it with baked brie. It's so versatile!
How To Make Simple Same Day Orange Marmalade
---
---
Orange You Ready To Prep Your Citrus?
The combination of orange and lemon in this Simple Same Day Orange Marmalade makes for a bold zesty finish to an otherwise super sweet spread.
But in order to optimize the taste of your citrus, we have to separate both fruits into three parts: the peel, the pith, and the pulp. I know, not confusing at all 🤣.
Let me break it down for you:
Step 1
The first step is to clean your two oranges and your lemon really well since we will be using the peel in our marmalade. Cut the ends off of all six sides of your 3 fruits. This will allow you to stand the fruit up vertically and make it easier for you to detach the peel.
Step 2
Use a vegetable peeler to remove the peels from the lemon and oranges. Try to thinly slice, to leave as much as the pith behind as you can (if I've lost you, the pith is the white spongey stuff underneath the peel).
Step 3
We will be using the peel in the marmalade, so now is the time to slice it to your desired size. I usually slice my peels into super-thin strips varying from 1 to 3 inches in size, but you can also choose to opt for smaller pieces.
Step 4
Use your hands to separate the pith from the pulp—the orange part of the fruit that has all the juice. It's best to do this over a mixing bowl—you will definitely want to capture all that tasty juice!
Step 5
Isolate the pulp from its membrane as much as you can. The cleaner you get your pulp, the quicker and smoother your marmalade will come together.
Step 6
Dispose of the pith and use the pulp, juice, and sliced peel to make your marmalade.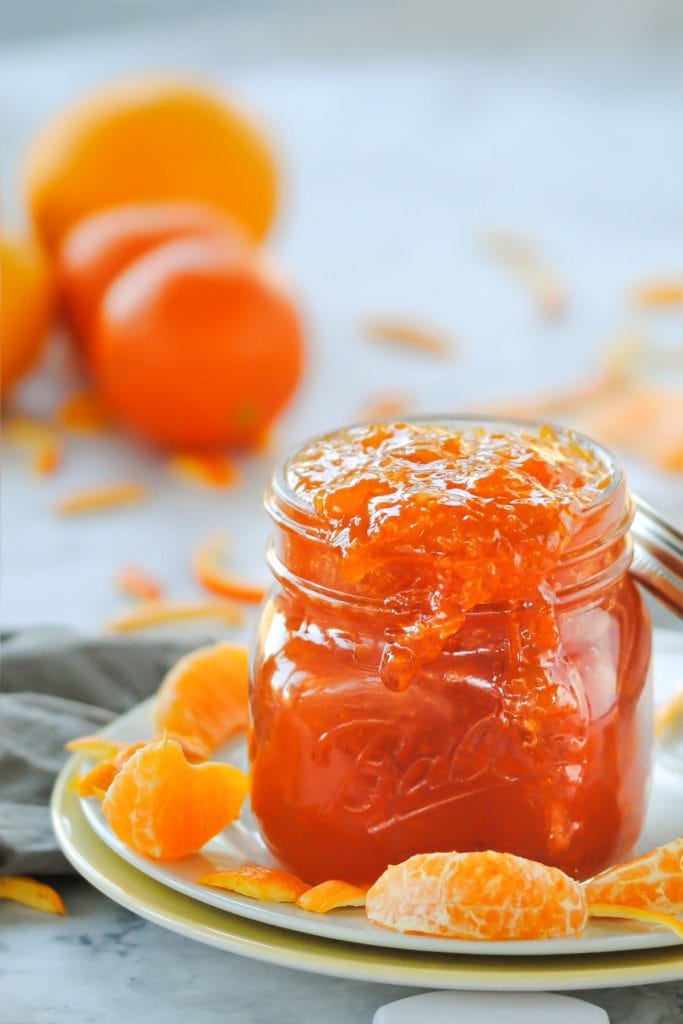 Marmalade Fruit Is the Sweetest
Okay, I know the saying goes "forbidden fruit is the sweetest", but once you taste this marmalade you'll agree.
Marmalade forms its gel-like texture when the sugar and water heat and reacts with the citrus. So really, all you have to do is chuck it in a pot and let it do it's thing. A stainless steel pot or Dutch Oven is best.
Bring your mixture to a boil, stir it a couple of times until the sugar is dissolved, and then let it simmer on high. If you have a candy thermometer, use it to make sure your marmalade reaches 220 degrees Fahrenheit before testing if it's set. Otherwise, test it after about 20 minutes.
Green Tip: Never throw away your almost-expired citrus! Make a finger-lickin' good marmalade that will extend the life of your fruit another 4 weeks!
The Great Plate Experiment
The best way to check if your Simple Same Day Orange Marmalade is ready is by chilling a plate in the freezer while your marmalade is cooking. When you're ready to test it, put a small spoonful on the chilled plate and tilt the plate to the side.
You'll know it's ready if it just slowly starts to droop in the direction of the leaning plate. If it immediately runs down the plate, it's not quite ready yet. Bring your heat back up and test it every 2 minutes.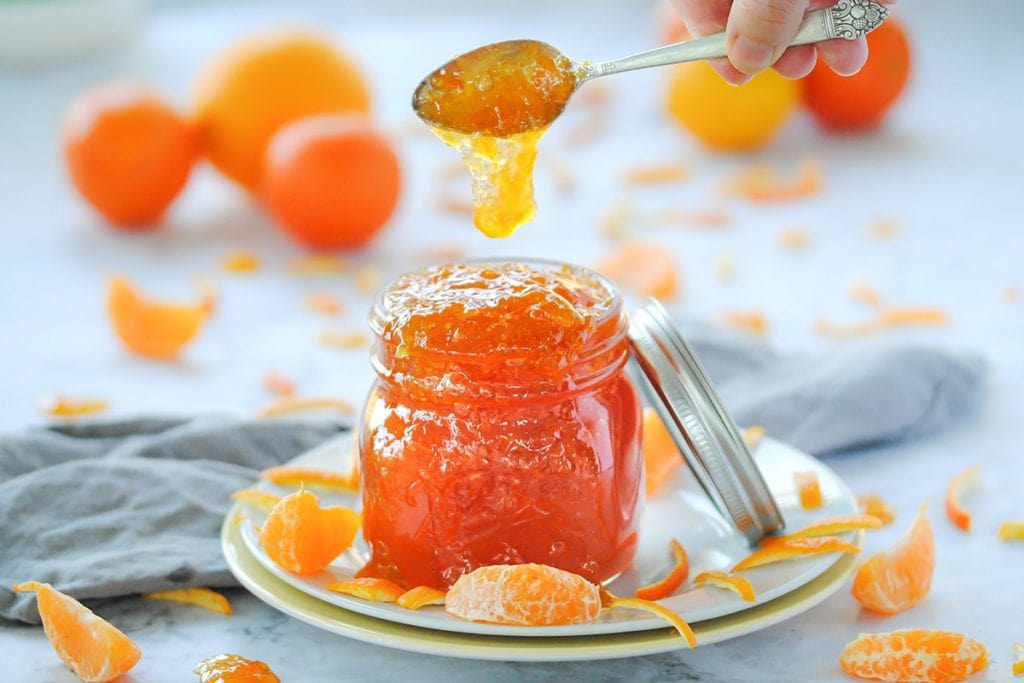 You May Need Some Help and That's Okay
---
---
If it seems like your marmalade is too chunky and not coming together, don't fret! It just means that some of the pith was left on your orange. This may have (fine, definitely) happened to me my first couple of times making this—and that's okay!
Just take an immersion blender and run it through your Simple Same Day Orange Marmalade to break up the extra chunks. Heat it for another 5 minutes or so and you'll be good to go!
Looking for other ways to use your oranges? (I feel you, fellow Floridians). Check out this Reinvented Classic: New Fashioned!
The Inspiration Behind this Homemade Orange Marmalade
---
---
The development of this recipe was inspired by a collaboration between fellow food bloggers called The Great Instagram Baking Collaboration.
It was inspired by the Great British Bake-off and had three rounds, all of which were to be Holiday themed. In round 1, the "Signature Challenge", we all made Iced Cookies. I went with my Chocolate Peppermint Christmas Cookies.
For round 2, the "Technical", we all made the same recipe for Swedish Saffranskrans, which is a saffron-infused bread shaped like a wreath, filled with orange marmalade and golden raisins.
You can see my photos for the competition entry below: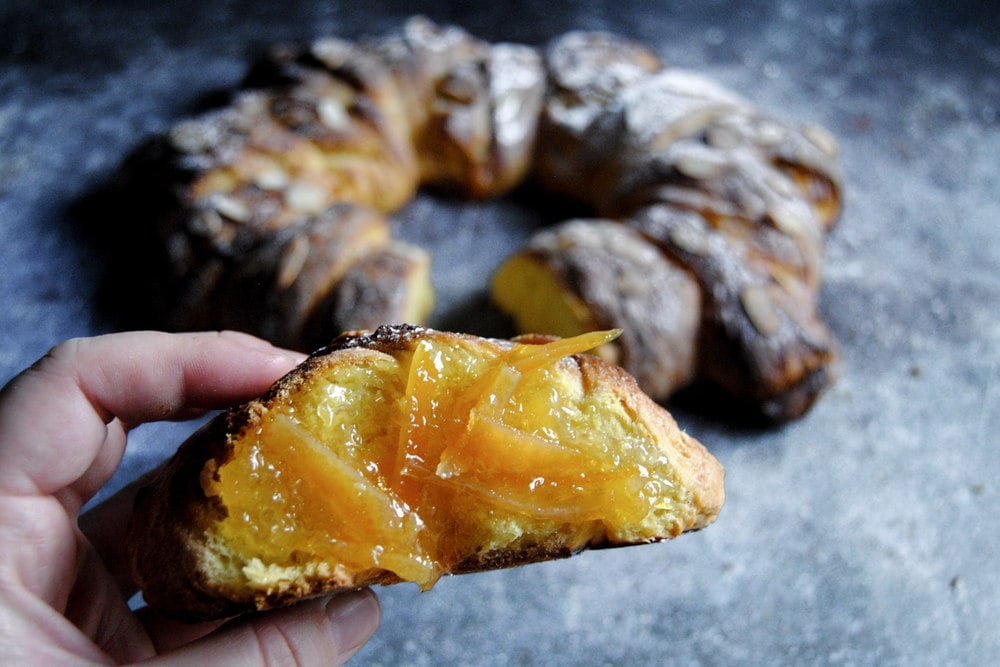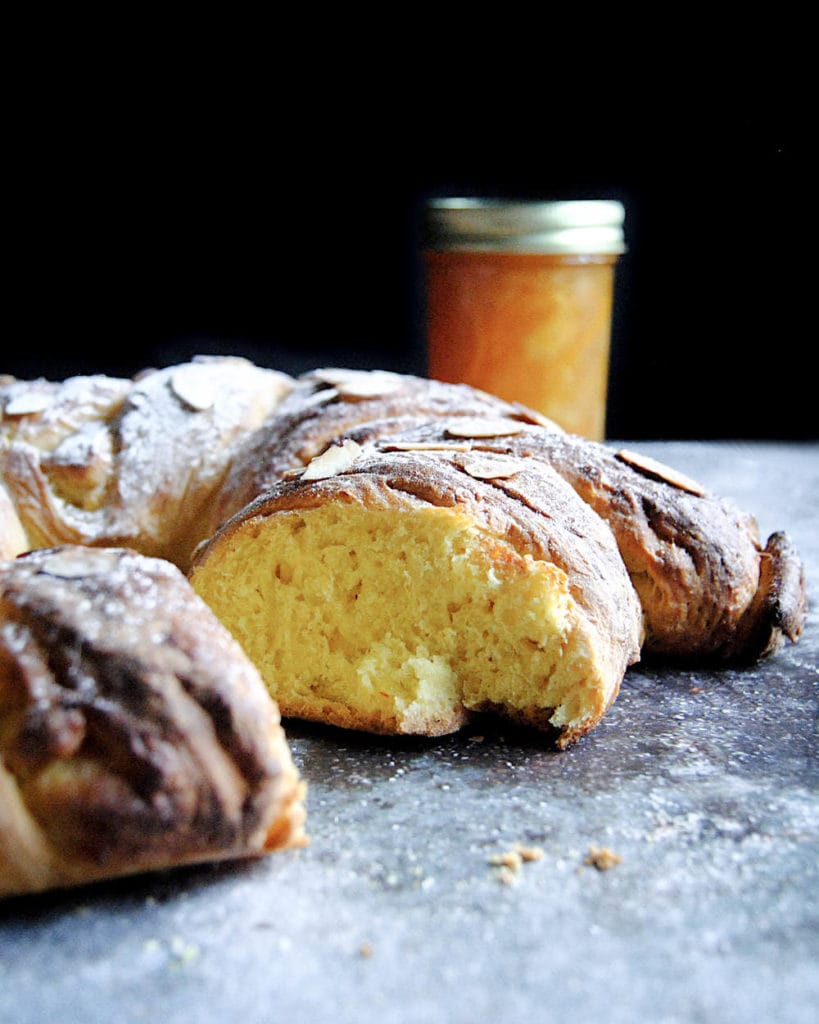 In round three, "The Showstopper", we were challenged to make a Croquembouche, or a tower of cream pastries, traditionally stacked together using caramel.
I put my Marley's Menu twist on it and filled Choux Pastry (recipe coming soon!) with my Sinful Boozy Chocolate Mousse, and stacked them together using tempered white chocolate for a "white Christmas" feel as seen below.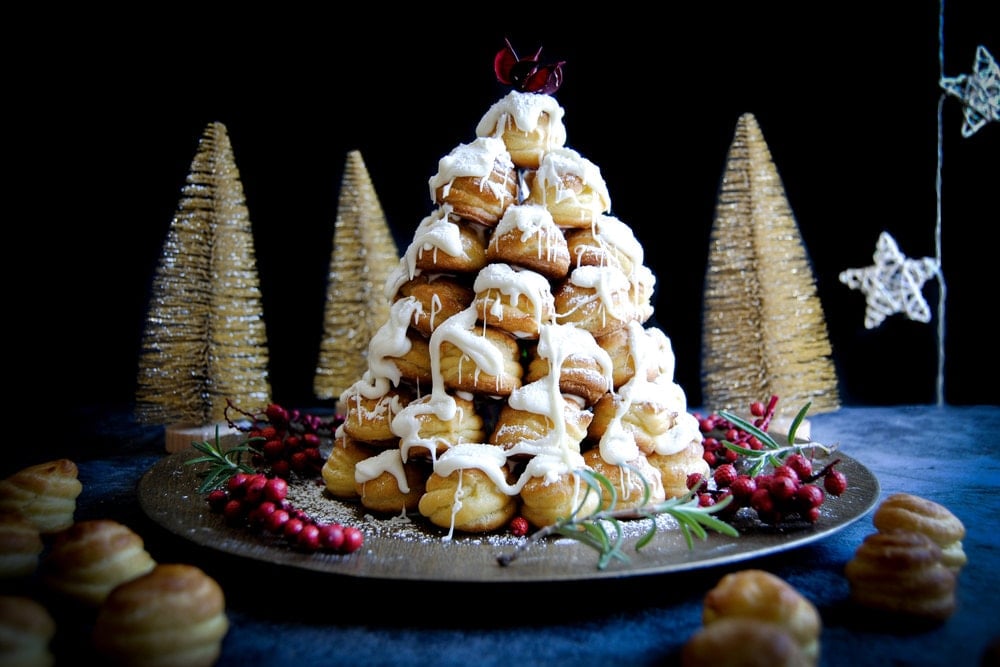 The challenge was such an awesome way to push me out of my comfort zone and try new recipes that I may not have otherwise been inspired to try!
Cheers!