Looking for a zesty finish for your fresh salad? This Small-Batch Pesto Vinaigrette is the perfect addition of flavor to any tasty salad.
Making vinaigrette's at home means you can avoid unnecessary preservatives that are unhealthy for both you and the planet. Plus, it just tastes so much fresher!
Small-batch vinaigrette's mean a fresh dressing every time, and can help avoid food waste.
Pesto Vinaigrette Tips and Tricks
Doubling the Recipe
This recipe is designed to dress 2 or 3 salads. If you need more dressing, you can easily double the recipe. It will keep for 2 weeks in the refrigerator, so you can choose to double it and keep it in the fridge to keep a delicious vinaigrette on hand.
Green tip: Of all of the billions of metric tons of food waste in the U.S. annually, it is estimated that 50% of it happens at home. Making things in smaller batches is a great way to reduce your personal contribution to food waste.
Use a Heavy-Duty Blender or Food Processor
We want the arugula, basil, and garlic to break down in the blender and distribute nicely in the olive oil, lemon, and vinegar.
It's best to use a food processor or heavy-duty blender. I use this Ninja Blender to make all of my vinaigrettes, and it works really well to break down the fresh ingredients here!
Green Tip: Growing your own herbs is a delicious way to reduce your environmental footprint. Homegrown herbs have zero associated food miles, no pesky plastic packaging, and are free of damaging fertilizers and chemicals. Plus, they are just so fresh and flavorful.
Adjust Your Garlic Level
Raw garlic is much stronger than cooked garlic, so bear that in mind while you're making this. I love garlic and usually make this Pesto Vinaigrette with 2 cloves of fresh garlic.
If you are sensitive to garlic, you can just use 1 clove or even substitute a teaspoon of garlic powder to make it much milder.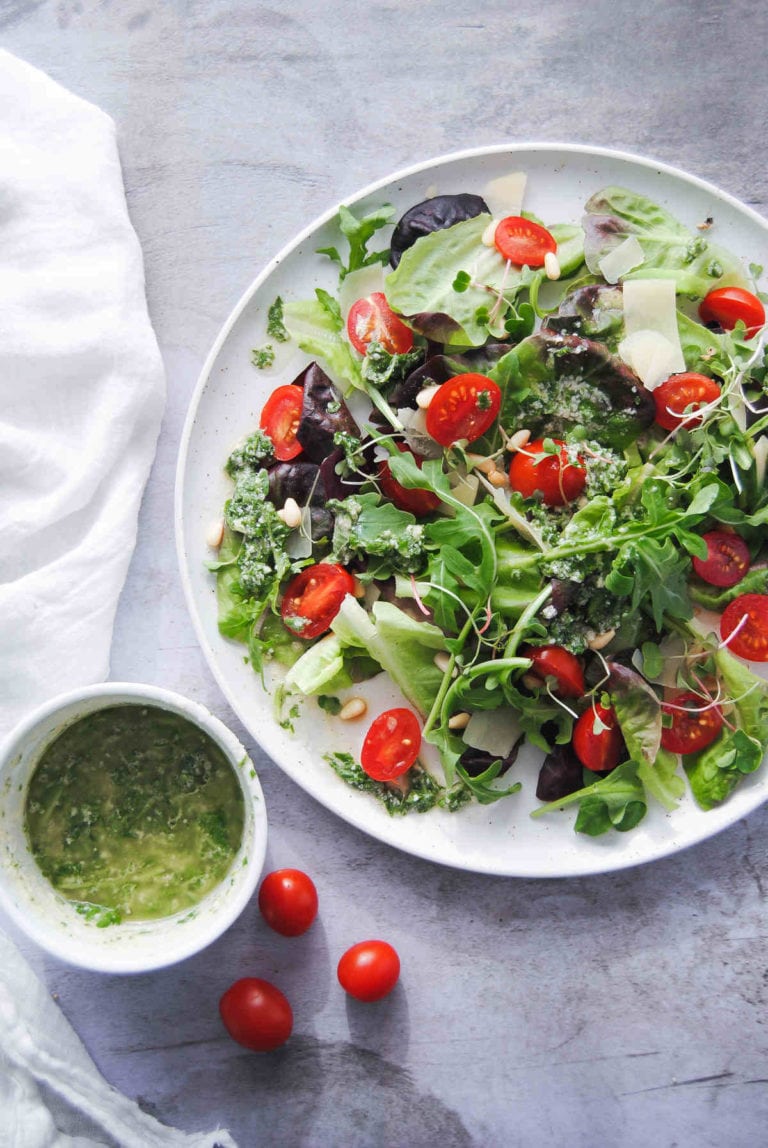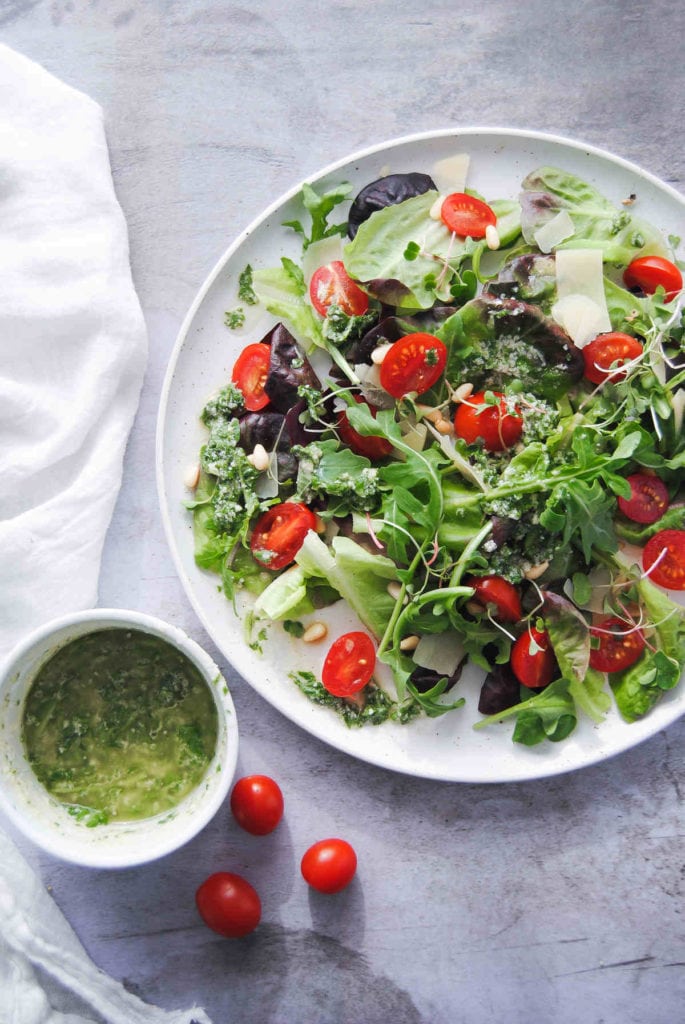 Why You Should Make this Pesto Vinaigrette
It's zesty. The fresh garlic, herbs, and peppery arugula add a flavorful punch to your salad.
It's just enough. Small-batch means you'll likely have little to no leftovers!
It's all-natural. No added preservatives, just all-natural ingredients!
If you loved making this Small-Batch Pesto Vinaigrette at home, try this Chipotle Vinaigrette and Raspberry Vinaigrette next!