Our house was built in 1942 which means tons of character and charm, but minimal closet and kitchen space. I love to cook and bake and consequently spend a lot of time in the kitchen.
It's important to me that even though my kitchen is cozy, it is a fully functional space that doesn't feel overcrowded.
It was hard, but I ended up moving a lot of things to storage or just donating them. Here's my list of must-have multifunctional kitchen things to optimize your ability to create delicious food and minimize the space necessary to store them.
1. Trade in your stand mixer for an electric hand mixer
Yes, it means you can't walk into the other room while your whipped cream is forming, but it takes up about a third of the space. And mixers are super multi-functional. I use mine for basically all my baked goods, mashed potatoes, salad dressings, the list goes on!
2. Opt for a hand blender in lieu of a food processor and blender
I actually have all three of these things, but the hand blender is the only one not in storage. I occasionally dig my blender or food processor out for frozen drinks or making hummus, but in my daily life, the hand blender works perfectly.
It's easier to clean, easy to store, and can be used directly in a pot or pan.
3. A rolling pin is a must!
If you plan on baking at all, you'll definitely appreciate having a rolling pin. From sugar cookies, to cinnamon buns, to pizza dough—I'm rolling things out more than I realize. But I also use it to crush things like garlic or chocolate.
4. Invest in a pizza cutter
Of course for pizza, but I also use it for cutting cookies, quesadillas, and even to cut fresh pasta. Another multifunctional tool that takes up minimal space. it will fit snuggly wherever you store your spatula and whisk.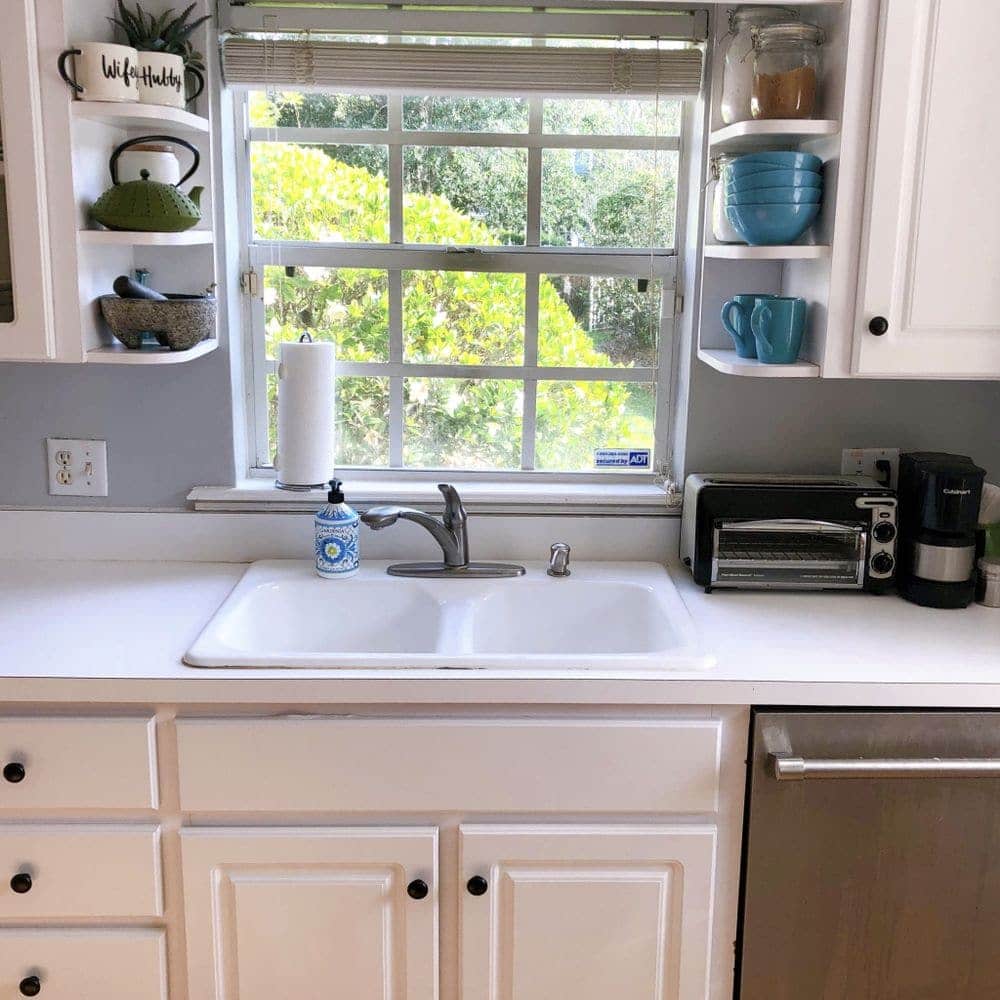 5. Use kitchen canisters
When you have little storage and shelving, you have to stay organized. Canisters are great for easy access to your frequently used ingredients, but also look neat enough to display. Utilizing counter space and shelving means not buying extra tchotchkes. Your functional items end up doubling as decor.
6. Get a rolling island if you have room
I can't stress enough how amazing this purchase was for us. It provides ample storage and SO MUCH extra counter space. I often roll it away from the wall and use it as my main cooking prep space. The back side actually folds up to extend the surface area. There are so many options and you can easily find one to match your kitchen countertops.
If you're worried about the functionality of your smaller kitchen—don't be! You don't really need fancy gadgets to be a great cook. Embrace your charming kitchen and don't set limits for yourself!