Looking for that perfectly balanced show-stopper brunch? This Sourdough French toast recipe uses the subtle sour taste of your favorite bread to balance out the sweet finish to classic French toast, for an overall perfect-for-brunch bite!
It's easy to make, is ready in a flash, and will keep your kitchen smelling delicious all day long. Plus, with ingredients you most likely already have in your pantry, you can make this any time.
It's also a great way to breathe new life into your sourdough if you accidentally let it get stale.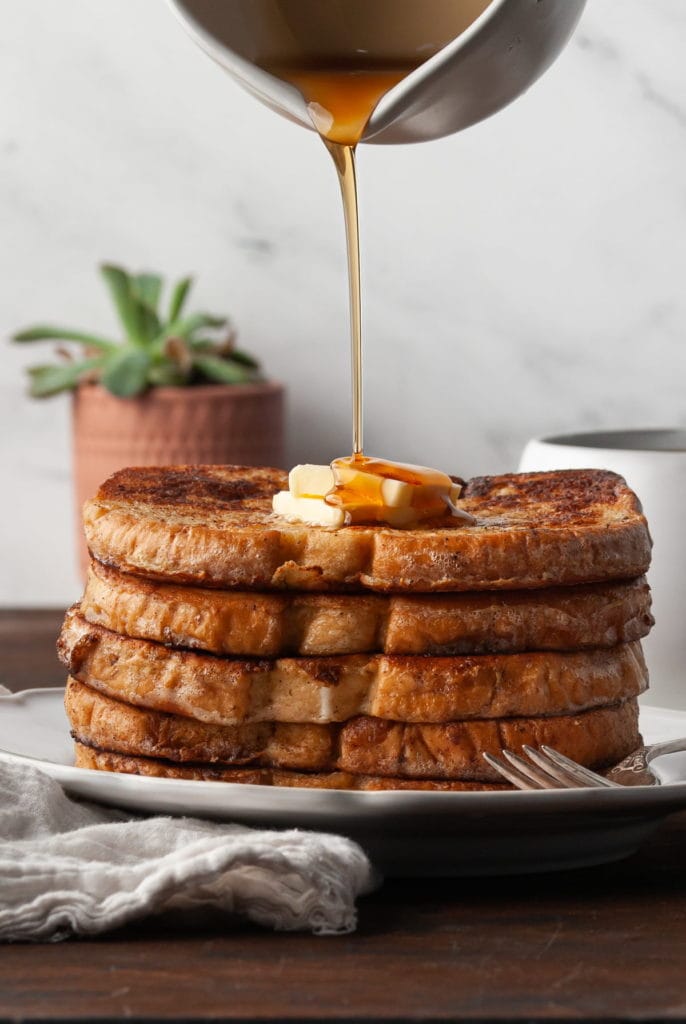 As an environmental scientist, I am always trying to find ways to combat food waste.
Green tip: Bread is one of the most wasted food products in the U.S. because of our tendency to throw it out as soon as it's stale. Reduce your contribution to food waste by re-vamping your stale bread with this Sourdough French Toast!
And when avoiding food waste tastes this good, I think it's something we can all get behind.
Sourdough French Toast Tips and Tricks
---
---
Gather Your Ingredients
The amount of egg wash will vary slightly depending on the size of your eggs and the size of your sourdough loaf.
Depending on these two factors, this recipe will require 4-6 slices of sourdough to use up the egg wash you prepare.
Here is everything you'll need: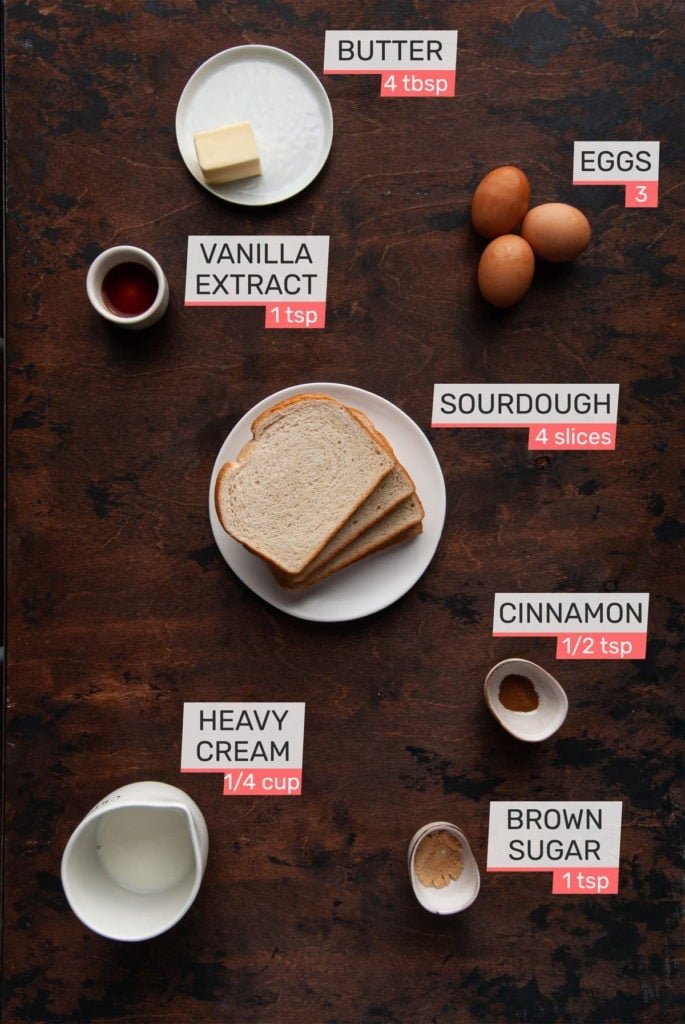 Crack Your Eggs First
In this and all recipes, cracking your eggs in a separate bowl or into your bowl first is the best way to ensure you avoid egg shells in your food.
Green tip: Did you know you can compost egg shells? Read all about it in this article on composting egg shells!
It also eliminates any risk of the rare but dreadful bloody egg.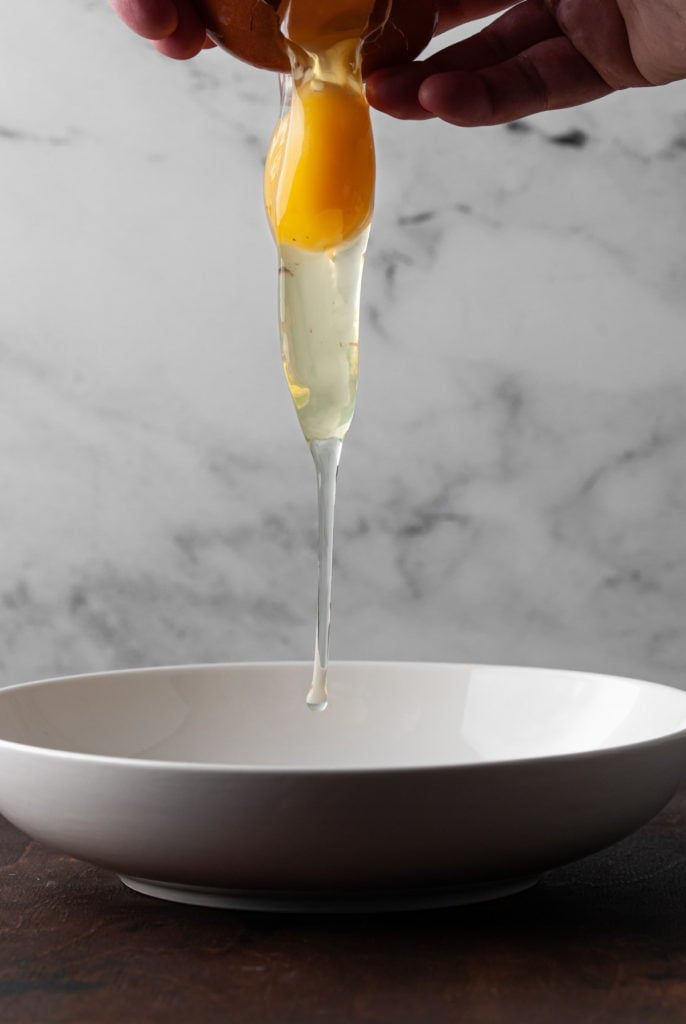 Whisk Your Wash
Add the rest of your egg wash ingredients to the cracked eggs. Whisk your egg wash thoroughly to distribute your sugar and cinnamon, and to get it nice and airy.
We want a smooth, creamy egg wash to dunk our sourdough in for a delectable French toast.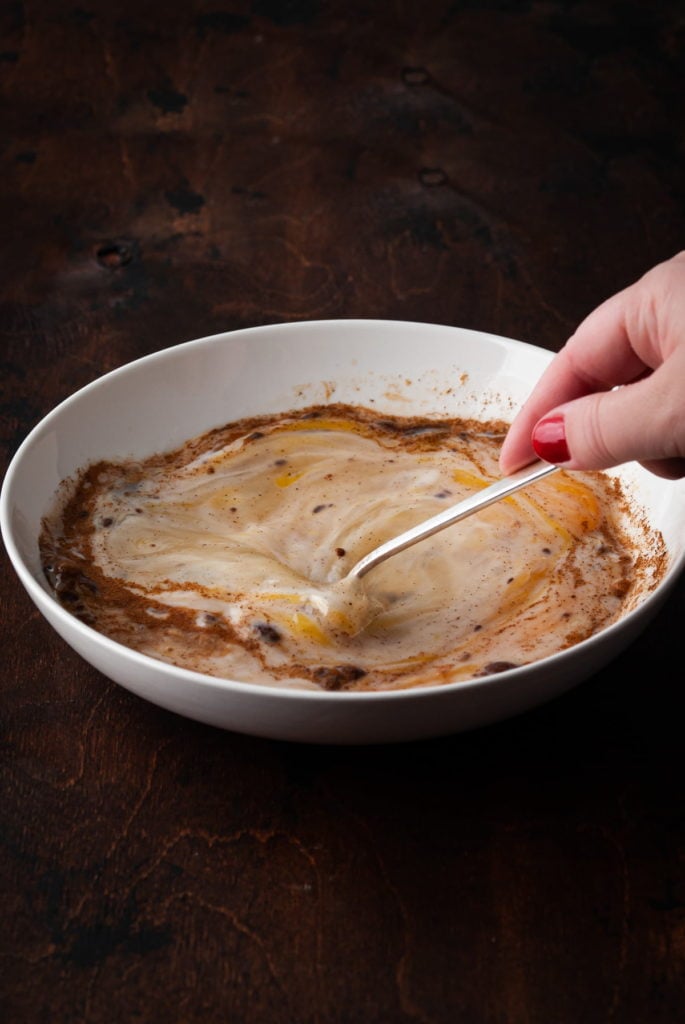 Get Your Pan Hot
Melt your butter in a pan over medium heat, and allow it to get hot. You want your French Toast to sizzle when it hits the butter.
Do the Dip
For the best texture, you want to just dunk your bread in, coating it on both sides. It's best not to let it sit and soak.
Over-soaking the bread in the egg wash will land you an overall soggy French toast.
Get it Golden Brown
Your butter is already hot, so you should get that incredible sizzle sound when you place your egg-washed bread in it.
Give it about 5 minutes before peeking underneath. If it's golden brown, it's time to flip!
Avoid overcrowding your pan to allow enough room for easy flipping. I usually just cook two slices at a time.
Once you flip your French Toast, let it cook on the second side until golden brown. Again this should take about 5 minutes over medium heat.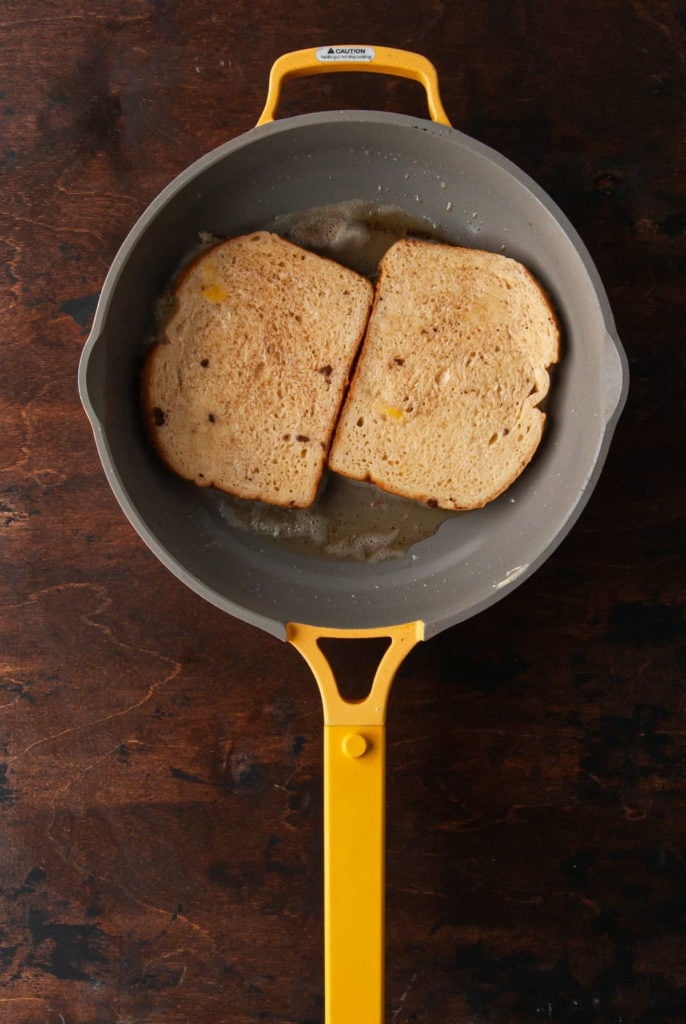 Should You Have Leftovers
French toast will stay delicious for 5-7 days wrapped and sealed in the refrigerator after preparing it. You can also freeze it for up to a month!
From the fridge, reheat on a frying pan for about 5 minutes on each side, until thoroughly heated through. You can also reheat it in the toaster oven or the oven at 375°F for 10 minutes from the refrigerator or 15 minutes from frozen.
The microwave will work in a pinch but does tend to make it a little soggy.
If you have extra egg wash, you can save that, too. Store it in an airtight container in the refrigerator to make more French toast over the next 2-3 days.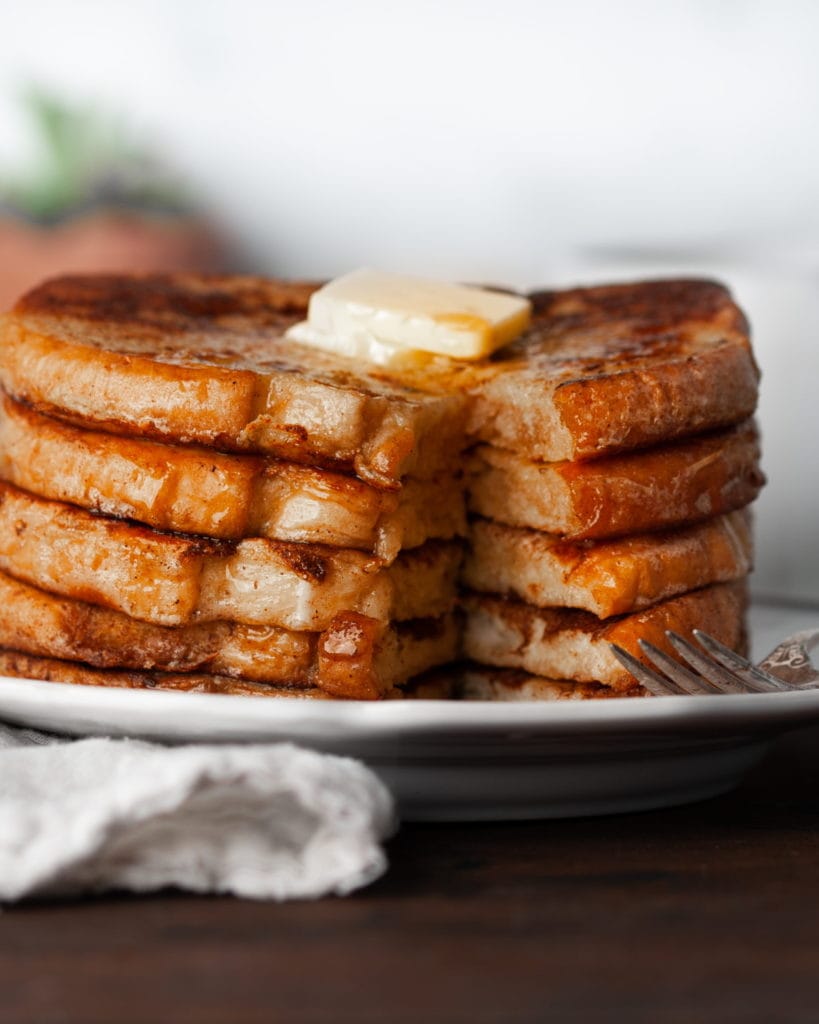 Why You Should Make this Sourdough French Toast
---
---
The texture. Super pillowy and soft on the inside, with a crispy, buttery, toasted exterior.
It's balanced. The subtle sourness in the bread plays perfectly with the sweet egg wash and maple syrup.
It's easy to make! Simple pantry ingredients and it comes together so quickly!
If you're loving this Easy Sourdough French Toast and want more brunch recipes, check out these Bananas Foster Pancakes and this Naan Breakfast Pizza.