Looking for a delicious way to use your serrano peppers? This Serrano Pepper Chimichurri Sauce is the perfect way to level up any meal with bold flavor.
Serrano peppers are similar in taste to jalapenos but even hotter! This Serrano Pepper Chimichurri Sauce definitely brings the heat but is tempered by the other fresh flavors to make a balanced and flavorsome sauce.
The fresh herbaceous parsley pairs beautifully with the spicy serrano pepper and garlic to make a flavor bomb that is absolutely mouthwatering as a marinade or sauce. And what's better? It's crazy simple to make!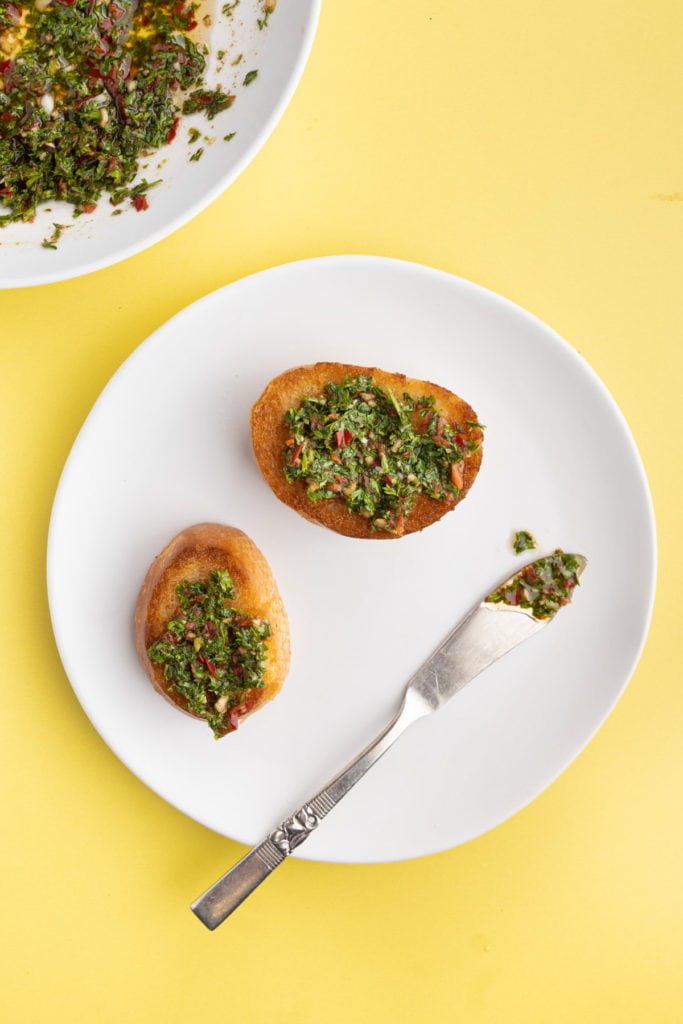 As an environmental scientist, I'm always thinking of ways to be more sustainable in the kitchen. Making my own sauces and dressings is one of my favorite ways to lower my contribution to environmentally-damaging microplastics.
Green tip: Making your own sauces and syrups is a great way to avoid extra plastic packaging that eventually ends up in landfills or makes its way into the environment and becomes microplastics
Serrano Pepper Chimichurri Ingredients
---
---
here's everything you'll need:
Serrano peppers. Red or green. I used red serrano peppers in the sauce pictured and love the vibrant color it brings!
Garlic. Fresh garlic for an extra flavor punch.
Parsley. For a fresh, herbaceous, and slightly bitter flavor that balances out the heat from the serranos.
Red wine vinegar. It's sharp and tangy, and the perfect addition to this chimichurri.
Salt, pepper, & paprika. To amp up all the other flavors.
Olive oil. To get the right consistency.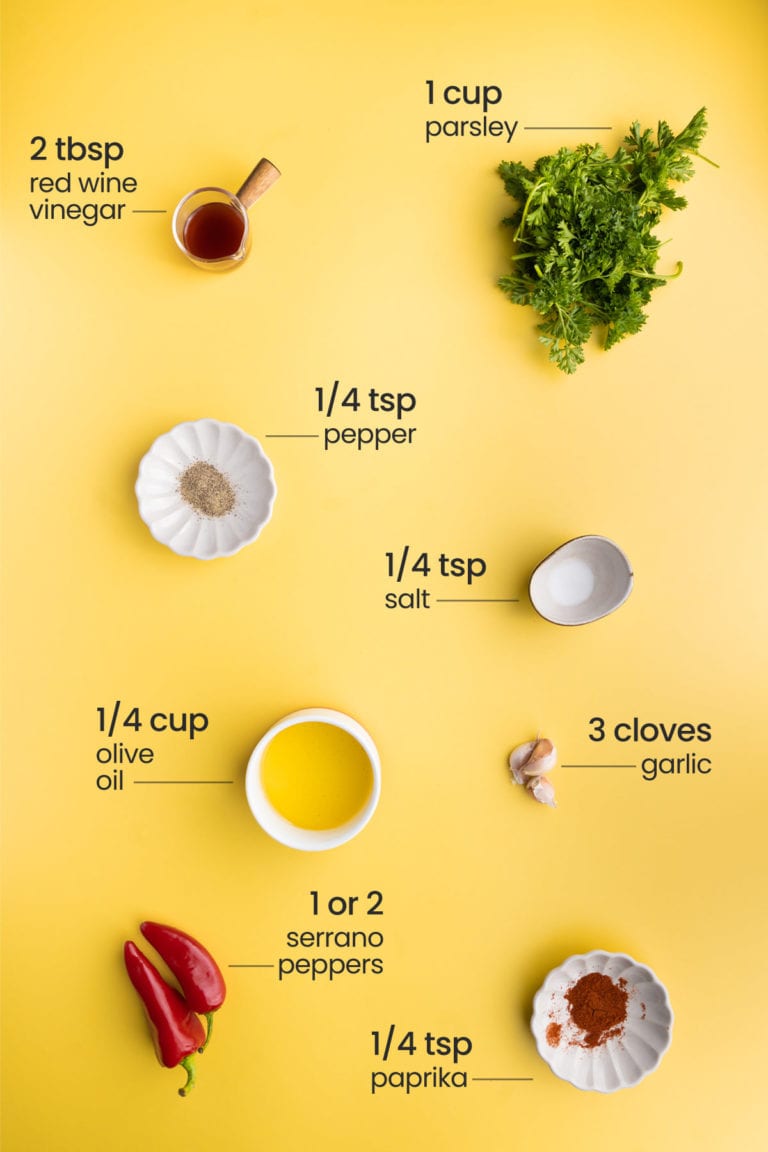 Serrano Pepper Chimichurri Sauce Tips and Tricks
---
---
Red vs Green Serrano Peppers
Firstly, you should know that serrano peppers, whether they are red or green, are pretty hot. Of course, the amount of spice can vary in each pepper, but they will certainly add a kick. This recipe calls for 1-2 serrano peppers depending on your desired spice level.
I like spicy, but my palate can't handle anything too hot. I always add two serrano peppers and I am happy. If you want even more spice, add 1/2 teaspoon of red pepper flakes. If you want less, 1 serrano pepper will do.
On that note, if you have any nicks on your fingers or dry hands, these peppers will sting. I highly recommend wearing plastic gloves if you're new to using peppers. And whatever you do, scrub those hands before you touch your eye!!
So what's the difference between red and green serrano peppers? Simply their age!
Serrano peppers are fully ripened when they turn red. This means a red serrano pepper will likely be a tad spicier, and a little less crisp.
Generally, serranos are harvested while they are still green and crisp when they typically fall off their plant naturally. However, some continue to ripen on the plant until they turn red.
Green serrano peppers may also continue to ripen and turn red in the sun after they are harvested. It is not abnormal to find some red serrano peppers in the bin of green serrano peppers at the grocery store.
I picked the red ones out to use for the chimichurri sauce pictured. Like most serrano pepper recipes, green and red serrano peppers can be used interchangeably in this chimichurri.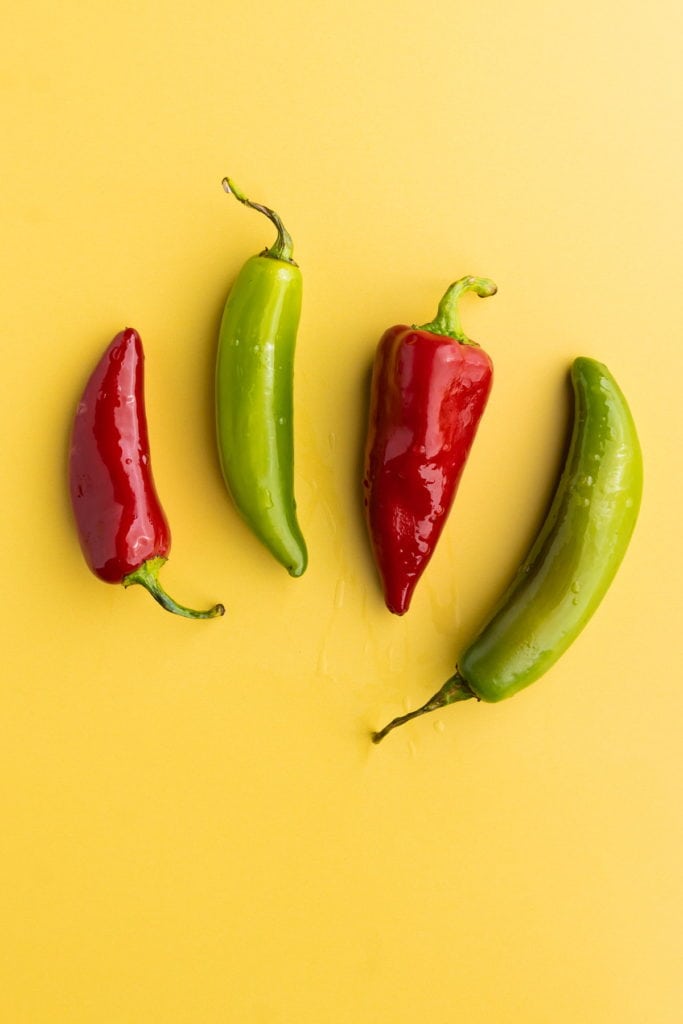 A Note on the Parsley
Fresh is the only way to go here! Use both the leaves and the stems to get the most flavor out of it, and to avoid waste.
Consider growing a parsley plant as a sustainable option. Fresh herbs are easy to grow! Keep them on your windowsill so they get access to daylight and keep them damp (but not too wet).
It tastes the freshest, avoids waste (once plucked from the plant, the herbs only stay fresh for a couple of days), and eliminates the need for any plastic packaging.
Green Tip: Growing your own herbs at home is easy! Try picking up a parsley plant at the grocery store instead of the plastic packages of pre-harvested parsley. Set it on your windowsill so it gets plenty of natural light and water it once a week.
Prep Your Garlic and Serrano Peppers First
This serrano pepper recipe is so simple! To set yourself up for success, start by peeling your garlic and prepping your serranos.
To prep the peppers, slice off the stem and discard it. Then, slice the pepper in half longways and remove the seeds and pith (the white part inside).
If some seeds are stubbornly clinging on, rinse the peppers under the faucet to clean them of any seeds.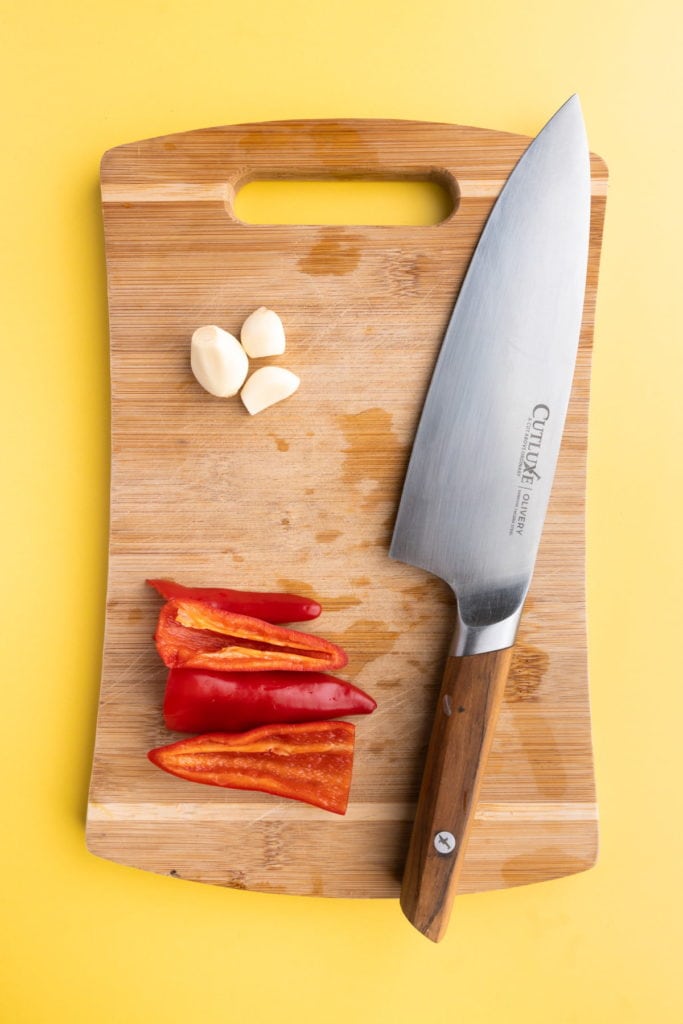 Use a Food Processor
This Serrano Pepper Chimichurri is best made in a food processor or high-powered blender. Make sure you're paying attention as you blend, to avoid your ingredients being chopped too finely.
I recommend using your pulse button to blend just until the garlic and pepper are broken down. It should really only take a couple of pushes to that button.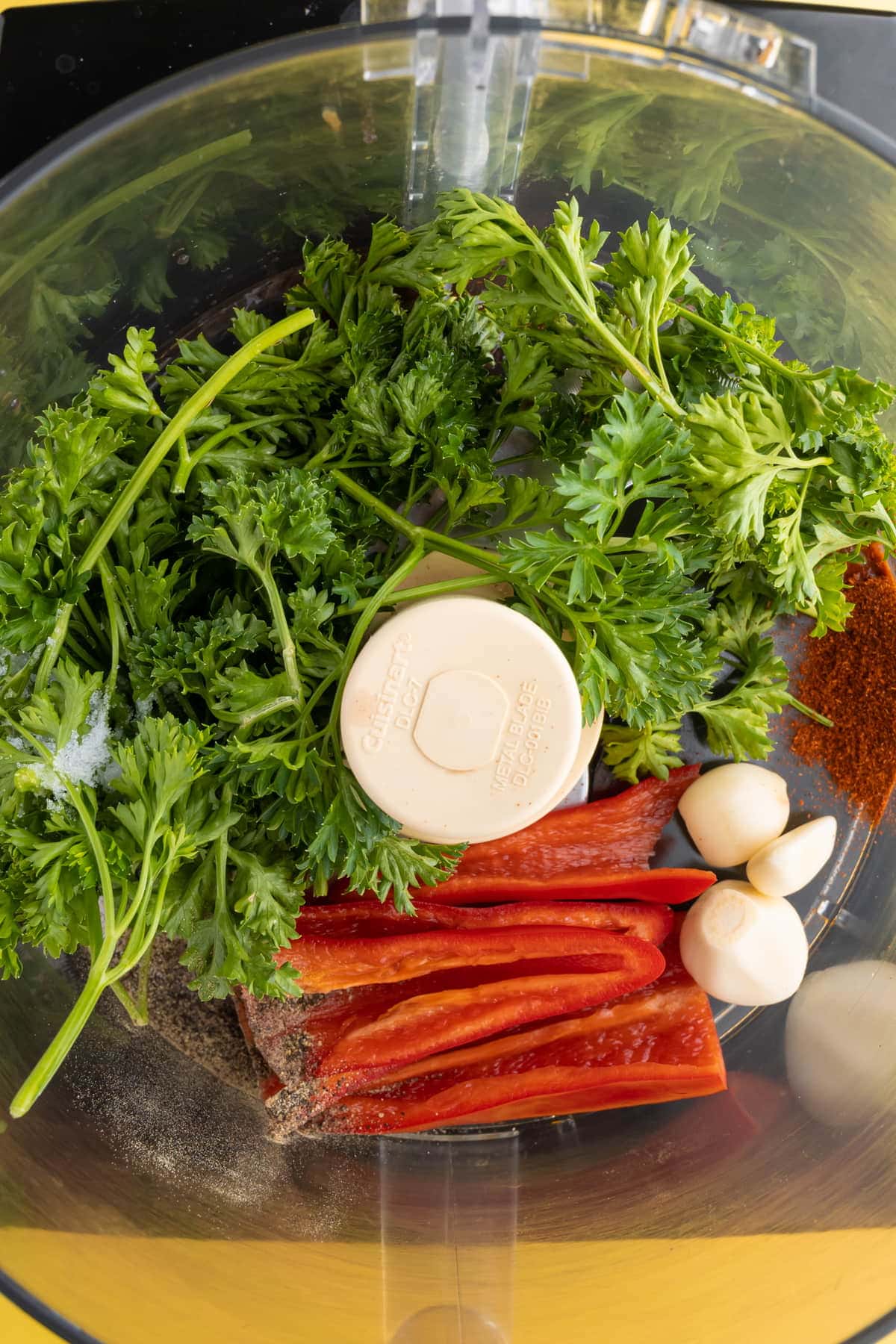 Marinade vs Sauce
I absolutely love that this recipe is versatile. I usually double it and make a big batch so we have it on hand. It is delicious and safe to consume raw, so it does not need to be heated to be used as a sauce.
If you're using it as a marinade, keep a couple of things in mind. Both the serrano peppers and garlic will mellow in flavor when they are cooked, so adjust accordingly. If you know you're using it as a marinade, maybe use both peppers and 3 large cloves of garlic.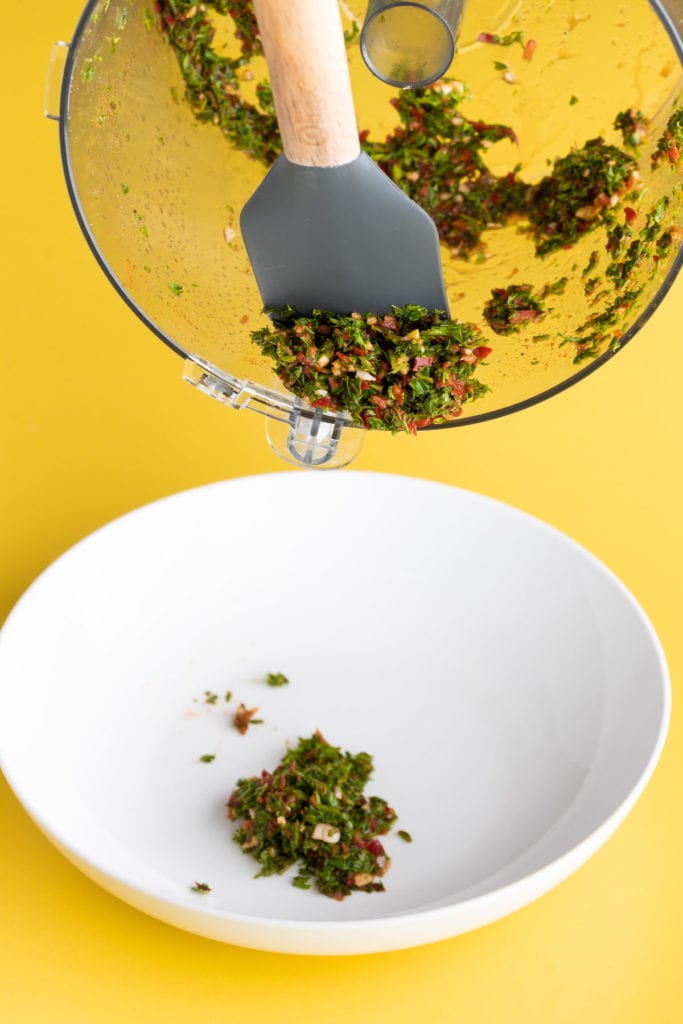 Hold The Olive Oil
There is enough liquid in the garlic, pepper, parsley, and added red wine vinegar to break down your solids completely in the food processor or blender without adding your olive oil just yet.
Putting the olive oil in with the rest of the ingredients will actually completely change the texture. It'll be more of a creamy sauce, which is not what we are going for here.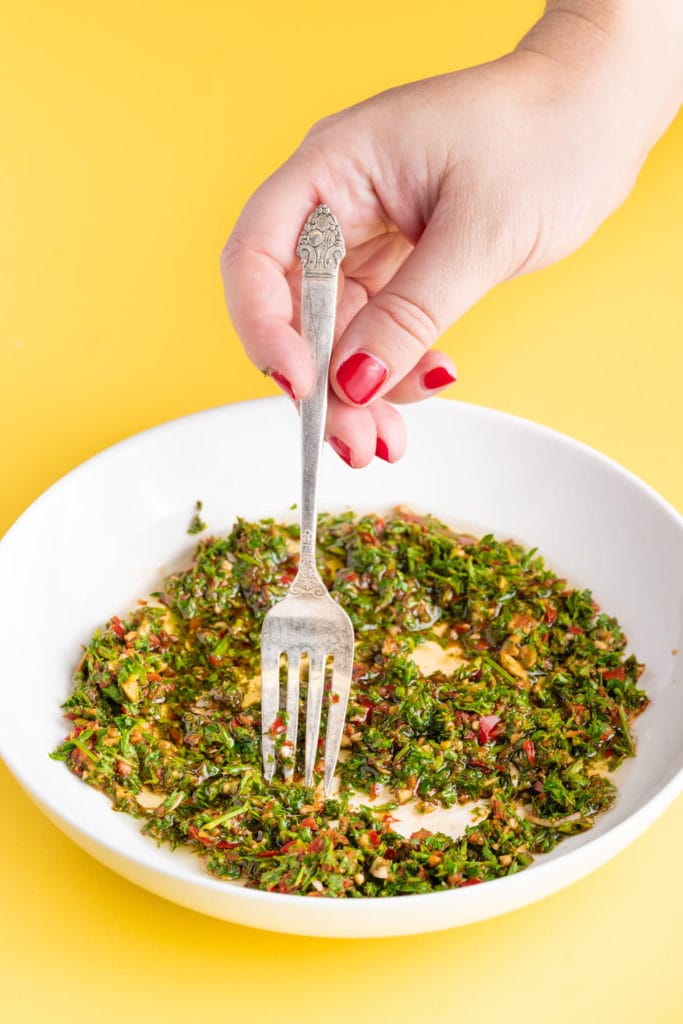 Storing Your Chimichurri
Leftovers? (Did you make a double or triple batch like me? You're very smart, you). Store your extra chimichurri in an airtight container and it can last up to 3 weeks. This means, yes, it's GREAT for meal prep, too!
You can also freeze it for up to 3 months. Just thaw it out in the refrigerator and it will be as fresh as ever!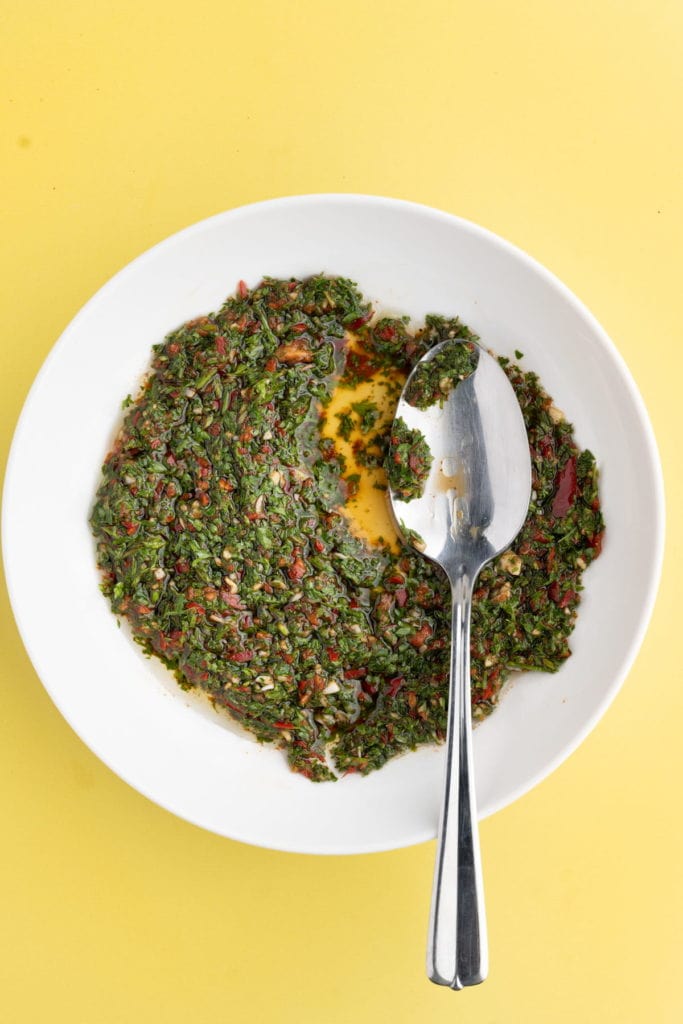 Serrano Pepper Chimichurri Frequently Asked Questions
---
---
What is chimichurri sauce made of?
Classic chimichurri is made up of fresh herbs, garlic, vinegar, chili peppers, and olive oil.
This serrano pepper chimichurri uses fresh parsley and garlic, red wine vinegar, serrano peppers, seasoning, and olive oil to make a delicious chimichurri sauce with just 8 ingredients.
Why is my chimichurri bitter?
It is key that you do not add the olive oil until after the chimichurri is blended in the food processor. By adding the olive oil to the food processor with the rest of the ingredients, it will break down.
The parsley has a naturally bitter taste and needs olive oil in its pure form to counteract the bitterness. If you find your chimichurri is too acidic even while following the directions closely, add a little bit more olive oil to cut more of the bitterness.
Want to sharpen your kitchen skills?
Why You Should Make This Spicy Serrano Pepper Chimichurri
---
---
It's PACKED with flavor. Between the garlic, parsley, pepper, and spice blend, your taste buds will be on fire!
It's herbaceous. The fresh parsley really comes through.
It's versatile. A marinade, a sauce, right off the spoon… guilty.
It elevates any dish. Pour it over any dish for a vibrant finish.
It's easy. Prep your ingredients. Throw it in the blender. Add your oil. Ba-da-bing, ba-da-boom!
Loving this Spicy Serrano Pepper Chimichurri Sauce? Try these other homemade sauces: 5-Minute Arugula Basil Pesto and Robust Small-Batch Greek Vinaigrette.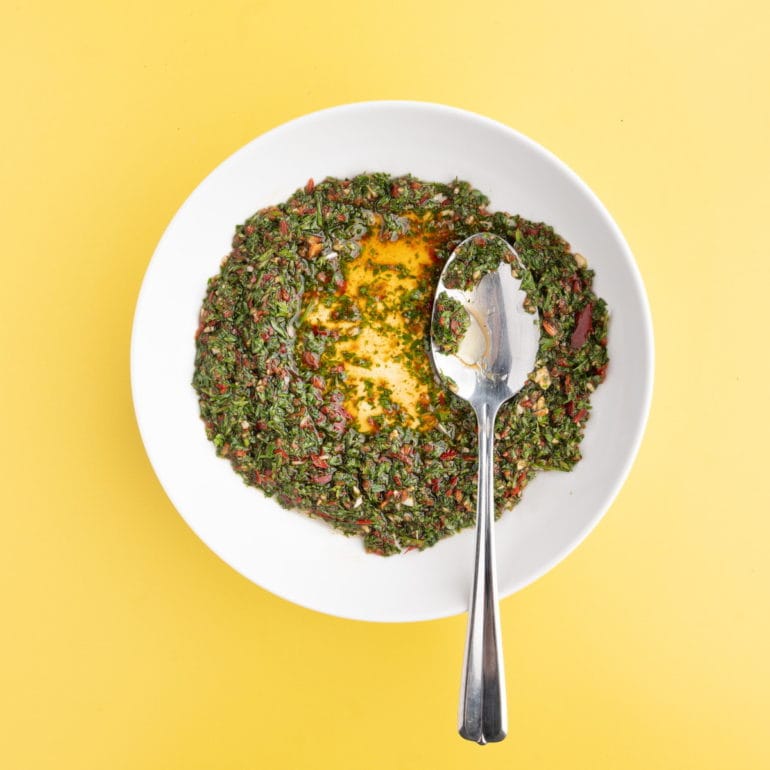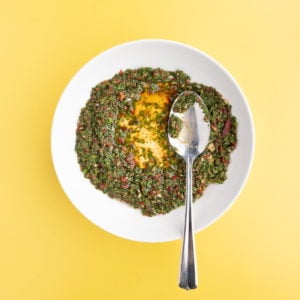 Spicy Serrano Pepper Chimichurri Sauce
PRINT
PIN
RATE
Use this Serrano Pepper Chimichurri Sauce as a marinade or finishing sauce to elevate any meal with its fresh punch of vibrant flavor and spice.
Ingredients
1 or 2

red or green serrano chili peppers, deseeded

3

cloves

peeled garlic

1

cup

fresh parsley, tightly packed

2

tablespoons

red wine vinegar

¼

teaspoon

salt

¼

teaspoon

black pepper

¼

teaspoon

paprika

¼

cup

olive oil
Instructions
Slice your peppers in half and pull out the seeds (be careful they are hot! If you are new to handling hot peppers, I recommend wearing gloves) and peel your garlic.

For a spicier chimichurri use 2 serrano peppers. For medium-level spices use just one.

Add garlic, peppers, parsley (stems and leaves), red wine vinegar, salt, pepper, and paprika to a food processor or blender and blend on medium until garlic, parsley, and peppers are finely diced.

Pour the contents of your blender into a medium-sized bowl and add olive oil. Use a fork or whisk to stir until ingredients are evenly mixed.

Use chimichurri as a marinade or finishing sauce. It is safe to consume raw.
Pro Tips
It's best to not over-blend the ingredients. Use your food processor or blender on its medium setting just until your garlic, parsley, and pepper are diced.
Keep the stems on to get the most flavor out of your parsley. Measure it with a dry measuring cup and tightly pack it.
Consider growing fresh parsley indoors as a sustainable option for fresh herbs.
If you're using the chimichurri as a marinade and will be cooking it, consider using two red serrano peppers. Cooking them actually makes the spice a bit milder.
Did you make this recipe?
Let me know by leaving a recipe rating below, or by tagging @marleysmenu on Instagram.
The Inspiration Behind This Serrano Pepper Chimichurri Sauce
The best recipes are created when you truly connect to your food. When the flavors trigger a wonderful memory, or the ingredients mean something to you in some way. And nothing makes my heart happier than a spicy, flavorful chimichurri sauce. Why, you ask?
Roll up those sleeves and prepare yourself for the sappy sentiment you're about to take in.
It reminds me of my wedding night. In true Rob and Marley fashion, we simply couldn't agree on what to serve, so, well, we had it all! Salmon and flank steak and all the sides. But we both finished off our meal with the most delicious, flavorful (and clearly very memorable) chimichurri sauce.
With one bite I can close my eyes and bask in that fairytale that was our wedding night. Surrounded by everyone we love, in the beautiful Florida weather, with great food, great drinks, and great music.
Developing a chimichurri recipe was no easy feat. It's something I've been attempting to master since we got married in 2018. This Serrano Pepper Chimichurri Sauce was a labor of love, and is, as you may have guessed, our new favorite marinade and finishing sauce!
Cheers!