Looking for a vibrant salad that comes together quickly and feeds a crowd? This Spinach Arugula Salad with Honey Dijon Vinaigrette is packed with flavor, texture, and nutrients and is easy to make.
The combination of spinach and arugula as the base for this easy salad recipe brings freshness and flavor. Additionally, each element was carefully selected to bring a combination of sweet, tang, crunch, and earthiness to each and every bite.
In this recipe, you will learn how to quickly whip up a crowd-pleasing salad. You'll also learn how to make a quick Honey Dijon Vinaigrette to dress the salad using a quick emulsifying technique in a glass jar.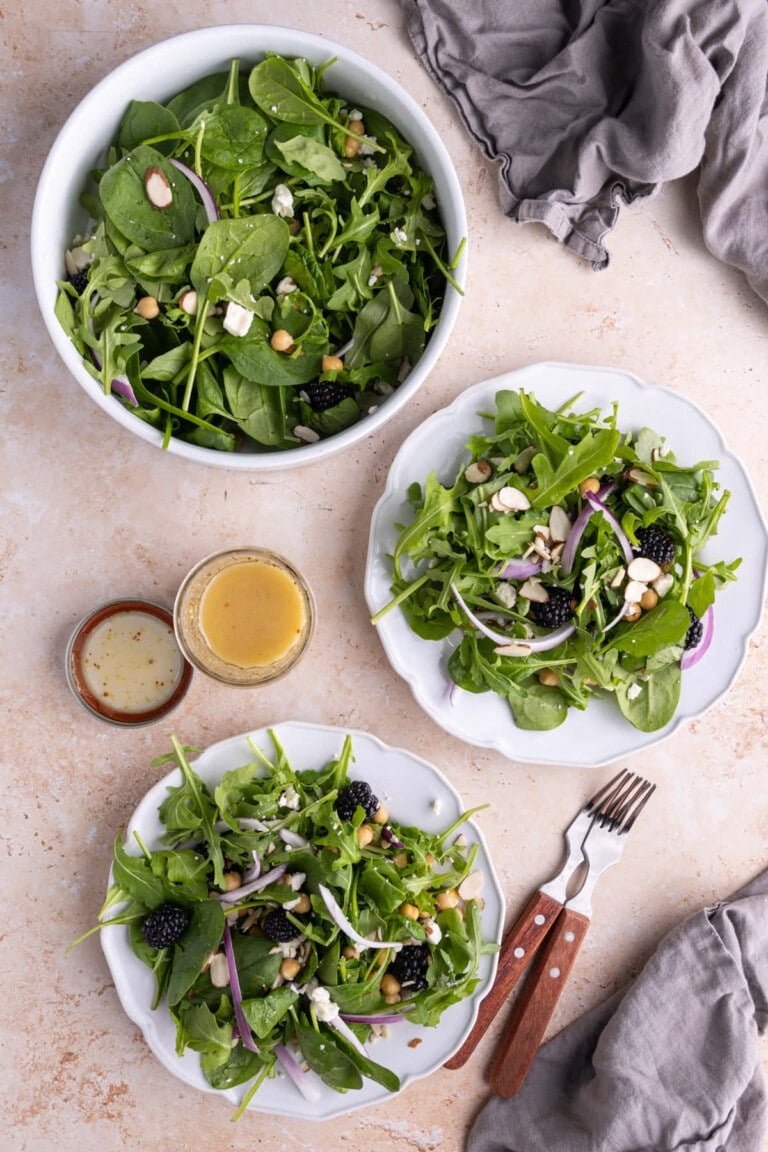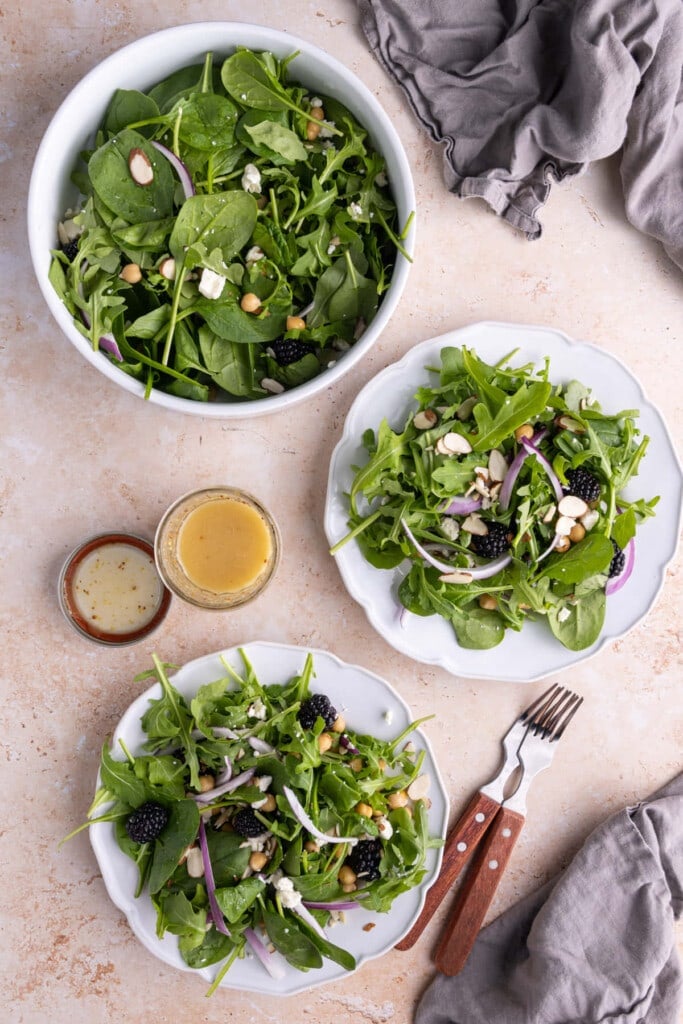 As an environmental scientist, I always try to stick to seasonal eating! It's one of the easiest (and most delicious!) ways to support local farmers and improve your carbon footprint.
Green tip: Seasonal and local foods have less associated transportation costs and fuel emissions. Check which berries are in season in your area with this Seasonal Food Guide.
Spinach Arugula Salad with Honey Dijon Vinaigrette Ingredients
---
Here's everything you need for the Spinach Arugula Salad:
Spinach. A super refreshing and subtle sweet base for the salad.
Arugula. Aka rocket. In contrast to the subtle sweetness of the spinach, arugula has a distinct peppery flavor that makes the combination of the two especially delicious in this salad.
Red onion. For extra crunch, and to merge the savory and sweet elements seamlessly.
Chickpeas. For extra protein and texture, plus a delicious earthy taste.
Berries of choice. Choose what's in season! Blackberries, blueberries, strawberries, and raspberries are all delicious in this salad.
Nuts of choice. Like pecans, walnuts, almonds, cashews, or pistachios. I used shaved almonds.
Feta cheese. It adds the right amount of salt and tang.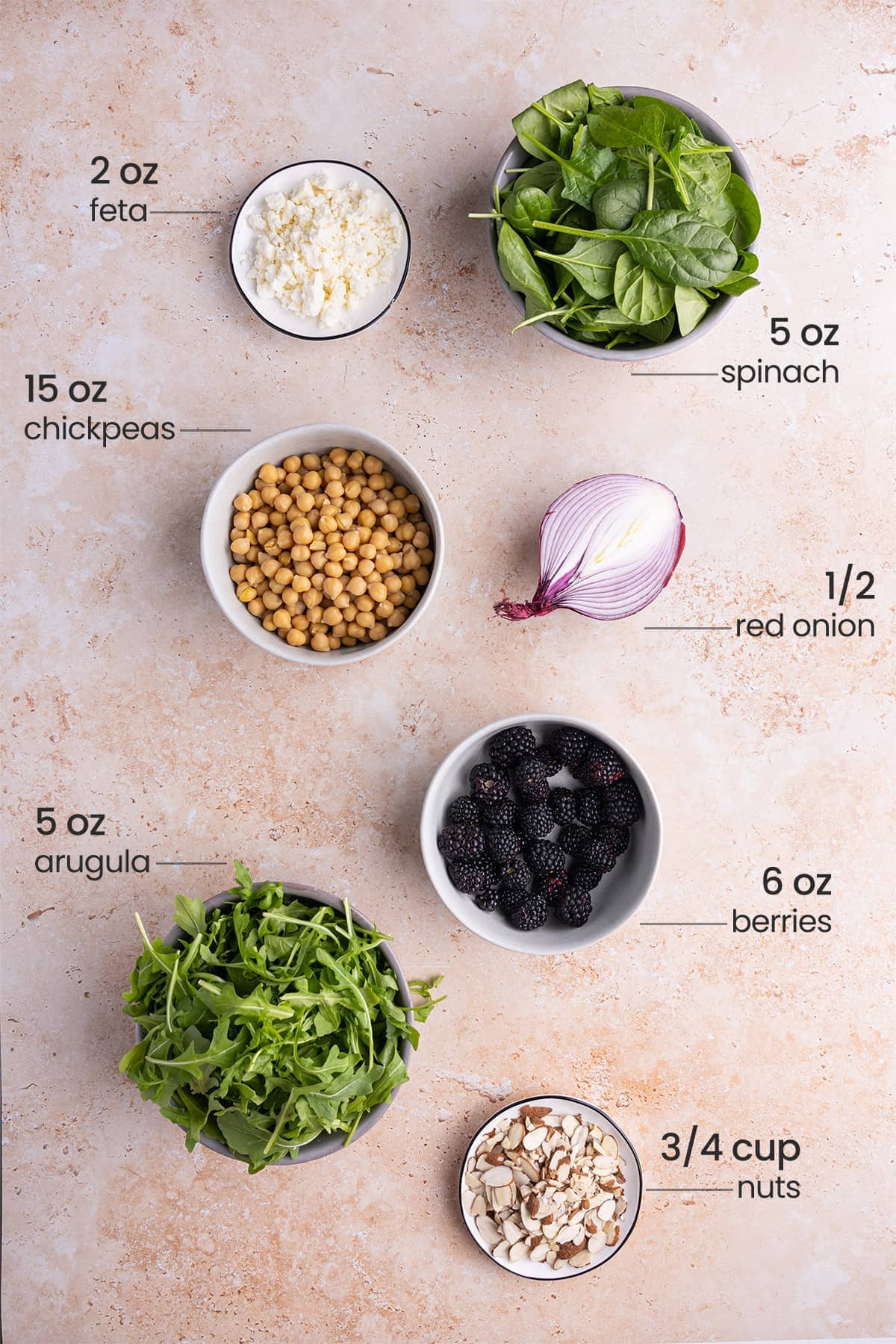 Here's everything you need for the Honey Dijon Vinaigrette:
Olive oil. This acts as the base of your vinaigrette.
Apple cider vinegar. Or sherry vinegar, white wine vinegar, or champagne vinegar.
Dijon mustard. It can be grainy or smooth, up to you!
Honey. Or agave nectar or maple syrup. Just a little sweetness to cut the acidity of the vinegar.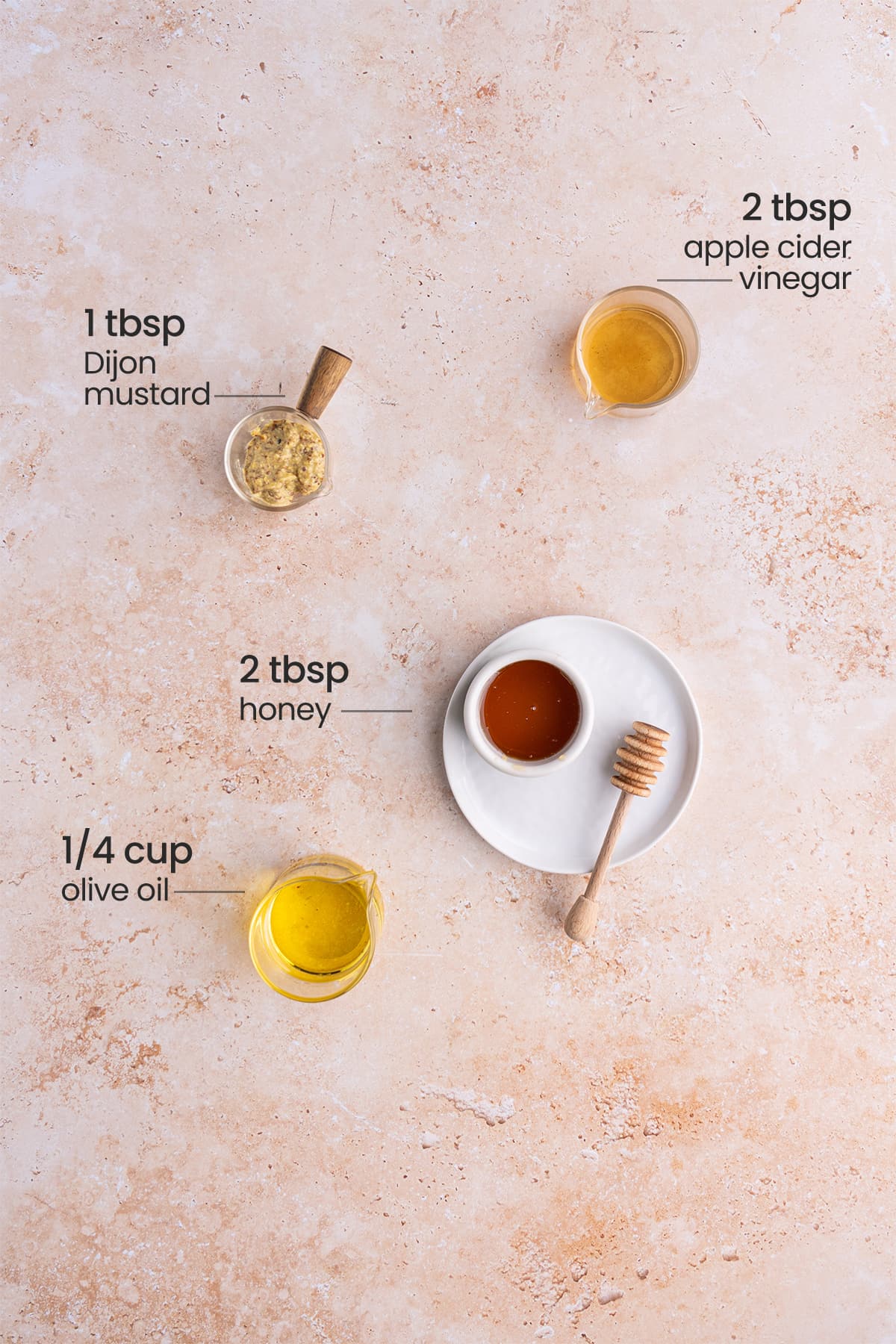 Additional Add-in Ideas:
Bell peppers
Snow peas
Raisins
Craisins
Avocado
Apple slices
Grapes
Olives
Hemp seeds
Capers
Spinach Arugula Salad Tips and Tricks
---
How to Easily Slice Your Red Onion
This recipe just calls for half of a red onion. Once you slice your red onion in half next to the bulb, it's easy to get the red onion sliced very thin.
Here's a quick step by step on the easiest way to slice your halved red onion:
Step 1: Chop both ends off and discard.
Step 2: Peel back the outermost layer of the onion and discard.
Step 3: Lay the half of onion flat on your cutting board and slice as thinly as possible.
Step 4: Separate the layers of the sliced onion until you are left with individual, thin slices for your salad.
Note that the peels and cores of your onions can be saved to make vegetable broth, or you can easily compost them.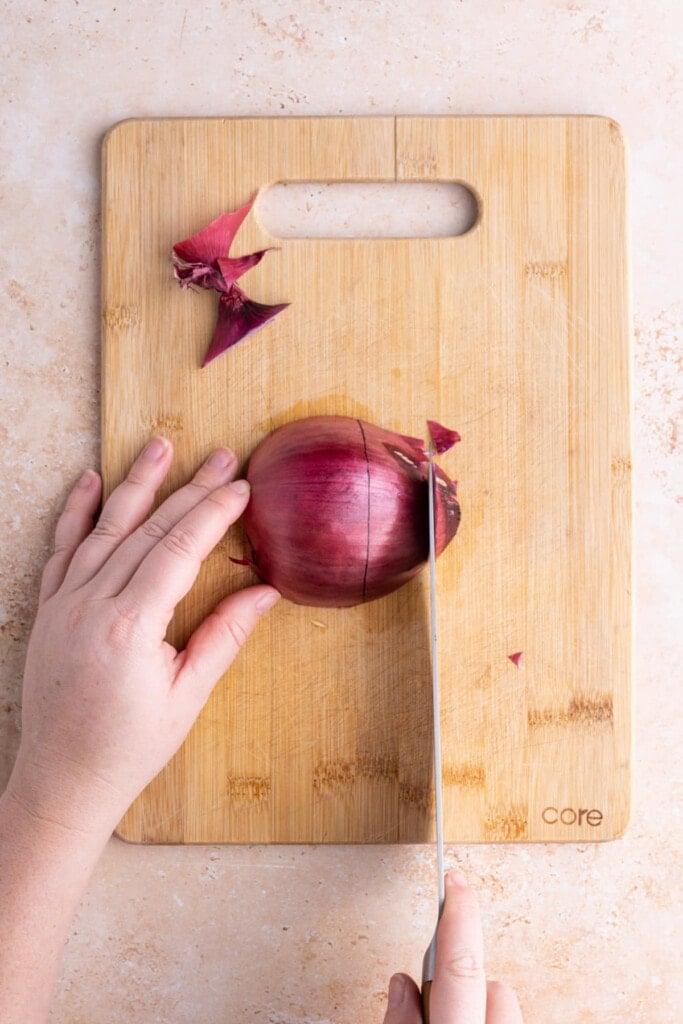 Drain Your Chickpeas
To prep the chickpeas, we will first want to separate the canned chickpeas from the liquid it is soaking in. This chickpea liquid is called aquafaba.
Aquafaba is a great ingredient that can be used in other delicious recipes. My favorite is this Rich Vegan Dark Chocolate Oreo Pie.
To separate the chickpeas from the liquid, I simply use a sieve. You can also use a pasta strainer. Hold or place the sieve/strainer over a large bowl and pour in the contents of your canned chickpeas.
The chickpeas will remain in the sieve and your aquafaba will fall through into the bowl.
Green Tip: Always avoid food waste when you can! Instead of throwing away your chickpea water, consider saving it and using it in another recipe altogether!
Toss Your Spinach and Arugula Together
The combination of spinach and arugula is fresh and flavorful. Spinach has a subtle sweetness to it and is extremely crisp and refreshing.
Arugula has a distinct peppery taste that works well with the subtle sweetness of the spinach and adds a leafy crunch.
This delicious combination of leafy greens is best in every bite, so the first step to making this salad is tossing the two greens together in a large bowl.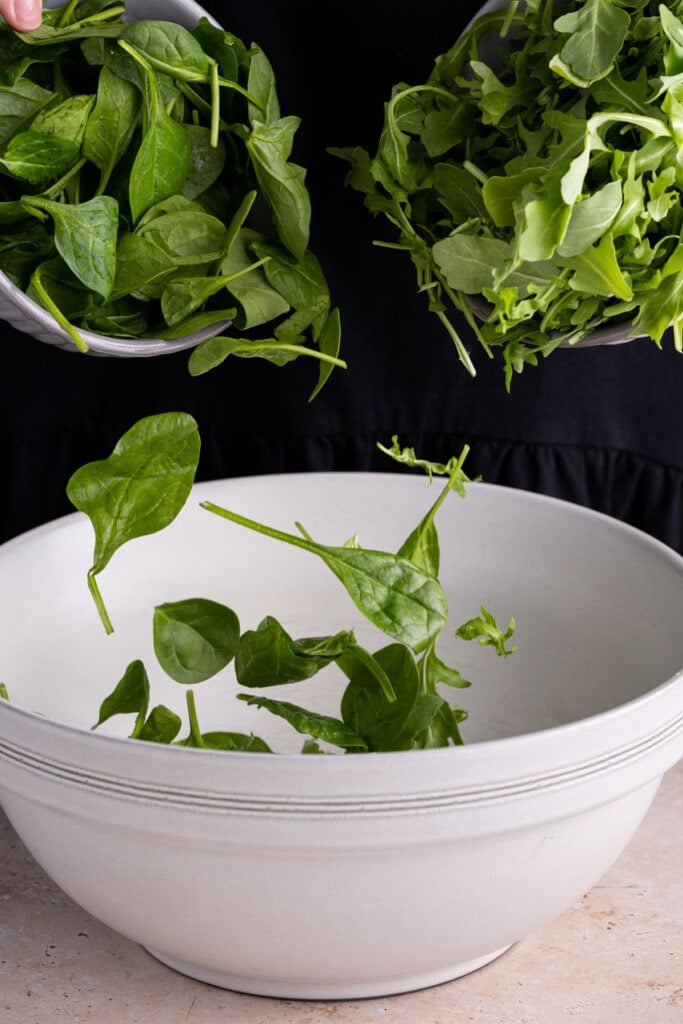 Toss Everything Together
Once the spinach and arugula are combined, add the red onion, chickpeas, berries, nuts, and cheese.
Use salad tongs to toss the salad, distributing the ingredients evenly throughout the leafy greens.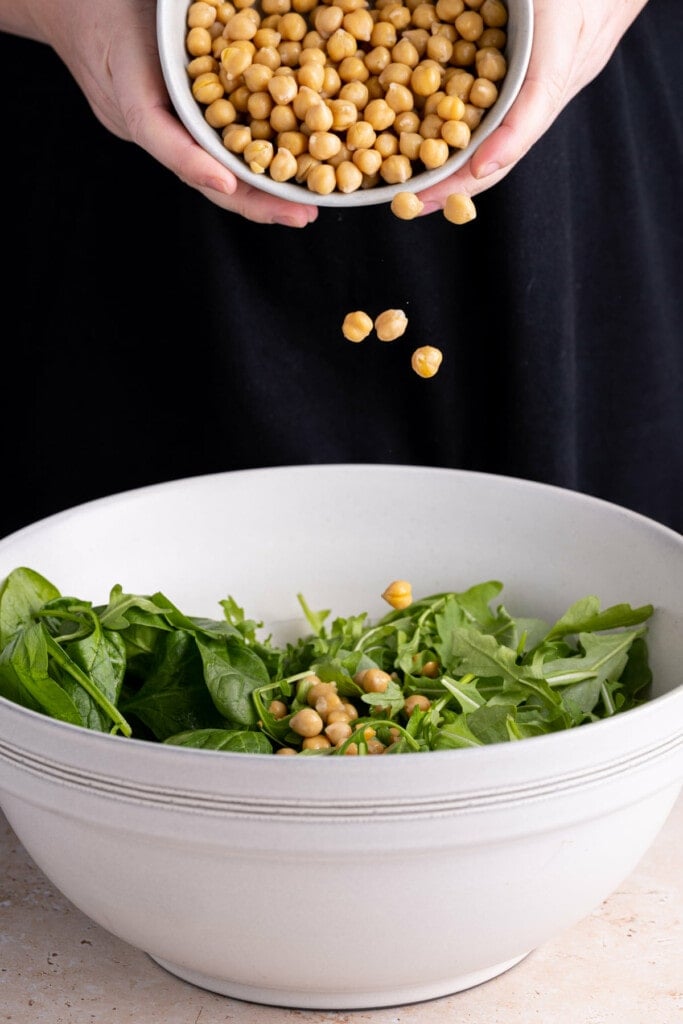 Make Your Honey Dijon Vinaigrette
Oil and vinegar notoriously do not combine easily. My favorite way to make a vinaigrette is to add the olive oil, apple cider vinegar, Dijon mustard, and honey (or agave nectar or maple syrup) to a jar with a lid.
Secure the lid on the jar nice and tight and then shake vigorously to combine. When the oil and vinegar do combine, they create an emulsion, which will give the vinaigrette an almost creamy texture.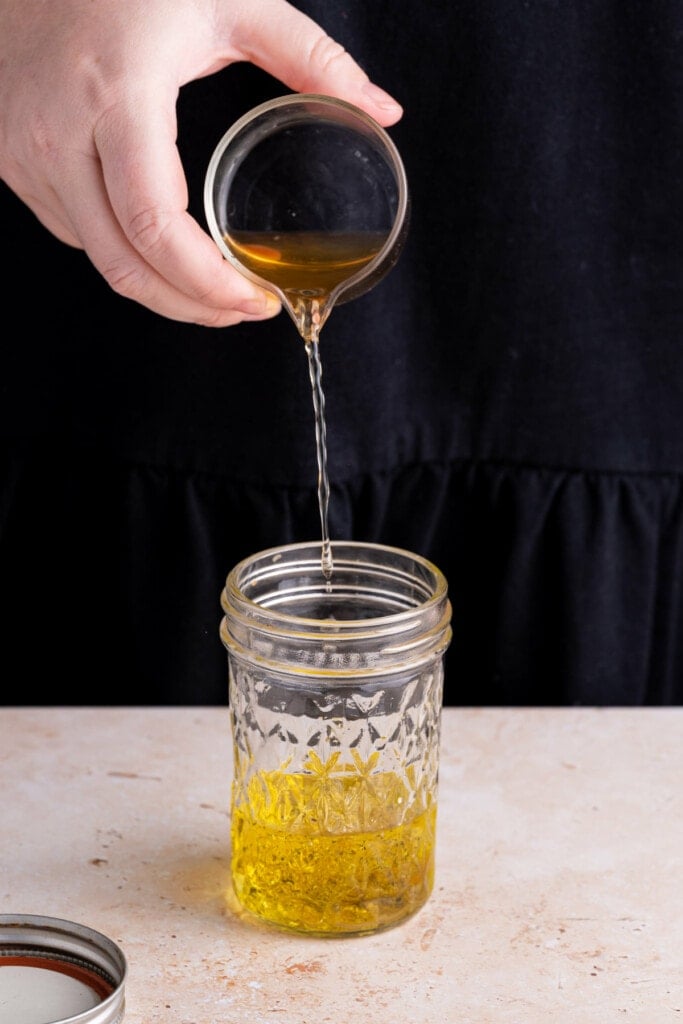 Dress Right Before Serving
I highly recommend serving the Honey Dijon Vinaigrette on the side and allowing everyone to dress their own individual salad. For one, some people may like more dressing than others.
Even more importantly, the longer the salad sits with the vinaigrette on it, the more likely it is to get soggy.
And thirdly, leftover salad without the dressing will last much longer in the fridge than salad that is already dressed.
If you do wish to dress the entire salad, you can use up all of the vinaigrette. This recipe is designed to make just the right amount for this particular salad.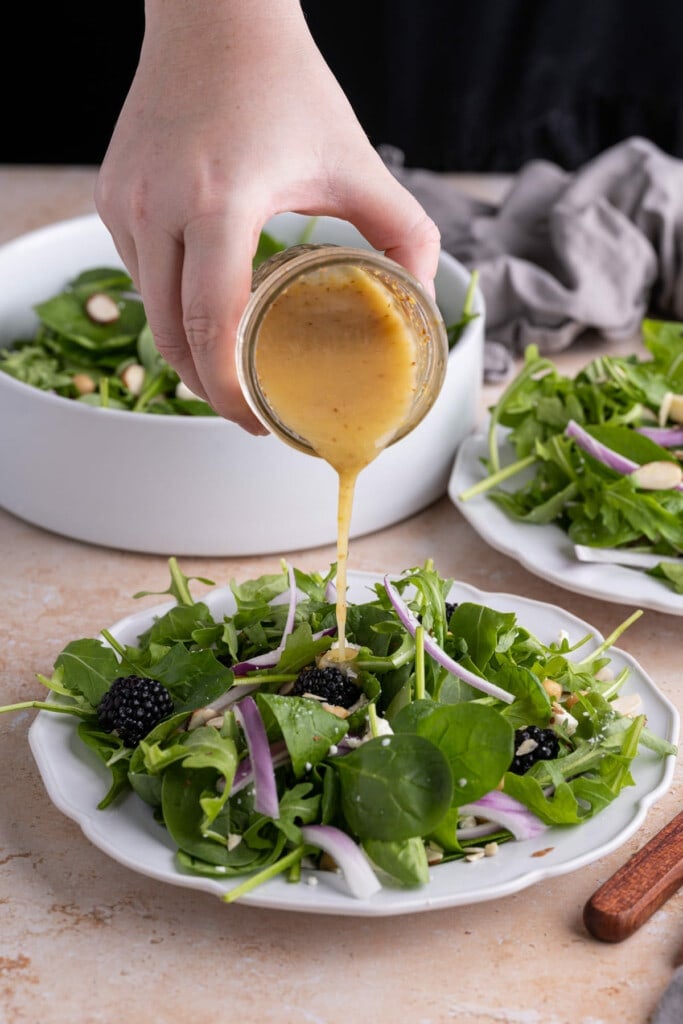 Storing Leftover Spinach Arugula Salad
Salad without any vinaigrette will last on the counter at room temperature for about four hours. In an airtight container, it will last up to three days in the refrigerator.
If you have leftover Honey Dijon Vinaigrette, it can last in a sealed airtight jar for up to 3 months.
If your salad has vinaigrette on it, it's best to enjoy it within a couple of hours before it gets too soggy.
Green tip: Did you know that of the billions of pounds of food wasted annually, it is estimated that 50% of it happens in our homes? Reduce your contribution to food waste by properly storing and enjoying your leftovers!
Additional Salad Serving Ideas
This salad is delicious enough as it is, but if you want to add some protein to elevate it to main dish status, consider adding roasted vegetables or fish!
My favorite fish and veggie recipes to add to this salad are: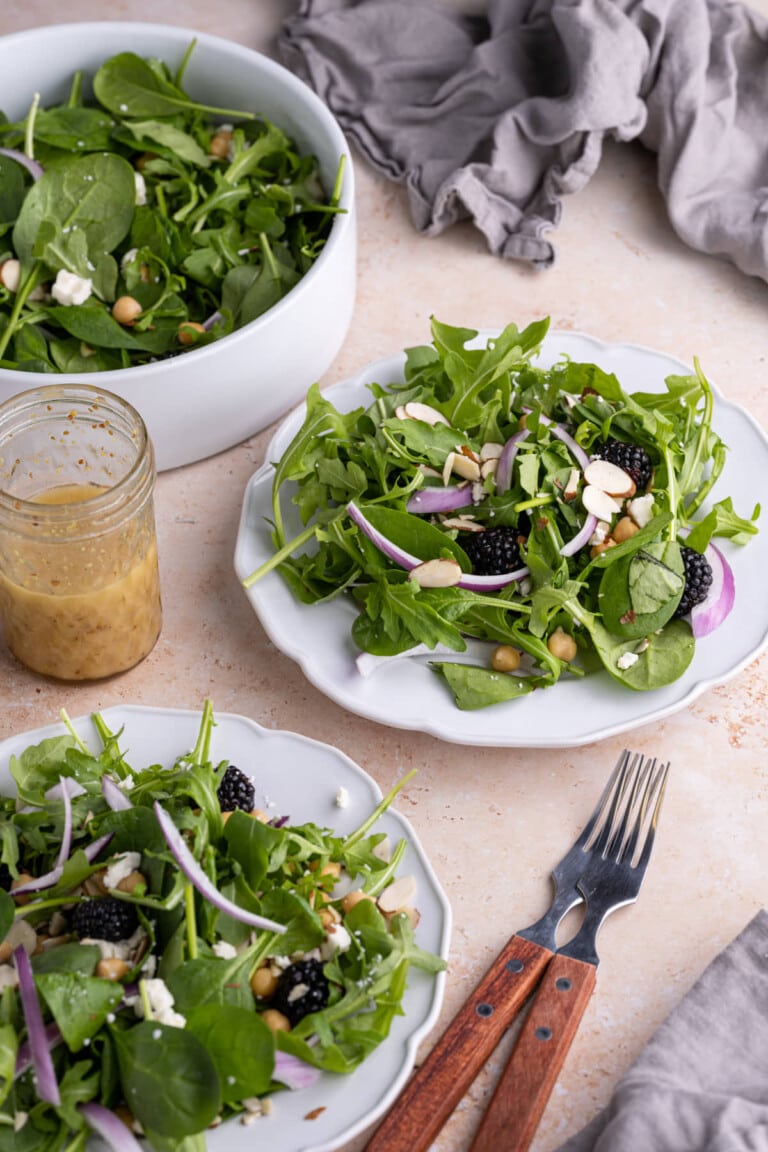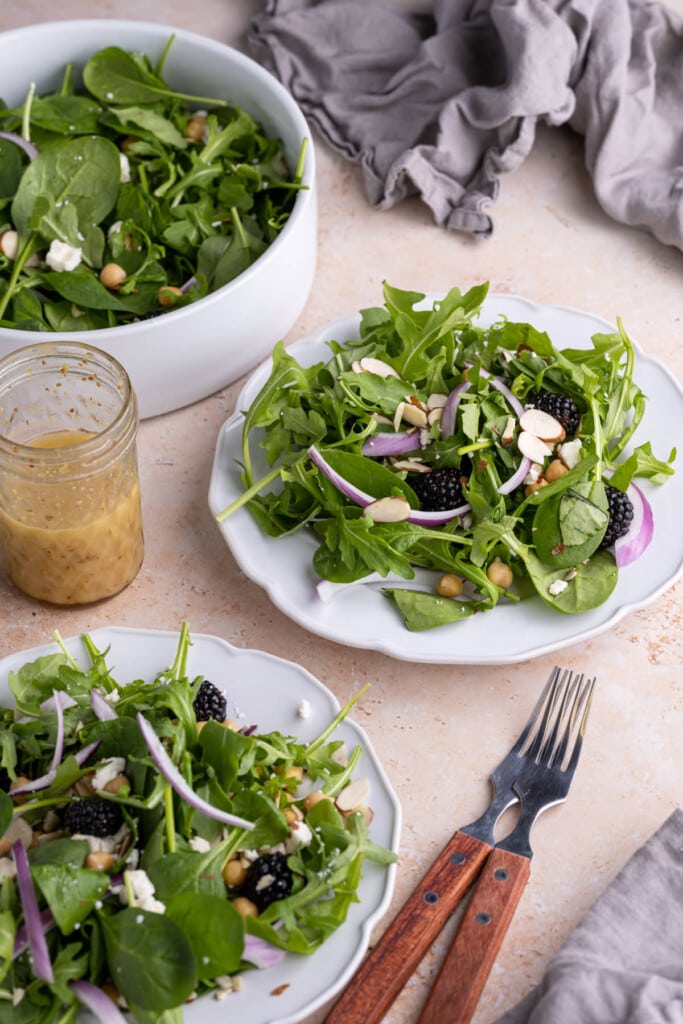 Spinach Arugula Salad Frequently Asked Questions
---
What does arugula go well with?
Arugula works well as the base of a fresh salad, and also pairs really well with pastas and other grains. I love it in this Quinoa Arugula Salad!
It's also great with rice, farro, and couscous, or as an addition to pasta, or even pizza like in this Naan Breakfast Pizza.
Is arugula better for you cooked or raw?
Arugula is delicious both raw and sauteed, but in order to maintain the integrity of all of its health benefits and distinct flavor, it's best to enjoy arugula raw.
Sign-up for the Meatless Monday Challenge
Get access to the 4-week-long Meatless Monday Challenge, with accompanying meal plans, grocery shopping lists, and more, sent right to your inbox!
Why You Should Make this Spinach Arugula Salad with Honey Dijon Vinaigrette
---
It's easy. Comes together in 10 minutes or less and no cooking required!
It's fresh. Loaded with fresh fruits, veggies, and leafy greens with a variety of flavors and textures for a delicious salad.
The flavors! Tang from the feta cheese, sweetness from the berries, acidity from the onions, all tied together with a balanced quick and easy vinaigrette.
If you're loving this Spinach Arugula Salad with Honey Dijon Vinaigrette and want more delicious salad recipes, check out this Crisp Strawberry Goat Cheese Salad and this Quinoa Arugula Salad.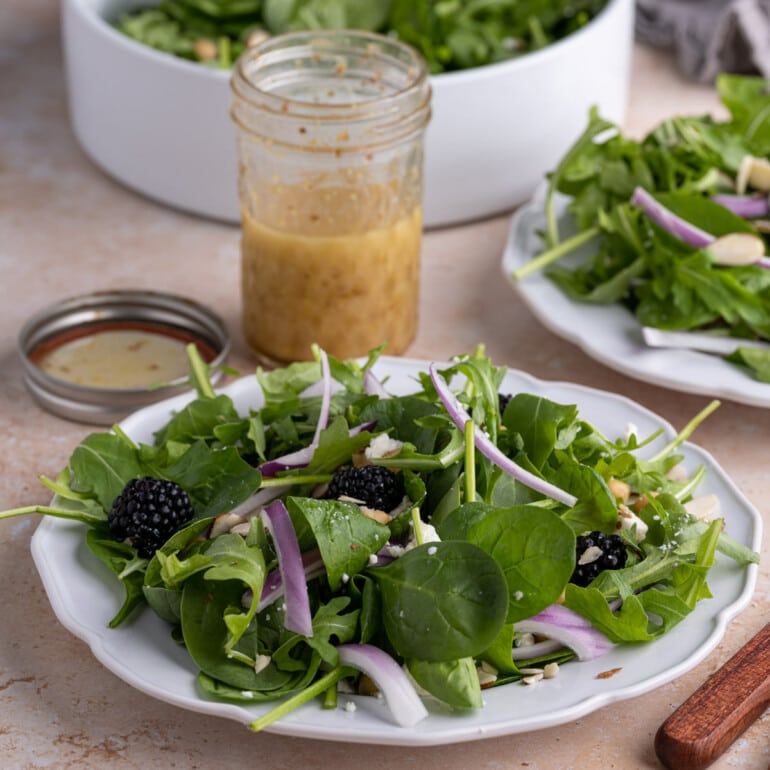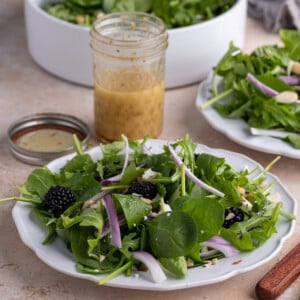 Spinach Arugula Salad with Honey Dijon Vinaigrette
PRINT
PIN
RATE
This Spinach Arugula Salad is crispy, refreshing, filling, and oh-so-easy to whip up, right down to the quick, 4-ingredient Honey Dijon Vinaigrette.
Ingredients
Quick and Simple Honey Dijon Vinaigrette
¼

cup

extra-virgin olive oil

2

tablespoons

apple cider vinegar

2

tablespoons

honey or agave nectar

1

tablespoon

Dijon mustard
Spinach Arugula Salad
5

ounces

spinach

5

ounces

arugula

6

ounces

berries of choice

15

ounces

chickpeas

(1 can = 15 ounces chickpeas)

½

large

red onion

¾

cup

nuts of choice

2

ounces

crumbled feta
Instructions
Honey Dijon Vinaigrette
Add the olive oil, apple cider vinegar, Dijon mustard, and honey (or agave nectar or maple syrup) to a jar fit with a lid. Close the lid tight and shake vigorously to emulsify.
Spinach Arugula Salad
Rinse and dry your leafy greens (if necessary) and berries. Slice your red onion and drain your chickpeas.

To a large mixing bowl, add the spinach and arugula and toss. Then, add the berries, onion, chickpeas, nuts, and feta and toss again.

Add the Honey Dijon Vinaigrette to the salad just before serving or serve the vinaigrette on the side. Enjoy!
Did you make this recipe?
Let me know by leaving a recipe rating below, or by tagging @marleysmenu on Instagram.