Looking for a refreshing way to cool down this summer? Whip up this Frozen Strawberry Daiquiri Mocktail with Ritual Rum Alternative.
It uses fresh fruit, sweet agave and non-alcoholic rum, to balance out the tart citrus. Complete with crushed ice for an extra cooling effect. This mocktail is sure to make you say "ahh" with every sip.
Strawberry Daiquiri Mocktail Tips and Tricks
---
So What Is Ritual Rum Alternative, Anyway?
Ritual Zero Proof is a beverage company that uses natural botanicals to create delicious tasting, non-alcoholic spirits to use in place of their alcoholic counterparts. It gives you the option to unwind with a refreshing drink, without the after-effects of drinking alcohol.
It's calorie-free, all-natural and downright delicious. The rum alternative uses warm vanilla, toasted spice, orange and toffee to capture the essence of dark rum.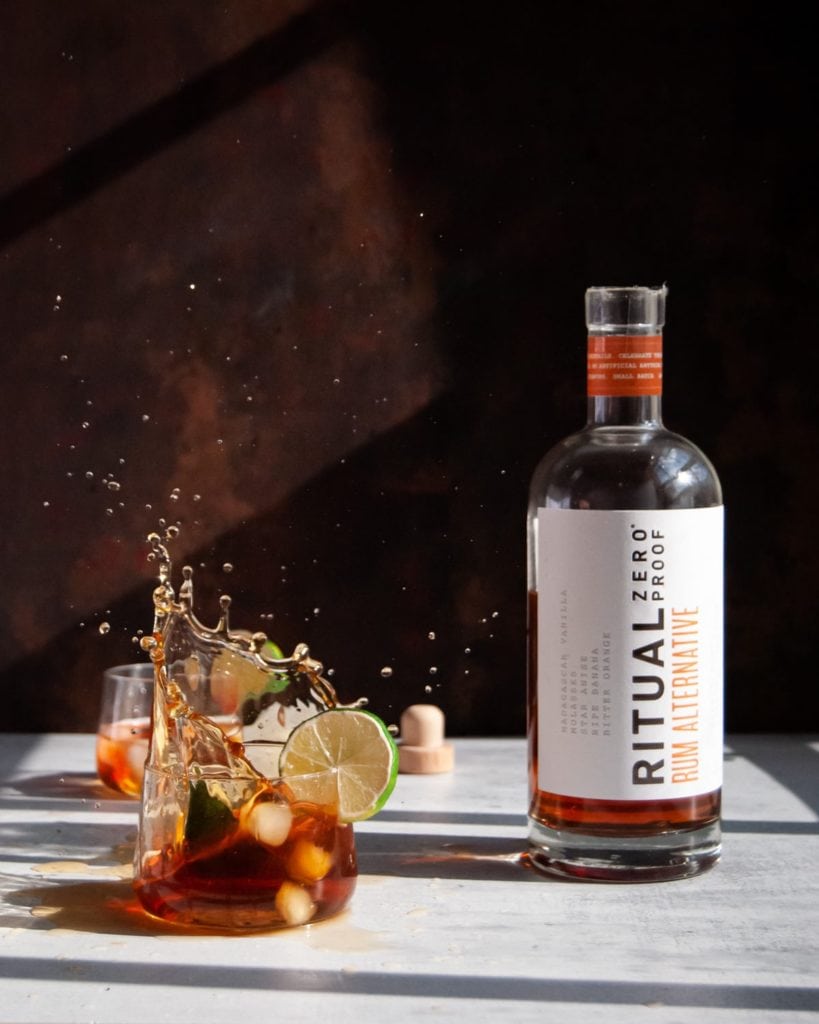 Fresh Vs Frozen
Strawberries are a warm-weather crop, thriving in the summer months. Buying produce locally and while it's in season is a great way to reduce your carbon footprint in terms of food miles.
An ingredient's food miles is the distance that particular ingredient has traveled to get to the produce aisle in your supermarket, into your cart, and then onto your plate.
If you are buying fresh strawberries in the winter in a colder climate, you can assume it's been imported—and quickly.
Frozen strawberries are harvested and frozen at their peak, and are generally transported in a more sustainable way since they stay frozen in transport (likely by ship instead of a plane—much less fuel!).
While the best practice is to buy locally and in-season, buying frozen fruit when it's out of season is second best. It generally means less pesticide residue, likely fewer associated transportation emissions, and less food waste. And for this recipe, in particular, they work perfectly!
Here's everything you'll need:
You'll Need A Blender or Food Processor
In addition to your delicious ingredients, you'll also need either a blender or a food processor, preferably a blender! I use this Ninja Blender for this frozen mocktail and a lot of my sauces and vinaigrettes. It works like a charm!
Add The Ice First
It's best to add the ice to the blender first to ensure it has the best access to the blades and crushes easily. It should break down into tiny, refreshing ice chips, resulting in an overall smooth consistency. The perfect way to cool down!
Once your ice is in, you can throw your other ingredients in, too!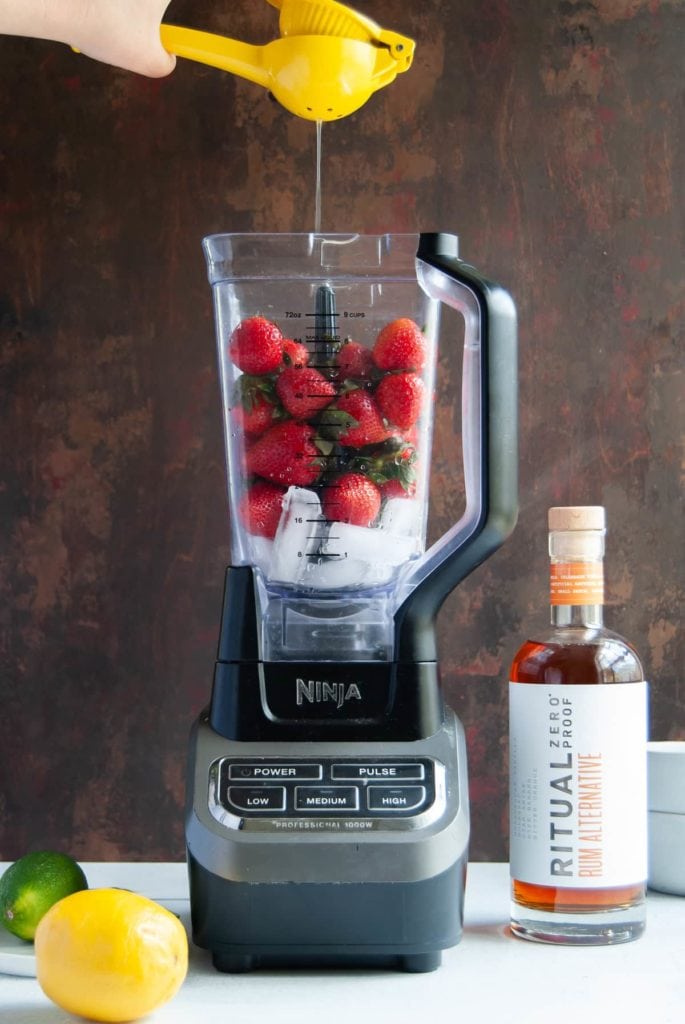 You Can Leave Your Strawberries Whole
You'll be using a whole 16 ounces (about 3 & 3/4 cups) of fresh or frozen strawberries to get that flavor to come through. We're accustomed to chopping the greens off of the strawberries, but they're actually perfectly edible.
To avoid food waste, keep the leaves on! They break down nicely in the blender and have a very mild flavor.
Green tip: Consider buying organic strawberries for this recipe! Organic farms rely on biodiversity to generate rich soil, avoiding the use of pesticides and fertilizers, which means no toxic runoff.
Should You Have Leftovers
This recipe makes about 2 large frozen daiquiri mocktails. If you have leftovers, don't chuck them out! Seal them in a container and store it in the freezer, sticking it back in the blender or allowing it to thaw before enjoying again.
Leftovers will last up to 5 days in the freezer. That said, these mocktails are best made fresh, so I wouldn't recommend making these ahead of time if you can avoid it.
If you're looking for other ways to use Ritual Rum Alternative, check out this Blueberry Mojito Mocktail.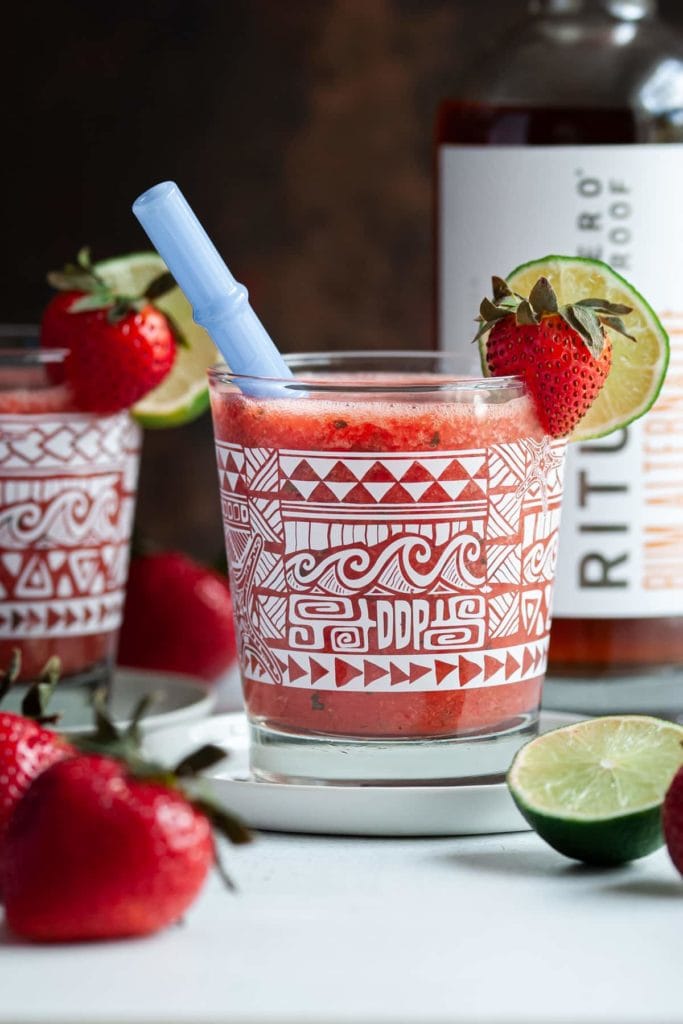 Why You Should Make This Strawberry Daiquiri Mocktail
---
It's refreshing! The ice and fresh fruit makes this mocktail taste like summer in a glass.
It's fun! All the benefits of your cocktail ritual without the lousy after-effects.
It's the perfect amount of sweet. The subtly sweet strawberries and agave is balanced out by the citrus juice and rum alternative.
If you're loving this Strawberry Daiquiri Mocktail and looking for other fun ways to sip on strawberries, check out this Banana Strawberry Milkshake!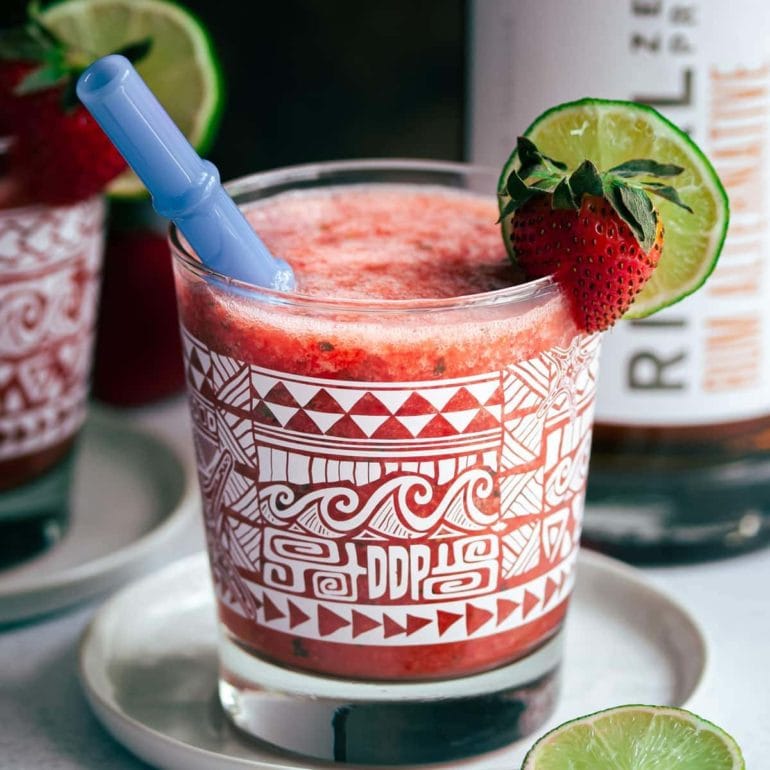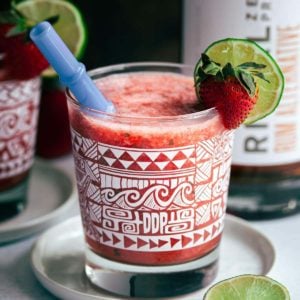 Strawberry Daiquiri Mocktail with Rum Alternative
PRINT
PIN
RATE
This easy Strawberry Daiquiri Mocktail with Rum Alternative is the most refreshing way to kick back and relax. Subtly sweet and super fresh, it's my go-to frozen mocktail!
Ingredients
2

cups

ice

16

ounces

fresh or frozen strawberries*

(16 oz = 3 ¾ cups)

1

ounce

lime juice

(1 oz usually = juice from 2 limes)

1

ounce

lemon juice

(1 oz usually = juice from 1 limes)

2

ounces

agave or simple syrup

(2 oz = 4 tbsp)

4

ounces

Ritual Zero Proof Rum Alternative

(4 oz = ½ cup)
Instructions
Add all your ingredients to the blender—ice first.

Blend on high until smooth—about 30 seconds to 1 minute.

Garnish with strawberry and lime wedge (optional) and enjoy!
Pro Tips
* You can use fresh or frozen strawberries. If strawberries are in season (during the summer months), buy fresh! Otherwise, it's best to buy frozen.
You can avoid waste by keeping the stems on your strawberries—they're completely edible.
Add the ice to the blender first, just to ensure that it breaks down completely.
Did you make this recipe?
Let me know by leaving a recipe rating below, or by tagging @marleysmenu on Instagram.
This is a sponsored post by Ritual Zero Proof. Other recipes using their Rum Alternative can be found here.