Looking for the perfect side dish? These Sweet and Salty Brussels Sprouts are crispy, saucy, flavorful, and easy to whip up, making them the best sidekick to any main dish!
This lick-your-fingers-worthy vegetable recipe will turn even the pickiest of eaters into Brussels sprouts lovers. How do I know? You're lookin' at an ex-green-veggie hater here and I can confirm I now crave these often!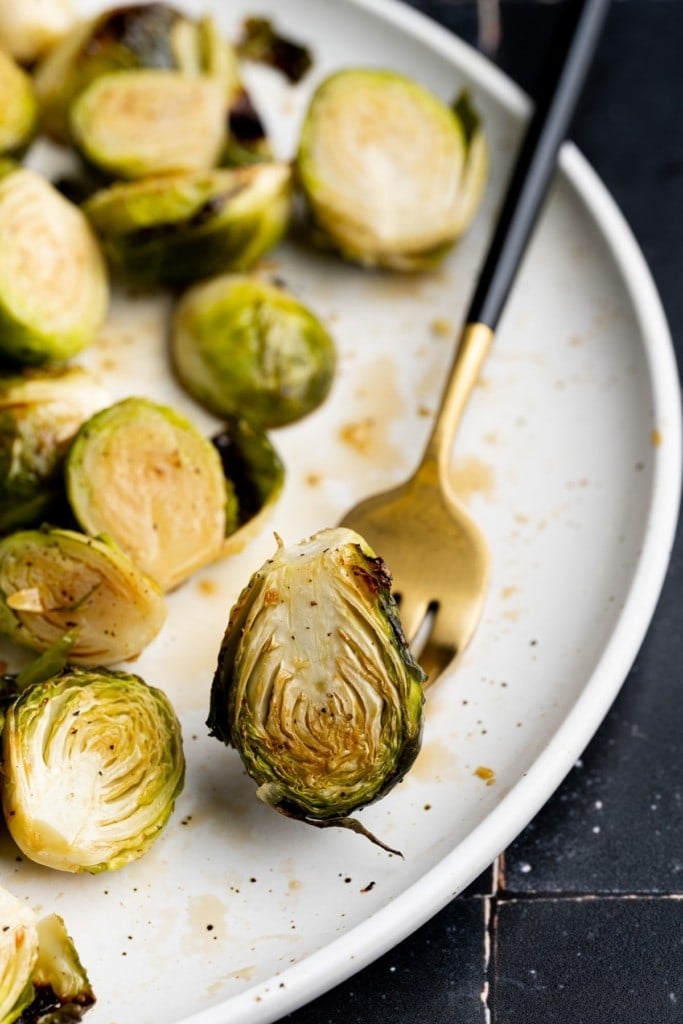 When I was a kid, I was the PICKIEST eater. I mean THE pickiest. I ate cereal, hot dogs, and mac-n-cheese exclusively, and I literally had a phobia of eating anything green.
So, to think that I would one day not only eat but LOVE to eat Brussels sprouts is still a crazy thought. But, I'm telling you, when vegetables are done right, it makes ALL the difference in the world!
These Sweet and Salty Brussels Sprouts were one of those game-changers for me! I now get excited for Brussels Sprouts season. Who woulda thunk?
Green tip: Eating seasonally is one of the best ways to live more sustainably, Local foods have less associated transportation costs and fuel emissions. Check when peaches and mangoes are in season in your area with this Seasonal Food Guide.
As an environmental scientist, eating seasonally is something I try hard to practice.
Sweet and Salty Brussels Sprouts Ingredients
---
Here's everything you need:
Brussels sprouts. You can buy them on or off the stalk. Check here for tips if you are removing Brussels sprouts from the stalk.
Olive oil. To coat your sprouts to get them nice and crispy when you roast them.
Salt & pepper. To season your sprouts.
Garlic. To roast with the Brussels sprouts for extra flavor.
Soy sauce. The base of your sweet and salty sauce.
Honey. To add sweetness. You can also substitute agave or even brown sugar.
Lemon juice. For acidity and freshness.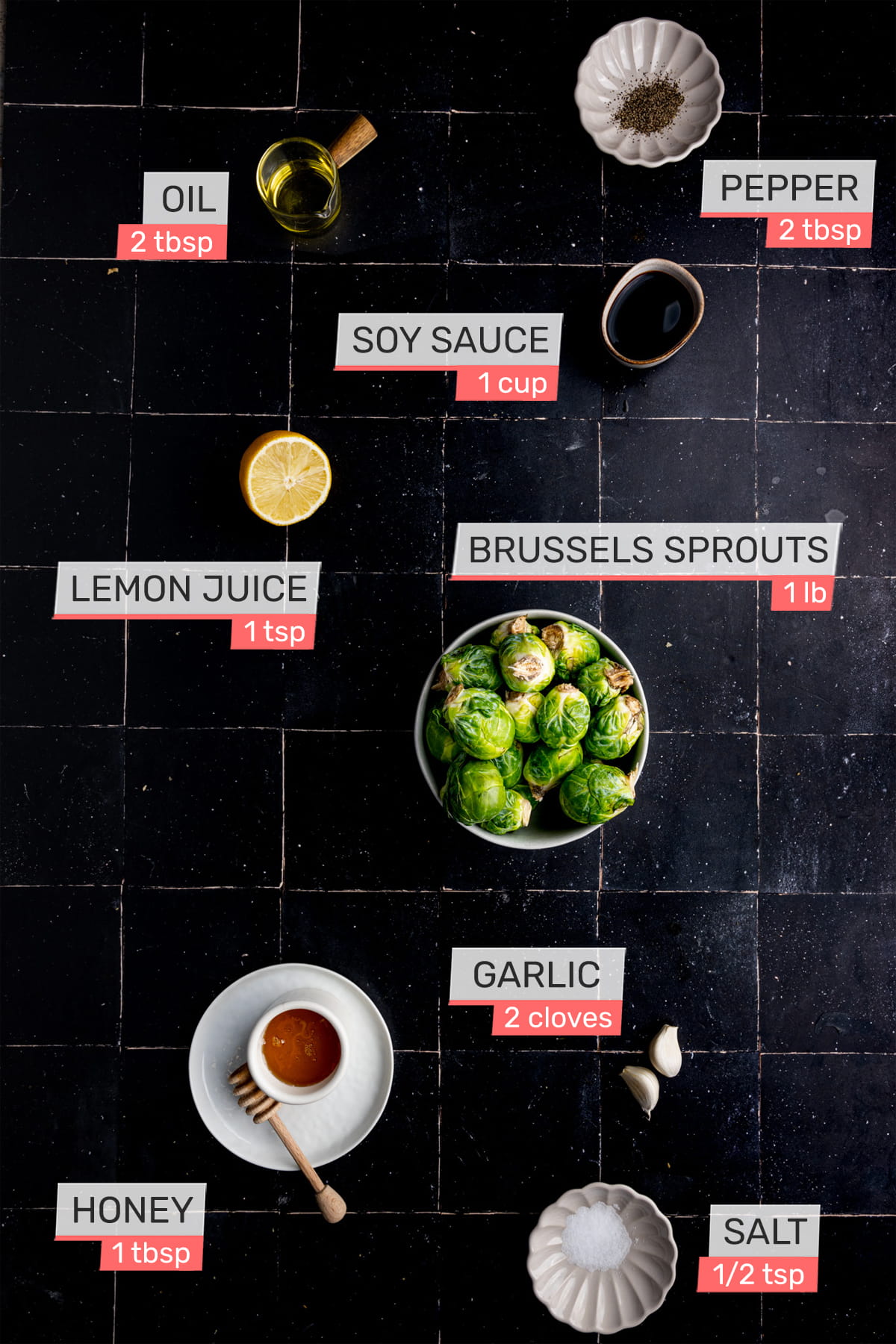 Sweet and Salty Brussels Sprouts Tips and Tricks
---
Prep Your Brussels Sprouts
Start by rinsing your Brussels sprouts and trimming the stems. Then, cut your Brussels sprouts in half longways to make bite-sized pieces.
While you are slicing your Brussels sprouts, the outermost layer may fall off. Make sure to transfer these onto your baking sheet. They get extra crunchy and really add to the overall texture of your dish.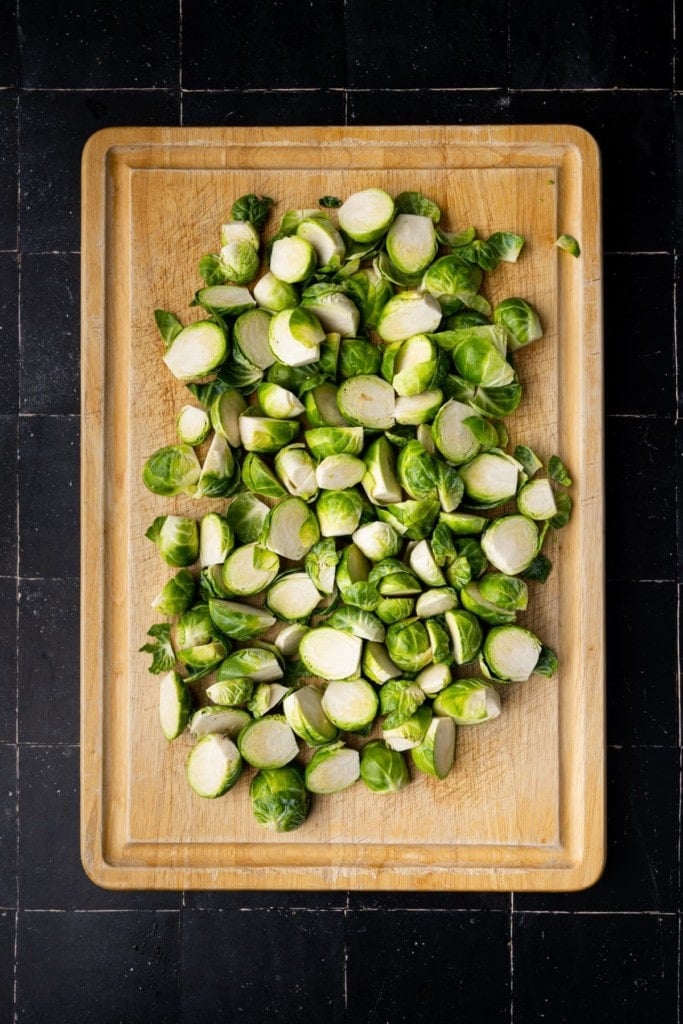 Coat Your Brussels Sprouts
Once you've prepped your Brussels sprouts, add them to a baking sheet. Option to line your baking sheet with aluminum foil to make clean up quicker and easier.
Spread them out in a single layer so they are not overlapping one another, allowing them to cook more evenly.
Then, pour the olive oil over top of the prepped Brussels sprouts. Then, sprinkle them with salt, pepper, and minced garlic.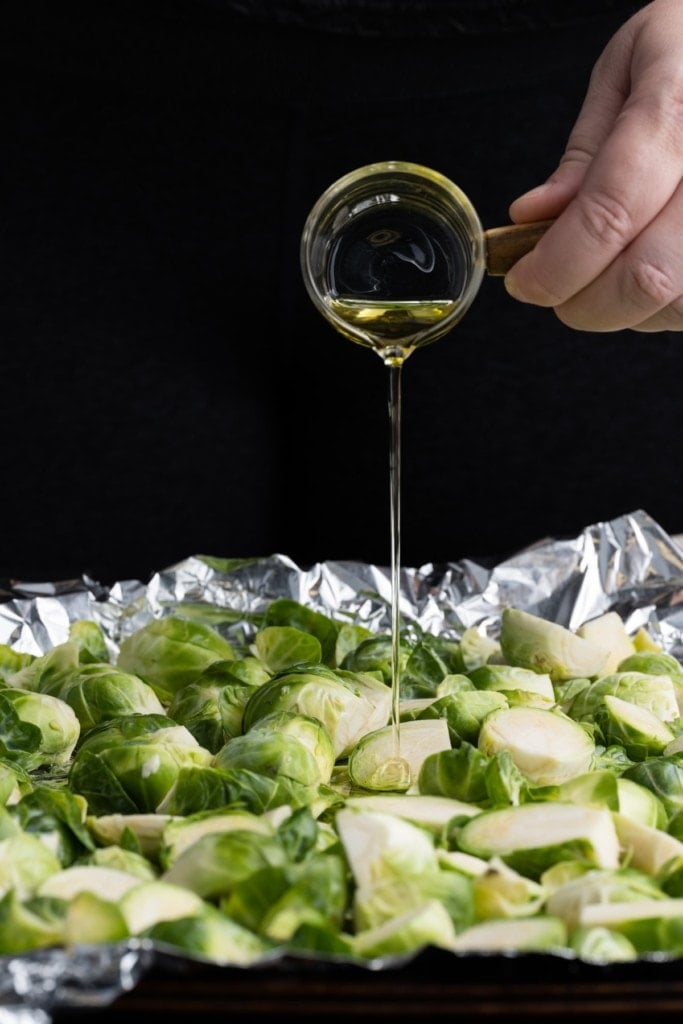 Toss and Roast 'Em
Use a large spoon or clean hands to toss the Brussels sprouts to ensure that the salt, pepper, and garlic is distributed evenly, and the sprouts are completely coated with olive oil.
Once you've tossed them, they're ready for the oven!
After cooking them for 20 minutes, set your oven to broil and watch closely for them to brown. It usually takes about two minutes. This will crisp the outside layer of your Brussels sprouts.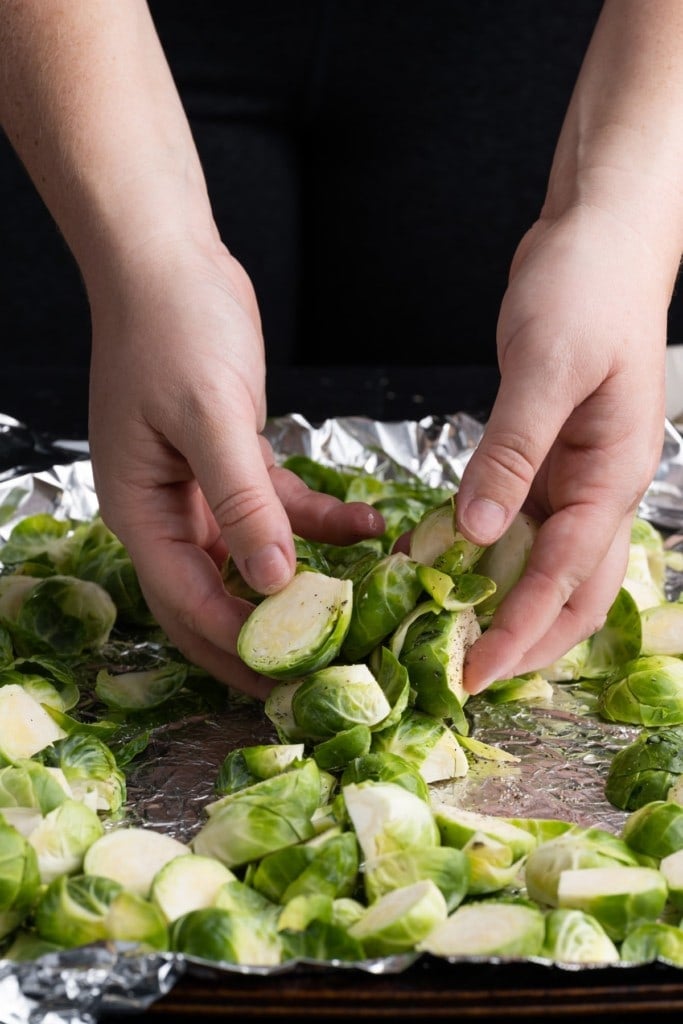 Make Your Sauce
While your Brussels sprouts are in the oven, prepare your sweet and salty sauce. It's made up of a very simple mixture of lemon juice, soy sauce, and honey.
Green tip: try buying raw, locally sourced honey. Generally, smaller-scale honeybee operations harvest honey in the fall, when the bees produce it in excess.
Since the simple sauce is only 3 ingredients, fresh lemon goes a long way in this recipe! I like to squeeze my lemon juice first before adding my soy sauce and honey, to allow for a chance to extract any lemon seeds that may fall out of the lemon.
Once you add the soy sauce and honey, use a fork or whisk to stir well, making sure the thicker honey combines with the more liquid soy sauce and lemon juice.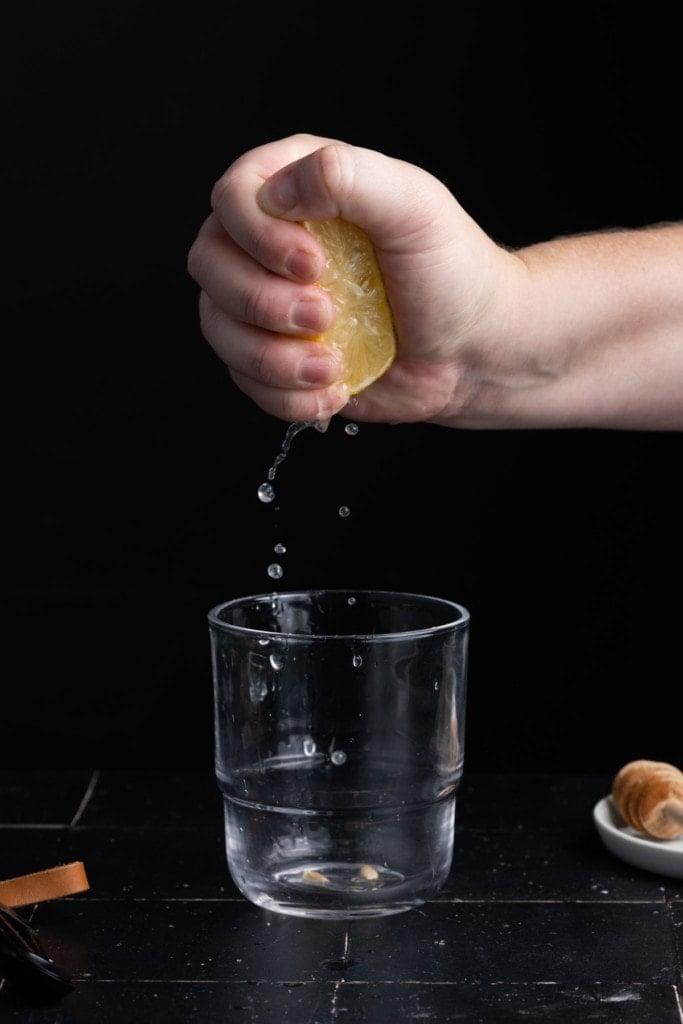 Pour The Sauce on Just Before Serving
The longer your Brussels sprouts sit in the sauce, the more they will absorb, which can sometimes cause them to get a little soggy. This simple 3-ingredient sweet and salty sauce is meant to be a finishing sauce.
That just means you should pour the sauce over the Brussels sprouts just before serving them.
You can even serve the sauce on the side to add on top of your personal serving so the Brussels stay crispy.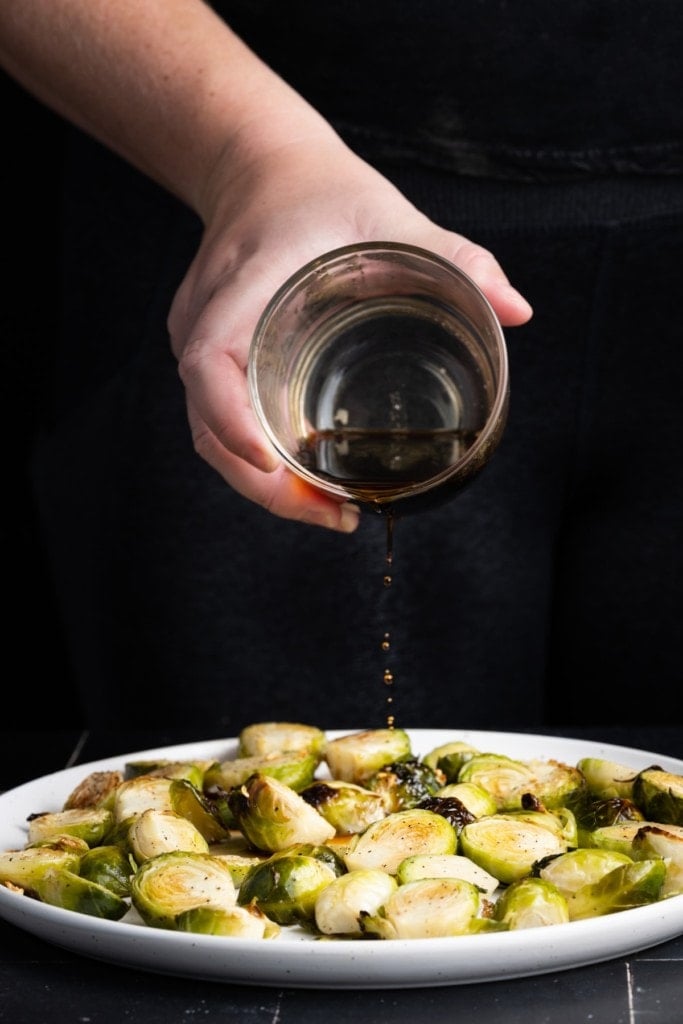 Should You Have Leftovers
In an airtight container, the cooked Brussels sprouts will last up to 4 days in the refrigerator. You can also opt to freeze leftovers for up to a year!
If you have leftover sauce, it will last for about 1 week in the refrigerator or up to 3 months frozen.
To reheat, roast the Brussels sprouts for 5-8 minutes at 350°F until heated through. Frozen Brussels sprouts should be thawed out in the refrigerator overnight before being reheated.
Green tip: Did you know that of the billions of pounds of food wasted annually, it is estimated that 50% of it happens in our homes? It's always best to avoid food waste as much as you can!
Serving Your Sweet and Salty Brussels Sprouts
These Sweet and Salty Brussels Sprouts are so versatile! They are so delicious on their own and often add a nice crispy or slightly sweet element to any main dish.
These have long been a part of our annual traditional Thanksgiving meal, along with some other Exciting Thanksgiving recipes!
I love serving these with Almond Crusted Salmon or Baked Cod with Panko and Boursin Mashed Potatoes.
They are also extremely delicious with Blackened Mahi-Mahi and Coconut Rice.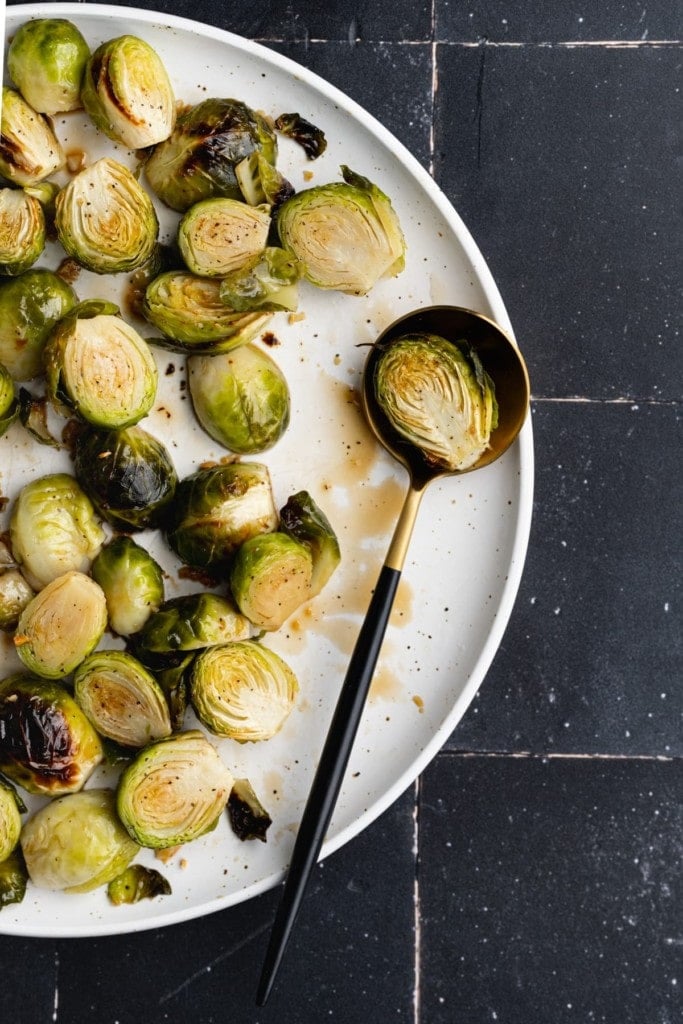 Sweet and Salty Brussels Sprouts Frequently Asked Questions
---
Are Brussels sprouts supposed to taste sweet?
Roasting Brussels sprouts brings out all of their natural flavors including subtle sweetness and nuttiness. Adding a sweet and salty sauce on top will amplify that natural sweetness.
How can I improve the taste of Brussels sprouts?
In order to get delicious Brussels sprouts, I recommend roasting them in olive oil and salt and pepper to get them crispy and to bring out their naturally delicious flavors. Other cooking methods such as boiling them can make them mushy, and bland with one-dimensional flavor.
Additionally, you can add flavor enhancers like mustard, wine, vinegar, or even a sauce like the sweet and salty 3 ingredient sauce used in this recipe. It is made up of lemon juice, honey, and soy sauce.
Why You Should Make These Sweet and Salty Brussels Sprouts
---
They're crispy. That outer crunch from the roasting lends to the perfect consistency.
They're flavorful. The combination of sweet and salty can't be beaten.
They're healthful. Brussels sprouts are full of fiber, nutrients, and antioxidants.
They're crowd-pleasers. They'll satisfy even those self-proclaimed veggie haters!
If you're looking for other veggie side recipes, check out this Easy Sheet Pan Caprese Asparagus and 4-Ingredient Roasted Potatoes!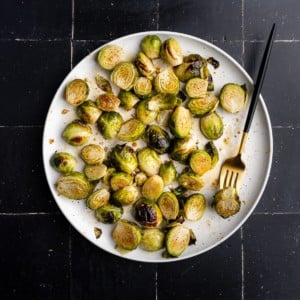 Sweet and Salty Brussels Sprouts
PRINT
PIN
RATE
These Sweet and Salty Brussels Sprouts will turn even the pickiest of eaters into brussels-obsessed veggie lovers with this lick-your-fingers worthy recipe.
Ingredients
1

pound

Brussels sprouts

2

tablespoons

olive oil

½

teaspoon

salt

½

teaspoon

black pepper

2

cloves

garlic

1

teaspoon

lemon juice

(1 lemon = approx. 4 tablespoons lemon juice)

1

tablespoon

honey

(or agave nectar)

2

tablespoons

soy sauce

(regular or reduced sodium)
Instructions
Prepare the Brussels sprouts by rinsing, removing them from the stalk if necessary, cutting off the stems, and cutting them in half longways. Spread them out in a single layer on a large baking sheet, ensuring they are not overlapping one another.

Pour the olive oil, salt, pepper, and minced garlic over the brussels spouts and use clean hands or a large spoon to toss, ensuring they are evenly coated.

Roast the Brussels sprouts for 20 minutes, then turn the oven up to 500°F and broil for an additional 2 minutes.

Meanwhile, in a separate glass or small bowl, whisk together lemon juice, honey, and soy sauce until smooth.

Remove the Brussels from the oven and transfer them to a large plate. Pour the sauce over just before serving.
Pro Tips
Sometimes when you cut the Brussels sprouts, some of the outer layers will shed off. Keep them! They get nice and crunchy in the oven and add texture.
The longer the Brussels sprouts sit in the sauce, the more you risk them losing their crunch. Pour the sauce over the sprouts immediately before serving.
Did you make this recipe?
Let me know by leaving a recipe rating below, or by tagging @marleysmenu on Instagram.