Looking for a fresh starter or add-on to your meal? This Fresh Pineapple Pico de Gallo is the perfect balance of sweet and spicy, bringing tons of vibrant flavor and color to any dish.
Plus, it comes together so quickly and easily, and uses simple yet impactful ingredients that make this Tex-Mex inspired dip a go-to in my house!
In this post, you will learn how to cut a pineapple into a serving bowl, plus how to dice it for this Pico, as well as how to dice tomatoes and red onion.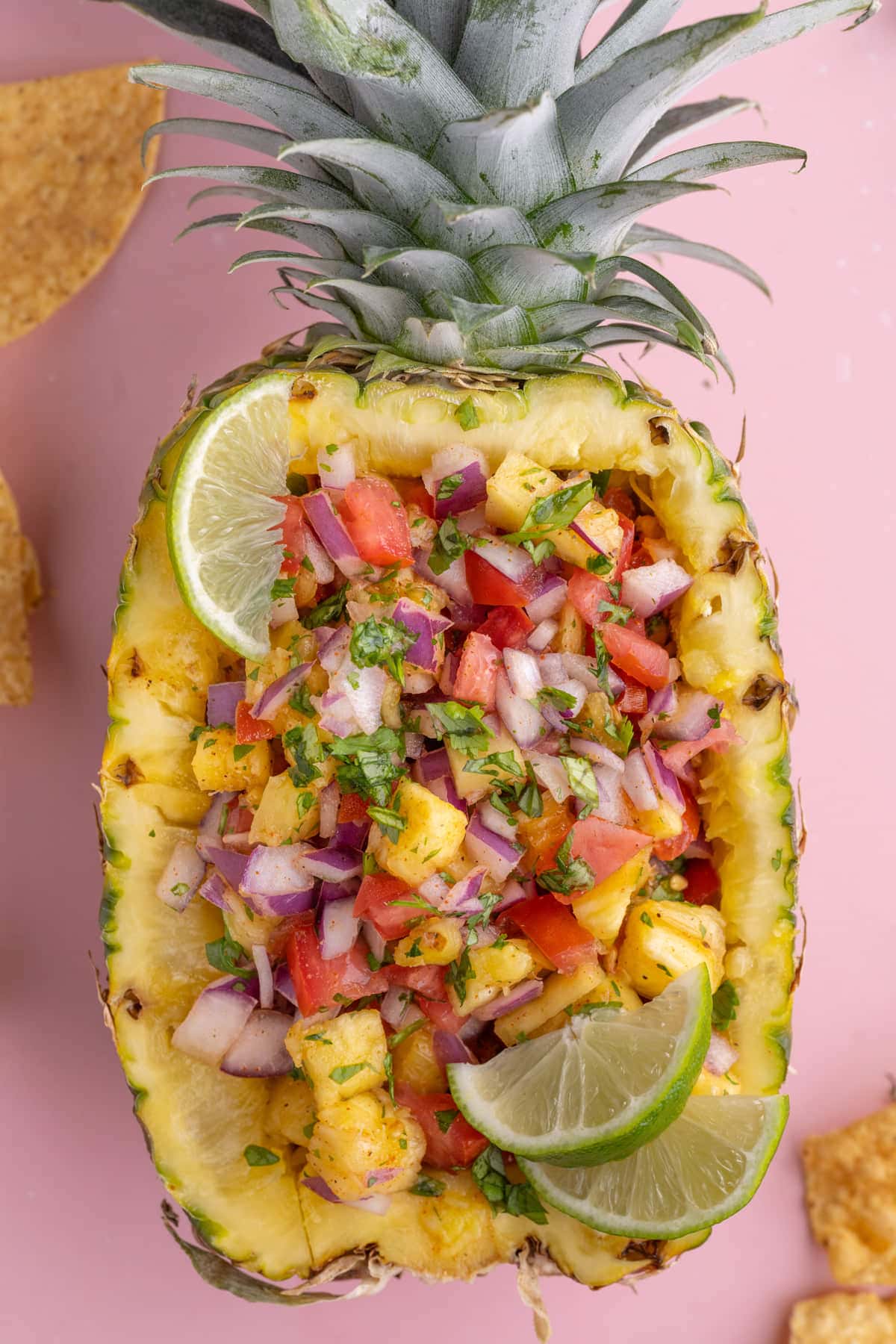 As an environmental scientist, I always try to stick to seasonal eating! It's one of the easiest (and most delicious!) ways to improve your carbon footprint.
Green tip: Seasonal and local foods have less associated transportation costs and fuel emissions. Check when pineapple is in season with this Seasonal Food Guide.
Pineapple Pico de Gallo Ingredients
---
Here's everything you need:
Pineapple. The star of this dish! This recipe calls for 1 cup of diced pineapple which you will get from about 1/3 of a fresh pineapple. You can buy a whole pineapple and slice it yourself, or you can buy the pineapple already cored or even already diced.
Tomato. You will need 1 cup of tomato which you can get from one beefsteak or slicing tomato.
Red onion. Again, you need 1 cup, and 1/2 of a red onion will be more than enough.
Lime juice. This recipe calls for 2 tablespoons which you can usually get from just one large, juicy lime.
Cumin and cayenne pepper. For flavor and spice. 1/4 teaspoon of cayenne pepper makes this Pico de Gallo moderately spicy, so adjust to your taste accordingly.
Cilantro (optional). Optional for extra herbaceous and peppery taste.
Pineapple Pico de Gallo Tips and Tricks
---
How to Cut a Pineapple into a Serving Bowl
Here's a fun party trick! Serve your Pineapple Pico de Gallo in a pineapple. It's super simple. Slice the pineapple in half lengthwise right next to the leaves.
Keep the half with the leaves still attached to work with to carve out your bowl and set the other half aside. Use a sharp knife to slice a rectangular shape in the pineapple, leaving about an inch of space on each side.
This rectangle will act as a guideline for coring out the flesh to create your serving bowl. Use a spoon to scoop out the flesh and core, so you are left with a hollow pineapple half.
You can then cut the tough core out and slice the flesh into chunks and save for later.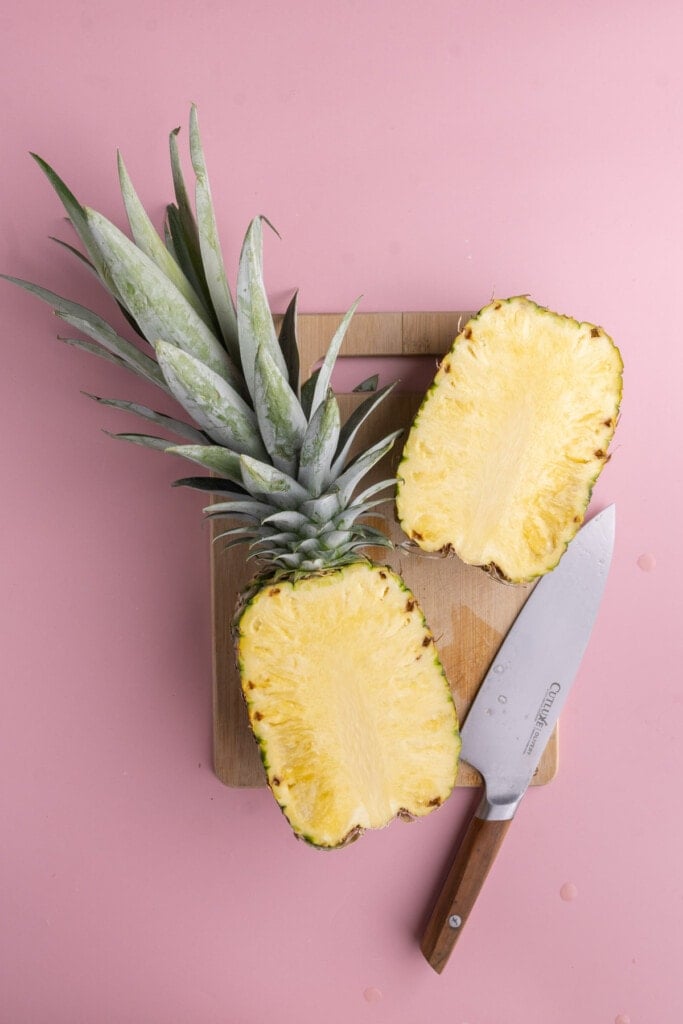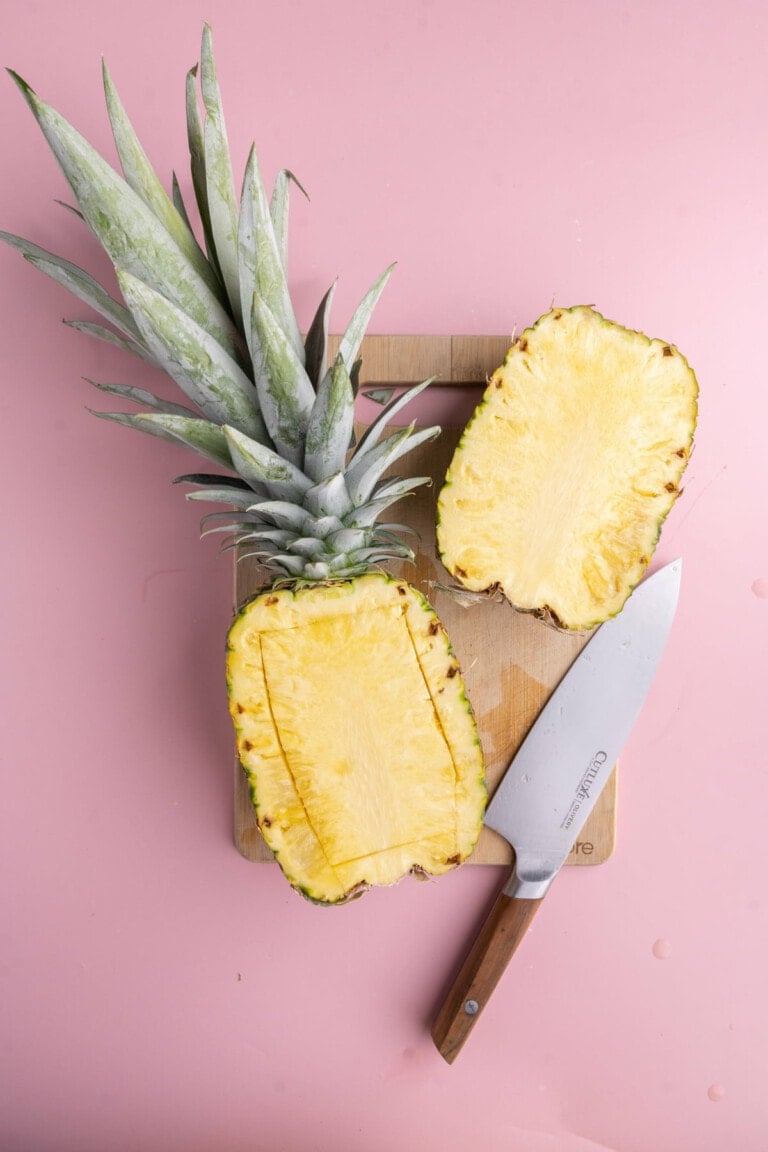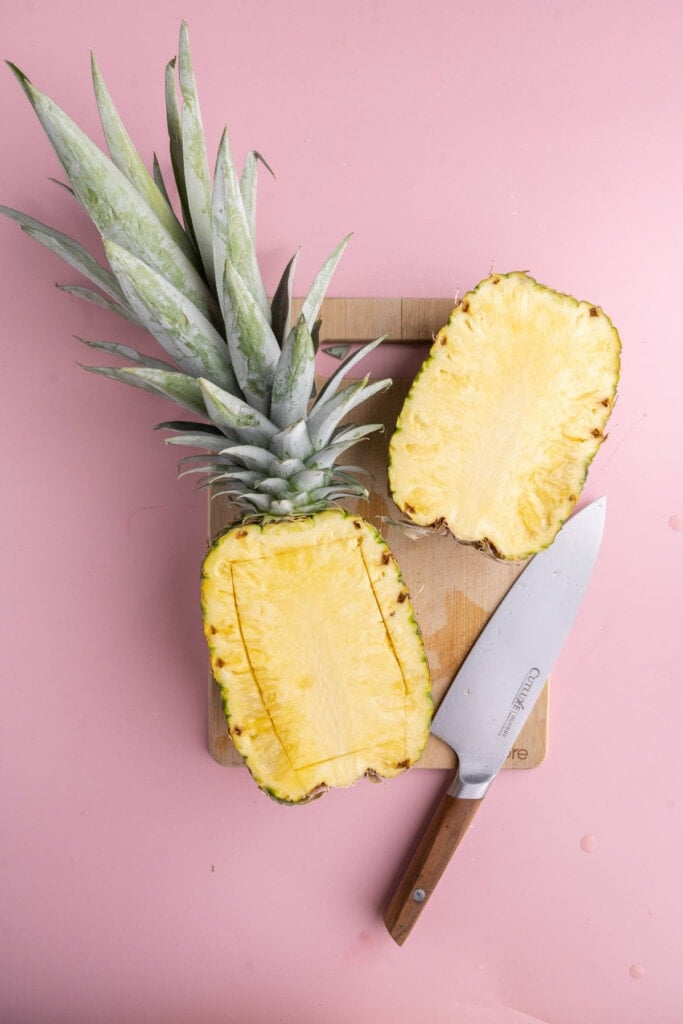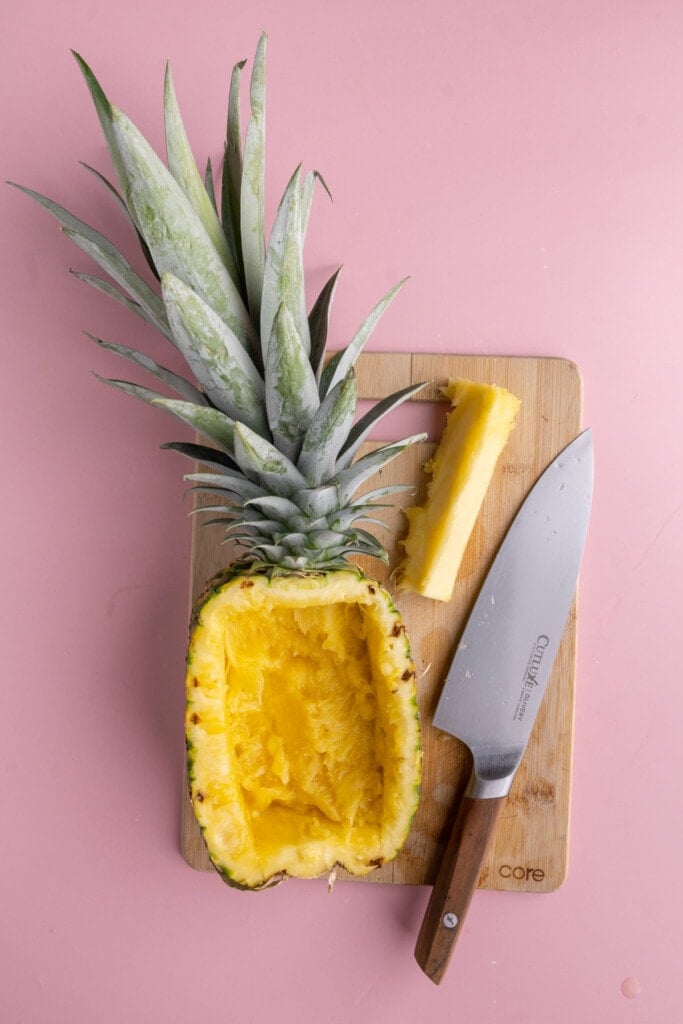 How to Dice Pineapple for Pico de Gallo
As for the other half of the pineapple, slice the rind off until you are left with a smooth surface. This will then allow you to easily dice the pineapple.
Lay it flat and cut into thin slices before rotating to dice into small cubes. It's easier to use this half without the leaves for dicing for the Pico de Gallo because you won't have to worry about cutting around the core.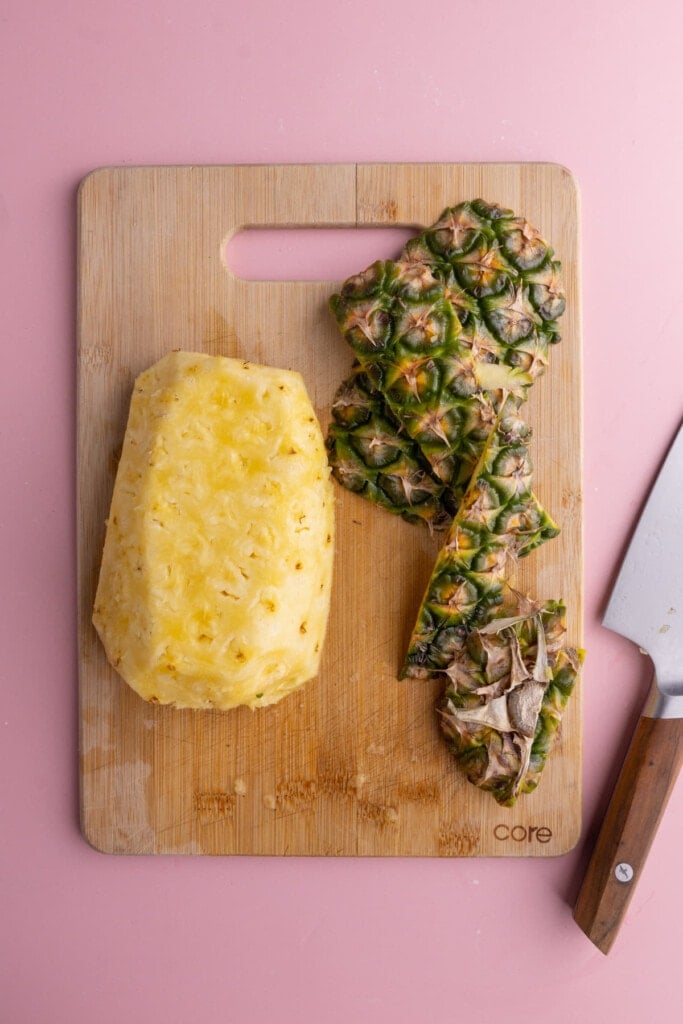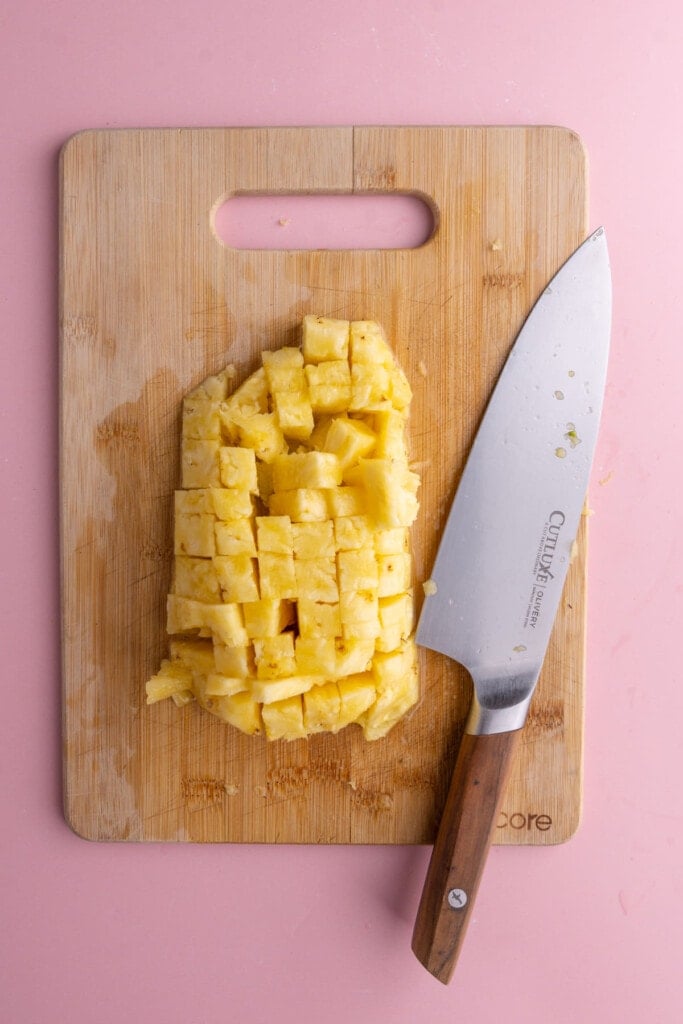 How to Dice Fresh Tomato
When it comes to slicing tomato, you will need a super-sharp knife or a serrated knife to pierce the skin.
Cut the tomato in three or four pieces around the core and discard the core. This makes it easy to lay the pieces of tomato flat and slice into it.
Then, dice in the opposite direction so you're left with small cubes.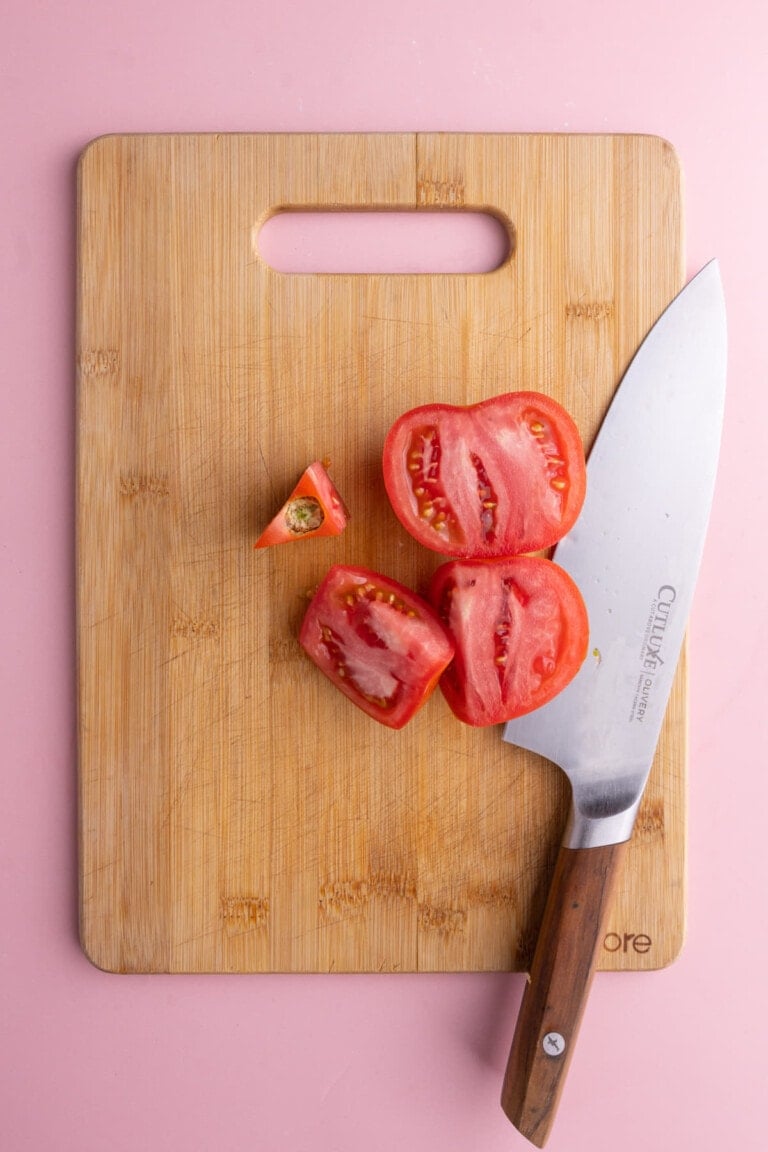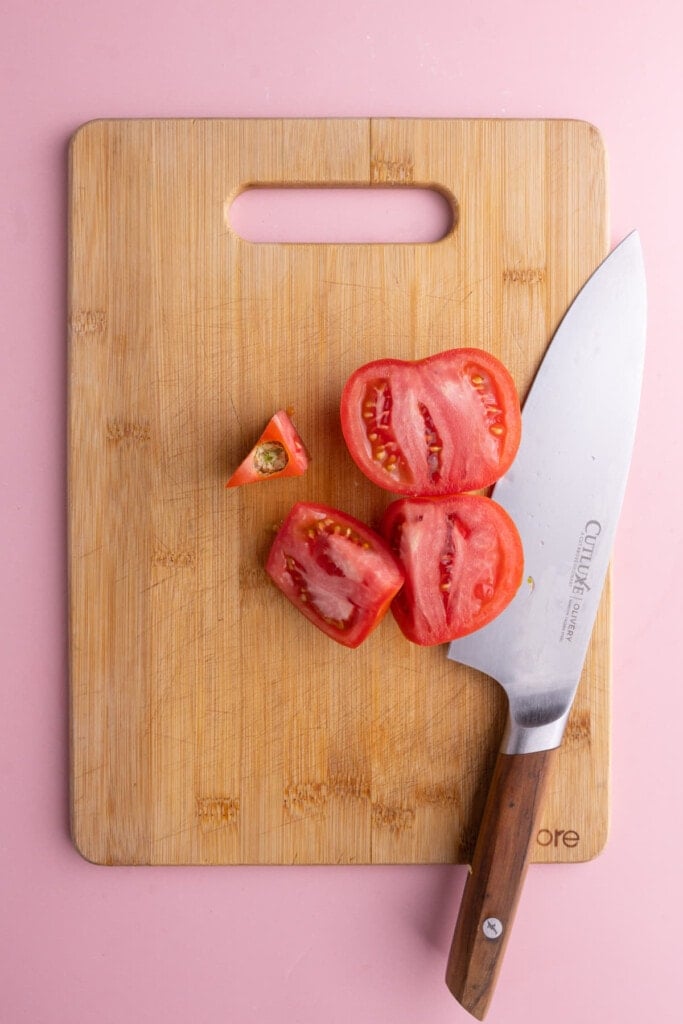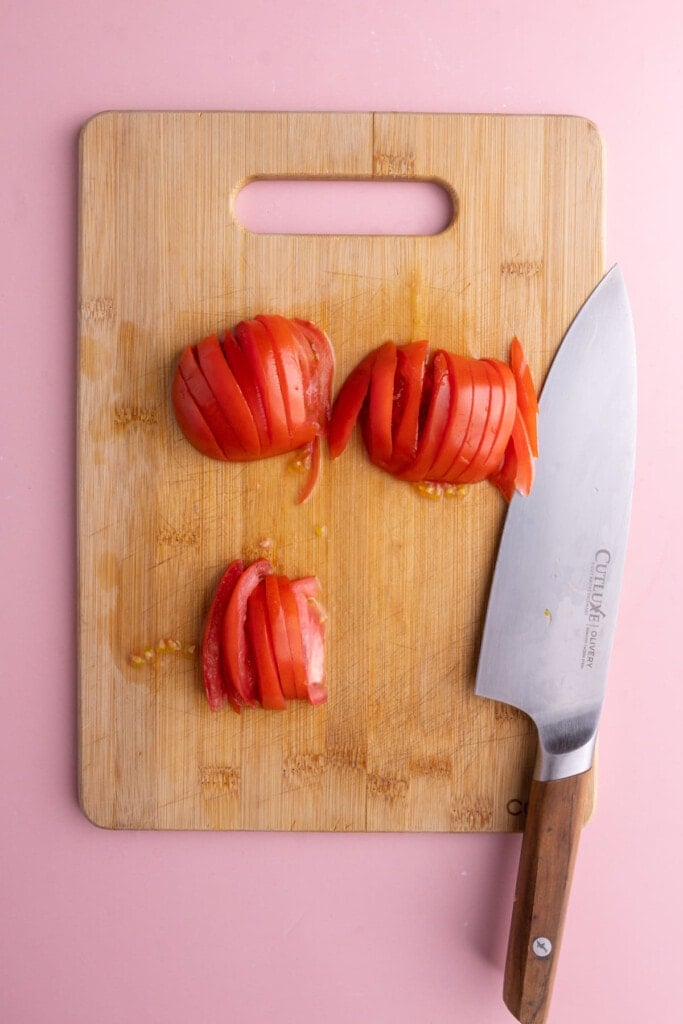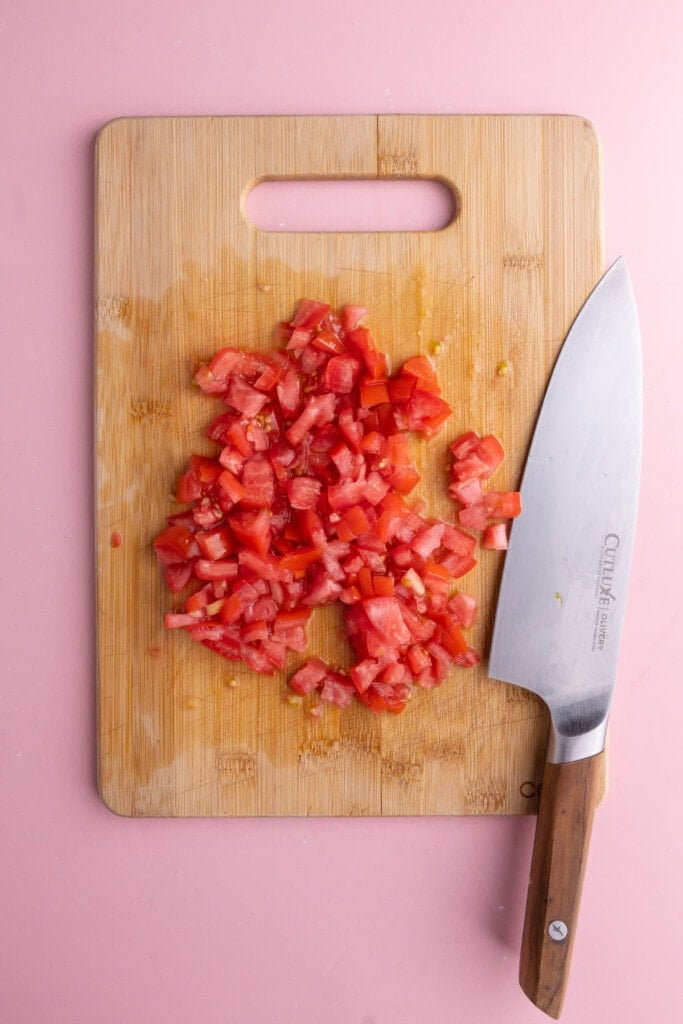 How to Dice Red Onion
To dice the red onion, you first have to peel it. To easily peel it, place your onion on your cutting board with the root down, stem pointing up and slice it in half right at the stem.
Save one half for later, as you will only need half of a red onion for this recipe. Chop both ends off and remove the core from the half you are using. This will make it easy for you to peel it.
Green tip: The onion peels and tomato cores can be saved to make your own veggie broth or can easily be composted!
Then, lay the half of red onion flat and slice it. Next, rotate the sliced onion so you can slice again in the other direction.
At this point, all that's left to do is separate the layers so you are left with little diced pieces to add to your Pico de Gallo.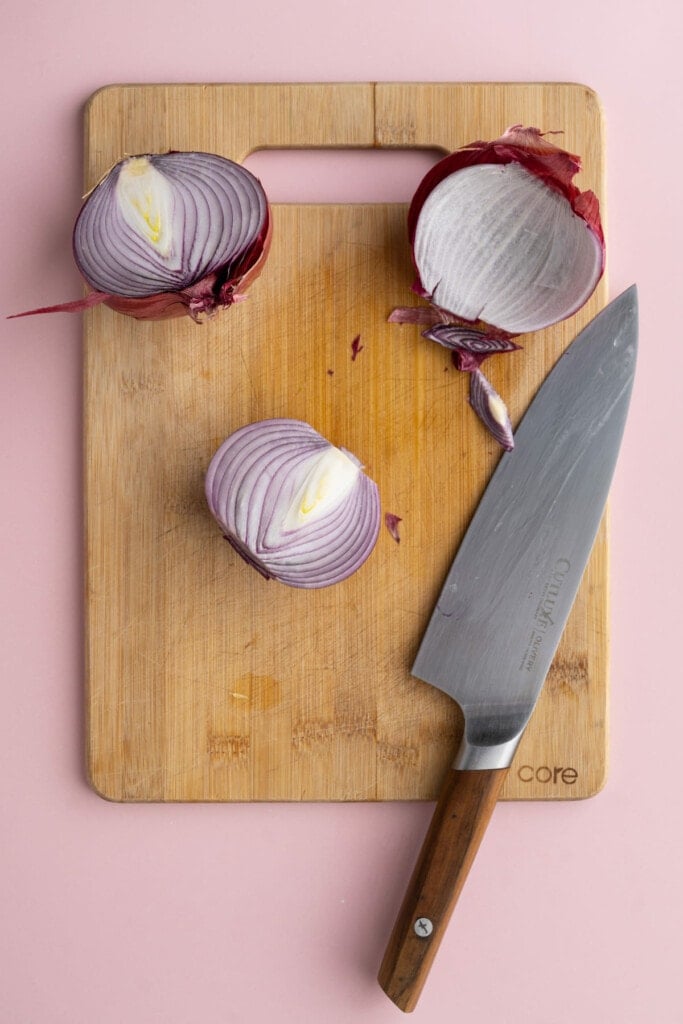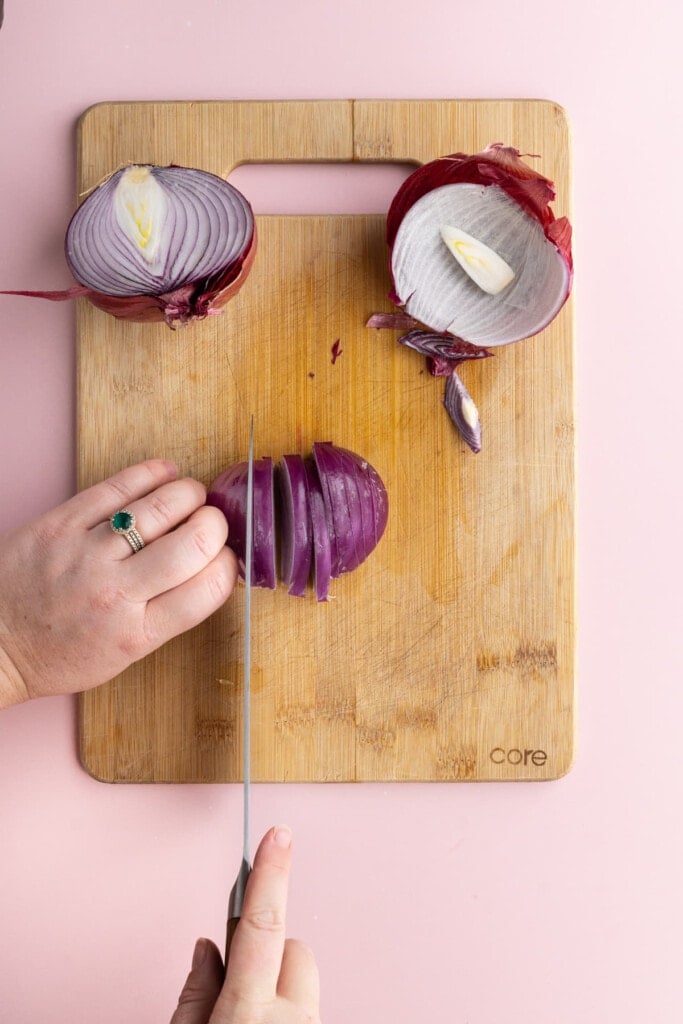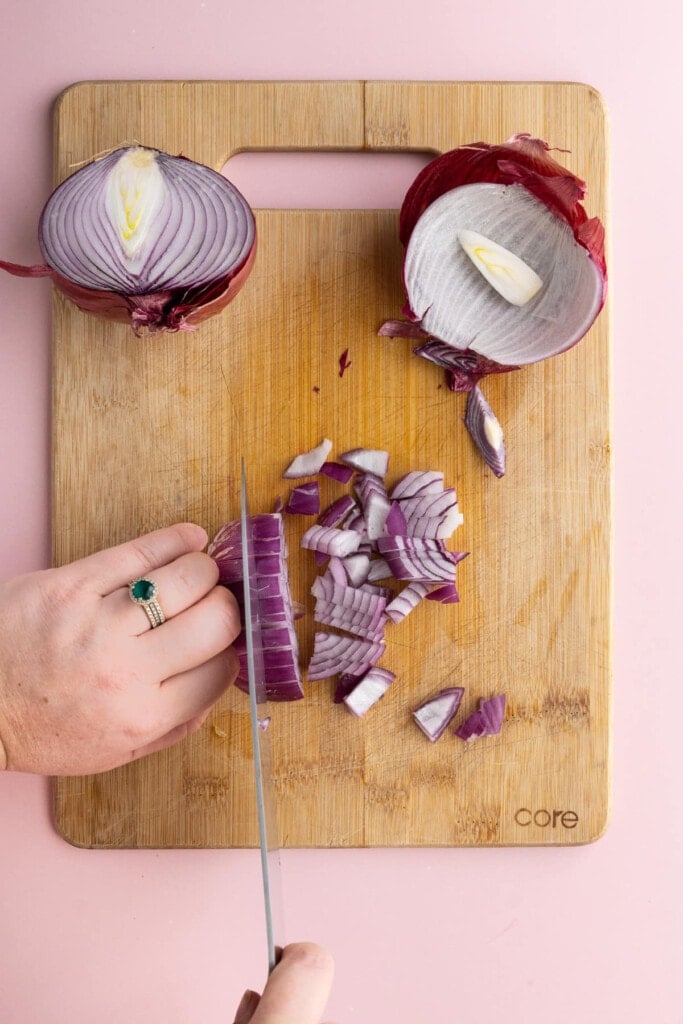 Chopping Cilantro for Pico de Gallo
Cilantro is optional in this recipe, so if you're not a cilantro fan, don't fret! But if you do like cilantro, you know that it has a very distinct citrusy and peppery taste, which plays up the lime and balances out the savory notes in this recipe.
It's best to chop it so it easily mixes in and evenly distributes throughout the Pico de Gallo. To chop, remove the leaves from the larger stems (some stems are more than okay!), and use a sharp knife to chop.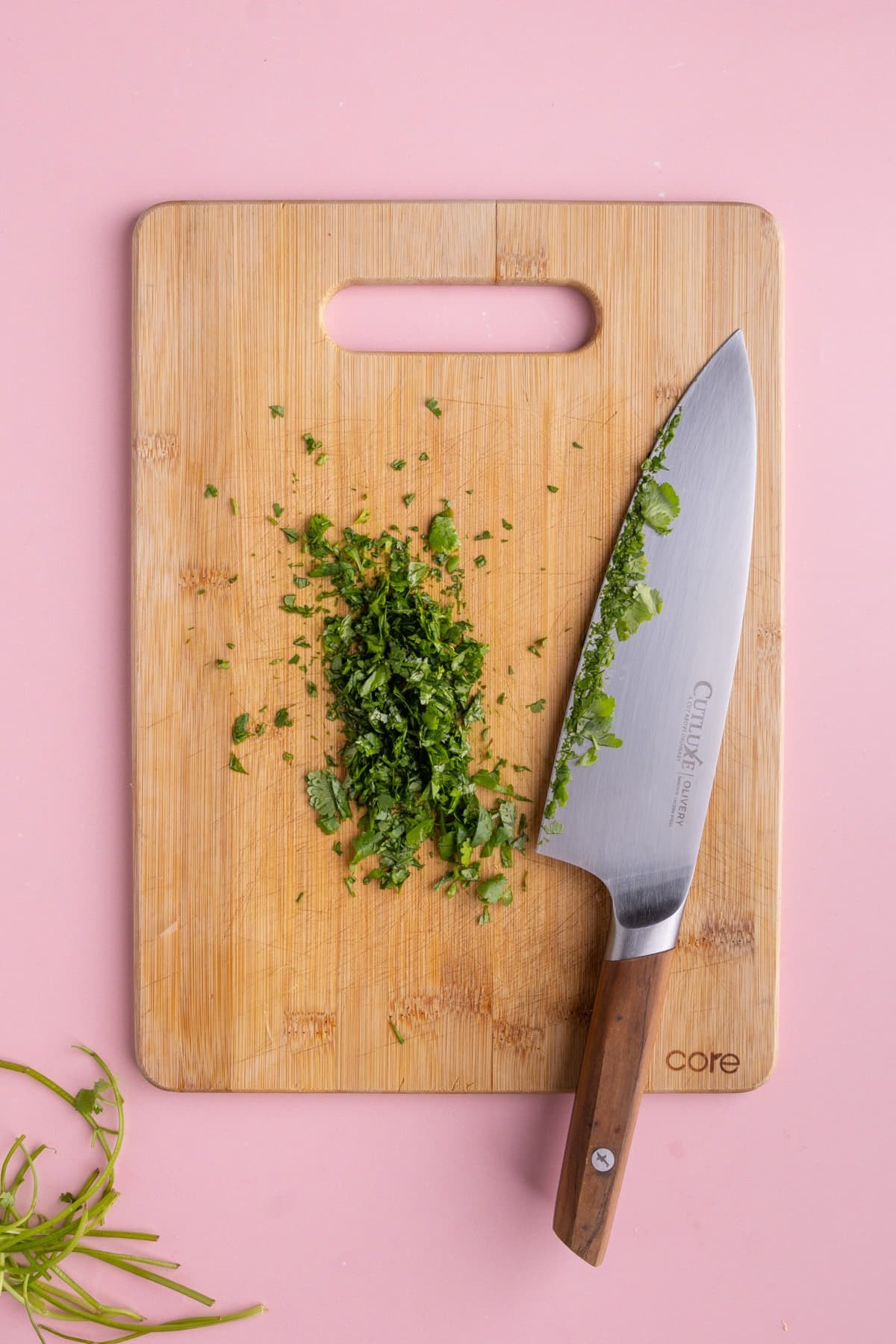 Fresh Lime is Best in Pico de Gallo
I love using fresh lime juice in this recipe! It calls for 2 tablespoons of lime juice, which you can typically extract from one juicy lime.
I highly recommend using a citrus squeezer so you can squeeze the juice directly into your Pico de Gallo without worrying about the seeds falling in. It will also help extract the most juice from your lime.
If you don't have a citrus squeezer, just be sure to squeeze the juice into a separate bowl first so you have a chance to remove any seeds if need be.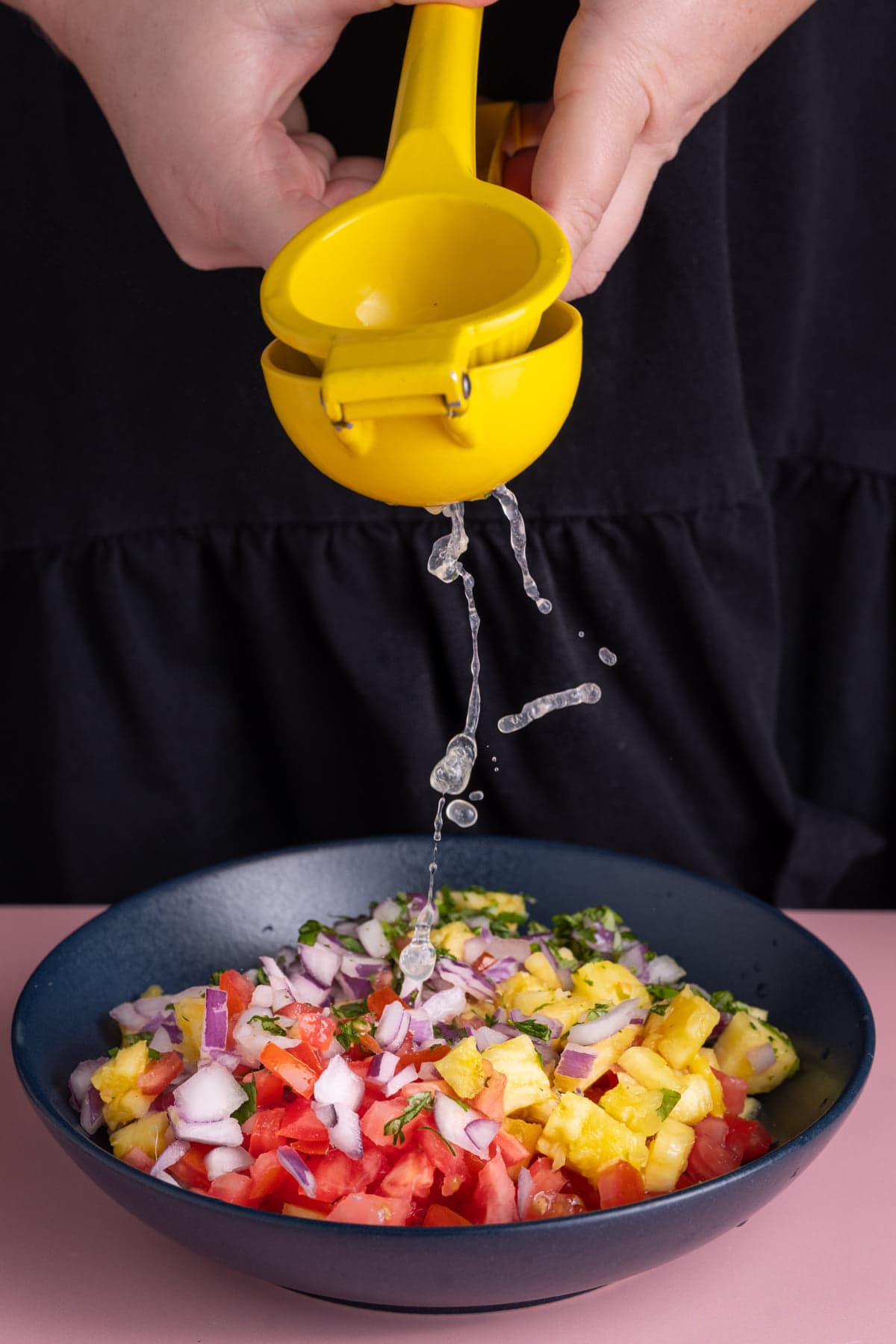 Tailor this Fresh Pineapple Dip to Your Taste
One advantage to making your own salsas and sauces is that you can tailor them more to your taste. For this recipe, you can easily change the spice level by adding more or less cayenne pepper.
This pineapple recipe calls for 1/4 teaspoon of cayenne pepper which I would consider moderately spicy. If you're not a fan of spice, start with just a pinch of cayenne pepper. You can easily add more, but you can't remove any, so take it slow.
If you love spice, you can add up to 1/2 teaspoon of cayenne pepper. Start with 1/4 teaspoon and continue to add, tasting as you go, until your desired spice level is achieved.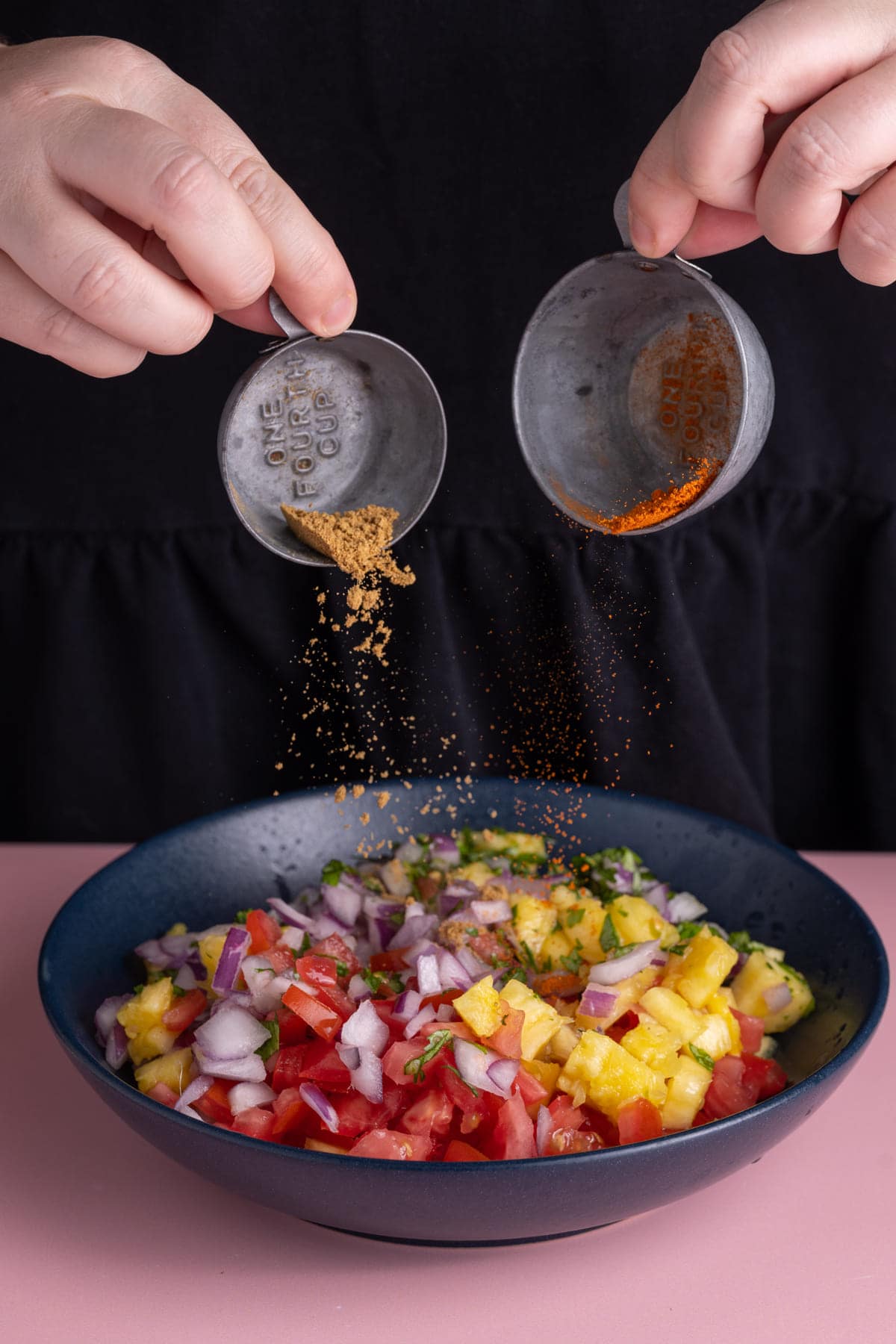 How to Serve Pineapple Pico de Gallo
This Pineapple Pico de Gallo is absolutely bursting with flavor, and has a super-fresh, fruit-forward and juicy finish. This makes it a delicious dip for tortilla chips all on its own. However, this salsa is also a great accompaniment to a number of other dishes!
Here are some of my favorites: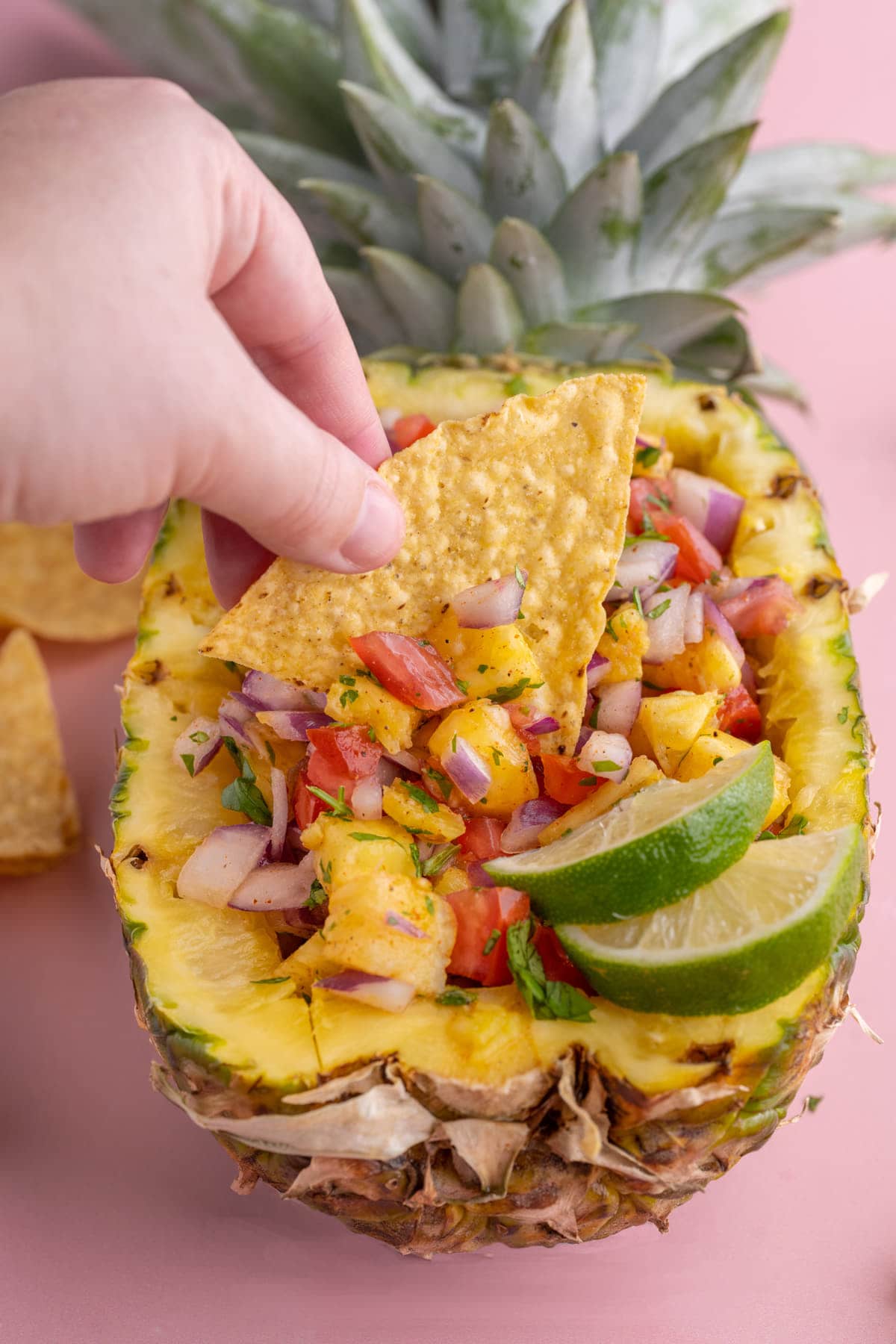 How to Properly Store Leftover Pineapple Pico de Gallo
This pineapple Pico de Gallo will last in an airtight container in the refrigerator for about 5 days. The longer it sits, the more the flavors have a chance to meld together, so this recipe is great to make ahead of time!
It can be enjoyed cold right out of the refrigerator or at room temperature. It can stay on the counter at room temperature for 2-3 hours.
Green tip: Did you know that of the billions of pounds of food wasted annually, it is estimated that 50% of it happens in our homes? Reduce your contribution to food waste by properly storing and enjoying your leftovers!
Pineapple Pico de Gallo Frequently Asked Questions
---
What's the difference between salsa and Pico de Gallo?
The biggest difference between Pico de Gallo and salsa is the consistency. Salsa is generously blended more finely and has a soupier consistency, whereas Pico de Gallo is made up of more solid chunks.
Salsa also often has ingredients that are cooked, while Pico de Gallo is always raw and fresh.
Pico de Gallo is considered a salsa, but not all salsa's are Pico de Gallo's. This Pineapple Pico de Gallo can also pass as Pineapple Salsa.
Want to sharpen your kitchen skills?
Why You Should Make this Fresh Pineapple Pico de Gallo
---
It's fresh. Fresh fruit and fresh herbs are all it's comprised of. How could it not be fresh?
The flavors are complex. The contrasting flavors of sweet, savory, acidic, and spicy blend beautifully for a complex finish.
It's quick and easy. Just dice and mix,. No cooking or baking necessary.
If you're loving this Sweet and Spicy Pineapple Salsa and are looking for more dips, check out this Tableside Guacamole at Home and this Sweet Potato Hummus.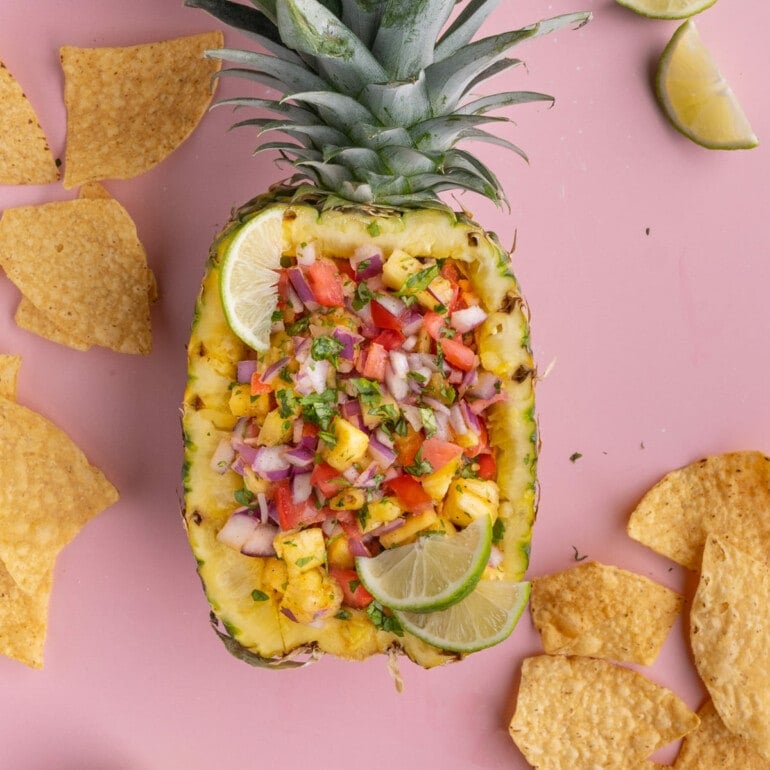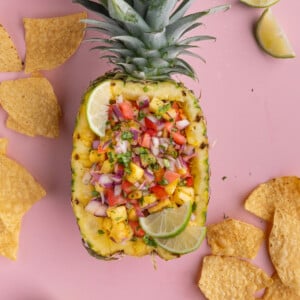 Fresh Pineapple Pico de Gallo
PRINT
PIN
RATE
This Sweet and Spicy Pineapple Pico de Gallo is a vibrant addition of fresh flavor to enhance your fish tacos, tasty rice bowl, or just eat on its own with chips.
Ingredients
1

cup

diced fresh pineapple

(1 fresh pineapple = approx. 3 cups diced)

1

cup

diced tomato

(1 Beefsteak or slicing tomato = approx. 1 cup diced)

1

cup

diced red onion

(½ red onion = approx. 1 cup diced)

¼

cup

chopped fresh cilantro

2

tablespoons

lime juice

(1 lime = approx. 2 tablespoons juice)

⅛

teaspoon

cayenne pepper

¼

teaspoon

cumin

½

teaspoon

salt

¼

teaspoon

black pepper
Instructions
Prep all your ingredients by dicing tomato, pineapple, and onion and chopping your fresh cilantro.

To a large mixing bowl, add the diced tomato, pineapple, onion, and cilantro. Squeeze the lime juice on top and sprinkle on the cumin, cayenne pepper, salt and pepper. Stir and taste to adjust spice and salt levels.

Serve cold or at room temperature with tortilla chips or on a sandwich, in a wrap, or on Fish Tacos!
Pro Tips
Parsley can be substituted for the cilantro if you're not a cilantro fan, or just left out altogether. 
1/8 teaspoon cayenne pepper makes this Pico de Gallo moderately spicy, but you can add more or less depending on your desired spice level. 
Aside from fish tacos, this Pineapple Pico de Gallo goes great on these Salmon Sliders, over this Blackened Cod, and atop this Cast Iron Asparagus. 
Did you make this recipe?
Let me know by leaving a recipe rating below, or by tagging @marleysmenu on Instagram.