Looking for a unique flavor for pasta night? This Sweet Potato Pasta Sauce is perfectly creamy and wonderfully balanced between savory and sweet, making it the best way to switch it up from your classic marinara.
With just 9 simple ingredients and 30 minutes, you'll have a hearty and healthy homemade pasta sauce that the whole family will enjoy. It's great on any pasta of your choice, long or short, or on a number of other dishes!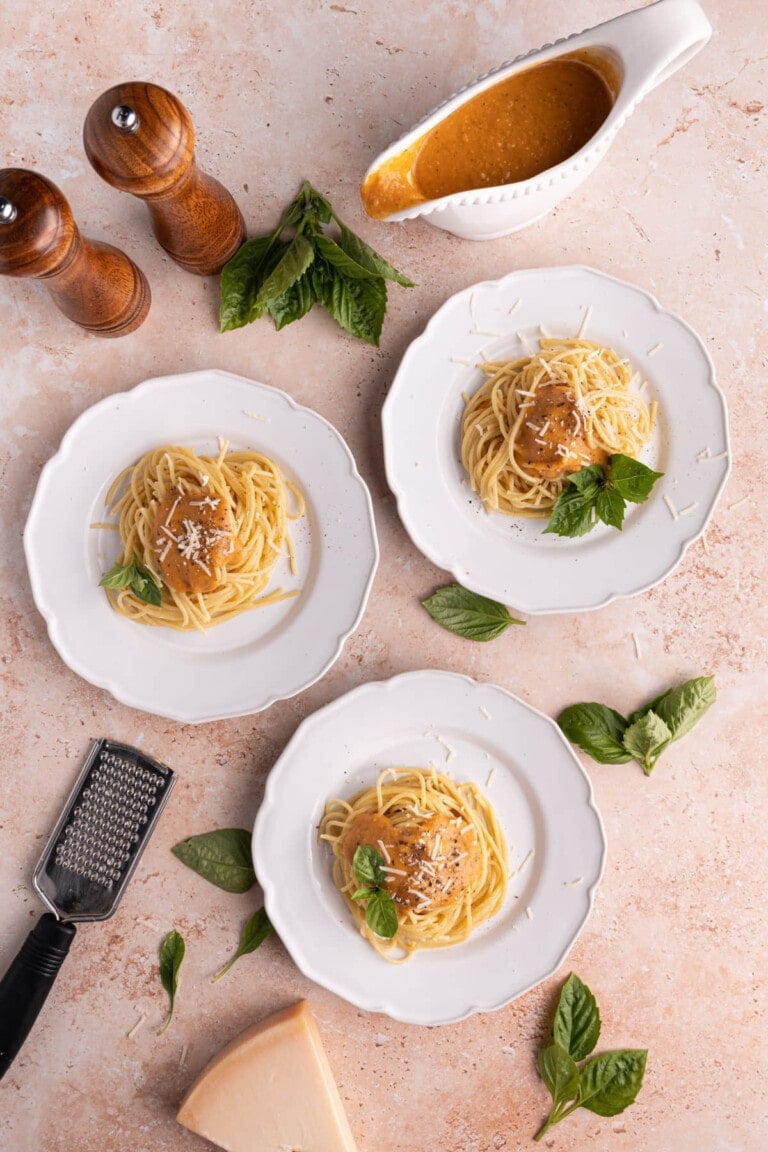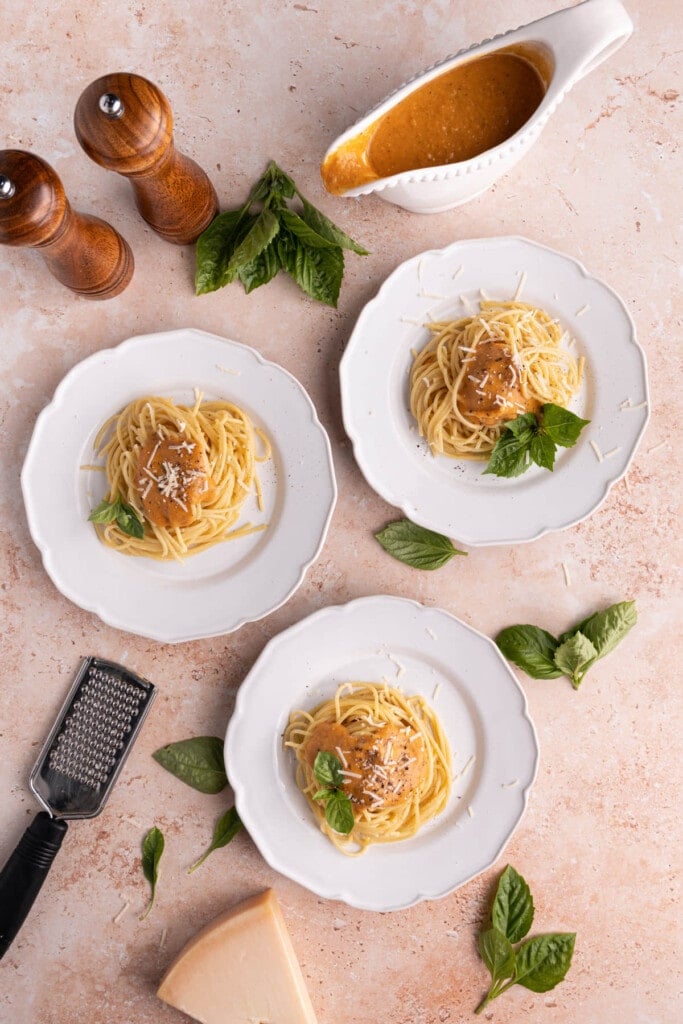 As an environmental scientist, I try my very best to eat seasonally. I love sweet potato season because they are just so versatile and delicious in a number of dishes, including this sauce!
Some other favorite Fall dishes incorporating sweet potatoes are this Sweet Potato Soup and of course this Sweet Potato Hummus!
Green tip: Eating seasonally is one of the best ways to live more sustainably, Local foods have less associated transportation costs and fuel emissions. Check when sweet potatoes are in season in your area with this Seasonal Food Guide.
Sweet Potato Pasta Sauce Ingredients
---
Here's everything you need:
Sweet potatoes. The star of this dish and main flavor profile.
Garlic. You'll need fresh whole cloves for this recipe.
Shallots. This adds umami flavor to the sauce and harmonizes with the sweetness of the potato.
Olive oil. To roast the sweet potatoes, garlic, and shallots in.
Salt & pepper. To amplify the rest of the flavors. The pepper also adds a warming kick.
Vegetable broth. You can buy it or easily make your own vegetables broth.
Milk. To get that ultra-creamy consistency.
Parmesan cheese. For flavor, texture, and extra salt. Measure this with your soul but add at least 1/3 cup. You can use already grated or you can grate or shred it yourself.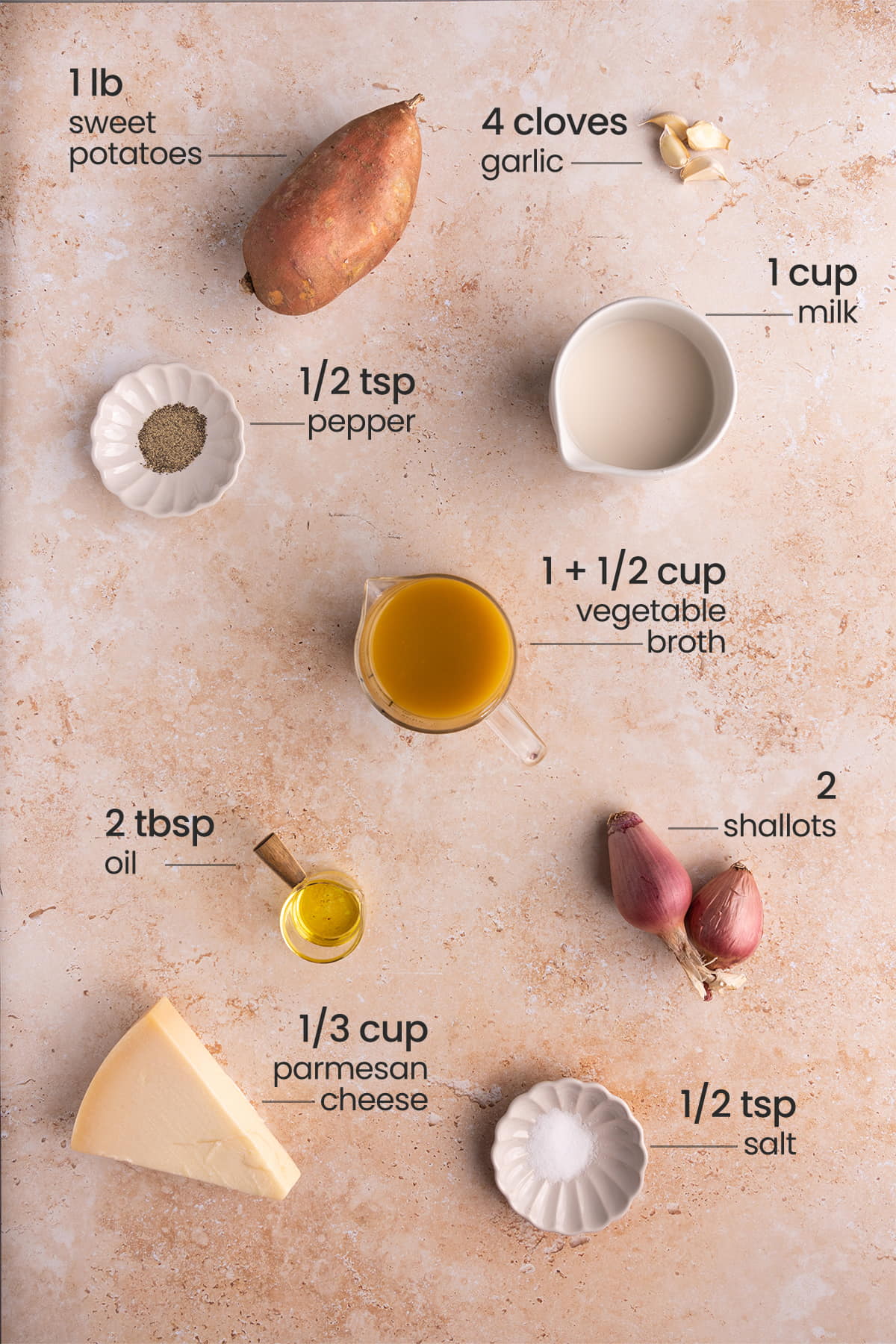 Creamy Sweet Potato Pasta Sauce Tips and Tricks
---
Prep Your Veggies First
Peel your sweet potatoes garlic and shallots. I like to slice my shallots in half (it makes them much easier to peel!) but keep your garlic whole.
You'll need two large shallots and four cloves of garlic. As for the sweet potato, you want roughly 1 pound. It's always best practice to weigh your produce for accuracy in this recipe.
If you don't have a kitchen scale and didn't weigh them at the store, a very general rule of thumb is that a large sweet potato is about 8 ounces. So, for this recipe, you will need 2 large sweet potatoes.
Green tip: Potatoes are a great choice for a sustainable starch! They only require a small area to thrive and have a super long shelf life!
As for the sweet potatoes, we want to cut them into smaller chunks to help speed up their cooking time. While the chunks do not have to be perfectly uniform, it's best to keep them roughly equal in size so their cooking time doesn't vary wildly.
The chunks should be roughly 1.5-2 inches in diameter, and no thicker than 1 inch. Again, it doesn't have to be perfect, so don't stress over this too much! Think chunks that can easily be eaten in one or two bites.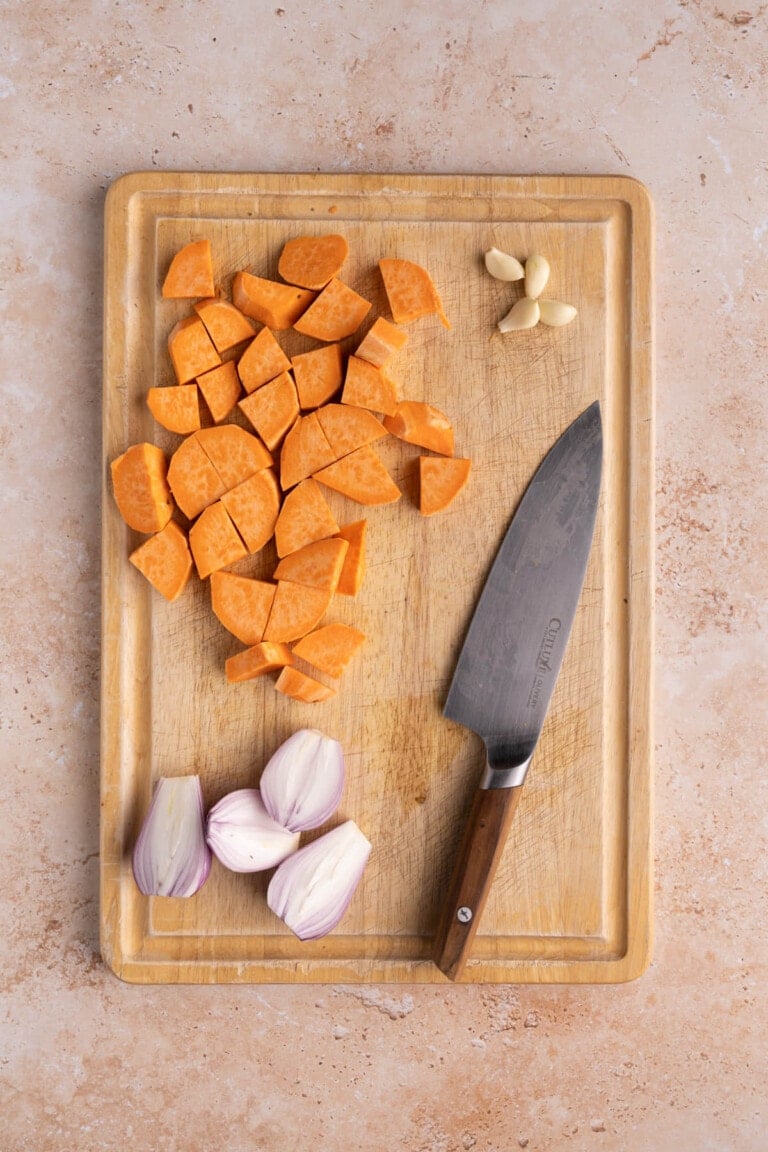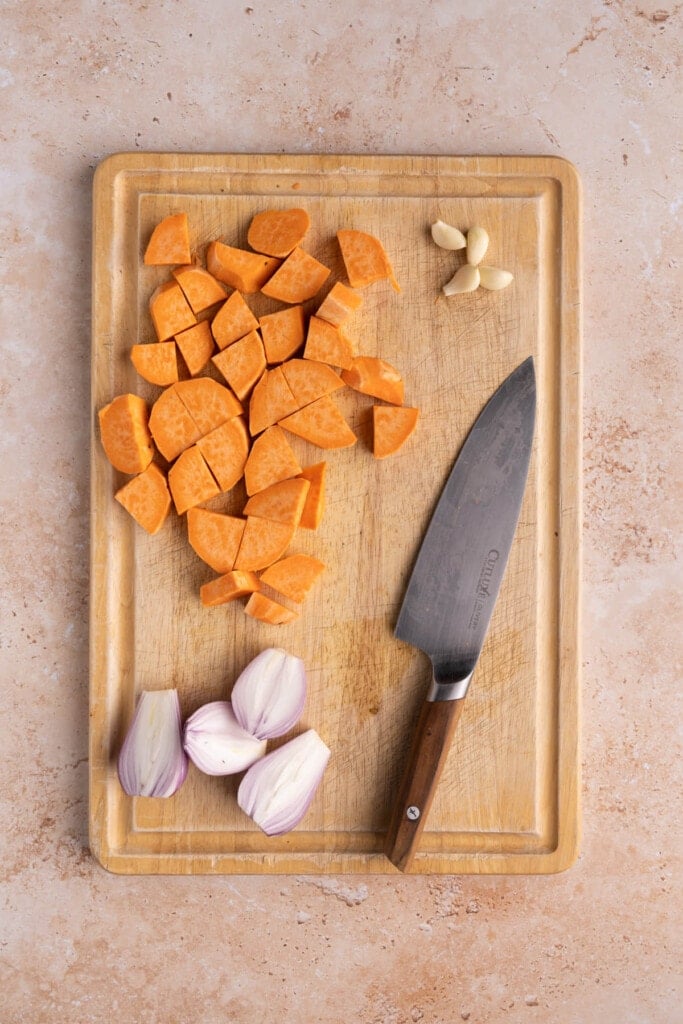 Use a Large Baking Sheet
The idea here is to have enough room for all of the vegetables to lay out flat, without stacking on top of one another. Pictured, I used an 18×26-inch baking pan, but you can also use a 16×22 or even 13×18 and still have plenty of room.
Spread your sweet potato chunks, peeled garlic cloves, and halved shallots to your baking pan in a single layer.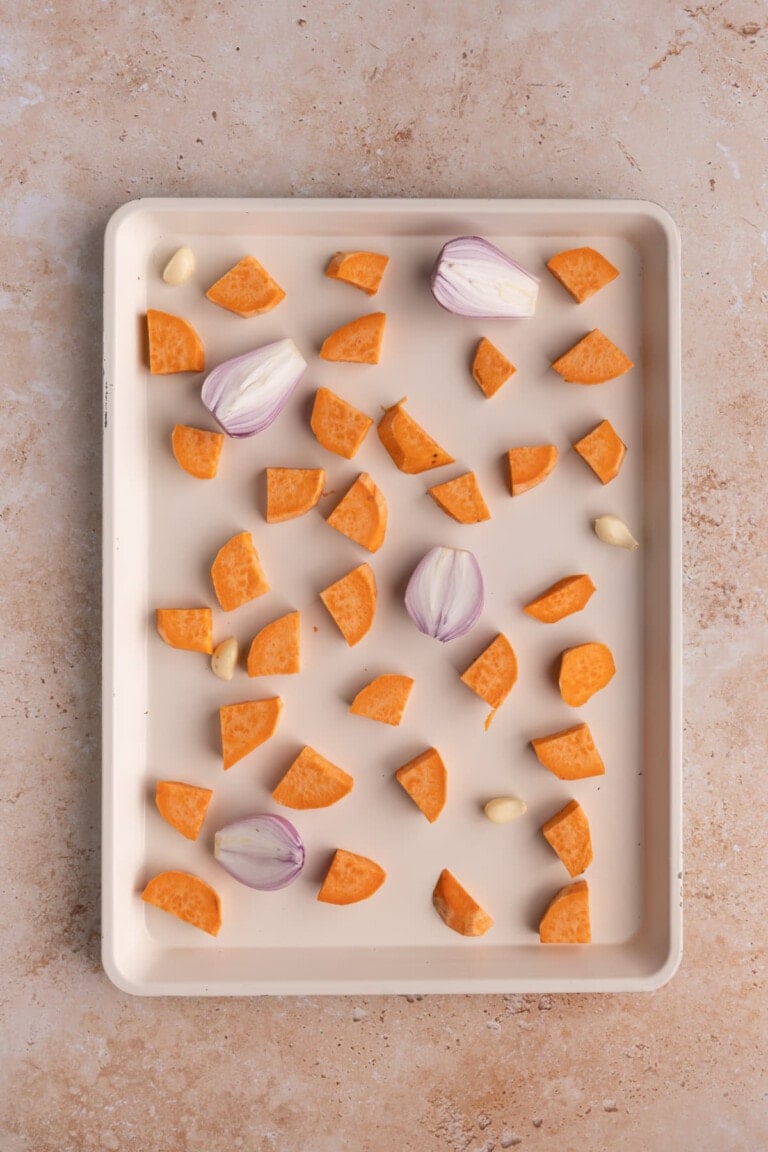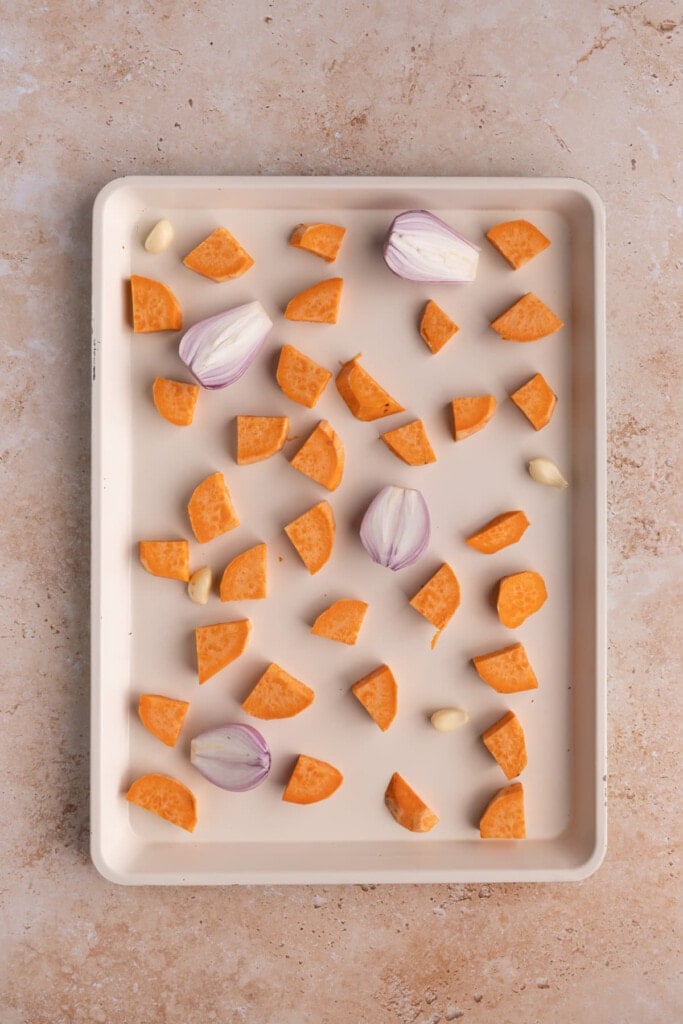 Use Clean Hands to Toss
Add the olive oil, salt, and pepper to the baking sheet overtop of your vegetables.
Then, use clean hands or two large spoons to toss, ensuring they are all equally coated in oil and seasoned with the salt and pepper.
Once you are confident that they are coated, add the baking sheet to the top rack of your oven at 425°F. Roast for 20-25 minutes until the sweet potatoes are fork-tender.
You may get some darkening or browning on the garlic and shallots, and that's okay!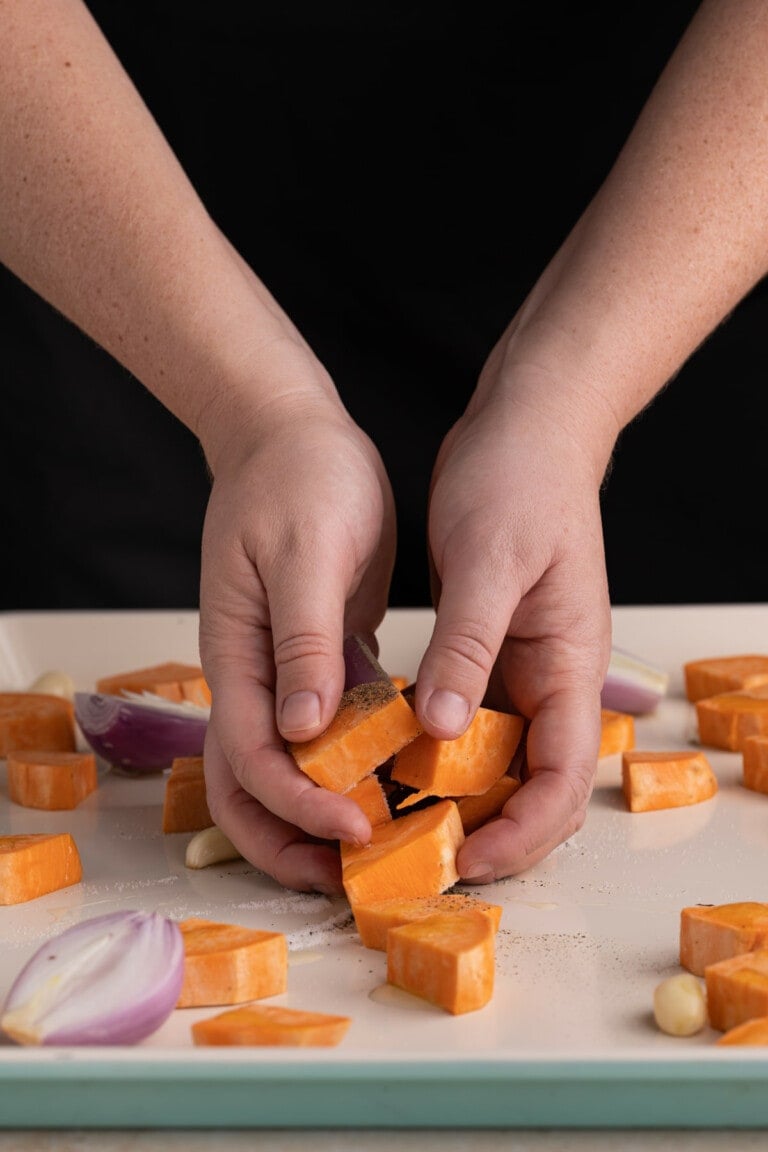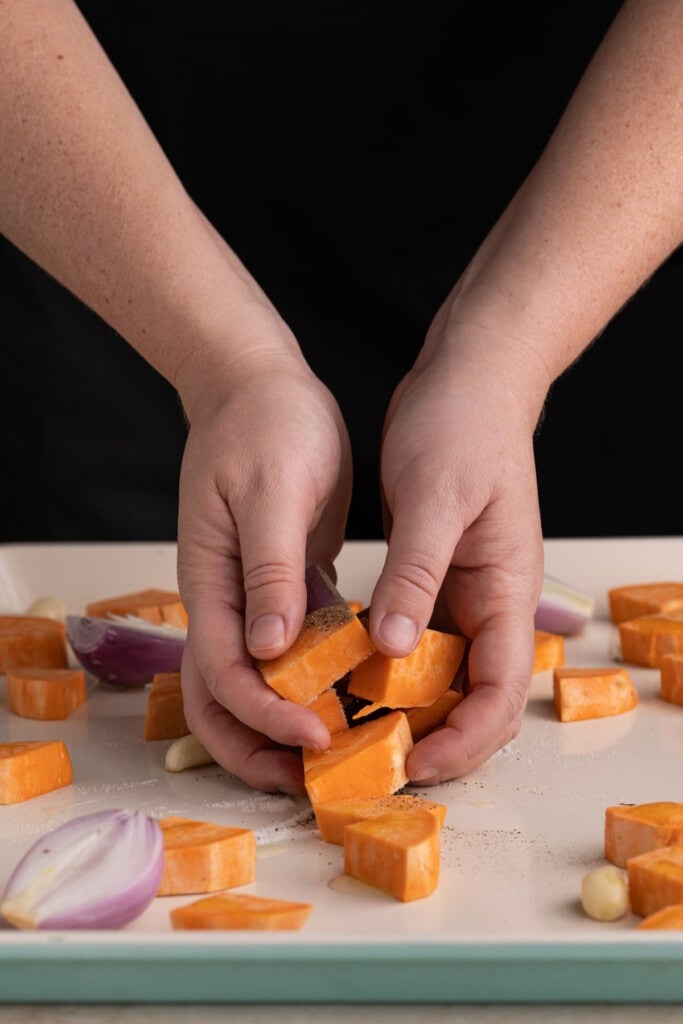 Use a Blender or Food Processor
Once your vegetables are roasted and the sweet potato is fork-tender, carefully add them to a high-powered blender or food processor. Please bear in mind that they are very hot!
Add the vegetable broth, milk, and Parmesan cheese to the food processor. You can set aside a handful of Parmesan cheese to use later to garnish, or, if you're a cheese lover like me, you can add all 1/3 cup of cheese to the blender and add a little extra on top. 😉
Blend on high until completely smooth. This may take up to 3 minutes, depending on your equipment.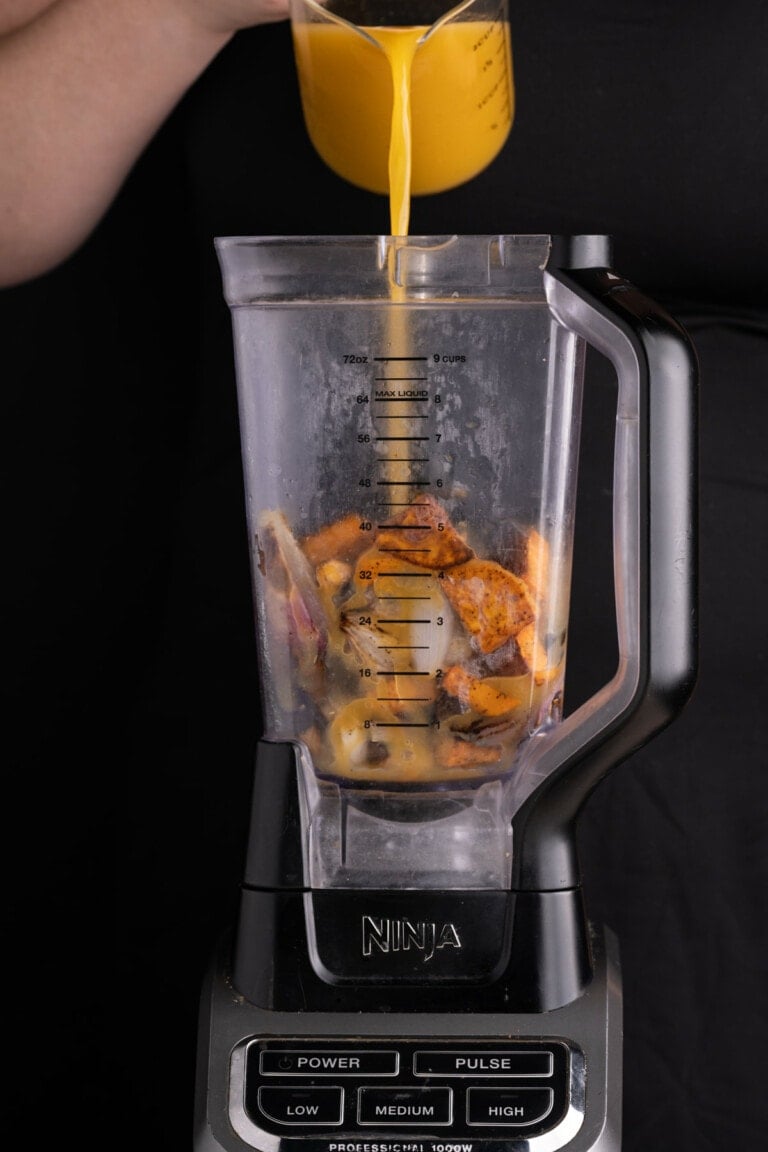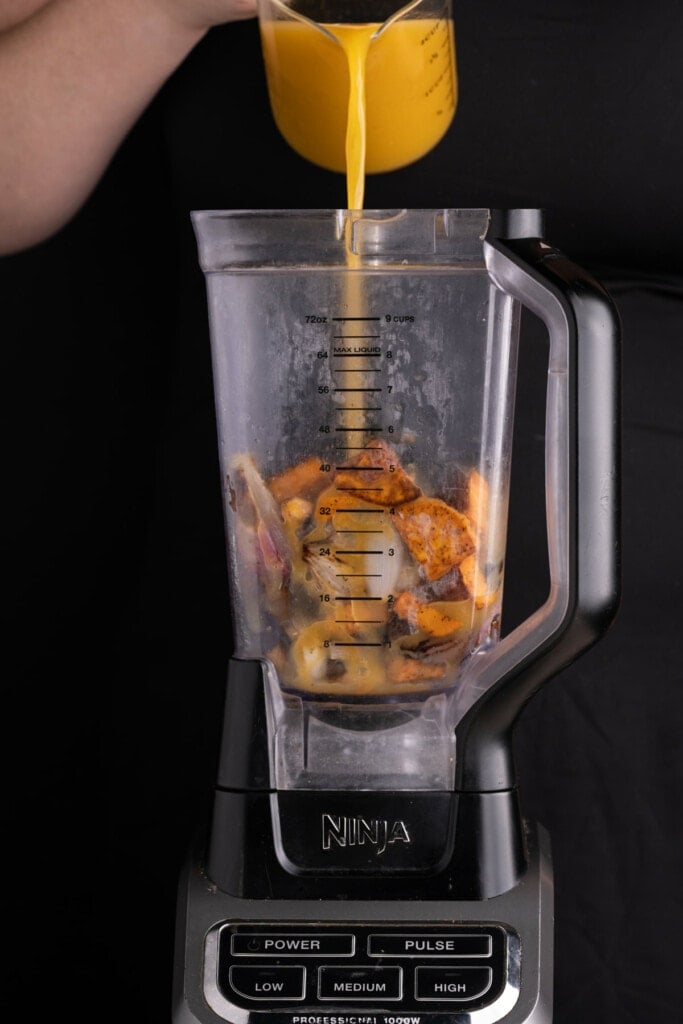 Storing and Reheating Leftover Sweet Potato Sauce
This creamy veggie-based pasta sauce will last up to 5 days in the refrigerator when stored in an airtight container. It can also be frozen for up to 4 months.
The best way to reheat this sauce is in a pot. If you have already added the sauce to the pasta and want to heat it up together as a unit, you can use either the microwave or the oven.
To reheat in the microwave, cover, and microwave on high for 3-5 minutes, stopping and stirring every couple of minutes, until thoroughly heated all the way through.
In the oven, add the pasta and sweet potato sauce to a baking dish, cover with aluminum foil, and heat for 15-20 minutes until heated through.
With both methods, if the sauce gets too thick and dense in the refrigerator, add a splash of milk before heating.
Green tip: Did you know that of the billions of pounds of food wasted annually, it is estimated that 50% of food waste happens inside of our homes? Decrease your contribution to waste by properly storing and reheating leftovers.
Serving Your Creamy Sweet Potato Pasta Sauce
This sweet potato sauce was designed to be served over pasta. It's delicious over both short and long pasta. Everything from penne and gemelli to spaghetti and fettuccine!
The pasta can easily cook within the time that your sweet potatoes, shallots, and garlic are roasting for a quick and easy 30-minute meal. It can also be used as a substitute in any cheesy baked pasta dish in place of marinara or spaghetti sauce.
You can also opt to make this sauce ahead of time and store it in the fridge for pasta night.
Green tip: Making your own sauces and syrups is a great way to avoid food preservatives that contain toxins that are harmful to plants, animals, and soil.
That being said, this versatile sauce is delicious on more than just pasta. It can be served over Focaccia bread, on flatbread, or smeared on a sandwich to add a touch of sweetness.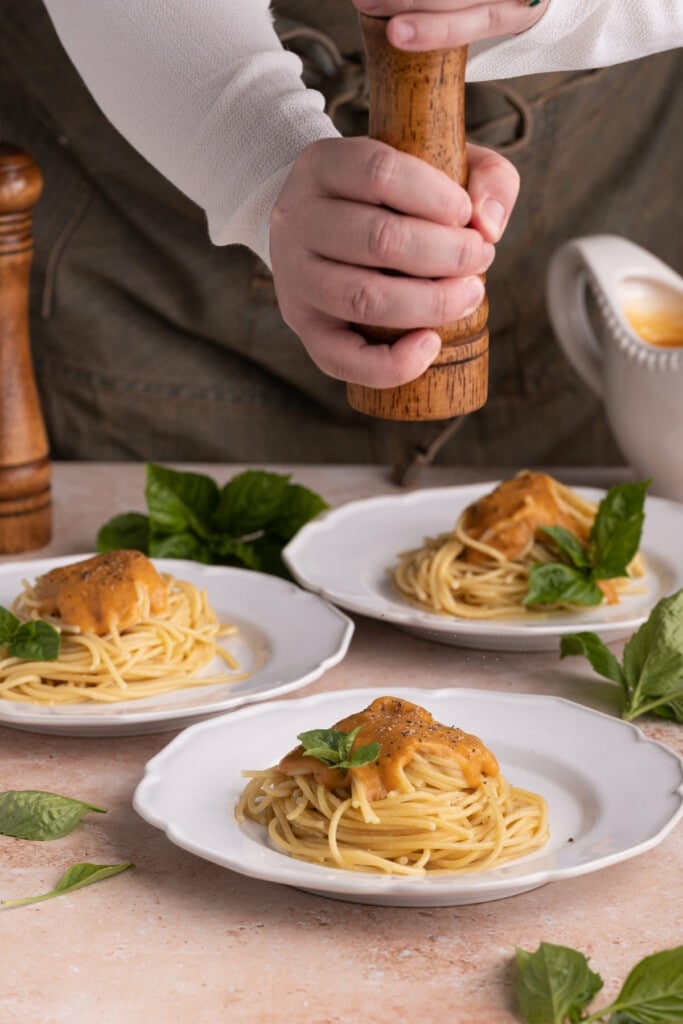 Sweet Potato Sauce for Pasta Frequently Asked Questions
---
What flavors go well with sweet potatoes?
Sweet potatoes are a great way to bridge the gap between savory and sweet. Lean into their natural sweetness with honey, maple, cinnamon, nutmeg, basil, tarragon, or coconut.
Or bring out its subtle savory flavors with Parmesan cheese, sage, onions, garlic, rosemary, and curry.
What is a good substitute for spaghetti sauce?
If your prone to acid reflux, allergic to tomatoes, or just looking to switch it up, this Sweet Potato Pasta sauce is a great substitute for spaghetti sauce.
It's a wonderful balance of savory and sweet, perfectly creamy texture, and a unique flavor to try when you're feeling adventurous.
Want to sharpen your kitchen skills?
Why You Should Make this 30-Minute Sweet Potato Pasta Sauce
---
The texture. This Sweet Potato Pasta Sauce is incredibly creamy.
It's balanced. Both savory and sweet.
It's quick. 30 minutes and it's ready!
If you're loving this Sweet Potato Pasta Sauce and want more homemade sauces, check out this Arugula and Basil Pesto and Meatless Spaghetti Sauce.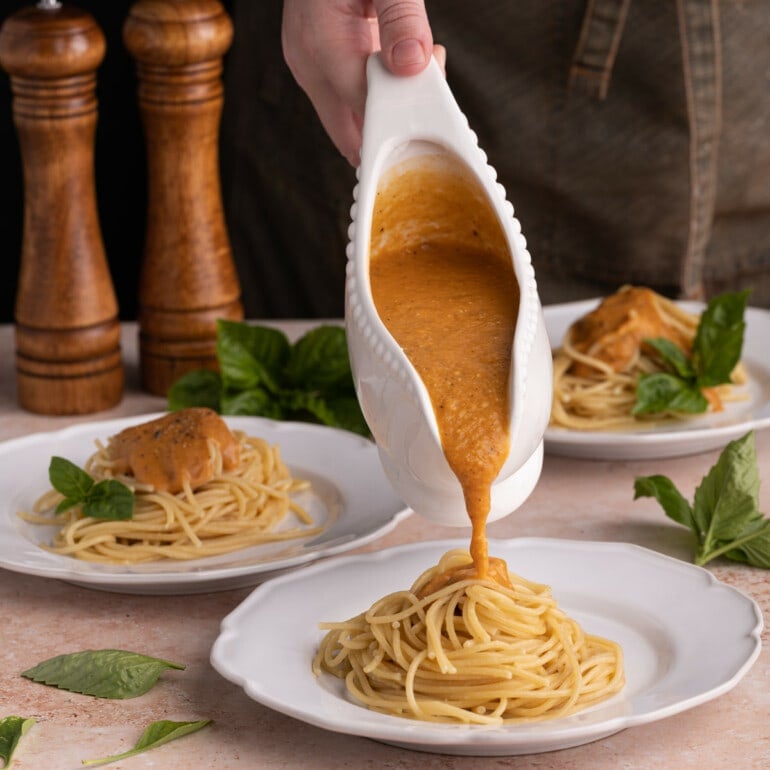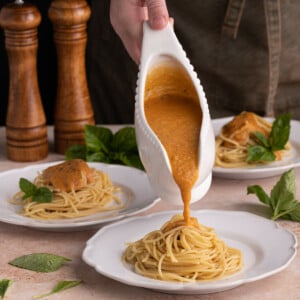 30-Minute Sweet Potato Pasta Sauce
PRINT
PIN
RATE
This creamy Sweet Potato Pasta Sauce merges savory and sweet to create a uniquely delicious sauce in just 30 minutes.
Ingredients
1

pound

sweet potatoes

(2 large sweet potatoes = approx. 1 pound)

4

cloves

garlic

2

large

shallots

2

tablespoons

olive oil

½

teaspoon

salt

½

teaspoon

black pepper

1 ½

cup

vegetable broth

1

cup

milk

(cows or unsweetened nondairy)

⅓

cup

Parmesan cheese

(grated)
Instructions
Preheat your oven to 425°F.

Peel the potatoes, garlic, and shallots. Cut your potatoes into bite-sized chunks, and slice your shallots in half, but keep your garlic cloves whole.

Add the prepped sweet potato, garlic, and shallots to a large baking sheet and add the olive oil, salt and pepper. Use clean hands to toss, evenly coating the vegetables in the oil and seasoning.

Roast the vegetables on the top rack for 20-25 minutes, until sweet potatoes are fork tender. You may get some browning on the garlic and shallots.

Transfer the roasted vegetables to a high-powered blender or food processor with the vegetable broth, milk, and Parmesan cheese. Option to save a handful of Parmesan cheese for serving (or you can just add extra on top to garnish).

Blend on high until smooth and creamy, about 2-3 minutes. Serve warm over pasta of choice!
Pro Tips
This Sweet Potato Pasta Sauce works with any and every pasta shape! You have plenty of time to cook up your pasta while the vegetables are roasting for a 30-minute meal, or you can make this sauce ahead. It last for up to 5 days in the refrigerator. 
I love making my own pasta sauce! If you enjoyed this, check out this Meatless Spaghetti Sauce, too!
For more recipes using delicious spuds, check out this list of Easy Sweet Potato Recipes. 
Did you make this recipe?
Let me know by leaving a recipe rating below, or by tagging @marleysmenu on Instagram.