Looking for a festive and delicious way to say "I love you" this Valentine's Day? Why not whip up these beautiful and tasty Raspberry Swirl Cheesecake Brownies?
Chocolate is a widely accepted Valentine's Day Tradition (and daily indulgence in our household), but by adding a layer of cheesecake complete with tart and tangy raspberry swirls, you're elevating the humble brownie to special-occasion status.
Raspberry Swirl Cheesecake Brownies Tips and Tricks
---
---
Be Methodical
There are three moving parts: the raspberry sauce, the cheesecake, and the brownies. And take it from a gal who has a heavily stained apron and a tiny (often messy) kitchen. Being methodical and cleaning as you go is the ONLY way here.
Nothing is worse than being in the zone, merrily mixing and measuring, tasting batter as you go, putting your gorgeous and fragrant creation in the oven and then BAM. You turn around and your kitchen looks like a fricken' war zone.
You'll need two large mixing bowls, multiple spatulas, a hand or stand mixer, a blender, and a sieve.
OR
You'll need to clean as you go. I actually make my raspberry swirl sauce first, set it aside, and clean up my blender and sieve. I then mix up the brownie batter, add it to my baking dish, clean out that bowl, and go for my cheesecake. You get the point.
Begin with Those Berries
Blend about half a cup of fresh or frozen raspberries with 2 tablespoons of sugar. It will form a seedy solid, that you'll have to work the juice out of with a sieve and a spatula. Use your spatula to push the juice through your sieve into a bowl.
To get enough sauce, you'll have to work your seedy substance with your spatula for about 30 seconds. It should yield 1-2 tablespoons of sweet succulent sauce!
The Secret is in the Softening
The brownies call for softened butter and the cheesecake calls for softened cream cheese. And if you're like me, when you're ready to bake, patience is not your strong suit.
But bringing the butter and cream cheese to room temperature is absolutely critical to the texture of both batters. But don't worry, I know the urgency of a chocolate craving. So I have a little trick up my sleeve to avoid the waiting game.
In a microwave-safe bowl, microwave your stick of butter for 20 seconds. With clean hands, poke a finger into your butter. If it leaves an imprint, you're good to go! If it's still solid, keep heating in 5-second intervals until you get that imprint.
As for the cream cheese, we just need to get the chill off. 25 seconds in the microwave should do. You'll know it's good to go when you use your hand or stand mixer to whip it and it's nice and smooth. Ice-cold cream cheese will leave you with lumps.
Dive into the Decoration
Do not be intimidated by this raspberry sauce pattern. It looks super complicated but I promise it's easy peasy!
Once your baking dish is layered with brownie and cheesecake batter, use a spoon or piping bag to pour thin lines of raspberry sauce horizontally from one end of the baking dish to the other—don't worry too much about them being evenly spread.
Next, use a toothpick to draw straight lines from top to bottom in the opposite direction. The toothpick will pull the raspberry sauce down as you go to make a gorgeous pattern as seen below.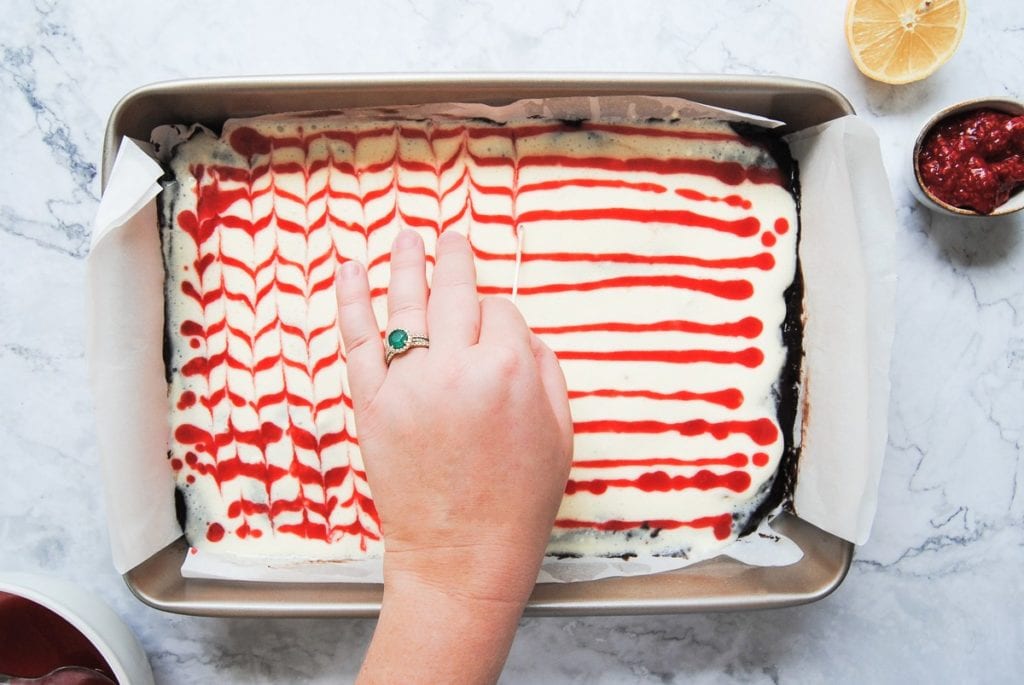 Fresh vs Frozen
Frozen raspberries are perfectly delicious, and even encouraged in this recipe.
Raspberries are a warm-weather crop, thriving in the summer months. Buying produce locally and while it's in season is a great way to reduce your carbon footprint in terms of food miles.
An ingredient's food miles is the distance that particular ingredient has traveled to get to the produce aisle in your supermarket, into your cart, and then onto your plate.
If you are buying fresh raspberries in the winter in a colder climate, you can assume it's been imported—and quickly.
Frozen raspberries are harvested and frozen at their peak, and are generally transported in a more sustainable way since they stay frozen in transport (likely by ship instead of a plane— much less fuel!).
While the best practice is to buy locally and in-season, buying frozen fruit means less pesticide residue, likely fewer food miles, and less food waste. And for this recipe, in particular, they work perfectly!
Green tip: If you are buying produce that is out of season, consider buying frozen to support produce that is associated with less pesticide residue, likely fewer food miles, and less food waste.
Why You Should Make these Raspberry Swirl Cheesecake Brownies
---
---
They're pretty. Those swirls are both easy and impressive.
The texture. Those fudgy brownies can only be elevated by the pillowy cheesecake layer on top.
They're bursting with flavor. The raspberry brings a tangy zing to the cheesecake that is perfectly complemented by the rich chocolate.
They're the perfect way to say "I love you". Valentine's day and every day.
If you're here because you're a brownie fan, you have got to check out these One-Bowl Fudgy Chocolate Brownies! And if these Raspberry Swirl Cheesecake Brownies struck a chord with you because you're raspberry-obsessed, check out this Vibrant Raspberry Vinaigrette.