Looking for a flavorful and diverse dinner that's packed with protein and nutrient-dense veggies? This Teriyaki Salmon Bowl has got your back!
The perfect clean-out-the-fridge meal, this bowl can handle whatever veggies and add-ons you throw at it! With a white rice base, teriyaki-glazed salmon, and extra teriyaki glaze to drizzle on top, get ready for a flavor-filled meal.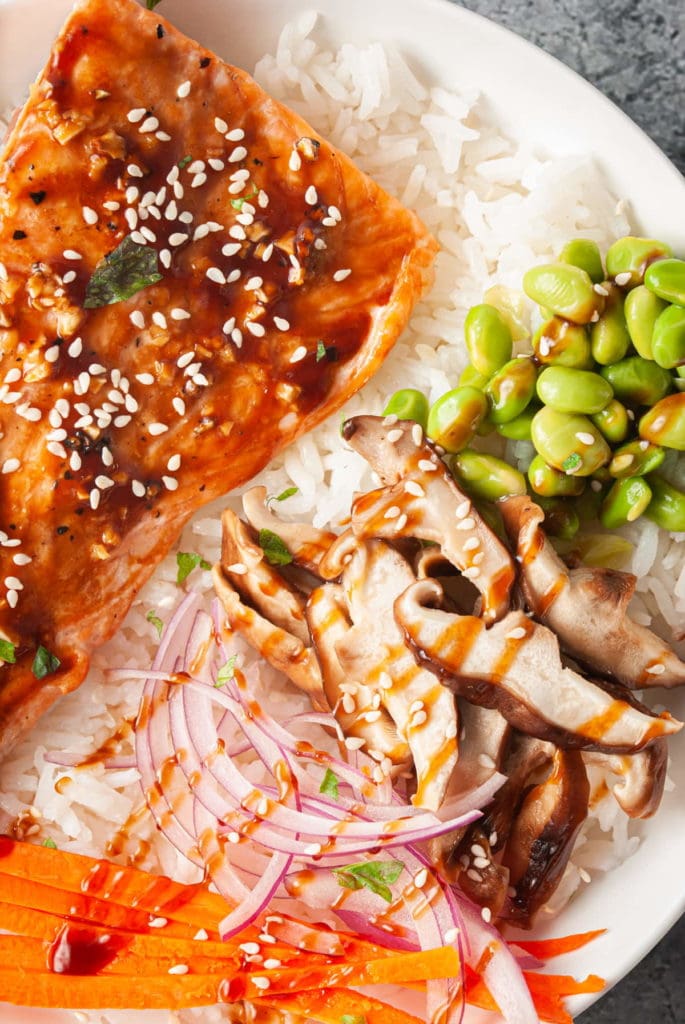 As an environmental scientist, the issue of food waste is always at the front of my mind. I love having meals like these that leave room for any extra vegetables I may want to use up. This has quickly become my favorite "clean-out-the-fridge" meal.
What's more, this recipe also gives you an option to use up extra salmon! So whether you're making this Teriyaki Salmon Bowl from scratch, or bending the recipe to help use up leftovers, this will give you all the tools you need to create a great meal.
Green tip: Did you know that of the billions of pounds of food wasted annually, it is estimated that 50% of it happens in our homes? Keep adaptable recipes like this one on hand to help use up leftovers in an inventive way to help reduce your personal contribution to waste!
Teriyaki Salmon Bowl Tips and Tricks
---
---
Make Your Salmon First
Aside from its absolutely delicious teriyaki glaze, my two favorite things about this recipe are the fact that it's a great way to use up leftover salmon and it's a great clean-out-the-fridge meal.
This recipe will teach you how to make teriyaki glazed salmon with a fresh piece of raw fish, but if you are using leftover salmon, reheat it and then add the glaze on top.
If you're making the salmon fresh, here's everything you'll need:
Cook Your Salmon
Cook your salmon first with a quick and simple marinade of lemon juice, olive oil, garlic, salt, and pepper. For 1 pound of salmon, I usually get the perfect cook in about 17-20 minutes.
Keep in mind, depending on the thickness of the cut of salmon, the cooking time may vary. You'll know your salmon is done when you cut into it and you see an opaque pink, rather than a shiny, translucent pink.
If you have a kitchen thermometer, check the temperature on the thickest part of your salmon to test its doneness. Aim for an internal temperature of 125-145 °F.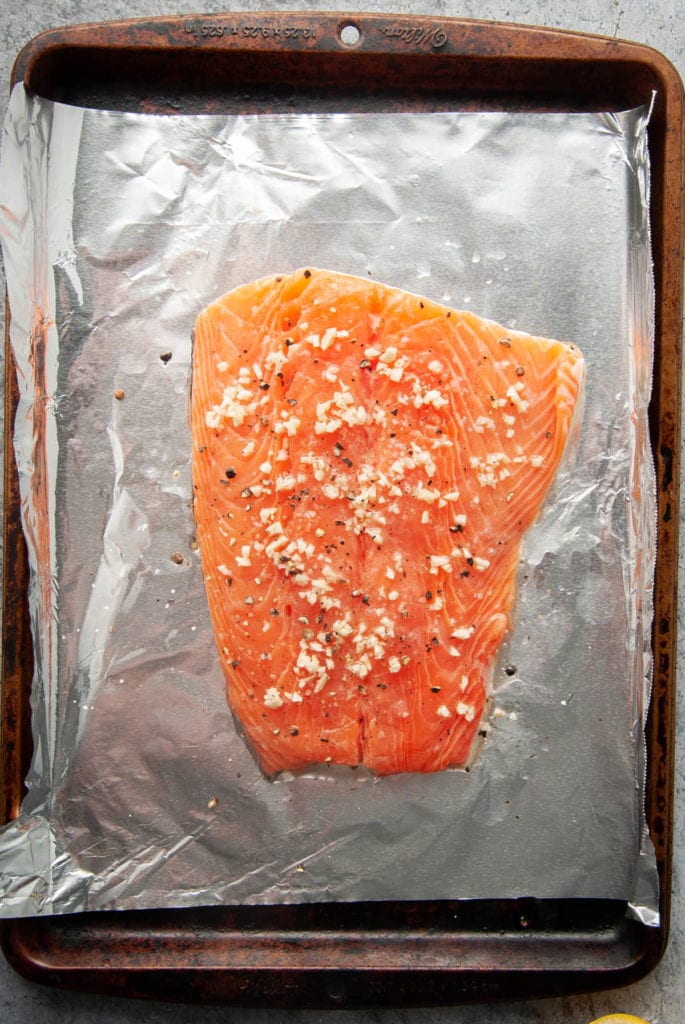 Using Leftover Salmon
If you're using leftover salmon for this recipe, there are a couple of ways you can reheat it.
My favorite way to reheat leftover salmon is in the oven. Preheat your oven to 275°F and place the salmon on a baking tray. Lightly cover the salmon with tin foil (allowing some air through the sides) and bake for 15 minutes.
If you wish to reheat on the stove, choose a saucepan fitted with a lid (I use my trusty, toxin-free, and sustainable Always Pan (use code: marleysmenu for 10% off!), and the salmon with about 1 tablespoon of olive oil and cover. Heat over medium for about ten minutes, flipping halfway through.
And of course, for the quickest way to reheat salmon, you can always do it in the microwave. Put it on a microwave-safe plate, place a damp paper towel over top, and microwave on high for 2-3 minutes.
Quick note: It's always best to check the internal temperature when you're reheating leftover salmon. Aim for 145°F.
Make Your Glaze
While your salmon is cooking, you can whip up your teriyaki glaze. This glaze will be used to both coat your cooked salmon and to add on top of your bowl to boost the overall flavor.
First, whisk the cornstarch into the water until completely dissolved. Then, add it to a small saucepan with your teriyaki sauce and ginger (optional) and heat on low until it starts to thicken. Make sure to stir occasionally to avoid sticking to the pan.
Add Your Teriyaki Glaze To Your Salmon
Once your salmon and teriyaki glaze are ready, add a generous amount of the glaze to your salmon to coat it. I find the easiest way is to use a pastry brush, but a spoon works, too!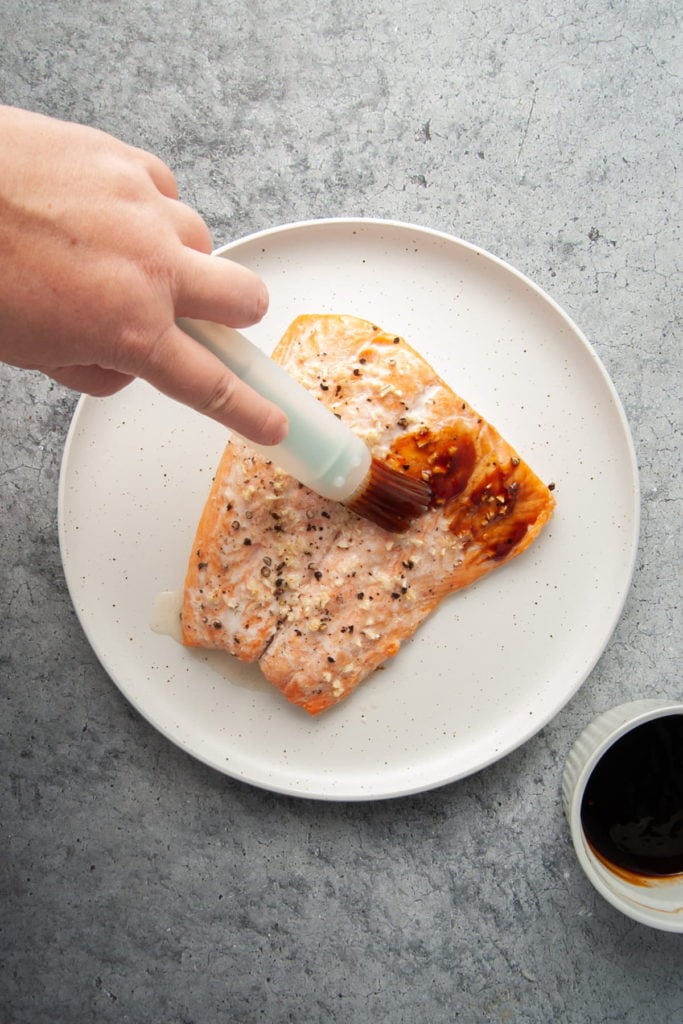 Gather Your Teriyaki Salmon Bowl Elements
The cool thing about this Salmon bowl is it's kinda a catch-all. A total clean-out-the-fridge meal. There isn't a veggie I can think of that wouldn't be a good addition to it!
But if the world is your oyster and you need some recommendations, here are some of my all-time favorite toppings:
I usually keep most of my add-ins raw and then top it with the delicious teriyaki glaze, but you can also opt to sautee them in some olive oil, salt, and pepper.
Sustainable Seafood
Salmon farming often poses a risk to our environment for several reasons. This includes, but is not limited to, the antibiotics used in salmon farms that can then leach into the surrounding environment and the depletion of other wild fish harvested to feed the salmon.
If you can, look for wild-caught Alaskan salmon. It is harvested in the most sustainable and natural way, without the posed risks of salmon farming.
Green tip: Look for Marine Stewardship Council and Friend of the Sea labels on your fish to ensure they were harvested sustainably.
Why Your Should Make This Teriyaki Salmon Bowl
---
---
It's so flavorful! This glaze is liquid gold!
It's versatile. Add all your favorite toppings!
It's resourceful. Use it as a clean-out-the-fridge meal.
If you're loving this Teriyaki Salmon Bowl and are looking for more salmon recipes, check out this Almond Crusted Salmon and Roasted Garlic Salmon.