Craving that smooth, creamy, slightly spicy perfection-in-a-dip that is Tex-Mex Queso Blanco? Great news. I've got a budget-friendly, easy, at-home solution for you!
This silky smooth and flavorful cheese dip recipe only requires 5 ingredients, is incredibly quick and easy to make, and brings taco night to the next level!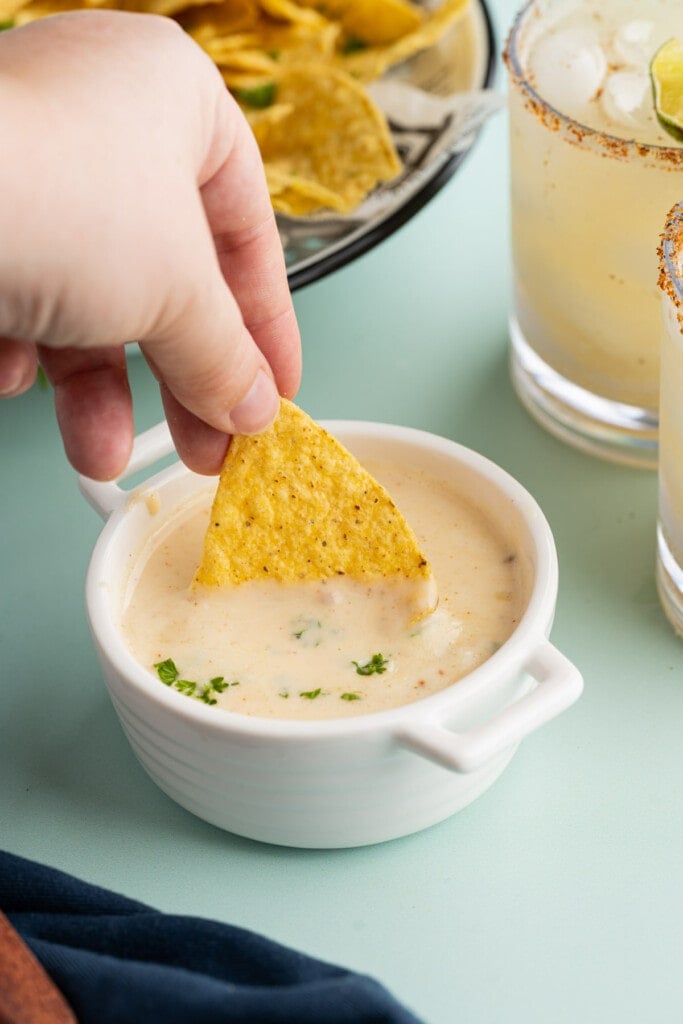 5-Ingredient Queso Blanco Ingredients
---
Here's everything you need:
White American cheese. While this is admittedly not the traditional way to make queso, it's a really great melting cheese with mild flavor, so it takes on the seasoning well. I find it's the easiest cheese to use when pairing queso down to just 5 ingredients.
Unsalted butter. For flavor and a creme de la creme consistency.
Milk. To thin out your queso and make it dippable.
Cumin and cayenne pepper. To bring warmth, earthiness, and some heat!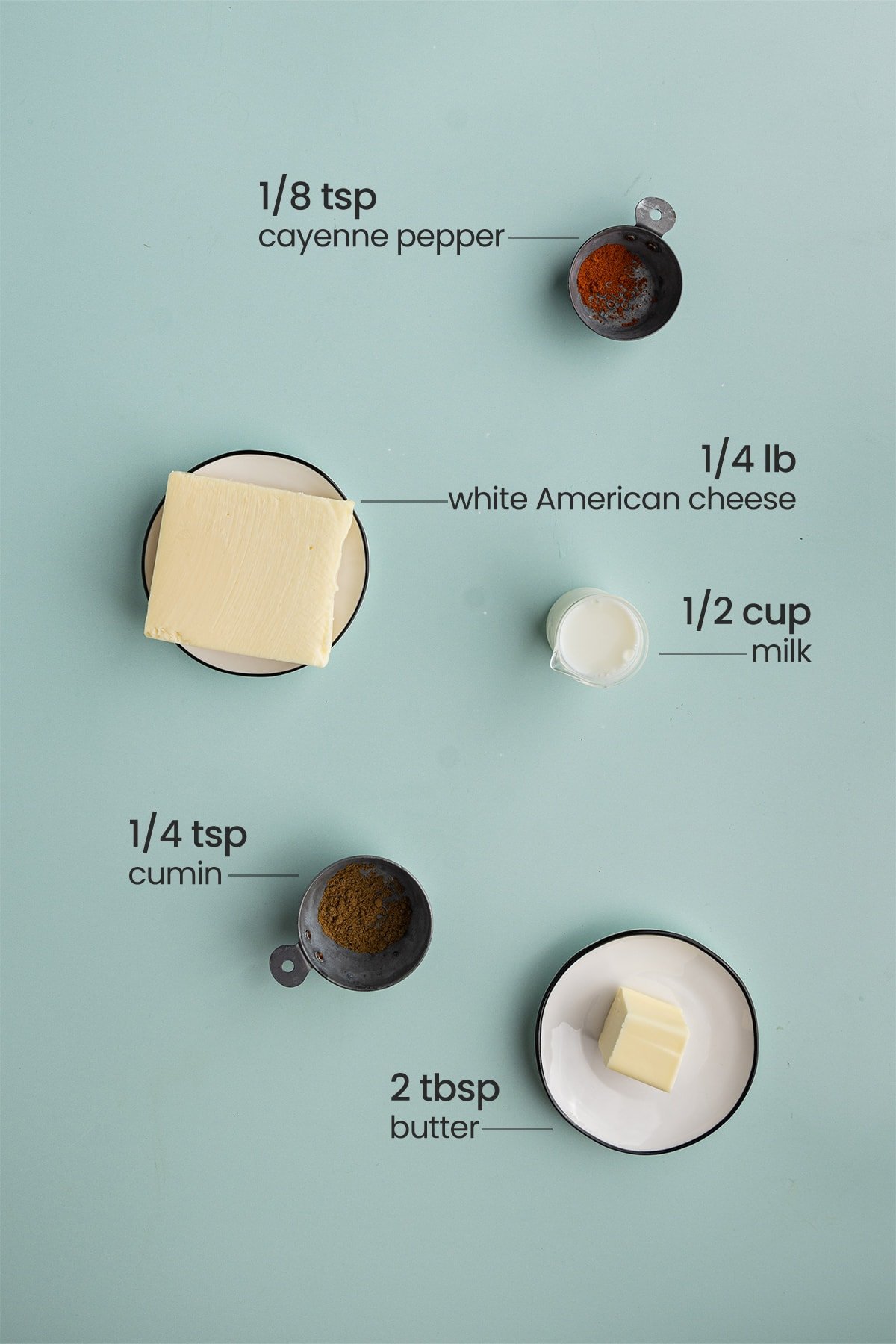 Want to sharpen your kitchen skills?
Tex-Mex Queso Blanco Tips and Tricks
---
Cut Your Cheese and Butter into Cubes
In order to help the butter and cheese melt, it's best to cut them into smaller pieces. Cut the butter into small cubes, about an inch wide.
If you are grabbing your cheese from the deli counter, they will likely hand you your cheese in one big block. In this case, cut it into cubes roughly the same size as your butter cubes.
If you are using singles (pre-sliced cheese), you can just cut each single in half, since they'll already be nice and thin. One quarter pound is roughly 6 slices!
Ultimately, we just want the butter and cheese in smaller pieces so they can easily melt even with just a small amount of heat. Once cubed, add them to a small pot over low heat.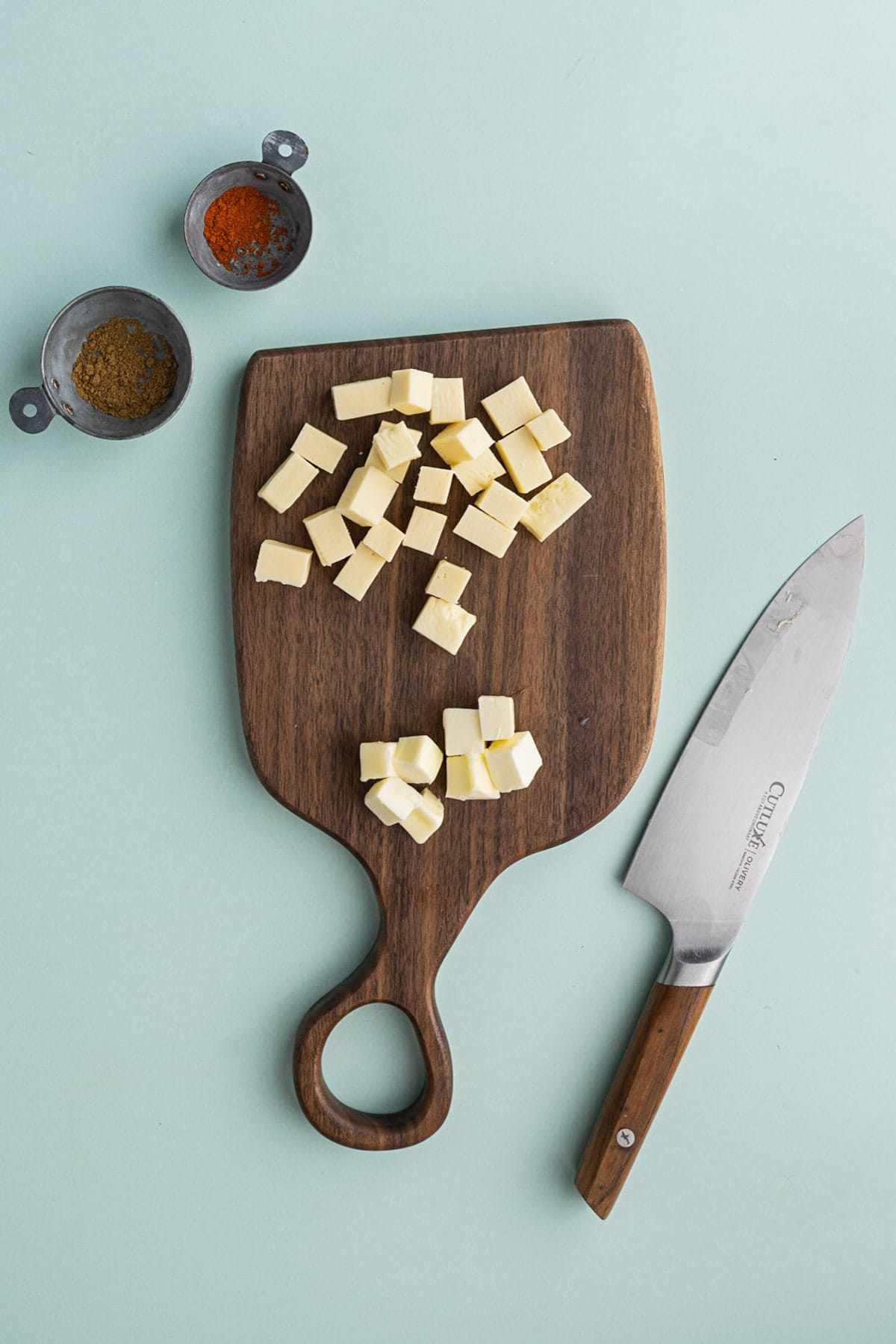 Bring Your Milk to Room Temperature
This recipe is pretty foolproof and works with skim, reduced fat, or whole milk—whichever you have on hand!
The simplest way to get your milk to room temperature is to remove it from the refrigerator about 40 minutes before you start cooking to allow it to rise in temperature naturally.
If you don't have time to let it sit, you can microwave it to take the chill off. It's best to do so in 10 second intervals with your microwave on low, until the milk reaches room temperature.
This just helps to seamlessly integrate it into the melting butter and cheese. This recipe calls for 1/2 cup of milk, but you may not need all of it.
We're going to start by adding 1/4 cup of the milk to the pot with the melting cheese and butter and use a whisk. Later, we may need to add more milk, so it's best to have some ready at room temperature in case you need it.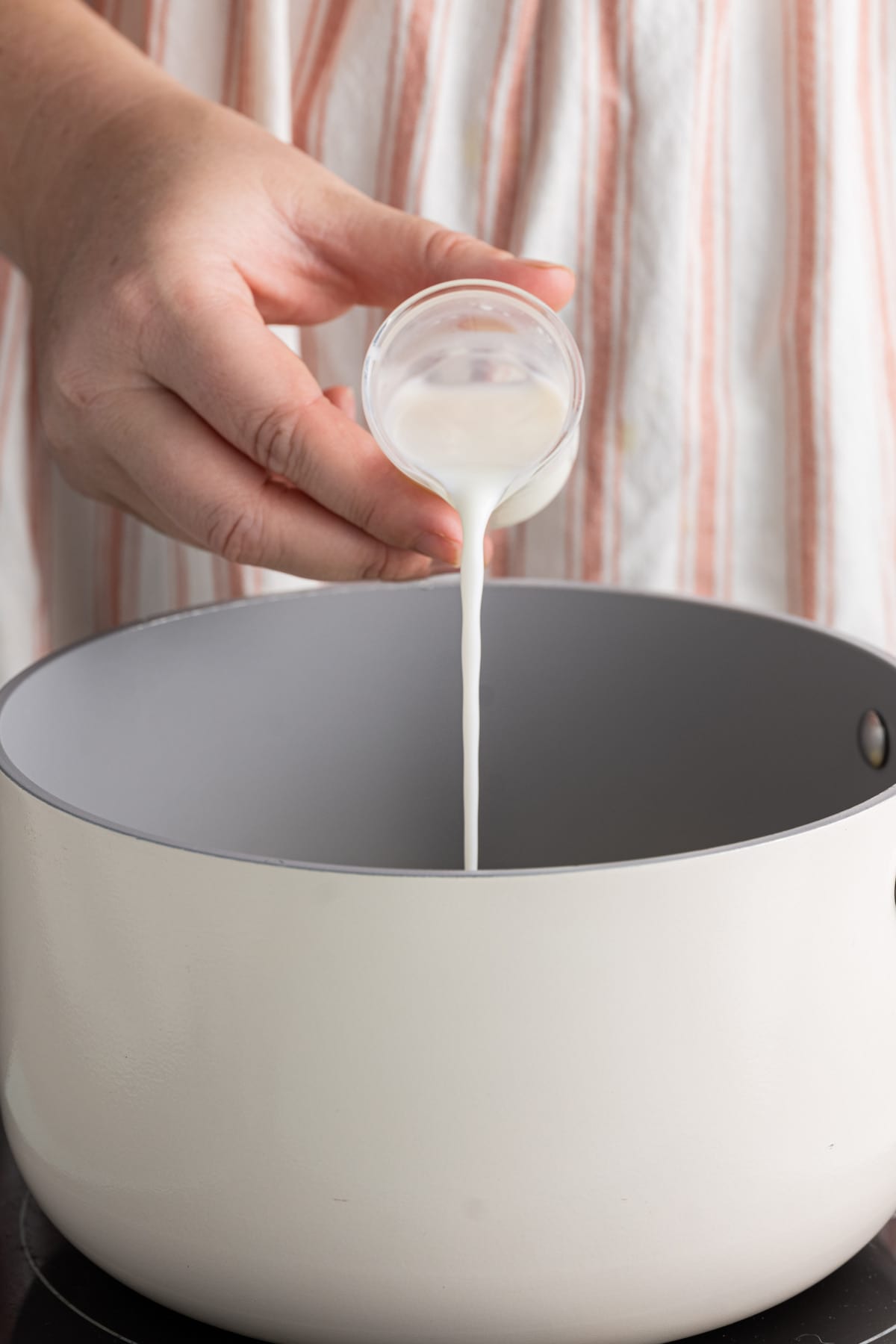 Low and Slow
I can NOT emphasize the importance of this enough. Keep your stove at a low temperature, stir frequently, and be patient. The smallest burner on my stove has a "melt" setting, which is lower than low, and that's what I use.
If your stove doesn't have this setting, don't fear! Just keep it on low and watch it closely.
If your cheese and/or milk get too hot, you are at risk of your queso quickly splitting, which is really hard (but not impossible!) to come back from. So, it's best just to be patient and let it do its thing over low heat.
If for some reason you accidentally turn your stove up too high, and your Tex-Mex Queso Blanco does split—don't worry, I got your back. More detailed instructions on how to fix a "broken" queso in the next section.
Continue to heat and whisk until all of the cheese and butter are melted and you're left with a smooth consistency.
Once everything is melted and combined, whisk in your cumin and cayenne pepper and assess the consistency. It should easily drip off your whisk in a steady stream as pictured below.
Add milk as needed about 1 tablespoon at a time, whisking in between until the desired consistency is achieved.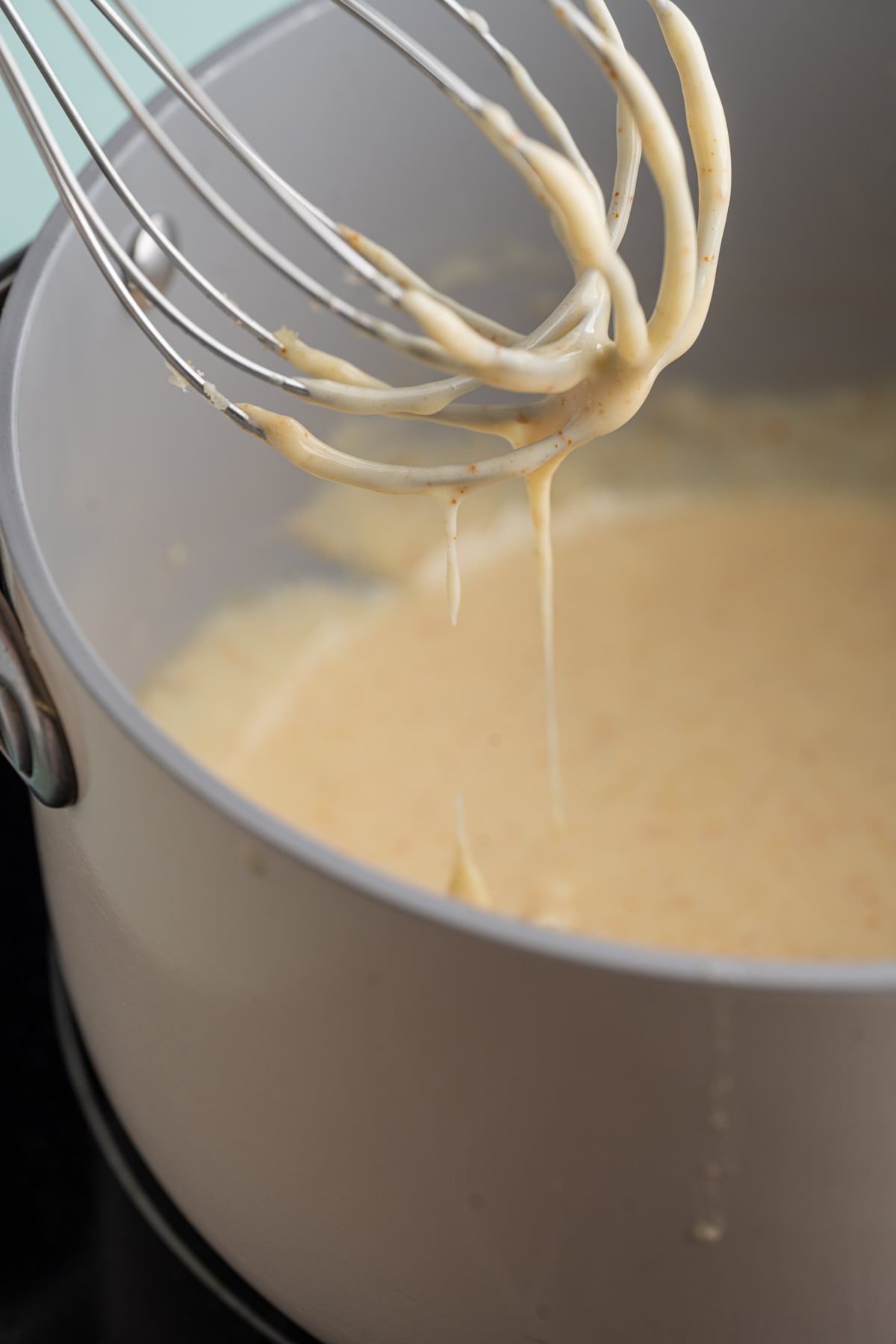 What If My 5-Ingredient Queso Splits or Curdles?
If you notice a chunky texture in your queso Blanco, immediately remove it from your heat source.
Try whisking it quickly to see if you can bring it back to that velvety crème-de-la-crème texture we are all after. Add a little bit more milk and continue to whisk. Turn your stove down to the lowest setting and continue to whisk over low heat.
If this doesn't do it, it's time to bring out the big guns—acid. A dash of lemon or lime juice can bring your queso back together in a pinch. Whisk in a couple of drops to start.
Continue to add slowly, over low heat, while whisking, until your cheesy dip comes back together into a silky. smooth texture.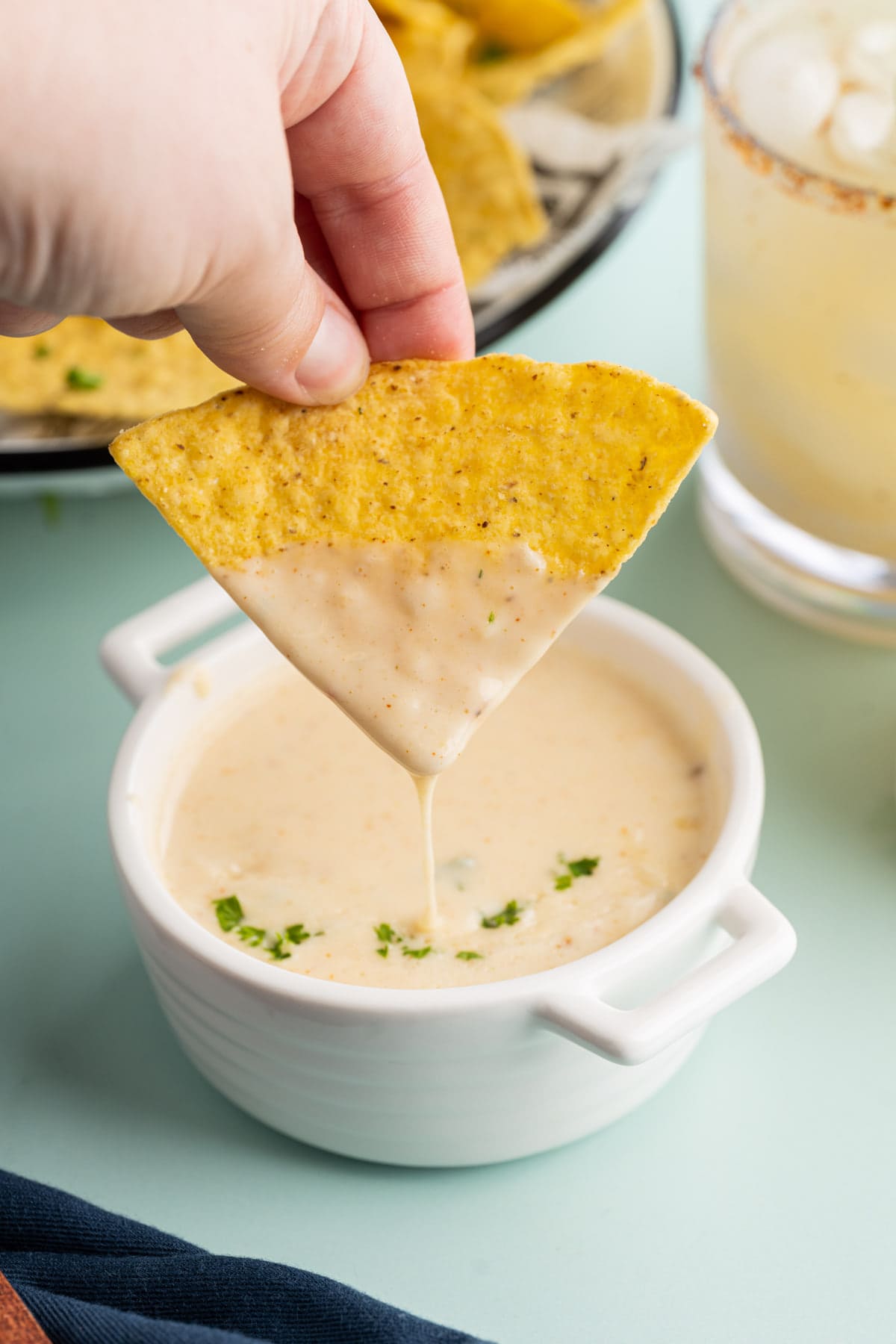 Serving Your Tex-Mex Queso Blanco
This, along with my tableside guacamole, is one of my favorite appetizers to serve with tacos, burritos, and enchiladas.
It's important to note that as the queso cools and comes to room temperature, it will start to solidify. This means it's best to keep it on the low setting on the stove until you are ready to serve.
If at any point your queso thickens too much, you can always reheat it or even add a little bit more milk, 1 tablespoon at a time, until your desired consistency is reached.
If you're making a large batch to serve a crowd, ideally, you will serve it in a chafing dish to keep it warm.
Here are some of my favorite mains to serve this white queso with: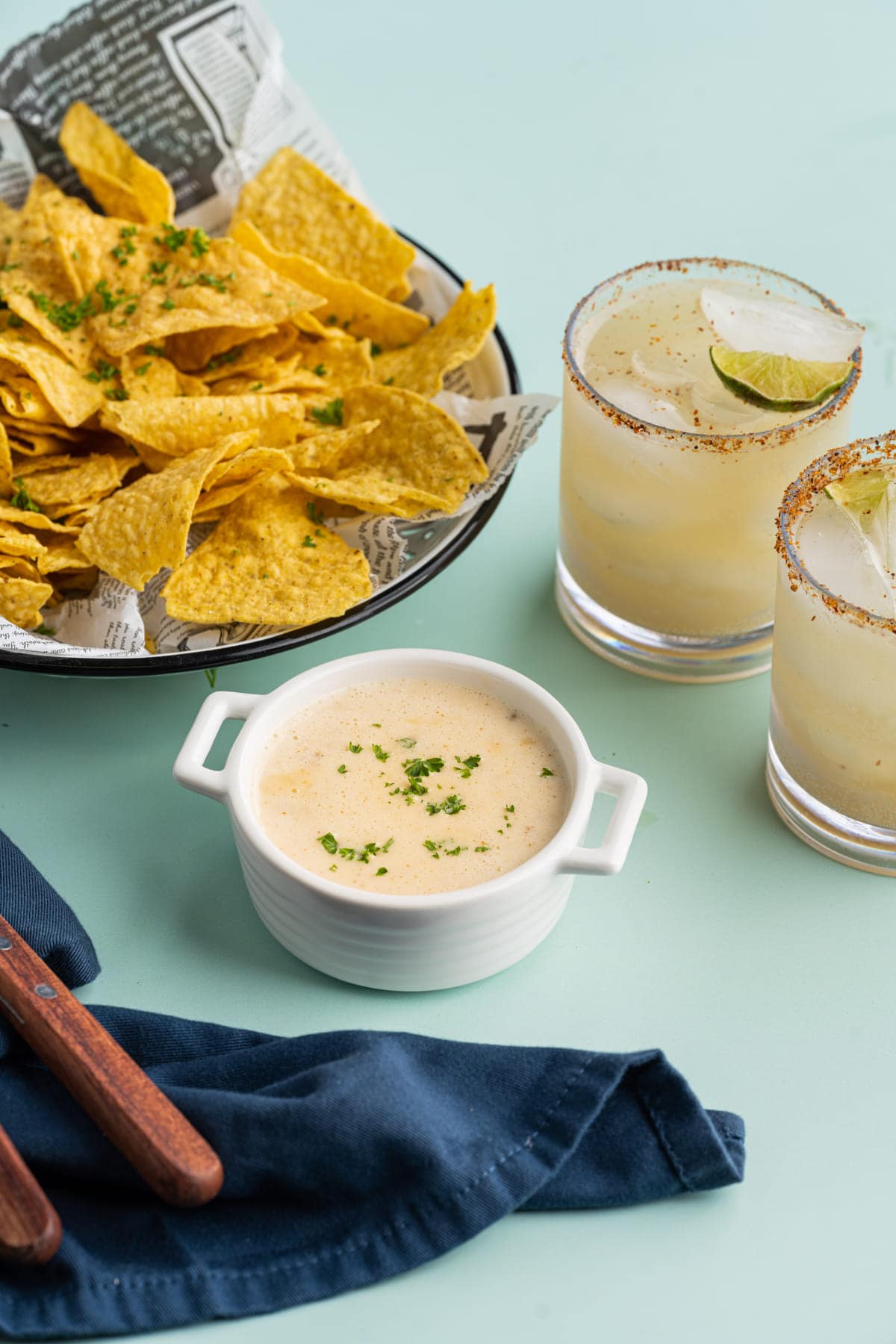 How to Store and Reheat Leftover Tex-Mex Queso
This white queso will last in an airtight container in the refrigerator for up to 3 days. It can also be frozen for up to 6 months but will need to be thawed overnight before reheating.
As the queso cools, it will solidify, so it's best to reheat it when you are ready to enjoy leftovers.
The best way to reheat this queso Blanco is over the stove. Add extra milk, about 1 tablespoon at a time as you reheat, stirring frequently, until the desired consistency is reached.
In a pinch, you can reheat it in the microwave on high in 15-second increments, stirring and adding a splash of milk in between each interval, until desired consistency is reached.
Green tip: Of the billions of tons of food wasted annually, 50% of food waste happens at home. Reduce your contribution to food waste by properly storing, reheating, and consuming leftovers.
Why You Should Make This 5-Ingredient Tex-Mex Queso Blanco
---
The texture. Creamy and smooth, but not too thin.
The spice. The contrast of the hot cayenne and earthy cumin with the milky cheese is top-notch.
It's fun. What's better than sharing dip with friends?
There's no better way to kick off Taco Night. If you have the willpower, save some for your tacos, burritos, or enchiladas. Drenching those delicacies in homemade queso can only elevate them!
It's quick and easy! Under 30 minutes, and only needs an occasional stir. Doesn't get much easier than that!
Love this 5-Ingredient Tex-Mex Queso Blanco and looking for more dip options? Make the ultimate dip trio and whip up Creamy Guacamole and Pineapple Salsa, too!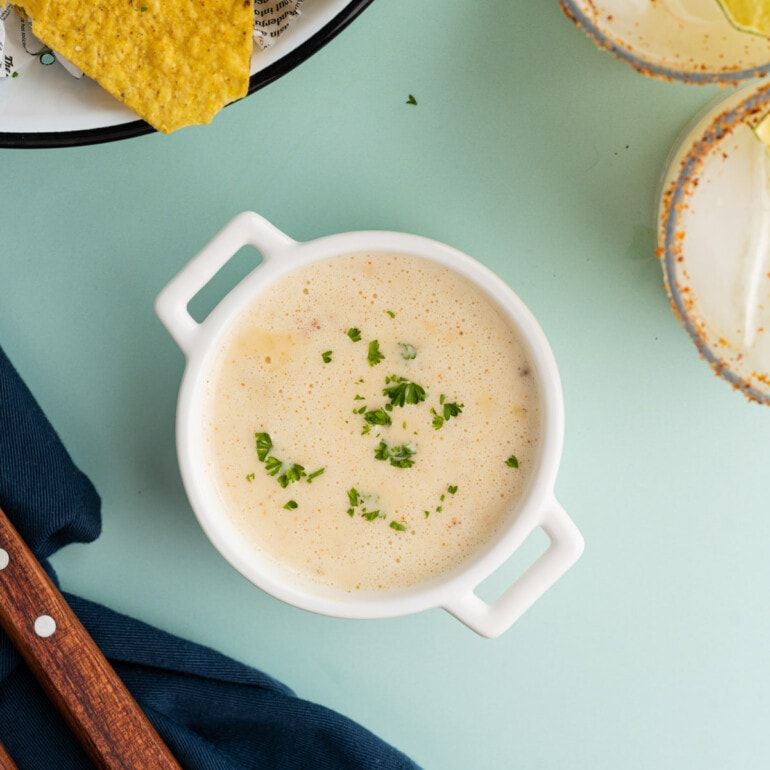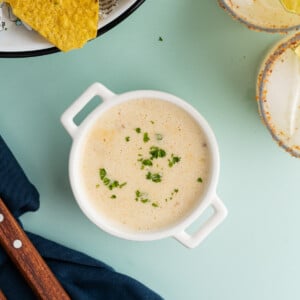 Addicting Tex-Mex Queso Blanco
PRINT
PIN
RATE
Start off Taco Night with the smoothest, creamiest, dangerously Addicting Tex-Mex Queso Blanco. This cheesy dip with a little kick will have you licking the bowl clean.
Ingredients
¼

pound

white American cheese

2

tablespoons

unsalted butter

½

cup

skim, reduced fat, or whole dairy milk

( at room temperature)

¼

teaspoon

cumin

⅛

teaspoon

cayenne pepper
Instructions
Cut your butter and cheese into small cubes, roughly 1-inch wide. This will help them to melt more easily and readily combine.

Add the cheese, butter and 1/4 cup of the room temperature milk to a small hot over lowest heat and let sit for 3-5 minutes to start to melt.

Use a whisk to stir occasionally, keeping an eye on things as they slowly melt to ensure it is not overheating.

Once the butter, cheese, and milk have melted together, add the cumin and cayenne pepper and whisk to integrate.

Assess the consistency of the queso. It should readily run off your whisk in a smooth stream. If too thick, add more milk, about 1 tablespoon at a time, until desired consistency is achieved (you may not need all of the milk).

Taste test to see if you want to add any more cayenne pepper to kick up the spice level. Serve warm with chips and enjoy!
Pro Tips
You can usually buy white American cheese in the deli section, but you can also use the singles slices. 1/4 pound is roughly 6 slices.
You can always add more milk if you want to thin it out even more. Once you remove it from the heat, it will slowly begin to solidify. The thinner you make it, the longer you can keep it off the heat without it starting to solidify.
Cayenne can vary in its level of spiciness. The one I use is relatively potent, but I like my queso pretty spicy. If you don't love things hot, you may want to add only half the amount of cayenne until you are able to taste it. You can always add more later.
Did you make this recipe?
Let me know by leaving a recipe rating below, or by tagging @marleysmenu on Instagram.
The Inspiration Behind This Tex-Mex Queso Blanco
College was a very formative time for me. First time out of the nest, in a huge state school in the South where football and partying were priorities 1 and 2. I had to adapt to a new culture, live through a tough break up, and create new little traditions with my friends to fill the void of missing my family and my hometown.
And new, albeit strange traditions were made. My senior year, there was a little Tex-Mex restaurant around the corner from my house, and every Saturday, without fail, my friends and I would roll out of bed, tiredly slip on a pair of sandals, and walk there for breakfast.
Yes, you read that right. Tacos for breakfast. And of course we started with chips and queso every time. Sometimes a cheeky frozen margarita because, well, hair of the dog.
That creamy, cheesy, salty, spicy queso on a chip was THE. BEST. HANGOVER. CURE. And while since graduating I haven't eaten it for breakfast, it remains one of my favorite dips.
Enjoy with friends, or by yourself on the couch. And maybe, on a Saturday, enjoy this Tex-Mex Queso Blanco for breakfast. 😉
Cheers!