Looking for the perfect healthy side dish for any meal? Look no further. This is hands down the best purple asparagus recipe!

It's simple, delicious, adaptable, and really allows that beautiful purple asparagus to shine. Plus, it takes just 15 minutes and only requires just one sheet pan. Doesn't get any better than that.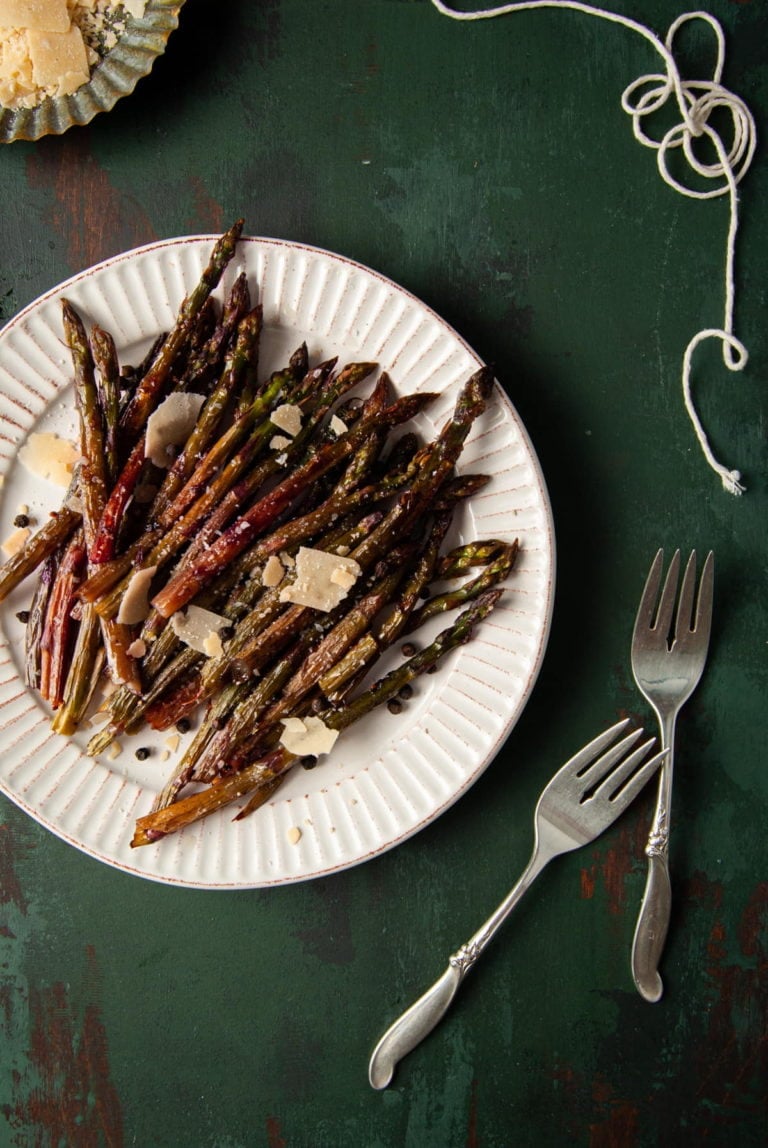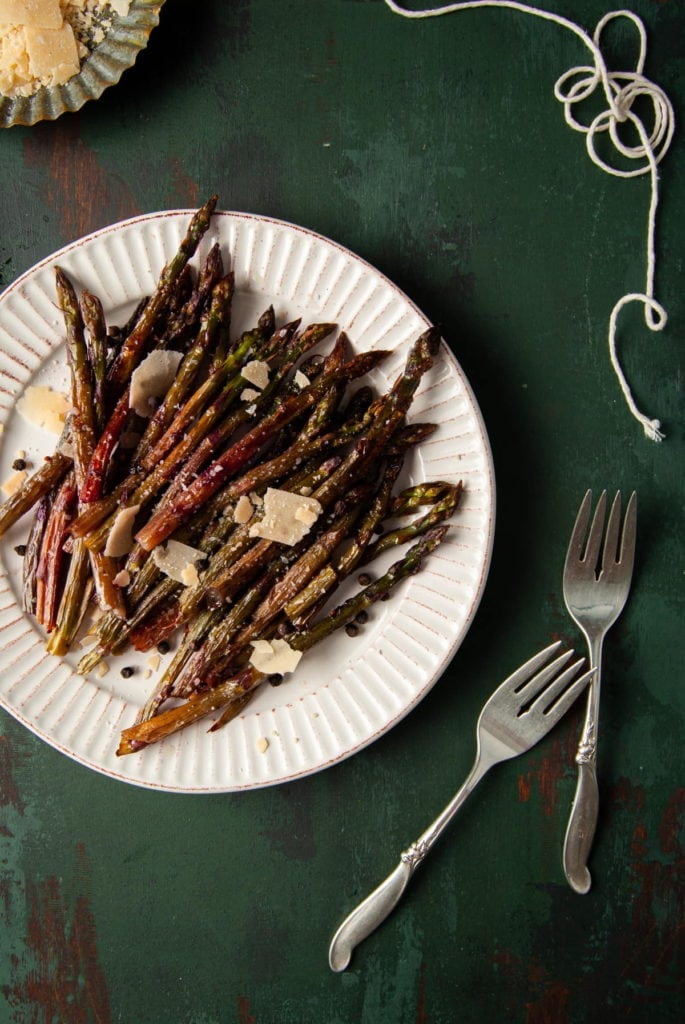 As an environmental scientist, I am always trying to highlight sustainable ingredients. Asparagus, when sourced locally and in season, is considered a sustainable crop.
Check when asparagus is in season in your area with this Seasonal Food Guide.
Relative to most other vegetables, asparagus has a lower water footprint and has little to no pesticide residue. It's also a resilient crop, making its energy requirements low.
Green tip: Organic farms rely on biodiversity to generate rich soil, avoiding the use of pesticides and fertilizers, which means no toxic runoff. Consider organic purple asparagus for this recipe.
Roasted Purple Asparagus Tips and Tricks
---
---
How to Store Purple Asparagus
Once you find your beautiful asparagus and take it home, it will stay fresh for about a week if you store it correctly.
Place the asparagus in a jar, tips facing up, and fill it with about 2 inches of water as pictured below.
You can then place a bag on top and store the whole jar in your refrigerator to keep it fresh.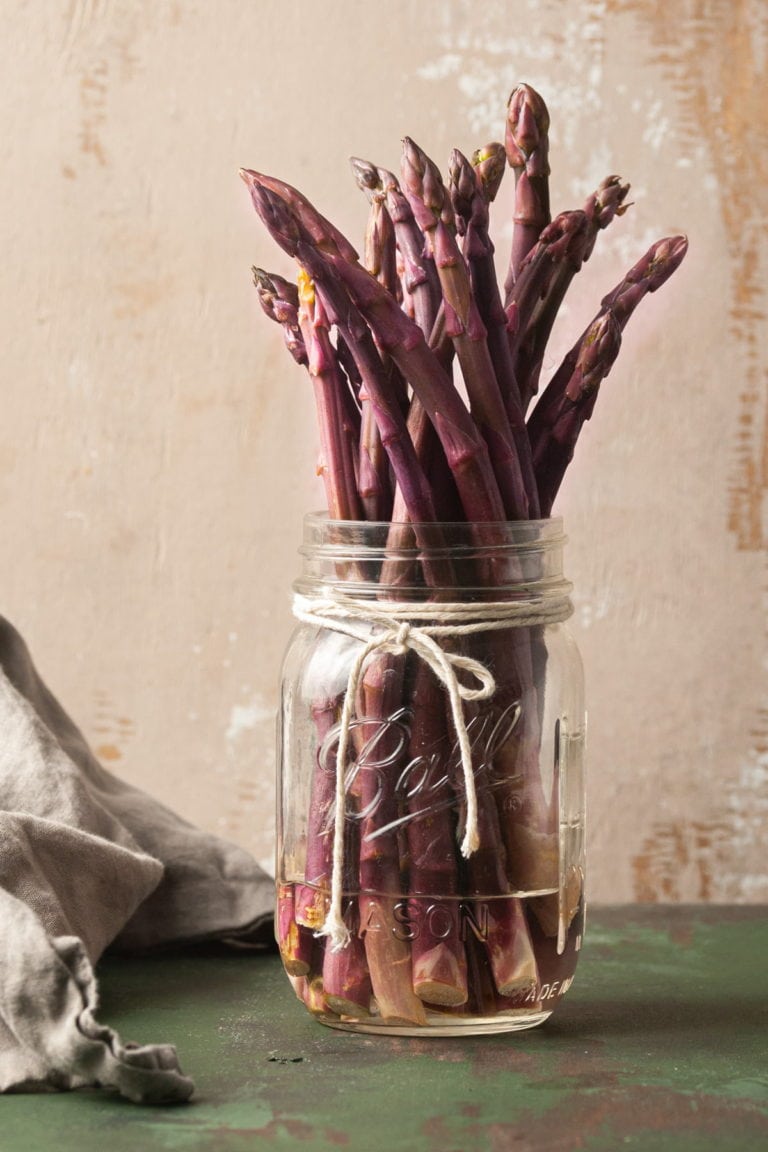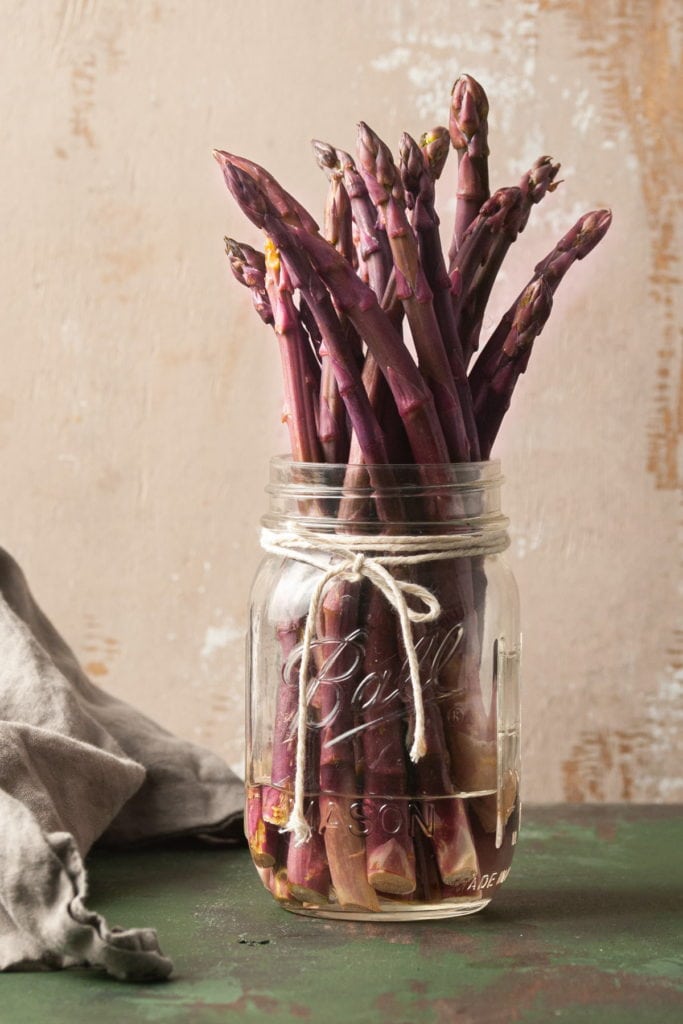 Prepping Purple Asparagus
Just like green or white asparagus, purple asparagus tend to have rough or "woody" ends. It's best to take the ends off before roasting.
But don't throw those ends out! Save them in the freezer along with your other veggie scraps to make your own vegetable broth.
Green tip: Did you know that of the billions of pounds of food wasted annually, it is estimated that 50% of it happens in our homes? It's always best to avoid food waste as much as you can!
The easiest way to remove your ends is to hold the asparagus in two hands and snap it. It will naturally break where the ends start to get tough.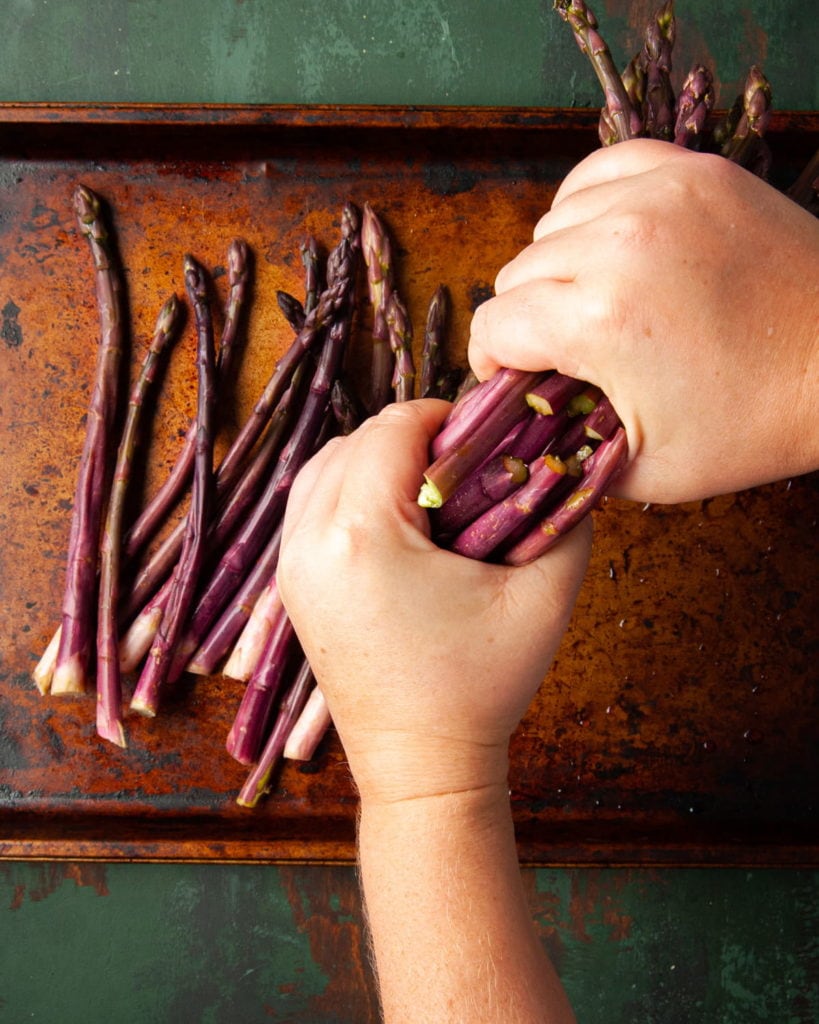 Sometimes Simple Is Best
I kept this recipe super simple because purple asparagus is so delicious on its own. You really only need a few key ingredients to make it shine.
Here's everything you need:
Purple asparagus. Consider organic to go with the most environmentally-conscious choice.
Olive oil. To coat the asparagus before roasting, to get the best texture.
Salt & pepper. To amp up the asparagus' natural flavor.
Other flavor enhancers (optional). Some examples include Parmesan or any other type of cheese, minced garlic, crushed red pepper, garlic powder, lemon juice, and/or butter.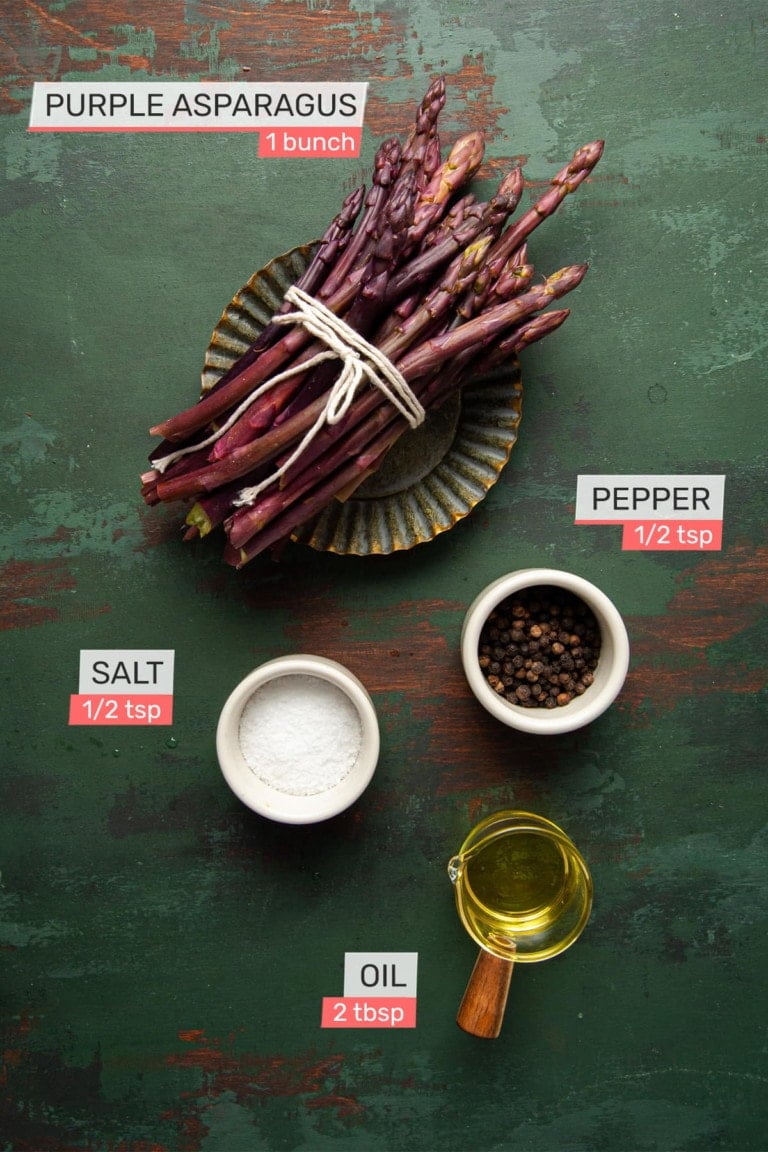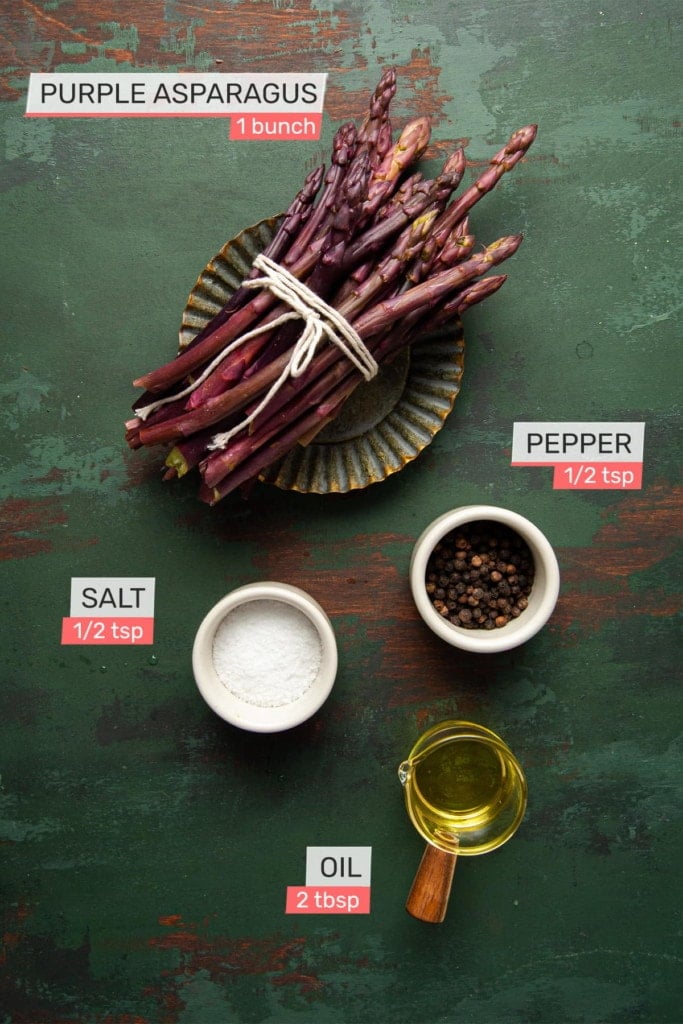 Don't Be Scared To Get Your Hands Dirty
In order to perfectly roast your purple asparagus, it's important to make sure they have an even coat of olive oil. Spread your prepped asparagus out on a baking sheet and pour the olive oil on top.
Then, use clean hands to toss the asparagus and olive oil, making sure each piece of asparagus is completely coated.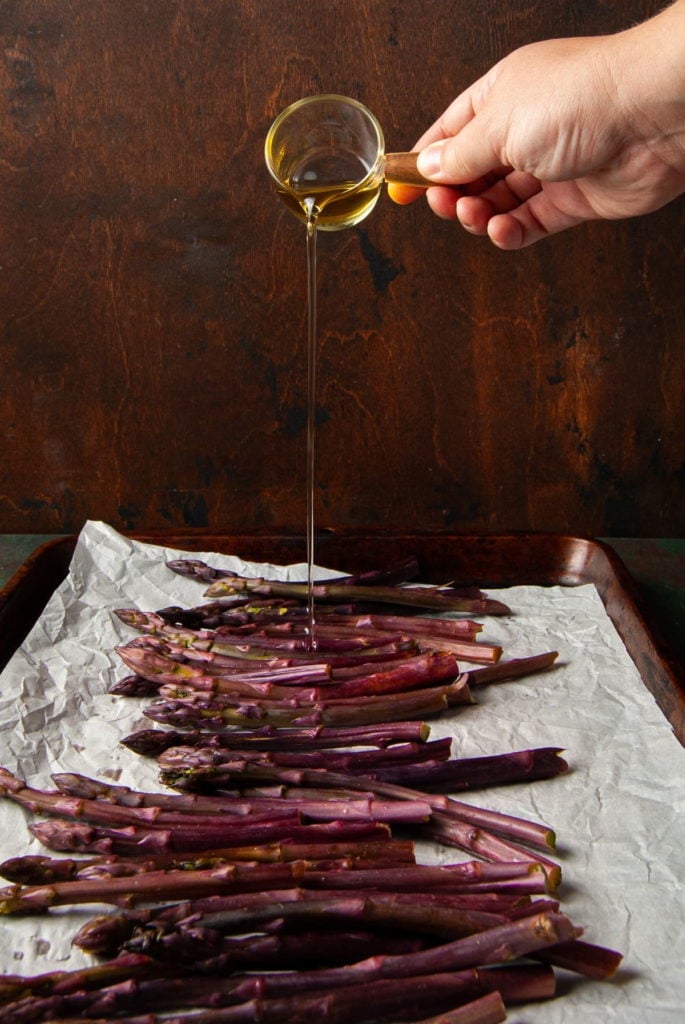 Other Topping Suggestions
You can keep it as simple as salt, pepper, and olive oil, or you can add some other toppings to spruce your asparagus up! Pictured here, I simply added some shaved Parmesan for a little extra texture and salinity.
Some other delicious toppings include minced garlic, crushed red pepper, garlic powder, lemon juice, and/or butter.
But don't let me stifle your creativity! Go wild! Maybe some hot sauce for some heat, truffle oil to make it more gourmet. This simple recipe allows you to really make this purple asparagus your own!
Purple Asparagus Frequently Asked Questions
---
---
What is the difference between green and purple asparagus?
While green and purple asparagus taste very similar, purple asparagus tends to be a little more tender and sweet.
Does purple asparagus stay purple when cooked?
Purple asparagus does tend to lose some of its beautiful color when cooked. Too much heat will turn your purple asparagus completely green.
Is purple asparagus genetically modified?
Purple asparagus is non-GMO. It's a product of conventional plant breeding.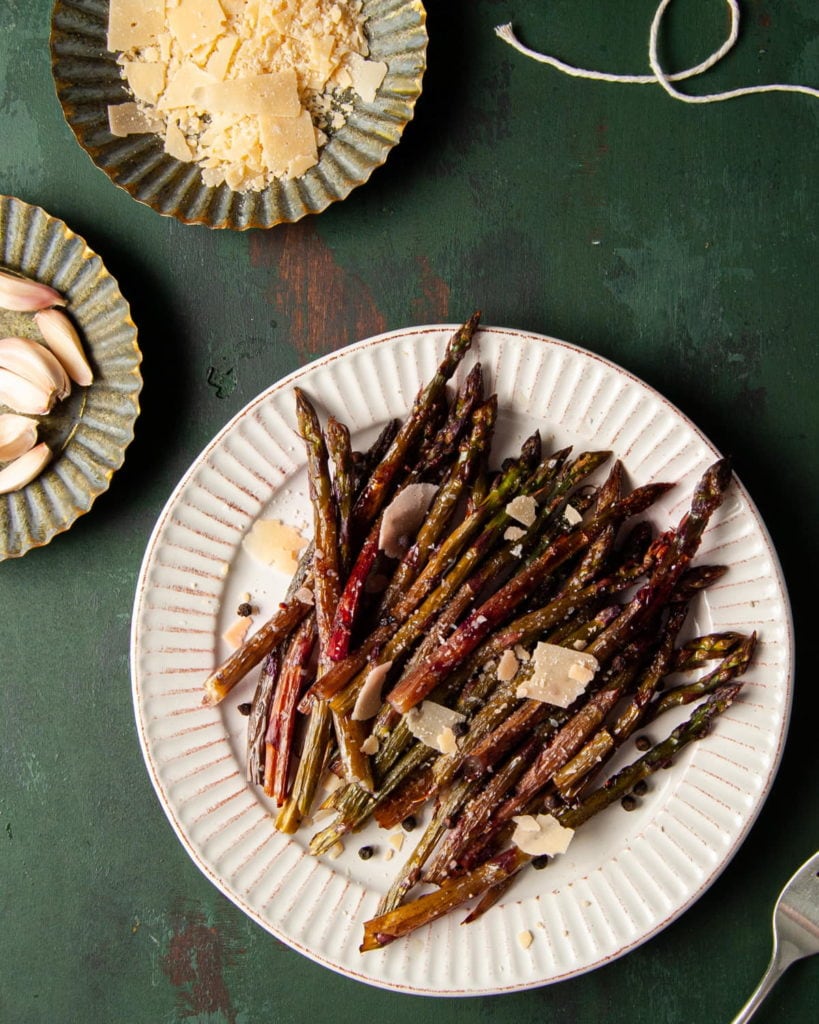 Why You Should Make this Purple Asparagus Recipe
---
---
It's simple. Utilizing minimal ingredients to help the purple asparagus shine.
It's easy. Less than 30 minutes and only a sheet pan required.
It's tender! Purple asparagus is so naturally tender, it's delicious after just a quick 8 minutes in the oven.
If you're loving this Purple Asparagus Recipe and are looking for more yummy veggies, check out this Quick Garlic Lemon Asparagus and these Sweet & Salty Brussels Sprouts.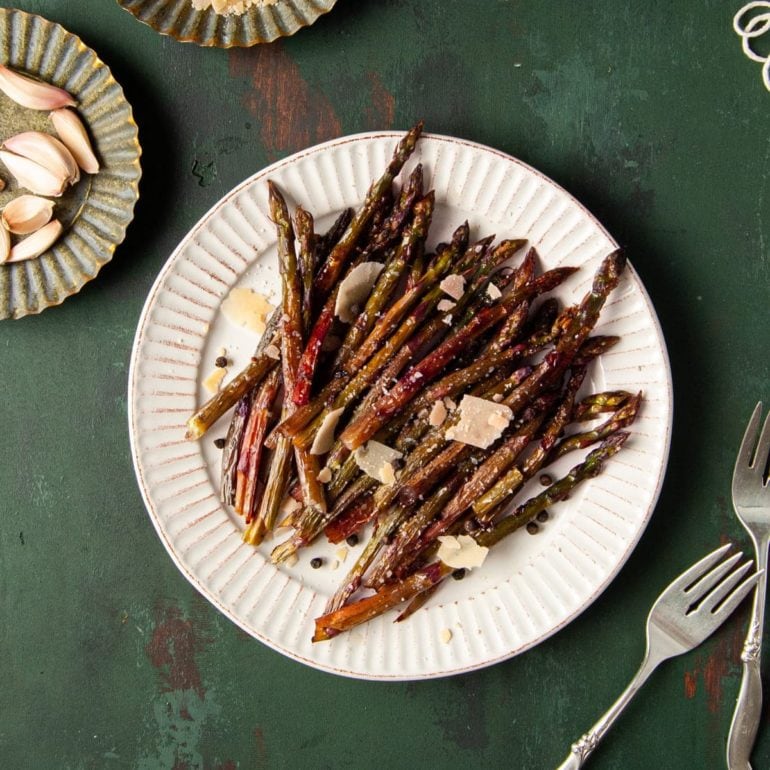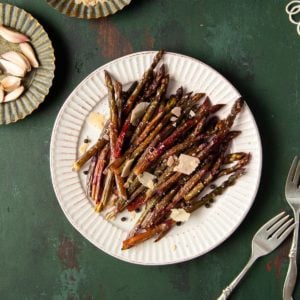 The Best Purple Asparagus Recipe
PRINT
PIN
RATE
This is the best purple asparagus recipe! Simply roasted with minimal ingredients, allowing your beautiful produce to shine.
Ingredients
Roasted Purple Asparagus
1

bunch

purple asparagus

2

tablespoons

olive oil

½

teaspoon

salt

½

teaspoon

black pepper
Optional Topping Ideas
2

cloves

garlic, minced

2

teaspooons

lemon juice

½

teaspoon

crushed red pepper

2

teaspoons

Parmesan

1

tablespoon

butter

½

teaspoon

garlic powder
Instructions
Preheat your oven to 425°F.

Rinse your purple asparagus and break off the tough ends by holding the asparagus in two hands and snapping. The stalks will naturally break where the asparagus starts to get tough.

Spread your prepped asparagus out on a large baking sheet and pour the olive oil on top. Use your hands to toss the asparagus to ensure each piece is evenly coated in oil.

Align asparagus on the baking sheet so they are not stacked on top of each other, and add salt and pepper.

Roast for 8-10 minutes, until the purple asparagus just starts to turn dark green. Add your toppings of choice and enjoy hot.
Pro Tips
Purple asparagus does tend to lose some of its color when heated, so if your asparagus gets mostly green, it will still be delicious!
Did you make this recipe?
Let me know by leaving a recipe rating below, or by tagging @marleysmenu on Instagram.