Okay, I know, it's a big claim. But, I'm serious. This is THE BEST VEGGIE SANDWICH I'VE EVER HAD.
It's not that good vegetarian sandwiches are hard to achieve, it's just that they're not always easy to find. Most sandwich places think: just leave off the meat and you'll have a vegetarian sandwich.
Well, yeah. But do you really want a piece of bread with mayo, pickles, tomato, and lettuce?
You need the right combo of hearty vegetables and flavor-boosting spreads to deliver that lunch you deserve. And this recipe has just that.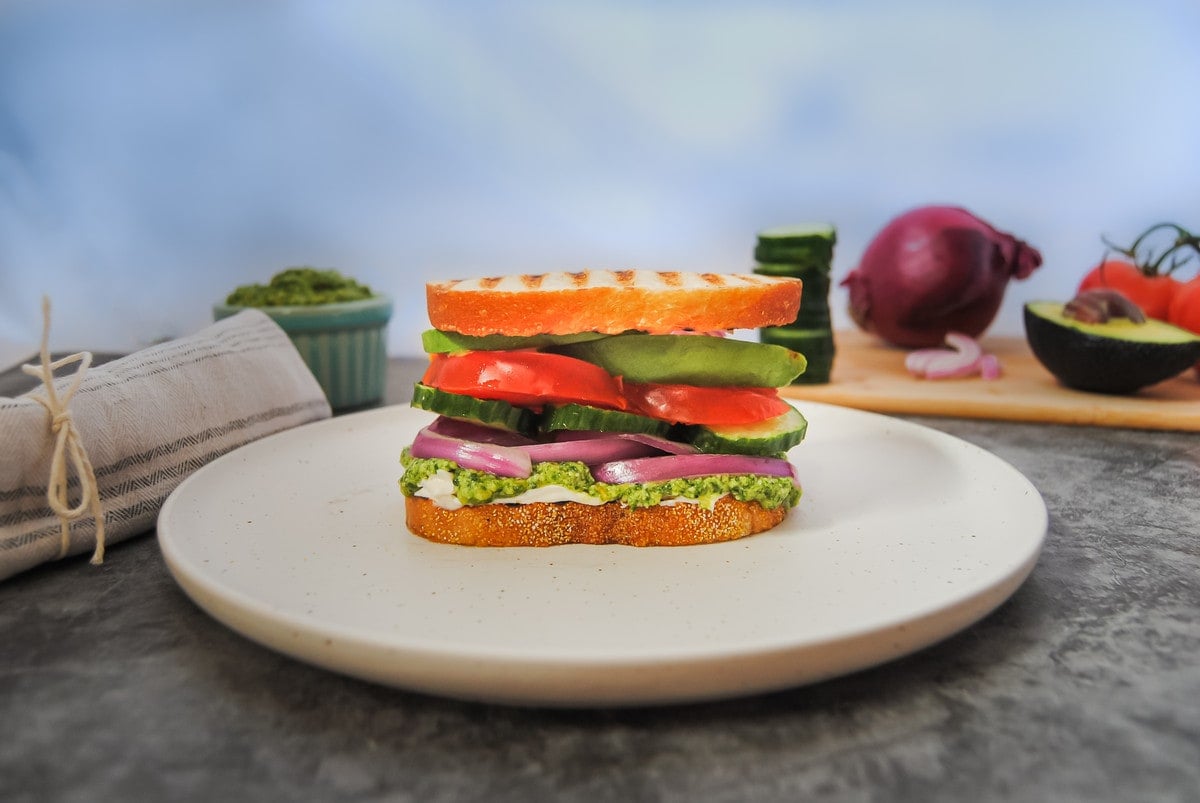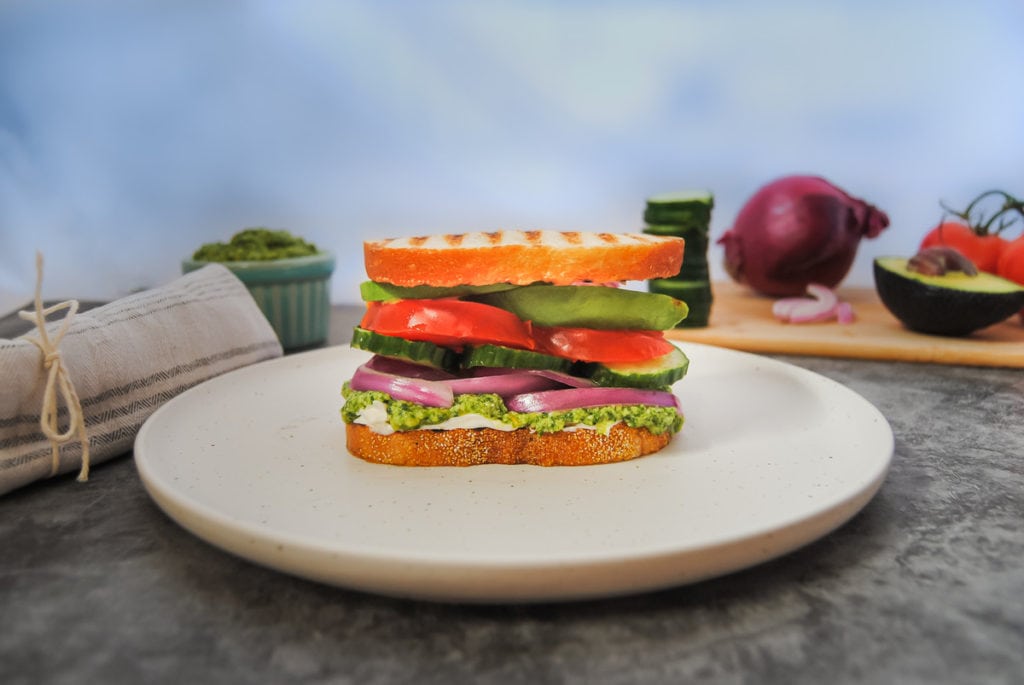 Why Is This The Best Veggie Sandwich I've Ever Had?
---
---
The crispy exterior. Always toast your bread before assembling your sandwich. I toast it on a grill pan to get those beautiful grill marks, but a toaster will do the job!
The cream cheese. It gives it a little tanginess and subtle sweetness that rounds out this nutrient-packed sammie. Try using Kite Hill cream cheese to make this sandwich vegan.
The flavor-punch pesto. You can't say veggie sandwiches are dull after biting into this herbaceous, garlicky, fresh spread layered on your crunchy bread. Try making your own with my Two-Step Pesto recipe!
The crunch from the red onion and cucumber. It's JUST. SO. FRESH.
The acid and juiciness from the tomato. To balance out the slight sweetness from the cream cheese and red onions.
The creaminess from the avocado. In stark contrast to the other crunchy ingredients, the avocado provides a much needed creaminess to balance out the mouthfeel.
And if you're not yet convinced that this sandwich is exactly what you need for lunch (or dinner, or midnight snack, or second breakfast…), I will surely persuade you with this final mic drop. This bad boy is SUPER DUPER HEALTHY.
With well over 50 vitamins and minerals, this Best Veggie Sandwich has tons of fiber, and is absolutely brimming with antioxidants. It contains good fats and will energize you and keep you full.
And that, my friends, is why, out of all the thousands of sandwiches I've consumed in my lifetime, I feel comfortable calling this The Best Veggie Sandwich I've Ever Had.
If you're looking for other lunch options, try this Guilt-Free Buffalo Ranch Tempeh Bowl, or this Vibrant and Tasty Confetti Orzo.