You've been hearing about them, so what's the skinny on flax eggs, you ask? Let me shed some light for you.
Eggs are a very common ingredient in baked goods, dressings, casseroles, and bread. They often act as a binder to help things hold their shape, a leavening agent to rise, or sometimes even to add moisture.

And if you're vegan or have egg allergies, it can be frustrating to achieve perfection without that egg.
Generally, it is not an option to simply omit an egg without the consistency of your final product being compromised. Luckily, there are several solutions, including making a flax "egg".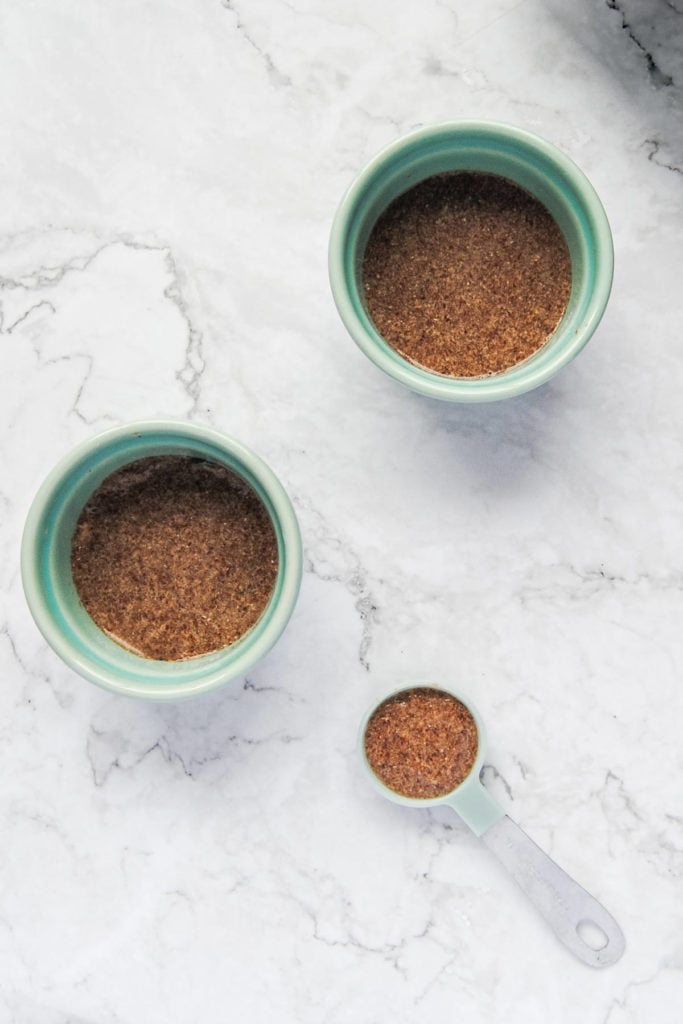 The Skinny on Flax Eggs
---
---
When To Use Flax Eggs
Substituting a flax egg is your best solution when the egg is being used in a recipe as a binder. This means you do not want to use a flax egg for dishes that need to rise significantly (i.e. cakes and bread).
Flax eggs are very useful in recipes like cookies, black bean burgers, and pancakes. They will hold your dish together perfectly!
Are There Health Benefits?
Yes! Flaxseed meal provides many healthy nutrients including antioxidants, protein, and fiber. It has fewer calories than 1 large egg and zero cholesterol. It also has about 1/6th the amount of sodium.
How To Make Them
It's as easy as combining 1 tablespoon of flaxseed meal with 2 tablespoons of water and letting it rest in a cool environment. If you stick your flaxseed and water mixture in the refrigerator, it will be ready for use in just 5 minutes!
1 tablespoon of flaxseed meal in 2 tablespoons of water is equivalent to 1 large egg. If a recipe is calling for 2 eggs, use 2 tablespoons of flaxseed meal and 4 tablespoons of water. Just remember, it's best when substituted for eggs used as a binder, not as a rising agent.
Okay, you've got the skinny on flax eggs. You know what they are and how to use them. So, let's put your new knowledge to work!
Try making these Vegan Rainbow Celebration Cookies, these Smoky and Spicy Black Bean Burgers, or these Light and Airy Whole Wheat Pancakes!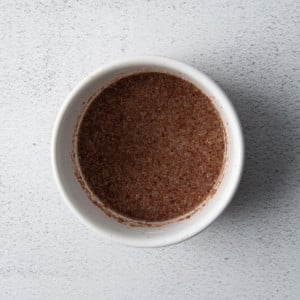 The Skinny on Flax Eggs
PRINT
PIN
RATE
For those with egg allergies and vegan diets, knowing how to substitute a flax egg for a chicken egg is a game-changer. Here's the skinny on flax eggs.
Ingredients
1

tablespoon

flaxseed meal

2

tablespoons

cold water
Instructions
Stir together flaxseed meal and cold water until combined.

Allow mixture to sit in the refrigerator for 5 minutes until it firms up.
Pro Tips
Flax "eggs" are best used as binder. Substitute this recipe for 1 egg in any dish that uses eggs as a binding agent.
Did you make this recipe?
Let me know by leaving a recipe rating below, or by tagging @marleysmenu on Instagram.