Looking for a flavorful family-friendly dinner for Meatless Monday? These Tofu Fajitas with Onions and Peppers should be at the top of your list!
Packed with protein and top-notch taste, these fajitas hit all the right notes when it comes to both texture and flavor. Plus, they only require one pan and can be whipped up in under 30 minutes, making it one of my favorite vegan dinner recipes.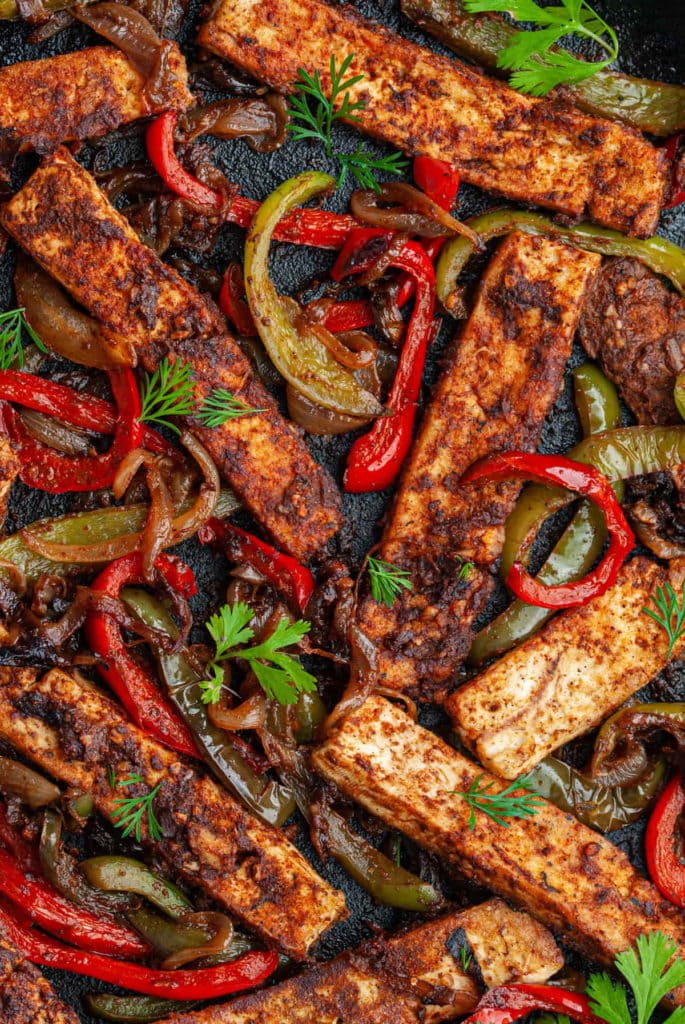 As an environmental scientist, I'm always looking for delicious meat alternatives to help me lower my ecological footprint, and these Tofu Fajitas with Onions and Peppers are the easiest way to sub out meat for your Mexican-inspired meal.
Tofu is a protein-rich food made from condensing soy milk. It's a great addition to any meal because of its ability to take on any flavor.
Tofu Fajitas with Onions and Pepper Ingredients
---
Here's everything you'll need:
Onion. For umami and subtle sweetness.
Green and red pepper. For color and crunch.
Extra-firm Tofu. For protein! Extra-firm tofu is the best option to get the crispiest, "meatiest" texture in these fajitas.
Cornstarch. To get your tofu extra crispy.
Olive oil. To cook your veg and tofu in.
Taco Seasoning (or Fajita seasoning). You can make it yourself or buy it in packets.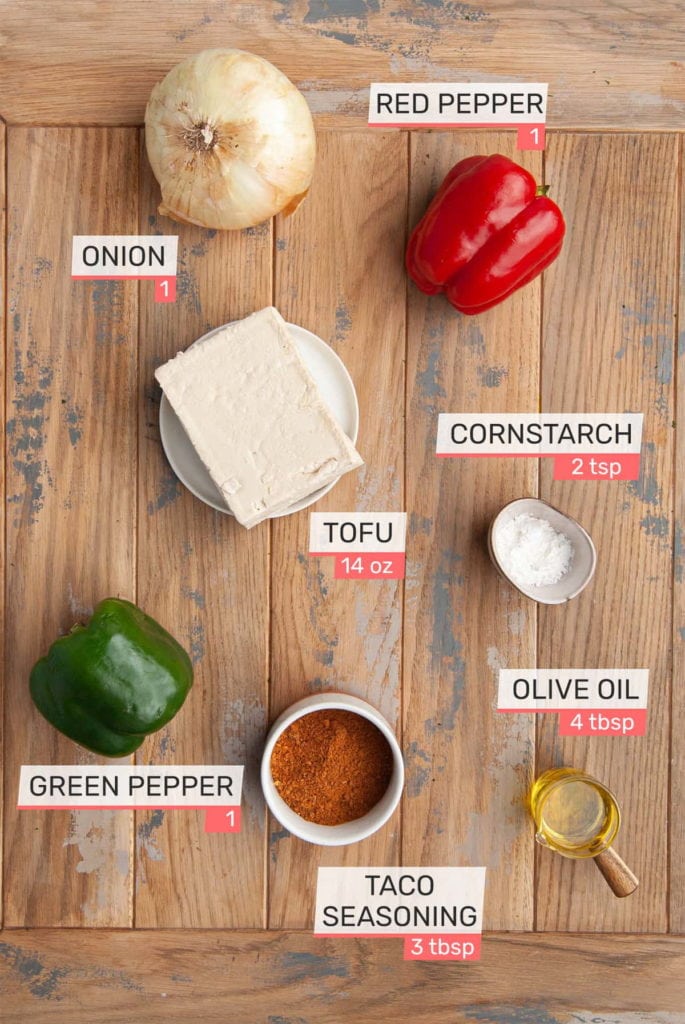 Here are some options for serving:
Flour or corn tortillas. Whichever you prefer!
Mexican-style Rice. You can opt to skip the tortillas and serve your tofu fajitas "meat" over rice.
Avocado. For an extra creamy texture.
Red onion. For crunch and extra flavor.
Tomato. For color, moisture, and a little extra sweetness and tang.
Lime. Squeeze some lime juice over your fajita for a hit of citrus.
Cheese. For texture and salinity. I recommend cotija or a Mexican blend if you opt to add cheese. Vegan or dairy.
Sour cream. For a little tang and coolness. Vegan or dairy!
Cilantro. For freshness and herbaceousness.
Tofu Fajitas Tips and Tricks
---
Press Your Tofu
To avoid that infamous "spongy" texture that some people associate tofu with, it's best to drain and press your tofu.
If you don't have a tofu press, no problem! Wrap your tofu in a clean kitchen towel and place a cutting board on top.
Then, you have a level surface to stack something heavy on top, like books or pots and pans, or kitchen canisters—whatever you have laying around!
This will force excess liquid out of the tofu that the kitchen towel will soak up. Let it press for about 10 minutes to achieve crispy tofu for your fajitas.
Green tip: Look for organic, non-GMO tofu to make sure it's sourced sustainably.
Slice Your Veggies
Rinse your peppers and cut around the stem, removing the seeds. Cut around the bulb of the onion and peel.
Slice your onions and peppers about 1/2 inch thick, as pictured below. For detailed instructions on how to efficiently slice onions, check out this recipe for caramelized onions and mushrooms.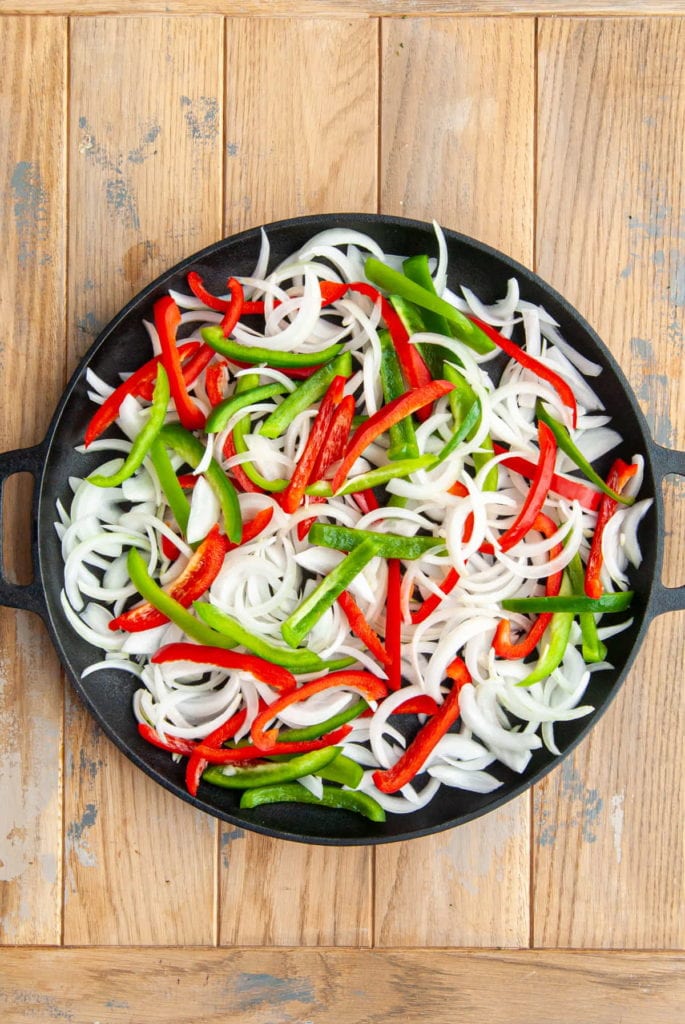 Cook The Veggies First
Add your prepped veggies to a large non-stick or high-quality cast iron pan. I use my cast-iron pizza pan that has ample room to cook my onions, peppers, and tofu on!
Add half of the olive oil to the veggies and toss to coat. Cook over medium heat, stirring occasionally, until the onions are translucent and fragrant, about 10 minutes.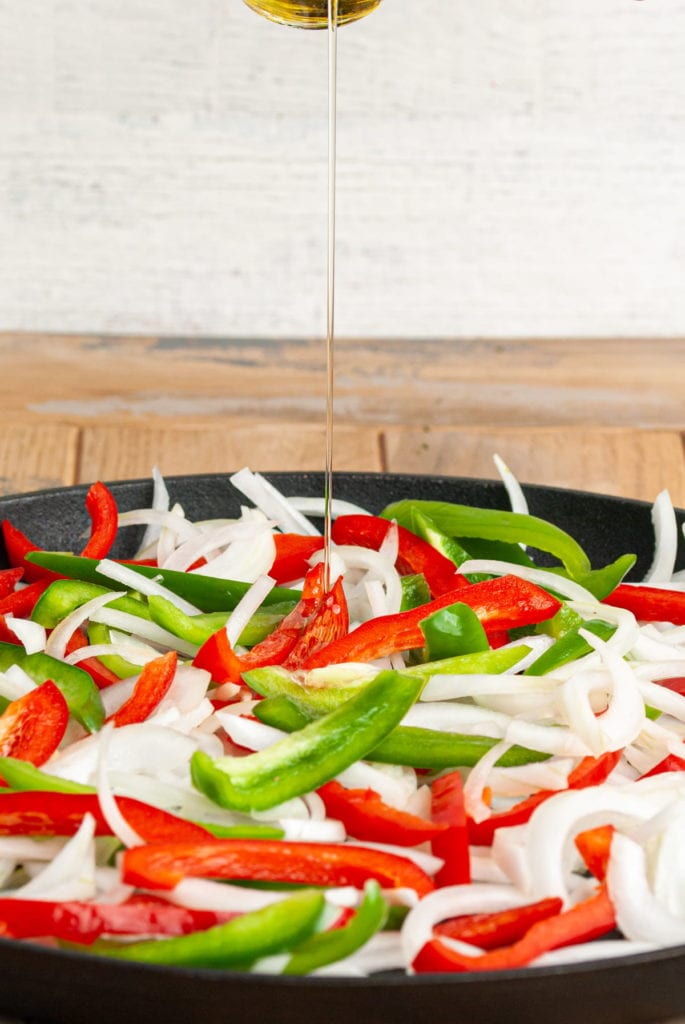 Toss the Tofu
Meanwhile, once your tofu is drained and pressed, slice it into thin strips, about 1/2 inch thick. Once sliced, press again with a clean, dry kitchen towel to ensure you've released as much liquid as possible.
Then, add your tofu strips to a large mixing bowl. Add the remaining olive oil and the cornstarch and toss to coat.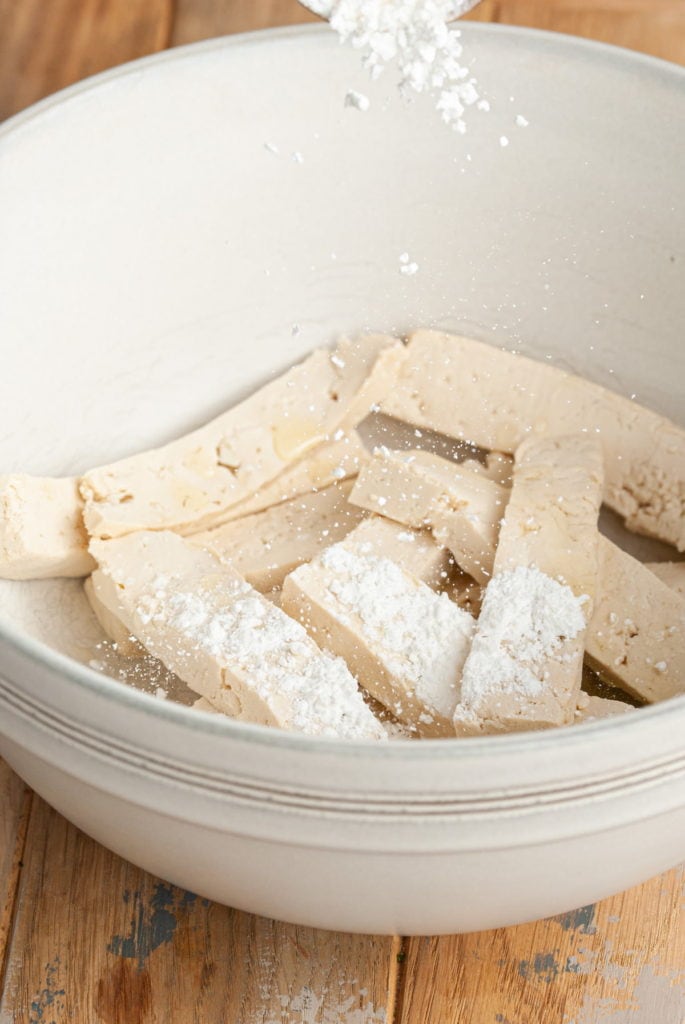 Make Way for the Tofu
Push your veggies to the sides of the pan, creating space to lay the tofu directly on the pan. If you do not have a large enough pan, use a separate one!
It's important that you have enough room to flip the tofu, so avoid overcrowding.
Dont Flip Too Soon!
The tofu will indicate to you when it's ready to be flipped. When it's ready, it will release from the pan. You will know you are trying to flip too soon if the tofu is stuck to the pan.
What happens is that the tofu, oil, and cornstarch cook to form a crispy crust, which easily releases from the pan. You should be able to slide your spatula underneath it and flip to expose a beautiful golden brown. This usually takes anywhere from 5-8 minutes.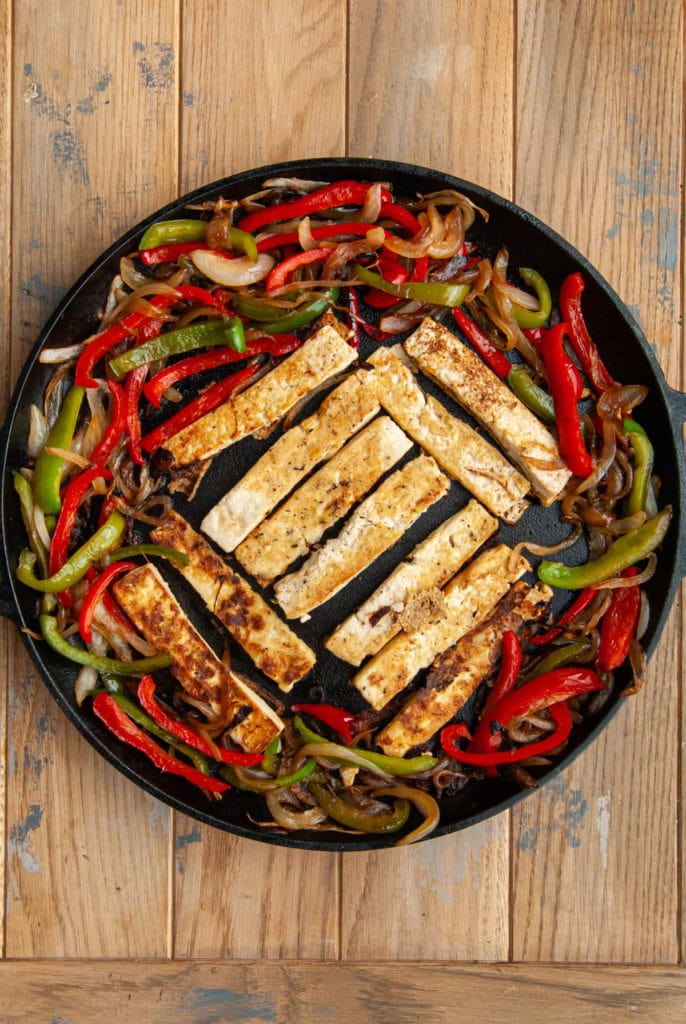 Add the Seasoning Last
Once flipped, give the second side of your tofu about 5 minutes to cook before adding the seasoning. If it seems dry, add some water, about 1 tablespoon at a time, until you can easily toss and coat your veggies and tofu with the seasoning.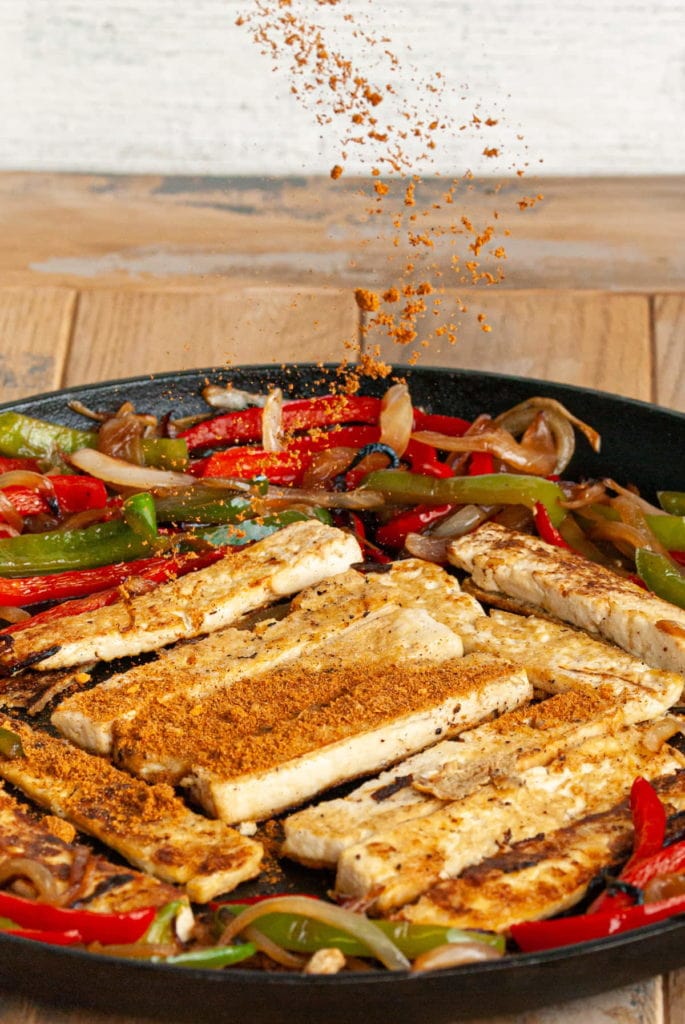 How to Store and Reheat Tofu Fajitas with Onions and Peppers
Your leftover fajita veggies and tofu will last up to four days in a sealed container in the refrigerator.
To reheat, cover and microwave on high for 1-2 minutes, stirring every 30 seconds until heated through. You can also reheat in a pan with a dash of extra olive oil.
Green tip: Did you know that of the billions of pounds of food wasted annually, it is estimated that 50% of it happens in our homes? It's always best to avoid food waste as much as you can!
Serve it Up Your Way
This recipe yields fajita tofu and veggies that are so packed with flavor, you can simply serve them over rice or in flour or corn tortillas on their own.
But there are also so many ways you can make this your own!
Maybe serve it up with some sliced tomato, red onion, and avocado. Or dollop some guacamole, sour cream, or even some Queso Blanco on top. Sprinkle on some cheese, lime juice, and garnish with cilantro—whatever floats your boat!
And if you're feeling extra gourmet, top it with this Pineapple Salsa!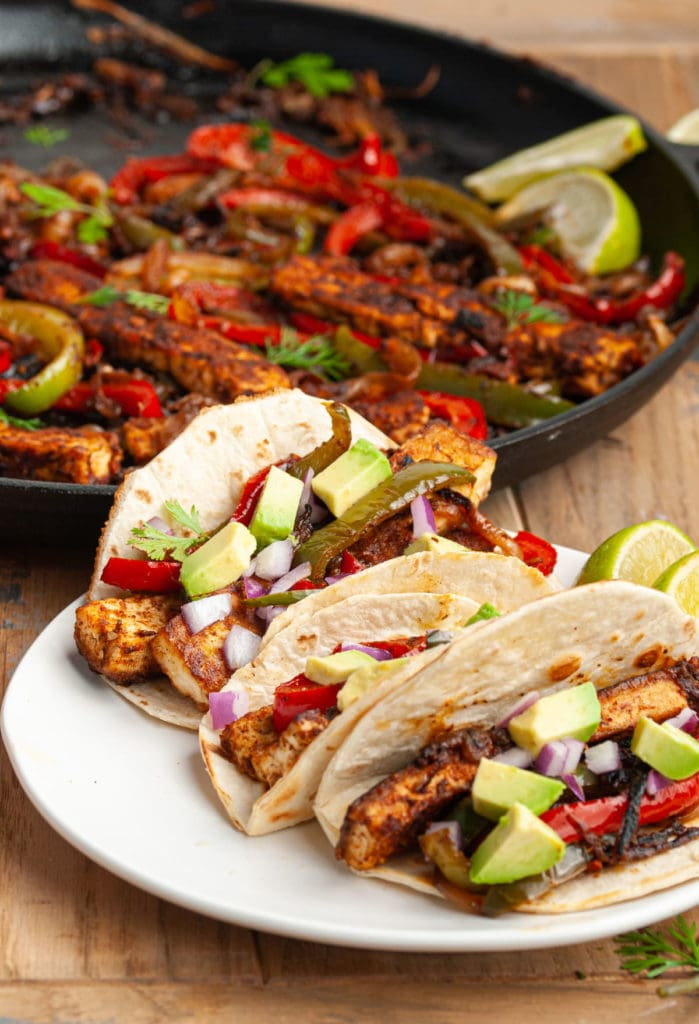 Tofu Fajitas Frequently Asked Questions
---
Is tofu healthier than meat?
Tofu is a great meat alternative because it provides the same if not more protein on average than meat. It also contains vitamins, fiber, and minerals.
The biggest difference is that tofu does not contain the unhealthy amounts of cholesterol and fat that meat contains.
Tofu, when sourced sustainably, also has a lower impact on the environment than meat does.
How are fajitas traditionally served?
Fajitas are traditionally served on a hot plate or griddle with flour or corn tortillas and other toppings on the side.
They are meant to be assembled your way, just before eating.
What's the difference between fajita and taco seasoning?
While the two can absolutely be used interchangeably, you will often find that fajita seasoning contains less spice and more cumin than taco seasoning.
Want to sharpen your kitchen skills?
Why You Should Make these Tofu Fajitas
---
They're nutritious. Protein-packed and full of nutrients, without high amounts of cholesterol and saturated fat.
They're flavorful. Tons of flavor with minimal ingredients that can be amped up with optional add-ons!
You can customize them. These tofu fajitas are meant to be assembled just before eating, allowing you to make them your way.
If you're loving these Tofu Fajitas with Onions and Peppers and want more delicious ways to prepare your tofu, check out this Buffalo Tofu and BBQ Tofu Sandwich.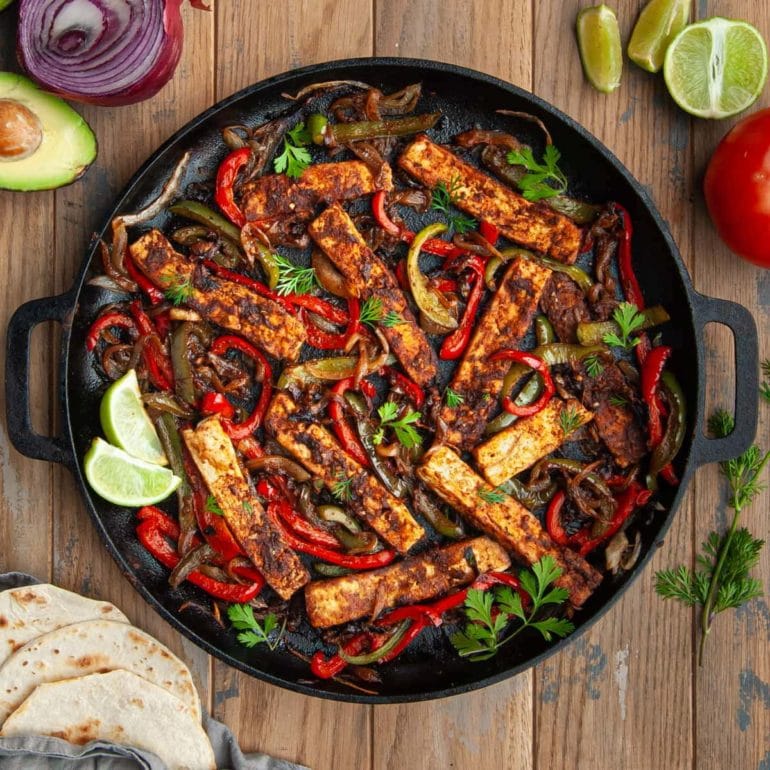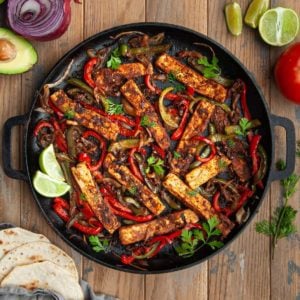 Crispy Tofu Fajitas with Onions and Peppers
PRINT
PIN
RATE
These Tofu Fajitas with Onions and Peppers are bursting with flavor, texture, and protein, making them the perfect family-friendly meatless meal.
Ingredients
Tofu Fajitas with Onions and Peppers
14

ounces

extra-firm tofu

1

large

yellow onion

1

large

green pepper

1

large

red pepper

4

tablespoons

olive oil

2

teaspoons

cornstarch

3

tablespoons

fajita or taco seasoning
Serving Options (Make it your own!)
8

medium

flour or corn tortillas

½

cup

Mexican rice

1

lime wedge

1

large

avocado, chopped

½

large

tomato, diced

½

large

red or white onion, diced

1

handful

fresh cilantro

¼

cup

cheese of choice

(vegan or dairy)

¼

cup

sour cream

(vegan or dairy)
Instructions
Drain and press your tofu, either with a tofu press or by wrapping it in a clean kitchen towel and stacking something heavy on top for about ten minutes.

Meanwhile, prep your onion by cutting around the bulb and peeling. Prep your peppers by cutting around the stem and removing seeds. Slice your onion and peppers into strips about 1/2 inch wide.

Add onions, peppers, and 2 tablespoons olive oil to an extra-large nonstick or high-quality cast iron pan and fry over medium heat until fragrant and onions are translucent (about 10 minutes).

Once your tofu is pressed, cut it into thin strips, about 1/2 inch thick. Add the tofu strips to a large mixing bowl with the remaining 2 tablespoons olive oil and the cornstarch. Toss to coat.

Once your onions are translucent, push the peppers and onions to the outer edges of the pan, leaving space in the middle for the tofu.* Place the tofu strips directly on the pan, keeping your burner at medium heat.

Allow the tofu, peppers, and onions to cook for another 5-8 minutes. When the tofu is ready to flip, it will easily release from the pan and reveal a crispy, golden-brown crust. If you cannot get your spatula under your tofu to flip, continue to cook until the tofu releases.

Once flipped, continue to cook for another 5-8 minutes until the tofu once again releases from the pan on the second side.

Add your seasoning and toss. If your tofu and veggies seem dry, add water, 1 tablespoon at a time, continuing to toss until the tofu, onion, and peppers are coated in seasoning.

Serve hot either with tortillas, over rice, and with whatever toppings your please!
Pro Tips
If you don't have a large enough pan to make enough room in the center for the tofu to sit directly on the heat, use a separate pan.
For more easy and low clean-up recipes, check out this awesome list of my best One-Pot recipes.
For more tofu-based recipes, check out this round-up of my best tofu recipes.
Did you make this recipe?
Let me know by leaving a recipe rating below, or by tagging @marleysmenu on Instagram.