Looking for a new twist on the classic pasta salad? Try out this Canned Tuna Pesto Pasta Salad for an inventive tuna recipe that will feed the whole family.
It's bursting with fresh flavor, affordable, and can feed up to 6 hungry people! It's absolutely one of my favorite pasta salads, and to me, just tastes like home. The pesto brings an added layer of vibrant color and flavor to this wholesome dish.
Green tip: The most sustainable way to eat canned tuna is by making sure it is skipjack or yellowfin tuna. Most tuna labeled as "light" is skipjack or yellowfin, as opposed to "white" tuna which is usually albacore. Opt for "light" to reduce your environmental impact.
Want to sharpen your kitchen skills?
Tuna Pesto Pasta Salad Ingredients
---
Here's everything you'll need:
Short Pasta. Like Rotini, Cavatappi, Fusilli, Penne, Farfalle, Gemelli, Rigatoni, or Ziti.
Canned Tuna. The net weight of tuna in one can is usually 4 ounces, so you'll need 3 cans.
Mayonnaise. You can use full fat, light, olive oil, or even veganaise—whatever is your favorite!
Lemon Juice. I highly recommend using a fresh lemon.
Arugula. For added pepper flavor.
Basil. For freshness.
Garlic. For bite.
Salt and Pepper. To amp up all the other natural flavors in this dish.
Tuna Pesto Pasta Salad Tips and Tricks
---
Cook Your Pasta First
The key is to allow your pasta to cool completely before mixing in your ingredients.
Both the tuna and the pesto taste best raw, so mixing it into hot pasta is not ideal. It's best to cook your pasta according to the instructions on the package first, strain it, and then set it aside to cool.
I like to transfer the cooked pasta to a large glass bowl and stick it in the freezer to accelerate the cooling.
You can even opt to make your pasta and your pesto the night before if you want to do a little meal prep.
Whip Your Pesto Up Next
Pesto is super easy to make in a food processor or blender. Just throw all of your ingredients in, blend, and voila! Easy peasy!
Classic pesto is absolutely one of my favorite ways to infuse flavor as it's just so vibrant and fresh. This recipe teaches you how to make your own for this dish, but you could also opt to buy pesto to add in place of the basil, arugula, and garlic.
The only big difference between a pesto you may buy already made and the one in this pasta salad is that I've left out both nuts and parmesan, as the tuna and mayonnaise bring enough extra fat and salt to not need it.
Prepare Your Tuna Salad
Crack open your cans of tuna and drain out as much water as you can.
Then transfer it to a bowl and use a fork to break down any large chunks. Add your mayo and stir to combine.
Mix Your Tuna Salad and Your Pesto
Next, you'll add your fresh pesto directly to your tuna salad.
Use your fork or a spatula to stir, until your pesto is evenly distributed throughout the tuna. You should have a vibrant green mixture to coat your pasta with.
Add Your Pesto Tuna Mixture To Your Pasta
Once your pasta is completely cooled, add the tuna pesto mixture to the pasta.
Stir until pasta is completely coated. At this point, taste a little to make sure no extra salt or pepper is needed.
Use Fresh Lemon
Fresh lemon juice goes a long way in this recipe. The notes of citrus play perfectly with the fresh basil and arugula, working together to bring an overall freshness to an otherwise heavy dish.
One lemon should provide about 3 tablespoons of juice—the exact amount you need for this recipe!
Storing Leftover Pesto Tuna Pasta Salad
Tuna Pesto Pasta Salad will stay delicious for 3-4 days after preparation as long as it is covered and stored in the refrigerator.
After sitting for some time, your tuna pasta salad may get a little dry. Add about a teaspoon of mayonnaise to your serving to add some moisture back in.
It's best not to freeze this pasta salad because the mayonnaise will separate.
Canned Tuna Pesto Pasta Salad Frequently Asked Questions
---
What goes well with pesto pasta?
If you're looking to add more protein and flavor to your pesto pasta, canned tuna is a great option for a cold pasta salad!
Is pesto pasta healthy?
While the answer to this depends entirely on your health goals, there are health benefits to both pesto and pasta. Plus, carbohydrates provide a lot of energy!
Pasta is a good source of whole grains and fiber. The arugula, garlic, olive oil, basil, and nuts in the pesto provide many nutrients and antioxidants.
Why You Should Make this Tuna Pesto Pasta Salad
---
It's packed with flavor. Between the tuna and pesto, your tastebuds will be so satisfied.
It's fresh. The herbs and lemon juice give this dish a fresh finish.
It's easy and it feeds a lot. Whip it up in no time and feed 4-6 people!
If you love this fresh Tuna Pesto Pasta Salad and are looking for more pasta salad options, check out this Bowtie Pasta Salad and this Rainbow Orzo Salad.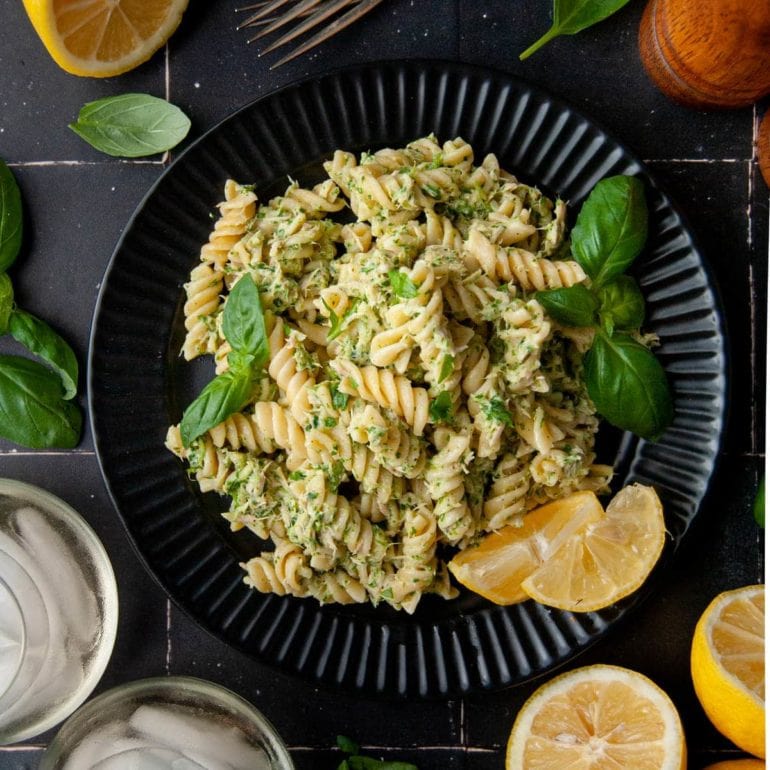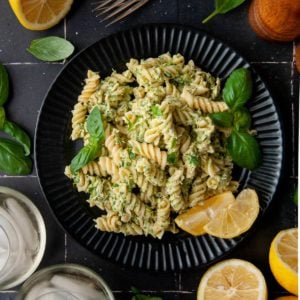 Canned Tuna Pesto Pasta Salad
PRINT
PIN
RATE
This Tuna Pesto Pasta Salad is fresh, hearty, and satisfying. And with it being so affordable, easy, and abundant, it will be your new go-to family meal!
Ingredients
16

ounces

short pasta, like rotini

12

ounces

albacore tuna in water

(12 oz usually = 3 cans)

½

cup

mayonnaise

(full fat, light, olive oil, or vegan)

1

cup

fresh basil leaves and stems, tightly packed

2

cups

arugula

(tightly packed)

2

cloves

garlic

⅓

cup

olive oil

½

teaspoon

black pepper

¼

teaspoon

salt

3

tablespoons

lemon juice

(3 tbsp is roughly the juice of 1 lemon)
Instructions
Cook the pasta until al dente according to the directions on the box. Drain water and transfer to a glass bowl. Stick the pasta in the freezer, allowing it to cool completely, tossing a couple of times periodically to make sure the noodles don't stick to each other too much.

Drain water from cans and transfer tuna to a medium mixing bowl. Use a fork to break tuna into smaller pieces. Add mayonnaise and stir well.

Add basil, arugula, garlic, olive oil, black pepper, and salt to a food processor or blender and blend until smooth to make your pesto.

Add pesto to tuna and stir well. Then, add the tuna and pesto mixture to your cooled pasta, and stir until the pasta is coated.

Option to squeeze fresh lemon juice on top for some extra freshness. Enjoy chilled or at room temperature.
Pro Tips
Make your pasta first so it has time to cool before adding your pesto and tuna mixture.
Toss the pasta a couple of times while it's cooling so the noodles don't stick to one another.
For even more pesto, check out my best recipes using pesto.
Did you make this recipe?
Let me know by leaving a recipe rating below, or by tagging @marleysmenu on Instagram.