Sometimes your food needs a flavor punch. And what better way to get one than fresh, easy, herbaceous pesto? This Two-Step Pesto will enrich any dish every time.
It's the quickest and easiest way to turn boring into bold when it comes to food. It's fragrant, delicious, and the prettiest green.
I could literally sit here all day drooling thinking about ways to describe how awesome this stuff is to you, but it may just be more effective to show you.
I mean, don't you just want to dive in? If you need me, I'll be doing the backstroke in a pool of pesto…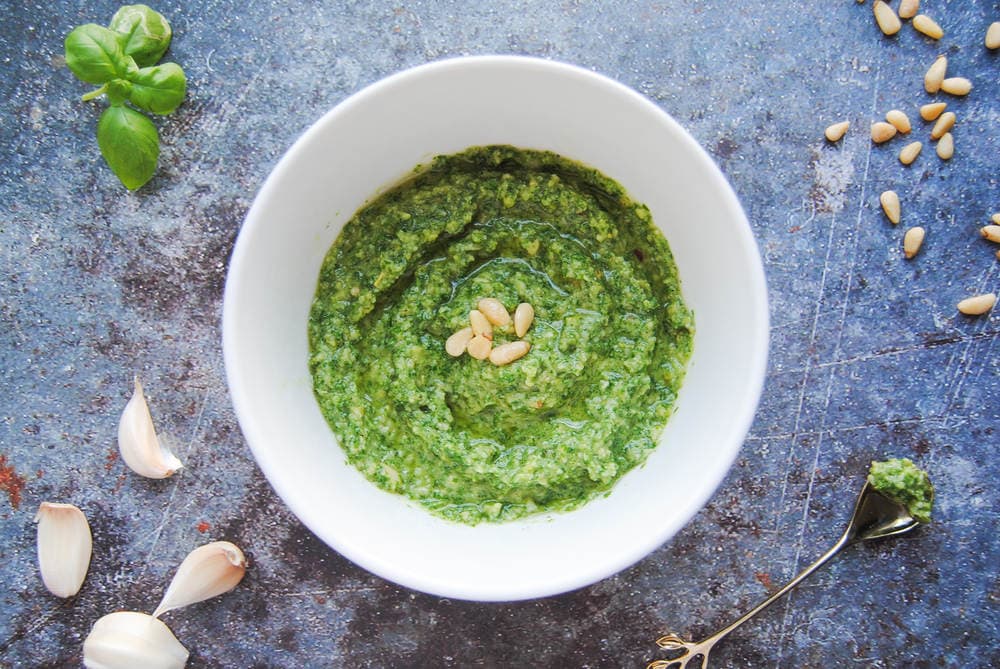 In the past, I was sadly infamous for killing houseplants and having absolutely no gardening skills.
First, it was buying a house, then planning a wedding, then a promotion, then a baby… I've literally used every excuse in the book for not having time to water my plants. In my defense, I've been working 40+ retail hours a week for what seems like forever.
But now I'm done with excuses. It is a priority of mine to live more sustainably and that means growing what I can at home. I took the plunge and planted basil and arugula and I'm pleased (and honestly shocked) to report that months later… THEY ARE STILL ALIVE!!
Green tip: Growing your own herbs is a delicious way to reduce your environmental footprint. Homegrown herbs have zero associated food miles, no pesky plastic packaging, and are free of damaging fertilizers and chemicals. Plus, they are just so fresh and flavorful.
Basil grows best if you continue to harvest it, So that means TONS of pesto in our house.
Pesto on pasta, pesto on flatbread, pesto to dip bread into, pesto as a fish marinade. It's fresh, it's delicious, and it's extremely quick and easy; it's Two-Step Pesto!
Two-Step Pesto Main Ingredients
The centerpiece of any good pesto is basil. It gives it that fresh, aromatic flavor and pairs perfectly with the subtle sweetness of the garlic. It's also packed with antioxidants and Vitamin K.
Arugula has an awesome peppery taste which really amps up the flavor in your pesto. It's also great for your heart and for your bones.
Fresh herbs always benefit from some citrus fruits like lemon. It plays into the brightness and herbal notes. The juice of just 1 lemon provides half of your suggested daily intake of Vitamin C.
Not all pesto recipes include nuts, but in my opinion, pine nuts are an absolute must.
The freshness of the herbs is screaming for some earthiness—and nuts can achieve that perfect balance for you. Pine nuts are such a delicacy because they somehow have this incredibly buttery taste, giving your pesto a delicious richness.
Garlic is my (not-so!) secret weapon in the kitchen. It baffles me how something so small can contain so much flavor.
Depending on how it's prepared, it can taste completely different and be used in countless ways. When it's cooked, it really lends a sweetness, but keeping it raw gives your pesto more of a bitter bite.
This Two-Step Pesto packs such a powerful punch of flavor and freshness. It doesn't have many ingredients, but it goes a long way on pizza, pasta, fish, or as a dip for bread.
All you need is a food processor, 5 fresh ingredients, and ten minutes and you're off and running!