Craving a soft and fluffy muffin? These Vegan Blackberry Muffins have the best consistency and just the right amount of tart from fresh berries to make an all-around perfect muffin.
With simple pantry ingredients, only one bowl required, and ready in less than 30 minutes this will be your favorite new baking with blackberries recipe!
As an environmental scientist, I'm always looking for ways to incorporate fresh, seasonal ingredients with low impact on the environment, but high impact on flavor!
Green tip: Eating seasonally is one of the best (and most delicious) ways to support local and decrease your carbon footprint. Local foods have less associated transportation costs and fuel emissions. Simply put, eating seasonally = less environmental impact.
Find out when blackberries are in season near you with this Seasonal Food Guide!
And if you have extra, try out these Greek Yogurt Blackberry Popsicles, Blackberry Chai Simple Syrup, or this Peach Blackberry Toast.
Vegan Blackberry Muffins Tips and Tricks
---
---
Gather Your Ingredients First
With just a couple of pantry ingredients and berries, these vegan muffins are super accessible! Plus, utilizing all vegan ingredients make for baking with ingredients that have a lower impact on the environment!
Here's everything you'll need:
Don't Forget To Line Or Grease
The last thing you want is to make this tempting batter, pour them into the tin, smell their deliciousness wafting from the oven, wait anxiously for them to cool and then not be able to remove them!
Always grease your muffin tin completely with (non-dairy) butter, oil, or nonstick spray. You could also opt for muffin tin liners!
Make Your Flax Egg First
A flax "egg" is simply flaxseed meal dissolved in cold water. It works as a binder, just as a chicken egg would in this recipe.
Add 1 tablespoon of flax to 2 tablespoons of cool water in a small bowl or ramekin, whip it quickly with a fork, and set it aside so it has time to dissolve while you prepare your other ingredients.
Green tip: Reducing your dairy consumption is one great way to reduce your ecological footprint. Use a flax egg in place of a chicken egg when you can!
Combine Your Dry Ingredients
As a busy mom and sustainability advocate, I'm all for one-bowl baking recipes. Less clean-up simply means you save on both time and water.
But in order to mix everything effectively with no lumps, it's best to do so with some methodology.
Use a whisk to combine your flour, baking powder, salt, and granulated sugar first.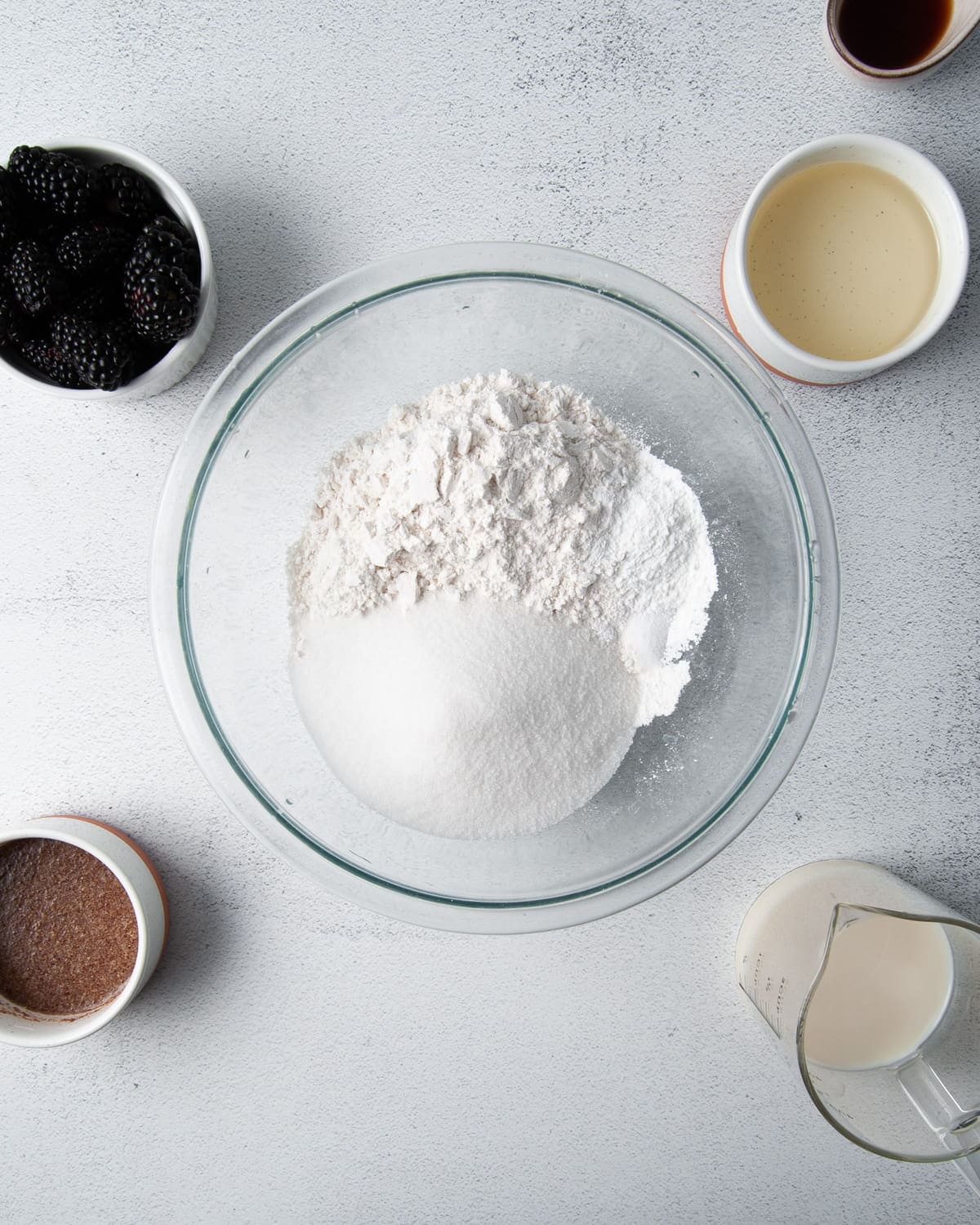 Add Your Wet Ingredients
Next, you can add your flax egg, oil, vanilla extract, and non-dairy milk.
Use your whisk to combine your ingredients, ensuring that there are no lumps of flour or baking powder left behind.
You'll be left with a loose, sticky batter.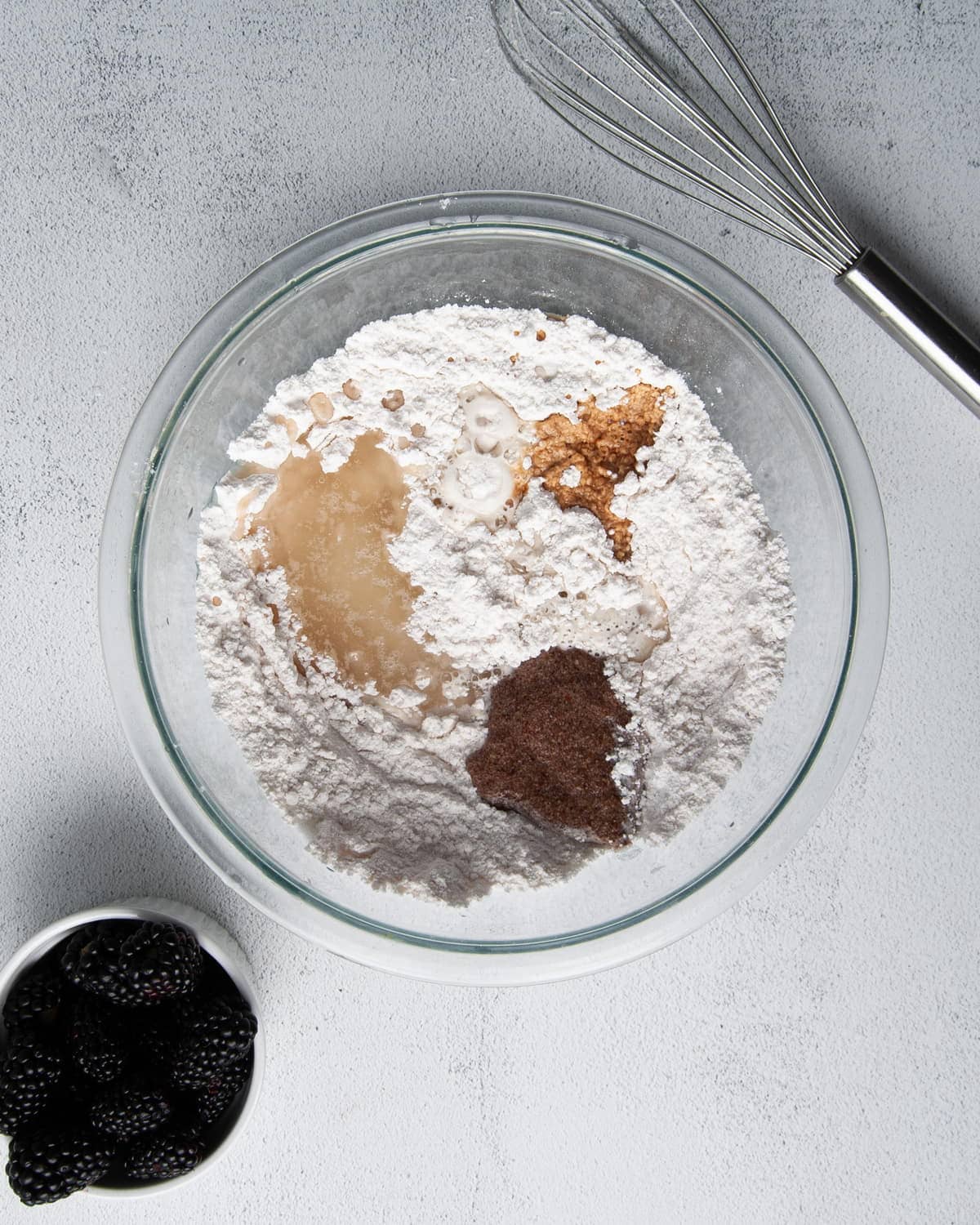 Fresh vs Frozen Blackberries
Blackberries are a warm-weather crop, thriving in the summer months. Buying produce locally and while it's in season is a great way to reduce your carbon footprint in terms of food miles.
An ingredient's food miles is the distance that particular ingredient has traveled to get to the produce aisle in your supermarket, into your cart, and then onto your plate.
If you are buying fresh strawberries in the winter in a colder climate, you can assume it's been imported—and quickly.
Frozen strawberries are harvested and frozen at their peak, and are generally transported in a more sustainable way since they stay frozen in transport (likely by ship instead of a plane—much less fuel!).
While the best practice is to buy locally and in-season, buying frozen fruit when it's out of season is second best. It generally means less pesticide residue, likely fewer associated transportation emissions, and less food waste. And for this recipe, in particular, they work perfectly!
Chop Your Berries
In order to get the evenest distribution of berries in your muffins, it's best to chop them into smaller pieces. Keeping them whole will just mean they'll be too heavy and sink to the bottom.
Depending on their size, I'll usually chop my blackberries into anywhere from 3-5 pieces.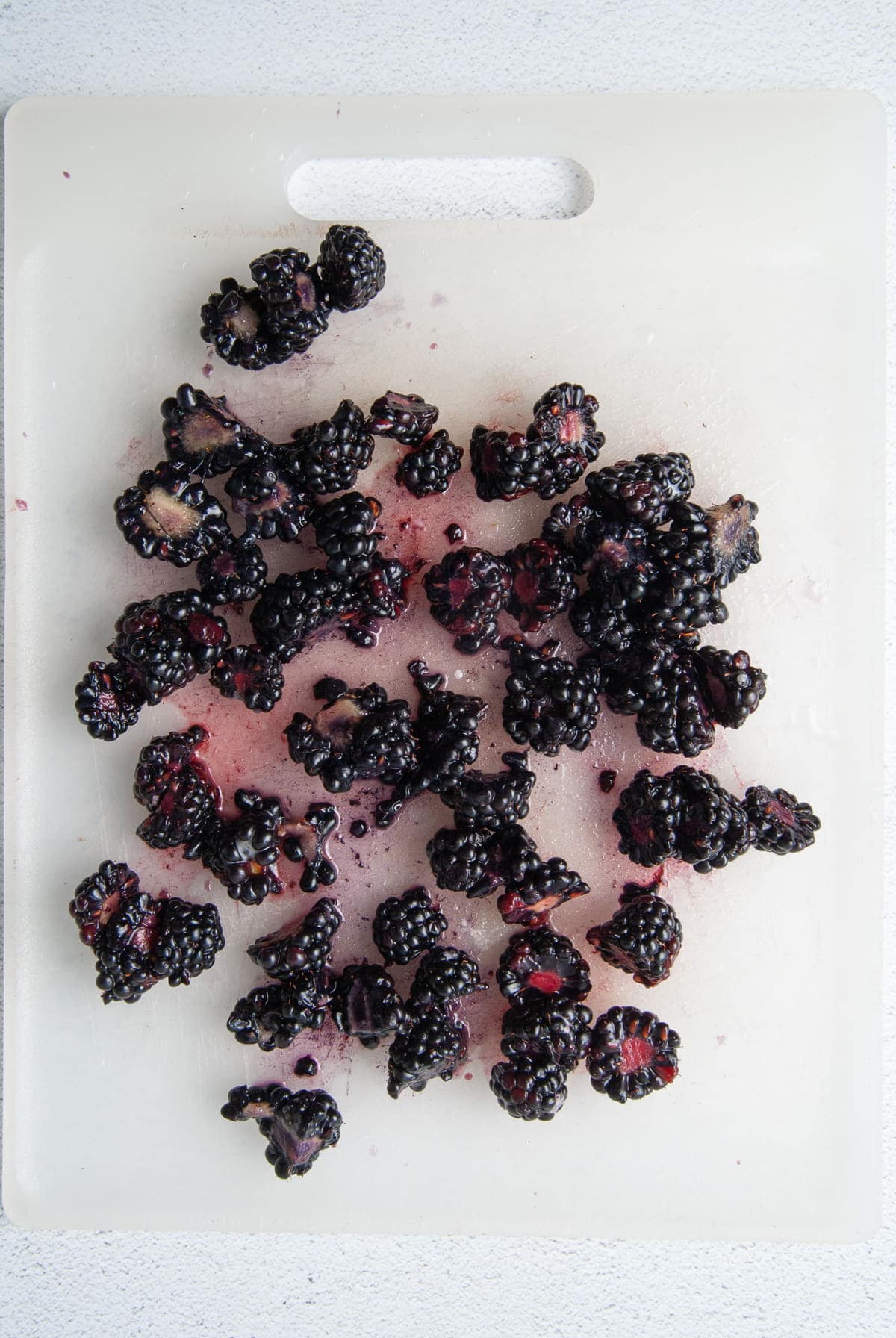 Add Them Last
Add about 3/4 of the blackberries to the batter and gently fold them in. We don't want them to bleed too much into the batter.
Some will end up oozing into the muffin in the oven, and some will remain intact to give you a burst of juicy blackberry flavor when you bite into them.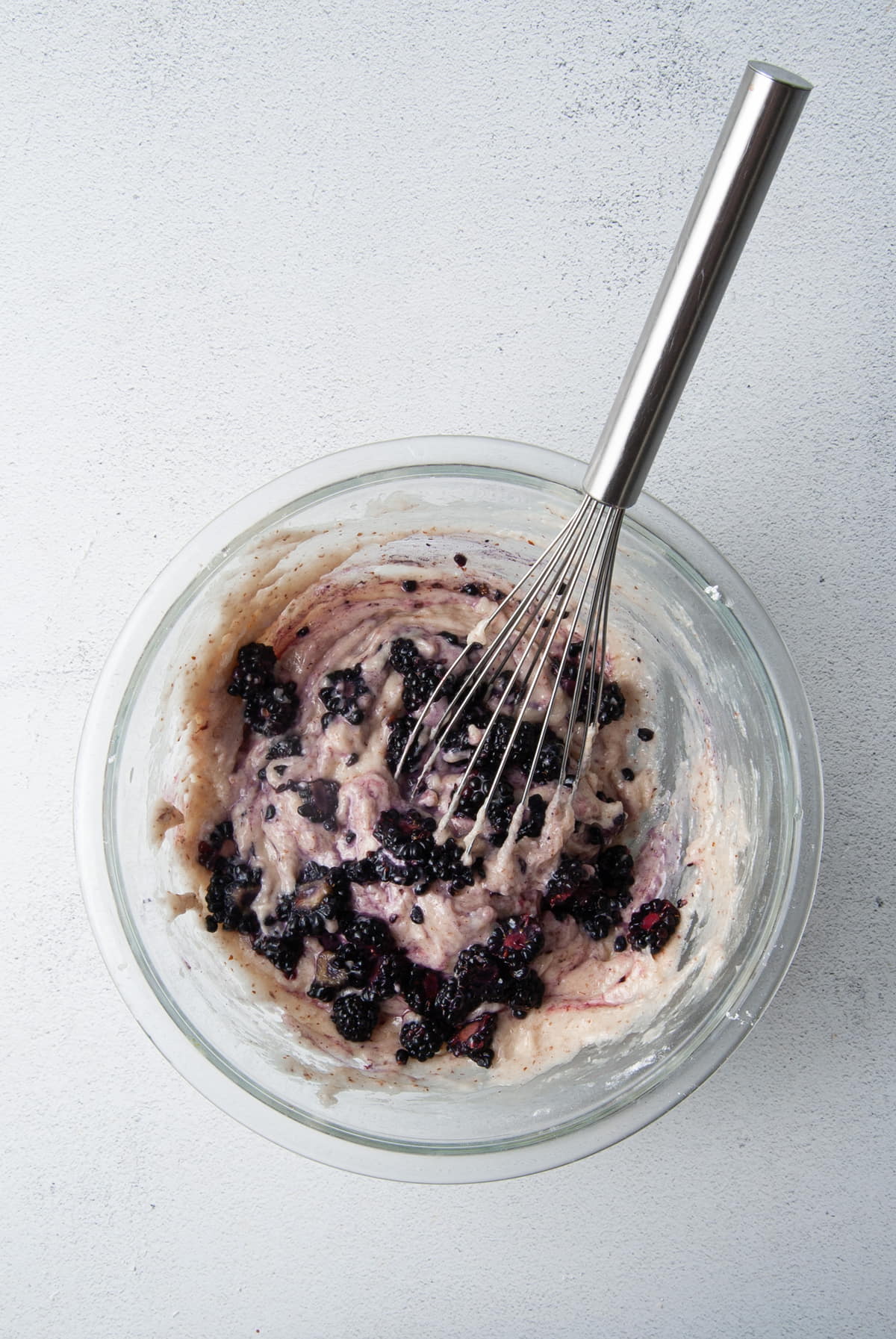 Save Some For The Top
Once you fold in your blackberries, you can transfer the batter to your liners. Fill each cup about 3/4 of the way, leaving a little space for them to rise.
Then, sprinkle the rest of your blackberry bits on top. Now they're ready for the oven!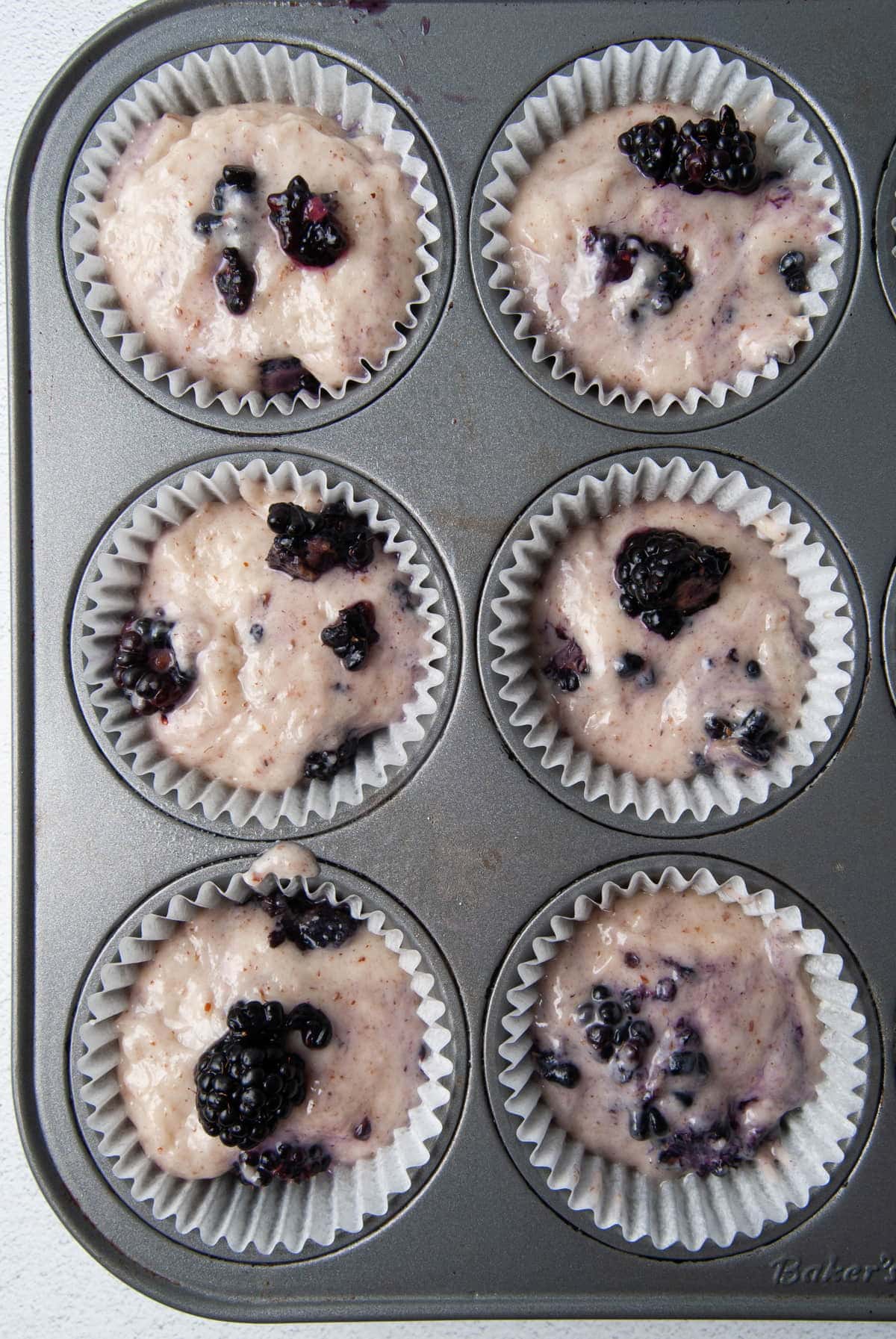 Storing Your Vegan Blackberry Muffins
These Vegan Blackberry Muffins will stay delicious for 2 days covered at room temperature or about a week covered in the refrigerator.
If you want to freeze some for later, put them in an airtight container and store them in the freezer for up to 3 months. Just allow them to thaw naturally before enjoying.
I don't recommend storing the batter in the refrigerator or freezer to bake later as the blackberries will bleed too much into the batter and lose their juicy magic!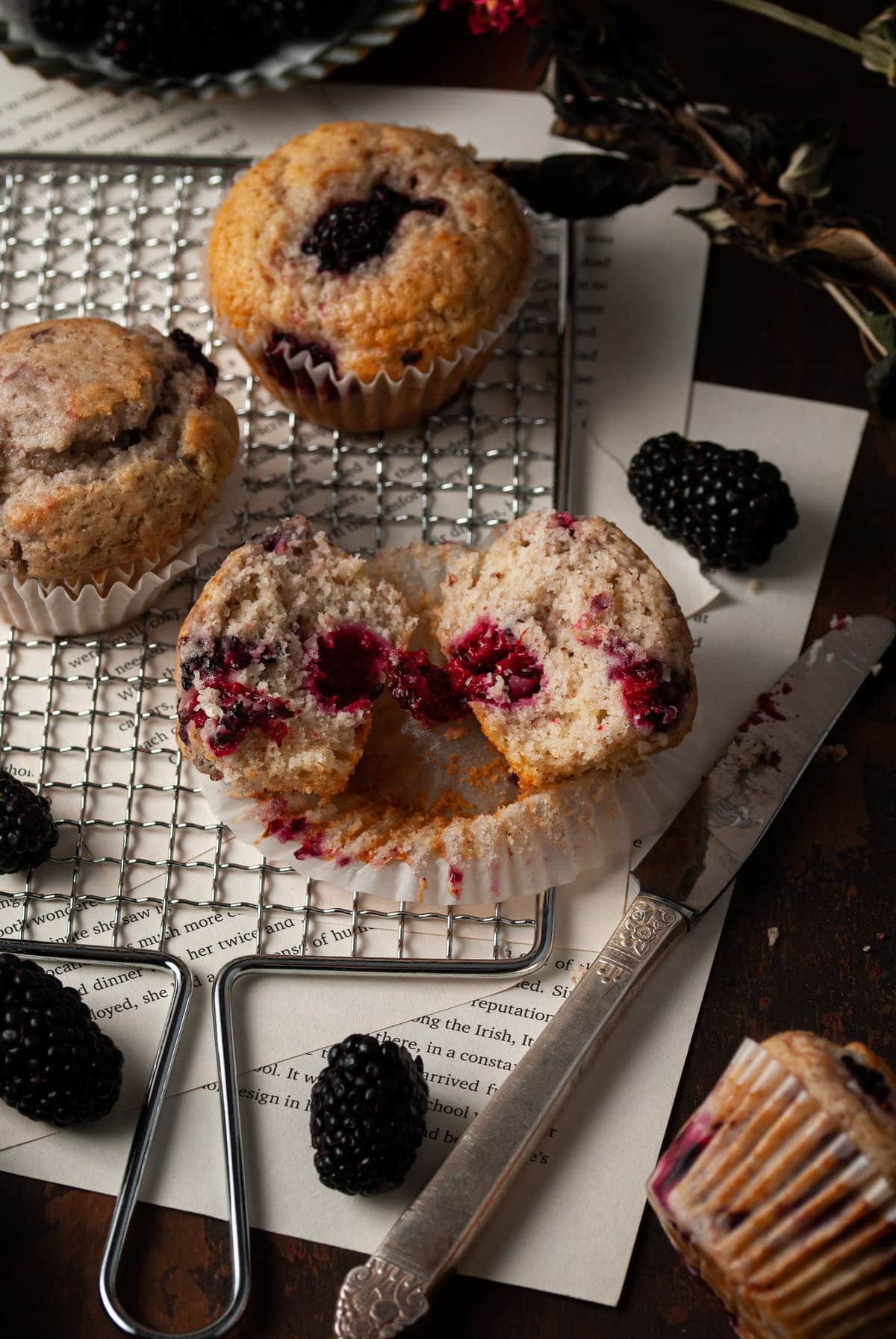 Why You Should Make These Vegan Blackberry Muffins
---
---
They're fluffy. Light and airy with juicy blackberries in every bite.
The flavors. The subtly sweet muffin is a beautiful contrast to the slightly tart blackberries.
They are ready in a flash! One bowl and under 30 minutes.
If you're loving these Vegan Blackberry Muffins and want more muffin recipes, check out these Blueberry Banana Oatmeal Muffins and these classic Chocolate Chip Muffins.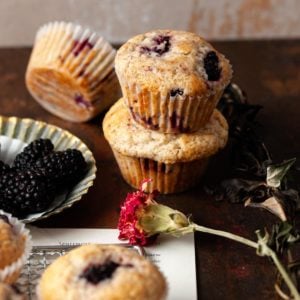 Fluffy Vegan Blackberry Muffins
PRINT
PIN
RATE
These Vegan Blackberry Muffins are so fluffy, light, and airy, using the natural subtle tartness of blackberries to make the perfectly balanced bite.
Ingredients
1

tablespoon

flaxseed meal in 2 tablespoons water

1 ½

cups

all-purpose flour

2

teaspoons

baking powder

½

teaspoon

salt

¾

cup

granulated sugar

⅓

cup

oil

(vegetable, canola, or liquid coconut)

2

teaspoons

vanilla extract

½

cup

unsweetened non-dairy milk

6

ounces

fresh or frozen blackberries, chopped

(6 oz = approx 1 cup)
Instructions
Preheat your oven to 400°F and line or spray your muffin tin.

In a small bowl or ramekin, make a flax egg by stirring 1 tablespoon of flaxseed meal into 2 tablespoons of cold water and set aside.

In a large mixing bowl, whisk together flour, baking powder, salt, and sugar.

Add oil, vanilla extract, non-dairy milk, and flax egg and whisk until combined, ensuring there are no lumps of flour or baking powder.

Fold in about 3/4 of your chopped blackberries to the batter, conserving the rest to sprinkle on top.

Fill each cup or liner about 3/4 of the way, leaving a little room for them to rise. Sprinkle the rest of your blackberry pieces on top and bake for 15-17 minutes, until a toothpick comes out clean. Allow to cool completely before enjoying!
Pro Tips
You can use fresh or frozen blackberries with equal success.
Need more muffins to fill your basket? Check out the selection of my best muffin recipes

for every type of diet and occasion

!
Did you make this recipe?
Let me know by leaving a recipe rating below, or by tagging @marleysmenu on Instagram.