Looking for a delicious and healthy way to use up those overripe bananas? This Vegan Blender Banana bread is the perfectly moist and subtly sweet companion to your morning coffee or afternoon tea!
With the blender doing all the work, this is by far one of the easiest vegan snacks you can make. And with healthy whole wheat and no refined sugar, you can indulge without the guilt.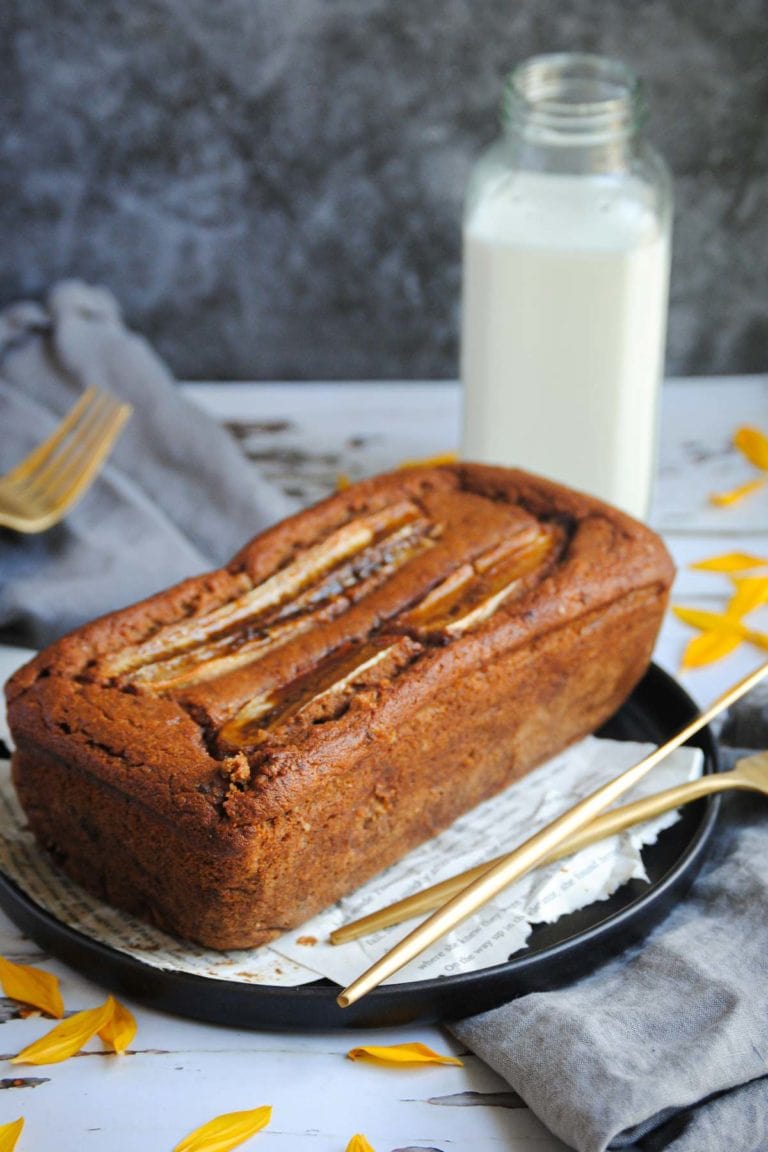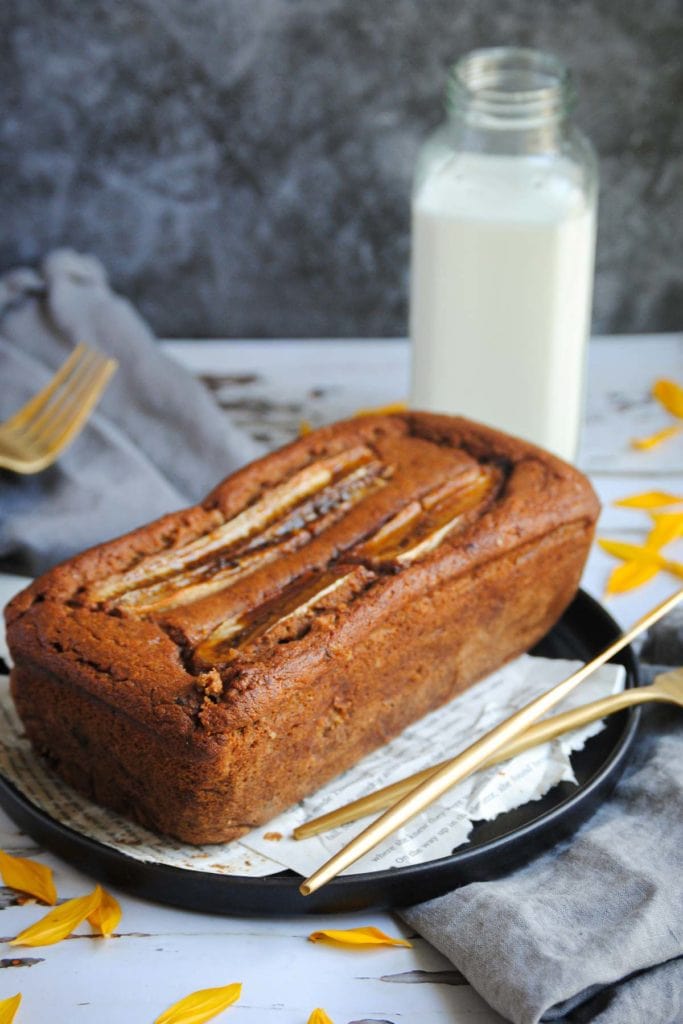 Vegan Blender Banana Bread Tips and Tricks
Use Your Overripe Bananas
As your banana ripens, it actually gets a bolder, more fruity flavor. So in order to get this bread, well, banana-y, it's best to use riper bananas.
In fact, if they are overripe and the peel is showing brown spots, they're perfect for this recipe! They'll be packed with flavor, and a little bit softer, which makes them easier to blend.
Green tip: It is estimated that 50% of food waste happens at home. Instead of tossing overripe bananas, use them to make this delicious vegan blender banana bread!
Breathe Easy
This recipe is so simple! Just chuck all your ingredients into a blender and let it do it's thing!
Use your blender on high and keep processing until your batter is completely smooth. It should really only take about 30 seconds in a heavy-duty blender, and it's super delicious if you leave a couple of banana chunks!
The best news of all is you really can't over-blend this mixture. It's totally foolproof!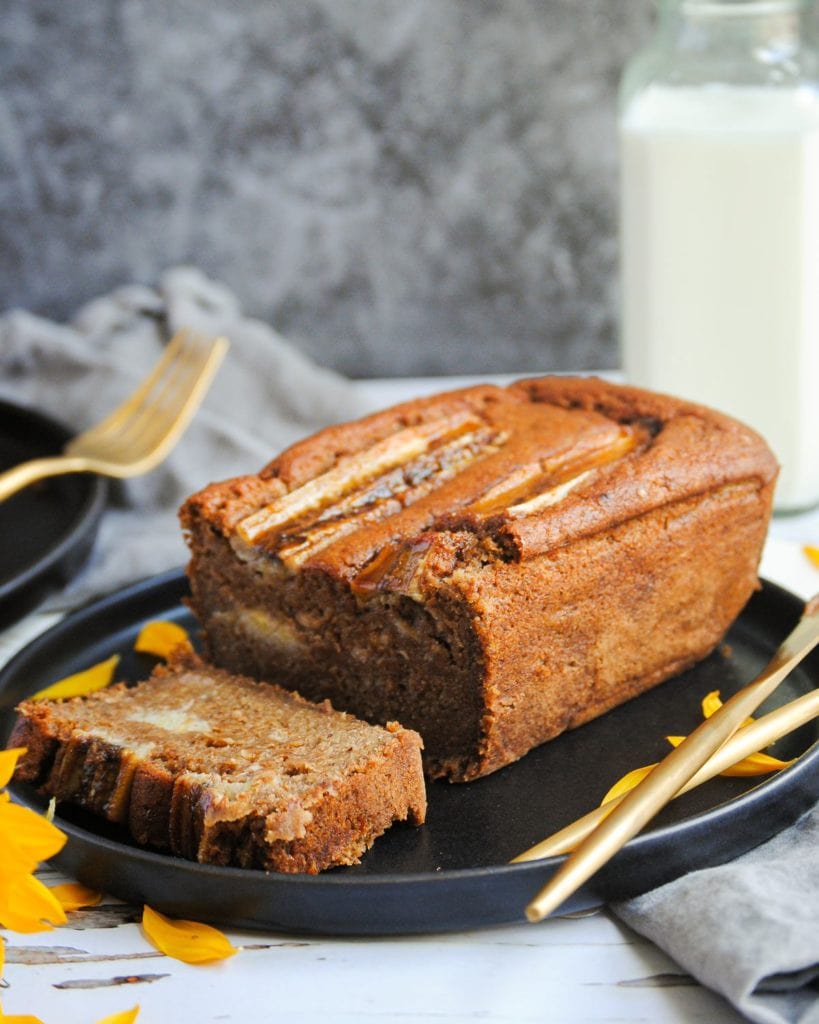 Sugar and Spice
I love using coconut sugar in this recipe to keep it refined sugar free. It adds just enough sweetness and a hint of caramel flavor. But if you don't have coconut sugar, this banana bread is equally as delicious with brown sugar.
You can use granulated sugar in a pinch, but it will definitely be a little more sweet.
The nutmeg and cinnamon add the perfect aromatic finish, balancing the sweet banana out with warm spices.
A Note on The Flour
I love using whole wheat flour in this recipe because it just gives it a really hearty taste and beautiful brown color. It's packed with nutrients as well!
All-purpose flour also works well in this recipe, but if you are substituting all-purpose flour for whole wheat flour, use 1 & 1/4 cups.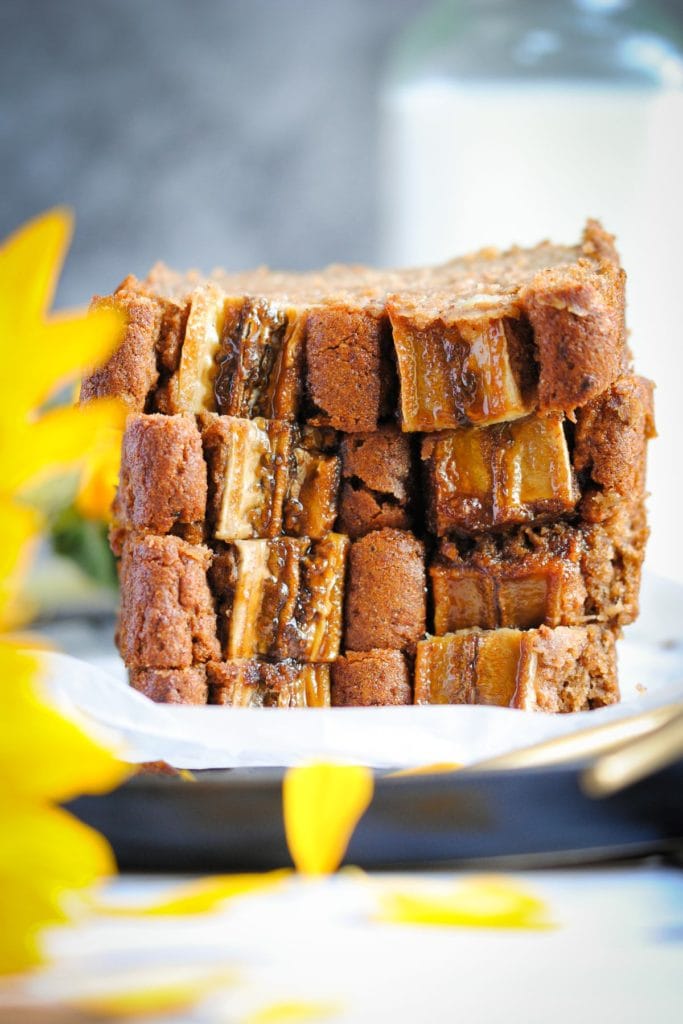 Why You Should Make This Vegan Blender Banana Bread
It's healthy. Refined sugar-free, nutritious whole wheat, healthy bananas, and completely dairy and egg-free!
It's easy. Throw it all in the blender, transfer it to a loaf pan, and stick it in the oven. Done!
It's adaptable. You can switch out the sugars or the flours and still get beautiful, moist bread.
It avoids waste. No need to throw away those overripe bananas- they are absolutely perfect for this recipe!
If you love this banana bread and are looking for other vegan sweet snacks, check out these peanut butter biscuits and rainbow celebration cookies!
Vegan Banana Bread Frequently Asked Questions
What happens if you don't add baking soda to banana bread?
Leaving the baking soda out of your banana bread will not allow it to properly rise, causing it to be dense. In a pinch, use 3 teaspoons of baking powder instead.
Can I blend bananas for banana bread?
Yes, making banana bread in the blender is one of the easiest ways to bring your batter together! This Vegan Blender Banana Bread recipe is designed to prepare completely in the blender.
Can you make banana bread without black bananas?
The best banana bread comes from super ripe bananas. The riper the banana, the more flavorful they are, so to get that banana flavor to shine through, wait until your bananas start to get brown spots on their peel.