Looking for a way to use up stale bread and satisfy your sweet tooth? This Vegan Bread Pudding will absolutely melt in your mouth, curbing your sweet cravings and breathing new life into your stale bread!
With just 6 simple ingredients and ready in under an hour, this delicious vegan dessert recipe will not only brighten your mood but will also come together easily. And the bonus? Your kitchen will smell fantastic.
As an environmental scientist, I'm always trying to keep the issue of food waste front of mind. And when avoiding food waste tastes this good, I think it's something we can all get behind.
Green tip: Bread is one of the most wasted food products in the U.S. because of our tendency to throw it out as soon as it's stale. Reduce your contribution to food waste by re-vamping your stale bread with this Vegan Bread Pudding!
Vegan Bread Pudding Tips and Tricks
---
This recipe is super simple. Sugar for sweetening, coconut milk for moisture, vanilla and butter for flavor, and apple sauce to work as a binder. And then there's your bread, of course!
I love using full-fat coconut milk in this recipe because it really makes the bread nice and pillowy and the final result absolutely melts in your mouth. The flavor of the coconut is not very evident.
You can absolutely substitute another non-dairy milk but just make sure it's not sweetened. We want to be able to control the amount of sweetness we add to this dish. On that note, unsweetened apple sauce is the best for this recipe, too!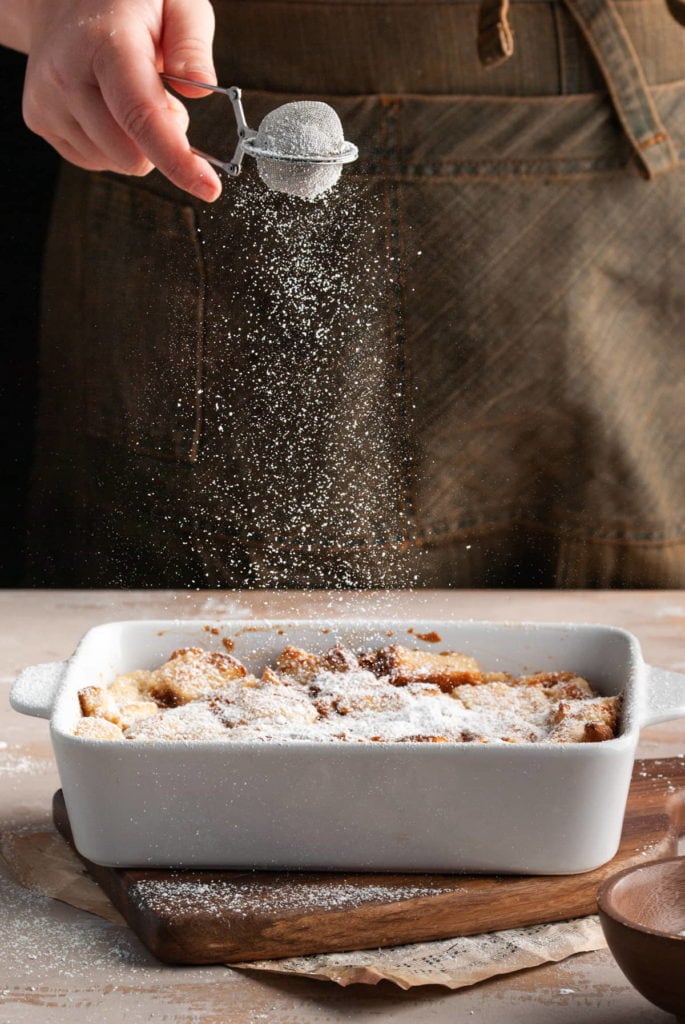 Gather Your Ingredients
As for the bread, my preference is white bread, since it's pretty neutral flavor-wise, and the texture allows it to easily soak up the liquid.
But you can use any bread you choose with success! And the best news is, this recipe is delicious even with stale bread (stale bread is even preferred!), so don't even worry if your bread is not fresh.
Here's everything you need:
Vegan Butter. Any will work—use your favorite!
Stale bread. Preferably white, brioche, challah, or French, but truly any will do.
Coconut milk. Or any other unsweetened non-dairy milk.
Apple Sauce. Plain and unsweetened.
Granulated sugar. For sweetness.
Vanilla extract. For flavor.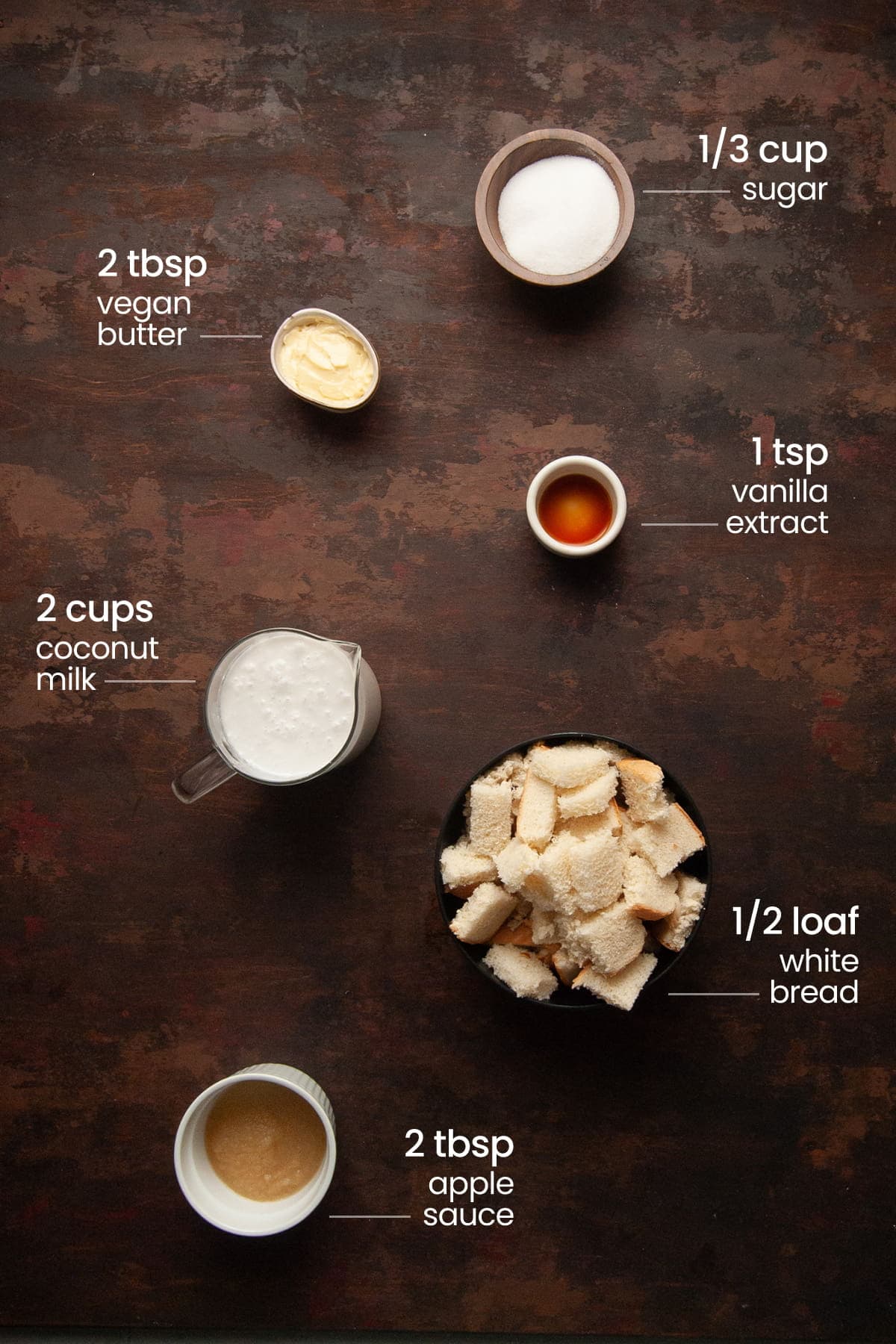 Grab A Large Mixing Bowl
This recipe isn't only super delicious, it's as easy as apple pie!
Outside of your 6 simple ingredients, you'll just need a large mixing bowl and a medium-sized casserole dish (I used a 9″x7″ dish).
A mixing bowl is the best way to make sure all of your ingredients are perfectly integrated before transferring them to your baking dish.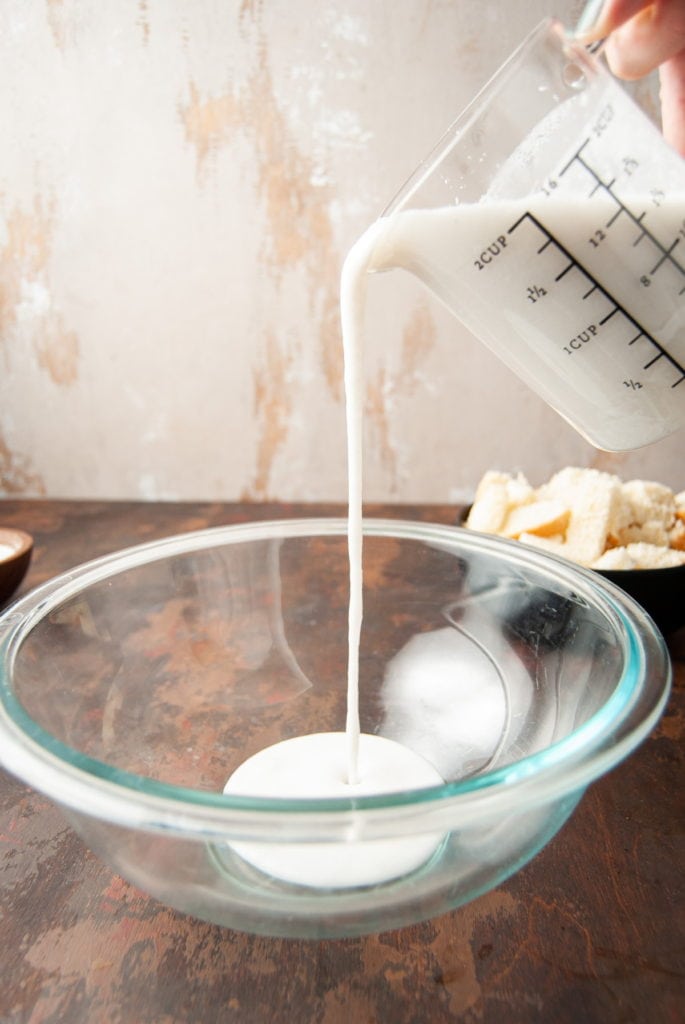 Melt Your Butter
Melting your butter allows it to easily combine with the rest of your ingredients. You can melt it over the stove, in the oven, or if you're lazy like me, just chuck it in the microwave.
Add your vegan butter to a microwave-safe bowl (I just use my glass measuring cup) and microwave on high in 30-second intervals. Stir in between, and just keep heating until the butter completely liquefies. Simple as that!
Green tip: Look for organic and palm oil-free vegan butter if you can. Buying organic means you are supporting farms that do not use damaging pesticides and fertilizers, and palm oil production is a huge driver behind deforestation.
Once your vegan butter is melted, you'll mix it in with the milk, vanilla, sugar, and apple sauce before adding your bread.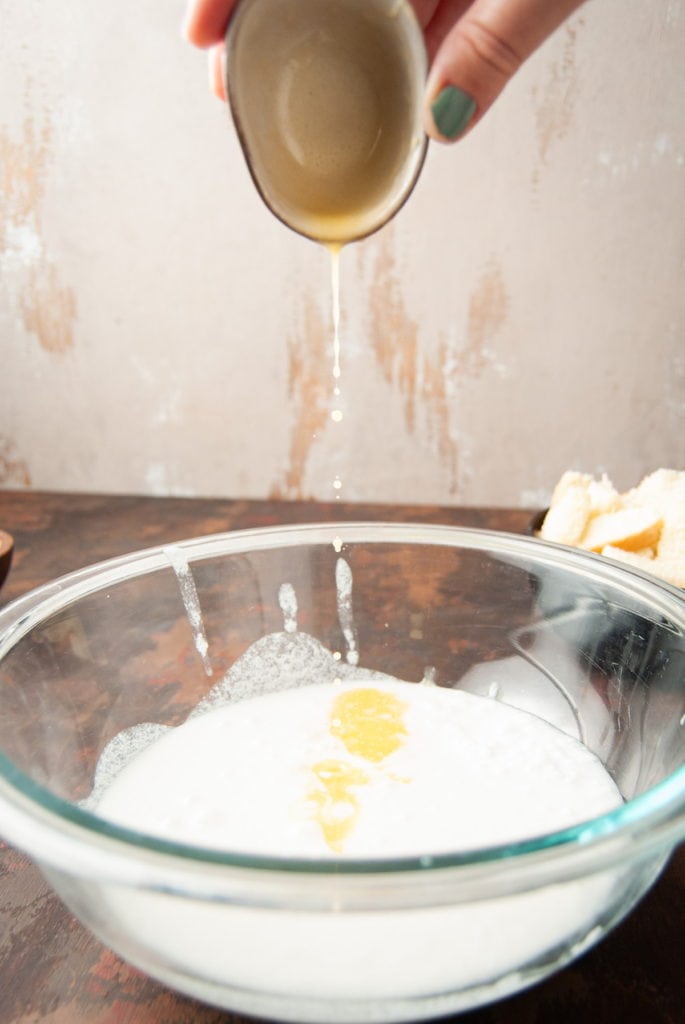 Cube Your Bread
The next step is cubing the bread. You can use any bread for this recipe, but I recommend white bread. It most easily absorbs your liquid and takes on the sugary taste seamlessly. You'll need just half of a loaf of any bread you choose.
If your loaf is whole, slice it into pieces about 1-inch thick.
If your bread is already sliced, it's as easy as slicing it into 4 roughly equal parts vertically, then rotating it and slicing it roughly into thirds to form little bread cubes.
You can stack your bread to slice it, but wouldn't recommend tackling more than 4 slices at a time.
Once your bread is cubed, you can add it to your liquid mixture and use a spatula to toss it, making sure every piece of bread is coated.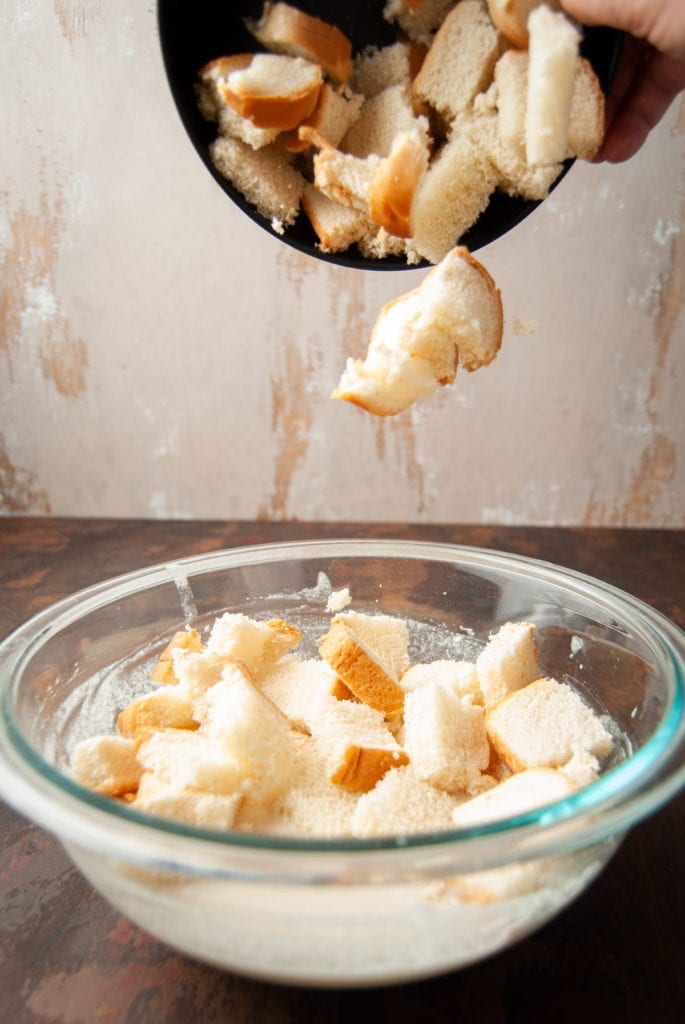 Should You Have Leftovers
This Vegan Bread Pudding is meant to feed 6-to 8, but it is extremely addictive! If you do have incredible willpower and happen to have leftovers—I got you!
Cover and keep in the refrigerator for 5-7 days or in the freezer for up to a month. Reheating it is a breeze.
From the fridge, reheat a single serving on a frying pan for about 5 minutes on each side, until thoroughly heated through. You can also reheat it in the toaster or the oven at 375°F for 10 minutes from the refrigerator or 15 minutes from frozen.
The microwave will work in a pinch but does tend to make it a little soggy.
P.S. This recipe, leftover or not, is extra delicious with a heaping scoop of Vegan Coconut Pineapple Ice Cream on top!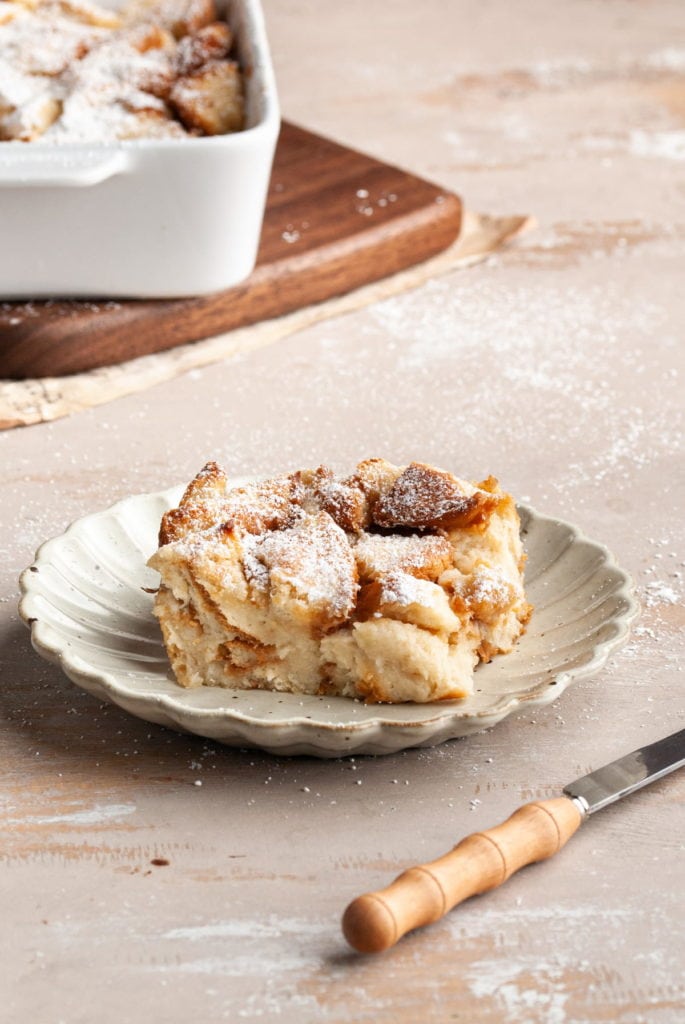 Vegan Bread Pudding Frequently Asked Questions
---
What is bread pudding?
Bread pudding is day-old bread that is typically cut into cubes, mixed with a mixture of milk, sugar, and eggs, and then baked in a casserole dish.
For this non-dairy bread pudding that is completely vegan, we are subbing apple sauce for eggs to act as a binder and using non-dairy milk for the bread to soak up.
What is the best bread for bread pudding?
While bread pudding can be made successfully with any bread, the best bread for bread pudding is stale white bread, brioche, challah, or french bread.
It's best stale because it will then soak up all the moisture from your milk without becoming too soggy.
White, brioche, challah, and french bread make for the best types of bread for bread pudding, simply because they are already more mild or sweet in flavor, lending to the overall sweetness of your bread pudding.
How do you make bread pudding without milk?
The easiest way to make bread pudding without milk is to use a non-dairy milk substitute, like coconut milk, almond milk, oat milk, soy milk, or any other unsweetened non-dairy milk.
Why You Should Make This Bread Pudding
---
It's simple. Accessible ingredients, one mixing bowl, throw it in a dish, and pop it in the oven!
THE TEXTURE. When I say this melts in your mouth… I MEAN this MELTS in your mouth!
It's resourceful! Why toss your stale bread when you can make this undeniably delicious dessert instead?
If you're loving this Vegan Bread Pudding and want more vegan desserts, check out this Dark Chocolate Oreo Pie and these Vegan Peanut Butter Biscuits.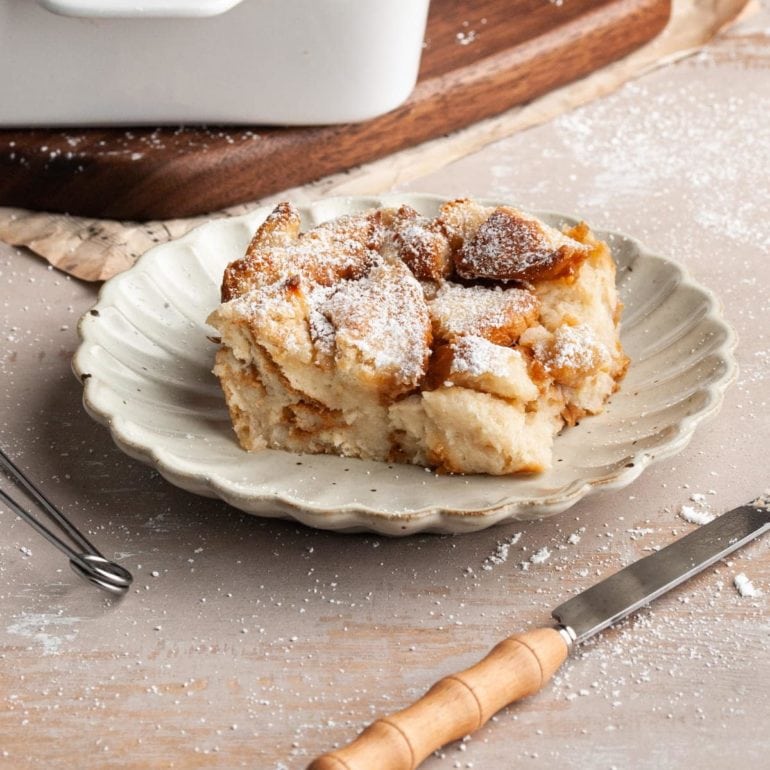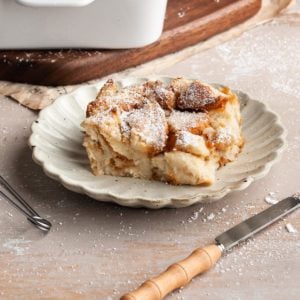 Melt-In-Your-Mouth Vegan Bread Pudding
PRINT
PIN
RATE
This vegan bread pudding will absolutely melt in your mouth! Simple and so delicious, this dessert recipe is the perfect way to salvage your stale bread.
Ingredients
2

tablespoons

vegan butter

½

loaf

stale white bread

(½ a loaf = 10-12 slices)

2

cups

coconut milk

(or any unsweetened non-dairy milk)

2

tablespoons

unsweetened apple sauce

⅓

cup

granulated sugar

1

teaspoon

vanilla extract

2

tablepsoons

powdered sugar to sprinkle on top

(optional)
Instructions
Preheat your oven to 350°F.

Add butter to microwave-safe dish and microwave in 20-second intervals, stirring in between, until completely melted.

Meanwhile, cut your bread into cubes, about 1-inch long on each side. 

In a large mixing bowl, add milk, apple sauce, granulated sugar, vanilla extract, and melted butter and stir until combined.

Add your cubed bread to the mixing bowl and use a spatula or wooden spoon to toss, ensuring every piece is coated.

Transfer your bread pudding mixture to a medium-sized casserole dish (I used 9-inch x 7-inch), and use a spatula to make sure the mixture is spread evenly across the dish.

Bake for 40-45 minutes, until the top just starts to brown. Sprinkle with powdered sugar (optional) and serve warm. Want to add extra moisture? Try adding this Vanilla Sauce for Bread Pudding.
Pro Tips
You can use any unsweetened nondairy milk with similar success.
Don't worry if your bread is not fresh! This recipe is a great way to breathe new life into stale bread.
White bread is preferred, but really any bread will work with this recipe!

Don't throw out that stale bread! You can breathe new life into it and avoid food waste using one of these amazing

stale bread recipes

!
Did you make this recipe?
Let me know by leaving a recipe rating below, or by tagging @marleysmenu on Instagram.