Looking for a healthful and tasty way to add hidden fruits and veggies into your morning breakfast routine? These Vegan Sausage Patties for Breakfast are packed full of protein, nutrients, and fiber, and boast a complex, balanced flavor.
The main flavor profiles in these vegan sausage patties are apple, maple, and sage, and it is the perfect combination of tart, sweet, and earthy. These little guys will make all your vegan breakfast dreams come true!
As an environmental scientist, I'm always looking for delicious meat alternatives to help me improve my ecological footprint, and these Vegan Sausage Patties are an incredible replacement for breakfast meat!
The "meaty" texture and flavor of these vegan breakfast patties bring extra protein to the table and gets your day started off on the right foot (and bonus, without the unnecessary fat & cholesterol)
Green tip: Industrial meat production has a huge impact on the environment, especially because of the amount of land it takes to sustain and its high amount of greenhouse gas emissions. Reducing your meat consumption is one great way to improve your ecological footprint.
Vegan Sausage Patties Ingredients
---
Here's everything you'll need:
Green apple. It adds a little bit of tart, a little bit of sweet, and great moisture and bite to your patties.
Baby Bella mushrooms. Helps get that "meaty" texture and an earthy flavor.
Yellow onion & Garlic. For savory umami notes.
Walnuts. For protein, crunch, and nuttiness.
Flaxseed meal. To bind your vegan sausage patties together.
Cornmeal. To help them brown around the edges and to thicken the mixture.
Maple syrup. To bring out the natural sweetness of the apple.
Soy sauce. For salt & depth of flavor.
Sage. A great complement to the apple and for some fresh, herbaceous flavor.
Salt & pepper. To season.
Olive oil. To fry the patties in.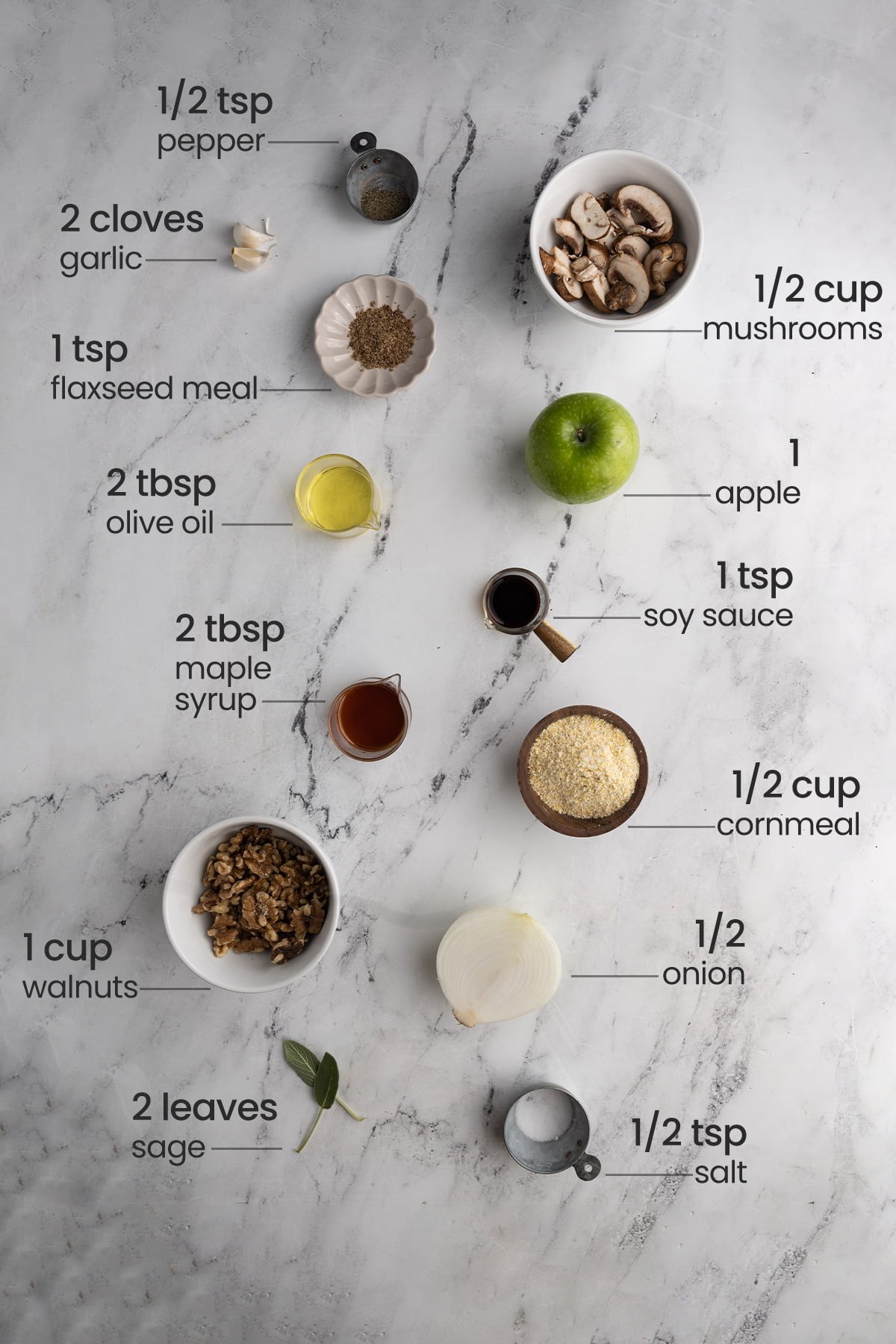 Vegan Breakfast Sausage Tips and Tricks
Chop Your Fruit and Veggies
Yes, even though they are going into the food processor, you should still chop them first. I know it's tempting to throw them in whole.
But the idea is that we want to process the ingredients as little as possible. Keeping them whole means more time in the food processor which means the consistency won't be right.
Which brings me to the apple peel. You can certainly leave it on, but I do recommend peeling it, just so it breaks down more easily in the food processor. Once it's peeled, chop it into chunks.
Peel and roughly chop the onion and rinse and chop the mushrooms as well. You can leave the garlic whole, but make sure to peel it.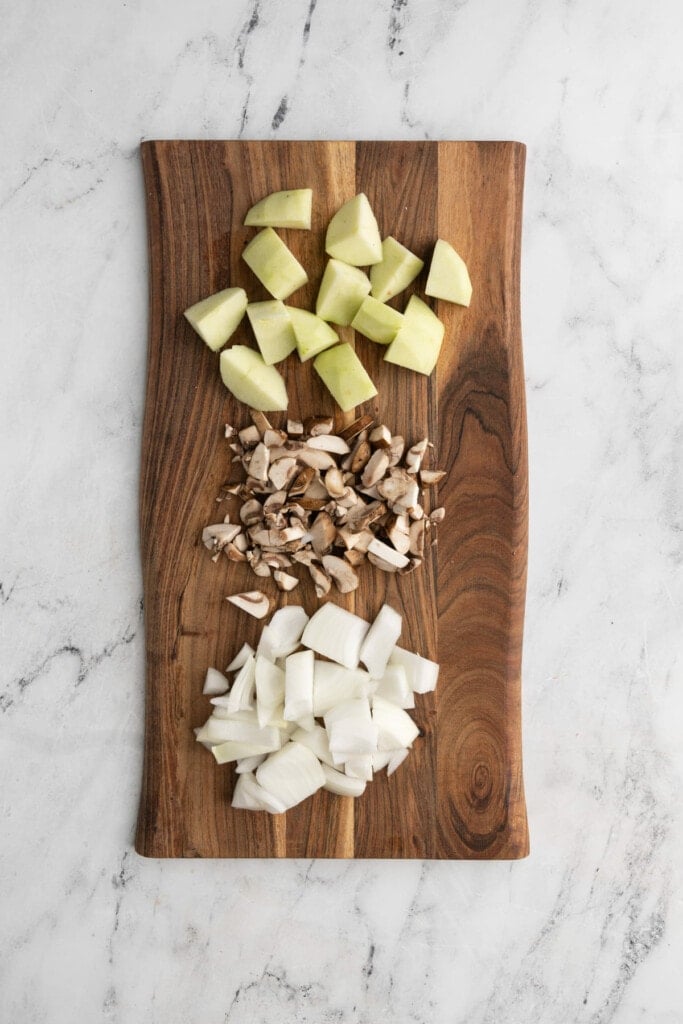 Add it All to the Food Processor (Except the Oil!)
Once your apple, mushrooms, and onion are prepped, at it to the food processor with the garlic walnuts, flaxseed, cornmeal, maple syrup, soy sauce, fresh sage, salt, and pepper.
The only ingredient you won't be adding now is the olive oil. It's used to brown the vegan sausage patties in.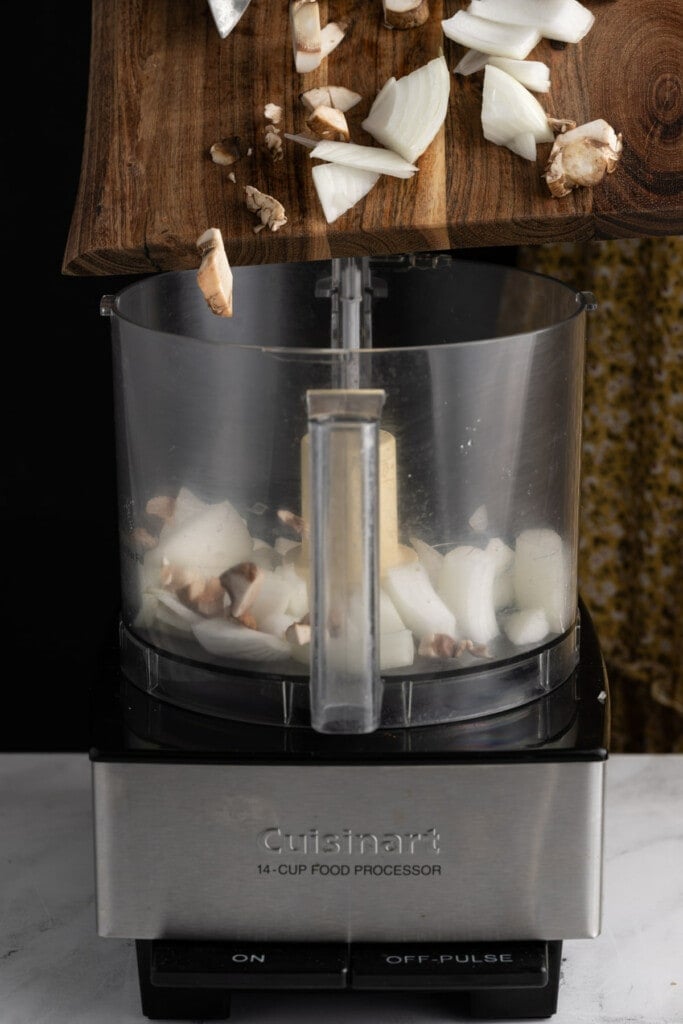 Utilize Your Pulse Button
Most blenders and food processors have a "pulse button". Instead of turning your food processor on "high", just hit your "pulse" button 6-8 times. Check closely after 5 and assess if you need to use a spatula or spoon to push down the ingredients that are creeping up the sides and not mingling with the rest of your ingredients.
You want to consistency to be chunky, not like a paste.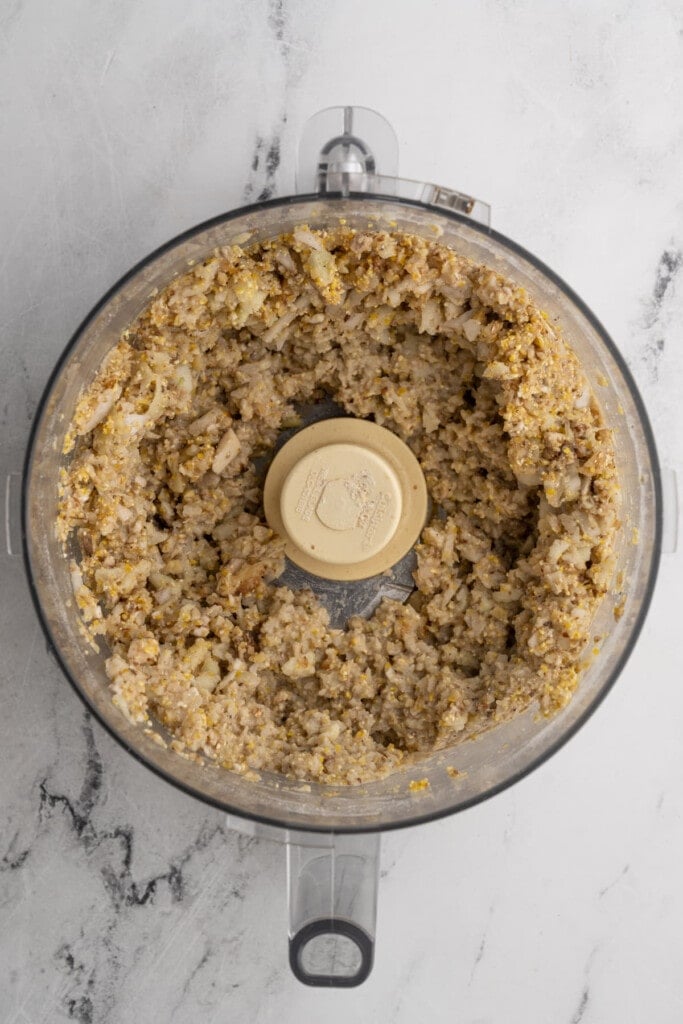 Roll 'Em Up
After you've processed your mixture, remove the blade from your food processor or blender and grab a handful of mixture. Roll it in between your two hands to form 6-8 balls.
The mixture is not usually too sticky, but you can wet your hands if you're finding that the mixture is sticking to your hands a bit while shaping them.
Feel free to squeeze out excess liquid as you roll, but it will cook off when you fry them either way. The mixture will yield anywhere from 6-8 sausage patties.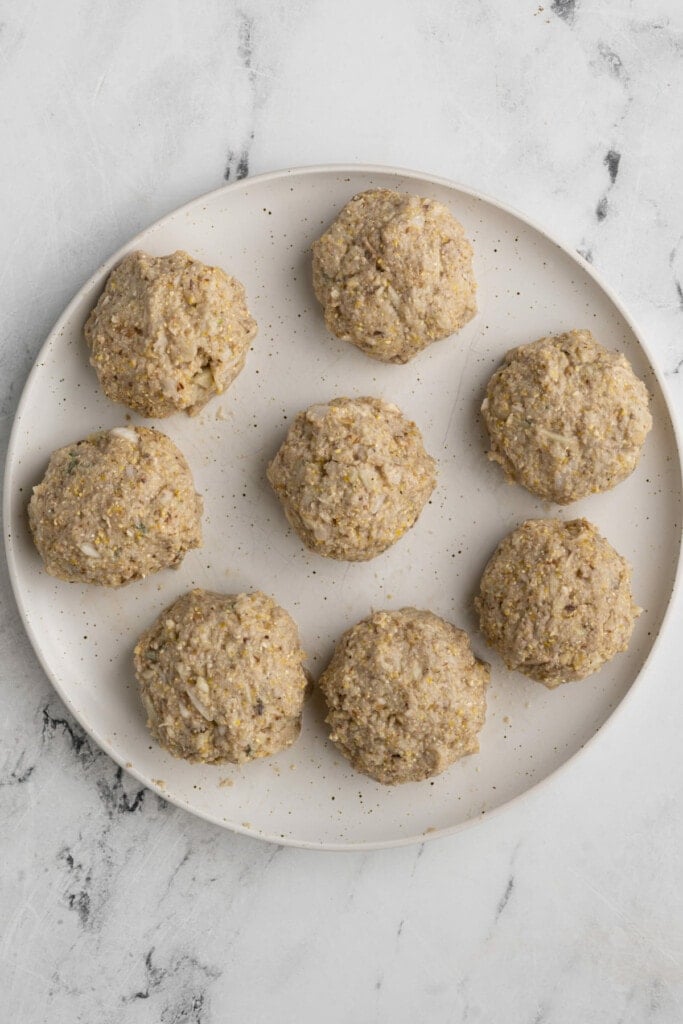 Get Oil Hot in a Pan
The idea is for the vegan sausage patty to sizzle when it hits the oil. Pour your oil in a pan over medium heat and let it sit for about 5 minutes until its hot.
Then, carefully drop the patties into the pan, leaving an inch or two of space between each patty. Don't overcrowd your pan. I usually fry just four at a time.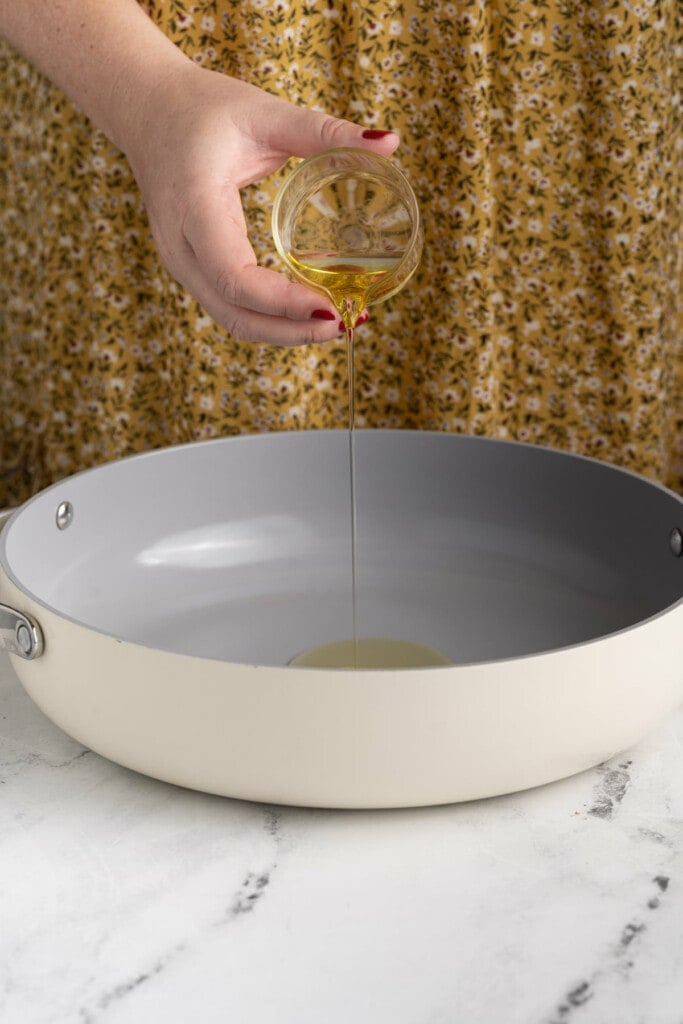 Flatten 'Em
Once you get your mixture balled up, you can use a spatula to press them down and flatten them out into patties.
The flax works as a great binder once the patties get some heat, but until then, your mixture may be a tad crumbly. If they crack when you press down with your spatula, just use a spoon to reshape them.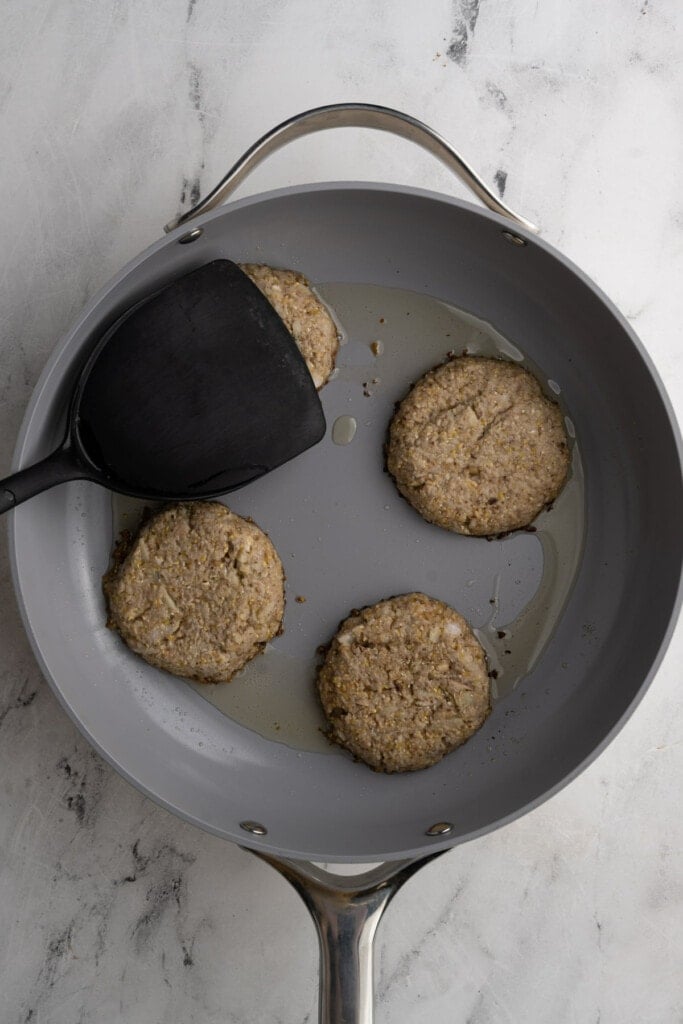 Get 'Em Golden Brown
In order to get that crispy exterior and beautiful brown color, we are going to fry them in oil before finishing them off in the oven.
They should be ready to flip in about 5 minutes over medium heat. You'll know they're ready to flip when they are no longer sticking to the pan.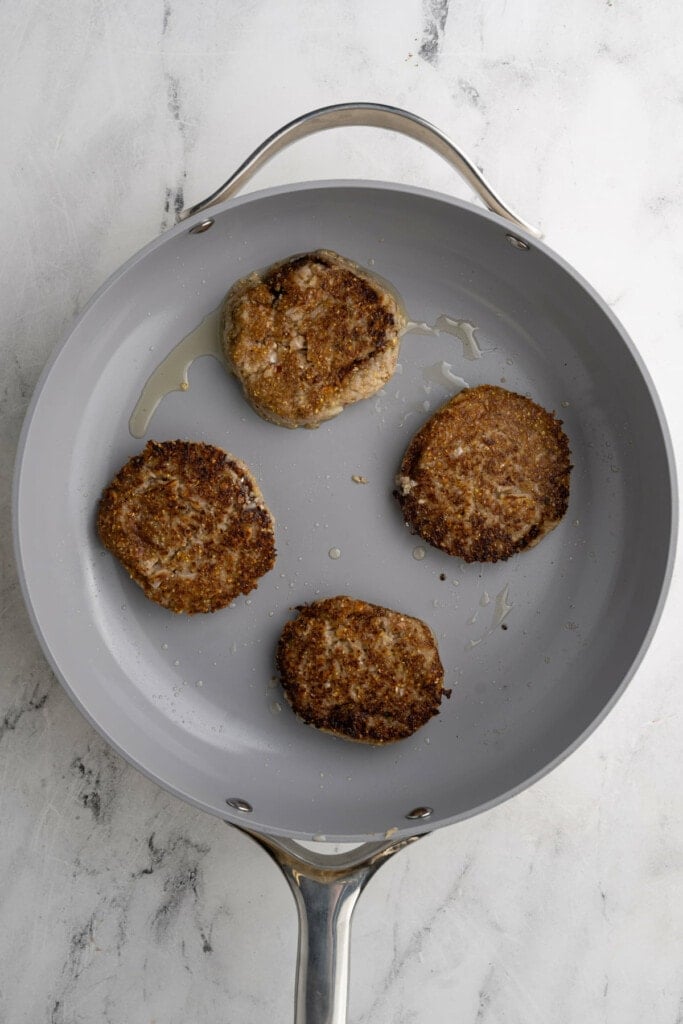 Finish Off in the Oven
Once they are browned on both sides, line your vegan patties up on a large baking sheet and bake them at 375°F for about 1o minutes. You can line your baking sheet with parchment paper for quicker cleanup.
Green tip: To avoid extra waste, try these reusable baking mats! They are great for nonstick and super easy to clean.
This will just cook the inside and solidify them further, so they are not so crumbly.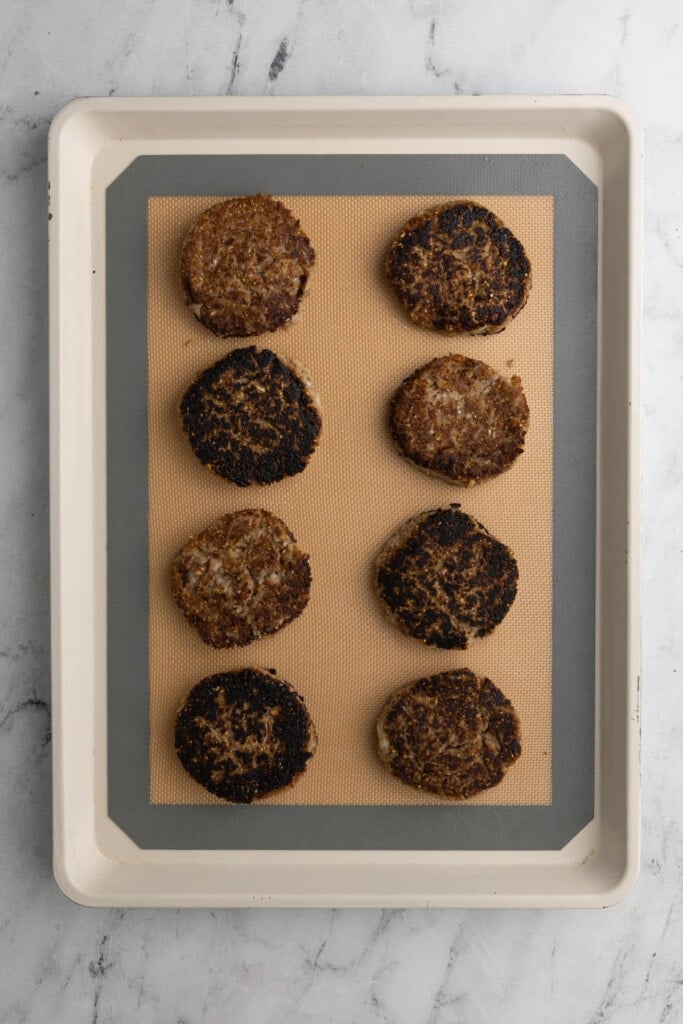 Storing Your Vegan Sausage Patties
These vegan patties will last in an airtight container in the refrigerator for 3-5 days. You can also opt to freeze them!
These vegan breakfast sausages will last anywhere from 3-4 weeks in the freezer. Just thaw out in the refrigerator before reheating or bake in the oven at 375°F for 25-30 minutes straight out of the freezer.
The best way to reheat thawed vegan breakfast sausage is in a little bit of olive oil over medium heat on a frying pan or skillet. It will need about 5 minutes on each side. You can also bake them in the oven at 375 °F for 12-15 minutes.
Microwaving them is safe but will make them a little bit crumbly.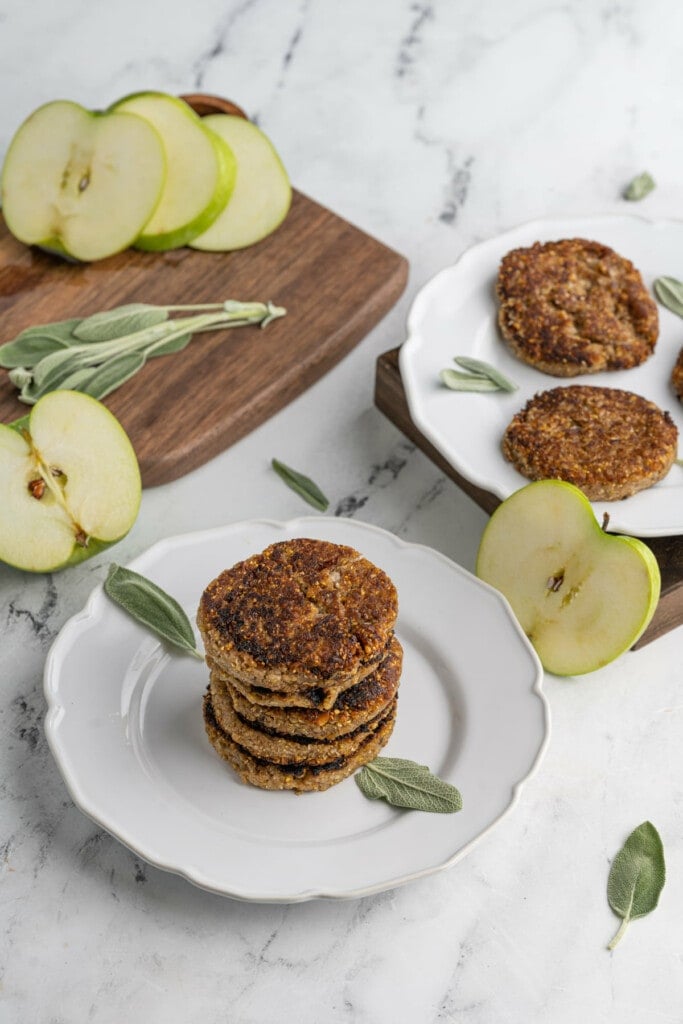 Vegan Apple Sausage Patties Frequently Asked Questions
---
---
What are vegan sausage patties made of?
Vegan sausage patties can be made of a variety of different ingredients.
These Breakfast Vegan Sausage Patties with apple and sage uses a combination of fruits, vegetables, nuts, cornmeal, seasonings, herbs, cornmeal, and flax to make for a uniquely flavored and meaty textured sausage patty.
Want to sharpen your kitchen skills?
Why You Should Make these Vegan Breakfast Sausage Patties
They're healthy. Low in fat, but high in fiber and nutrients.
They're complex. Tart, sweet, and savory all rolled into one.
They're low impact. Completely free of all animal products.
They're protein-packed. Between the nuts, mushrooms, and cornmeal, you'll have energy all day!
If you love these Vegan Breakfast Sausage Patties and are looking for more vegan breakfast options, check out these Whole Wheat Pancakes and this Coconut Granola.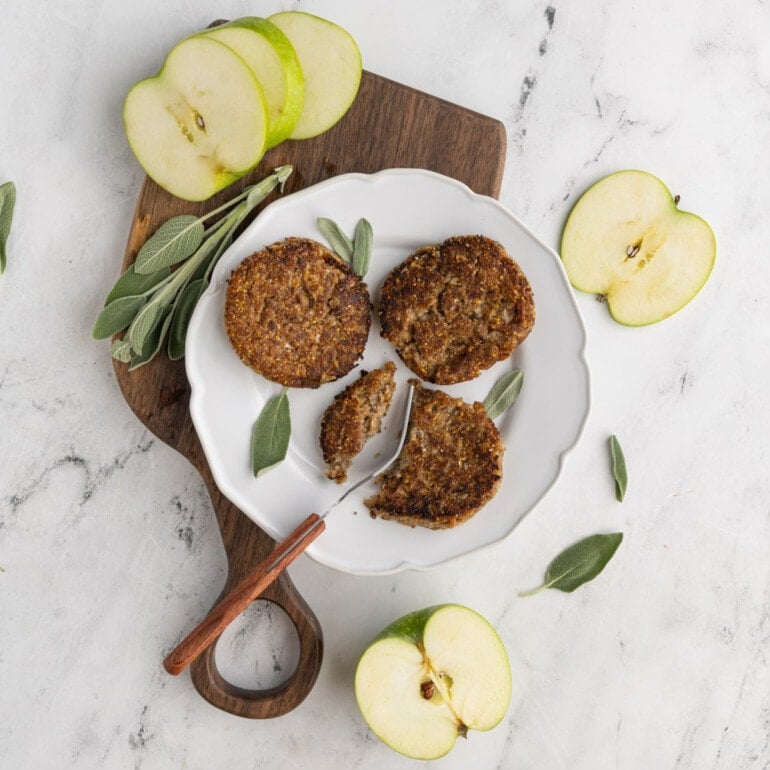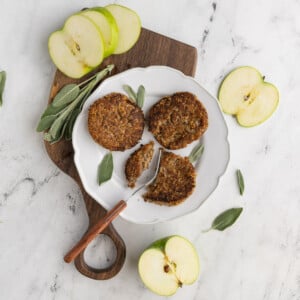 Breakfast Vegan Sausage Patties with Apple & Sage
PRINT
PIN
RATE
These Breakfast Vegan Sausage Patties strike the perfect balance between the tartness of apple, sweetness of maple syrup, savory notes from garlic and onion, and earthiness of mushrooms and sage.
Ingredients
1

green apple, peeled and cored

½

cup

baby bella mushrooms, diced

½

large

yellow onion, diced

2

cloves

garlic, peeled

1

cup

walnuts

1

teaspoon

flaxseed meal

½

cup

cornmeal

2

tablespoons

maple syrup

1

teaspoon

soy sauce

2

leaves

fresh sage

½

teaspoon

salt

½

teaspoon

pepper

2

tablespoons

extra virgin olive oil
Instructions
Preheat your oven to 375°F

Peel and roughly chop your green apple, and roughly chop your onion and mushrooms.

Add your walnuts, flaxseed meal, cornmeal, mushrooms, onions, garlic, maple syrup, soy sauce, fresh sage, salt, and pepper to a food processor.

Pulse about 6-8 times, until all your ingredients are chopped. Do not over-process, you want it to still be chunky.

Take about a handful worth of your mixture and roll it into a ball and set aside. Repeat until you use up all of your mixture. It usually makes 6-8 breakfast sausages.

Add olive oil to a large frying pan or skillet over medium heat. Once the oil is hot, add your balled mixture to the pan. Try not to overcrowd the pan—you may have to fry these up in two batches.

Use a spatula to press down, so that your mixture forms into a patty. you can use a spoon to reshape them if they crack when you press. Sautee for about 5 minutes before flipping.

Once both sides are browned, transfer to baking sheet and cook at 375 for 10 minutes. Serve hot.
Pro Tips
Use your pulse button in your food processor, it's important not to overprocess it as you want it to retain some of its crunchiness.
Peeling your apple is optional, but it does help it break down easier in the food processor.
Did you make this recipe?
Let me know by leaving a recipe rating below, or by tagging @marleysmenu on Instagram.