Looking for a fresh, healthy, simple vegan pasta salad? This Vegan Couscous salad is all that and more!
Using fresh crisp cucumbers, creamy avocado, and bright tomatoes, this couscous salad hits all the right notes to culminate into the perfectly balanced bite. Easy to make and lovely to eat, this will become your go-to for lunch, a side dish, or a quick snack!
As an environmental scientist, I'm always looking for ways to incorporate fresh, seasonal ingredients with low impact on the environment, but high impact on flavor!
Green tip: Eating seasonally is one of the best (and most delicious) ways to support local and decrease your carbon footprint. Local foods have less associated transportation costs and fuel emissions. Simply put, eating seasonally = less environmental impact.
Find out when these fresh ingredients are in season near you with this Seasonal Food Guide!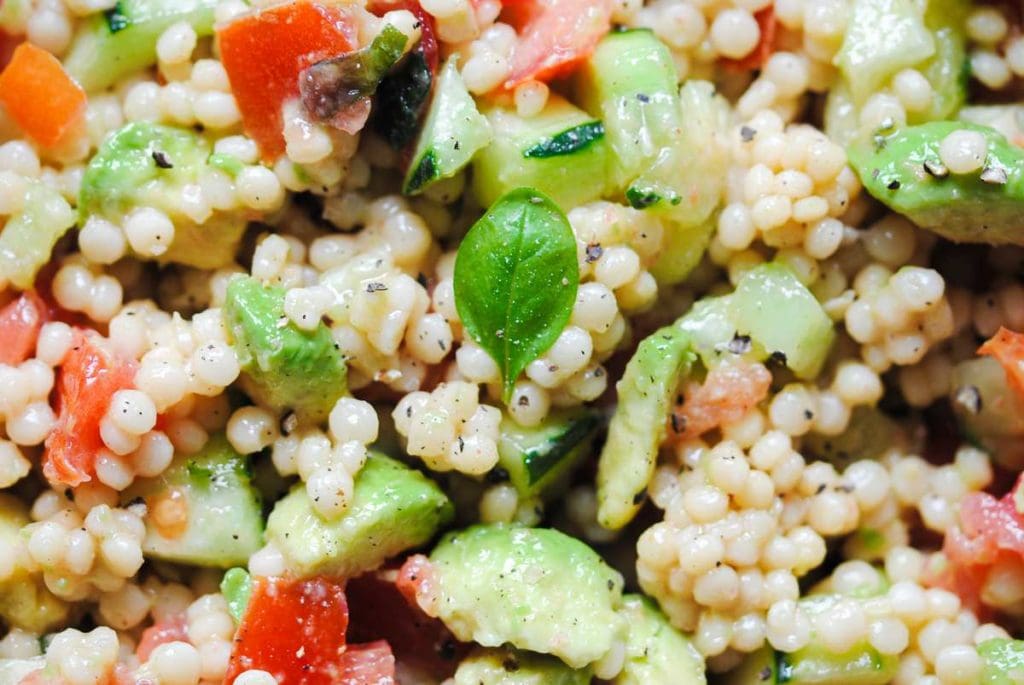 Vegan Couscous Salad Tips and Tricks
---
---
Choosing Your Couscous
Couscous is a tiny pasta made of wheat or barley, that's rolled into a little ball. Similar to rice, it soaks up the flavor of whatever you cook it in.
There are two common types of couscous that you should easily be able to find at your supermarket. The first, Israeli or pearled couscous, is larger, just like the ones pictured here. This recipe calls for 1 cup of uncooked pearled couscous.
The other common type of couscous is Moroccan. It is very small, almost resembling grits or semolina. It can easily be used in place of Israeli couscous in this recipe, substituting 1 cup of Israeli couscous for 1 cup of Moroccan couscous.
Once you choose your coucous, you'll only need a few other ingredients and your off and running! Here's what you'll need:
Keep It Cool
Make your couscous first and allow it to cool before adding in your fresh ingredients. You want to keep the integrity of those crisp, fresh fruits, veggies, and herbs.
You can even make the couscous a day or two ahead of time.
Green tip: Growing your own herbs is a delicious way to reduce your environmental footprint. Homegrown basil has zero associated food miles, no pesky plastic packaging, and is free of damaging fertilizers and chemicals. Plus, they are just so fresh and flavorful.
Salt Your Tomatoes
This recipe calls for 1/2 teaspoon of salt and while most of that will be used to season your couscous salad, use just a pinch of it to salt your tomatoes!
In fact, tuck this "salt your tomatoes" advice into your back pocket for every day use. Salting your tomatoes enhances their natural sweetness, giving their fresh flavor a boost.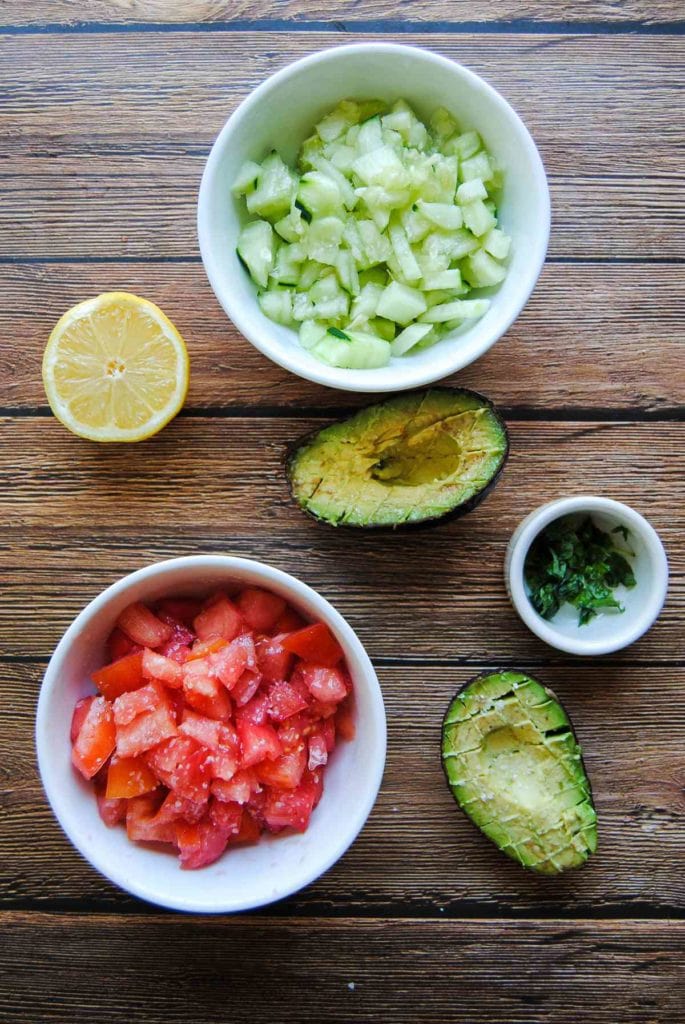 Should You Have Leftovers
It's best to make one serving at a time to keep those cucumbers crunchy and avoid the avocado from browning. The couscous alone will stay fresh covered in the refrigerator for about 5 days. You can always add the remainder of your ingredients fresh when you're ready to eat it!
The good news is, if you do make it all and are unable to finish it, the lemon will help to keep the cucumber, avocado, tomato, and basil fresh. Add a couple more squeezes of lemon to the top, cover it, and keep it in the refrigerator. It should stay fresh for another day or two!
Why You Should Make This Vegan Couscous Salad
---
---
It's fresh! Packed with fresh fruits (avocado and tomato), veggies, and herbs.
It's healthy! Chock-full of vitamins, fiber, and anti-oxidants.
It's quick and easy! Under 30 minutes and no special gadgets necessary!
If you're loving this Vegan Couscous Salad and want to explore more pasta salad options, check out this Confetti Orzo and Sherry Bowtie Pasta.