Looking for a protein-packed plant-based lunch that's as delicious as it is nutritious? This Vegan Egg Salad Substitute is perfect for a healthful sandwich, wrap, salad, or dip.
With just 8 ingredients and 10 minutes required, this easy vegan lunch idea will soon become a favorite! Because what's better than a tasty meal that comes together quickly and is good for both you and the planet?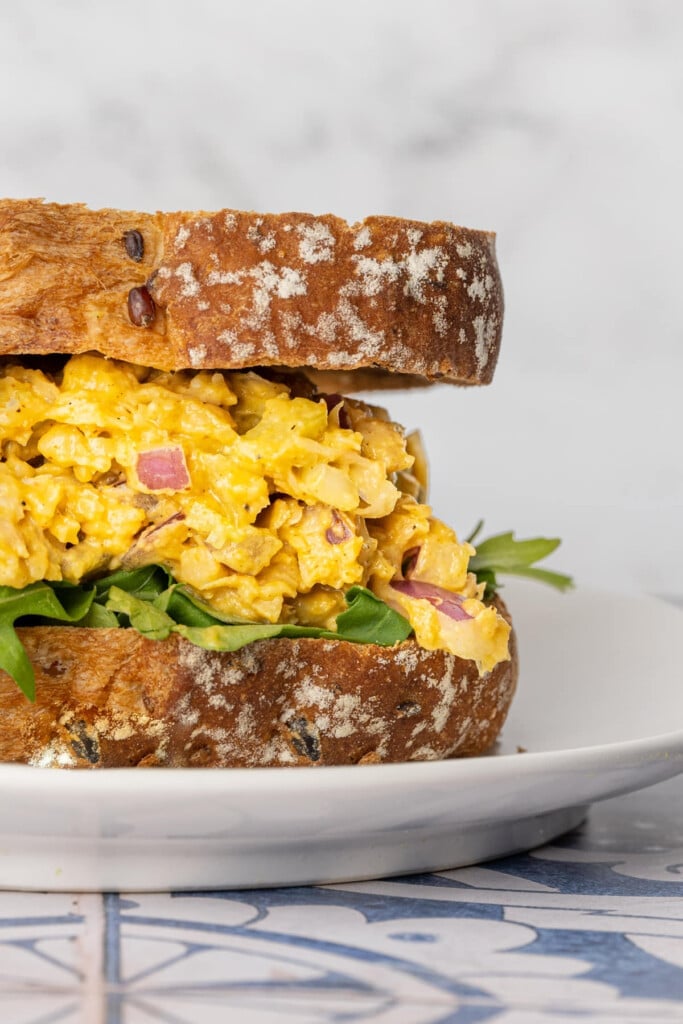 As an environmental scientist, I'm always looking for delicious vegan alternatives to help me improve my ecological footprint, and this Egg Salad Substitute is a great place to start!
The "meaty" texture of the smashed chickpeas and their natural abundance of protein makes them the perfect substitute for eggs.
Green tip: Industrial production of eggs has a huge impact on the environment, especially because of the emission of greenhouse gases and the contribution to contamination of soil and water. Reducing your egg consumption can help improve you ecological footprint.
Vegan Egg Salad Ingredients
---
---
Here's everything you need:
Chickpeas. Aka Garbanzo beans. Canned is quickest and easiest, but of course you can use raw chickpeas. They will need to be soaked or cooked before use in this recipe.
Vegan mayonnaise. Vegan mayo options are easy to find, or you can make your own vegan mayonnaise.
Salt & pepper. To elevate all of the other flavors.
Paprika. For that signature egg salad taste.
Turmeric. For an earthy flavor and yellow color.
Celery. For a little crunchy texture.
Red onion. For extra umami and savory taste.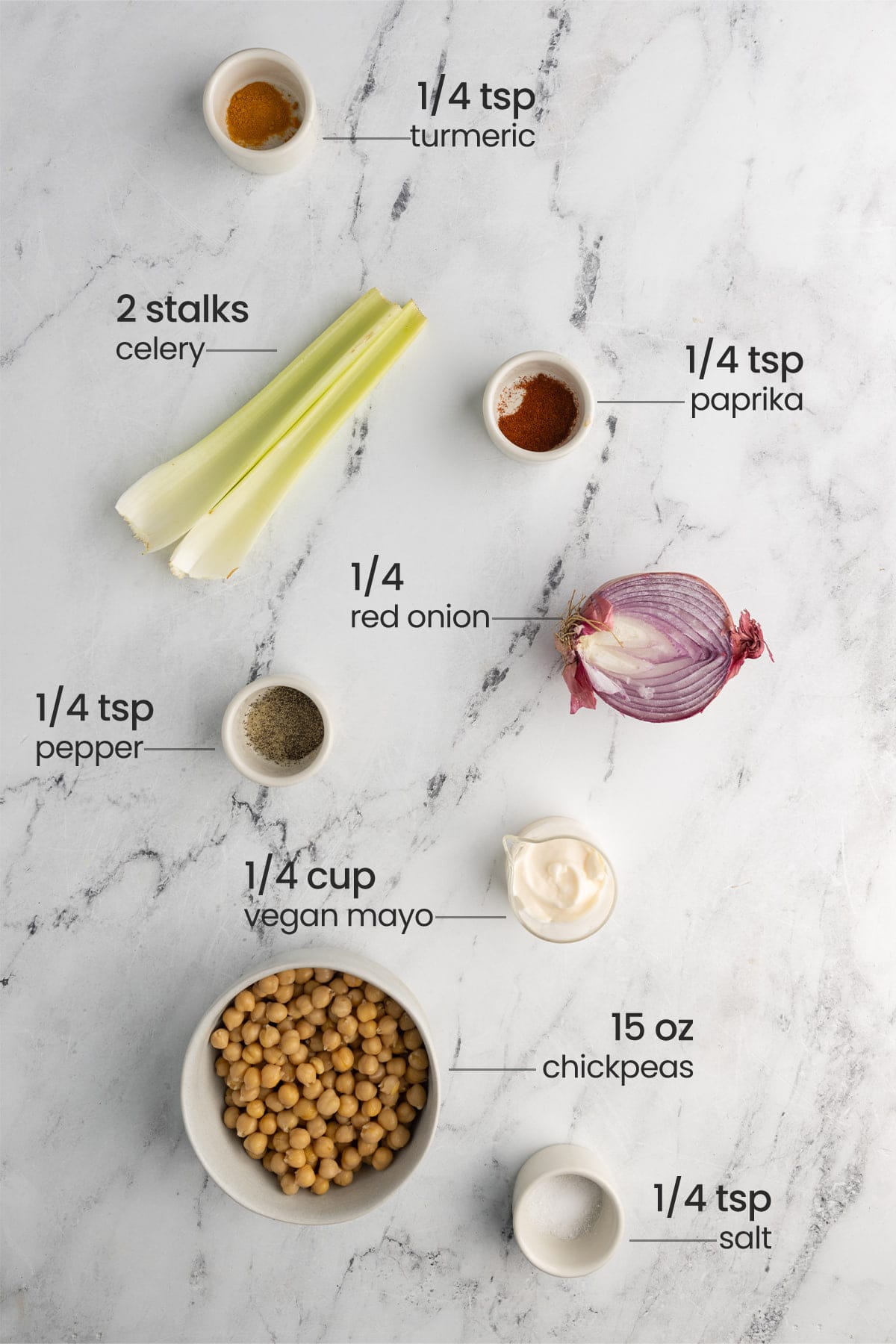 Vegan Egg Salad Tips and Tricks
---
---
Drain and Rinse Chickpeas
When making this egg salad substitute or spreads like hummus, it's quickest and easiest to use canned chickpeas, which have already been soaked and are soft, supple, and easy to break down.
If you have raw chickpeas, you will have to soak or cook them first to prep them.
Drain your canned chickpeas. I love to catch the aquafaba, or the liquid that the chickpeas is suspended in in the can and save it for later use. It's a wonderful ingredient, especially in vegan baking. I use it in this Vegan Dark Chocolate Oreo Pie.
Green tip: Paper products contribute to deforestation. Consider these bamboo paper towels! Bamboo naturally regenerates every few months, whereas trees cannot regrow once harvested.
Once you've drained the chickpeas, rinse them. Then, pour them out on a clean kitchen towel and pat them lightly with a second kitchen towel or a paper towel to dry them.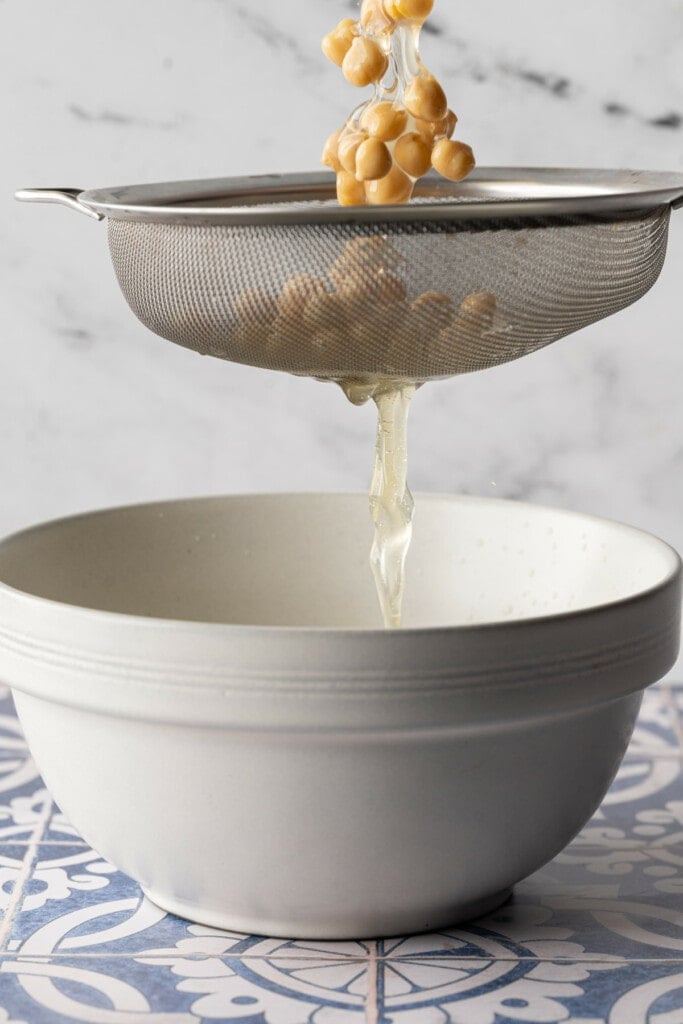 Smash 'Em
Once your chickpeas are drained, rinsed, and dried, add them to a large bowl to smash them.
I like to use a potato masher, but you can also use a wooden spoon, a fork, or a mortar and pestle.
Continue to smash until there are no whole chickpeas left.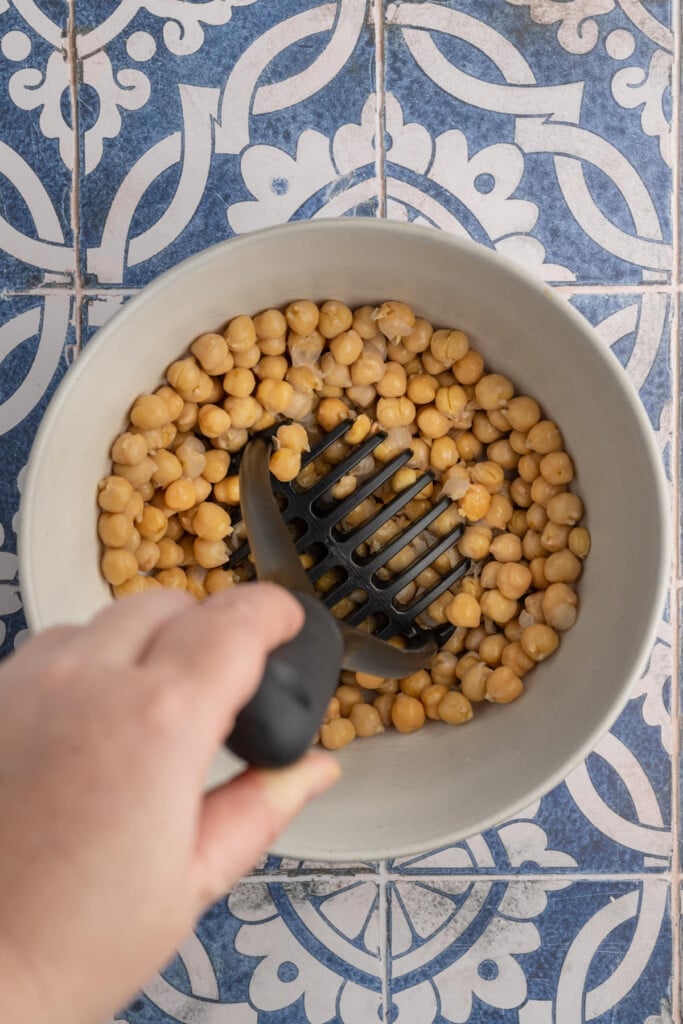 Dice Your Onion and Celery
Peel your red onion and dice it finely. Rinse and dice the green part of your celery as well.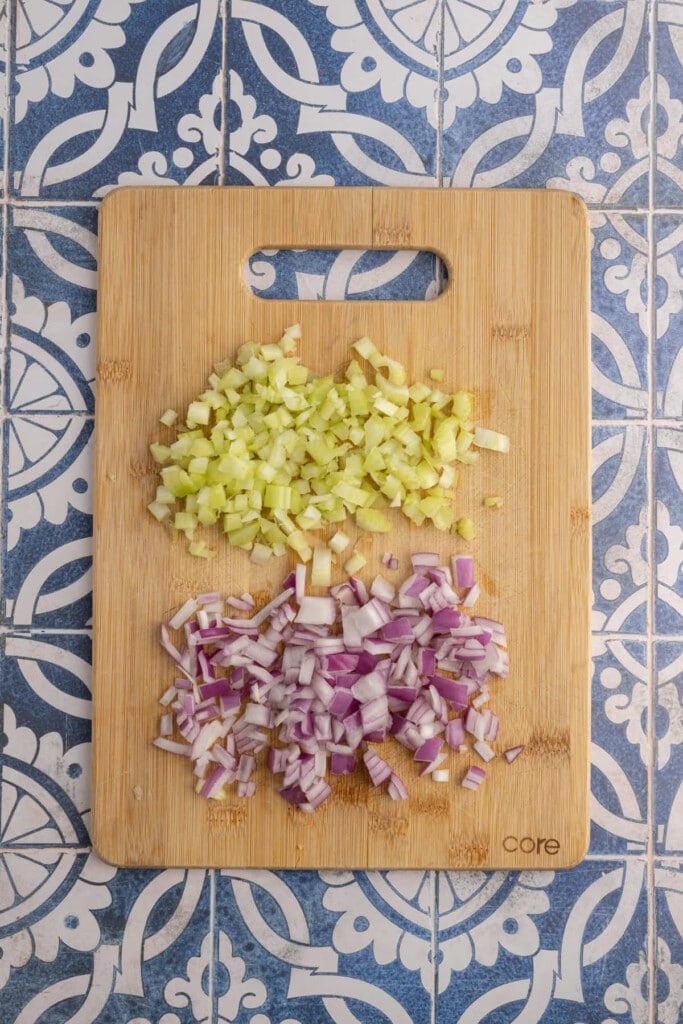 Add All Your Ingredients
Add the diced onion and celery to your smashed chickpeas along with the mayo, salt, pepper, paprika, and turmeric.
Mix until well-combined.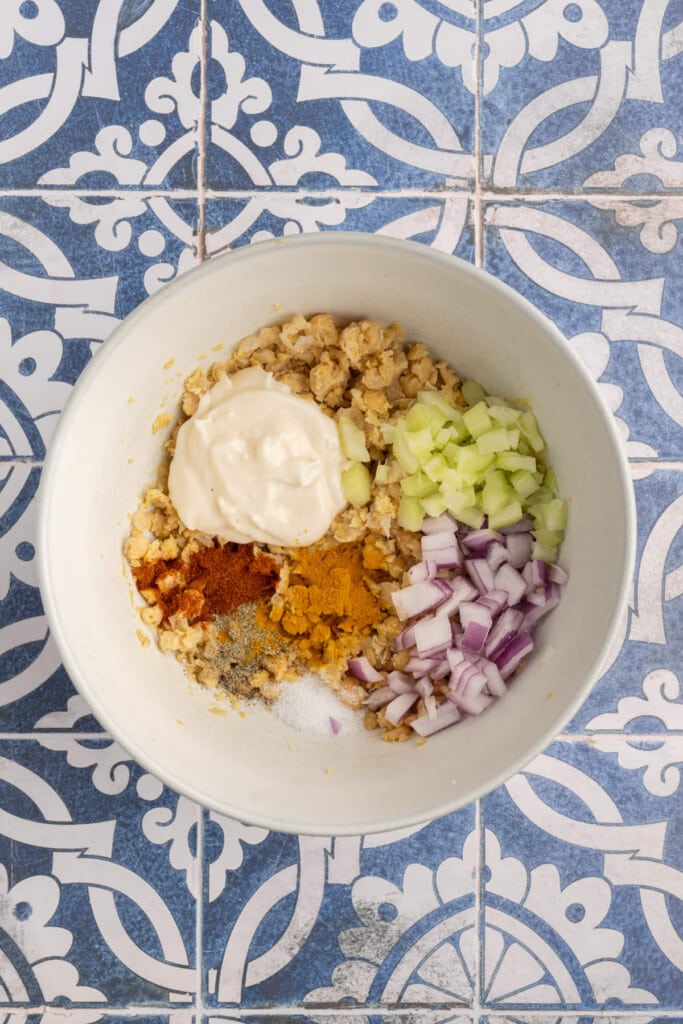 If You Prefer a Smoother "Egg Salad"
I like to keep my chickpea egg salad on the chunkier side, but if you want it smooth, simply add all of your ingredients to a food processor or high-powered blender. Process on high until desired consistency is achieved.
Green tip: Organic farms rely on biodiversity to generate rich soil, avoiding the use of pesticides and fertilizers, which means no toxic runoff. Consider organic ingredients for this recipe!
How to Serve Your Chickpea Egg Salad
This chickpea smash can be treated just like egg salad and can be served in the same ways! Here are my favorite ways to enjoy this vegan egg salad substitute:
Sandwich. Between two slices of bread, toast, or a bagel!
Wrap. In a tortilla, rolled up flatbread, or even in a lettuce wrap.
Salad. The perfect hearty, protein-packed addition to your salad.
Dip. Serve it on a platter as a dip with vegetables, crackers, or chips.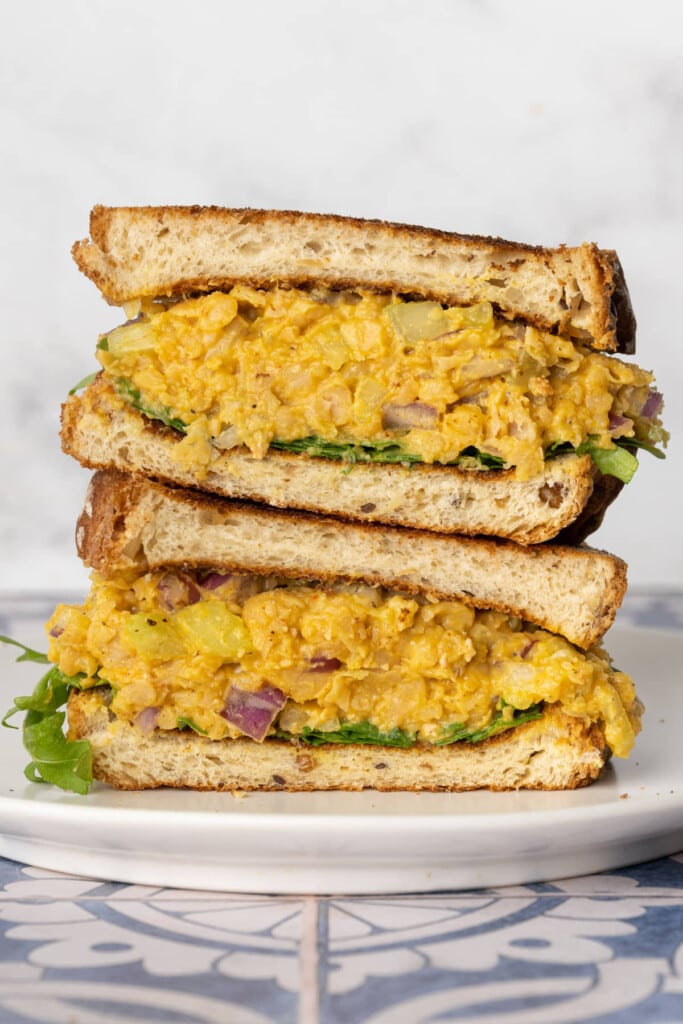 Should You Have Leftovers
This egg salad substitute will last up to one week in an airtight container in the refrigerator. I do not suggest freezing it.
Green tip: Did you know that of the billions of pounds of food wasted annually, it is estimated that 50% of it happens in our homes? Avoid food waste by properly storing and then enjoying your leftovers!
Chickpea Egg Salad Frequently Asked Questions
---
---
What is vegan egg salad made of?
A great substitute for egg in vegan "egg salad" is canned chickpeas! They are protein rich, have a great texture when smashed or blended, and easily take on flavor.
How do you make vegan egg mayo sandwiches?
Crush or blend chickpeas with mayo, salt, pepper, turmeric, paprika, celery, and red onion until well-combined. Serve between two slices of bread with any other add-ons of choice.
Want to sharpen your kitchen skills?
Why You Should Make this Vegan Egg Salad Substitute
---
---
It's quick. Just ten minutes from start to finish.
It's easy. Drain and rinse the chickpeas, crush 'em, and mix! As simple as that.
It's healthy. For you and the planet!
If you're loving this Vegan Egg Salad Substitute and want more easy plant-based lunch ideas, check out this BBQ Tempeh Sandwich and BBQ Tofu Sandwich.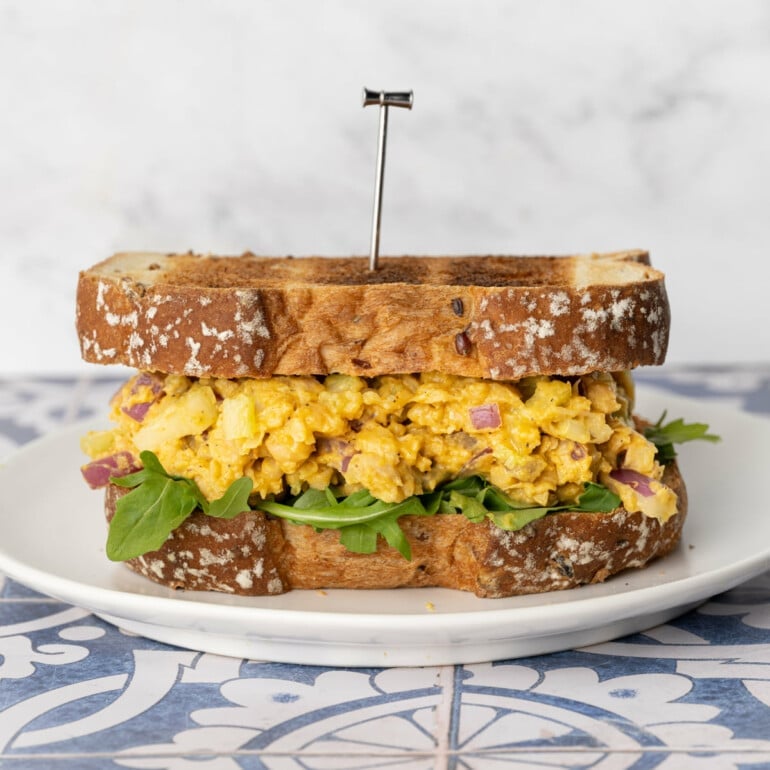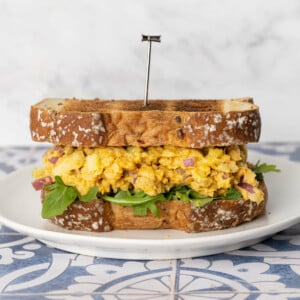 10-Minute Vegan Egg Salad Substitute
PRINT
PIN
RATE
This Vegan Egg Salad Substitute uses chickpeas instead of eggs to make for a delicious sandwich, wrap, salad, or dip!
Ingredients
15

oz

chickpeas aka garbanzo beans

(1 can chickpeas = 15 ounces)

2

stalks

celery

¼

small

red onion

¼

cup

mayonnaise

(vegan options work great!)

¼

teaspoon

salt

¼

teaspoon

black pepper

¼

teaspoon

paprika

¼

teaspoon

turmeric
Instructions
Drain and rinse your chickpeas and lightly dab them dry with a clean kitchen towel or paper towel (use these bamboo paper towels for a more sustainable option).
Smash Method (Preferred)
For a chunkier egg salad substitute, use a potato masher or fork to smash your chickpeas until there are no whole chickpeas left (this is my preferred method).

Peel and dice your red onion and dice your celery. Add them to your smashed chickpeas with the vegan mayonnaise, salt, pepper, paprika, and turmeric.

Stir until well-combined and serve on a sandwich, in a wrap, or a salad, or as a dip.
Food Processor Method
If you want a smoother egg salad substitute, use a food processor. Add all the ingredients to the processor and blend on high until smooth.

Serve on a sandwich, in a wrap, or a salad, or as a dip.
Pro Tips
I prefer using a potato masher to keep a chunkier egg salad substitute, but the food processor is a super quick and easy way to blend all your ingredients. 
For more meatless lunch ideas, check out these recipes for lunch. 
Did you make this recipe?
Let me know by leaving a recipe rating below, or by tagging @marleysmenu on Instagram.