Looking for a way to incorporate those seasonal vegetables into a delicious and nutritious meal? This Vegan Orzo Soup with Seasonal Veggies is flavorful, healthy, and only requires one pot!
As a busy mom and environmental scientist, One-Pot recipes are my absolute favorite! Less clean-up means we save on both time and water! Win, win.
Green tip: Speaking of cleanup, if you have a dishwasher-use it! Comparing dishwashing to handwashing, using an efficient dishwasher uses 1/6th the amount of water to get your dishes clean!
And with a versatile recipe that allows you to tailor it to your taste and to every passing season, this Vegan Orzo Soup is sure to be a family favorite!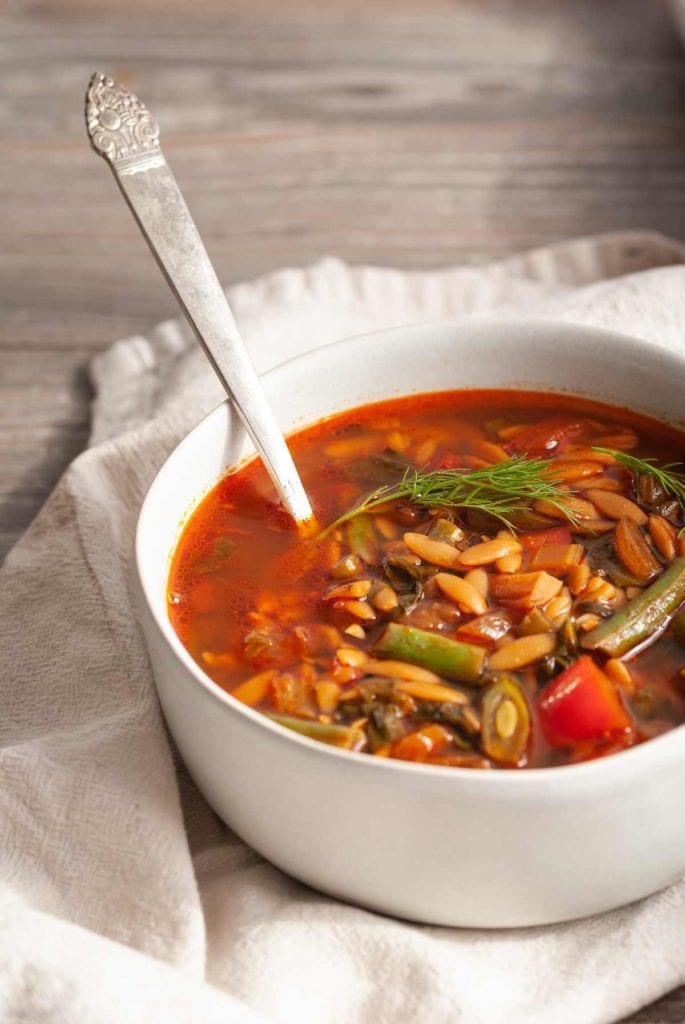 Vegan Orzo Soup Tips and Tricks
---
---
Think Seasonal
Aside from it's delicious taste, and ease to make, the best thing about this recipe is it's versatility. You can chuck about any vegetables in here and have a successful soup.
Green tip: Eating seasonally is one of the best (and most delicious) ways to support local and decrease your carbon footprint. Local foods have less associated transportation costs and fuel emissions. Simply put, eating seasonally = less environmental impact. Check what's in season in your area with this Seasonal Food Guide.
Pictured here, I used red pepper and green beans, but I've also made this soup with mushrooms, broccoli, squash, sweet potatoes, and cauliflower. Collard greens and kale are also great additions!
This soup is straight up packed with nutrients from top to bottom and equally as filled with flavor.
Here's everything you'll need: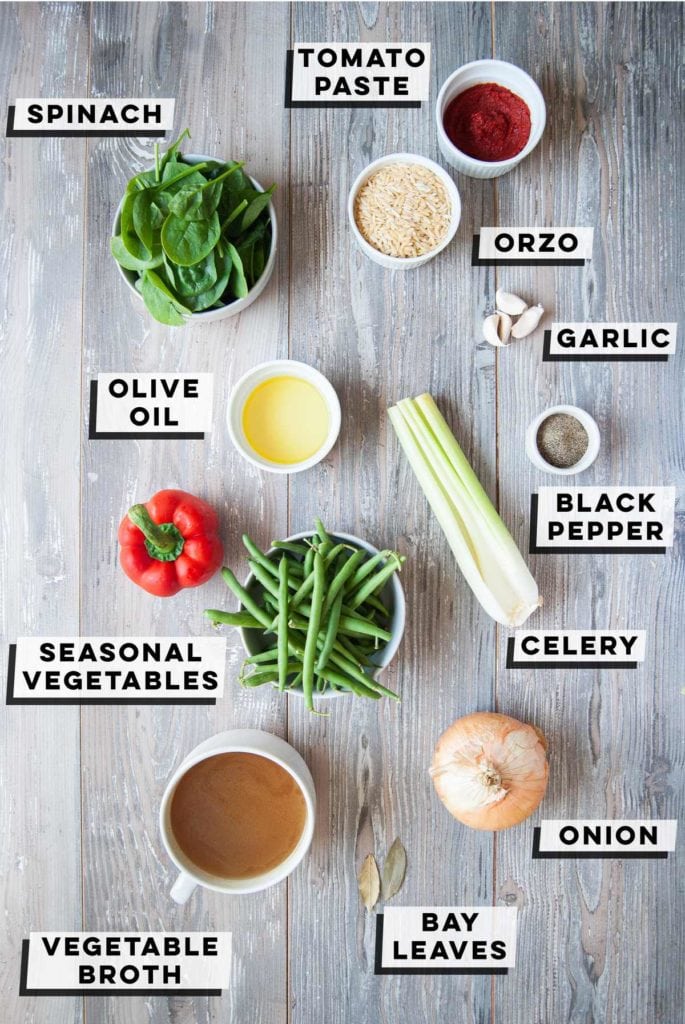 Let Your Onions and Celery Sweat First
This soup is pretty darn easy to make. With just 10 ingredients + salt and pepper and only one pot required, it's one of those meals you can whip up with minimal effort.
There is one thing we want to pay close attention to though, and that's the order in which we add things to that pot.
Add the onion and celery to the pot with the olive oil, tomato paste, and salt first, and really let those flavors play together. Give it about ten minutes to let the onions and celery release their juices.
You'll add your seasonal vegetables and garlic next, to cook them down.
Tip Your Hat
Once your vegetables cook down, you'll be ready to add your broth, bay leaves, and black pepper. At this point, we want to trap most of the steam, so that the flavors meld together. However, it's best to leave a little room for some steam to escape.
If your lid doesn't have a steam hole, just place is a little bit off-center, so there is about a 1-inch gap, allowing steam to pass through as pictured below.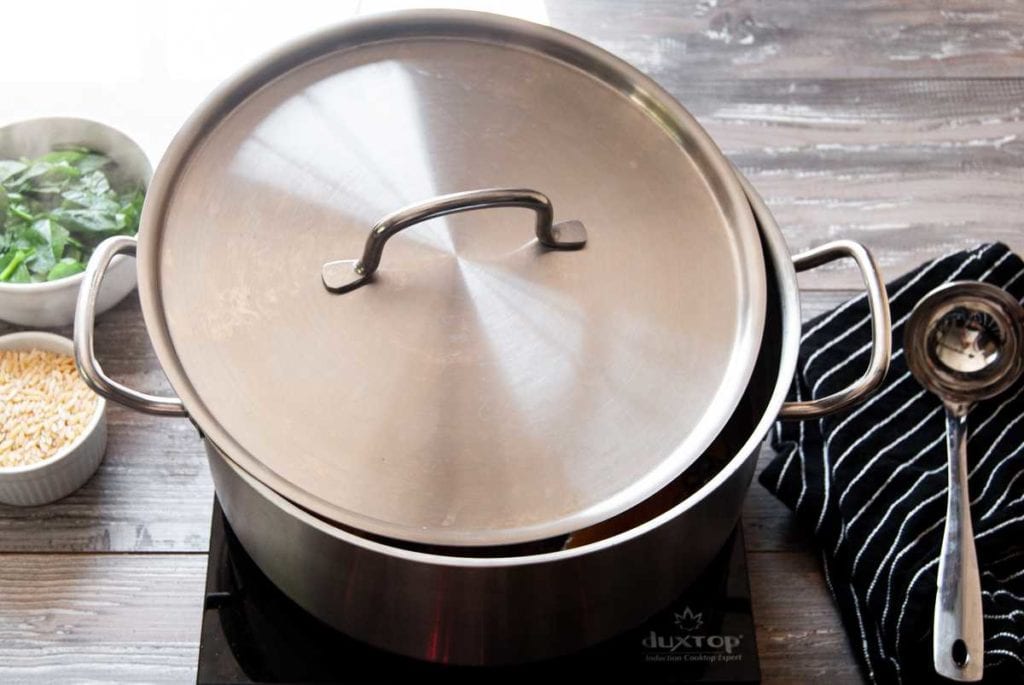 Add Your Spinach and Orzo Last
After about 15 minutes, it will be time to add your spinach and orzo. Adding it too soon will cause it to overcook. If you're adding other greens like collard greens or kale, add them now, too.
The greens and orzo should only cook in the broth for 20 minutes to achieve texture perfection!
Don't Forget Your Bay Leaves
Bay leaves are a great way to infuse flavor into soups, stews, and sauces, but they're not so fun to bite into. When your soup is ready, use a utensil like a fork or tongs to remove the bay leaves before serving it up.
Be careful—it will be hot!
Should You Have Leftovers
Cover the soup and store it in the refrigerator for up to 4 days or in the freezer for about 5 months.
The easiest way to reheat it is in a pot over medium heat. You can also microwave it on high in a covered, microwave-safe dish, for 90 seconds. Stir and heat again, uncovered in 30-second intervals until it is hot all the way through.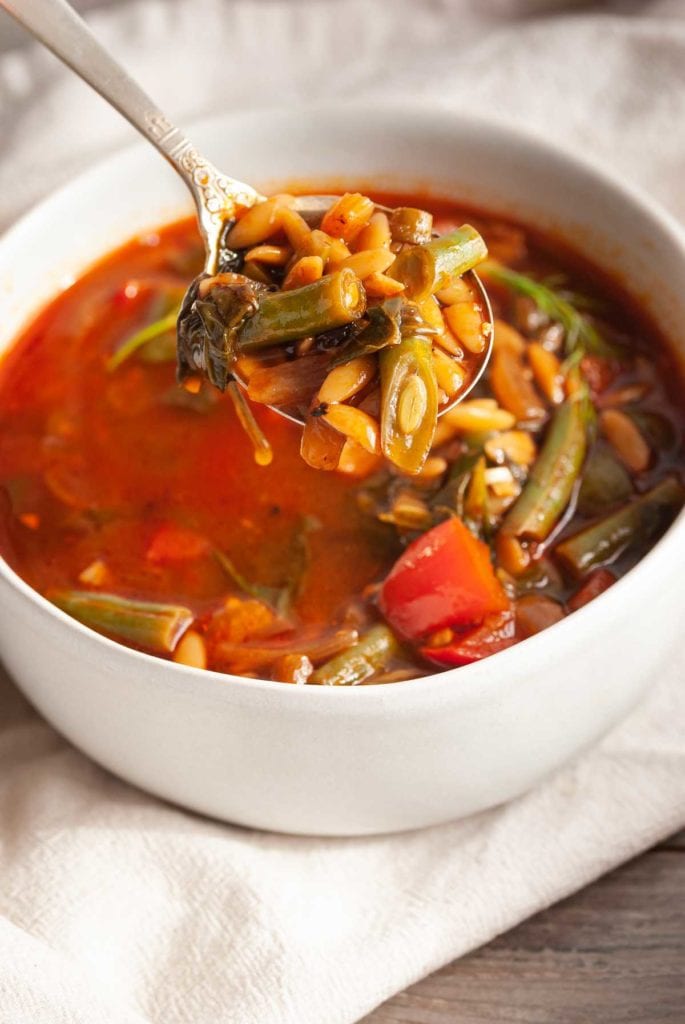 Why You Should Make This Vegan Orzo Soup
---
---
It's easy. Chuck it all in just one pot. That means easy clean-up, too!
It's packed with flavor. There are not too many ingredients, but each of them adds to the depth of flavor in this soup.
It's versatile. I've tried this soup with almost every veggie under the sun and it is always so hearty and delicious!
If you're loving this Vegan Orzo Soup and looking for more meatless soup options, check out this Ramen with Tofu and Vegetarian French Onion Soup.