Am I the only one who uses any occasion as an excuse to make cookies? It's your birthday? Cookies! You bought a house? Cookies! You're engaged? Vegan Rainbow Celebration Cookies!!
They're so festive and fun, making them a great choice for a celebratory cookie that everyone will enjoy. And they're free from common allergens like eggs, nuts, and dairy, so they're super accommodating.
I just brought them over to my best friends' house last week when they got engaged, and we gobbled almost all of them up with a glass of champagne!
Of course, you don't need an excuse to make these cookies. But once you see, smell, and taste them, they'll quickly become your go-to celebratory treat!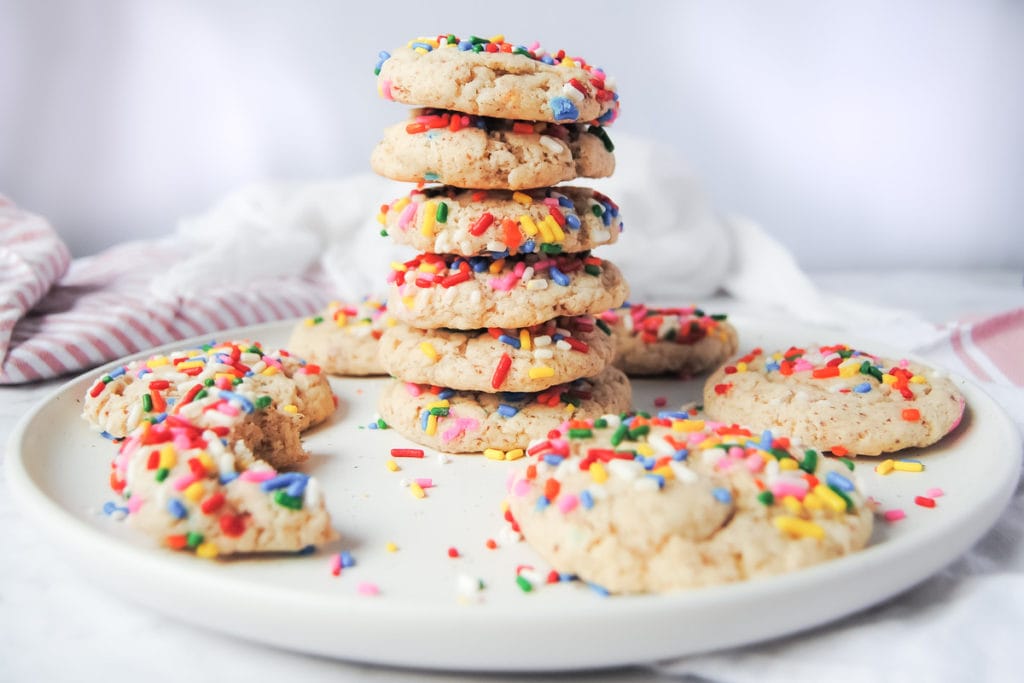 Vegan Rainbow Celebration Cookies Tips and Tricks
---
---
Don't Be Intimidated About Vegan Baking
Vegan Rainbow Celebration cookies means baking without eggs and dairy, but don't worry! It's easier than you think. You will just need two essential non-dairy ingredients—vegan butter, and flaxseed meal.
Vegan butter is easy to find in your local grocery store or specialty health food store. I use Earth Balance Olive Oil Buttery Spread, mostly because I always have this on hand. Compared to dairy butter, vegan butter has less saturated fat and more ALA omega-3.
Flaxseed meal is packed with several healthy nutrients including antioxidants, protein, and fiber. In this recipe, you will use it to make a flax "egg" which will act as your binder in the cookies to help them keep their shape and attain that perfect chewy consistency.
Why Vegan Baking?
The mass production of eggs and dairy farming contributes a staggering amount to our overall greenhouse gas emissions and contamination of soil and water. I always buy local, organic eggs and cheese when I can.
And what's more, I save the egg and dairy for when it really counts. I'm talking Eggs Benedict and Cheesy Pasta.
Leaving out the dairy and eggs while baking is a great way to reduce your consumption of eggs and dairy. And it's just as delicious and at times, more nutritious (you all know I can't resist a good rhyme when it presents itself).
Green tip: Industrial dairy production has a huge impact on the environment, especially because of the amount of land it takes to sustain and its high amount of greenhouse gas emissions. Reducing your dairy consumption is one great way to reduce your ecological footprint.
Let Them Rest in the Refrigerator Before Baking
We want these thick and chewy, not thin and crunchy. To keep them from spreading too much in the oven, rest them in the refrigerator for 15 minutes before baking.
You'll still get some spreading, so make sure to leave space in between each cookie so they don't all stick together to form one giant cookie.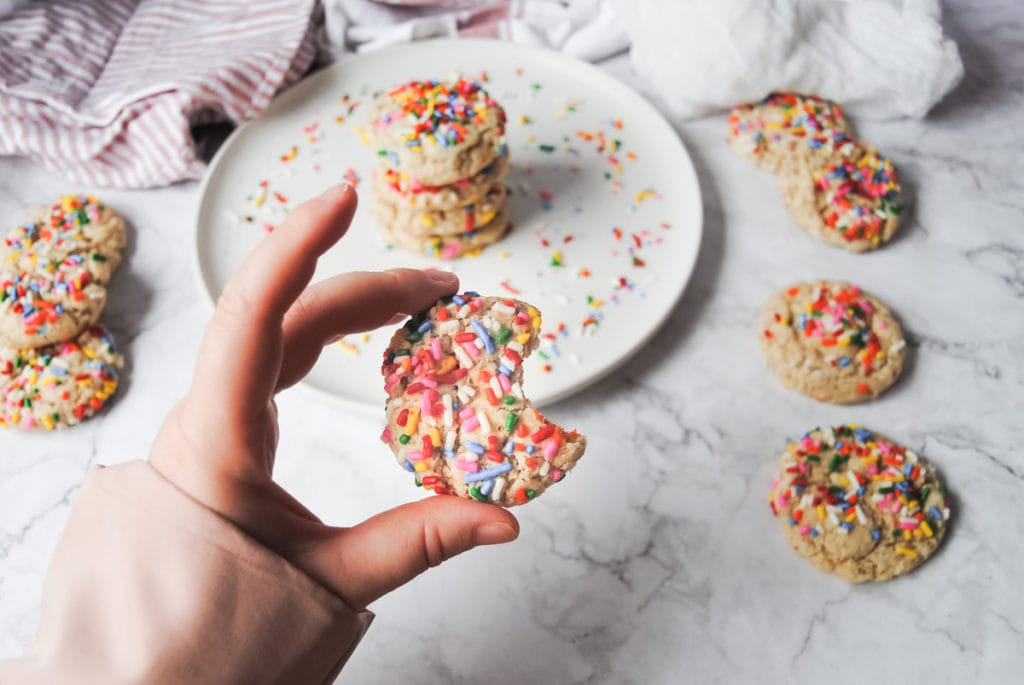 One Bowl Baking
I am a HUGE proponent of one bowl baking because the extra mess is quite frankly a pain in the butt. (These Fudgy Brownies and Vegan Peanut Butter Biscuits are also one bowl wonders!)
But this means adding the ingredients in the correct order is more important than ever! Follow the directions closely to make sure you are incorporating things at the right time.
Getting That Festive Look
This dough calls for 1/4 cup of sprinkles to give them that fun festive look. I mean, you can't have Vegan Rainbow Celebration Cookies all that fun color!
I like to mix 1 tablespoon of the sprinkles into the cookie dough and stir to distribute them evenly. The other 3 tablespoons I add to a shallow bowl or plate. Then I take each little ball of cookie dough and roll it in the sprinkles to coat it.
You can use any sugary sprinkles your heart desires! I use these little rainbow delights.
Tested Substitutes
If you wish to make these without any refined sugar, you can absolute substitute the granulated sugar for coconut sugar. They may look a little darker, but they'll taste just as delicious.
If you don't have flaxseed meal, and you eat eggs, don't discount this recipe! Just substitute 1 egg yolk for the flax egg.
Green tip: If you are using a chicken egg, look for pasture-raised eggs (over free-range or cage-free) to support agriculture that is less reliant on chemicals and fossil fuels.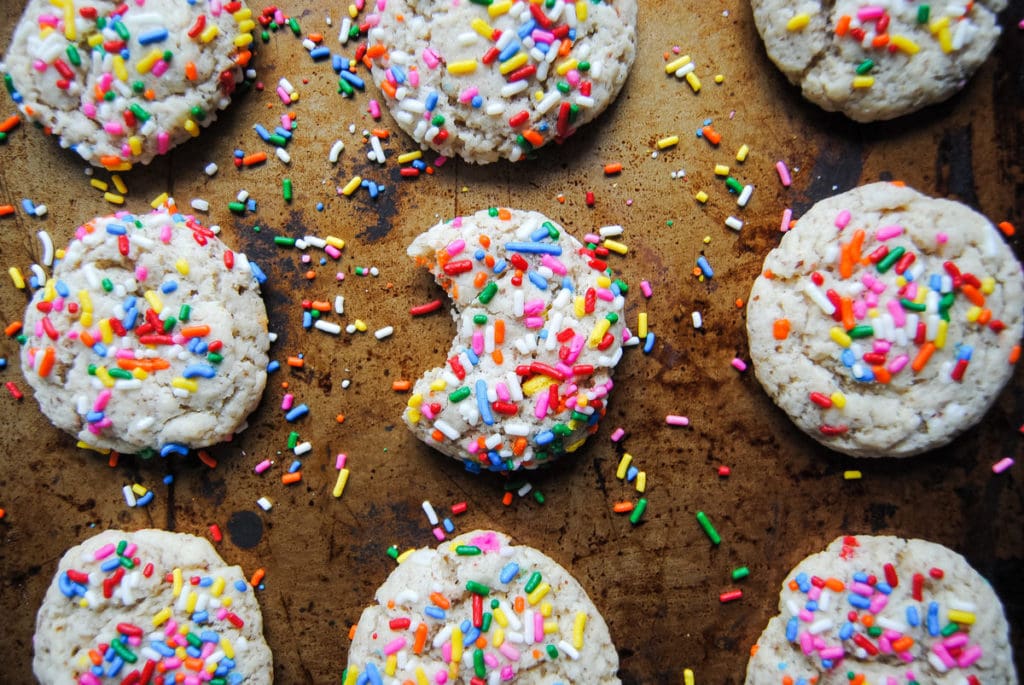 Why You Should Make These Vegan Celebration Cookies
They're fun! The colors are so festive. These cookies are like edible confetti!
They're chewy. The texture of these is what dreams are made of!
They're sweet, but not too sweet. Sometimes sugar cookies can give you a toothache. These have just the right amount of sugar.
They're all diet-friendly. Free of dairy, eggs, and common allergens!
They'll bring out the kid in you. Any other 90's kids out there who also got these for free from the grocery store at the bakery counter every day? These bring me back there with one bite.
If you like this vegan dessert recipe, you're sure to love these Vegan Peanut Butter Biscuits and Rich Vegan Chocolate Oreo Pie!
Fun Vegan Rainbow Celebration Cookies
PRINT
PIN
RATE
These colorful vegan rainbow celebratory cookies are a total party! Sweet and chewy with a little crunch—the perfect way to celebrate.
Ingredients
1

tablespoon

flaxseed meal

2

tablespoons

water

½

cup

vegan butter

½

cup

sugar

1

cup

flour

1

teaspoon

baking powder

½

teaspoon

salt

1

tablespoon

vanilla extract

¼

cup

rainbow sprinkles
Instructions
Preheat oven to 350 degrees Fahrenheit.

Make your flax "egg" by whisking 1 tablespoon of flaxseed meal with 2 tablespoons of water and put it in the refrigerator to set.

Melt the vegan butter in the microwave in 20-second intervals and beat in sugar.

Add the flour, baking powder, and salt and mix until combined.

With the mixer on low, beat in vanilla and flax "egg".

Use a spatula to smooth out the dough and fold in 1 tablespoon of rainbow sprinkles. Add the remaining sprinkles to a shallow bowl or plate.

Use clean hands to form dough into balls, using about 1 tablespoon of dough at a time. Take each ball of dough and roll half of it in the bowl of sprinkles to coat them. Set in the refrigerator for 15 minutes.

Bake for 13-15 minutes and allow to cool before serving.
Pro Tips
Don't skip the 15-minute refrigeration step! It's what gives you thick and chewy cookies.
You can make this dough up to two days ahead of time. Just store the dough in the refrigerator and bake them fresh in the oven when you're ready for them!
If you are using a chicken egg rather than making a flax egg, just use the yolk!
This recipe has been tested with coconut sugar with great results if you wish to cut out the refined sugar.
Cookie monsters are always happy at my house with this delicious selection of my best cookie recipes to choose from! Nom nom nom!
Did you make this recipe?
Let me know by leaving a recipe rating below, or by tagging @marleysmenu on Instagram.