Looking for a Meatless Monday option that will satisfy the whole family? This Tasty Vegan Tempeh Bolognese is hearty, packed with flavor, and keeps you satisfied for hours!
The "meaty" texture of the tempeh rounds out the savory sauce and gives a nice contrasting flavor to your slippery noodles. Plus, the sauce only requires one pot, making this vegan pasta dish one of my favorites to whip up for the family!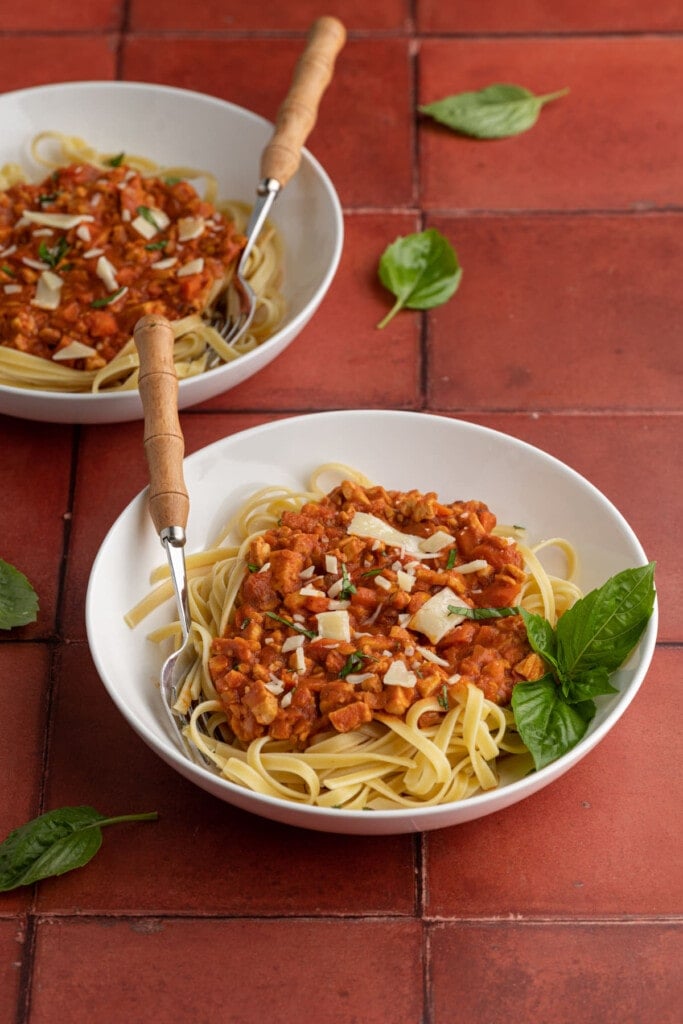 As an environmental scientist, I'm always looking for delicious meat alternatives to help me lower my ecological footprint, and the tempeh in this Bolognese is a great substitute for ground beef!
I also love using lentils for taco meat and oyster mushrooms in place of fried chicken!
Green tip: Industrial meat production has a huge impact on the environment, especially because of the amount of land it takes to sustain and its high amount of greenhouse gas emissions. Reducing your meat consumption is one great way to reduce your ecological footprint.
Tempeh Bolognese Ingredients
---
Here's everything you need:
Tempeh. Tempeh is a delicious protein made from fermented soybeans. It has a great texture and nutty flavor. You can usually find it right next to the tofu in your supermarket.
Shallot. This little botanical onion packs tons of flavor!
Celery. For heartiness and flavor.
Carrot. For color, texture, and earthiness.
Garlic. I highly recommend fresh garlic but you can use garlic powder in a pinch.
Olive oil. To brown your tempeh.
Salt.To amp up the flavor.
White wine. Or apple or grapefruit juice if you'd like to stay away from alcohol.
Vegetable broth. This acts as the base of our sauce.
Bay leaf. For more complex flavor and aroma.
Tomato paste. For acidity and subtle sweetness.
Nondairy milk. To add a little creaminess to the texture and to mellow out the acidity to give you a perfectly balanced bolognese.
Pasta or spaghetti squash. This sauce is so delicious—enjoy it over any pasta or even spaghetti squash!
Tempeh Bolognese Tips and Tricks
---
Prep Your Ingredients
Finely dice your tempeh, carrot, shallot, celery, and garlic with a sharp knife. Alternatively, you can use a blender or food processor to break down your ingredients.
The object here is to use these ingredients as the base of our sauce, as a substitute for the ground beef you would typically see in a bolognese.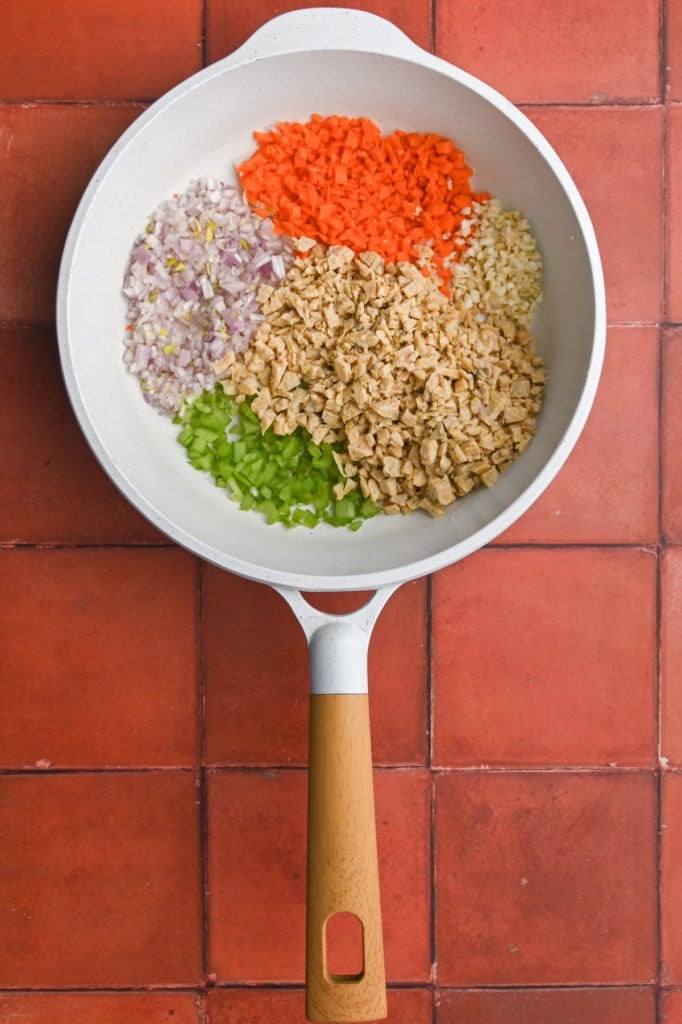 Brown Your Tempeh
First up, add all your diced tempeh and veg to a large saucepan or shallow pot. Add the olive oil and a pinch of salt, and cook over high heat for about 5-8 minutes until your tempeh starts to brown.
This will just give your tempeh the best texture in your sauce, and also allows the flavors of all the veggies to meld together harmoniously.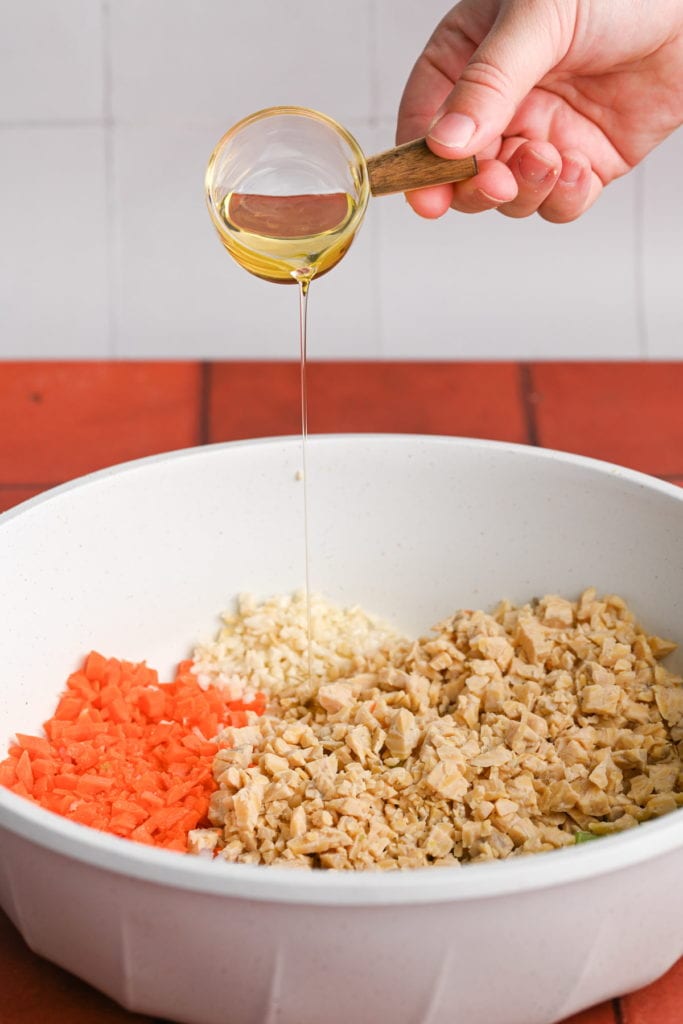 Reduce Your White Wine
Next, you'll add your white wine, keeping your heat on high. Stir occasionally as your white wine reduces. Simmer for about 10-15 minutes, until most of the liquid has evaporated.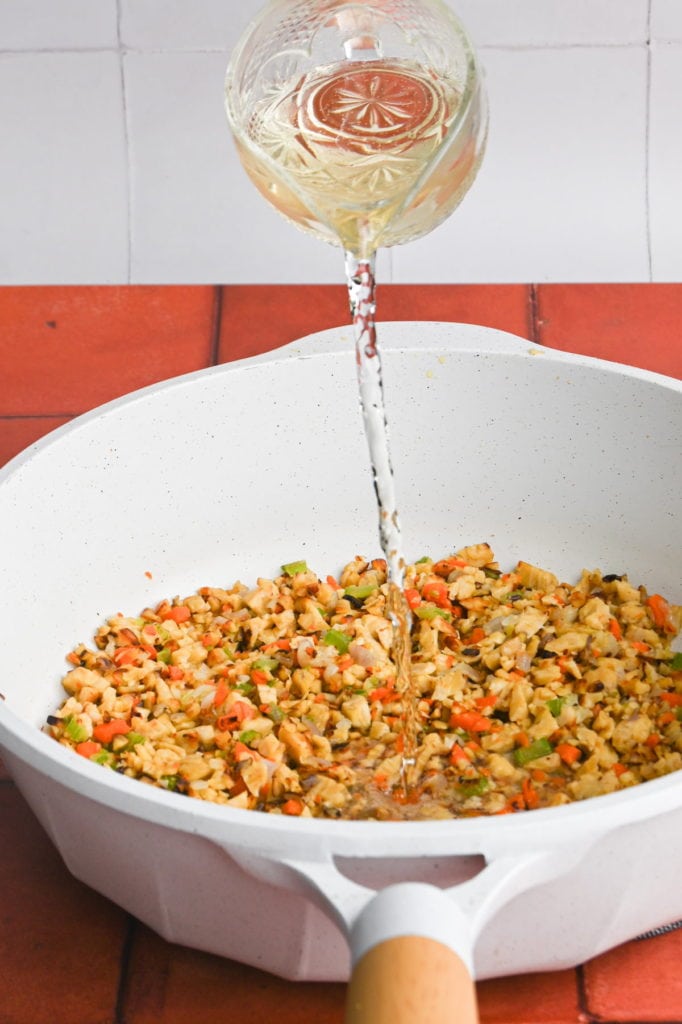 Thicken Your Sauce
Now it's time to start developing your sauce. Add the vegetable broth, tomato paste, and bay leaf.
Reduce your heat from high to medium, and stir occasionally as the sauce thickens. You'll need another 10 minutes or so simmering at this stage to form a nice, thick sauce.
At this point, you will start to recognize your sauce as tempeh bolognese. Continue to cook until it is nice and thick, then remove your bay leaf.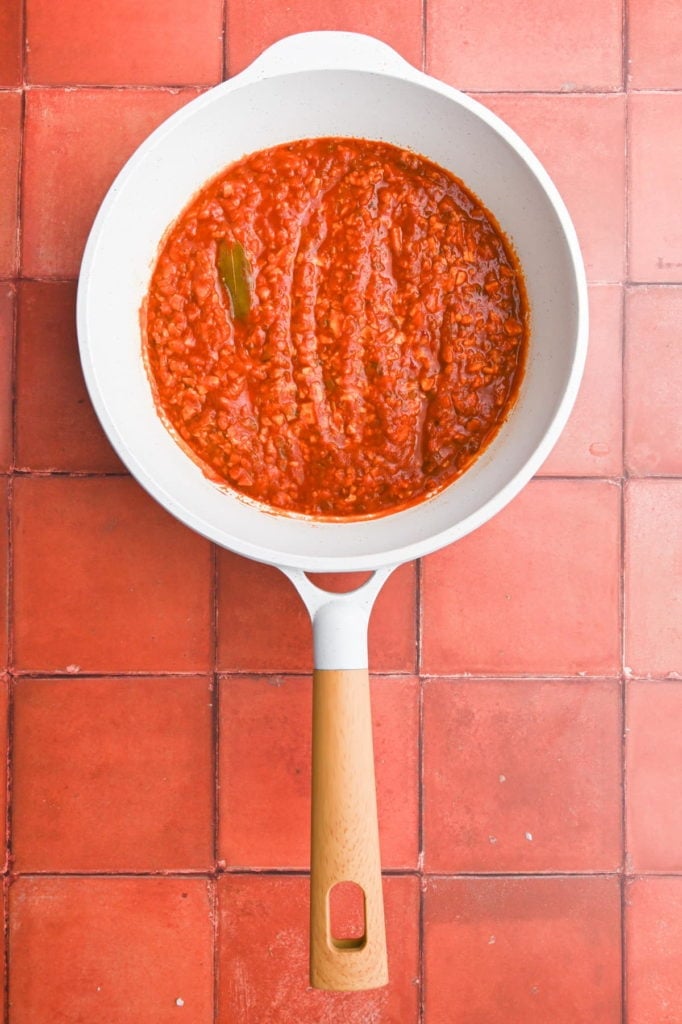 Add Your Milk Last
Make sure you have unsweetened nondairy milk. I used cashew milk, but you can also opt for plain almond, oat, soy, hemp—whichever is your favorite!
Turn your heat source all the way down to low, and pour in your milk. Stir to integrate, and heat on low until you have a nice, thick, creamy, "meaty" sauce.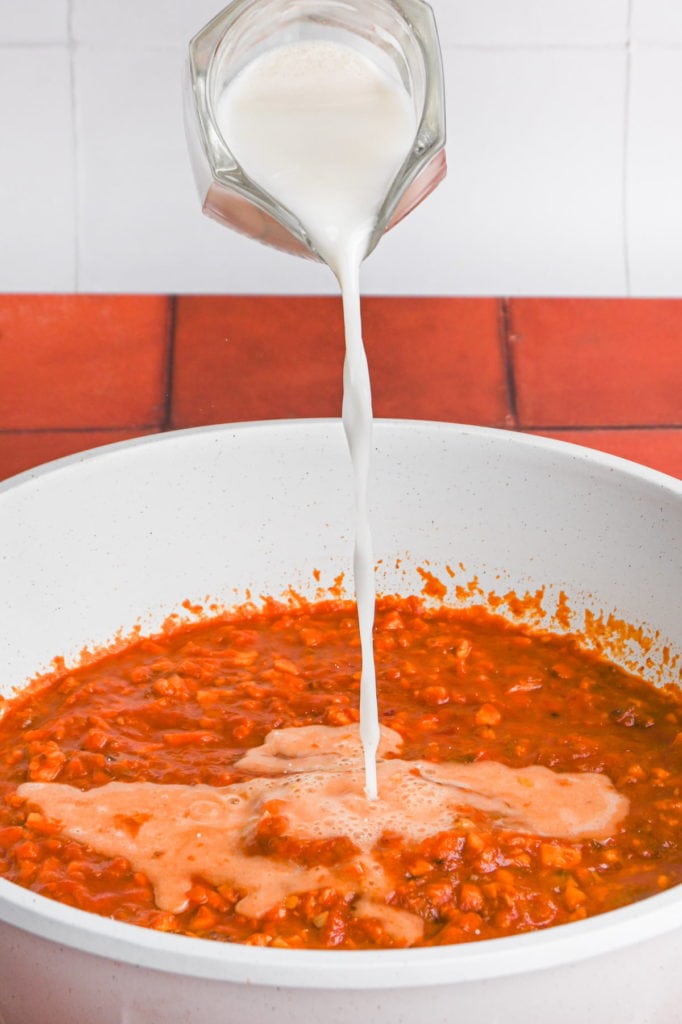 Should You Have Leftovers
Leftovers of this delicious sauce will last for about 5 days in the refrigerator in an airtight container. It can easily be reheated over the stove or in the microwave on high, covered, and in 45-second intervals, until heated thoroughly.
You can also opt to freeze this vegan bolognese for up to three months. Thaw overnight, or use the microwave to defrost before reheating as detailed above.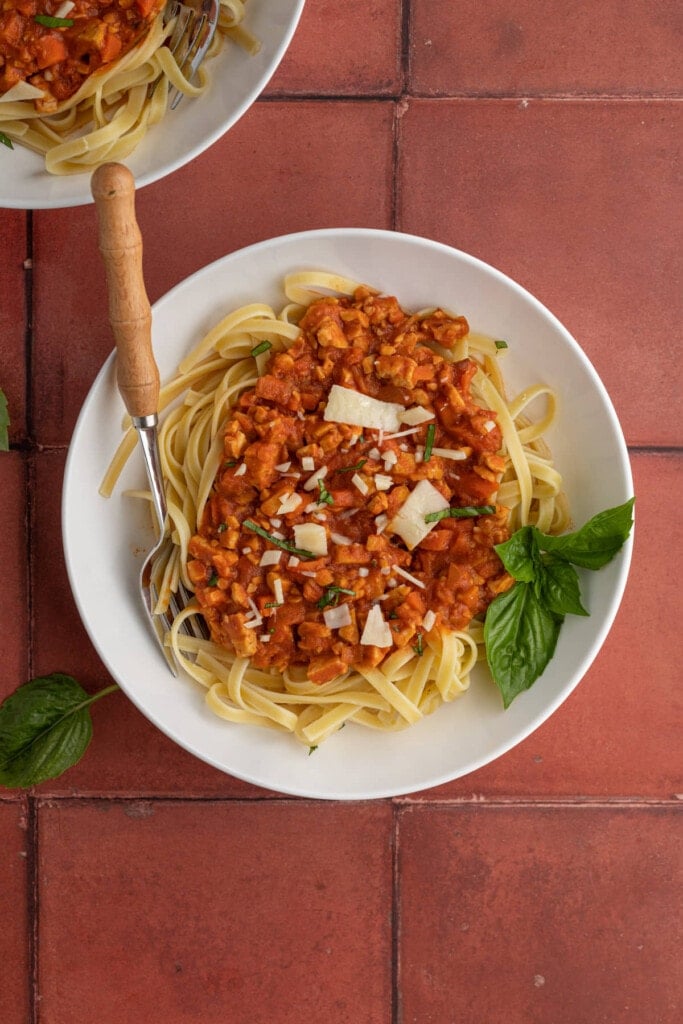 Tempeh Bolognese Frequently Asked Questions
---
Can you use tempeh in spaghetti?
Tempeh is a great substitute for ground beef and can be used to make a delicious bolognese. This can be served over spaghetti or any other long pasta of choice.
How do you add depth to bolognese sauce?
In a vegan bolognese, it's all about supporting vegetables! The addition of carrots, celery, shallots, and garlic to this Vegan Tempeh Bolognese adds a depth of flavor that will form a complex-tasting sauce so that you won't even miss the meat!
Want to sharpen your kitchen skills?
Why You Should Make This Tempeh Bolognese
---
It's hearty. The "meaty" texture provided by the tempeh will keep you full and satisfied.
It's flavorful. This sauce has such a depth of flavor with notes of acidity, sweetness, and umami.
It's better for you. Compared to ground beef, tempeh has 44% fewer calories and nearly as much protein.
If you're loving this Tempeh Bolognese and want more delicious vegan dinner options, check out these Tofu Fajitas with Peppers and Onions and this Creamy Vegan Wild Rice Soup.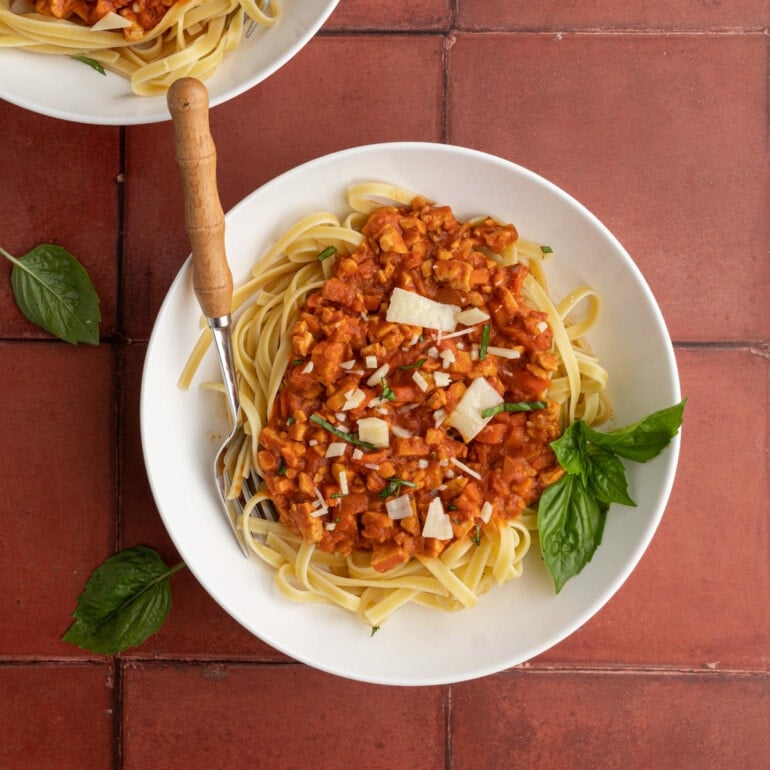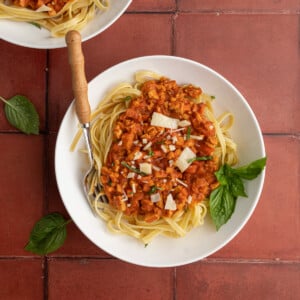 Tasty Vegan Tempeh Bolognese
PRINT
PIN
RATE
This Vegan Tempeh Bolognese is a delicious tomato-based sauce packed with flavor and meaty texture—perfect over any type of pasta or even spaghetti squash!
Ingredients
8

ounces

tempeh

1

large

shallot

1

large

celery stalk

1

large

carrot

4

cloves

garlic

2

tablespoons

olive oil

½

teaspoon

salt

1

cup

dry white wine

(e.g. Pinot Grigio or Sauvignon Blanc)

2

cups

vegetable broth

½

cup

tomato paste

1

bay leaf

½

cup

unsweetened non-dairy milk

16

ounces

pasta or spaghetti squash.
Instructions
Use a sharp knife to finely dice tempeh, shallot, celery, carrot, and garlic. Alternatively, you can use a blender or food processor to grind all ingredients.

To a large saucepan or shallow pot, add the diced tempeh, shallot, celery, carrot, and garlic with olive oil and salt. Cook over high heat for about 10 minutes until tempeh starts to brown.

Add the white wine and continue to cook on high, uncovered, for about 10 more minutes until most of the liquid is evaporated.

Turn the heat down to medium and add the vegetable broth, tomato paste, and bay leaf. Simmer for 15-20 minutes until sauce thickens.

Turn heat down to low and add milk. Stir and continue to simmer on low until you reach your desired consistency.

Serve hot over pasta of choice or spaghetti squash.
Pro Tips
Apple juice or grapefruit juice can be used in place of white wine.
Reducing your meat consumption significantly reduces your carbon footprint. Be kind to the planet (as well as your tastebuds!) with more of these delicious meatless pasta meals.
Did you make this recipe?
Let me know by leaving a recipe rating below, or by tagging @marleysmenu on Instagram.