These Vegetarian Biscuits and Gravy can only be described as warm, flaky, buttery clouds of greatness topped with creamy, well-seasoned sauce done easily at home in your own oven.
When it comes to comfort food, meatless biscuits and gravy is the quintessential vegetarian brunch. And you won't believe just how easy it is to make at home!
As an environmental scientist, I am always looking for vegetarian breakfast options that are cozy and delicious, and this recipe brings all the flavor with less environmental impact.
This recipe for biscuits and homemade vegetarian gravy is delicious and satisfying. It's the perfect vegetarian breakfast or brunch. Plus, find out my tips for making the best buttery, flaky biscuits at home
Vegetarian Biscuits and Gravy Tips and Tricks
---
---
Frozen First, Melt-In-Your-Mouth Later
The key to the buttery flavor in these is actually grating your butter with a cheese grater and leaving those flakes of butter whole in your dough.
That way, they melt into your biscuits in the oven creating that buttery taste in every bite.
But grating a stick of melting butter can be frustrating. Freezing your butter will allow you to grate it, and keep those pieces of butter solid while you integrate it into your dough. Here's what else you'll need: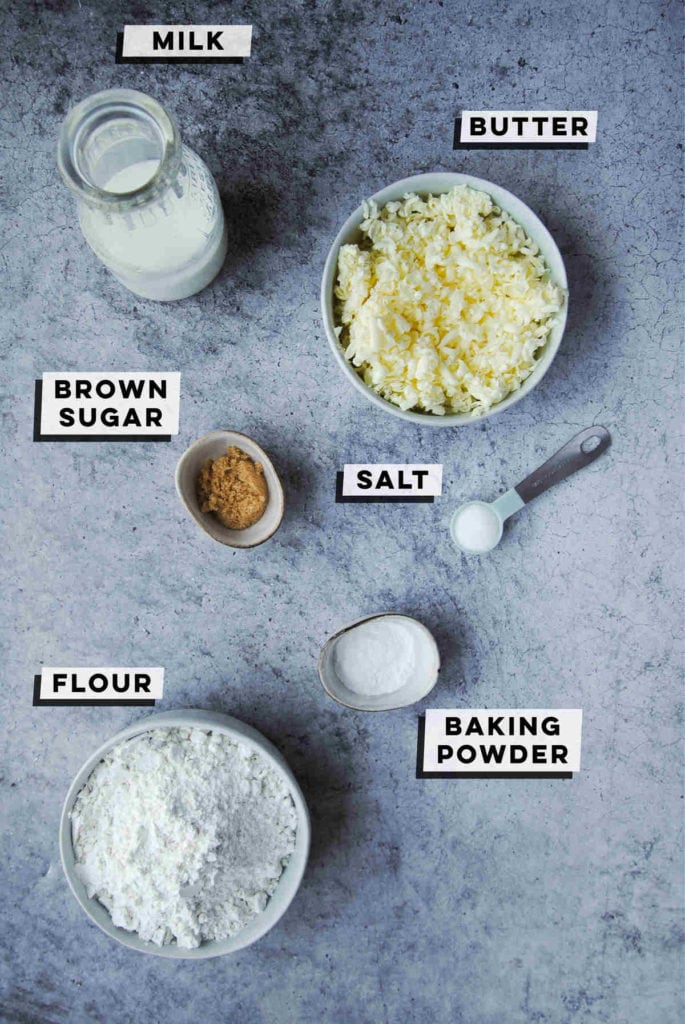 Add the Butter Last
Use a hand-mixer (affiliate link) to form a dough with all your ingredients except for the butter.
The dough should be a little sticky. You may need to wet your hands to avoid the dough from sticking to them.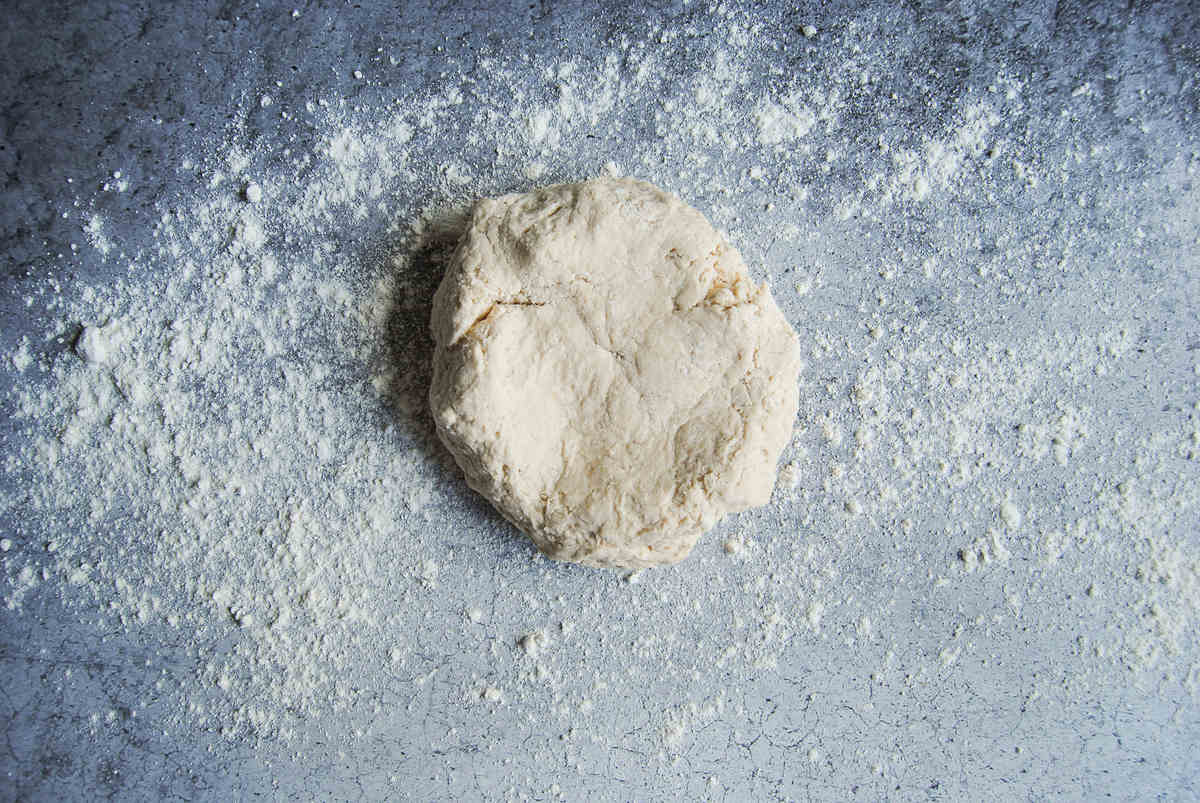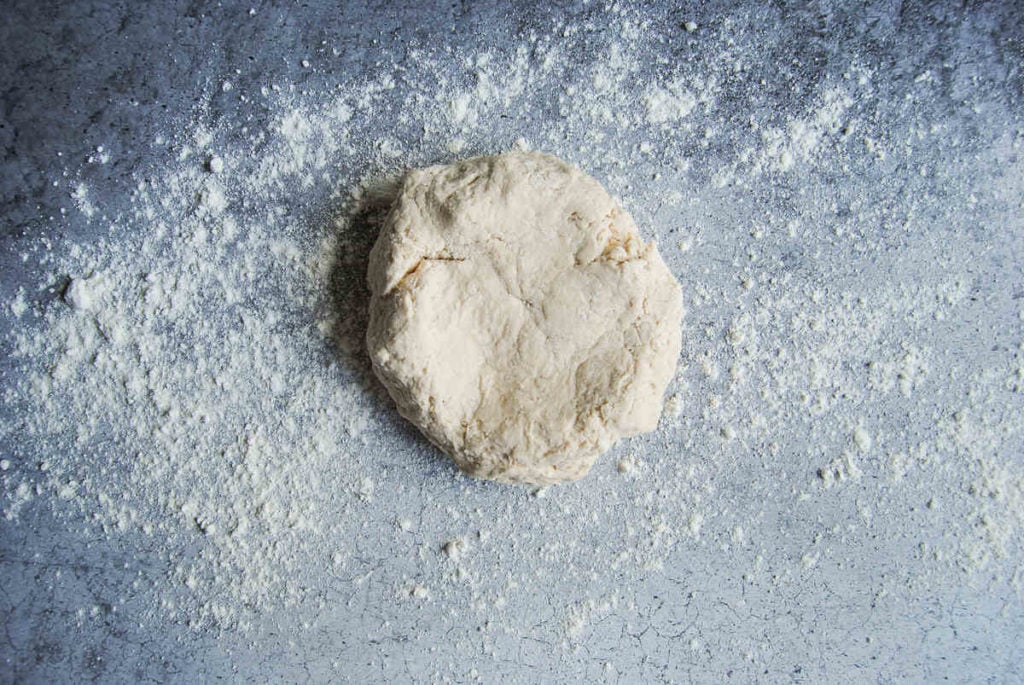 Load On The Layers
The age-old question— how can you make flaky biscuits? That flaky texture that you love in a biscuit comes from layering the dough! It's best to roll it out on a floured surface until it's about 1/2 inch thick. Layer on half of the butter, fold it over and roll it out again.
Add the rest of the butter, and fold again, so you are left with a 1-inch dough that's roughly square in shape.
Now you're ready to shape your biscuits!
Jars Aren't Just For Jams
You don't need fancy cookie cutters or biscuit molds for these babies! Use what you've got! I use Mason Jars to cut out my little biscuits.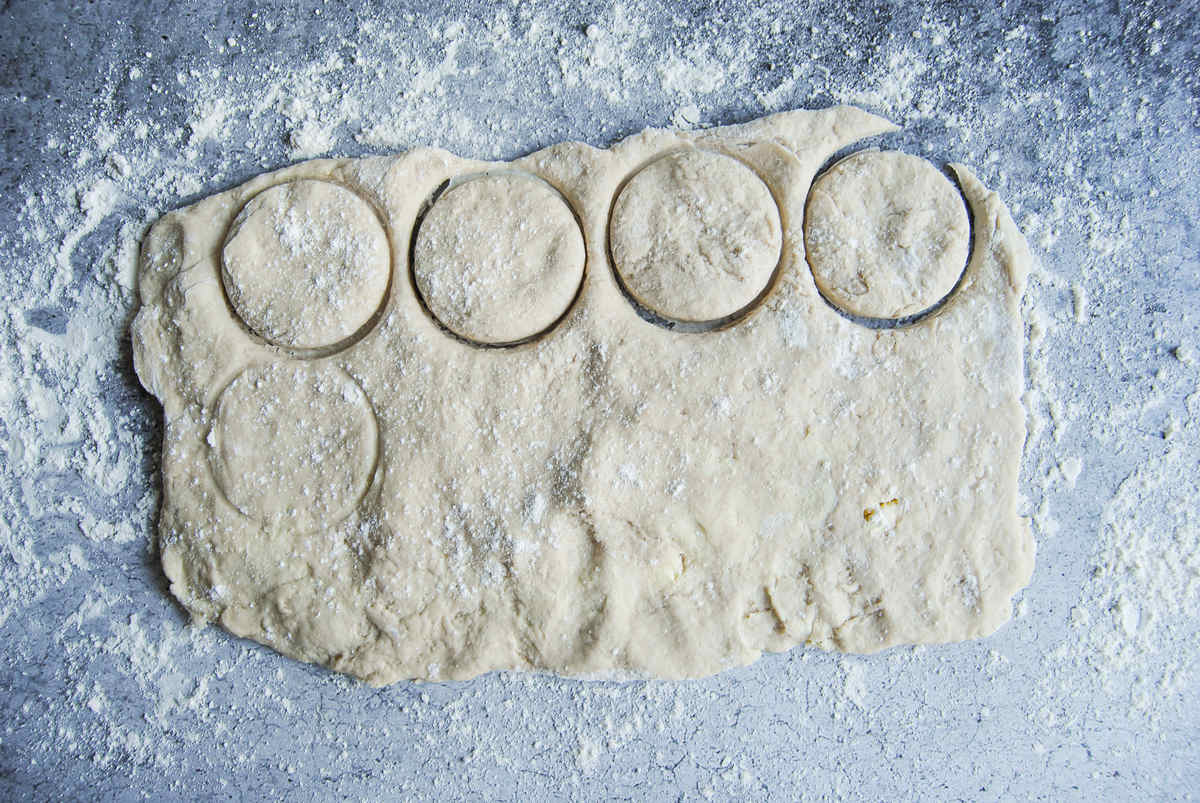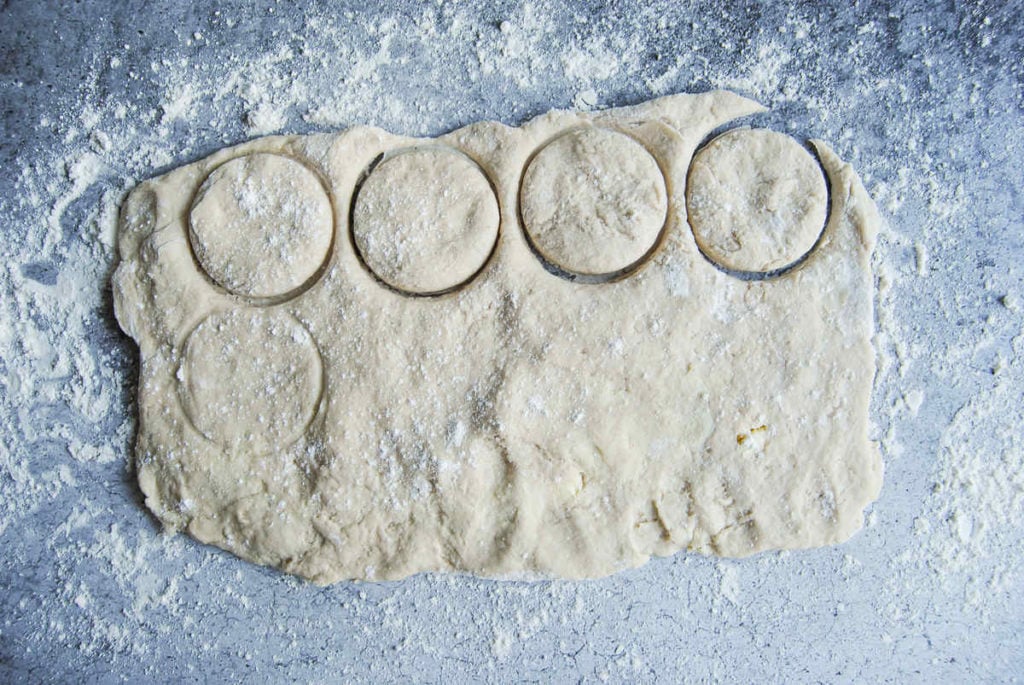 Whisk-y Business
Your whisk is your best friend in making this gravy! Use it first to form your roux, to avoid any clumps of flour. And you'll use it again while adding in your milk to avoid curdling.
Tested Substitutions
Make them vegan with vegan butter and non-dairy milk. The dough is already egg-free, so it's super easy to veganize!
Green Tip: Look for organic and palm oil-free butter if you can. Buying organic means you are supporting farms that do not use damaging pesticides and fertilizers, and palm oil production is a huge driver behind deforestation.
If you're a meat-eater and want sausage in your gravy, just brown it in your pot before step 1 in the gravy-making process. You can also opt to throw in some vegetarian sausage, or even make your own Vegan Breakfast Sausage.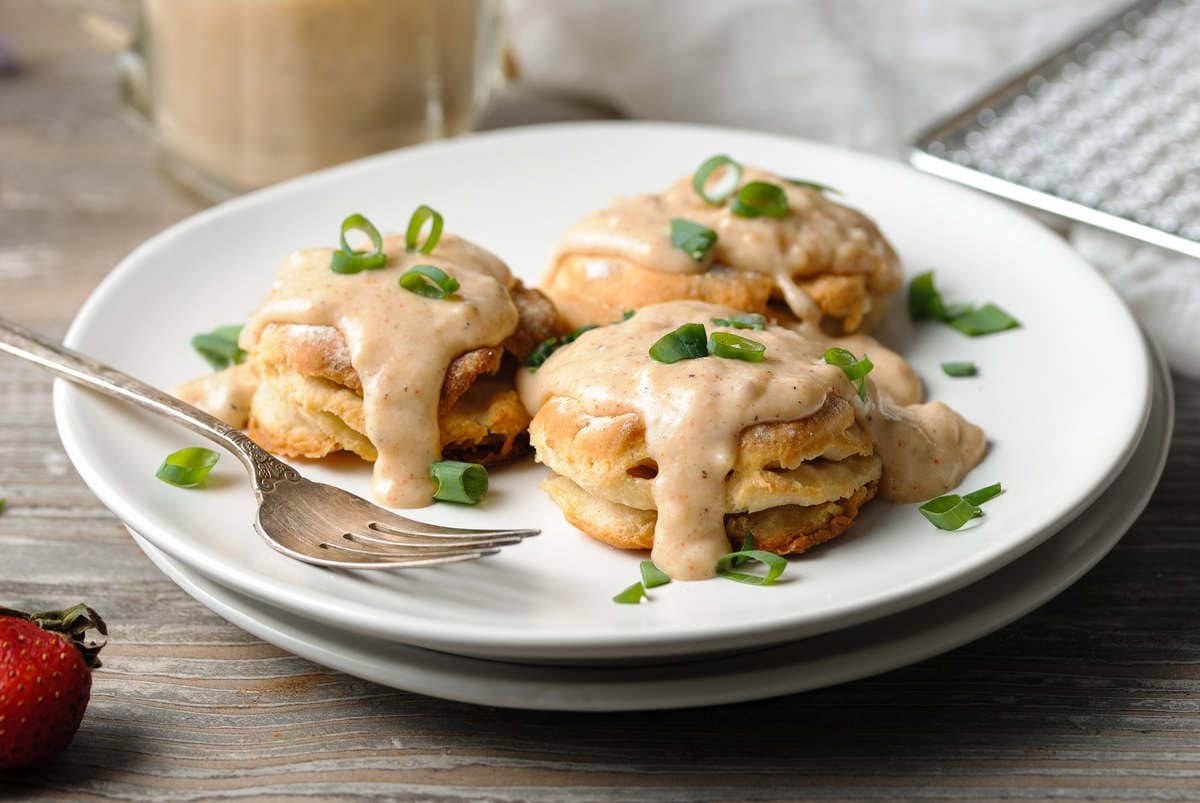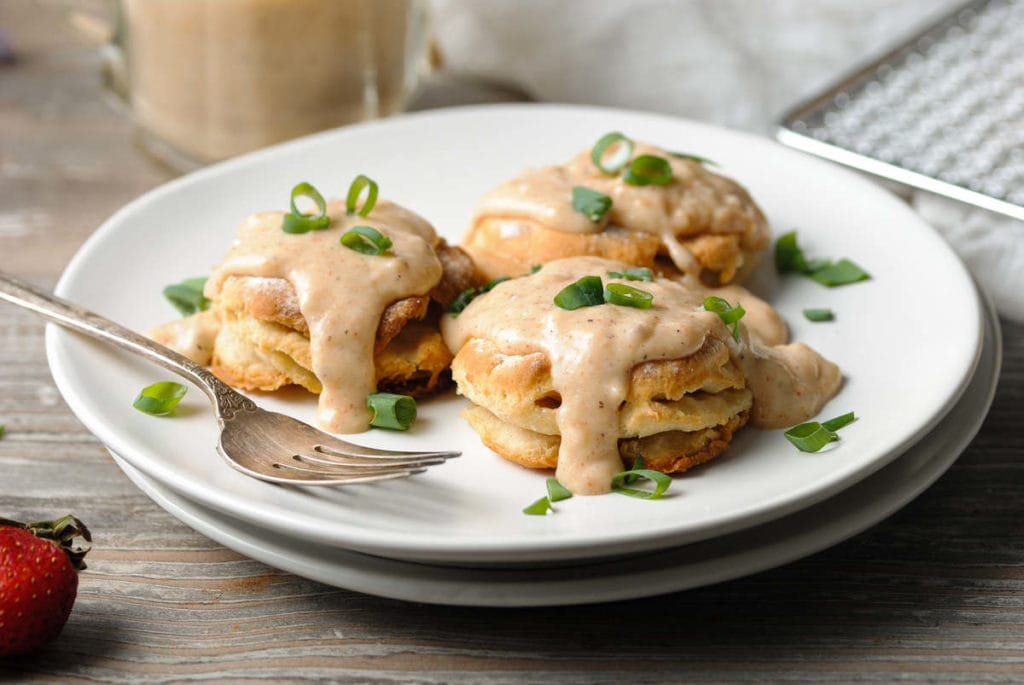 Should You Have Leftovers
These biscuits will stay fresh covered at room temperature for 1-2 days and in the refrigerator for about 1 week.
You can also opt to freeze them for up to 2 months. Just make sure they are stored properly in a freezer-safe bag
Green tip: Did you know that of the billions of pounds of food waste that occurs annually, it is estimated that 50% of it happens in our homes? It's always best to store leftovers properly so you can enjoy them later!
It's best to reheat biscuits in the oven at 325°F for about 5 minutes if in the refrigerator or 10 minutes is frozen. You can also use the microwave for 30 seconds or the toaster oven.
Just know that the microwave may take away from your flaky texture.
The gravy will last in the refrigerator covered for about 1 week, and can easily be reheated in the microwave on high for 30 seconds, or over medium heat on the stove until heated through.
If you've gobbled up all your biscuits, but still have extra gravy, here are some ideas for using up extra gravy!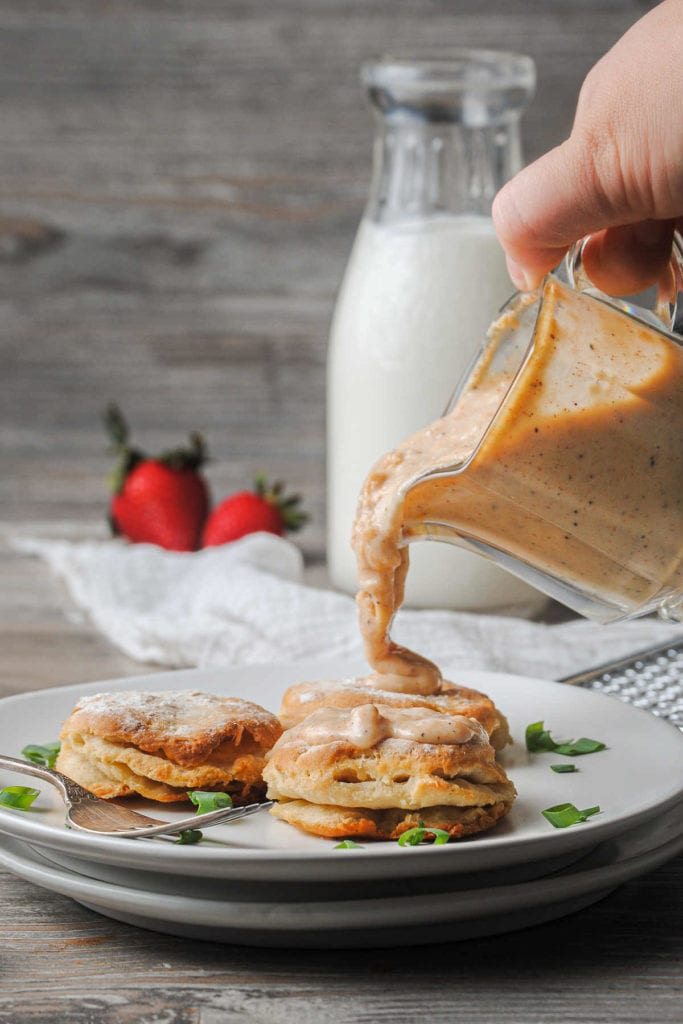 Why You Should Make these Vegetarian Biscuits and Gravy
---
---
They're flaky. Those buttery layers are out of this world.
They're comforting. Southern comfort food at its finest.
They're easy! No kneading or waiting for a rise necessary!
For another spin on a Southern Classic, check out these Creamy Fish and Grits. And for more breakfast ideas, check out these Bananas Foster Pancakes, and Vegan Breakfast Sausage.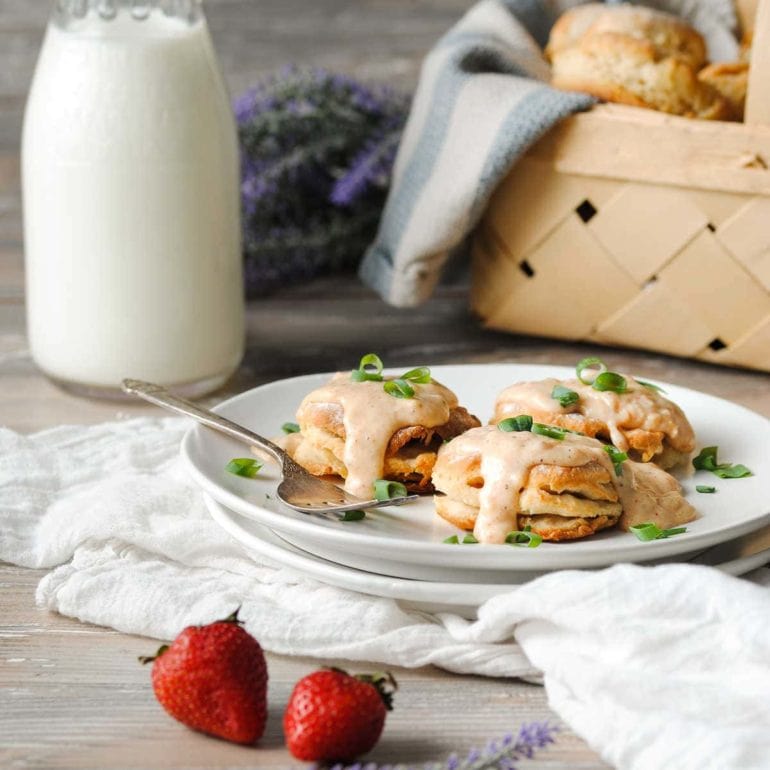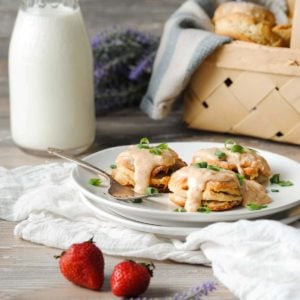 Southern Comfort Vegetarian Biscuits and Gravy
PRINT
PIN
RATE
With flaky biscuits and homemade vegetarian gravy, this recipe is so satisfying and the perfect breakfast. Plus, find out my tips for the best biscuits
Ingredients
Biscuits
1

stick

unsalted butter, frozen then grated

2

cups

all-purpose flour

1

tablespoon

light or dark brown sugar, tightly packed

1

tablespoon

baking powder

1

teaspoon

salt

¾

cup

milk

(dairy or unsweetened non-dairy)
Vegetarian Gravy
3

tablespoons

unsalted butter

⅓

cup

all-purpose flour

2

cups

milk

½

teaspoon

garlic powder

½

teaspoon

paprika

½

teaspoon

onion powder

½

teaspoon

black pepper

½

teaspoon

nutmeg

¼

teaspoon

salt

1

pinch

of cayenne pepper for a little spice

(optional)

1

sprig

fresh scallion for garnish

(optional)
Instructions
Biscuits
Preheat the oven to 425°F.

Freeze a stick of butter for at least 30 minutes before getting started. I usually throw a stick in the freezer the night before. Grate butter with a cheese grater and set aside.

Add flour, sugar, baking powder, salt, and milk to a large mixing bowl. Use a hand mixer on high to blend together until it starts to form a dough.

Use clean hands to form the mixture into a ball. Flour a clean surface to roll out your dough. You can use your hands to flatten it or a rolling pin. Flatten it into roughly a rectangular shape about 1/2 inch thick.

Add 1/2 of the grated butter evenly on top of your flattened dough, and fold it in half to form a square. Flatten it out one more time, add the rest of your butter and fold again. You should be left with roughly a square, about an inch thick.

Use a cookie cutter, glass cup, or mason jar to cut your dough into biscuits.

Line your biscuits up on a lined baking sheet.

Bake for 13- 15 minutes until they start to brown on top.
Vegetarian Gravy
Add butter and flour to a large pot over medium heat and whisk until smooth to form a roux.

Add milk and all your spices and whisk again over heat until fully integrated.

Allow to thicken until desired consistency is achieved. Serve hot over biscuits. Garnish with fresh scallions for a little crunch.
Pro Tips
You want your grated butter flakes to remain intact in your dough, so be careful not to overmix.
You don't need molds to shape your biscuits—I use a mason jar!
Use a whisk for your gravy to avoid clumps of flour.
Did you make this recipe?
Let me know by leaving a recipe rating below, or by tagging @marleysmenu on Instagram.