Looking for a protein-filled, hearty, meat-free breakfast? This Vegetarian Breakfast Burrito with Salsa is the best way to start the day, and has an on-the-go option that makes nourishing breakfast easy!
With tasty mushrooms and onions cooked in the salsa, fluffy scrambled eggs, cheese, and creamy avocado, this vegetarian breakfast recipe with eggs hits all the right flavor and texture notes.

As an environmental scientist, I'm always looking for delicious meals without meat! This vegetarian breakfast burrito is so hearty and filling with extra protein from the eggs that you won't even miss the meat!
Green tip: Industrial meat production has a huge impact on the environment, especially because of the amount of land it takes to sustain and its high amount of greenhouse gas emissions. Reducing your meat consumption is one great way to reduce your ecological footprint.
Vegetarian Breakfast Burrito Ingredients
---
---
Here's everything you need:
Mushrooms. For heartiness, and umami.
Onion. For a flavor boost.
Olive oil. To cook your mushrooms and onions.
Salsa. To add depth of flavor and Tex-Mex notes to your burrito.
Tortilla. To wrap it all up!
Cheese. The melty cheese totally takes this savory breakfast up a notch.
Avocado. For creaminess and freshness.
Salt & pepper. To season your avocado and eggs.
Vegetarian Breakfast Burrito Tips and Tricks
---
---
Prep Your Veggies
Slice your mushrooms and onions into thinner pieces. This will help them cook faster and more evenly, and ensure you get veggies in every bite of your burrito!
Add the sliced mushrooms and onions to a hot pan with the olive oil, and allow them to cook down for a couple of minutes before adding the salsa.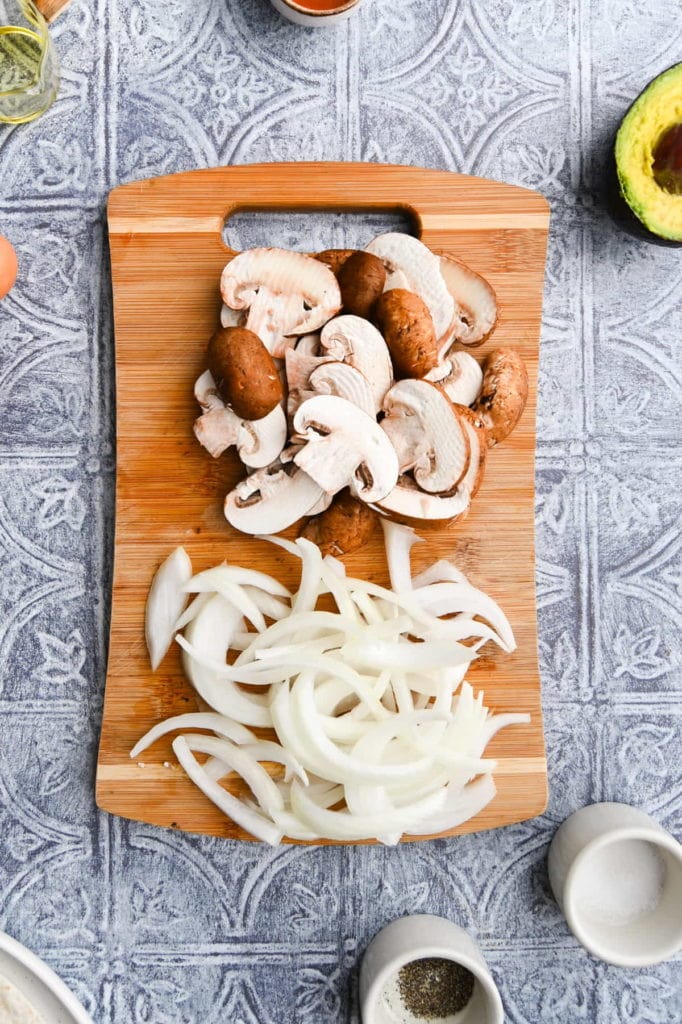 Cook the Veg in the Salsa
Once your mushrooms and onions have had a chance to cook down a bit, add the salsa to the pan with them. Toss to coat and continue to cook until the liquid has absorbed.
Adding salsa to your veg is a quick, easy, and healthy way to add tons of flavor to your meatless breakfast burrito.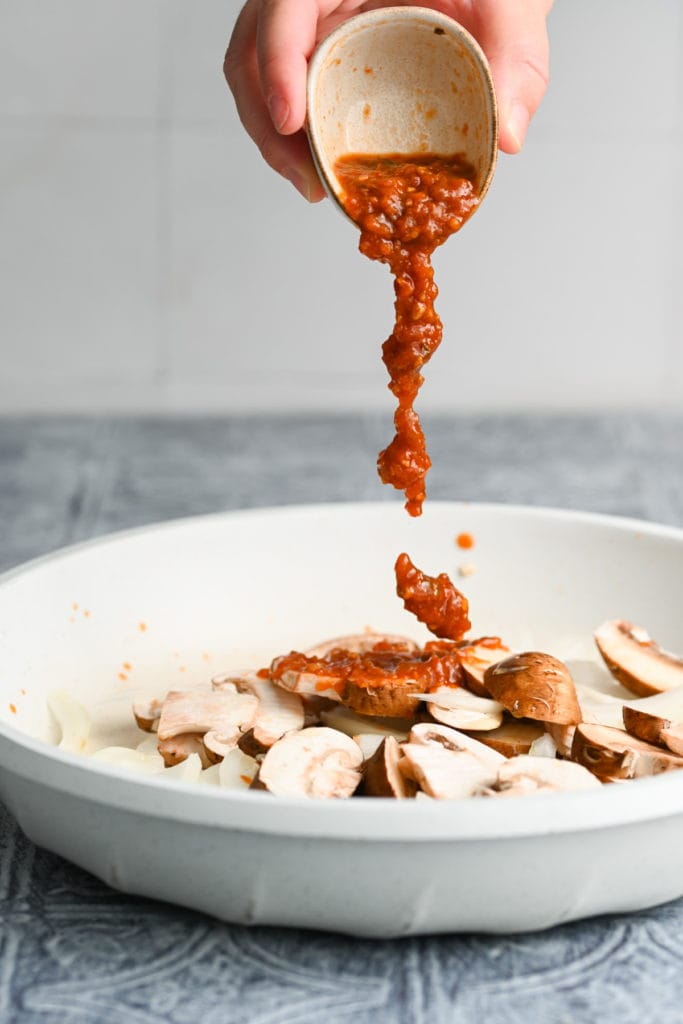 Scramble the Eggs
Crack your eggs in a small bowl and use a fork to whisk them until smooth. Your egg yolks and whites should be seamlessly integrated and the whisking will aerate your eggs, making them nice and fluffy.
Remove the salsa-seasoned mushrooms and onions from your pan and just add the egg. This will allow all the flavor from the salsa, mushrooms, and onions to infuse into your eggs.
Cook the eggs over low heat, moving them around occasionally with a spatula.
Add the Cheese to the Tortilla First
Adding the cheese to your tortilla first will keep the cheese closest to the surface of the burrito, allowing it to melt more easily when we cook it.
Spread the cheese over the tortilla, leaving space around the edges.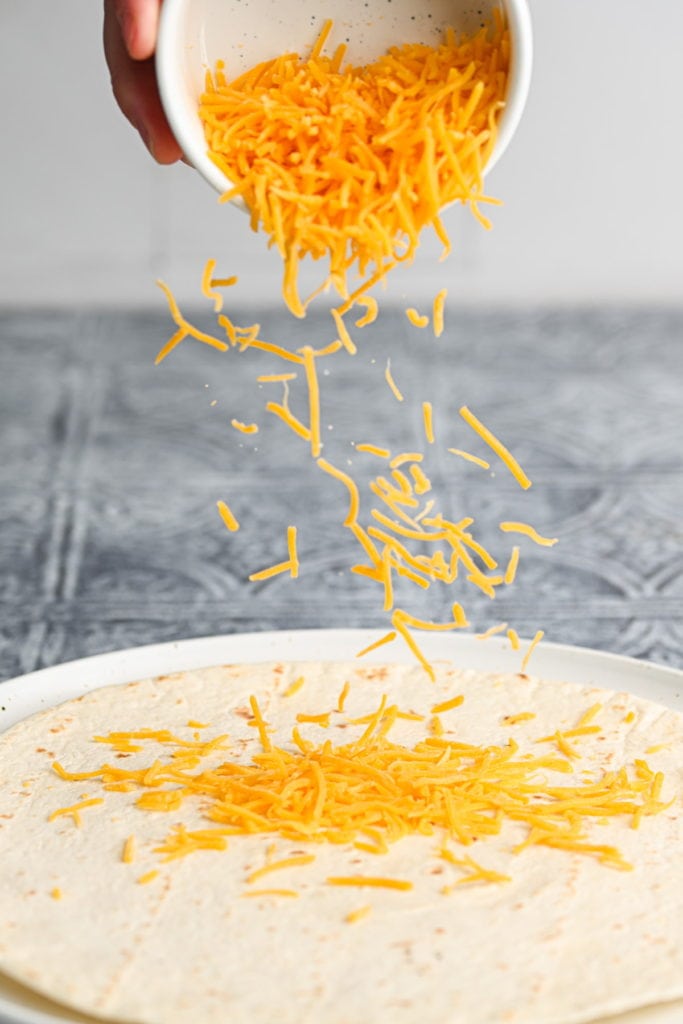 Assemble, Roll, and Heat
After the cheese, add your salsa mushrooms and onions. Then add your eggs, sliced avocado, and a crack of salt and pepper on top.
Keep the majority of the fillings towards the center of your wrap. To roll your burrito, first, fold the sides in over the filling. Then, take the side closest to you, fold it over the filling, and tuck it underneath. Continue to roll away from you until you have your hefty breakfast burrito!
Then, heat again to melt the cheese. You can either heat it in the pan you used for the veg and eggs until it turns golden brown, flipping to heat both sides.
Or, you can stick the burrito in a panini press or in the oven at 425°F for about 5 minutes.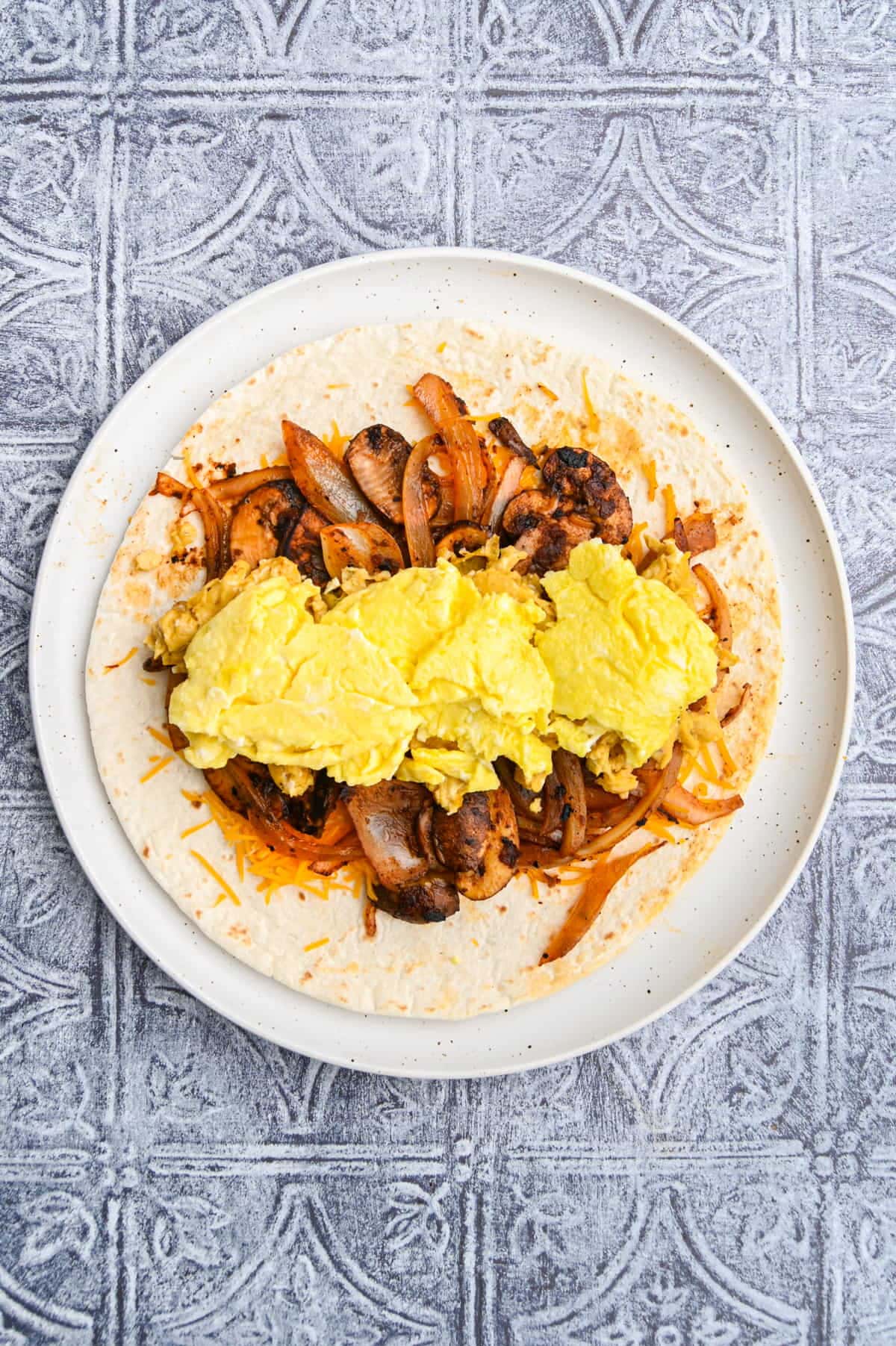 How To Reheat a Breakfast Burrito
The best way to reheat this vegetarian breakfast burrito is to place it in the center of a large nonstick saucepan over high heat. Add about a tablespoon of water to the pan next to the burrito (this will produce steam) and cover.
After about 5 minutes, flip and repeat until heated thoroughly.
Green tip: Did you know that of the billions of pounds of food wasted annually, it is estimated that 50% of it happens in our homes? It's always best to avoid food waste as much as you can!
Vegetarian Breakfast Burrito Frequently Asked Questions
---
---
What veggies go in burritos?
Typically, burritos can contain onions, mushrooms, peppers, and zucchini. This simple vegetarian breakfast burrito focuses on just mushrooms and onions to pack tons of flavor and meaty texture into your burrito.
Are breakfast burritos healthy for you?
This depends on your health goals. While breakfast burritos may be high in calories, they do contain tons of nutrients, fiber, and protein.
How do you make breakfast burritos without bacon?
If you're leaving out bacon and sausage, you may want to enhance the texture and flavor of your burrito with the addition of mushrooms. It's meaty texture and earthy taste lens itself perfectly to a meatless breakfast burrito.
Want to sharpen your kitchen skills?
Why You Should Make this Vegetarian Breakfast Burrito
---
---
It's hearty. Totally filling and energy-producing.
It's tasty. The veggies, salsa, and cheese add so much flavor!
The textures! Creamy avocado, soft scrambled eggs, and veg inside a toasty tortilla give you all the right textures.
If you're loving this vegetarian breakfast burrito and want more meatless breakfast ideas, check out this Apple and Cheddar Quiche and these Unique French Toast Recipes.