Creamy, cheesy, hearty, and healthful- this Vegetarian Broccoli Cheddar Soup will warm you up from the inside out.
When I got my tonsils out when I was 17, all I ate for WEEKS was soup. It was a consistent rotation between Ramen noodles and Panera Broccoli Cheddar soup with a little bit of ice cream sprinkled in.
I now associate both soups with the comfort of home and have random cravings for them—even in Florida! But my beloved Panera Broccoli Cheddar Soup is made with chicken broth and is not pescatarian-friendly.

So within the first year of me cutting out chicken, sure enough, I got that craving and I worked hard to perfect a Vegetarian Broccoli Cheddar Soup. And also a Vegetarian Ramen with Tofu, but we're not here to talk about that.
We are here to talk about creamy, cheesy, nutrient-packed goodness. THE ULTIMATE bread-soaker. The must-lick-the-bowl classic. The undeniably delicious Broccoli Cheddar Soup.
It's been a bumpy ride. I've had soups that split into a greasy mess. Soups that were creamy but had no flavor. Soups that were too spicy to taste anything else. And soups that were less soup, more sauce.
But through determination and a belly full of cheese, we got to this sinfully delicious soup of all soups. And I learned a lot along the way.
Primarily what I learned is that there are three main components you have to get right if you want the soup to be creamy, cheesy, and flavorful: The veggies, the spices, and the roux.
Vegetarian Broccoli Cheddar Soup Elements
---
---
The Veggies
The broccoli needs to be blanched before it's added to the soup so that it integrates beautifully without too much crunch. To blanch them, you'll just cut them off the stalk and throw them in boiling water for ten minutes.
After this process, they should still be a little al dente, and they'll retain their super vibrant fresh green color. After you blanch the broccoli, you can cut it into bite-sized pieces, or you can choose to leave them chunky.
I like a little bit of both. You also want to make sure the carrot is sliced nice and thin. You definitely don't want raw carrot in your warm and creamy soup. Make sure to peel the outer layer of the carrot off first.
I also use my peeler to slice off super thin noodle-like pieces which I then chop. I'm actually not a huge carrot fan, but it adds extra flavor and texture to the soup that I missed when experimenting without it.
Green tip: Eating seasonally is one of the best (and most delicious) ways to support local and decrease your carbon footprint. Local foods have less associated transportation costs and fuel emissions.

Simply put, eating seasonally = less environmental impact. Check when broccoli is in season in your state with this Seasonal Eating Guide.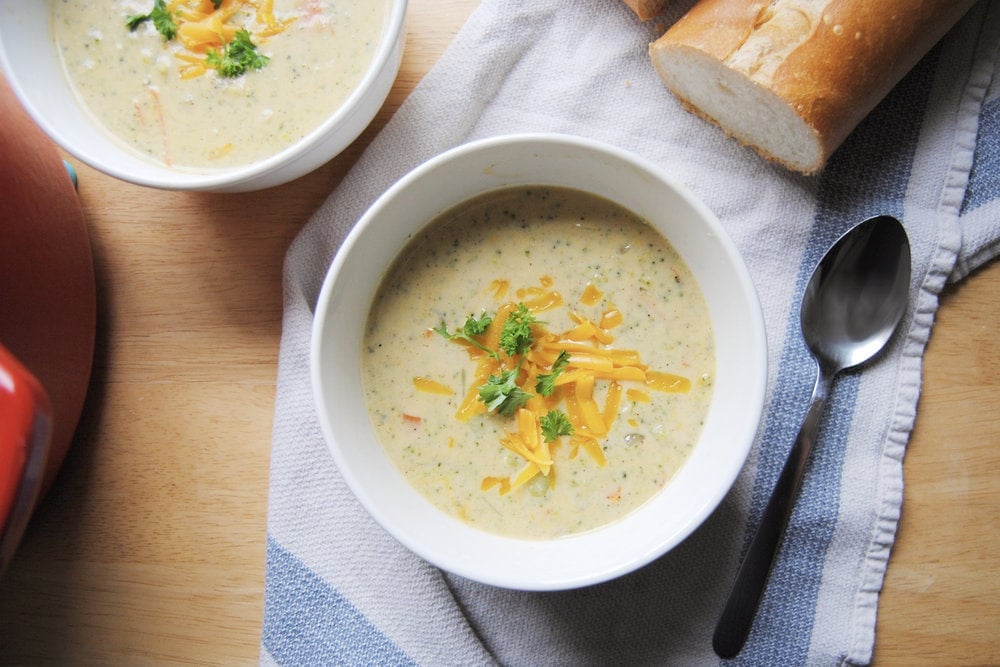 The Spices
The spices in this soup lend a deep flavor that compliments the cheese and creaminess so well. Nutmeg is my absolute favorite spice to add to creamy dishes. Its bittersweet, woody flavor lends a much-needed freshness to any creamy dish that may otherwise feel too heavy.
The chili powder in this recipe makes it just a little peppery and adds some warmth, without making your soup too spicy.
Sometimes if I have a cold and want a little spice to clear my sinuses, I will add 1/4 teaspoon of cayenne pepper to kick it up a notch, but more often than not, the chili powder gives this soup enough warmth.
The garlic powder and onion powder really add to the depth of flavor, playing up the onion and garlic that have already been stewing in the broth. Always taste your soup before serving it to make sure it doesn't need extra salt or pepper.
The Roux
The roux is what gets you that perfect consistency. A roux is just a mixture of flour and fat (in this case butter) used in sauces, soups, and gravies. I use this same technique in my Hearty Mushroom Gravy and Mac-n-Cheese!
Getting the roux right sets you up for a smooth and creamy dish. It's important to avoid lumps, which is why I always suggest using a whisk. It's also best to sift the flour into your onion/butter mixture.
When you've finished preparing your roux, it should just look like your onion is coated in a thin, equal layer of flour as pictured above.

By following these tips and the directions below you'll have success with this recipe. Creamy, cheesy, hearty, and healthful- this vegetarian broccoli cheddar soup will warm you up from the inside out.
If you like this recipe, check out these Broccoli Cheddar Bites. All this creamy goodness in bite-sized form!