Looking for a cozy dinner that's totally creamy and packed with rich flavor? This Vegetarian Broccoli Cheddar Soup has everything you need.
The ULTIMATE bread-soaker. The must-lick-the-bowl classic. The undeniably delicious vegetarian soup that warms you up from the inside out.
As an environmental scientist, I am always trying to highlight sustainable ingredients. Broccoli, when sourced locally and in season, is considered a sustainable crop.
Broccoli is a cruciferous vegetable. Like other vegetables in this category, they naturally produce insect-deterring plant compounds, meaning they do not require many pesticides to thrive.
They also have a relatively low water footprint. Broccoli and cheddar are a classic combo that allows this awesome veggie to thrive!
Green tip: Eating seasonally is one of the best (and most delicious) ways to support local farms and improve your carbon footprint. Local foods have less associated transportation costs and fuel emissions. Check when broccoli is in season in your state with this Seasonal Eating Guide.
Vegetarian Broccoli Cheddar Soup Ingredients
---
Here's everything you need:
Broccoli. You'll need one bunch, which is usually about 3 heads, or 1 & 1/2 pounds.
Carrot. For color, texture, and extra earthy taste.
Onion & garlic. Preferably a yellow or Vidalia onion.
Salt & pepper. To ramp up the rest of the flavors.
Unsalted butter. You can also use olive oil instead, but the butter adds depth of flavor.
All-purpose flour. This will form the roux that gets you the right consistency.
Vegetable broth. You can buy it at the store, or you can make your own vegetable broth.
Nutmeg & chili powder. For a little nuttiness and very subtle hint of spice.
Onion powder & garlic powder. To enhance the broth.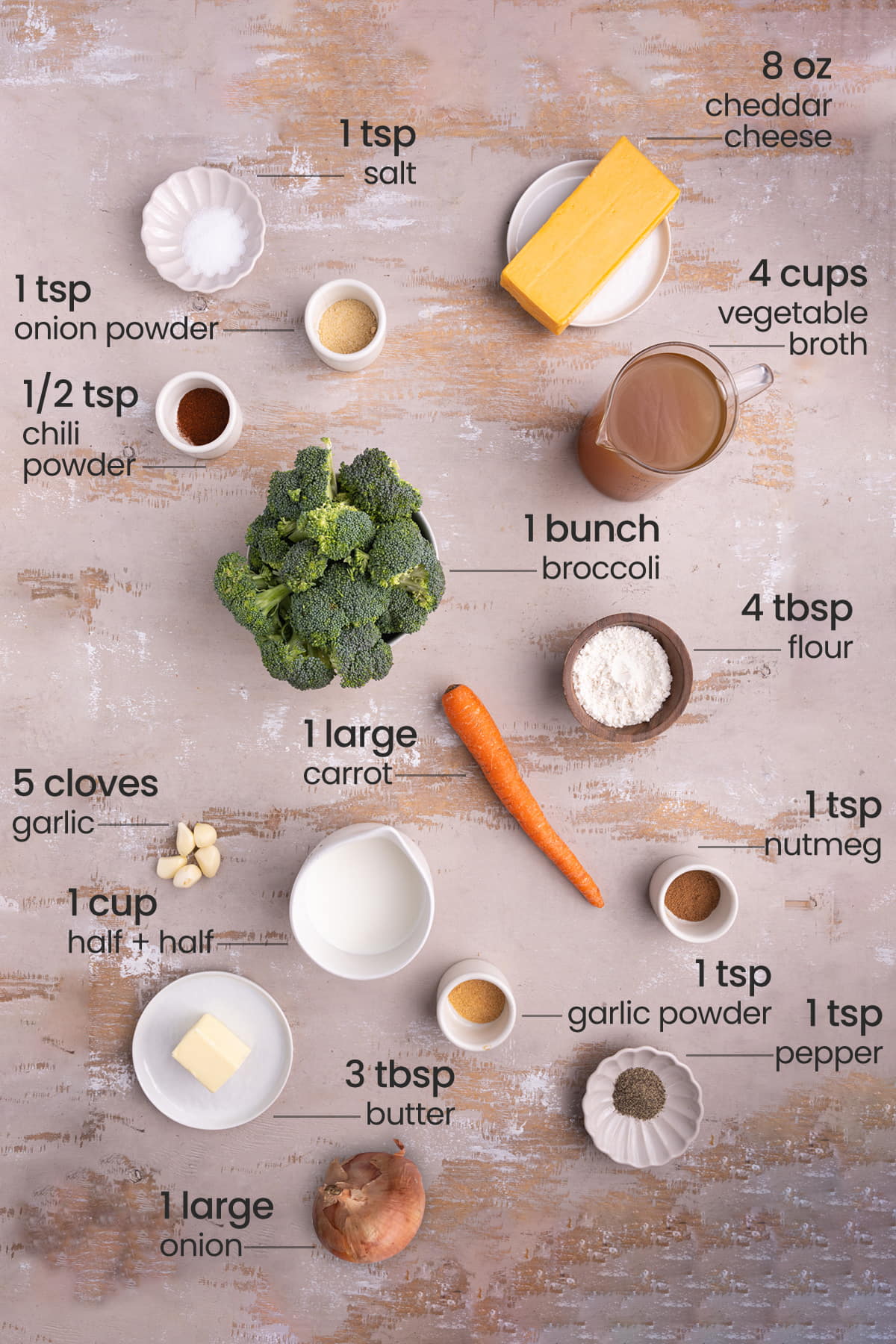 Vegetarian Broccoli Cheddar Soup Tips and Tricks
---
Prep Your Veggies
After you rinse the broccoli, you can cut it into bite-sized pieces, or you can choose to leave them chunky. This just depends on how hearty you like the broccoli bits in your soup!
I like a little bit of both. You also want to make sure the carrot is sliced nice and thin. You definitely don't want raw carrot in your warm and creamy soup. Make sure to peel the outer layer of the carrot off first, then slice into thin slices.
As for the onion peel it and dice it finely. Lastly, peel and mince the garlic.
Start with the Onion
Letting the onion cook in the butter is essential to extracting the flavor of the onions and getting them the right consistency for the soup.
Add the onions and butter to the pot over medium heat with the salt and pepper and cook them until they become translucent and fragrant about 5-8 minutes.
Form a Roux
A roux is just a combination of fat (in this case butter) and flour. It sets this soup up for a thick and creamy texture. You'll find a roux in many cream-based dishes like this Brie & Gouda Mac and Cheese.
Getting the roux right sets you up for a smooth and creamy dish. It's important to avoid lumps, which is why I always suggest using a whisk. It's also best to sift the flour into your onion/butter mixture.
When you've finished preparing your roux, it should just look like your onion is coated in a thin, equal layer of flour.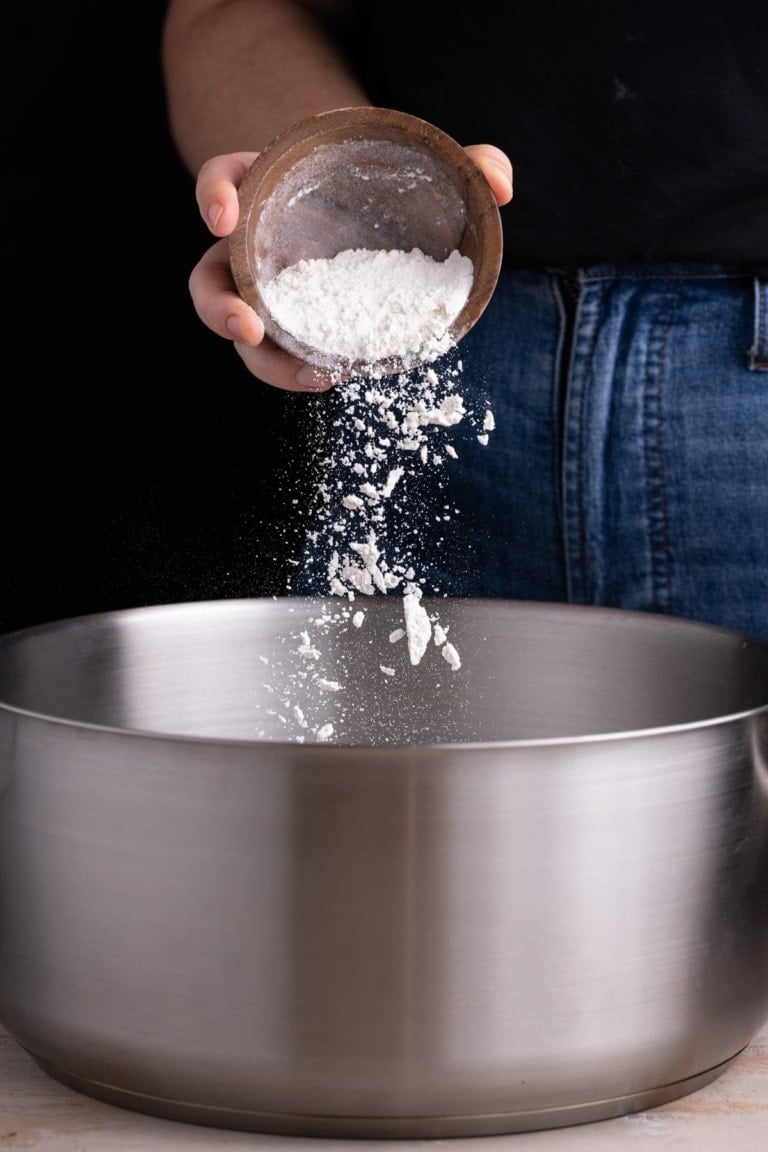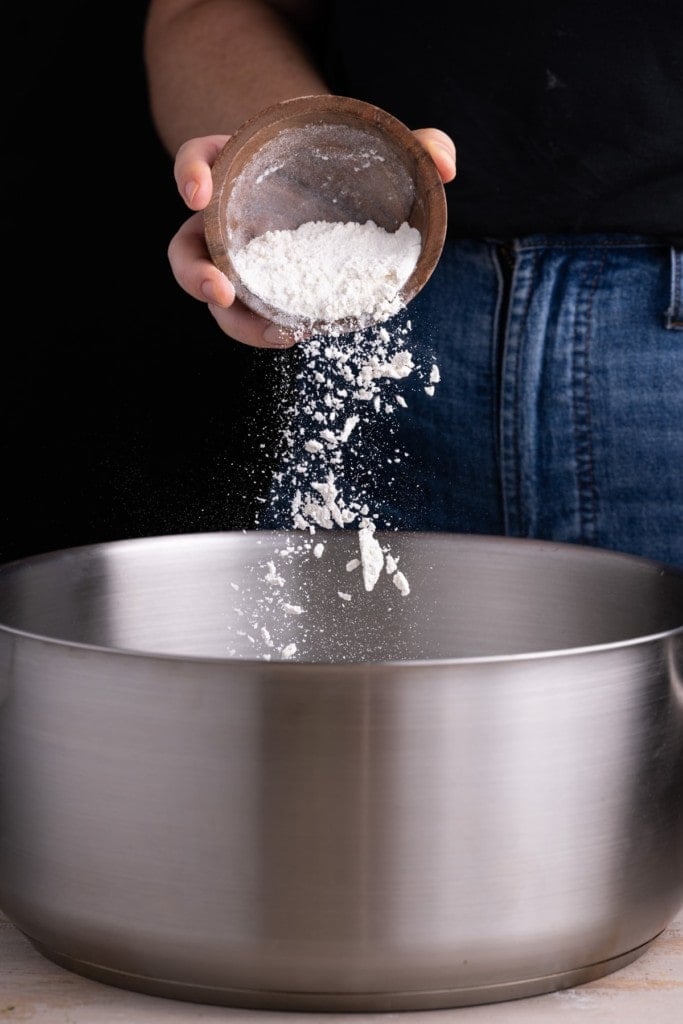 Add Your Broth, Veggies and Seasoning
Once your roux is ready, add the veggie broth and give it a whisk, ensuring it integrates into the roux without leaving any lumps.
At this stage, you can also add your nutmeg, onion powder, garlic powder, chili powder, broccoli, carrots, and garlic.
Stir to combine and cover, keeping the heat on medium for about 20 minutes to allow the flavors to steep together and the vegetables to soften and infuse the broth.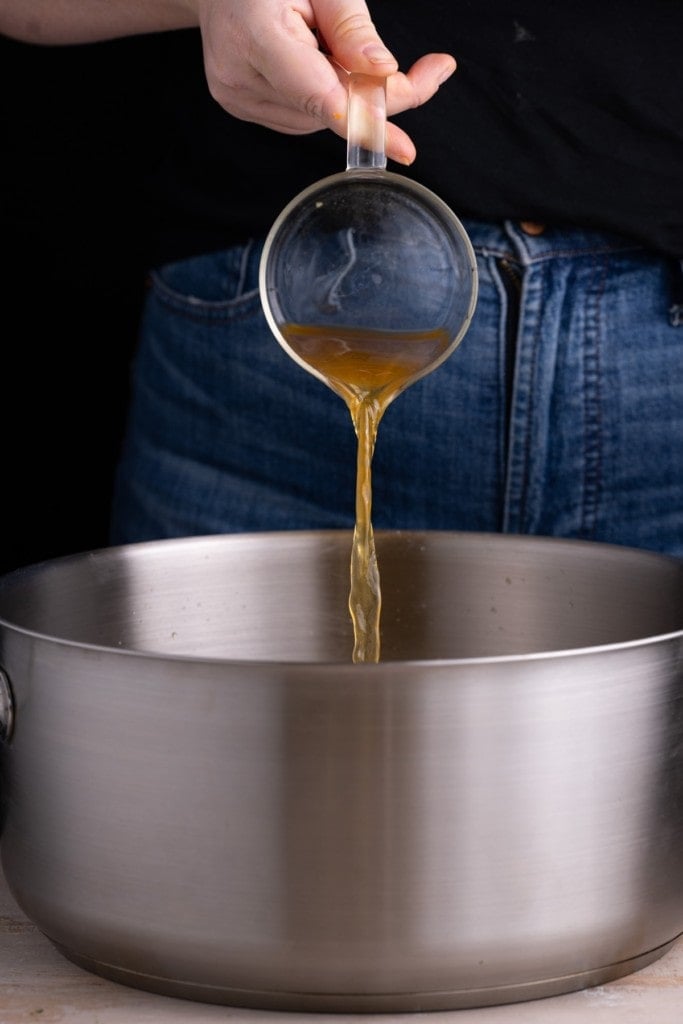 Use a Block of Cheese
I know. It's a whole extra step. Why grate your own cheese when the grocery store sells perfectly packaged cheese that is already shredded?
Well, pre-shredded cheese has extra preservatives to keep it from sticking together. And as a self-diagnosed (but independently verified) cheese-aholic, I can definitely taste the difference.
I have made this recipe with both, and freshly hand-shredded blocks of cheese undoubtedly produce a creamier, cheesier, fresher-tasting soup.
Green tip: Shop organically if you can. Organic farms rely on biodiversity to generate rich soil, avoiding the use of pesticides and fertilizers, which means no toxic runoff. This is still true for cheese!
Add Your Dairy Last
Once your soup has cooked for 15 minutes, you'll remove it from heat to add the half and half and cheese.
This is the best, foolproof way to avoid any curdling. Continue to stir until your soup is creamy and smooth.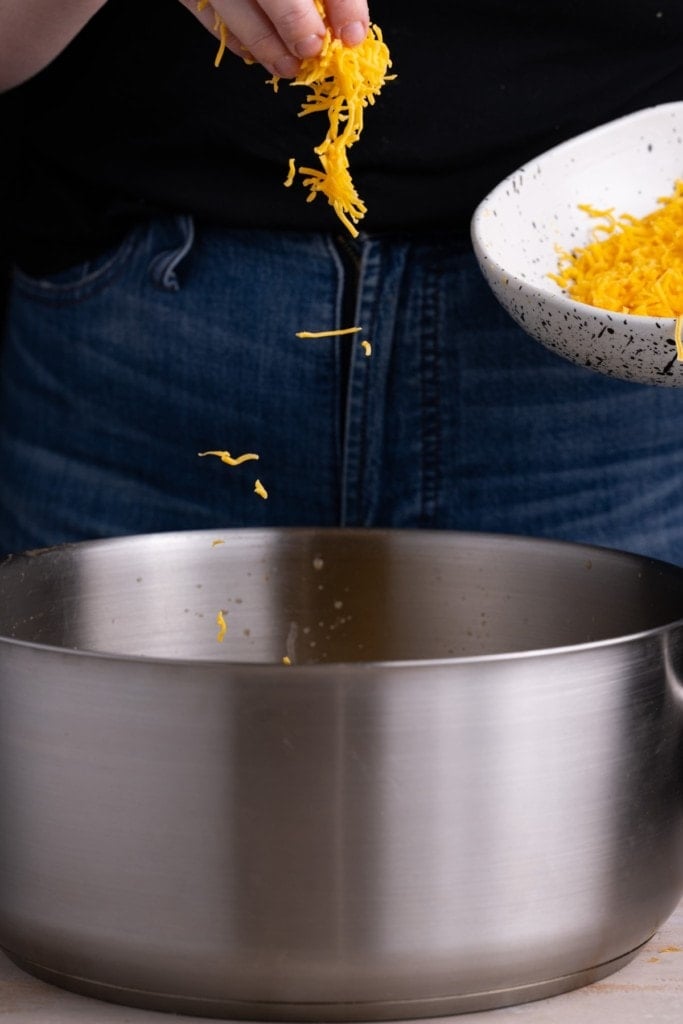 Should You Have Leftovers
This cozy soup will stay fresh covered in the refrigerator for 3 days. Reheat it on the stove for about 10 minutes (preferred) or cover and microwave on high for 1.5-2 minutes, stopping and stirring halfway in between.
To freeze, keep this in an airtight container frozen for up to 3 months. Thaw overnight before reheating and enjoying as instructed above.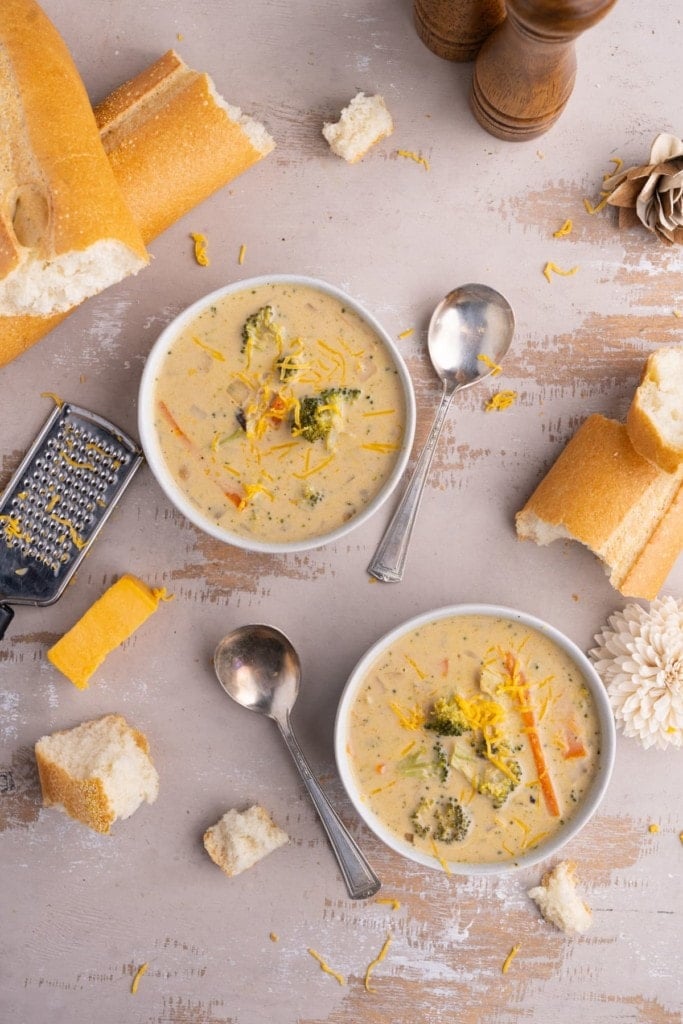 Vegetarian Broccoli Cheddar Soup Frequently Asked Questions
---
Is Broccoli Cheddar Soup Vegetarian?
Generally, broccoli cheddar soup, like the one served at Panera is not actually vegetarian. It is made with chicken stock or chicken broth, so it does contain chicken fat and juices.
How long does Broccoli Cheddar Soup last?
This Vegetarian Broccoli Cheddar Soup will last in the refrigerator for up to 3 days. It can also be frozen for up to 3 months but freezing creamy soup can sometimes change the consistency when you reheat it.
How do you thicken Broccoli Cheese Soup?
Start by making a roux to get a thick soup. If even with your roux your soup seems a little too thin, you can thicken it by simmering it with the cover off to release some liquid.
Otherwise, you can thicken it with cornstarch. Dissolve 1 tablespoon of cornstarch in 2 tablespoons of water by stirring it together in a small bowl or ramekin.
Add the cornstarch and water slurry to the soup and heat until it begins to thicken (cornstarch will start to thicken soup once it reaches 295°F).
Want to sharpen your kitchen skills?
Why You Should Make This Vegetarian Broccoli Cheddar Soup
---
It's classic. Classic flavors that never get old.
It's cozy. Soup for the soul!
It's creamy. The perfect consistency.
If you're loving this Vegetarian Broccoli Cheddar Soup and you're looking for more cozy meals, check out this Mushroom Stew and this Vegan Wild Rice Soup.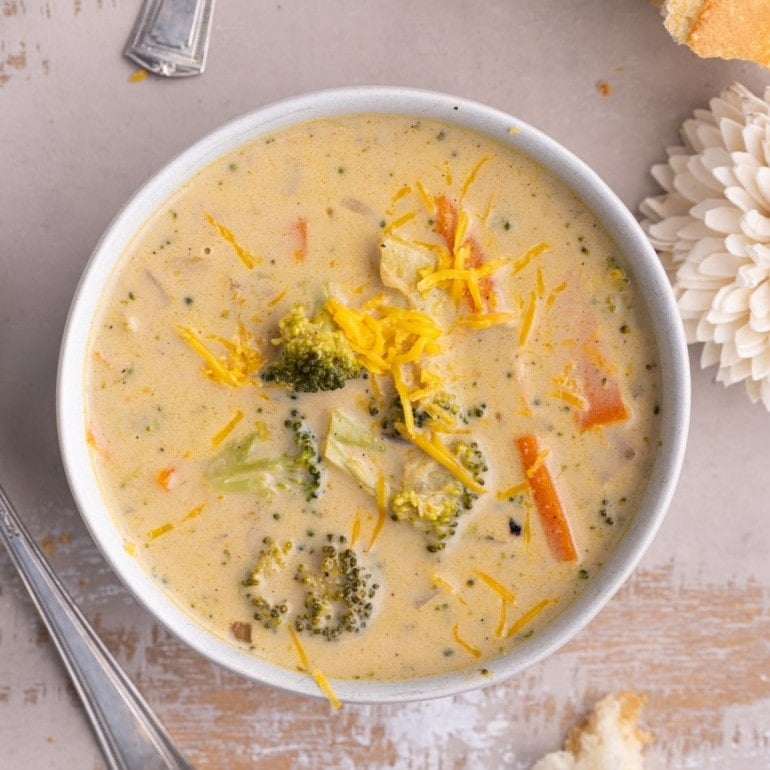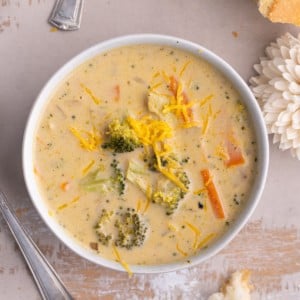 Best Vegetarian Broccoli Cheddar Soup
PRINT
PIN
RATE
Creamy, cheesy, hearty, and healthful—this vegetarian broccoli cheddar soup will warm you up from the inside out.
Ingredients
1

bunch

broccoli

(1 bunch usually = 1 ½ pounds)

1

large

carrot

1

large

yellow onion

5

cloves

garlic

1

teaspoon

salt

1

teaspoon

black pepper

3

tablespoons

unsalted butter

4

tablespoons

flour

4

cups

vegetable broth

1

teaspoon

nutmeg

1

teaspoon

onion powder

1

teaspoon

garlic powder

½

teaspoon

chili powder

1

cup

half and half

8

ounces

sharp cheddar cheese
Instructions
Prepare your veggies by washing broccoli, cutting it off the stalk, chopping it into bite-sized pieces, peeling and chopping carrots, dicing onion, and mincing garlic.

In a Dutch Oven or large pot, cook the onion in the butter, salt, and pepper until translucent and fragrant—about 5 minutes.

Sift in the flour and whisk to form a roux.

Add vegetable broth and whisk together making sure there are no clumps of flour and bring to a boil

Add broccoli, garlic, carrot, nutmeg, onion powder, garlic powder, and chili powder, and stir well. Cover and simmer over medium heat for 15 minutes until carrots and broccoli are tender.

Turn heat off, but keep your pot on the burner. Add half and half and whisk together until smooth.

Fold in shredded cheese with a wooden spoon or spatula until smooth and creamy.

Serve hot with a toasted baguette (optional).
Pro Tips
To get your carrots thin, use your peeler! Peel the outer layer off and discard, but then use the peeler to shred off thin slices.
Sifting in the flour will ensure a smooth roux with no lumps!
If you love extra sharp cheese, use it in your soup! I've made this recipe with everything from mild to extra sharp and loved them all! I switch up the cheese depending on what I'm in the mood for.
It's hard to beat a good bowl of soup! Check out my most delicious selection of hearty soup recipes!
Did you make this recipe?
Let me know by leaving a recipe rating below, or by tagging @marleysmenu on Instagram.