Looking for a cozy dinner that's equally delicious and nutritious? This Vegetarian Broccoli Cheddar Soup has everything you need.
THE ULTIMATE bread-soaker. The must-lick-the-bowl classic. The undeniably delicious vegetarian soup that warms you up from the inside out.
As an environmental scientist, I am always trying to highlight sustainable ingredients. Broccoli, when sourced locally and in season, is considered a sustainable crop.
Broccoli is a cruciferous vegetable. Like other vegetables in this category, they naturally produce insect-deterring plant compounds, meaning they do not require many pesticides to thrive.
They also have a relatively low water footprint. Broccoli and cheddar is a classic combo that allows this awesome veggie to thrive!
Vegetarian Broccoli Cheddar Soup Tips and Tricks
---
---
Developing this recipe has been a bumpy ride. I've had soups that split into a greasy mess. Soups that were creamy but had no flavor. Soups that were too spicy to taste anything else. And soups that were less soup, more sauce.
But through determination and a belly full of cheese, we got to this sinfully delicious soup of all soups. And I learned a lot along the way.
Primarily what I learned is that there are three main components you have to get right if you want the soup to be creamy, cheesy, and flavorful: The veggies, the spices, and the roux.
Gather Your Ingredients
Here's everything you'll need:
Use a Block of Cheese
I know. It's a whole extra step. Why grate your own cheese when the grocery store sells perfectly packaged cheese that is already shredded?
Well, pre-shredded cheese has extra preservatives to keep it from sticking together. And as a self-prescribed (but independently verified) cheese-aholic, I can TASTE the difference.
Green tip: Shop organically if you can. Organic farms rely on biodiversity to generate rich soil, avoiding the use of pesticides and fertilizers, which means no toxic runoff. This is still true for cheese!
I have made this recipe with both, and freshly hand-shredded blocks of cheese undoubtedly produce a creamier, cheesier, fresher-tasting soup. Not convinced? Read all about it here.
Prep Your Veg
The broccoli needs to be blanched before it's added to the soup so that it integrates beautifully without too much crunch. To blanch it, you'll just cut them off the stalk and throw them in boiling water for ten minutes.
After this process, they should still be a little al dente, and they'll retain their super vibrant fresh green color. After you blanch the broccoli, you can cut it into bite-sized pieces, or you can choose to leave them chunky.
I like a little bit of both. You also want to make sure the carrot is sliced nice and thin. You definitely don't want raw carrot in your warm and creamy soup. Make sure to peel the outer layer of the carrot off first.
I also use my peeler to slice off super thin noodle-like pieces which I then chop. I'm actually not a huge carrot fan, but it adds extra flavor and texture to the soup that I missed when experimenting without it.
Let The Onions Sweat
Letting the onion cook in the butter is essential to extracting the flavor of the onions and getting them the right consistency for the soup.
Add the onions and butter to the pot over medium heat and cook them until they become translucent and fragrant about 5-8 minutes.
Green tip: Eating seasonally is one of the best (and most delicious) ways to support local and decrease your carbon footprint. Local foods have less associated transportation costs and fuel emissions. Check when broccoli is in season in your state with this Seasonal Eating Guide.
Form a Roux
The roux is what gets your Vegetarian Broccoli Cheddar Soup that perfect creamy soup consistency. A roux is just a mixture of flour and fat (in this case butter) used in sauces, soups, and gravies. I use this same technique in my Hearty Mushroom Gravy and Mac-n-Cheese!
Getting the roux right sets you up for a smooth and creamy dish. It's important to avoid lumps, which is why I always suggest using a whisk. It's also best to sift the flour into your onion/butter mixture.
When you've finished preparing your roux, it should just look like your onion is coated in a thin, equal layer of flour as pictured below.

Add Your Veggie Broth Next
Once your roux is ready, add the veggie broth and give it a whisk, ensuring that any clumps of flour integrate into the broth.
You'll add your spices and veggies and allow it all to cook together for about 30 minutes to get a deep flavor.
Add Your Dairy Last
Once your soup has cooked for 30 minutes, you'll remove it from heat to add the half and half and cheese.
This is the best, foolproof way to avoid any curdling. Continue to stir until your soup is creamy and smooth.
Should You Have Leftovers
This cozy soup will stay fresh covered in the refrigerator for 3 days. Reheat it on the stove for about 10 minutes (preferred) or cover and microwave on high for 1.5-2 minutes, stopping and stirring halfway in between.
To freeze, keep this in an airtight container frozen for up to 3 months. Thaw overnight before reheating and enjoying as instrcuted above.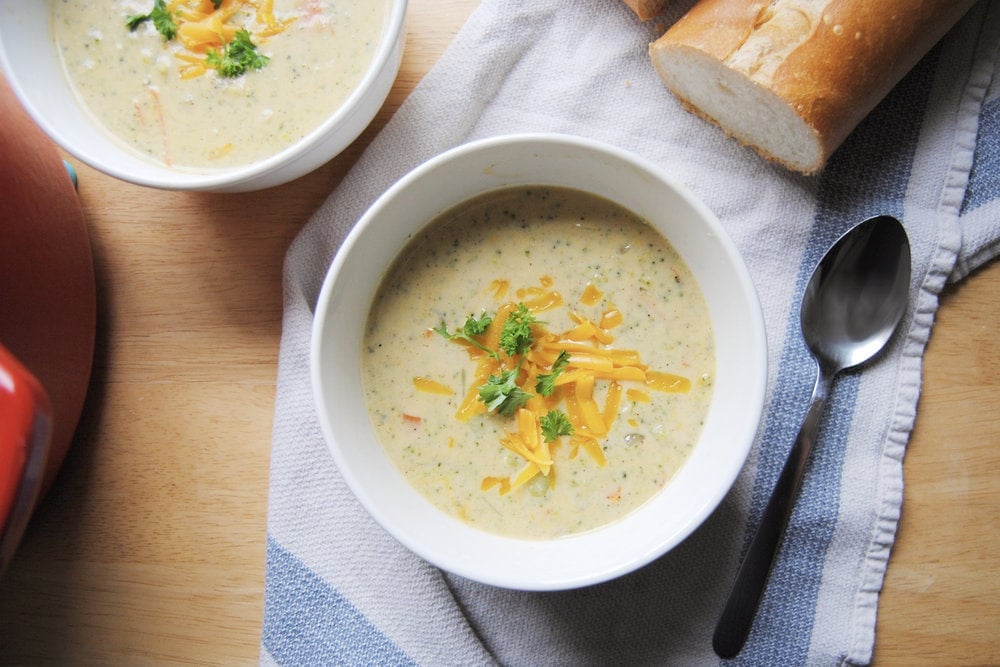 Why You Should Make This Vegetarian Broccoli Cheddar Soup
---
---
It's classic. Classic flavors that never get old.
It's cozy. Soup for the soul!
It's creamy. The perfect consistency.
If you're loving this Broccoli Cheddar Soup and looking for more cozy meals, check out this Mushroom Stew and this Vegetarian French Onion Soup.