Want all the cheesy, meaty goodness of a Philly-style cheese-"steak" without the meat? This Vegetarian Cheesesteak recipe uses portabello mushrooms and onions to replace the meat without losing the flavor. Plus, the homemade cheese sauce is almost TOO good.
All made in under an hour and in one pot and a sheet pan, this totally do-able meatless dinner is magic! And the cherry on top? The toasted buttered hoagie roll.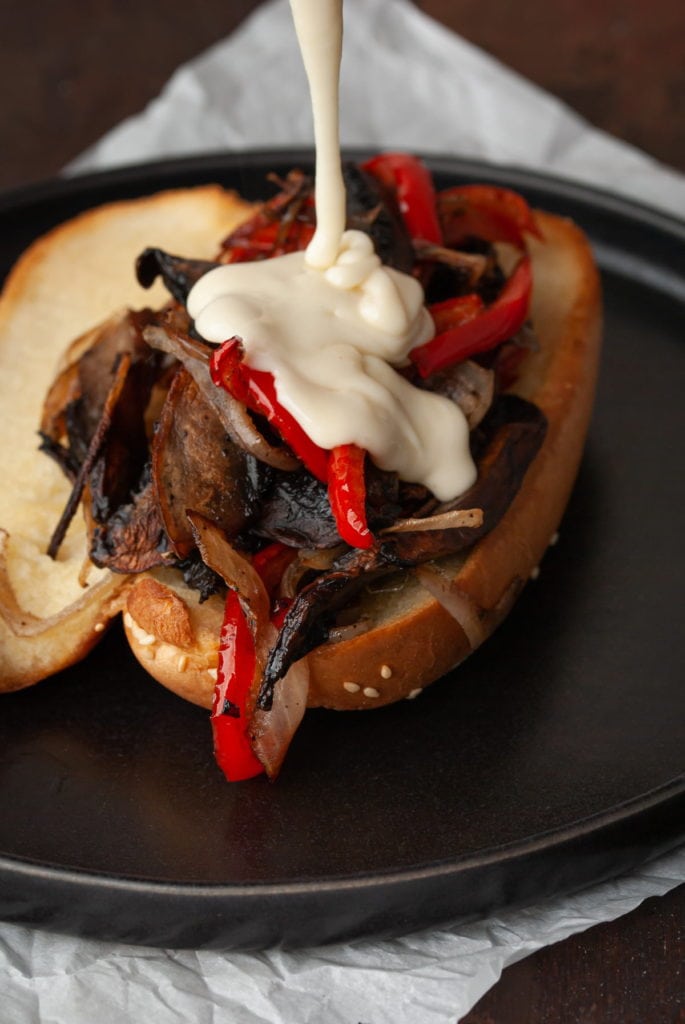 As an environmental scientist, I'm always looking for delicious meat alternatives to help me lower my ecological footprint, and this Vegetarian Philly Cheesesteak recipe is an incredible replacement for the real deal!
The "meaty" texture of the portobello mushrooms lends itself to the flavorful marinade and compliments the homemade cheese sauce for the perfect meatless hoagie.
Green tip: Industrial meat production has a huge impact on the environment, especially because of the amount of land it takes to sustain and its high amount of greenhouse gas emissions. Reducing your meat consumption is one great way to reduce your ecological footprint.
Vegetarian Philly Cheesesteak Tips and Tricks
---
---
Gather Your Hoagie Ingredients First
This hoagie consists of a quick marinade, mushrooms and onions, and of course your hoagie roll!
Here's what you'll need:
Prepping Your Veg
Rinse your portabellos and red pepper if you're using one first. Then, you can slice it into thin pieces, about 1/2 inch wide.
Cut your onion in half and peel away the outer layer. Now you can slice your onion into thin pieces, as well. For detailed instructions on how to properly slice your onion, check out this post on Caramelized Onions and Mushrooms.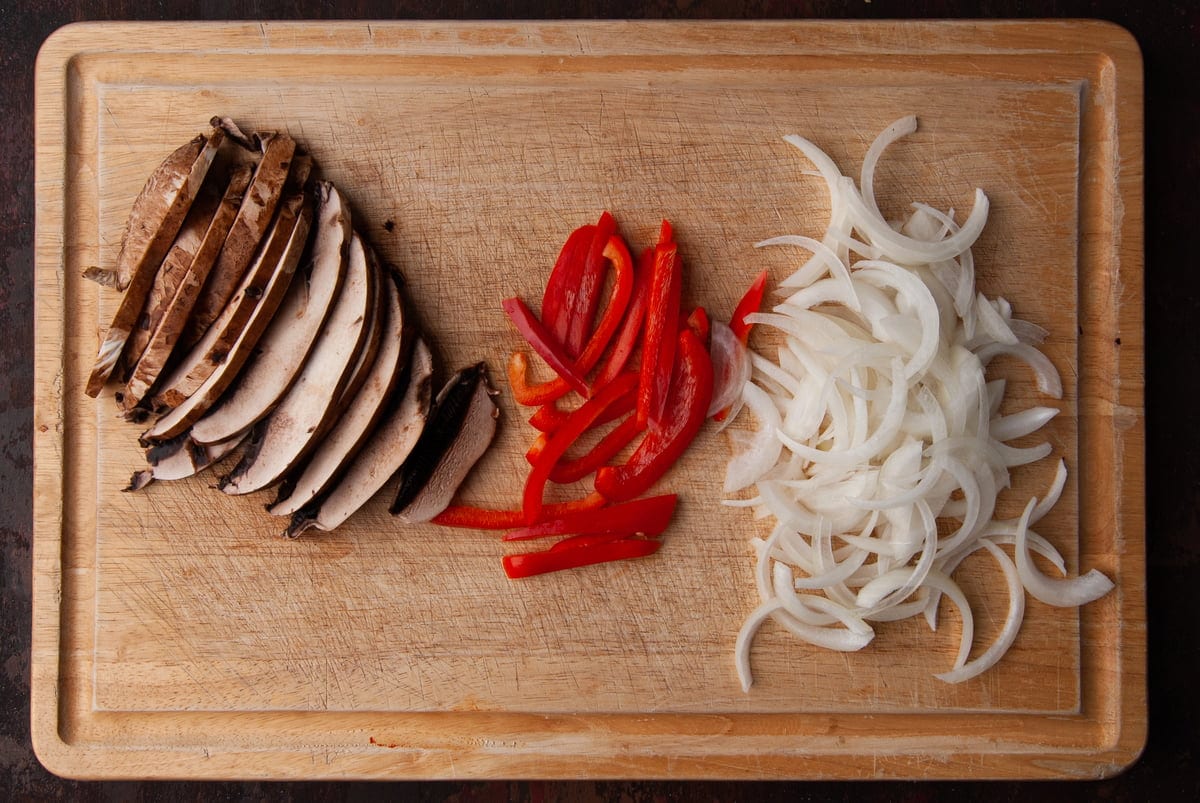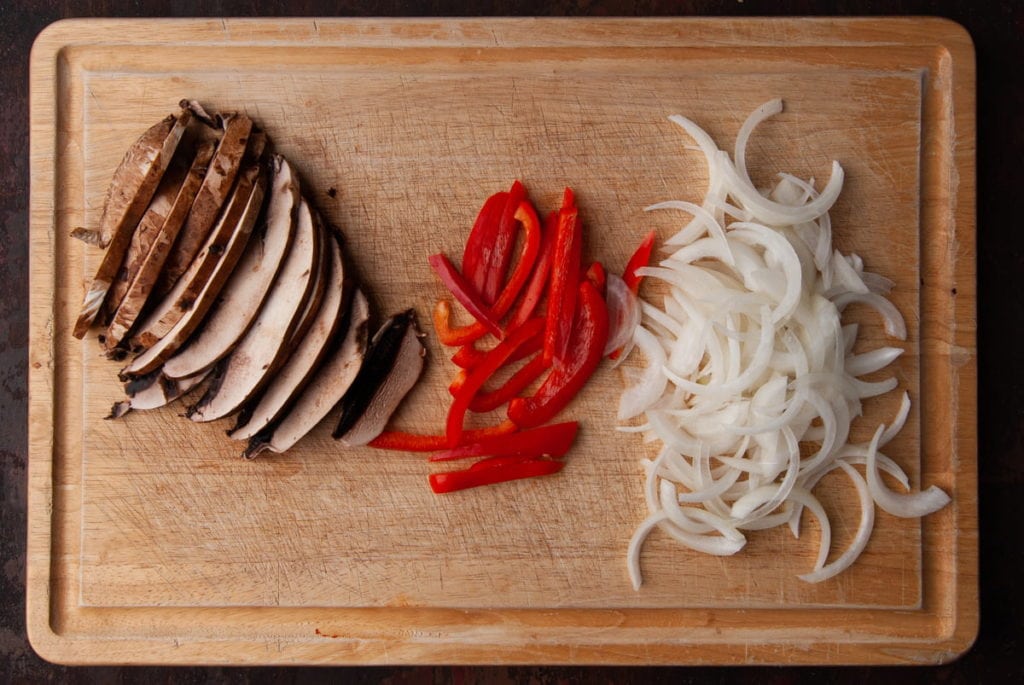 Whip Up Your Marinade
Lay your veggies out on a lined baking sheet, leaving some space in between each piece to allow for even cooking.
Green tip: Consider these reusable baking mats to reduce your plastic waste! They are nonstick and easy to clean.
Mix together your olive oil, maple syrup, soy sauce, and liquid smoke and pour over your veggies. Sprinkle them with salt and pepper, and toss to evenly coat.
Now you're ready to roast your veggies in the oven at 400°F for 25-30 minutes.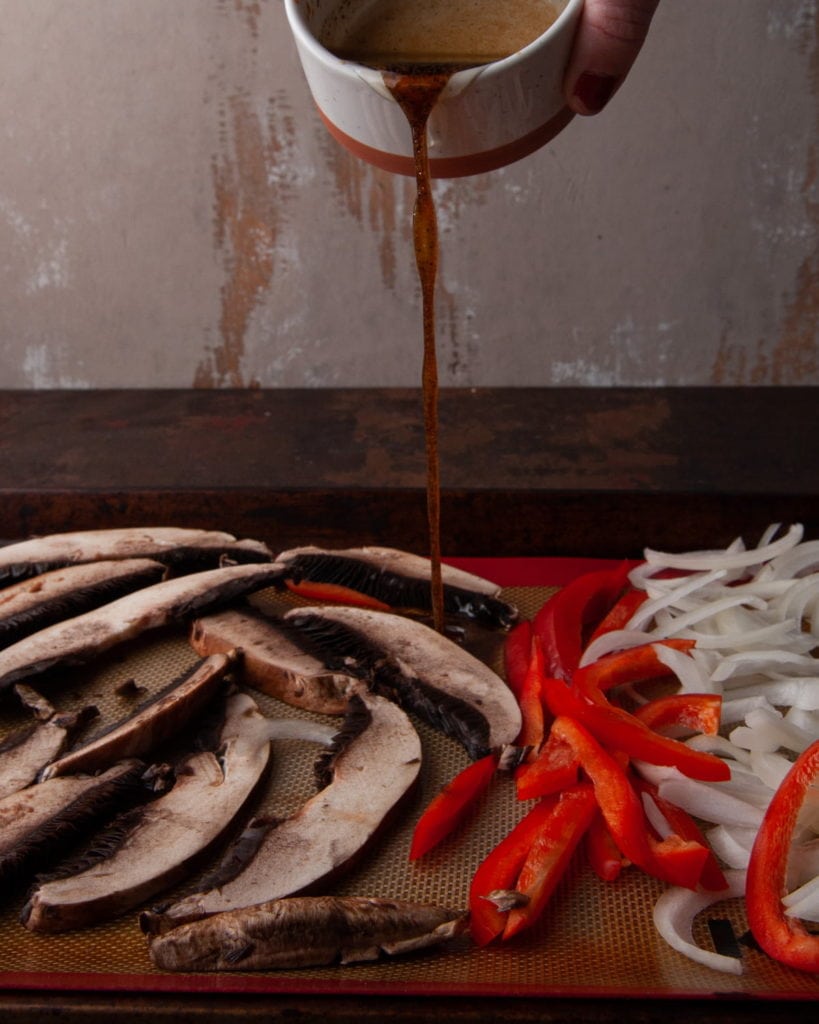 Gather Your Ingredients for the Cheese Sauce
I highly recommend using white American cheese for this cheese sauce, but you can also use regular American cheese. While I usually prefer cheddar cheese myself, the melting properties of American are best for this particular cheese sauce.
You can usually buy white American cheese in the deli section by the ounce, but you can also use the singles slices. If you're using singles, you will need about 4 slices of those individually wrapped guys to make approximately 2 ounces.
Low and Slow is the Name of the Game
In order to get the best consistency for your cheese sauce, keep your stove on its lowest setting. You may be tempted to turn up the heat to bring it together more quickly, but this risks your sauce curdling.
The only foolproof way to make this homemade cheese sauce is to keep your heat super low and to stir frequently.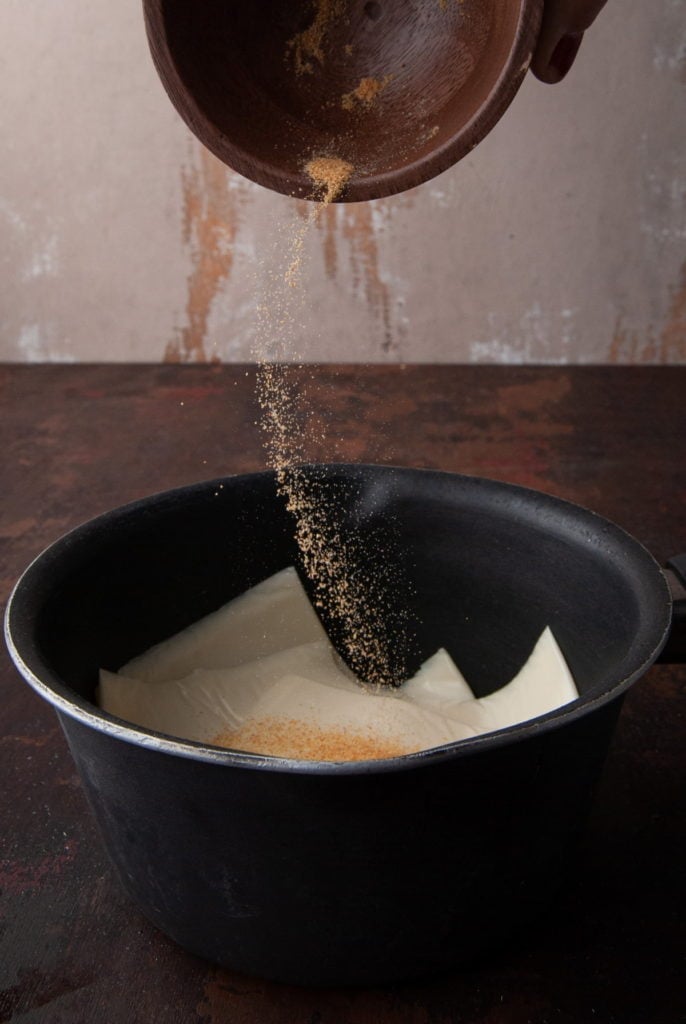 Butter and Toast Your Bread
Once your veggies are ready, remove them from the oven and turn the oven off. Add your butter to your bread and place it in the turned-off, but still-hot oven.
Keep an eye on your hoagie roll and remove it from your oven when it gets crispy—about 3-5 minutes.
Green tip: Look for organic and palm oil-free butter if you can. Buying organic means you are supporting farms that do not use damaging pesticides and fertilizers, and palm oil production is a huge driver behind deforestation.
Assemble Your Vegetarian Philly Cheesesteak
Once your hoagie is nice and toasted, you're ready to assemble your sandwich!
Add your roasted veggies first, and then pour over a generous amount of cheese sauce.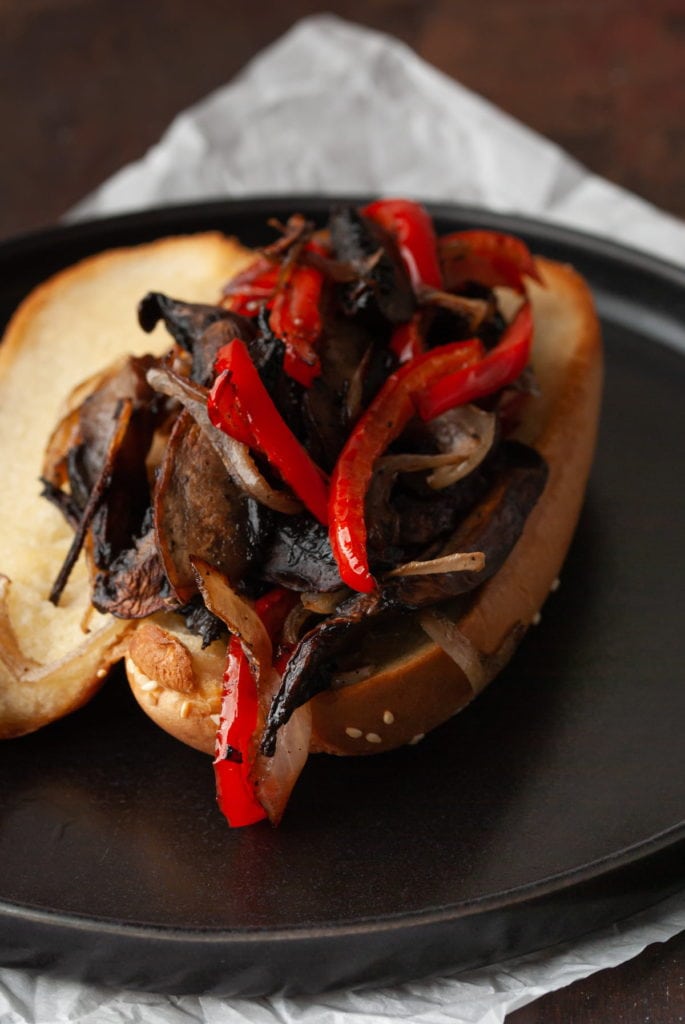 Should You Have Leftovers
You will most likely have leftover cheese sauce! Save it and use it as a dip for these Homemade German Soft Pretzels!
To store, cover and keep in the refrigerator for up to 4 days. It's best to reheat it on the stove over low heat.
Leftover veggies will also last about 4 days in an airtight container. Reheat in the oven at 400°F for 8-10 minutes.
If you have a portion of the assembled sandwich leftover, cover it and stick it in the refrigerator. You can reheat it whole in the oven or toaster oven at 400°F for 8-10 minutes or in the air fryer at 350°F for 4-6 minutes.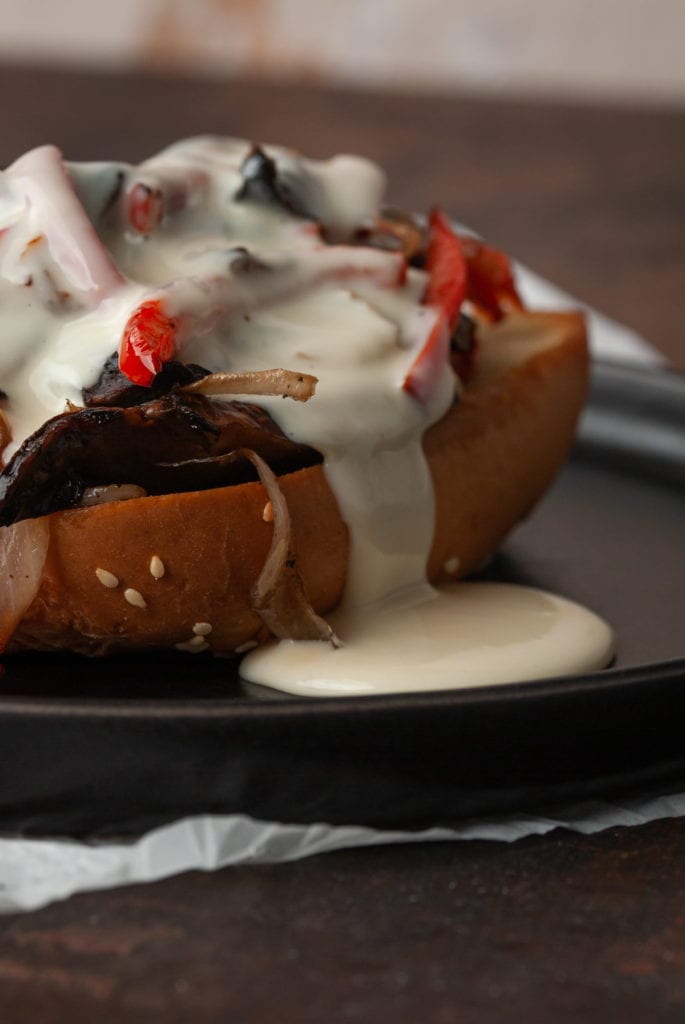 Why You Should Make this Vegetarian Philly Cheesesteak
---
---
It's meaty. Yup, even without the meat.
It's buttery. That buttered hoagie roll is the perfect vessel for these flavor-bomb veggies.
The homemade cheese sauce. I could literally drink it!
If you are loving this Vegetarian Philly Cheesesteak and want more vegetarian junk food, check out these Fried Oyster Mushrooms and Loaded Jackfruit Nachos.