Looking for dinner inspiration? Try these Meatless Enchiladas with Homemade Sauce for the ultimate in flavor-packed Tex-Mex cuisine.
They're ready to customize, taste great with a variety of ingredients, and are relatively easy to make.
But no matter what deliciousness you stuff 'em with, or fresh garnishes you top 'em with, your enchiladas are nothing without the homemade enchilada sauce.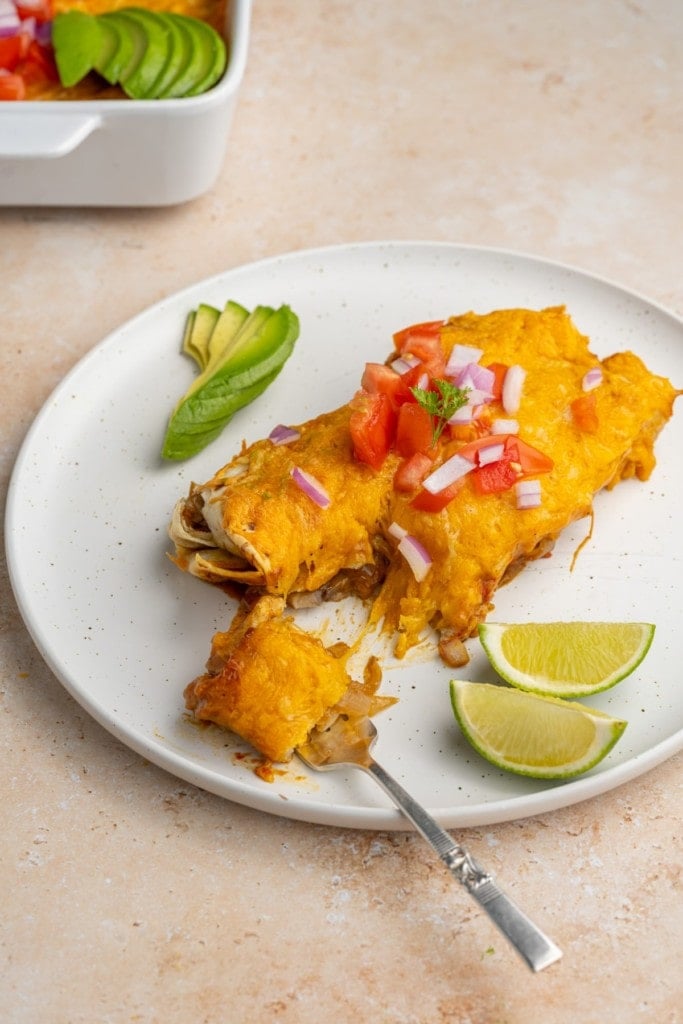 As an environmental scientist, I am always trying to make more eco-conscious food choices. One great way to improve your ecological footprint is by finding delicious ways to enjoy more meatless meals.
Green tip: Industrial meat production has a huge impact on the environment, especially because of the amount of land it takes to sustain and its high amount of greenhouse gas emissions.
Meatless Enchiladas Ingredients
---
---
Homemade Vegan Enchilada Sauce
It's that kind of sauce you eat by the spoonful when no one is looking. The sauce that you just have to "taste test" one more time—over and over again until half of its gone. The kind where you keep the leftovers at the ready to pour over anything and everything.
Yes, it's THE sauce.
And though it's list of ingredients is about a mile long, it's made up of all simple, vegan, delicious ingredients that if you're anything like me, you already have on hand in your kitchen.
Here's everything you need:
Olive oil. This will act as the fat content in your roux—a vital step to getting the right consistency in your sauce.
All-purpose flour. The other half of your roux.
Vegetable broth. As the base of your sauce.
Chili powder, garlic powder, onion powder, cumin, & oregano. This combination of seasonings brings the flavor!
Red chili peppers or cayenne pepper. To bring the heat.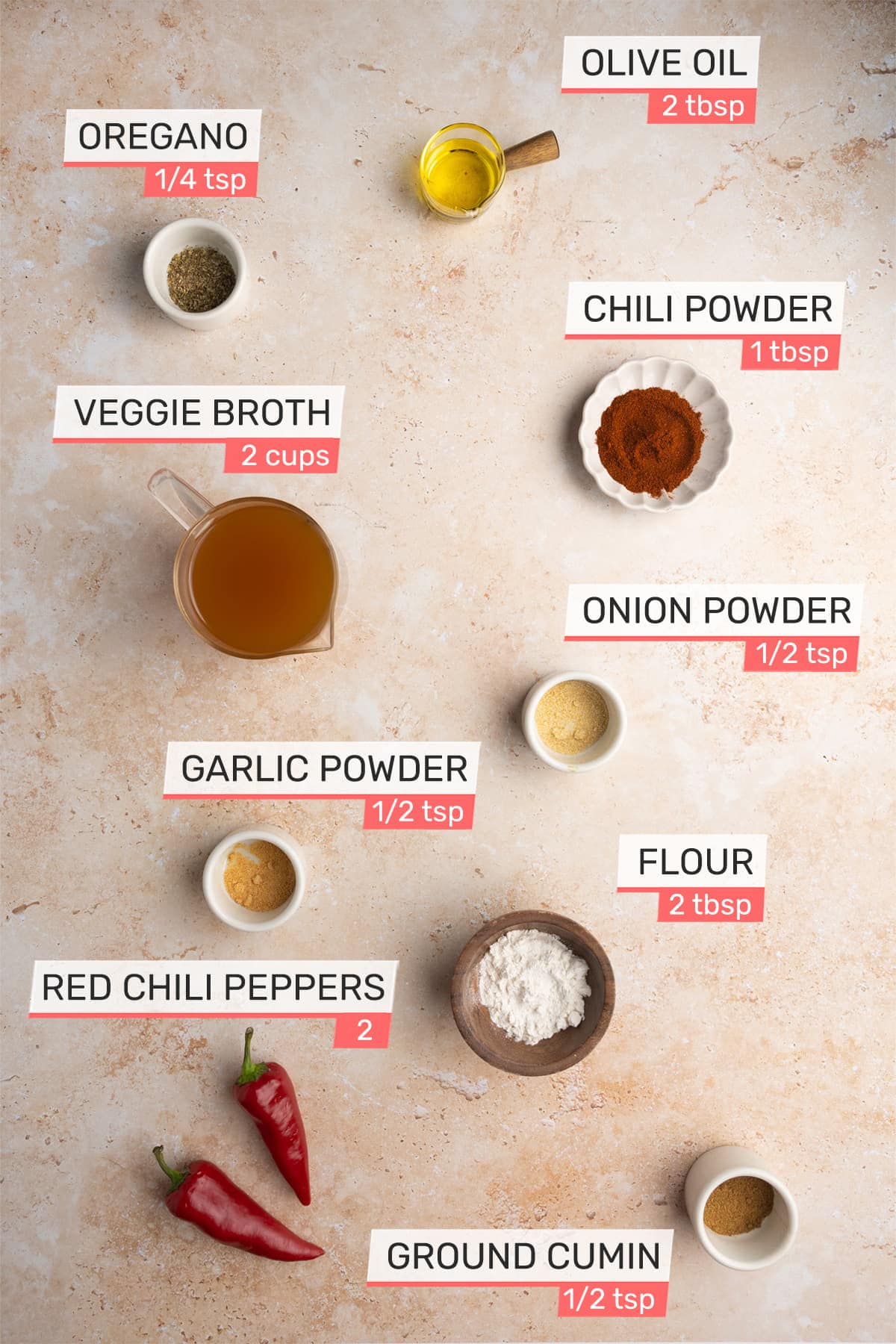 Tex-Mex Meatless Enchiladas
These Enchiladas are super versatile and can be stuffed with any veggies you like! I kept mine simple with just onions and mushrooms, but feel free to add in extras!
In fact, this is a great recipe to use as a "clean-out-the-fridge meal". If you have any vegetables you need to use up, throw 'em in these enchiladas!
You can add chopped peppers, zucchini, yellow squash, and even black beans. You can also bulk them up with tofu or this lentil taco meat alternative.
Whatever you choose to stuff them with, cook it all down with the mushrooms and onions as outlined in the steps below.
Here's everything you'll need:
Olive oil. To cook your vegetables in.
Onion. Yellow or Vidalia onion preferred, sliced.
Mushrooms. Baby bella or white button are best for this recipe.
Taco seasoning & water. To season your veggies.
Flour tortillas. Though traditional enchiladas use corn tortillas, for this TexMex version we are using flour, as I find them much easier to work with.
Sharp cheddar and Colby jack cheese. The perfect blend of cheese for the right melty-ness and flavor.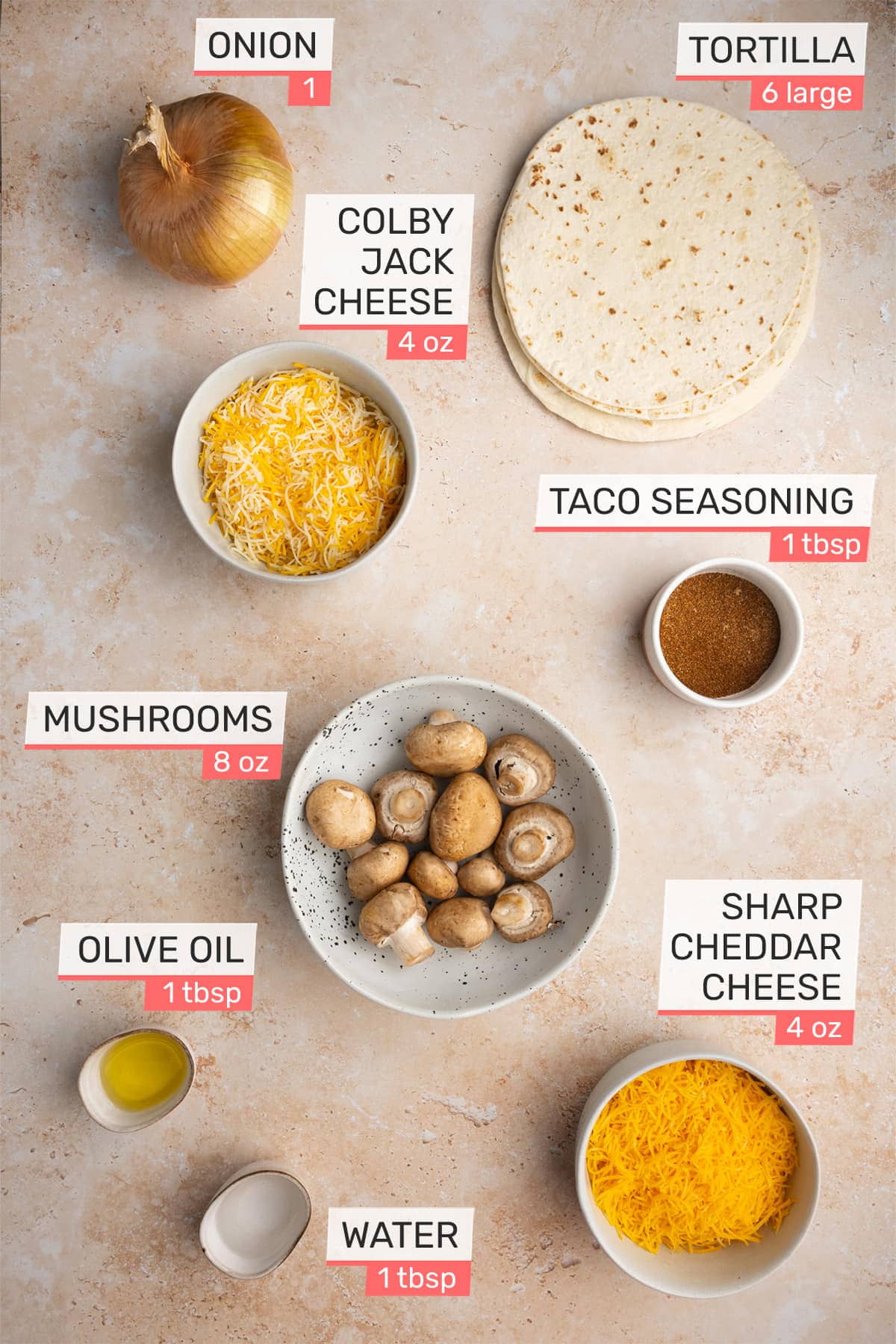 Meatless Enchiladas Tips and Tricks
---
---
Start with a Roux
The first thing we will do is prepare our homemade enchilada sauce. To start the sauce off on the right foot, we will form a roux.
This is as simple as mixing together your olive oil and all-purpose flour over medium heat until it forms a thick paste.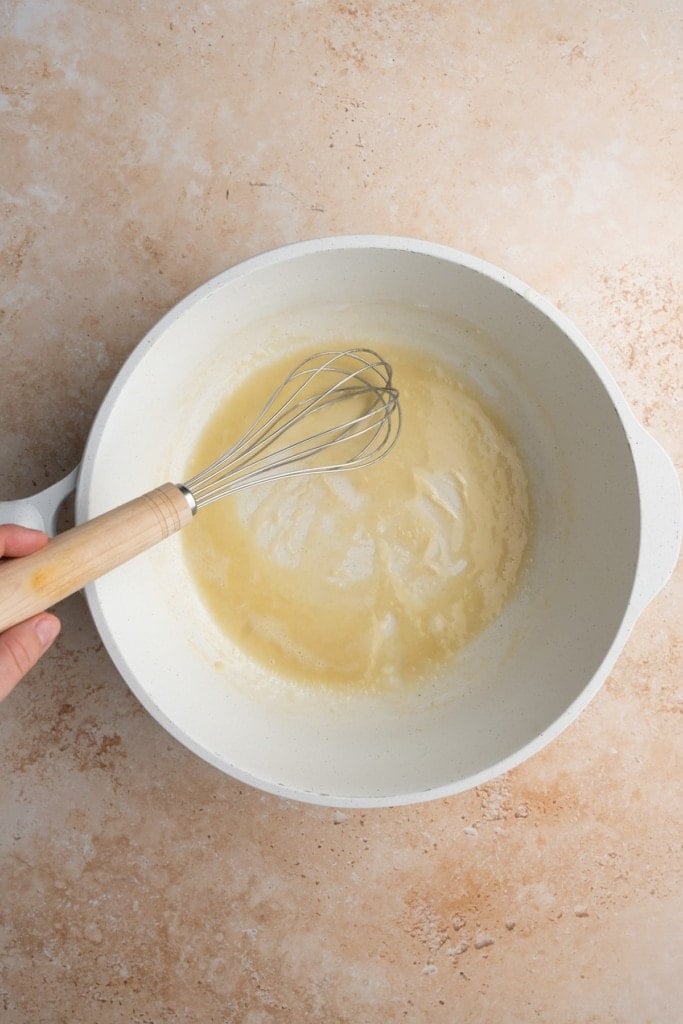 Add Your Sauce Ingredients
Once your roux has formed, you can add your vegetable broth, seasonings, and diced red chili peppers.
Whisk together until all ingredients are smooth and continue to heat over medium heat to thicken.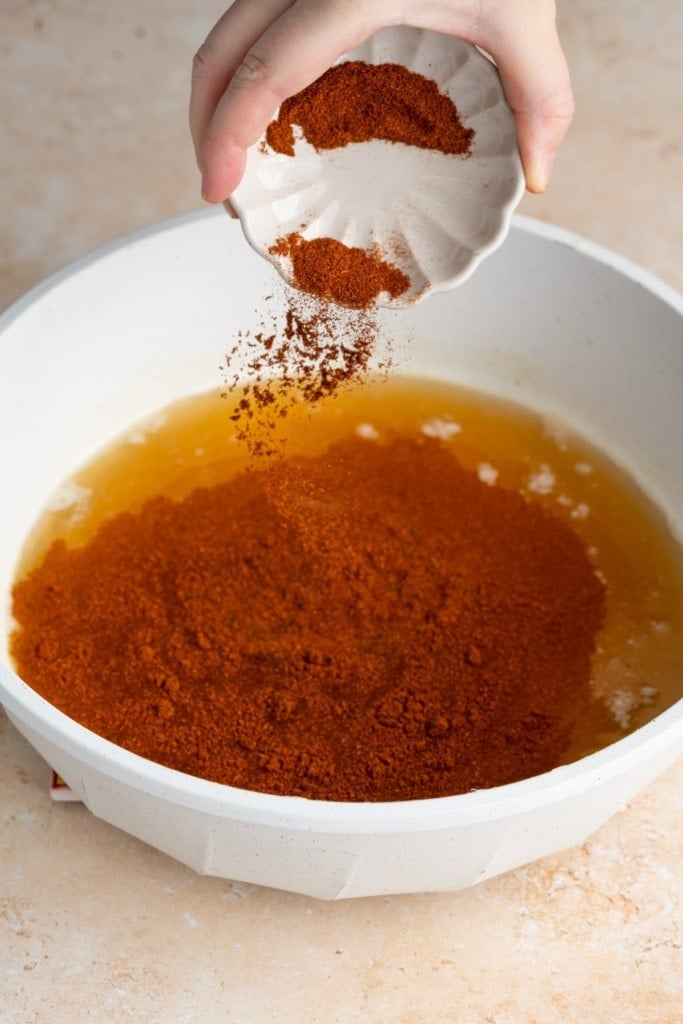 Blend it Up
If you're using fresh chili peppers, you'll need to use an immersion blender, regular blender, or food processor to break down the peppers and integrate them into the sauce.
I find it easiest to use an immersion blender, but keep in mind the sauce is very hot. Be careful not to splatter too much. It's okay to leave some small pieces of hot red chili pepper behind.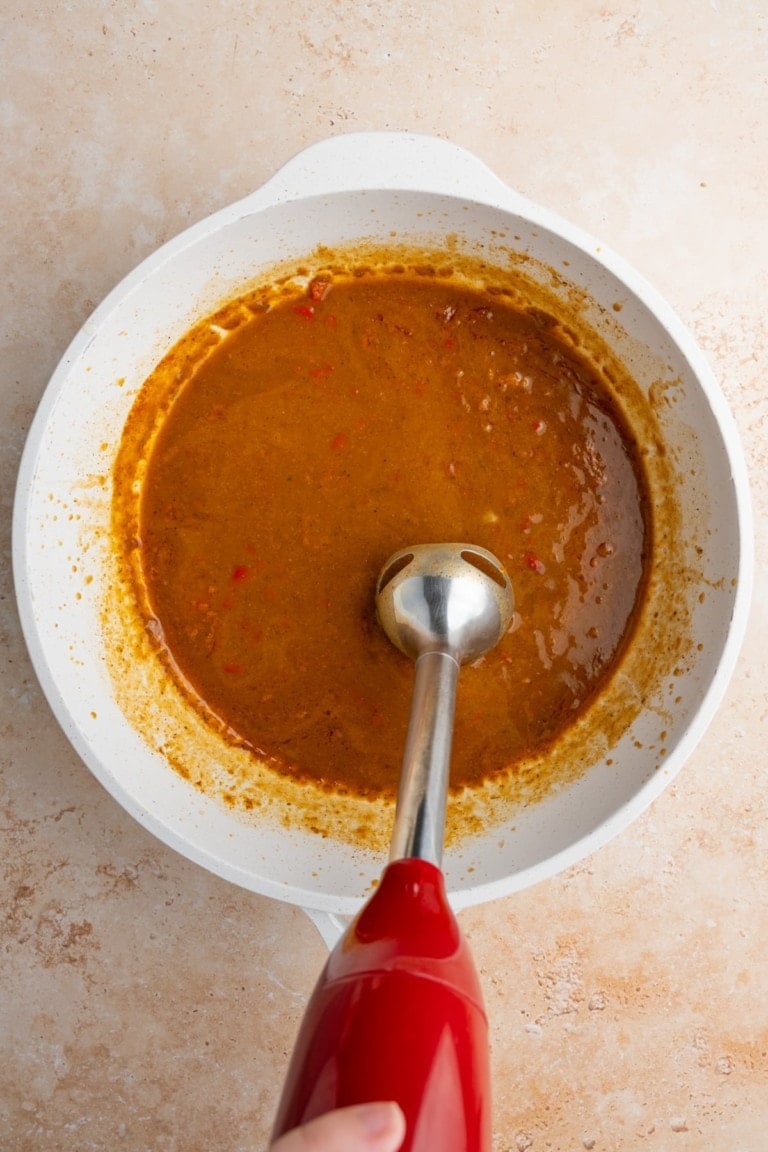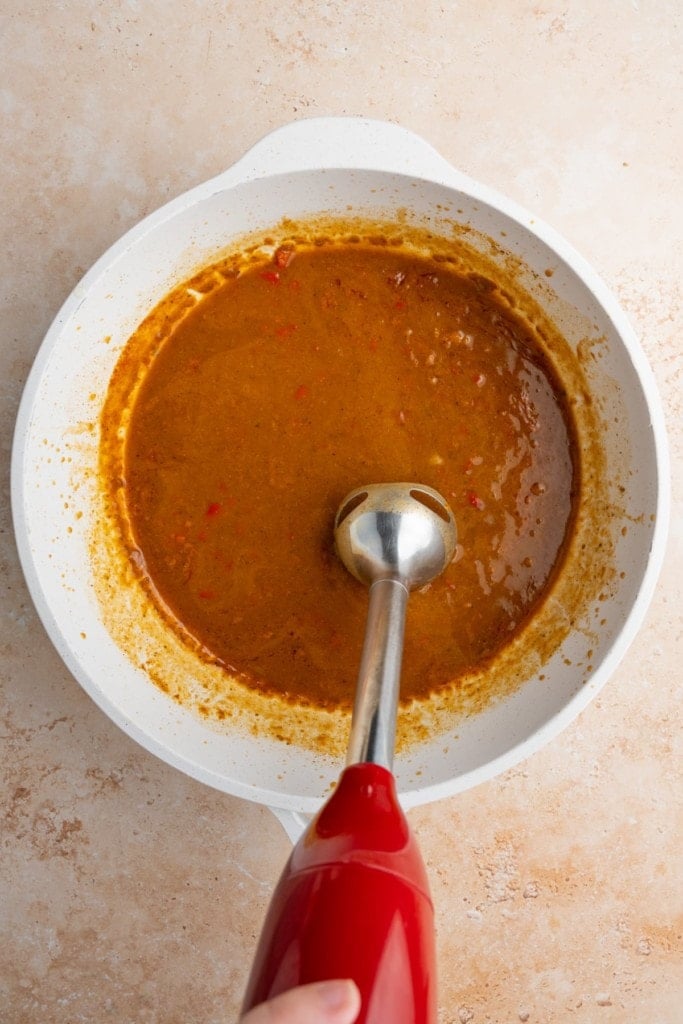 Cook Your Veg
Now it's time to cook up your mushrooms, onions, and any other fillings you want to add. Add 2 tablespoons of olive oil to a pan over medium heat.
Add your onions and mushrooms and cook until the juices release from the mushrooms and the onions start to turn translucent. For detailed instructions on how to slice your vegetables, check out this recipe for caramelized onions and mushrooms.
If you're adding additional peppers, zucchini, squash, or any other vegetables you choose, add them now, too.
Once your vegetables have cooked down, add the taco seasoning and water and stir to coat. Continue to cook over medium heat until the liquid dissolves and you are left with well-seasoned vegetables.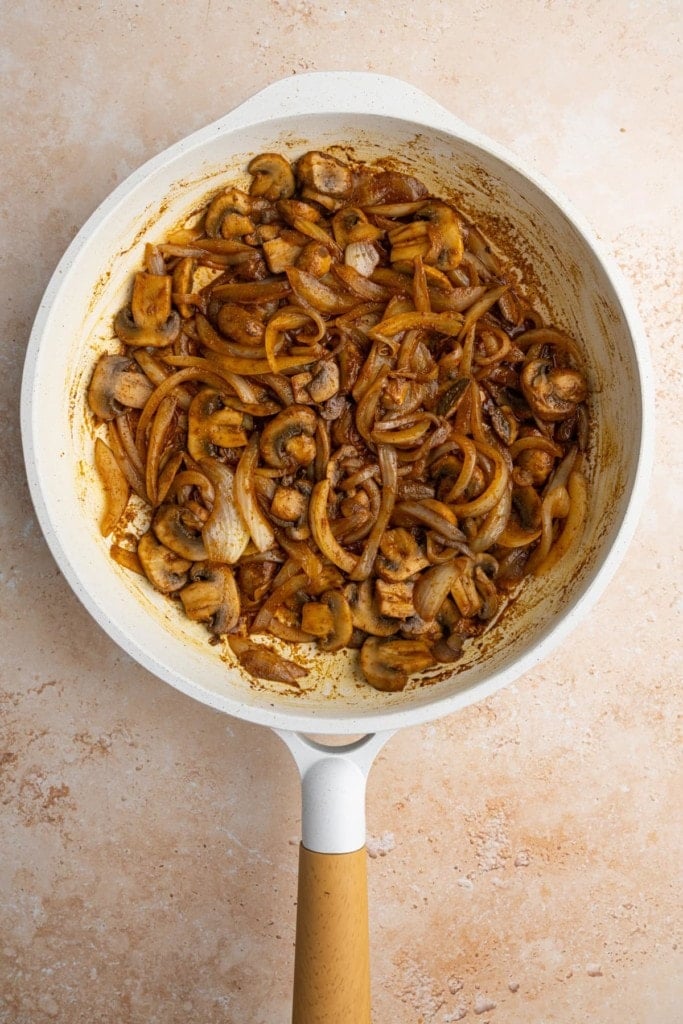 Prep Your Baking Dish
Grab a 7 x 11 inch baking dish and add a small amount of enchilada sauce to the bottom—just enough to coat the bottom of the dish with a thin layer of sauce.
This will both flavor all sides of your enchiladas and ensure that your tortillas don't stick to your baking dish.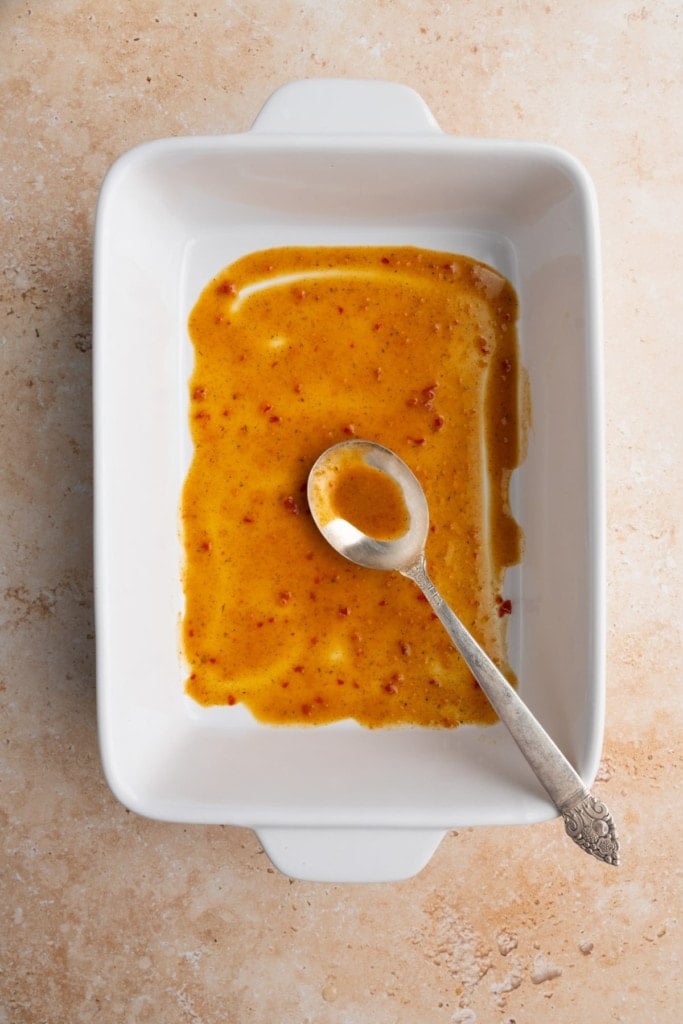 Make an Assembly Line
Set yourself up for success! On a clean surface, gather your cooked vegetables, cheese, tortillas, and prepped baking dish.
Add about 2 tablespoons of vegetables to your tortilla and a small handful of cheese. Roll the filled tortilla by tucking in the sides first, then rolling away from you until you form an enchilada.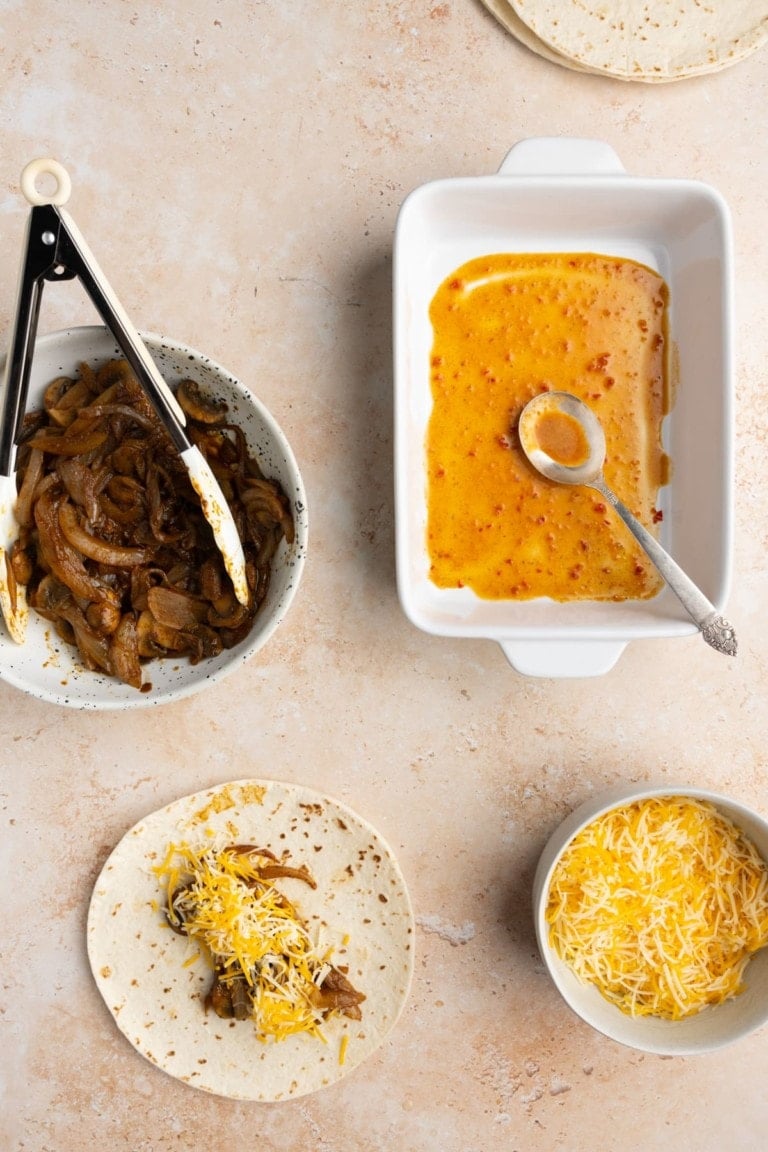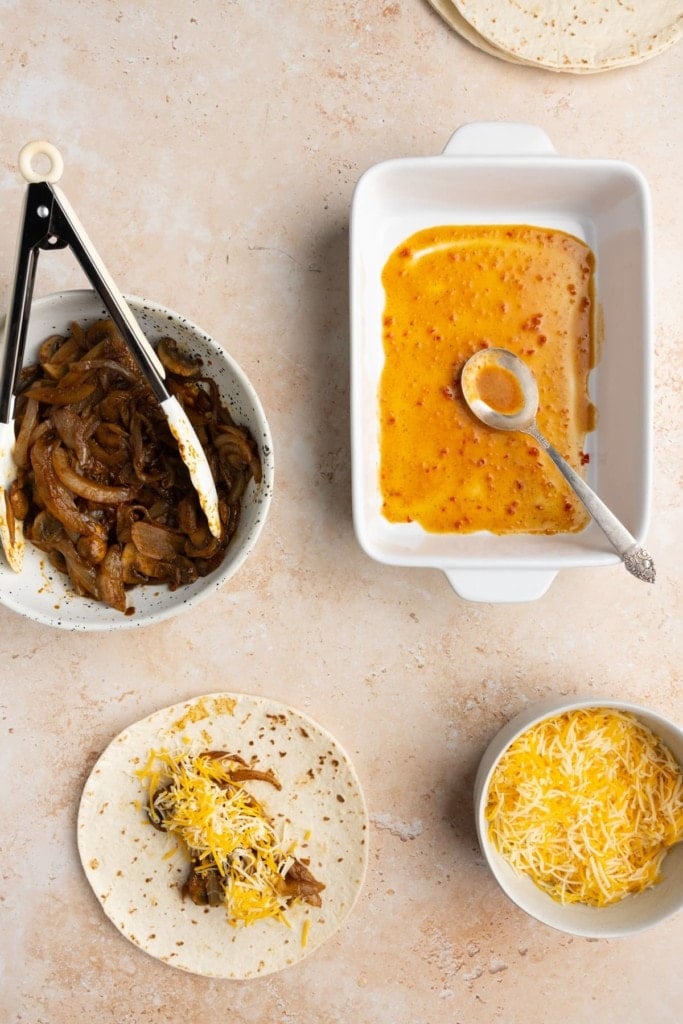 Fill Your Dish
Place your rolled enchilada in the baking dish and continue to roll more enchiladas, placing them snuggly in the dish until the dish is full.
You will be able to fit anywhere from 5-8 enchiladas in the dish depending on the size of your tortillas and how much you stuff them.
Let's Get Saucy
It's the moment you've all been waiting for!
Pour your sauce over your enchiladas. You won't actually use ALL of the sauce (lucky you—leftovers!). I usually use about 1 cup, making sure the enchiladas are fully coated.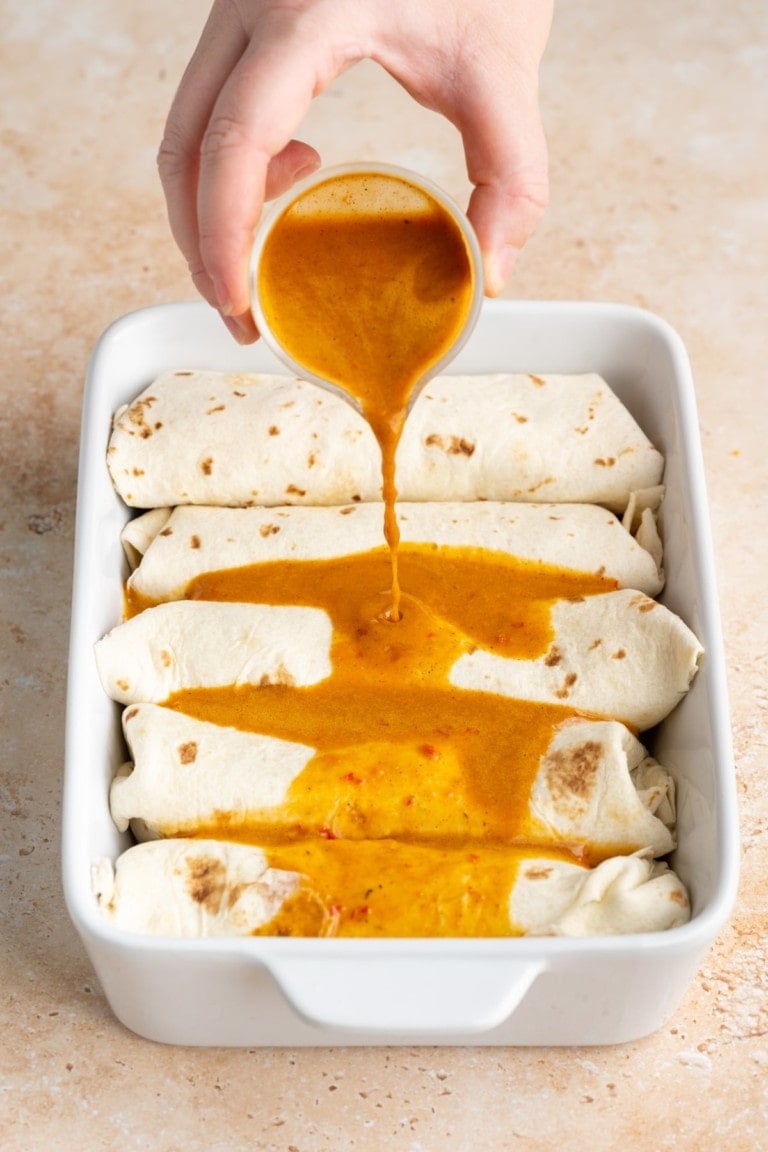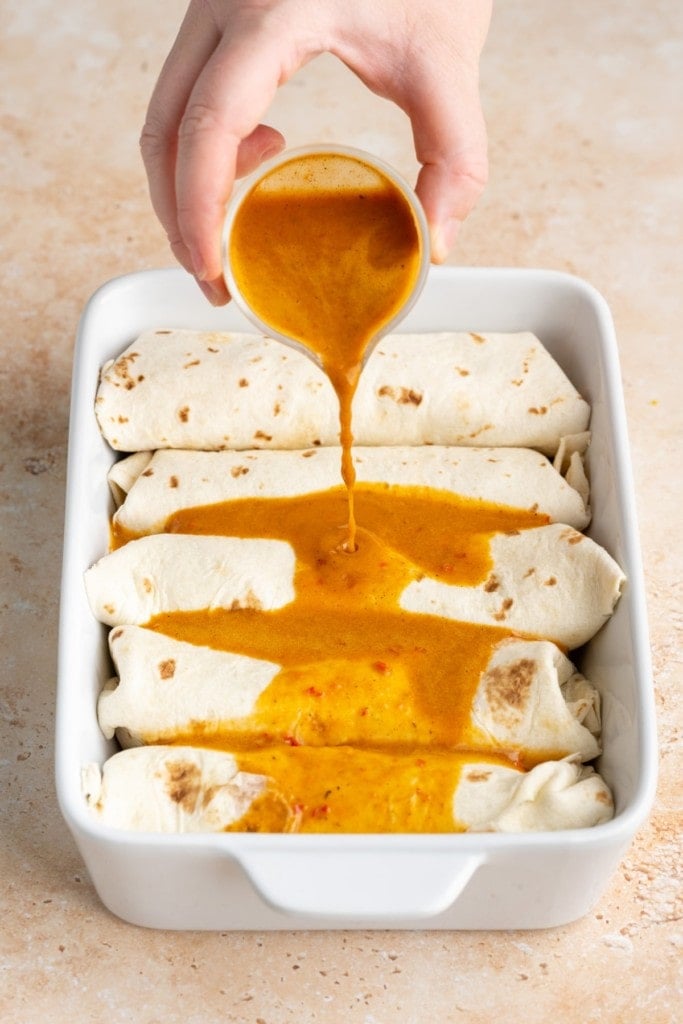 Time for the Cheese
Arguably the best part, it's time to add a thick layer of cheese on top of the sauce so it gets ooey-gooey and all kinds of cheesy in the oven!
Use any leftover Colby jack cheese that didn't make it inside your enchiladas, plus all the sharp cheddar. Pile it all on top in an even layer and bake at 350°F for 30 minutes.
After baking, give your enchiladas about 10 minutes to cool before adding any toppings.
I highly recommend a garnish of some raw ingredients. These ooey-gooey Meatless Enchiladas with Homemade Sauce are begging for some freshness!
My go-to toppings are sliced avocado or guacamole, fresh diced tomatoes, cilantro and red onion. You could also add sour cream, scallions, or salsa!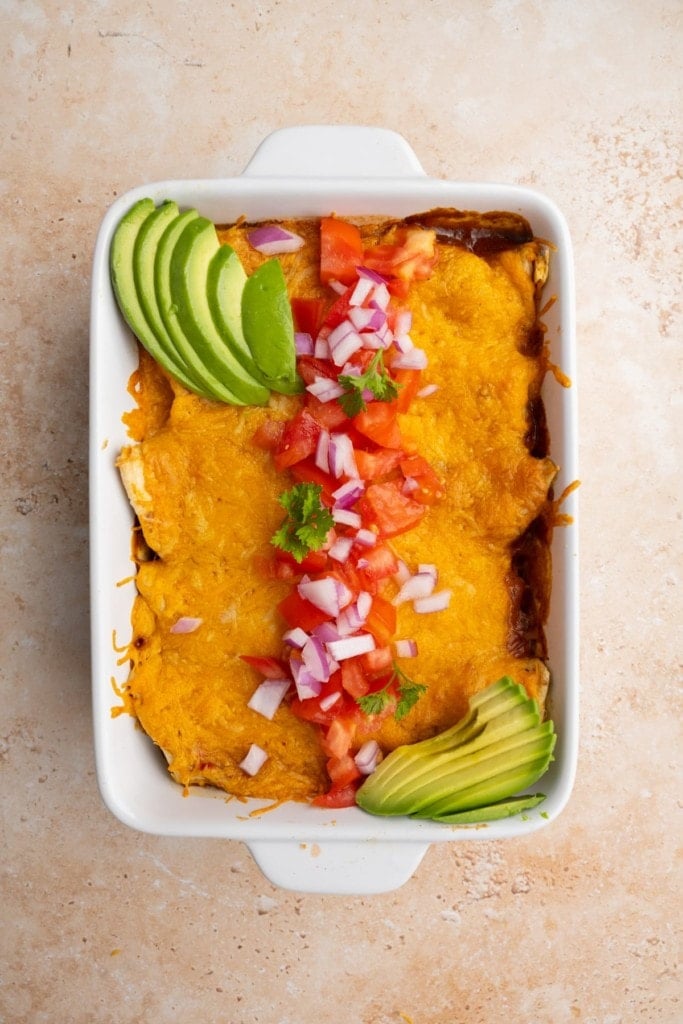 Should You Have Leftovers
Place any leftovers in an airtight container in the refrigerator to last up to 5 days.
To reheat, preheat your oven to 350°F. Bake them in the oven again for about 20-25 minutes until heated through.
As for the leftover sauce, it will last for up to a week in the refrigerator in an airtight container. You can also opt to freeze it for up to 3 months
If you don't want to make more enchiladas but are ready to use up your homemade enchilada sauce, check out this list of 15+ Ways to Use Enchilada Sauce.
Green tip: Did you know that of the billions of pounds of food wasted annually, it is estimated that 50% of it happens in our homes? It's always best to avoid food waste as much as you can!
Meatless Enchiladas Frequently Asked Questions
---
---
Should enchiladas be flour or corn?
Traditionally, enchiladas are made with corn tortillas. This version of meatless enchiladas in a Tex-Mex version. In order to make it more approachable, I've used flour tortillas as they are easy to work with and do not need to be treated before rolling your filling in them.
What do you stuff enchiladas with?
Enchiladas are usually stuffed with meat and cheese, so for a meatless version, you can stuff enchiladas with any number of vegetables.
I find the best fillings with the biggest impact and mushrooms and onions, but I also love peppers, squash, zucchini, and black beans in meatless enchiladas.
Want to sharpen your kitchen skills?
Why You Should Make these Meatless Enchiladas with Homemade Sauce
---
---
They're packed with flavor. The sauce itself is so tasty and brings the already flavorful enchiladas up a notch!
The cheese! These meatless enchiladas are both filled and topped with ooey-gooey cheese.
They're versatile. Use this as a "clean-out-the-fridge" meal—any and every vegetable is delicious in these!
For the ultimate Tex-Mex night, serve up this Creamy Guacamole, Pineapple Salsa, and Queso Blanco to start! For other Mexican-inspired dishes, try this Lentil Taco Meat Alternative and these Fresh Fish Tacos.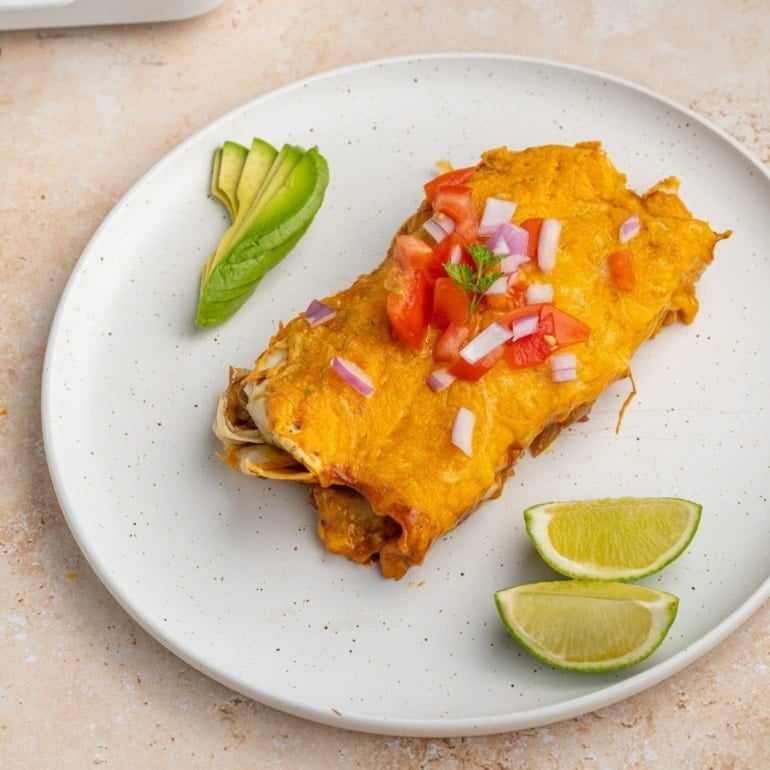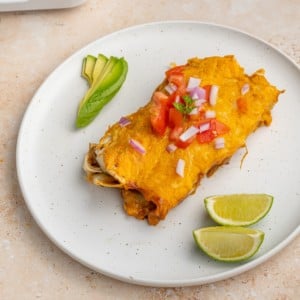 Tex-Mex Meatless Enchiladas with Homemade Sauce
PRINT
PIN
RATE
These Meatless Enchiladas with Homemade Sauce are the absolute ultimate in complex Mexican flavor. Get creative and switch up the fillings to suit your own taste—this sauce goes well with everything!
Ingredients
Homemade Enchilada Sauce
2

tablespoon

olive oil

2

tablespoons

all-purpose flour

2

cups

vegetable broth

1

tablespoon

chili powder

½

teaspoon

garlic powder

½

teaspoon

onion powder

½

teaspoon

cumin

¼

teaspoon

oregano

2

red chili peppers

(or cayenne pepper to taste)
Meatless Enchiladas
1

tablespoon

olive oil

1

large

yellow onion

(sliced)

8

ounces

baby bello mushrooms

(sliced)

1

tablespoon

taco seasoning

1

tablespoon

water

6

large

flour tortillas

(or 8 medium)

4

ounces

colby jack cheese

(shredded)

4

ounces

sharp cheddar cheese

(shredded)
Options for Enchilada Toppings (pick your favorites!)
1

avocado

(sliced)

½

tomato

(diced)

1

handful

fresh cilantro

(chopped)

1

scallion

(diced)

2

tablespoons

sour cream
Instructions
Homemade Enchilada Sauce
Form a roux by whisking together olive oil and flour over low heat, making sure to smooth out any lumps.

Add vegetable broth and simmer and whisk, until smooth.

Add seasonings and diced chili peppers, cover, and simmer on low for about 20 minutes, until your sauce starts to thicken.

If you are using fresh red chilis, use immersion blender, blender, or food processor to blend the diced chilis into the sauce, so it's completely smooth.
Meatless Enchiladas
Cook onions and mushrooms in olive oil over medium heat until onion is transparent and juices release from the mushrooms.

Add taco seasoning and water and stir over medium heat until the water is absorbed and the veggies are coated in seasoning.

Make yourself an assembly line with the cooked mushrooms and onions, flour tortillas, cheese and baking dish. Add about 2 tablespoons of enchilada sauce to the bottom of the baking dish and use a spoon to spread the sauce across the bottom to form a thin layer.

Add about 2 tablespoons of your cooked mushrooms and onions and a handful of Colby Jack cheese to a tortilla, roll it up and place it in a glass baking dish. Repeat this step until your baking dish is full.

Pour about 1 cup of your enchilada sauce over your assembled flour tortillas in your baking dish until evenly coated.

Add any remaining Colby Jack and the sharp cheddar cheese on top in an even layer.

Bake for 30 minutes. Allow to cool for about ten minutes before adding fresh toppings of choice. Enjoy!
Pro Tips
Using fresh red chili peppers is a great way to add heat and depth of flavor.
You can add other veggies, meat, tofu, or fish inside your enchiladas—get creative!
You can buy pre-made enchilada sauce to replace the homemade sauce for a quick and easy shortcut. 
Find more delicious meat-free recipes in this collection of my best meatless meals!
Did you make this recipe?
Let me know by leaving a recipe rating below, or by tagging @marleysmenu on Instagram.