Looking to level up your salad with a quick and easy dressing that brings the "wow" factor? With just 4 ingredients, this vibrant Homemade Raspberry Vinaigrette will bring bold flavor and fun color to your salads.
Using minimal yet high-impact ingredients, this simple homemade vinaigrette relies on the distinct tang of fresh raspberries balanced out by floral and naturally sweet honey to make for a delicious dressing. Plus, it has a luxuriously creamy texture and comes together in a matter of minutes.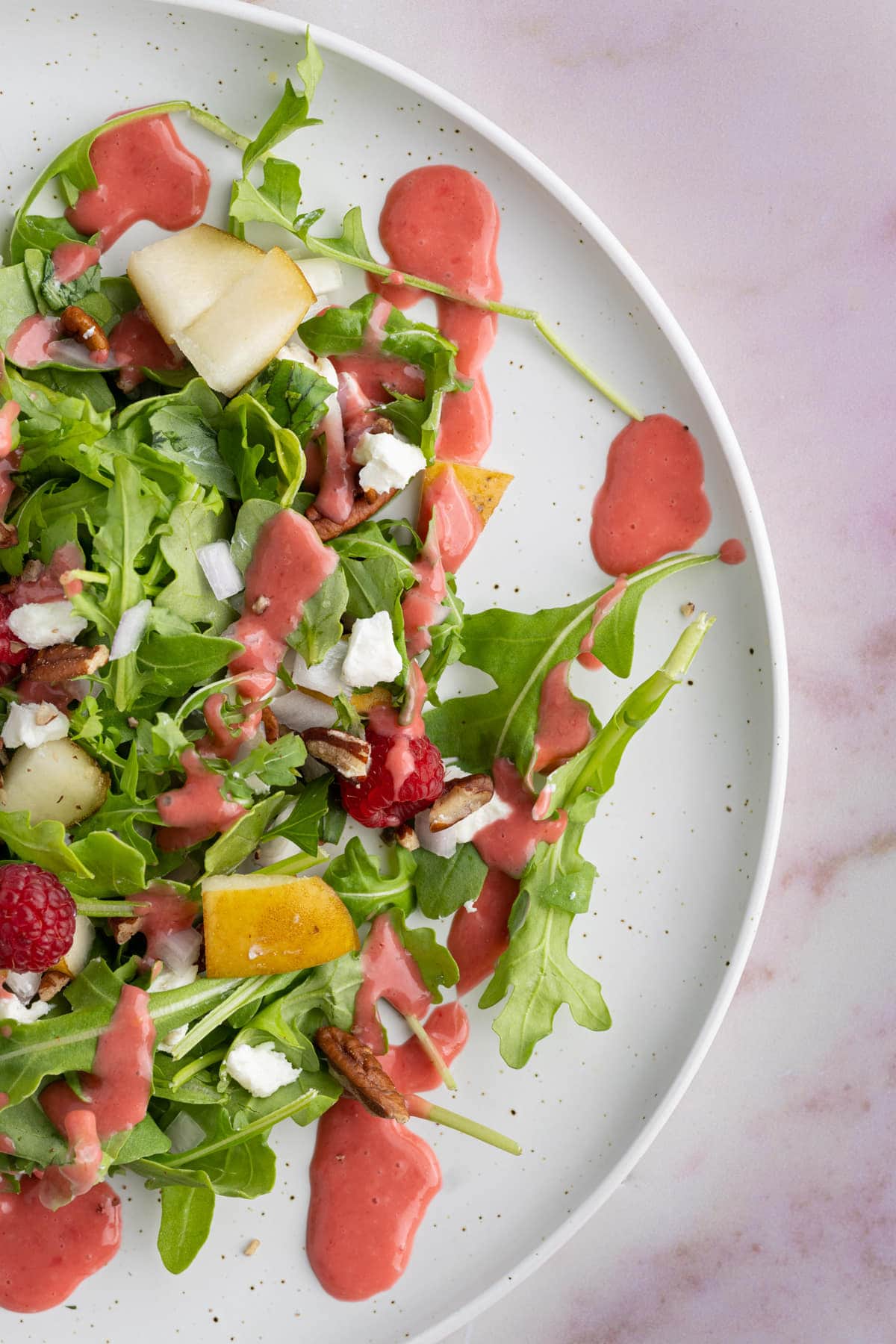 As a foodie and environmental scientist, making my own sauces and vinaigrettes is one of my favorite things to do to elevate my meals!
Making your own sauces, syrups, and dressings is a great way to avoid extra plastic packaging that eventually ends up in landfills or makes its way into the environment and becomes microplastics.
Raspberry Vinaigrette Ingredients
---
Just 4 simple ingredients! Here's everything you need:
Raspberries. Fresh (preferred) or frozen (thawed).
Olive oil. I love using a bold flavored olive oil to bring more flavor, but any extra-virgin olive oil will do.
Honey. Or maple syrup to balance out the tart raspberries.
Sherry Vinegar. Or white wine vinegar. To add acid and bring complex flavor.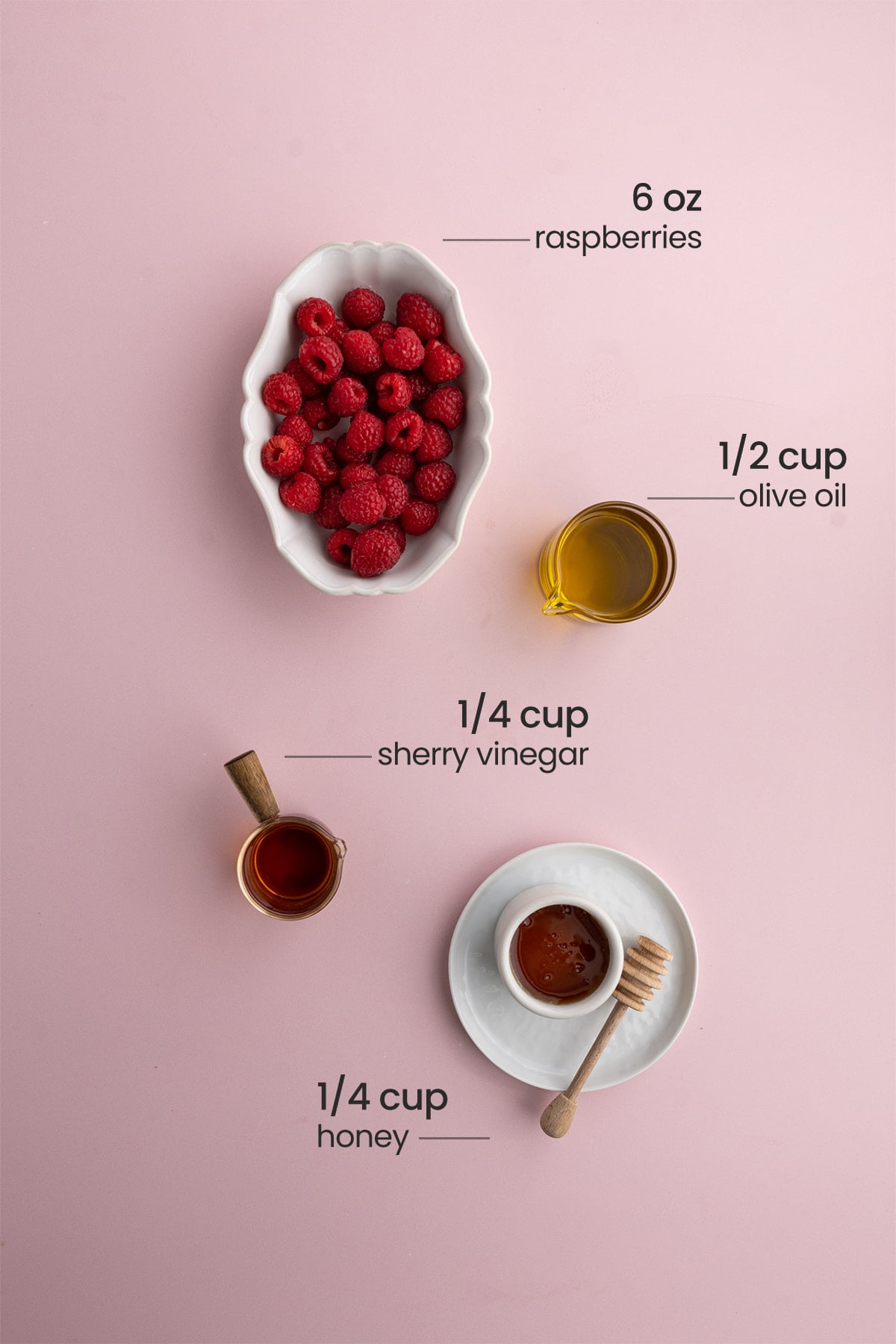 Raspberry Vinaigrette Tips and Tricks
---
Fresh or Frozen Raspberries for Vinaigrette
This recipe works with either fresh or frozen raspberries. However, using frozen raspberries will add a little extra water content to your vinaigrette, and will slightly alter the texture.
I do prefer fresh raspberries that have been rinsed and pat dry for the best homemade vinaigrette. If you are using frozen, it's best to allow them to thaw first and remove excess liquid.
Green tip: Eating seasonally is one of the best (and most delicious) ways to support local and decrease your carbon footprint. Check when raspberries are in season in your area with this Seasonal Food Guide.
Once you've rinsed and dried your raspberries, add them directly to the food processor or high-powered blender to break them down and integrate them seamlessly into a smooth homemade vinaigrette.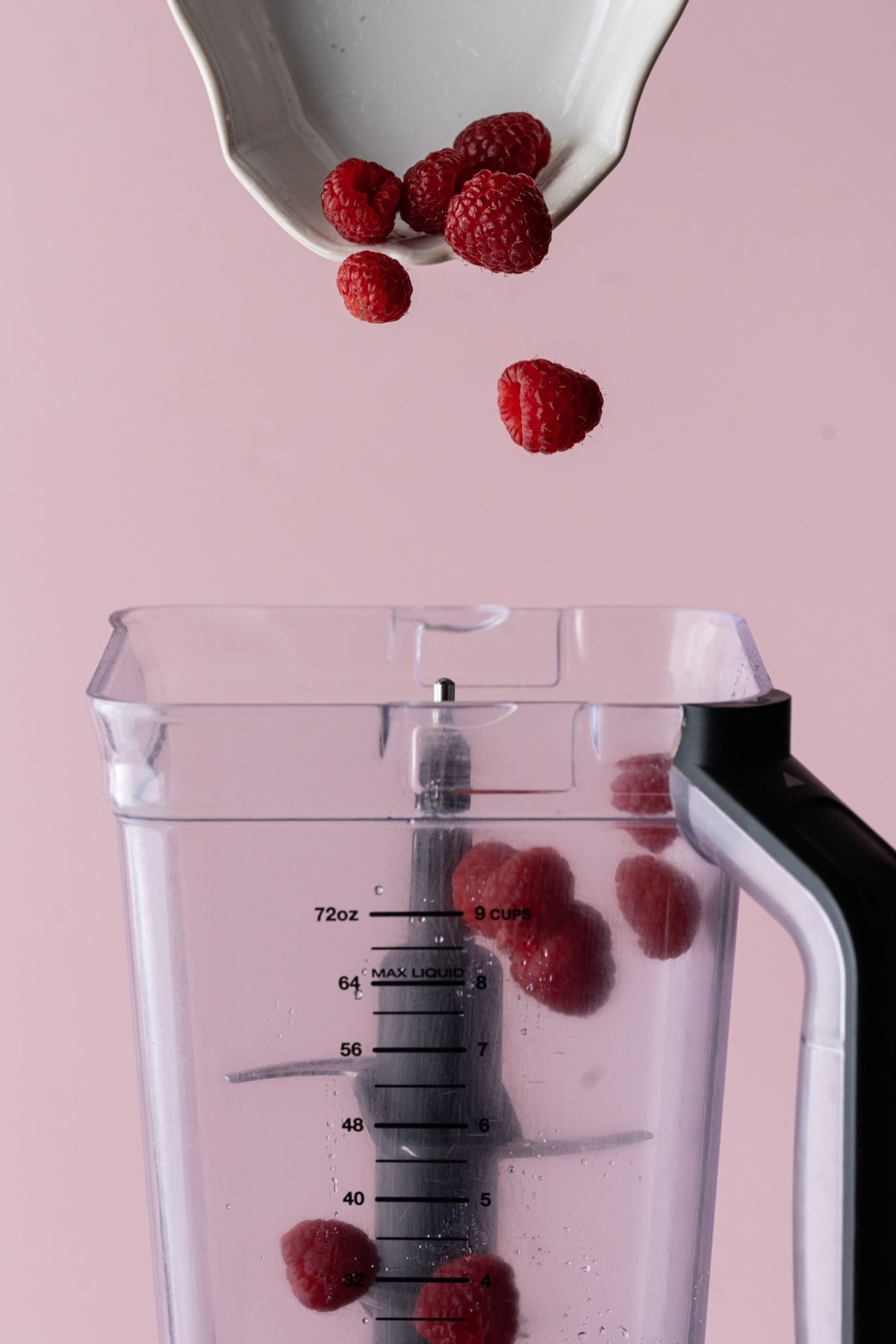 Use a Blender or Food Processor
You'll add the olive oil, honey, and vinegar into the food processor with the raspberries. Not only will this break down the raspberries, but it will emulsify the oil and vinegar.
Oil and vinegar are notoriously hard to combine, but, when they do, they make for an almost creamy texture. This is because when fat and water combine, they create an emulsion, just like they do in this homemade vinaigrette!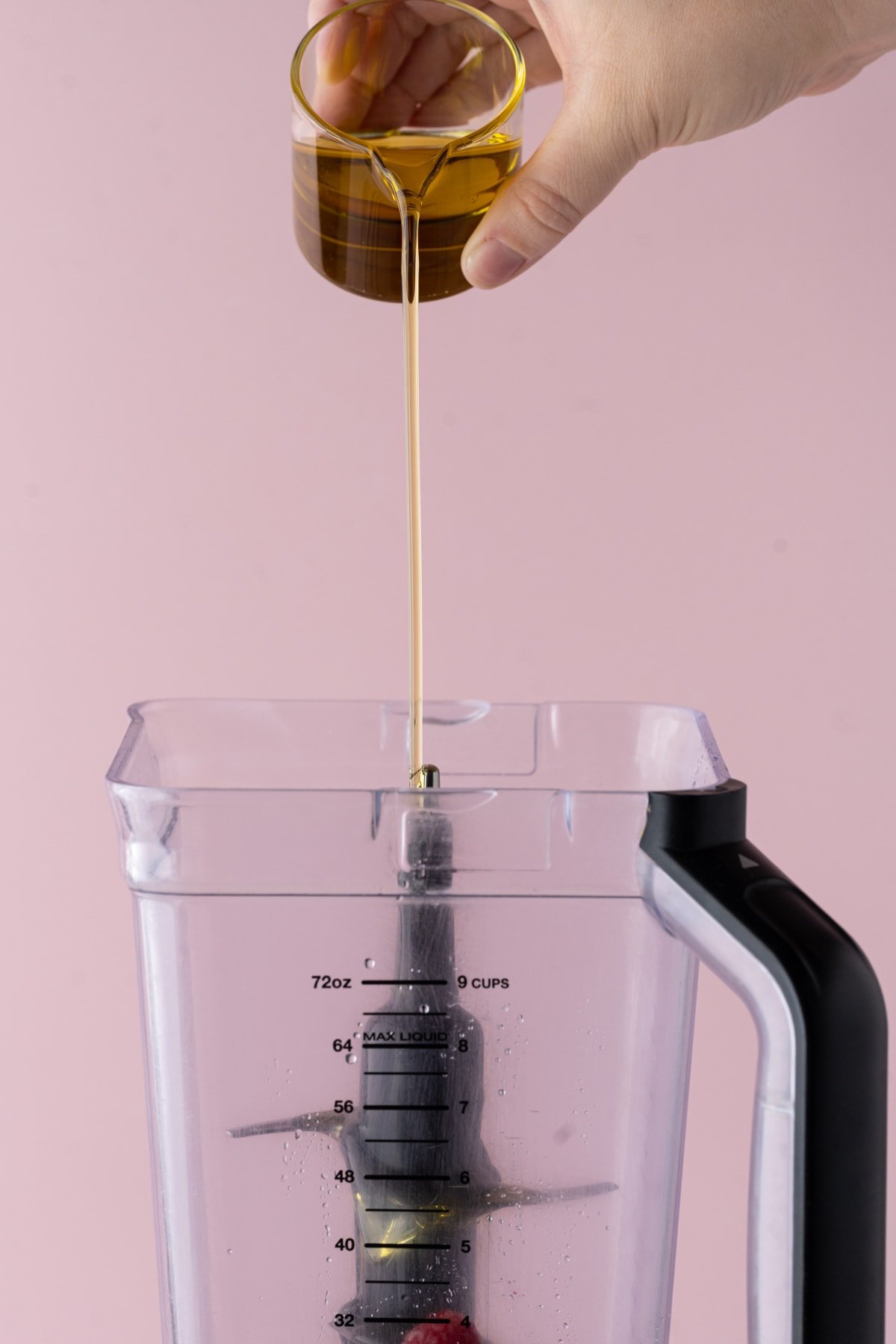 Serving Your Homemade Raspberry Vinaigrette
This sweet and tangy vinaigrette is truly versatile, and delicious on a variety of salads, fruit, and grain bowls. It adds tons of flavor and creamy texture to any meal.
Here are some of my favorite meals to serve this Raspberry Vinaigrette with:
Green tip: Organic farms rely on biodiversity to generate rich soil, avoiding the use of pesticides and fertilizers, which means no toxic runoff. Consider organic ingredients for this recipe!
Always Dress Salad Right Before Serving
When serving this vinaigrette with salad, I highly recommend serving it on the side and allowing people to dress their own individual salads. This is because some people may like more dressing than others.
Additionally, and arguably even more important, the longer the salad sits with the vinaigrette on it, the more likely it is to get soggy.
Plus, leftover salad without the homemade vinaigrette will last much longer in the fridge than any salad that is already dressed.
If you do wish to dress a whole salad, you will likely still have leftovers. This recipe yields enough vinaigrette to serve 8-10 people. If you want to make a smaller batch, you can easily half this recipe.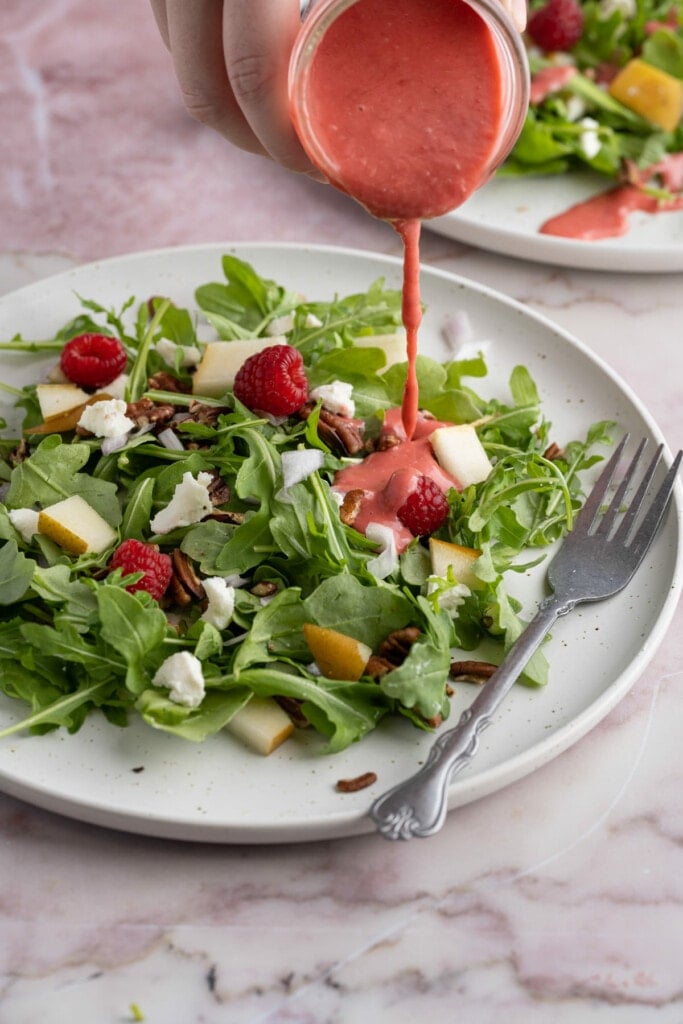 Storing Homemade Raspberry Vinaigrette
Leftover Raspberry Vinaigrette will last in the refrigerator in a sealed airtight container for up to 7 days. I like to store it in a glass jar with a fitted lid.
Unfortunately, just like with any other emulsified condiments, this vinaigrette does not freeze well. It's best to keep it in the fridge and use it up within a week.
Raspberry Vinaigrette Frequently Asked Questions
---
What is raspberry vinaigrette made of?
Raspberry vinaigrette starts with a base of fresh (or frozen) raspberries, olive oil, and vinegar. From there, raspberry vinaigrette will contain other flavor enhancers like herbs, shallots, or other additives.
In this simple 4 ingredient vinaigrette, we keep it minimal and rely on the bold flavor of the raspberries to make a delicious homemade dressing. The raspberries and vinegar bring a distinct tang and the honey balances that out with a hit of floral sweetness.
Want to sharpen your kitchen skills?
Why You Should Make this 4-Ingredient Raspberry Vinaigrette
---
It's vibrant! In both color and flavor.
It's simple. Just 4 bold ingredients bring this to life.
It's fresh. Adding fresh fruit to your vinaigrette brings a natural freshness that can't be beat.
If you're loving this Raspberry Vinaigrette and want more recipes like it, check out this Pesto Vinaigrette and Chipotle Vinaigrette.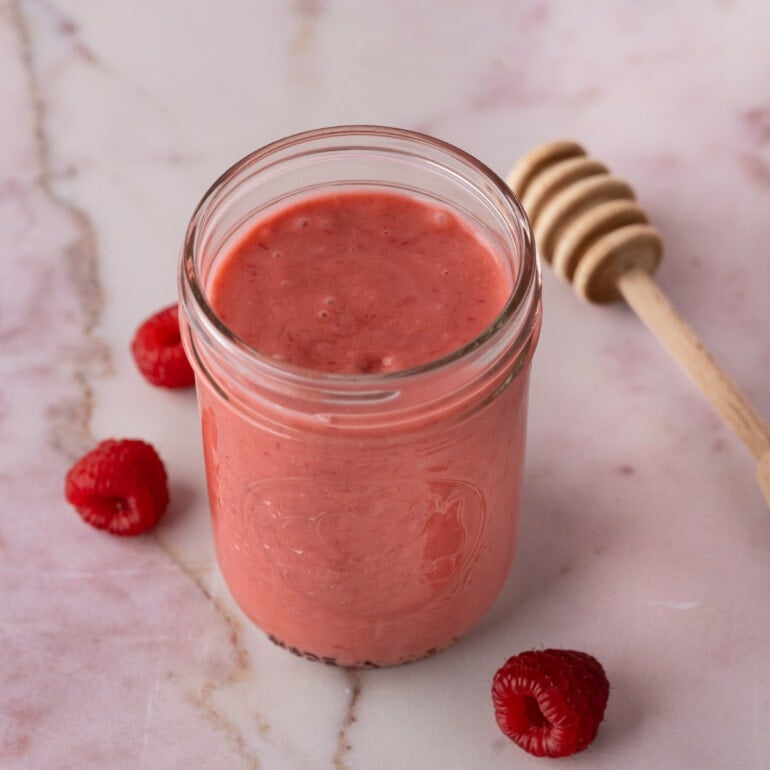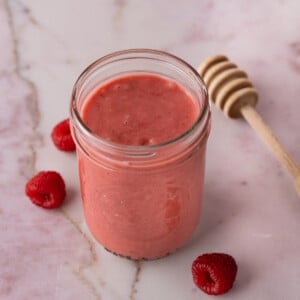 4-Ingredient Homemade Raspberry Vinaigrette
PRINT
PIN
RATE
This simple 4-ingredient Vibrant Raspberry Vinaigrette will add a tangy and sweet freshness to elevate any salad.
Ingredients
6

ounces

raspberries

(6 oz = approx. 1 cup)

½

cup

olive oil

¼

cup

honey

(or maple syrup)

¼

cup

sherry vinegar

(or white wine vinegar)
Instructions
Rinse raspberries and lightly pat dry with a clean kitchen towel or paper towels (try these bamboo paper towels for a more sustainable option!) to soak up the water.

Add the raspberries, olive oil, honey, and vinegar to a blender or food processor and blend on high until smooth and frothy.

Store in a glass container in the refrigerator for up to 1 week until ready to serve!
Pro Tips
You can use either fresh or frozen raspberries in this recipe. If you're using frozen, it's best to thaw them first!
Fore more like this, check out this Maple Dijon Vinaigrette.
Did you make this recipe?
Let me know by leaving a recipe rating below, or by tagging @marleysmenu on Instagram.