THIS RICE. The rice that you can taste well before forking it into your mouth because it's so fragrant.
The rice you can serve with any main course because it's buttery, fluffy texture is the perfect sidekick.
The rice that I ate for literally every meal while I was pregnant because nothing tops it.
This is Aromatic Yellow Saffron Rice. The rice that earned it's beloved nickname "THE rice" after week 3 of having it every.single.day.
And I'm so glad you're going to try it!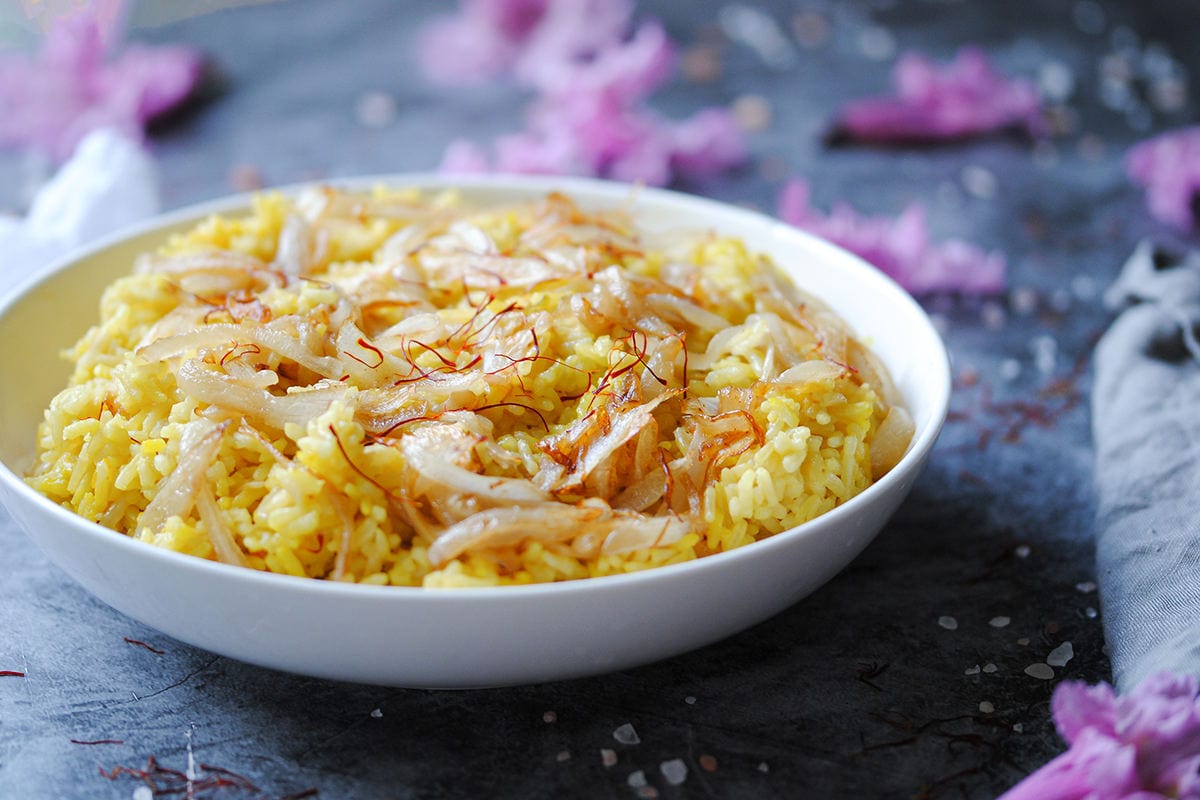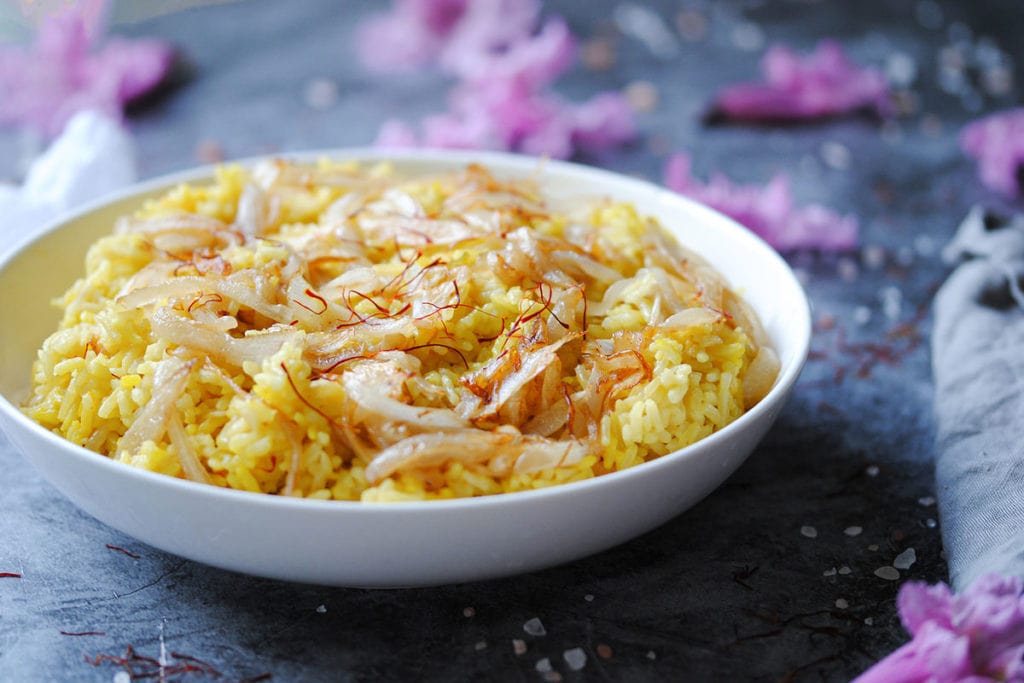 I didn't have many cravings or aversions while I was pregnant (luckily), but for some reason, in my last trimester, I was OBSESSED with saffron rice. I could have eaten it for every meal if my husband didn't insist on me ingesting some vegetables for the baby's sake.
So it goes without saying, I got A LOT of practice cooking it.
I started with this easy recipe, of course substituting vegetable broth for chicken broth, but after making it 9,087 times, I started to pair down to see what ingredients made the most impact. My goal was to get it down to 5 ingredients, so I could throw it together quickly and get off my pregnant, swollen feet.
Yellow Saffron Rice Tips and Tricks
---
---
Get Your Money's Worth
Saffron is an expensive little thing (good for you Saffron, you know your worth, girl), but the good news is; it goes a long way! Especially if you grind it into a fine dust. I use my trusty mortar and pestle (affiliate link) to break down my Saffron. It releases those floral aromatics and lets it distill into your broth more easily.
If you don't have a spice grinder or mortar and pestle, just use a knife to cut or your fingers to break the saffron into smaller pieces.
Keep Your Onions Seperate
As much as I hate to make you use more than one pot, caramelizing the onions separately allows them to get beautifully browned and add some texture to your dish. Boiled onions are a whole different taste and texture.
Add Your Butter Last
To really get that buttery falvor and tecture, add it to your saffron rice once it's fully cooked. It should be the last thing you do before plating it.
Garnish with Just a Little More
Once you plate your rice with the caramelized onions on top, add just one more tiny pinch of saffron. It'll make that "aromatic" I promised you earlier come to life. It really drives home that beautiful floral flavor!
Why You Should Make This Saffron Rice
The color. Look at that gorgeous yellow!
The smell. I can taste it before I even bite into it!
The texture. Perfectly cooked rice with a buttery finish is delicious enough, but throw on those caramelized onions and your taste buds will do a happy dance!
It goes with everything! You" be hard-pressed to find a main that this does not accompany well.
This yellow saffron rice is such a great accompaniment to any dish. Try it with this Roasted Garlic Salmon and Lemon Asparagus for a delicious, healthful meal!