Craving your Starbucks favorite but want to save on time and money? This Iced White Chocolate Mocha is simple, refreshing, and absolutely decadent!
With real white chocolate chips and milk instead of any specialty syrups, this recipe is affordable, approachable, and may just be your new before-work go-to or special weekend morning treat!
Iced White Chocolate Mocha Tips and Tricks
---
---
Gather Your Ingredients First
My favorite thing about this recipe is that it uses real white chocolate chips, so you don't have to hunt down a specialty syrup.
I make my Iced White Chocolate Mocha with just 3 simple ingredients because I like it a tad less sweet, but to truly get the taste of a Starbucks Iced White Chocolate Mocha, you will have to add a little extra sugar or simple syrup.
Here's everything you'll need:
Start With Your Espresso
If you have an espresso machine, then this part is easy. Prepare it as usual and set it aside to cool.
If you don't have an espresso machine, you can use instant espresso, which simply dissolves in boiling water.
If neither of those options is available to you, here are some hacks to making espresso-like coffee with your normal brewing method.
Green tip: Look for sustainably sourced coffee and espresso by identifying Fair Trade, UTZ, or Rainforest Alliance Certifications on your beans or grounds.
Make Your White Chocolate Milk
Though Starbucks uses a specialty syrup to make their white chocolate mocha's, they're not always easy to find and can be expensive and loaded with unnecessary additives, preservatives, and excess sugar.
The last thing I want you to do is to buy a specialty syrup to curb your white chocolate mocha cravings only to stick it in the back of your fridge or pantry to go bad.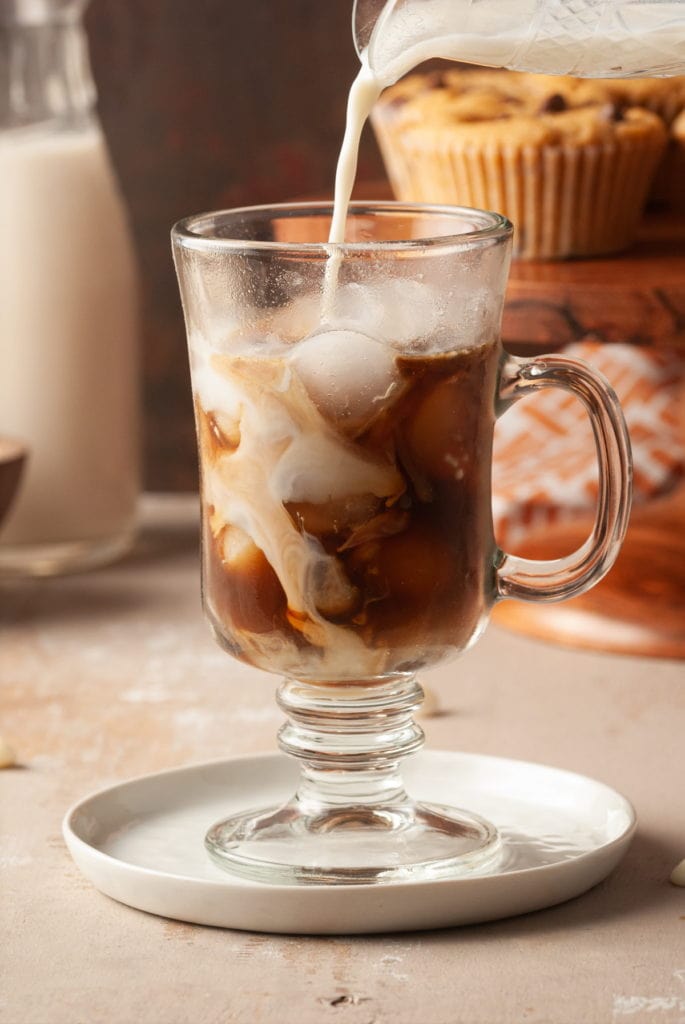 So instead, we are going to achieve that same Starbucks taste with simple, accessible ingredients. How, you ask? By whipping up white chocolate milk to add to your espresso.
Add the white chocolate chips and your milk of choice to a saucepan or small pot and continuously stir over medium heat until the chocolate chips are completely melted and integrated into the milk.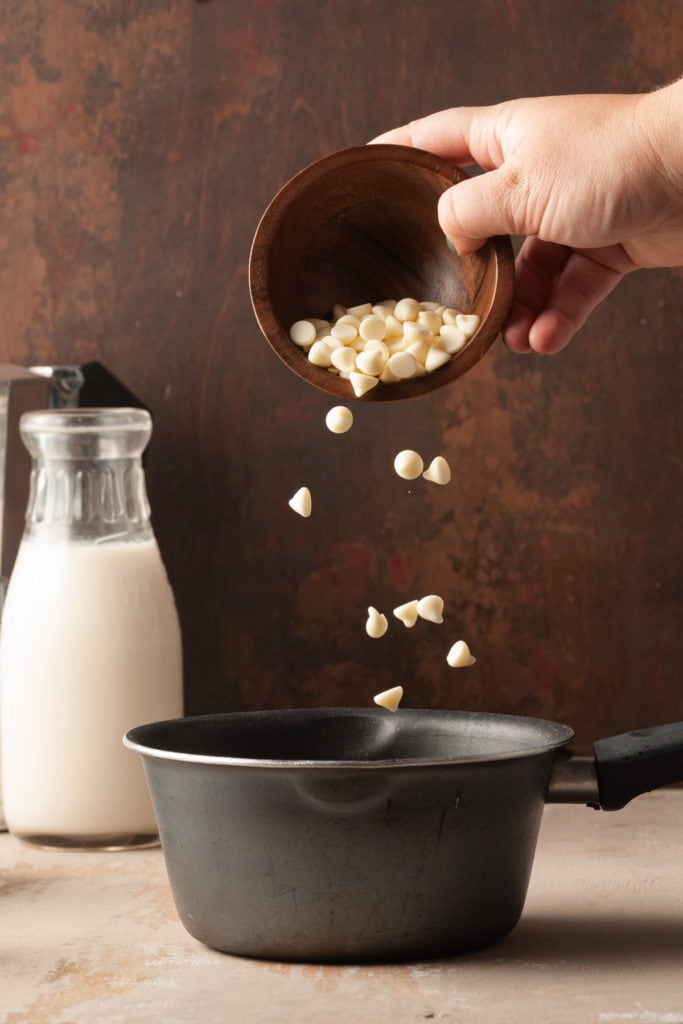 Patience Is Key
It's important to let both your espresso and white chocolate milk completely cool before pouring it over ice, to ensure your ice doesn't melt and water down your latte.
The safest way to bring the temperature of your ingredients down is to transfer them to a heat-safe glass and allow them to come to room temperature naturally.
Once both the espresso and white chocolate milk are at room temperature, you can stick them in the refrigerator to cool completely.
Stir It Up
Once you've poured your espresso and white chocolate milk over ice, simply stir it up to cool further and evenly distribute the complex flavors into one masterful Starbucks barista-worthy sip!
Green tip: Consider investing in reusable straws! They are easy to clean and will reduce your contribution to plastic waste that eventually ends up in landfills or makes its way into the environment and becomes microplastics. These stainless steel straws are my favorite!
You can use a straw to stir. Or if you're adding deluxe toppings and don't plan on using a straw, simply use a spoon!
Top It Off
For the ultimate treat, don't forget the toppings!
I highly recommend a generous amount of whipped cream, some chocolate syrup, and some white chocolate chips.
Make Your Iced White Chocolate Mocha Ahead of Time
If you are anticipating a Starbucks White Chocolate Mocha craving and want to save a trip (and some money), you can make your white chocolate mocha milk ahead of time!
Make your white chocolate milk the night before, store it in the refrigerator overnight, and mix it with fresh espresso and ice in the morning.
You can also opt to make a big batch of white chocolate milk to have for the workweek. To make 5 days' worth of white chocolate milk, use 1 & 1/4 cup white chocolate chips and 3 & 3/4 cup milk.
The white chocolate mocha milk will last up to 1 week in a sealed container in the refrigerator.
On the other hand, espresso is ALWAYS best fresh. I highly recommend making your espresso fresh in the morning and allowing it to cool before pouring it over ice.
If you're in a rush and this is not an option for you, prepare your espresso with 5 ounces of water instead of 6, and add 1 ice cube to it to chill it quickly.
How Strong Is This Starbucks Copycat?
This Iced White Chocolate Mocha is the equivalent of a grande at Starbucks. If you're used to a tall, half the recipe. A tall has 1 shot of espresso (or 3 ounces), a grande has 2 shots of espresso (or 6 ounces), and a Venti has 3 shots of espresso (or 9 ounces).
Espresso is up to 10 times stronger than coffee, so just bear that in mind if you are sensitive to caffeine and not used to drinking espresso.
Substituting coffee for espresso in this recipe is not recommended because the coffee taste will be completely overpowered by the white chocolate milk.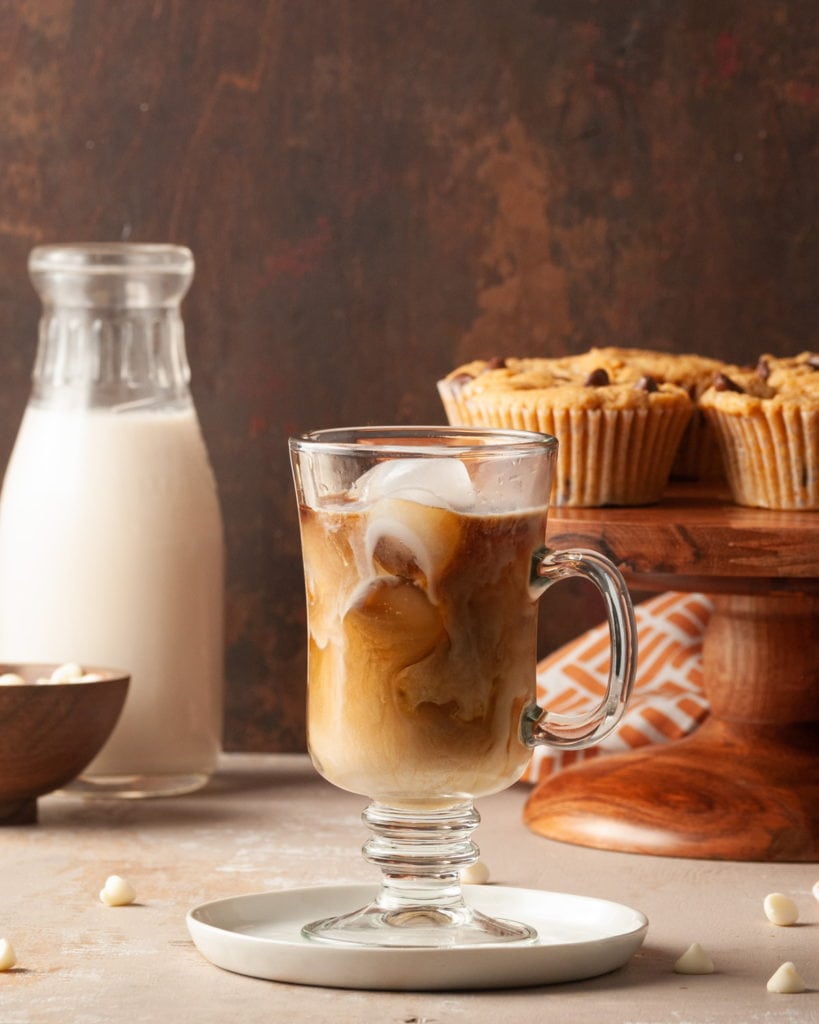 Why You Should Make This White Chocolate Mocha
---
---
It's simple. Only 3 ingredients!
No special syrups needed. Made with real white chocolate, so you don't have to buy a specialty syrup.
It's refreshing. Nothing like a latte over ice.
If you're loving this Iced White Chocolate Mocha and want more coffee recipes, check out How To Make A Coffee Milkshake 3 Ways.