If you've ever tried a chocolate chip cookie from Gideon's Bakehouse, you know the magic of biting into one. It's the perfect balance of sweet, salt, and chocolate. The just-baked soft interior is enveloped by a generous amount of high-quality chocolate, making each bite an experience.
As an Orlando local, Gideon's was my go-to pick-me-up, birthday treat, and favorite place to bring visitors. So when my family and I moved out of state, I knew I had to perfect a Gideons Bakehouse cookie recipe that could curb my craving for these outrageously delicious, one-of-a-kind cookies.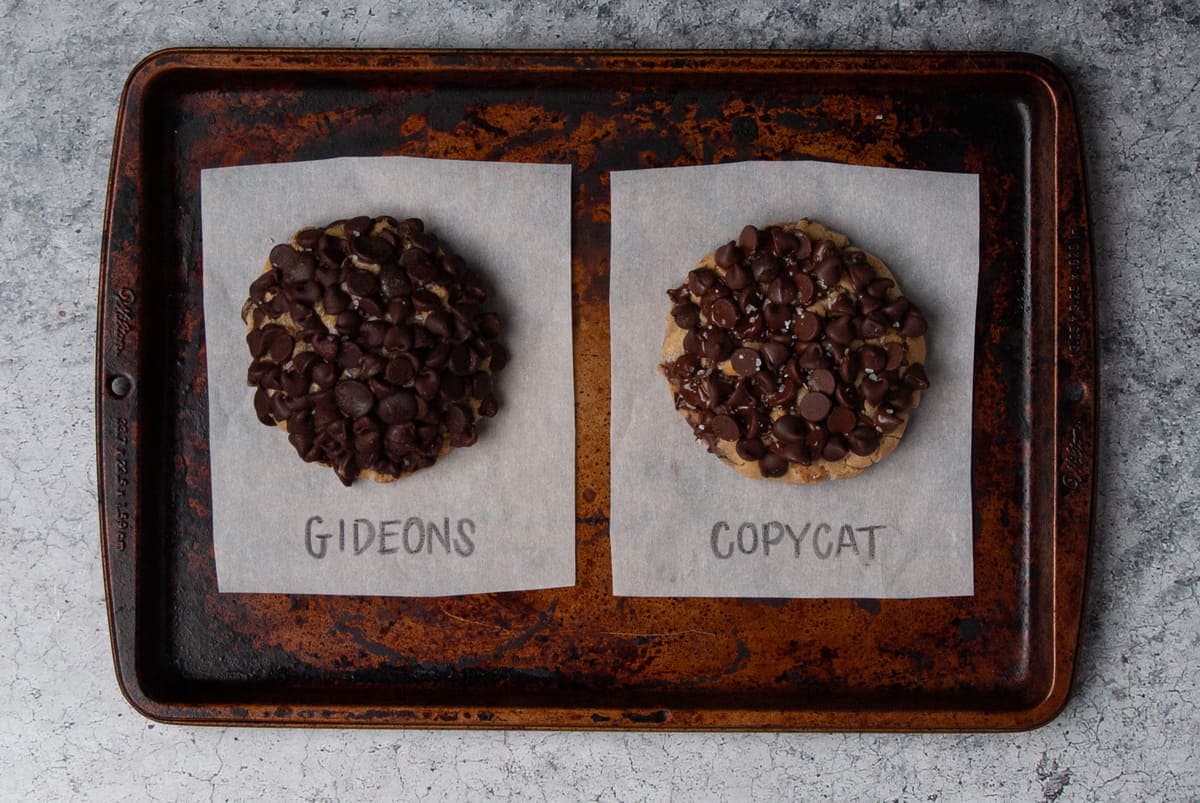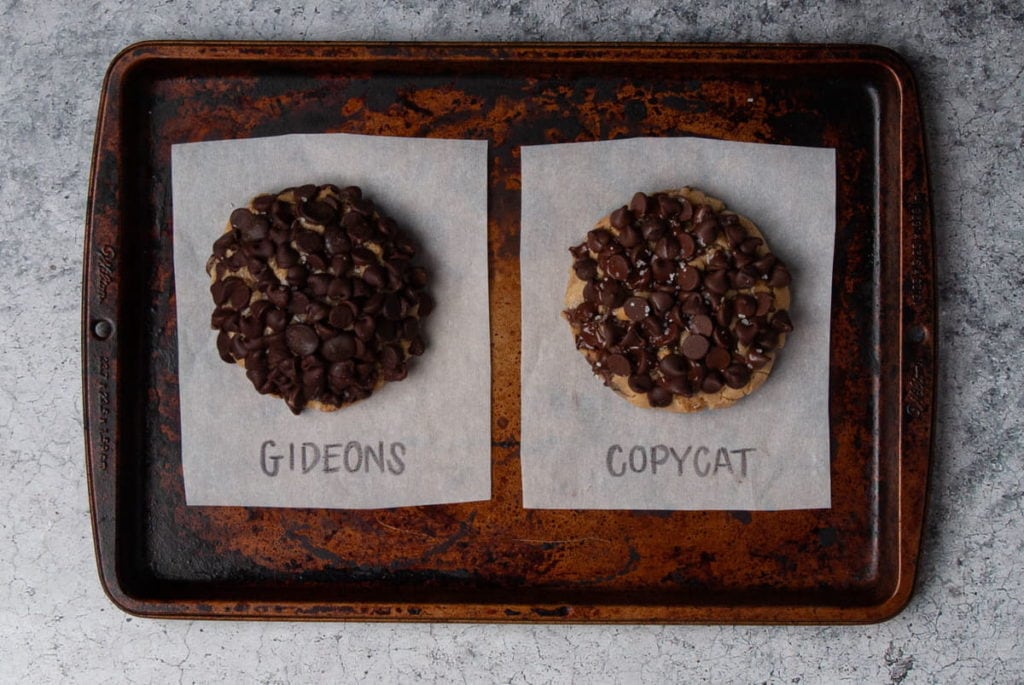 The Testing Process
Getting these right was in all honesty a two-year process.
I tried so many variations of chocolate chip cookie recipes and made some absolutely delicious batches along the way, but they always fell short when I taste-tested them next to the real deal.
All the testing even lead me to invent these Chocolate Chip Cookie Dough Cups for Ice Cream (trust me, you've got to try those, too!).
After rigorously testing and comparing them to Gideon's Bakehouse Original Chocolate Chip Cookies, it came down to two final recipes.
A blind taste test with my husband and some friends confirmed that this Gideon's Bakehouse Cookie recipe was, without a doubt, incredibly close to looking, smelling, and tasting like the real thing.
The secret, as it turns out, is adding a handful of chocolate chips to the already-baked cookies. Pressing them into the top of gooey, hot cookies is a messy, but-worth-it process.
Gideon's Bakehouse Cookie Recipe Tips and Tricks
---
---
Gather Your Ingredients
Make sure you have everything you need before getting started!
Most of the ingredients are already in most home bakers' pantries, but there are two special ingredients to make note of.
First, in order to get that Gideon's Bakehouse taste, you have to use high-quality dark chocolate chips.
Second, to get that soft, buttery, heaping cookie, we have to avoid too much spreading. That's where the vegetable shortening comes in. Subbing out some shortening for butter allows the cookies to keep their mountainous shape even while baking.
Make Sure Your Butter is Softened
The best way to set yourself up for success for these cookies is to make sure you start with softened butter.
The easiest way to make sure your butter is softened is to simply take it out of the refrigerator a couple of hours before baking and allow it to come to room temperature.
If you need your butter to soften up more quickly, you have a couple of options.
The first way is to simply place your stick of butter directly on top of your oven while it's pre-heating. Flip it over after a couple of minutes to allow all sides to get warm.
An even quicker way is to put your stick of butter in the microwave for 20 seconds.
Remember we are looking for softened, not melted! You'll know your butter is softened when you poke it and your finger leaves an imprint.
Green tip: Look for organic and palm oil-free butter if you can. Buying organic means you are supporting farms that do not use damaging pesticides and fertilizers, and palm oil production is a huge driver behind deforestation.
Cream the Butter, Sugar, and Shortening
Once your butter is softened, the first step is to cream it with the sugar and vegetable shortening. Creaming the butter and sugar actually aerates it, setting you up for a soft cookie.
Use a hand or stand mixer ( I used this Hand Mixer) to beat your butter, sugar, and shortening together for about 1 minute until combined. It may look a little clumpy, but that's okay.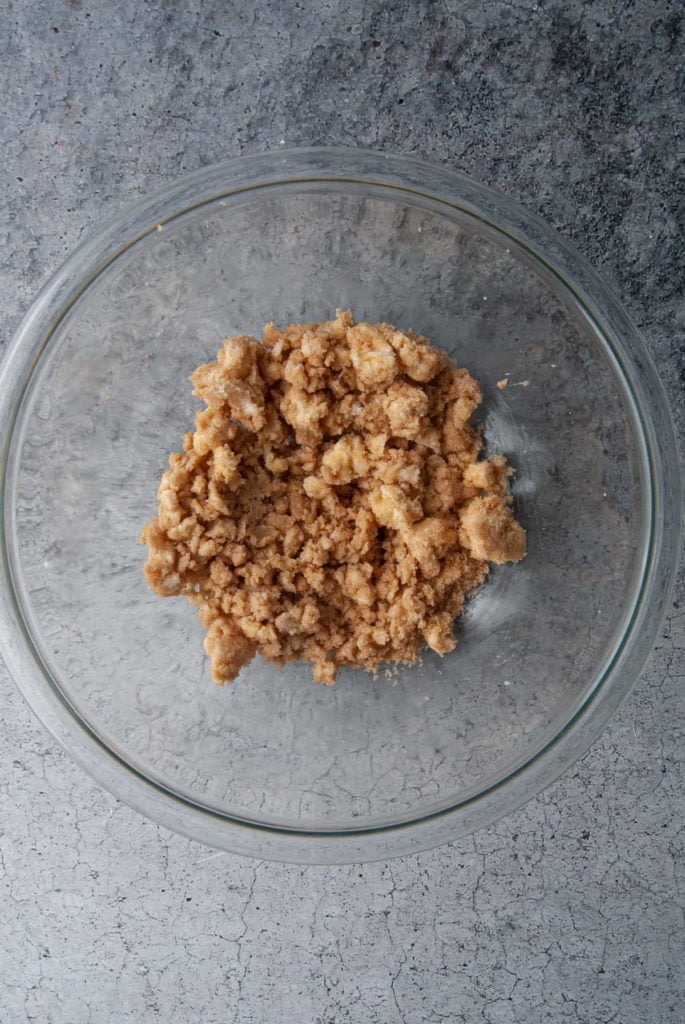 Your Dough Should Be Thick
Once you've creamed your butter and sugar, beat in your egg and vanilla extract until combined.
Then, you can add your dry ingredients and mix again.
Before adding your chocolate chips, you should be left with a thick, almost stodgy dough.
Conserve Some Chocolate Chips
Once your dough is mixed, add 1 cup of chocolate chips to the dough and use a spatula to mix. Conserve the additional 1/2 cup of chocolate chips to add to the cookies once they are baked.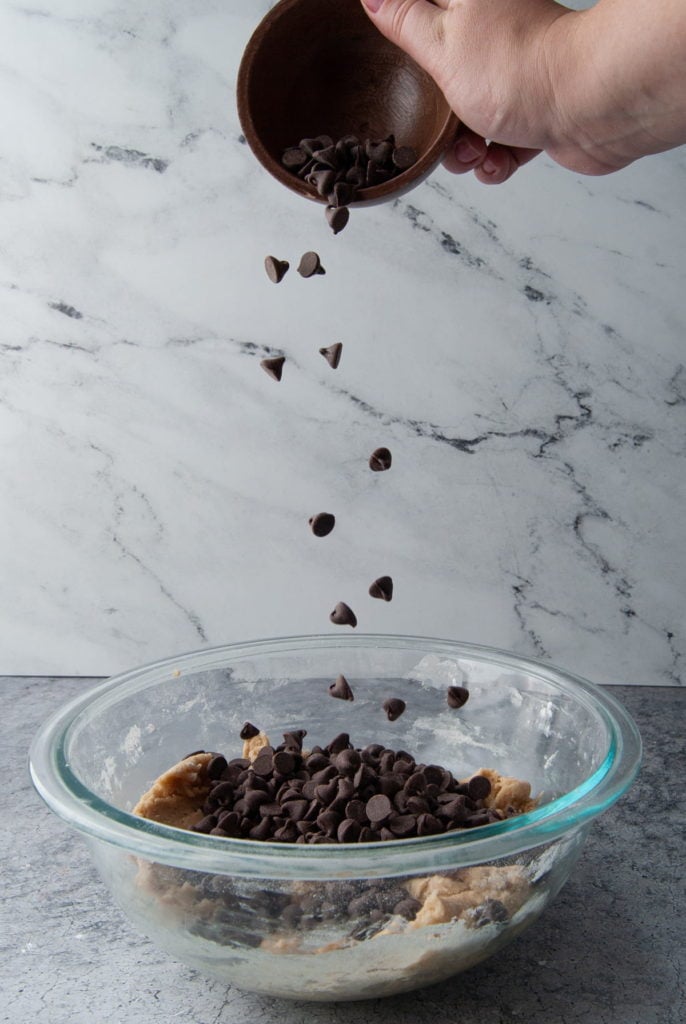 Shaping Your Dough
This recipe will make enough dough to make 6 large cookies.
The easiest way to shape them is to use clean hands to grab a big fistful. Roll it in between your two hands until it a round sphere.
Then, use your hands to push the dough together a bit so that the cookies are a little bit taller than they are wide.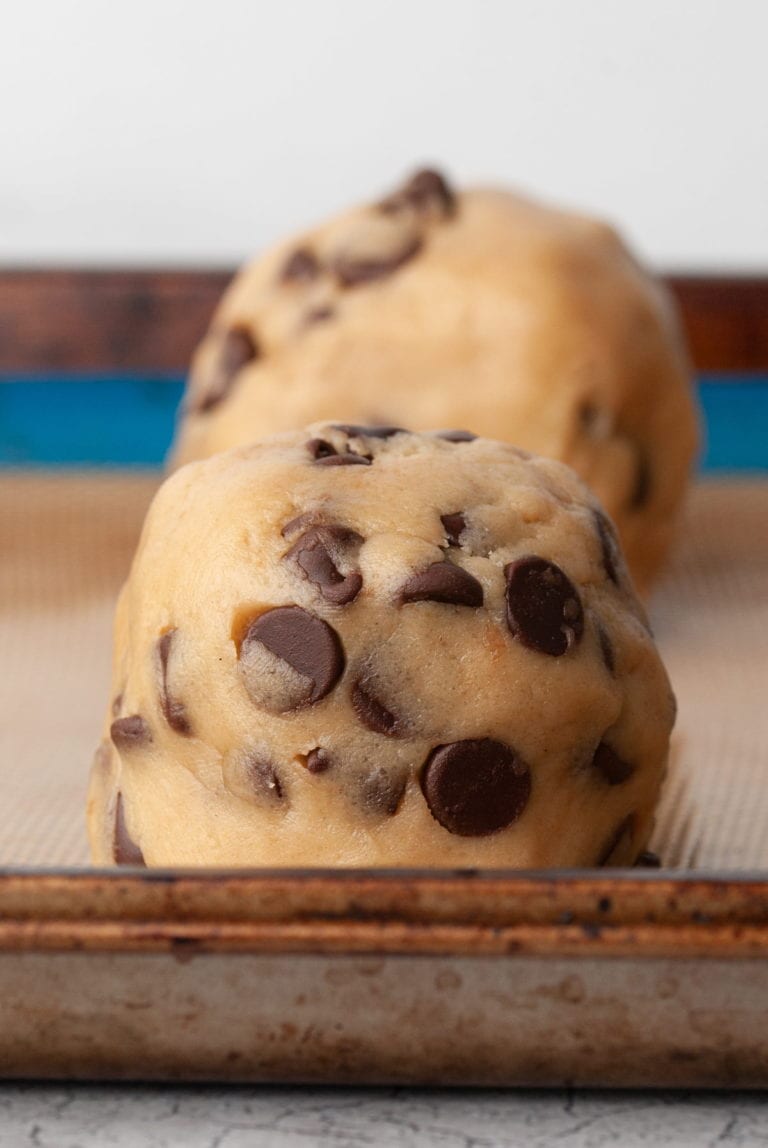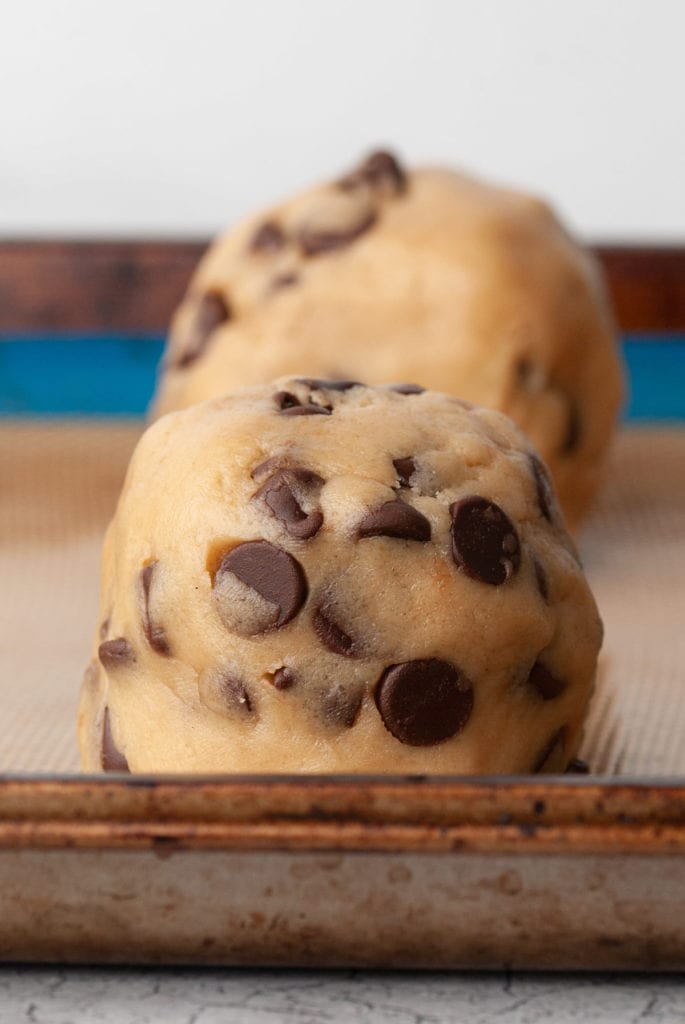 Don't Skip the Chilling Process
I know, I know. You just want to dive into these bad boys. But chilling the dough before baking the cookies is absolutely necessary in order to the perfect amount of spread.
Once you shape your cookies, place them on a lined baking sheet and place them in the refrigerator.
Green tip: To avoid extra waste, try these reusable baking mats! They are great for nonstick and super easy to clean.
The cookies should be chilled for at least an hour. If you chill them for longer, that works, too! You can even make them ahead of time and chill them overnight before baking them.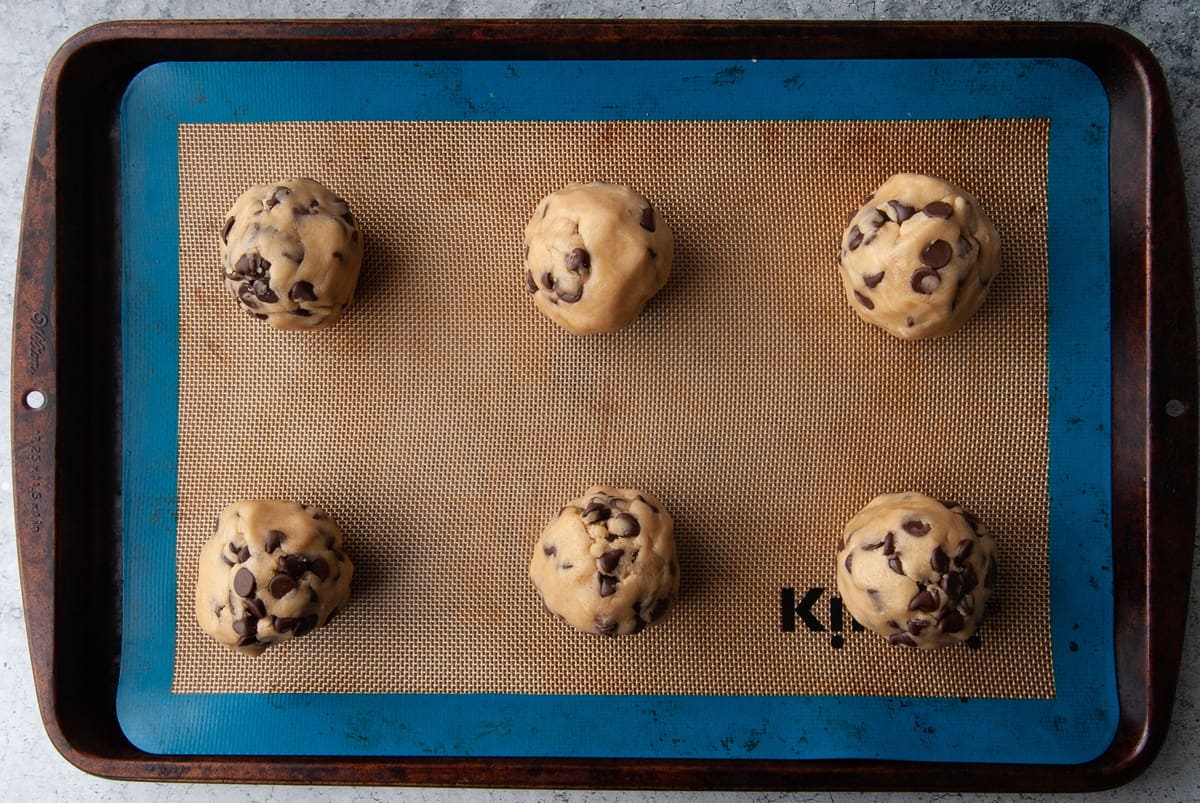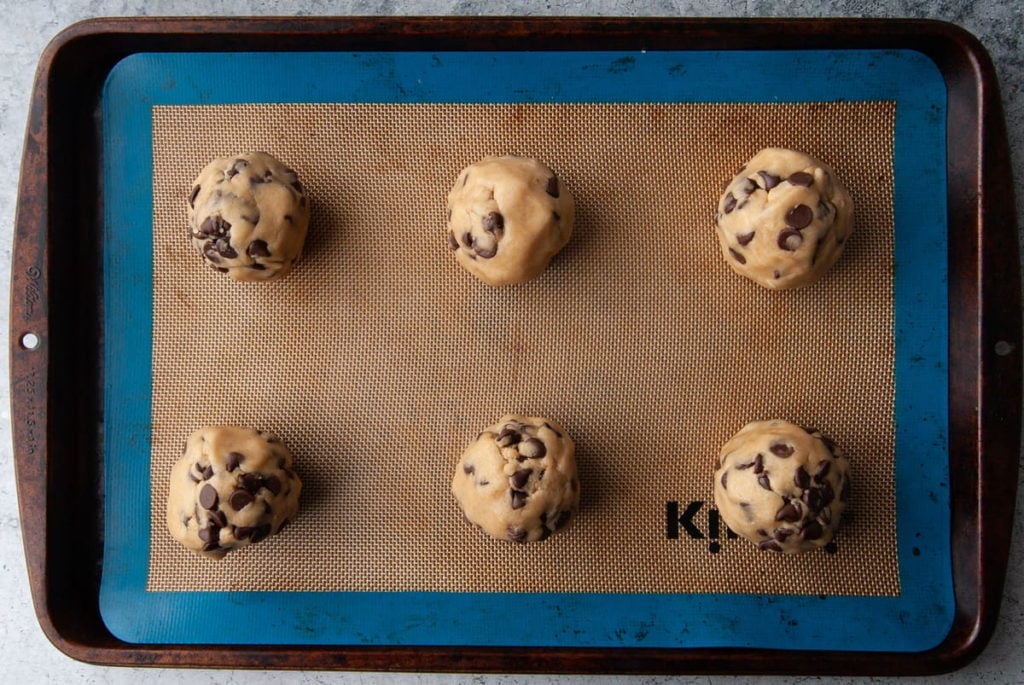 They Should Be Slightly Underdone
Bake your cookies at 325°F on the top rack for 12-14 minutes. They should be slightly underdone.
After removing your cookies from the oven, grab a handful of chocolate chips and push them right into the cookie. This will cause your cookie to flatten a little bit, but you should be left with an outer shell of chocolate chips.
It's a little bit messy and melty, but absolutely worth it!
Sprinkle your cookies with some extra sea salt and voila! Gideons Bakehouse cookies at home!
Storing Your Gideon's Bakehouse Cookies
At room temperature, these outrageous chocolate chip cookies will last 5-7 days. In the refrigerator, they can last up to three weeks. Keep them covered to make sure they stay fresh.
You can freeze them once they're baked for up to a year and allow them to thaw before enjoying.
You can also freeze the dough for up to a year. Just make sure to transfer the dough to the refrigerator at least 12 hours before you want to bake them or add an extra minute or two to your baking time if you are baking them right out of the freezer.
Why You Should Make These Gideon's Bakehouse Cookies
---
---
They're just like the real thing! Blind taste tested next to the real deal!
There's a reason they're voted the best cookie. These cookies are ALL OVER "best of" lists, and for good reason.
The balance of flavors. Copious amounts of chocolate balanced by the perfect cookie base and just the right amount of sea salt.
If you're loving this Gideon's Bakehouse Cookie Recipe and want more chocolate chip deliciousness, check out these Chocolate Chip Muffins and Chocolate Chip Cookie Cake!