Looking for a fresh new take on a fruity pie? This Peach Mango Pie has all the warmth and buttery goodness of an apple pie, but with more tropical flavors!
With just a dash of cinnamon and sugar to amp up the natural flavors of the fruit, the only thing that makes this pie filing better is the beautifully flaky crust that encapsulates it like a warm hug.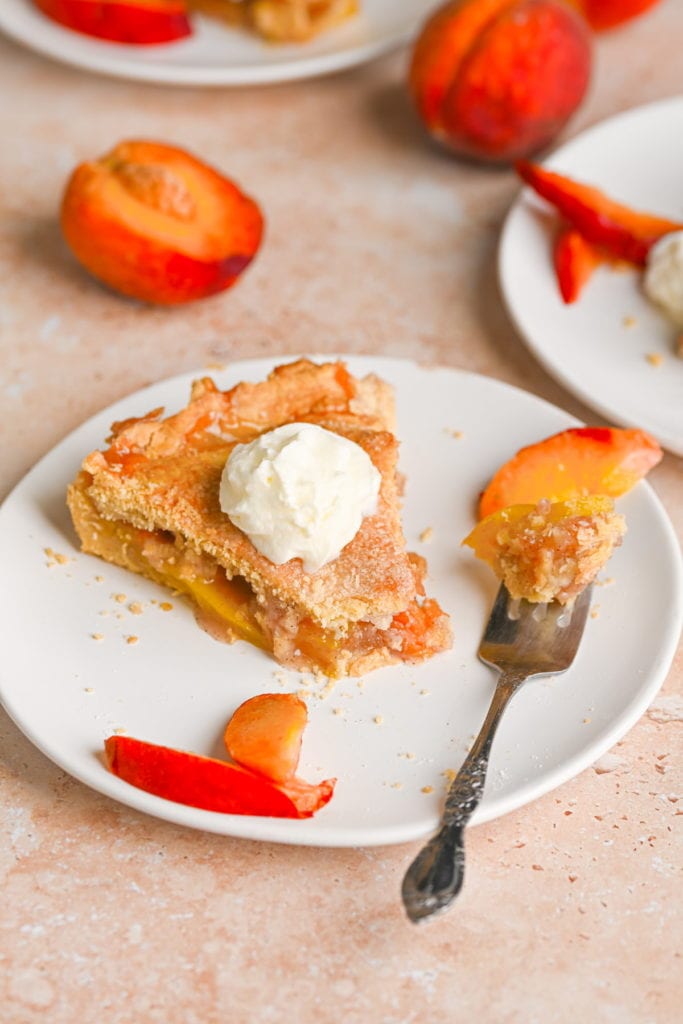 Although I love a traditional pie as much as the next gal, switching it up now and then is a fun way to test new flavors, and lean into peach and mango season. As an environmental scientist, eating seasonally is something I try hard to practice.
Peaches are such a great addition to any dessert like in these Peach Cobbler Egg Rolls or this Peach Cobbler, and even to cocktails like in this Peach Margarita!
Green tip: Eating seasonally is one of the best ways to live more sustainably, Local foods have less associated transportation costs and fuel emissions. Check when peaches and mangoes are in season in your area with this Seasonal Food Guide.
Peach Mango Pie Ingredients
Here's everything you'll need for the filling:
Mangoes. For added sweetness and tropical flare.
Peaches. they add a little extra tartness to your filling!
Sugar. What's a pie without it?
Cinnamon. For a little bit of warmth and spice.
All-purpose Flour. To help solidify your filling to avoid a soggy crust.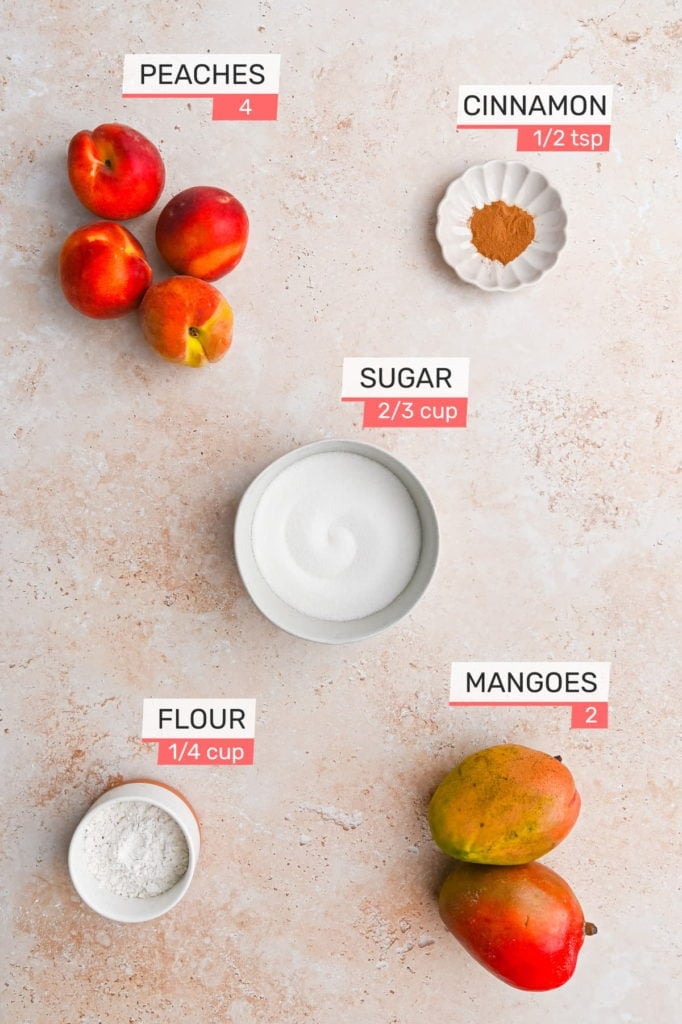 For the crust, you can buy a pre-made crust, use your favorite pie crust recipe, or make this All-Butter Blender Crust.
Peach Mango Pie Tips and Tricks
Start With Your Crust
This pie tastes best with both a bottom and top crust. If you decide to make your crust from scratch, you'll find that your top crust is easiest to work with after it's had the opportunity to rest for a couple of hours, so you'll want to whip up your pie crust first.
You also have the option to buy a pre-made pie crust or pre-made pie crust dough for this delicious pie recipe!
If using either homemade or store-bought dough, make sure you push half of it into your pie dish, using your pointer finger and thumb to pinch the dough up the sides of the pie dish.
Green tip: Look for organic and palm oil-free butter if you can. Buying organic means you are supporting farms that do not use damaging pesticides and fertilizers, and palm oil production is a huge driver behind deforestation.
Mix Up Your Filling
Start by prepping your peaches and mangoes.
Peel your mangos and chop the fruit into long, thin pieces, about 1-inch by 2-inches. Add them to a large mixing bowl.
I love to keep the skin on my peaches. Rinse your peaches and slice them around the pit into 8 roughly even pieces, adding each slice to the mixing bowl with the mangoes.
Green tip: 50% of food waste happens at home. Keeping the skin on your peaches adds color and texture, and bakes beautifully! Always avoid waste when you can.
Then, add the sugar, cinnamon, and flour into the bowl with your sliced peaches and mangos, and toss to coat the fruit.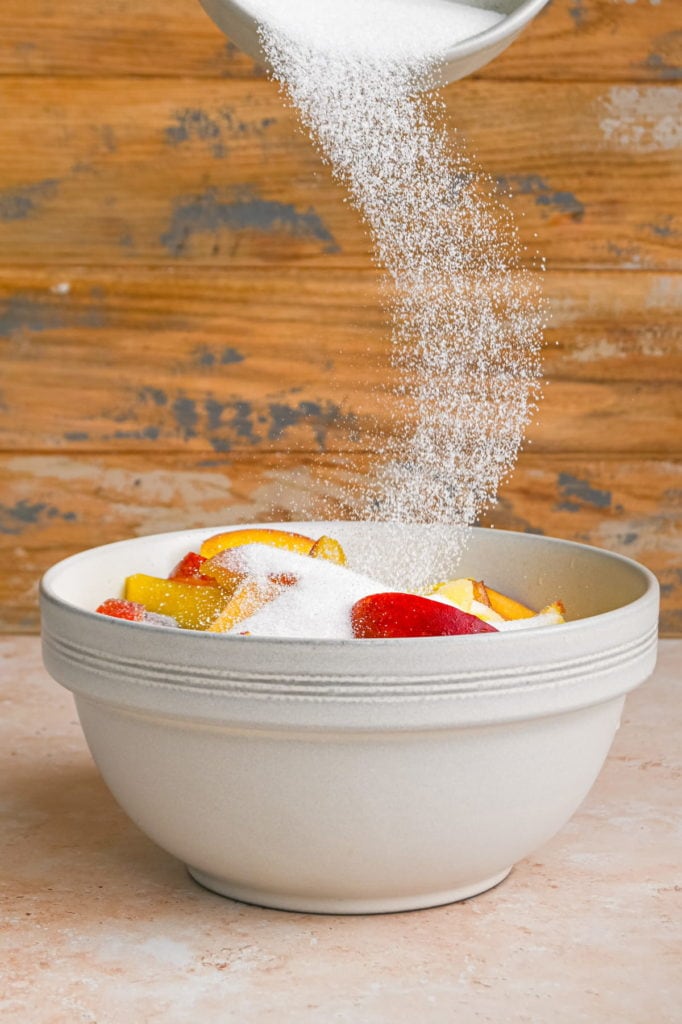 Add Your Filling to Your Bottom Crust
Once your filling is ready, simply dump it into the pie dish with your bottom crust.
Use a spatula to spread it out, so the filling is sitting in an even layer on your crust.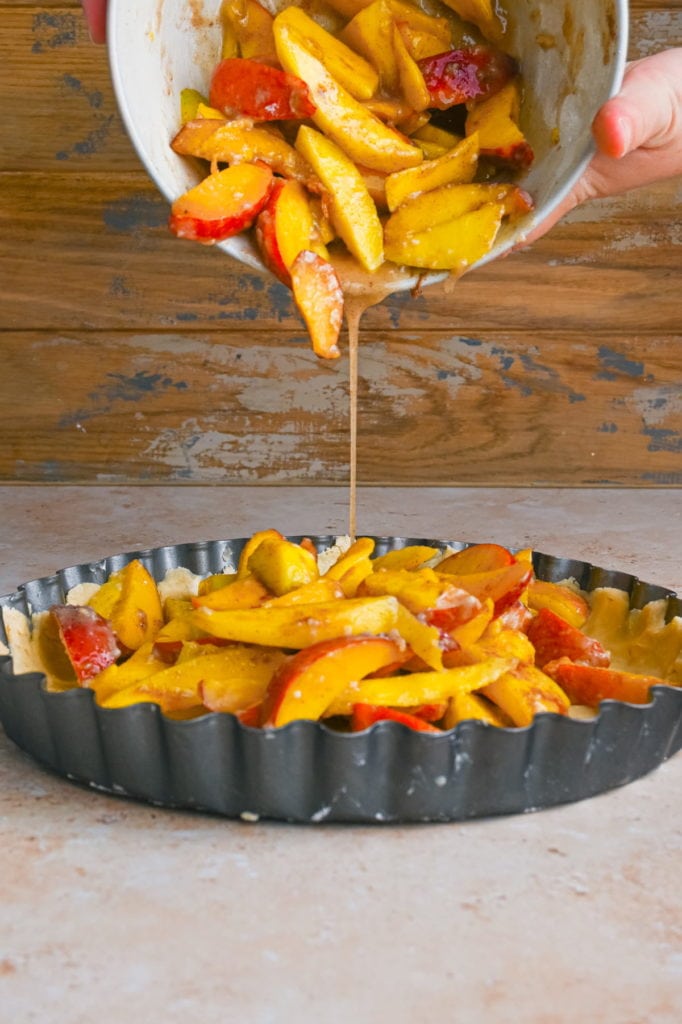 End With Your Crust
Start with your crust, end with your crust.
You can opt to top your pie with a classic lattice, or with a simple top layer. Just make sure you cut slits on top to allow the pie to vent.
I chose to slice an "x" in the center of my top crust to allow the steam produced by the filling to escape.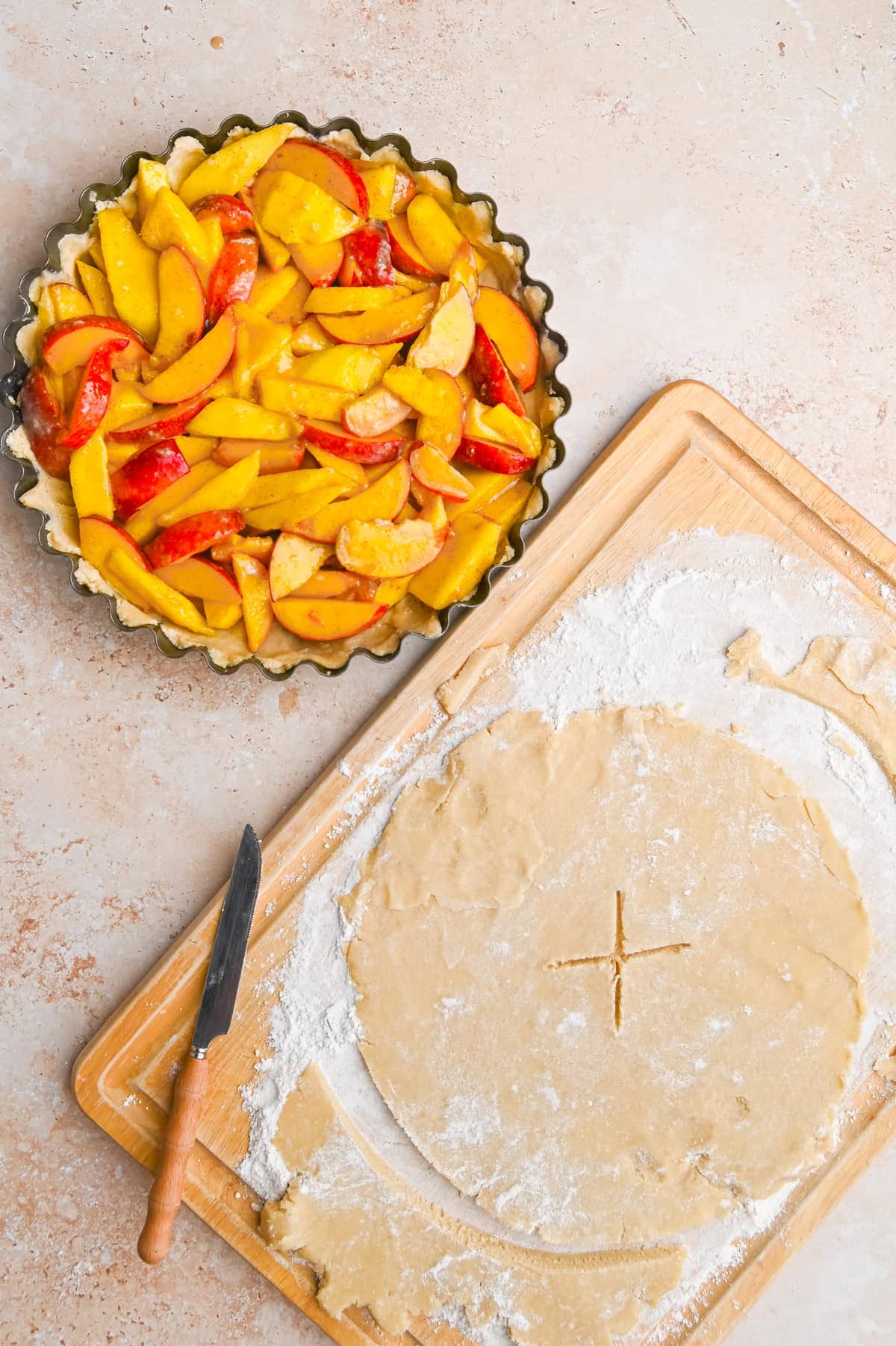 Bake at Two Temperatures
Once your pie is covered, it's ready for the oven! Note that this pie starts at a higher temperature for 20 minutes, then bakes for another 40 minutes at a lower temperature.
This is the best way to ensure a flaky (and not soggy) pie crust.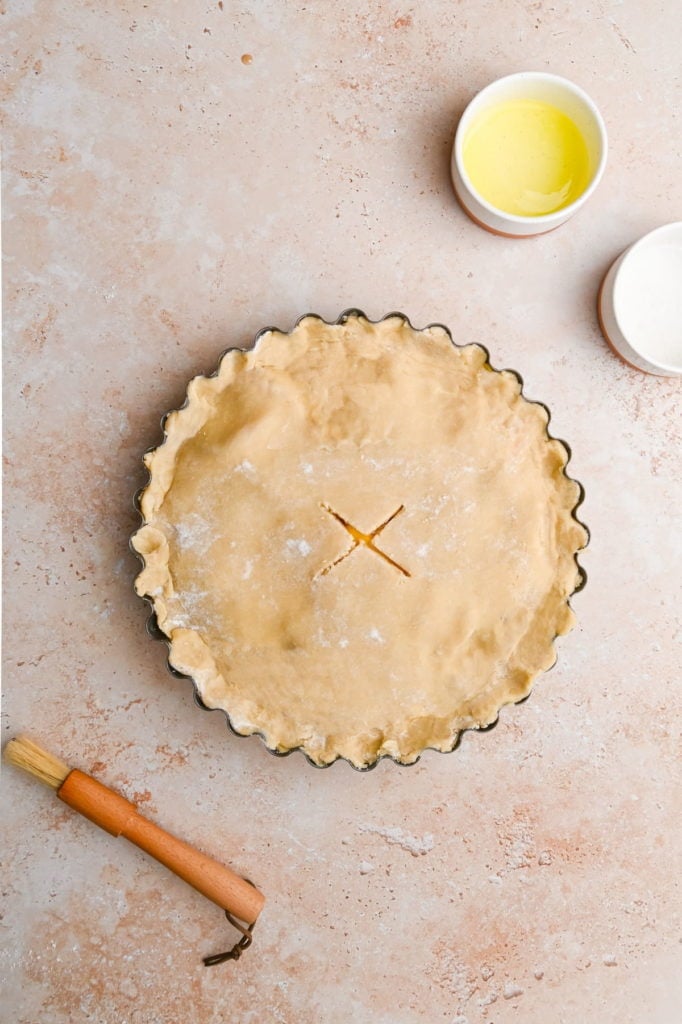 Storing Your Peach Mango Pie
This pie will last up to 5 days covered in the refrigerator. You can enjoy it cold or reheat it in the oven at 350°F for 10 minutes or on high in the microwave for about 45 seconds.
If you want this pie to last longer, you can freeze the whole pie or individual slices in an airtight container for 3-4 months. Allow it to thaw in the refrigerator overnight.
Peach Mango Pie Frequently Asked Questions
---
---
What is the difference between peach mango pie and cobbler?
The key difference is in the crust! While a pie has a top and bottom fully formed crust, a cobbler just has a crumbly dough-like topping.
Want to sharpen your kitchen skills?
Why You Should Make this Peach Mango Pie
It's unique! All the comfort of an apple pie, but with new flavors.
It's dynamic. Peach and mango is a dynamic duo and flavor combo that can't be beaten.
It has the actual FLAKIEST crust. The all-butter crust is the perfect accompaniment to the fruity filling.
If you're loving this Peach Mango Pie and are looking for more fun fruity pies, check out this Pineapple Pie and Drunken Apple Pie.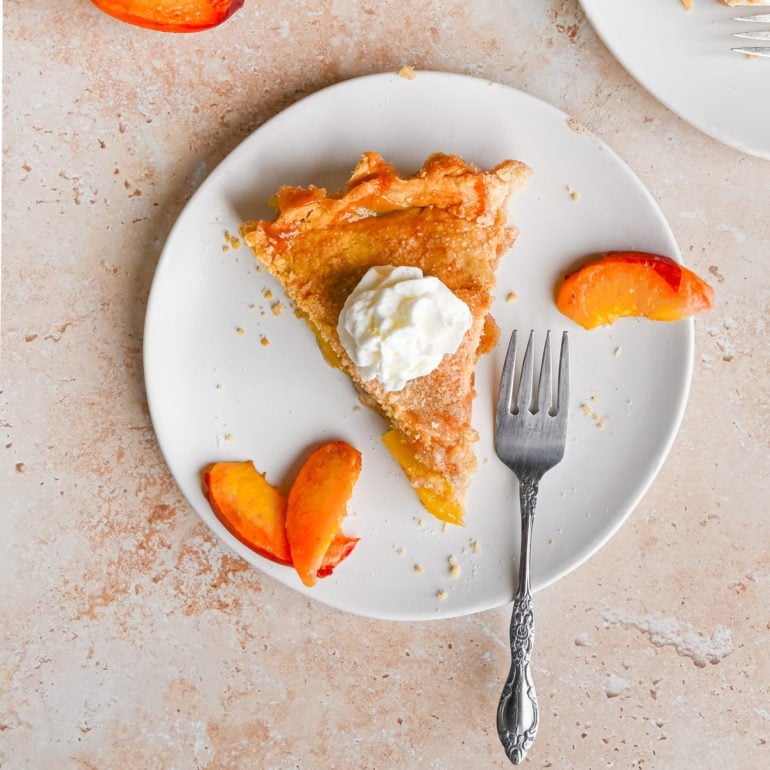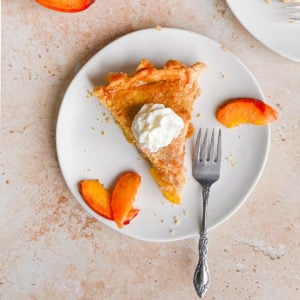 Peach Mango Pie with All-Butter Crust
PRINT
PIN
RATE
This Peach Mango Pie with All-Butter Crust is a fresh new take on the classic All-American pie with sweet fruit and cinnamon filling and the flakiest crust!
Ingredients
1

cup

unsalted butter, frozen

(1 cup usually = 2 sticks)

3

cups

all-purpose flour

2

tablespoons

brown sugar

¼

teaspoon

salt

½

cup

cold water

1

egg white

1

tablespoon

granulated sugar
Peach Mango Pie Filling
⅔

cup

granulated sugar

¼

cup

all-purpose flour

½

teaspoon

cinnamon

4

large

peaches, pitted and chopped

2

large

mangoes, pitted and chopped
Instructions
Add your butter, flour, brown sugar, and salt to a food processor or blender and blend until butter starts to cut into the dough.

With your food processor or blender on, add the ice-cold water and blend for about 10 more seconds.

Transfer contents of the food processor to a large mixing bowl, and use clean hands to work the dough until no extra flour is left behind. You will likely still have chunks of butter in your dough!

Split the dough roughly in half. Roll one half into a ball, wrap it in saran wrap or a clean kitchen towel, and place it in the refrigerator.

Use your hands to press the other half into your pie dish, using your index finger and thumbs to pinch the crust up against the sides of the dish.

Put your pie dish in the refrigerator, and let both halves rest in the refrigerator for two hours.
Peach Mango Pie Filling
When your dough is almost done resting, it's time to start your filling! Add the 2/3 cup of sugar, flour, and cinnamon to a large mixing bowl and stir to combine.

Next, peel and chop your mangoes into chunks, about 1-2 inches wide. Chop the peaches roughly the same size as the mango chunks. You can choose to leave the peel on your peaches for added texture (I do!), or remove them.

Add your chopped mangoes and peaches to the dry ingredients. Toss so your fruit is coated.
Pie Assembly
Preheat the oven to 425 °F.

Remove your ball of dough from the refrigerator. Flour your surface and rolling pin, and roll out the dough until it is roughly 1/2 inch thick.

Cut into strips to make a lattice, or cut out an "X" shape in the center, to allow steam to escape the top while baking.

Ps. I have a full in-depth post on how to make a pie crust for more details!

Add cooled filling to the pie dish with crust, and add your top crust. Brush the top crust with egg whites and sprinkle with 1 tbsp granulated sugar.

Bake for 20 minutes at 425°F, then lower the oven to 375°F and bake for another 40 minutes. Your filling should be bubbling and very aromatic.

Allow your pie to cool before diving in!
Pro Tips
You can easily use this filling in a store-bought dough for a quicker, easier pie.
Love a good pie? You gotta check out this list of my best pie recipes!
Did you make this recipe?
Let me know by leaving a recipe rating below, or by tagging @marleysmenu on Instagram.