Why use a cone when you can use a cookie? These Cookie Dough Cups for Ice Cream are chocolaty, buttery, handheld heaven!
Sometimes, your sweet tooth is on high and your favorite ice cream alone simply doesn't cut it. But add this decadent, hold-in-one-hand-sized, edible vessel to scoop a dollop of your ice cream into, and now we're cookin' with gas.
I know it sounds cheesy, but I genuinely cherish my time in the kitchen. Baking, despite its demand for perfection, is something I find relaxing—even therapeutic.
When I'm not spending time with my son or binging on Netflix, you'll find me in the kitchen with my headphones on, (usually) with a glass of wine, dancing between the stove and my cutting board, scribbling notes in my Recipe Book (appropriately titled "Recipes & Shit"—get yours here!).
Sometimes experimenting works, and trust me, sometimes it just doesn't (I strayed away from my normal risotto recipe the other night and it was an actual saltlick. Ugh. And that's the "shit" part of my "Recipes & Shit" book haha!).

But for every failed experiment in the oven, this recipe is something I will be sure to make over and over again.
I mean, how many dessert recipes can you describe as tasting like a warm hug? I don't even think that's too much of a stretch for these Cookie Dough Cups for Ice Cream. They are utter comfort!
Cookie Dough Cups for Ice Cream Tips and Tricks
Make Sure Your Butter is Softened
The key to getting this batter just right is all in the softened butter! You know your butter is softened when you poke it and your finger leaves an imprint.
I usually take my butter out a couple of hours before baking these to allow it to soften naturally, but if you don't want to wait, have no fear! Microwaving your whole sticks on high for 20 seconds usually does the trick.
Green tip: Look for pasture-raised eggs (over free-range or cage-free) to support agriculture that is less reliant on chemicals and fossil fuels.
Fold in Your Egg
The key is not to overbeat it! Overbeating the eggs, in this case, may cause your cookie dough cups to be more dense and chewy. We are looking for soft and gooey here, to compliment your favorite ice cream!
Let Them Cool, But Serve Them Warm
When you first take them out of the oven, they will look like muffins, but as they cool, the middle will sink in to form that delectable cookie dough cup.
The key is to serve them warm with your cold ice cream. If you're not having them fresh out of the oven, chuck them in the microwave for about 20 seconds before scooping your favorite ice cream in them. Because I'm telling you, this is the absolute ultimate a la mode.
Green tip: Make sure your chocolate is sustainably sourced. Look for Fair Trade, Rainforest Alliance, or UTZ certifications as opposed to self-proclaimed sustainability labels that sometimes falsely advertise "sustainably sourced".
How to Store and Save these Cookie Dough Cups
These will stay fresh and tasty at room temperature for 3-4 days, but if you are way more disciplined than me and my family, and anticipating them lasting longer, freeze some!
Wrap them individually and keep them in the freezer for up to 4 months. Thaw at room temperature or microwave them in 30 seconds intervals until warm when you are ready to eat!
The Development of Cookie Dough Cups for Ice Cream
I have to admit, the discovery of this recipe was the happiest of accidents.
My goal was to try to replicate the ooey-gooey, slightly undercooked, heaping pile of perfection that is a classic Gideon's Bakehouse cookie, so I tweaked my chocolate chip cookie recipe a bit and thought "hmmm, if I bake them in a muffin tin, maybe they won't go flat?".
I took them out of the oven and "HOLY MOLY! What a beautiful lil' muffin! Not exactly what I had in mind, but I know they'll taste good".

Aaaaaaaand then they deflated in the middle. But I didn't deflate! Because that's when my lightbulb went off.
These things are begging for a creme-de-la-creme, melty, sticky scoop of ice cream! I played it off to my husband like it was my intention all along. Because sometimes little mishaps in the kitchen end up baking into the sweetest, tastiest treasures.
I've made these four or five times since. This is only made more impressive by the fact that I only discovered them a few weeks ago. Blame it on "experimentation"—it's for the greater good!

Anyway, now it's your turn! I recommend using dark chocolate chips for a more intense chocolate flavor. Oh, and if you really wanna show off your dessert-making skills, fill these with this Boozy Chocolate Mousse. Warning: that combo is only for the sweetest of sweet teeth.
And again, I'll leave you with this. Something to ponder: why use a cone when you can use a cookie?
Say hello to ice cream's new best friend: Cookie Dough Cups for Ice Cream.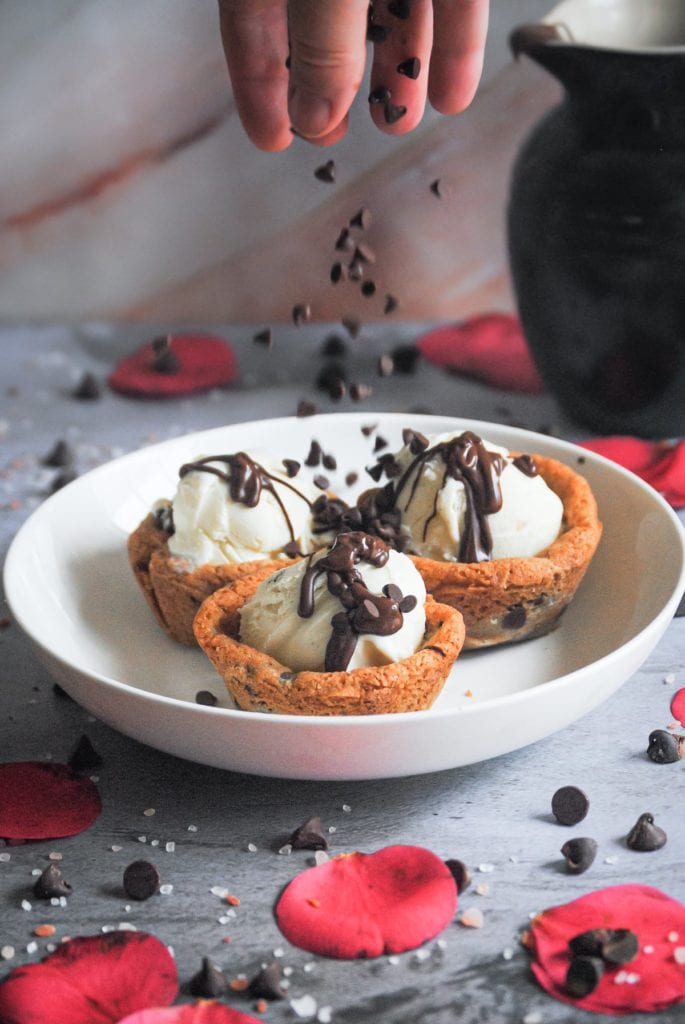 Why You Should Make These Cookie Dough Cups
They are no fuss. One bowl and a muffin tin and you're set!
They are out of this world delicious. Buttery, caramel-y, chocolate delight with every bite.
They taste as good as they look. They have the cutest cup shape, just begging for a scoop of your favorite ice cream!
They beat out a cone any day. The ultimate à la mode.
If you love this recipe and are looking for more cookie-inspired treats, check out this Cakey Chocolate Chip Cookie Cake and Rich Vegan Chocolate Oreo Pie!