This Rich Vegan Dark Chocolate Oreo Pie is a lower-fat alternative to a classic mousse-filled pie with cookies-n-cream crust that trims the fat without skimping out on taste or texture.
Think of it as a layer of dark chocolate mousse resting on top of a pile of buttery crushed Oreos. Except with no dairy or eggs. Yes, there is a chocolatey mousse pie WITHOUT CREAM. And yes, that's something to celebrate.
Because regardless of any allergens or dietary restrictions you may (or may not) have, if you love chocolate, you'll love this recipe. Period.
And it doesn't hurt that shoveling half of it into your mouth in one sitting means you're scarfing down a fraction of calories and fat than you otherwise would consume in a mousse made with heavy cream. No lie.
How? By substituting aquafaba for cream. 1 cup of heavy cream contains about 800 calories and almost 90 grams of fat (no wonder she's so delicious!) and aquafaba contains less than 50 calories and less than 1 gram of fat.
Yes, you read that right.
Vegan Dark Chocolate Oreo Pie Tips & Tricks
---
---
Make Your Crust First
Your crust is the only thing that will go into the oven. Use a food processor or blender for the quickest way to grind your Oreos down to a fine dust. Or, just add your Oreos to a Ziploc bag, and use a rolling pin to break them down.
Once it's out of the oven, set it aside to cool completely before adding the filling.
Whip it Real Good
So what is this miraculous aquafaba ingredient then? Because it sounds like the name of a whimsical fairy tale land and it apparently possesses magical qualities. Well, it's simply the water that your canned chickpeas are floating in.
I know. Just when you thought it couldn't get any better, you're now learning it's a no-waste solution to optimizing one of your favorite ingredients.
Imagine that. Drain your chickpeas and SAVE the solution they were hibernating in? Is your mind blown?
There's something about the proteins that the chickpeas leave behind in the water that allows it to whip into beautiful peaks—just like heavy whipping cream. Dairy-free, virtually nonfat, and next-to-nothing calorie-containing heavy whipping cream.
Here's the thing, though. Don't get discouraged. It takes longer than cream to fully whip. A full 5-7 minutes should get you where you need to be. Sing it with me. Just keep whipping. Just keep whipping. Just keep whipping, whipping, whipping… And now that will be in my head all day.
Green tip: It is estimated that 50% of food waste happens at home. Instead of throwing out your chickpea water, use it for this delicious pie!
Keep It Cool
After you melt your chocolate, remove it from heat and allow it to cool down before adding it to your aquafaba and sugar mixture. It's best to add the cooled chocolate to your whipped peaks, and to fold it in so you don't loose that airy texture you worked so hard to achieve.
Folding is just stirring softly in a "J" motion, lifting the contents of the bottom of the bowl to the top, in a direction away from you. Slow and steady is best here!
You'll also want to make sure your pie crust is completely cool before adding the filling. Once you pour your chocolate pie filling into the crust, you'll store it in the refrigerator.
Why Vegan Baking?
The mass production of eggs and dairy farming contributes a staggering amount to our overall greenhouse gas emissions and contamination of soil and water. I always buy local, organic eggs and cheese when I can. And what's more, I save the egg and dairy for when it really counts. I'm talking Eggs Benedict and Cheesy Pasta.
Leaving out the dairy and eggs while baking is a great way to reduce your consumption of eggs and dairy. And it's just as delicious and at times, more nutritious (you all know I can't resist a good rhyme when it presents itself).
So next time you're adding chickpeas to your salad, or making hummus, or these Meatless Chickpea Meatballs, save that juice!! Dessert is just a hand mixer and an hour away!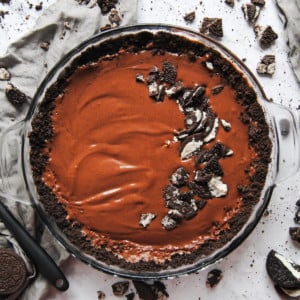 Rich Vegan Dark Chocolate Oreo Pie
PRINT
PIN
RATE
This Rich Vegan Dark Chocolate Oreo Pie is a lower-fat alternative to a classic mousse-filled pie with a cookies-n-cream crust that trims the fat without skimping out on taste or texture.
Ingredients
Crust
24

Oreos

(24 Oreos usually = 2 sleeves)

3

tablespoons

vegan butter
Chocolate Mousse Filling
9

ounces

pure dark chocolate

¾

cup

aquafaba (chickpea water)

½

cup

granulated sugar
Instructions
Crust
Preheat an oven to 350°F.

Melt butter in the microwave in 20-second intervals until completely liquefied. Add to a food processor with Oreos and blend until they turn into fine dust.

Use your hands to press the Oreo and butter mixture into a greased pie dish and cook for 8 minutes. Set aside to cool.
Mousse Filling
Melt chocolate over a double boiler and set aside to cool.

In a large mixing bowl, use a hand mixer to whip aquafaba and sugar together for 5-7 minutes until peaks form.

Fold melted chocolate into your aquafaba/sugar mixture until completely integrated. Stick in the freezer for 30 minutes to solidify.

Remove from freezer and whip one more time until desired consistency achieved.

Use a spatula to spread mousse over cooled crust. Serve immediately or store in the refrigerator until ready to enjoy.
Pro Tips
Keep whipping until you get peaks in your aquafaba. The more whipped the better!
Wondering what to do with the chickpeas? How about my classic easy hummus recipe—or this One-Pot Hummus Pasta for a full meal.
Oreos aren't just great with milk, you can also find them in this collection of fun recipes using Oreos!
Did you make this recipe?
Let me know by leaving a recipe rating below, or by tagging @marleysmenu on Instagram.