Need a protein-packed, filling, family-style Meatless Monday option? These Chickpea Meatballs in Marinara have got your back!
With a crispy exterior, meaty-on-the-inside texture, and seasoned to perfection, these chickpea balls are an obvious choice for spaghetti night.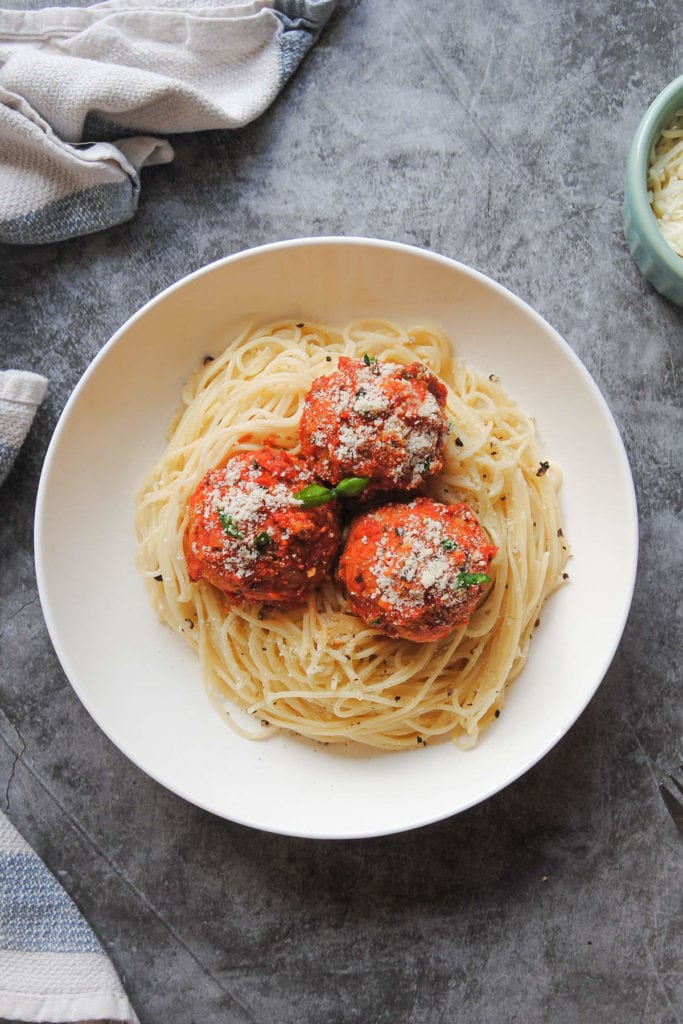 Chickpeas or garbanzo beans, regardless of what you call them, are always a healthy choice.
They are a great source of plant-based protein and provide vitamins, nutrients, and fiber to fuel you and keep you full. Compared to beef meatballs, these chickpea balls have FIVE TIMES FEWER CALORIES.
And if that doesn't convince you, depending on the beef you use, your chickpea balls have up to SIXTEEN TIMES LESS FAT.
I know. They sound too good to be true.
Green tip: Industrial meat production has a huge impact on the environment, especially because of the amount of land it takes to sustain and it's high amount of greenhouse gas emissions. Reducing your meat consumption is one great way to reduce your ecological footprint.
But as I live and breathe (and hide behind my keyboard from my dogs who are begging for these chips I'm currently snacking on), these are the REAL DEAL. And they're honestly easy and FUN to make. Because rolling ground chickpeas into perfectly spherical balls is my idea of fun these days.
How To Make Chickpea Meatballs in Marinara
It's as easy as one, two, three…. four.
Just combine all your ingredients together. Roll them into 6 roughly equal-sized balls. Bake 'em. And simmer them in your red sauce of choice. Done and done!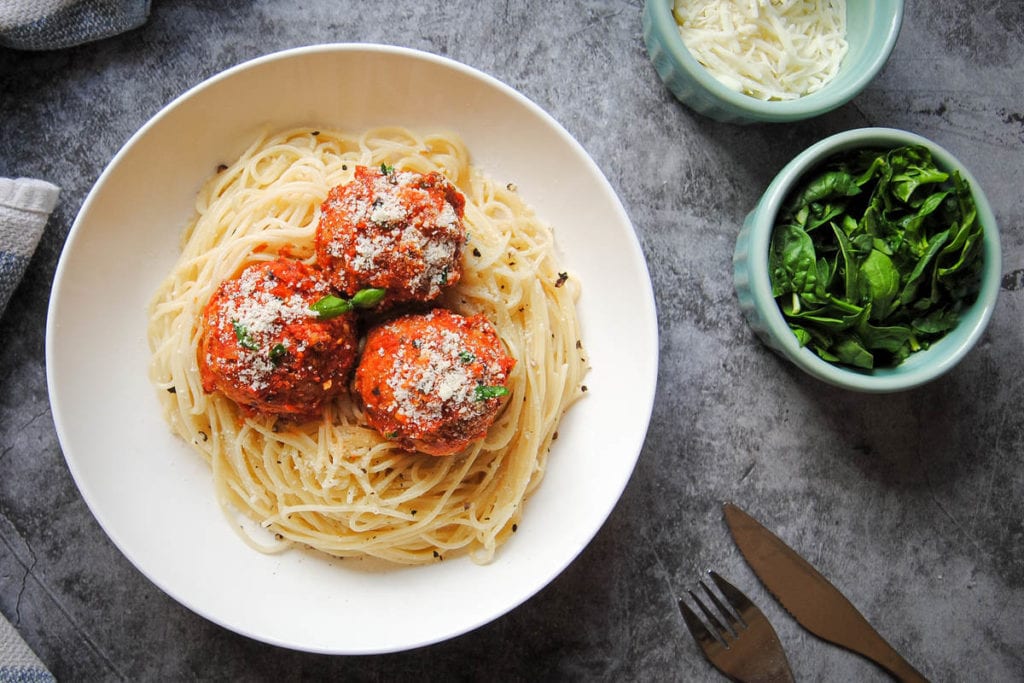 Serve them up with a pile of spaghetti and everyone is happy, full, and nourished.
The best part is, you can easily make them ahead of time. After baking, they'll keep in the refrigerator for up to ten days, or in the freezer for a month. When you're ready to eat them, just simmer them in your favorite Marinara sauce until they are heated completely through.
As always, remember to save your aquafaba (the liquid your chickpeas are floating in)! You can use it for baking delicious desserts like this Rich Vegan Dark Chocolate Oreo Pie. YUM.
Looking for other Meatless Monday family dinner ideas? Try this Easy Vegetarian Ramen with Tofu, or this Vegetarian Broccoli Cheddar Soup. You can also subscribe at the bottom of this post to get fresh new recipe ideas to your inbox weekly.